Consumer Complaints and Reviews

First let me say how disappointed I am in reading all the reviews that Rachael Ray doesn't back her own product, it really makes a person look at her different now, I bought her stainless steel set of pots and pans and to be brutally honest they have been nothing but a nightmare. I haven't found anything good about them. Everything sticks to them. Once the fry pan almost caught my whole house on fire, I don't need to say anything more, this is very sad that she not the person I thought she was, by her actions it pretty much says it all, I guess it's worth the money to find out who she is.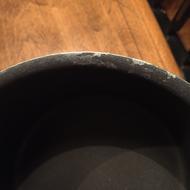 I received your non-stick pot and pans for a housewarming present. I have noticed they are starting to flake off especially on the sauce pans. I fear in going to have to trash them because I don't want my granddaughters eating any of the materials coming off the product. It has only been about 2 years. I never put them in the dishwasher and hand wash them very carefully. The products are unsafe now and I will not use them. Would not recommend buying Rachael Ray's cookware at all.

I purchased my Rachael Ray - Pot & Pan Set through QVC maybe 2 years ago. I like it BUT, it's lost its nice green color, the two big pans have warped (and I have a flat top glass stove). I don't think I will ever buy her sets again!

We got the red set and had about 5 months' time. Never used in the dishwasher and did not even use THAT often! The red literally was making my dishwater red to the point I had to drain the sink. I thought maybe it was a "first time" thing but nope...every single time. That was the pot. The PANS bled but not as much red I assume due to the smaller size? However, the inside of those peeled... I will stick with my cast iron stuff. It cooks better anyhow. TOTAL waste of $150.00.

I received a Rachael Ray cookware set for Christmas and I was so happy about it, as I had been wanting one. Much to my surprise, I am totally disappointed in them. The paint literally just rubs right off of them!! My pots and pans are red, and now all my white kitchen towels are red too!! Also, the baking sheets (cookie sheets) do not come clean, they look years old... So very disappointed.
How do I know I can trust these reviews about Rachael Ray Cookware?
765,036 reviews on ConsumerAffairs are verified.
We require contact information to ensure our reviewers are real.
We use intelligent software that helps us maintain the integrity of reviews.
Our moderators read all reviews to verify quality and helpfulness.
For more information about reviews on ConsumerAffairs.com please visit our FAQ.

I bought a orange Rachael Ray porcelain frying pan at a garage sale. I paid $2 for it, which was over what I normally pay for cookware at a garage sale. I could not believe what I saw. Immediately pan burnt. I am thinking OK maybe this is the famous cooking utensil that creates the wonderful blackened (whatever you want blackened) fish or whatever. I then grabbed hold of handle to stop pan from sliding as I flipped over my pork chop... Burnt the ** out of my hand, then by sticking a fork in the pork chop, must have released a trace of oil which immediately shot 41/2 foot flames in the air, slightly burning the kitchen ceiling. Never again. The pan looks like a burnt Halloween experiment. I will wait till morning when pan cools to toss it.

I had received a stoneware casserole dish as a gift and had no problems using it until recently when I had a roast in the oven and smelled something burning shortly after I checked on the roast. I opened the oven and found that the dish had split down the middle and the juices were spilling all over the oven, dripping down to the lower oven (it is a recently purchased double wall oven) and even getting between the glass of the door which I am unable to access in order to clean. Not only is this a HUGE MESS, but potentially a tremendously dangerous situation! Thank God this did not happen when I was pulling out the dish from the oven! There were no previous incidents of damage to the dish and no notable cracks before this incident and the oven temperature was not excessively high. This cookware is dangerous!

I got a set of these pan over a year ago. And right of the bat the coating on all the pans failed. I got ahold RR warranty claims department and filled out all their stuff for a warranty and in the end they wouldn't replace not even one pan. -5 stars. Don't buy if you're looking long term. First review I've ever filled out in my life!

This is without a doubt the very worst Cookware Set I have ever purchased! I bought the 10 piece Non-Stick Set at Walmart in the Teal Color. The color is what really caught my attention. I had never tried Rachael Ray Cookware before so I thought I would give it a try. First of all... TWO of the Pots had scratches on the outside of the pots when I took them out of the Box. These scratches were bad enough that they should have been noticed and never packaged.
Secondly, the bottoms of the skillets are extremely slick. I was frying pork chops and when I started to turn the chops over, the skillet almost slid off the burner... with HOT grease in it!! These are dangerous to be cooking with. Thirdly, the whole cookware set is extremely lightweight and flimsy. As I stated, this is the very worst cookware set I have ever purchased. These should be taken off the market. Someone is going to be burnt very badly trying to use these skillets. Just absolutely unacceptable.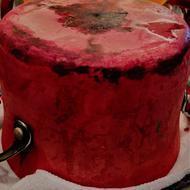 It's the WORST cookware I have ever purchased. I bought the RED POTS AND PANS set from QVC a few years ago. The products are red and have silicone handles. From the date of receipt there have been issues. The handle on the steamer broke. After multiple attempts to resolve the issue, I was sent a replacement. The paint on every piece pot and pan is coming off. I hand-wash them, and the red paint is all over my sponges and the dish towels I use to dry them. I would never in a million years recommend this product.

I bought the 3 piece yellow ceramic baking dishes. I sent one back after it cracked. Another broke in two pieces while I had food baking in it and made a mess in the oven. And yet a 3rd has cracked. I will be throwing out for fear it, too, will crack all the way through.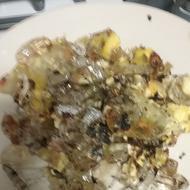 Shattered glass bakeware 9 by 13 dish. This product is not safe! I am writing this review to caution others. I received a nice Rachael Ray baking dish with an insulated cover and decided to use this gift for the first time for a casserole dish for church. I have been cooking in Pyrex, CorningWare, and numerous other baking dishes for years without a problem. My oven is consistent with temperature and reliable.
This Rachael Ray dish exploded in my oven (at 350 degrees) 8 minutes into cooking. The dish broke apart into hundreds of small pieces causing a big mess. The photos of the dish in the oven show the glass pieces, and the other photo is part of the cleanup showing the many small pieces of glass mixed in with the food. I heard the noise, which sounded like ice falling off a roof in New England. I plan to send pictures I took to the RR warranty center, but since they want the product returned (absolutely impossible in this situation, and not safe to do) I have no confidence that anything will be addressed.

I have only used this large baking dish(red) three times and it has cracked so bad I have a hard time washing it. I don't think I will be buying Rachael Ray products again. I do have other cookware of hers and no problems yet but expect them to do the same. Hope not but... :(

They are elegant and very useful for cooking food without burning. When cooking with these cookware for one, I don't have to constantly watch your food while it's cooking most of the time. Plus you don't have to turn your burner up on high. Just adjust your burner from low to medium for cooking. Including also when using your skillet for frying purposes - just keep your stove burner on medium. Your food taste better without cooking it fast. I just love Rachel Ray's cookware for the beauty of them. They serve the purpose for cooking better and they are extremely easier to wash. I'd like to have more of Rachel Ray's cookware. If you don't have any of Rachel Ray's Cookware, then I encourage you to buy and try them out. I'm sure you will fall in love with them.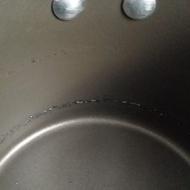 3 quart porcelain pan, Agave blue - I received the cookware set for Christmas from my son and daughter. I carefully read the directions, hand-washed and dried each piece. First use: My husband heated some clam chowder on low heat. Those must have been some Very Angry Clams... It looks like they ate the pan lining! The bottom and sides of my New Pan have been scratched down to the metal. Please help me to understand what happened to my pan. I'm appalled.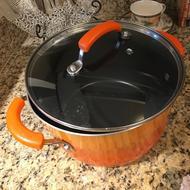 I see that I am not the only one recently who had a lid warp on them! We were cooking our Christmas Eve family meal, when everyone noticed that the lid would no longer fit on the top of the pot. Very strange! We were really scratching our heads over this one! I hope that the company or party who cares on behalf of the reputation of Rachael Ray will step up and make some sort of amends for our loss (of money and faith). Some sort of gesture would be respected and appreciated! This pot was purchased at a TJ Maxx store- no receipt to provide.

If I could rate this in the negative I would!!!! The red pan set it purchased for my daughter bleeds... meaning when you wash these pans the color runs and get on the towels when you dry them. Not only did I spend $150 for this junk I also had to replace her towels. Of course there is no number or email to see if they will even make this right! DON'T WASTE YOUR HARD EARNED MONEY ON THIS PRODUCT!!!


On August 25th I placed a large order with the online store for Rachael Ray. I only received two of the items out of the twelve ordered. When I tracked the rest of my order I found they had shipped it to the wrong state! I notified the company immediately and was told they would rectify this error by either refunding the difference or re-shipping the items... Well here I am 4 months later and I still haven't seen either one! After multiple conversations with customer service, I am still no closer to receiving my items and to top it off the tracking information is now showing it can't be found by FedEx. Buyer beware!!!

We've had our Rachael Ray Cookware about a year now. The paint (red) started fading within a few months. Now, when drying with a hand towel, we have noticed that the paint is wiping off the surface! I couldn't believe what I was seeing. I re-wet the surface, and took a white paper towel, and sure enough the paint is wiping off the pan! I was not forcibly wiping the pan either. I would not suggest purchasing this cookware. The QC of the mfg. obviously sucks.

We bought a induction stove and needed new cookware... Bought a set of Rachael Ray which I really like but they look clean when watching. But when they dry they look dirty. And everything sticks to bottoms really bad... Wanting to know what to do or if there is a solution.

I have only had my Rachael Ray pan set about 6 months, I love the way they cook and they clean easy. I took out the big pot to use which I use all the time on medium heat and I put the cover on it and noticed it was warped. I am so upset at this because I waited a long time to get it and was so happy when I did. I don't put hot pans in the sink or anything and for it to be warped after paying good money for it, isn't right at all. I guess I could have gotten a cheaper set and not had this problem.

This product failed. My 83-year old mother asked Rachael's company to replace and she got a form typed letter back not even on stationery to reject her plea. I have written to Rachael Ray trying to get her to replace the product – not do much as a note back from her. Extremely disappointed. Always thought her to be genuine. Sad in CT.

This was the only place I could find to express my problem with Rachael Ray cookware. There is no direct email to her or manufacturer and only a phone number to the manufacturer but the requirements for inspection are ridiculous. Last Christmas I bought my daughter one set of your pots and pans with the bright orange handles and another set with the darker orange handles. I bought them thru JC Penney and Walmart respectively online. These are the same sets you are using on your TV show. I don't know their model numbers. I thought these sets were the best as used and sold by Rachael Ray herself.
My daughter who was 24 at the time didn't really cook that much. It's just her and I and I am disabled so she does all the cooking when there is cooking to be done. She absolutely loved your cooking sets and since getting them she has really increased cooking meals for us compared to fast food most of the time. I thank you for that. Best money I ever spent.
Just one problem. Everything is non-stick and it really works well except for the 2 steel rivets that hold the handles on the pots and pans. As an example when she makes scrambled eggs in the frying pan it wipes completely clean except some of the egg has cooked onto those 2 steel rivet heads on the inside of the pan. The rivet heads have to be scrubbed to come clean. It is very annoying as you have to run them thru the dishwasher or hand wash instead of just wiping out with a paper towel to clean those rivet heads. Of course some stuff cleans up better than others as I used the eggs as an example.
I don't know if changing the material of the rivets or somehow coating them with the same coating as the pan coating would eliminate this problem. I just thought as a consumer of your products you might want some insight to what my daughter has experienced with some of your products. This might be something you would consider changing on your next evolution of pots and pans. I just thought you should know. Dissatisfied in Michigan.

I purchased the 15 pc. Red Cookware set for my daughter Christmas gift Dec. 2015. She doesn't do a lot of cooking, but when I am visiting I usually use the large pot and large skillet. Recently while there, I did cook in large skillet and I washed by hand in sink and when I was drying it, the color came off onto the dish towels. Very unhappy with this, since I gave for a gift, it is embarrassing for me and her. Guess now it will go to back of cabinet to not be used again. When you pay $ 100 or so dollars for a set of cookware, you honestly expect it to last better than this. I believe that the Rachel Ray product should be replaced with a better quality item than we have apparently. They should issue a recall and let consumer be satisfied with them.

I purchased two sets of the porcelain cookware, one for my mom and another for me, along with additional large pans not included in the sets. This was a huge mistake. Within a year from using the pans, the coating on the pans began peeling away after a few uses, making them unusable. We've never used the in the oven nor placed them in the dishwasher. Only washed them by hand after soaking and they still ended up looking like crap. Waste of money. I'm not going to open the other box for fear that they will end up in the same condition. I'd rather return and get something that'll actually last. Anyone want to buy??? Lol. Needless to say, I'm never buying her brand again.

When I purchased these pots thinking it was an awesome product; well that isn't so. The bottom of the pans are weld up and they are uneven on a cooking surface. They have changed in color and even scoured the non stick, by merely cooking out of them. Ugh too much money spent, I want to get something more sustainable.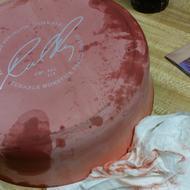 I received a 10-piece set of red cookware from my children for Christmas in 2013, and was delighted! It was pretty, had the sizes I wanted and, since it has Rachel Ray's name, I assumed it was good quality. How wrong I was! The "non-stick" feature is pitiful! Eggs, gravies/sauces, meats -- have stuck so badly that I've had to soak and scrub to remove foods before placing them in the dishwasher. Without the pre-cleaning they simply DON'T come clean in the machine.
In addition, the RED color has not lasted the way I would have expected from this brand. I do not place it in the oven, do not overheat the product, and do not use heated dry in the dishwasher. If I try to wash it by hand, the color rubs off on dish cloths and towels. The set is disappointing, to say the least. I'll be replacing my cookware in the near future and with definitely NOT purchase Rachael Ray products!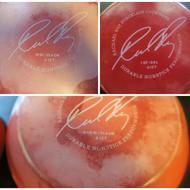 I received the Rachael Ray 10 Piece Hard Enamel Nonstick Cookware Set, red, in Dec. 2015 as Christmas gift. My household only consist of 2 people. So I don't do a lot of cooking. In general I may only cook twice a week. I have been cooking for over 35 years. One of the reasons I requested this set is because of the lifetime guarantee I've always "heard" about. I've never actually read the fine print of the guarantee myself. Had I read it, a red flag would have stop this request of all I want for Christmas. The bottoms of 2 skillets and 1 pan is faded almost white. I have never put them in the oven. I am in no way abusing them by overheating. Or anything else that would be abusive to make them fade. I've always hand washed them. I also have other brand sets I've paid half the cost for and they still look new and are over 5 years old. The limited lifetime guarantee. Is ridiculous.
"We are sorry you are having a problem with a Rachael Ray product. The Lifetime Limited Warranty guarantees your cookware to be free from defects in materials and workmanship under normal household use for the lifetime of the product. Meyer Corporation promises the original purchaser to replace any defective part or item during the guarantee period. Scratches, stains, discoloration or damage caused by the use of cooking sprays or overheating are not covered by this warranty. Additionally, this warranty does not cover damage caused by accident, misuse, abuse, commercial use or incidental or consequential damages." And I would have to pay to ship my discolored pans to them for them to inspect only to tell me they don't cover discolor. I'm embarrassed to have company to even see these. I would not recommend this product to anyone.

I have new cookie sheet that the surface is cracking and chips are found in my cookies. Rachael Ray has a company handling the complaints. This company does not accept e-mails or photos of the damaged product. The customer has to mail the damaged product back (at the customer's expense) in the hopes that their inspection will conclude that it is a "manufacturer's defect". If they chose to call it a manufacturer's defect, they will mail you a new product, if not, the customer is not only out of the product but also out the money for the postage to mail it in. This system is set up for only one reason, to make it bothersome, if not impossible for the customer to redeem the warranty.

ConsumerAffairs Research Team
The ConsumerAffairs Research Team believes everyone deserves to make smart decisions. We aim to provide readers with the most up-to-date information available about today's consumer products and services.
Sporting the name of TV personality and chef Rachael Ray, the Rachael Ray Cookware collections can be found at most major retailers. Bright colors and fun accents are the cookware's hallmark.
Colorful: When buying Rachael Ray products, consumers can choose cookware with a colorful exterior, or with colorful handles.
Heat-resistant handles: The pots and pans of this cookware line are equipped with plastic handles that do not heat up with the cookware.
Large product line: In addition to several cookware sets, the Rachael Ray Cookware also includes pieces such as a double-burner griddle, a griddle and glass press set and a butter warmer with a pour spout.
Suction lids: While the cookware comes with a glass or stainless steel lid, suction lids can be purchased separately to allow leftovers to be stored safely.
Best for Beginner cooks and home cooks.
Rachael Ray Cookware Company Profile
Company Name:

Rachael Ray Cookware

Website:

http://www.rachaelray.com/