Consumer Complaints and Reviews

I purchased two sets of the porcelain cookware, one for my mom and another for me, along with additional large pans not included in the sets. This was a huge mistake. Within a year from using the pans, the coating on the pans began peeling away after a few uses, making them unusable. We've never used the in the oven nor placed them in the dishwasher. Only washed them by hand after soaking and they still ended up looking like crap. Waste of money. I'm not going to open the other box for fear that they will end up in the same condition. I'd rather return and get something that'll actually last. Anyone want to buy??? Lol. Needless to say, I'm never buying her brand again.

When I purchased these pots thinking it was an awesome product; well that isn't so. The bottom of the pans are weld up and they are uneven on a cooking surface. They have changed in color and even scoured the non stick, by merely cooking out of them. Ugh too much money spent, I want to get something more sustainable.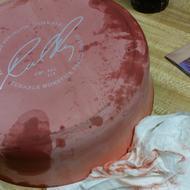 I received a 10-piece set of red cookware from my children for Christmas in 2013, and was delighted! It was pretty, had the sizes I wanted and, since it has Rachel Ray's name, I assumed it was good quality. How wrong I was! The "non-stick" feature is pitiful! Eggs, gravies/sauces, meats -- have stuck so badly that I've had to soak and scrub to remove foods before placing them in the dishwasher. Without the pre-cleaning they simply DON'T come clean in the machine.
In addition, the RED color has not lasted the way I would have expected from this brand. I do not place it in the oven, do not overheat the product, and do not use heated dry in the dishwasher. If I try to wash it by hand, the color rubs off on dish cloths and towels. The set is disappointing, to say the least. I'll be replacing my cookware in the near future and with definitely NOT purchase Rachael Ray products!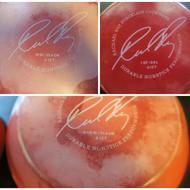 I received the Rachael Ray 10 Piece Hard Enamel Nonstick Cookware Set, red, in Dec. 2015 as Christmas gift. My household only consist of 2 people. So I don't do a lot of cooking. In general I may only cook twice a week. I have been cooking for over 35 years. One of the reasons I requested this set is because of the lifetime guarantee I've always "heard" about. I've never actually read the fine print of the guarantee myself. Had I read it, a red flag would have stop this request of all I want for Christmas. The bottoms of 2 skillets and 1 pan is faded almost white. I have never put them in the oven. I am in no way abusing them by overheating. Or anything else that would be abusive to make them fade. I've always hand washed them. I also have other brand sets I've paid half the cost for and they still look new and are over 5 years old. The limited lifetime guarantee. Is ridiculous.
"We are sorry you are having a problem with a Rachael Ray product. The Lifetime Limited Warranty guarantees your cookware to be free from defects in materials and workmanship under normal household use for the lifetime of the product. Meyer Corporation promises the original purchaser to replace any defective part or item during the guarantee period. Scratches, stains, discoloration or damage caused by the use of cooking sprays or overheating are not covered by this warranty. Additionally, this warranty does not cover damage caused by accident, misuse, abuse, commercial use or incidental or consequential damages." And I would have to pay to ship my discolored pans to them for them to inspect only to tell me they don't cover discolor. I'm embarrassed to have company to even see these. I would not recommend this product to anyone.

I have new cookie sheet that the surface is cracking and chips are found in my cookies. Rachael Ray has a company handling the complaints. This company does not accept e-mails or photos of the damaged product. The customer has to mail the damaged product back (at the customer's expense) in the hopes that their inspection will conclude that it is a "manufacturer's defect". If they chose to call it a manufacturer's defect, they will mail you a new product, if not, the customer is not only out of the product but also out the money for the postage to mail it in. This system is set up for only one reason, to make it bothersome, if not impossible for the customer to redeem the warranty.
How do I know I can trust these reviews about Rachael Ray Cookware?
607,960 reviews on ConsumerAffairs are verified.
We require contact information to ensure our reviewers are real.
We use intelligent software that helps us maintain the integrity of reviews.
Our moderators read all reviews to verify quality and helpfulness.
For more information about reviews on ConsumerAffairs.com please visit our FAQ.

Bought my daughter in law Rachael Ray's cookware set and they're all peeling and rusting. Give almost $200 dollar for the set Dec. 17th 2015. By June 2016 they were peeling. They should take this off the market if they're not going to stand by it. I will never buy from here again and will let Facebook also know and the holidays are coming up and if I can't get this right no one will buy this cookware crap from her.

Rachael Ray 3 qt sauce pan - The coating has worn off the bottom of the pot after about 9 months. The Lifetime guarantee isn't very useful... You have to sent the pot back to them and they will decide if you have misused the pot. You have to pay for 1/2 shipping. A lot of bother and no guarantee you will be reimbursed or given a replacement pot. Just not a good value. Will not buy from her again. Just a ripoff.

I purchased two Rachael Ray ceramic pans and have only had them for a few months. I got so fed up with not being able to clean the pans properly that I had to throw both of them away. I would use a pan to cook eggs or chicken and most of the food would adhere to the bottom so much that I would have to soak the pan for the rest of the day. I spent more time cleaning these pans than cooking with them. These are literally the worst pans I have ever purchased and used. I will never buy any products Rachael Ray makes again.

I was so excited to finally afford to buy a set of Rachael Ray Cookware. I've always been accustomed to buying the most inexpensive cookwares due to finances. So to be able to buy something nice and cook with nice things was an absolute blessing. However, most of my cookware is starting to fall apart. My tea kettle that I purchased separately from my cookware set is losing the bright orange metal color. It is flaking off the bottom. I've only heated water in it one time. My pots and pans along with frying pans are doing the same thing and a couple of utensils that I purchased separately (trying to have a complete set of everything) is also beginning to get black on the ends. I am not looking for a handout nor do I want one. I am just displeased with the product and wanted you to know.

I have been using a set of pots I bought from Rachael Ray and the cover just shattered while I was cooking. I am very concerned about the rest of the pots. I hope the company will pay attention to that. I am very disappointed especially since I have been recommending this product to family and friends.

Purchased stock pot for soups. I've only used this pot four times. After dinner while cleaning the pan noticed a dime size chip in the porcelain. I expected better quality from a "Rachael Ray" product for the cost.

I was gifted a set of Rachael Ray Cookware for Christmas a few years ago. The bottoms of the cookware became discolored and nothing I use on them will erase the discoloration and the skillet is scratched even though I do not use metal utensils on it. I e-mailed the Rachael Ray Company and was given a number and told to contact the manufacturer, which I did. I was then told to return them to the manufacturer but I felt it would be too costly for me to return them since I am on a fixed income. I am really disappointed in the product...

My Wife has been watching Rachael Ray's Cooking show for a long time. She purchased a large frying pan "Durable Nonstick Performance". After a short time of average use she noticed the center of pan Porcelain coating was coming apart especially in center of pan. The pan Is not Non Stick, it's very difficult to clean, and since the peeling of base Porcelain we have not used this product. We made attempts to contact Rachael Ray online with Zero replies. Why doesn't her company stand behind the products they make money from. Involved with so much, but refuses to help people who buy her products via replacing or refunds. My wife thought it was a quality product because it was endorsed by Rachael Ray.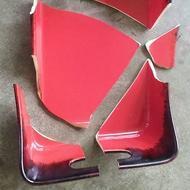 Have had the pan for about 1 year. Loved the way it cooks and used it a lot. Tonight my husband was washing it and he heard it crack and it fell apart and cut his hand pretty bad. Took him to the emergency room and he got several stitches. I would not recommend these pans to anyone, and I will not buy any more Rachel Ray pans of any kind. I should be able to be reimbursed for the pan and damages for my husband's injury caused by the it but of course that probably won't happen.

I've been using Rachel Ray pots for about 7 months. Now they are all ruined. Inside of pots falling apart. I'm no longer able to use any of my set. I would not recommend to anyone. I wish I could get a replacement or a refund back.

This cookware set is garbage. The large skillet melted, the paint, onto my glass top stove. I have tried ice, heat, turpentine and razor, I cannot get it off my stove. ALSO GOT BURNT TRYING TO REMOVE THE POT. I would love to get my money back, bet that doesn't happen. PLEASE DONT WASTE YOUR MONEY!!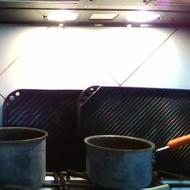 In my home I have been using RR Cookware for about a year and since that time we've used it in the dishwasher and have the grey ash on the outside of the pot. After doing some research, I found that the coating that is used is not dishwasher safe though is advertised as such but my biggest issue came this weekend. This weekend while cooking with RR saute pan, I went to grip the silicone supposedly heat resistant handle and sustained a 2ND DEGREE BURN to the palm of my hand and thumb. I went to the ER and was told I was lucky my skin didn't come off. THIS WAS FROM THE SILICONE HEAT RESISTANT HANDLE.
Buyer beware, most silicone advertise cookware is heat resistant so the parts that are metal are never suppose to get heated because of the silicone insulation surrounding the handle. RR cookware was suppose to do this and IT DOES NOT. I now have a burn in the outline of the handle on the palm of my hand. Never touch these pots without oven mitts that are insulated, I don't care what nonsense the RR manufacturer is saying about putting in the oven but they smoke when you do that as well.

I was so excited to receive a whole set of RR Cookware for the Christmas Season. The minute I used it after it was out of the box and put in the dishwasher, I starting using the pan. It is lightweight and moves around the burner. It is not very sturdy or strong. The handles are not made of quality material. I have used them only a few times and there are scrapes on the bottom of the pan. I think I will give them to Goodwill. I don't want to throw them out because someone may be happy with them but I am disappointed. I thought with her GOOD NAME her products would be of better quality. They were given to me as a gift. I think if you are going to endorse a product, make sure that it lives up to the quality that you present on your TV program.

I had purchased the red pots and pans for my as a present and after about 6 months they are all fading and I have black streaks that will not come off. We never have cleaned them in the dishwasher. We always wash by hand. I have not been able to contact anyone to get them replaced. I would appreciate any help I can get.

I had purchased Rachael Ray cookware (12 piece set) less than a year ago. Now, my cookie sheet, my pan and one of my pots are chipping. I contacted the manufacturer (Meyer - 1800-214-8369) and spoke to their Customer Relations Team. Their answer was to send the pot and a pan back (and pay for my shipping) and at that point they will decide if I damaged the cookware. Since the cookie sheet has only 30 day limited warranty there is nothing they can do about that. They did offer me a 20% off coupon to buy another cookie sheet which I of course refused. I am very disappointed in the quality and the nonchalant attitude from the manufacturer since this seems to be a reoccurring issue with Rachael Ray cookware. Keep in mind they also manufacture Paula Dean, Cake Boss and Farberware among others. I will make sure that I do not purchase any of their products.

I wanted to purchase new pots and pans for my new home. RR is a big name, cost a little more then others but you get what you pay for, right? WRONG. I loved the idea of the set, and the color. Well I finally was able to use the large pot the other day. Everything was going well. I prewashed and all that. Once I tried to take the pot off the stove, I BURNT my hands on the handles. They are not heat resistance. I called the store. They won't take them back without the box. I called the consumer line. Nothing. The set is still in the packaging from the box, all but the large pot. I spent a lot of money on this set, for it to now just sit. Who wants to cook with oven mitts on? Very disappointed. Charge so much for junk. Let alone what others have said about the pans.

I waited for years to get Rachael Ray pans only to have my 5 qt delivered in a taco shape. Unable to use. I thought her pans were lifetime. Can't find anyone to help me update her info so I can get a new pan to replace this one.

I received the RR red cookware set for Christmas 2015. I opened it up to use in late JAN due to a kitchen remodel & being unable to use my kitchen. I have only used the frying pan & small sauce pan so far. I have only put the saucepan in the dishwasher twice. I noticed today that it had a white haze on the outside of the pan so I ran water over it & began to dry with a hand towel. Red finish came off on my towel & sauce pan is faded.
I called CONSUMER RELATIONS for RR products @ 1-800-214-8369 which has an automated message stating that if you've placed in the dishwasher; discoloration is NOT covered by the warranty. Anything else that "might" be covered requires you to spend your own $$$ to mail it to them to inspect before bringing resolve to you so they put it back on the consumer in hopes most people will not waste their time or $$$ to ship back.
What a joke as the box the cookware comes in as well as online specifically states that product is dishwasher safe. Shame on Rachael Ray for putting a product out with her name on it that she knows is not high quality & then refuses to stand behind it when something like this happens along with all of the other complaints on here about the cookware products.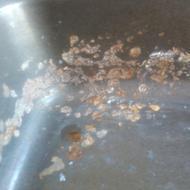 I purchased a complete set of RR cookware set. It came with a free 9 x 13 cake pan. Only a year old and the cookware set completely faded on the outside, and the first time I used the cake pan the coating flaked off and began to rust. As a mother of four boys, I am an avid cook and baker. Needless to say, I would NOT recommend RR bakeware or cookware to anyone. I am extremely disappointed in Rachael Ray's products!

The pans I have had for a year to a year and a half. Six months after having them the small pot was warped. Then tonight I washed a lid for the large pot and sit it in the dish strainer and it shattered. My husband was in the front room and he thought something blew up. They have never been in a dishwasher. Not sure how to get different ones or who to contact to get help, thank you.

I wanted so badly the Rachael Ray cookware, had saved up the money to buy really good pots and pans, and thought they would last me years, paid $140.00 about six months ago. After using them for a few short months and taking good care of them, they are falling apart. Handles are loose, they are all scratched up on the bottom and the color has faded to a dull faint orange and gray color. And I can't use them, everything is sticking to them.
I called Rachel Ray customer care line, and I emailed them also. They sent back an email stating that I need to call Meyer, the company who makes the cookware. Contacted them and they want me to mail all the cookware for a review, and they will decide if I can get my money back. I have 3 small children, I work full time. I don't have time to mail all this cookware back and wait while they decide if I get my money back, it could take a few weeks, and if they think I didn't care for them I get nothing. So disappointed in this matter. If Rachel Ray is putting her name on cookware, you need better customer service. I see by this website that we all can't be wrong. Nothing but problems and complaints. It's about time that somebody made this situation right with your customers Rachel Ray...

Called to see where order was, waited on phone for 22 minutes, representative said it was in progress and I would receive it in a few days... Week went by, called again and again and waited 20 minutes for representative who also told me it was in progress and I couldn't cancel the order. She couldn't tell me where it was or when I would receive it. I said, "I want to cancel.", she told me I cannot and I said I was going to make a complaint and I would like to talk to her supervisor... to which she HUNG up on me. I am on hold again right now for 16 minutes. What can I do? I could have ordered from AMAZON on the same day and got it for Xmas.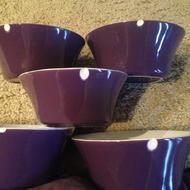 I purchased Rachael Ray Dinnerware Place Setting for 12 from Sears. These dishes are very poor quality. They chip very easily and nearly all of my soup bowls have chips. Out of all the brands of dinnerware I have owned over the years, I have never owned a set that chips as these do. The dishes are being used at home (not commercial) as everyday dishes, washed in a regular dishwasher. I contacted Rachael Ray Store and they kindly informed me that this is a common complaint (chipping). They put me in contact with the manufacturer, Meyer Corporation, who offered me a 20% off coupon code on any of their Rachael Ray/Paula Deen items. Since I am not interested in purchasing any more of these inferior quality products, I declined the coupon.

I spent the extra money and bought the stainless steel orange handle set, hoping they would last longer than cheap ones. Well we have had them for a couple years and we loved them. Well now the handles are falling off. Apparently the rivets used to hold the stainless steel handle on to the pots are made of aluminum. These pots are dishwasher safe. Which I wash them in the dishwasher and by hand. I am very upset, because I got rid of all of my other pots and pans and you can't even use the pots without the handles because there are big holes where the handles are suppose to go. I will never buy anything else of this brand. They are not cheap and should not have to be replaced every two years. I will be calling the manufacturer Monday and giving them an earful.

ConsumerAffairs Research Team
The ConsumerAffairs Research Team believes everyone deserves to make smart decisions. We aim to provide readers with the most up-to-date information available about today's consumer products and services.
Sporting the name of TV personality and chef Rachael Ray, the Rachael Ray Cookware collections can be found at most major retailers. Bright colors and fun accents are the cookware's hallmark.
Colorful: When buying Rachael Ray products, consumers can choose cookware with a colorful exterior, or with colorful handles.
Heat-resistant handles: The pots and pans of this cookware line are equipped with plastic handles that do not heat up with the cookware.
Large product line: In addition to several cookware sets, the Rachael Ray Cookware also includes pieces such as a double-burner griddle, a griddle and glass press set and a butter warmer with a pour spout.
Suction lids: While the cookware comes with a glass or stainless steel lid, suction lids can be purchased separately to allow leftovers to be stored safely.
Best for Beginner cooks and home cooks.
Rachael Ray Cookware Company Profile
Company Name:

Rachael Ray Cookware

Website:

http://www.rachaelray.com/