Consumer Complaints and Reviews

I purchased on Fri the 21 2 dozen half pint and one dozen pint Anchor Hocking canning jars with lids and rings from Walmart for canning. Out of the 3 dozen jars only 4 sealed. The rest were junk. I had also used Ball which all sealed so I know it wasn't my method or anything I was doing wrong. I'm a seasoned canner. I'm very disappointed in this brand and will never purchase this brand jars or recommend them.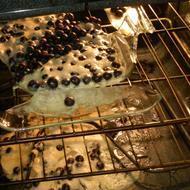 I purchased a 9x9 Anchor glassware baking dish at Walmart. I washed it in warm, sudsy water, dried it and sat it on the counter for approximately 10 minutes. I mixed up batter for a blueberry cobbler, poured it in the dish and put it in a 350 degree preheated oven and set the timer. In less than a minute, I heard a strange noise in the oven. I opened the oven door and glass flew out. The entire pan had exploded in my oven. The cobbler ran all over the oven and onto the heating element, filling my house with smoke. I have a huge mess to clean up and obviously no cobbler for dessert. I'm very disappointed as I thought Anchor was a good brand. I'm throwing out all my Anchor glassware before there's another incident like this one. I'm just thankful no one got hurt. I've seen several other reviews like mine and I'm wondering why this product is still being sold.

As I was pulling dinner out of the oven tonight as soon as I had the glass dinner pan in my hand it exploded everywhere. We was making chicken and baking on 350 degrees. Thank God my father was standing on the opposite side of the kitchen with my 16 month old daughter when this happened and I was the only one to be hit! As I see other reviews this has happened many of times! This is so dangerous! Luckily I was not too badly burned! Just on the tops of my feet but could have been very worse! Why would you not recall these when so many people are reporting that this kind of thing happens!

I have not had any dishes explode as some of the other reviewer's have said. However I have not baked anything in them, just heated things in the microwave. But the lids are awful!!! I never ever put them in the dishwasher or the microwave as I have a microwave cover. But after about two weeks they all started breaking at the edges and were useless to keep the air out of food. I will never buy Anchor products again.

I purchased the glass bowl set, 2.5 quart & smaller ones with red lids. The lids are almost impossible to get off! I gave up and now use a plastic wrap. This is a disgrace for Hocking. I will purchase Pyrex or ANY other product but Hocking. From all the other complaints, it doesn't look like Hocking cares enough to respond to any of their customers... now former customers. Shame on you Hocking. I tell everyone about the inferior lids so they don't get taken either.
How do I know I can trust these reviews about Anchor Hocking?
854,137 reviews on ConsumerAffairs are verified.
We require contact information to ensure our reviewers are real.
We use intelligent software that helps us maintain the integrity of reviews.
Our moderators read all reviews to verify quality and helpfulness.
For more information about reviews on ConsumerAffairs.com please visit our FAQ.

We purchased this set of Rio glasses for the holidays in November of 2016. The first glass to break was one of the tall ones. My grown son picked it up and due to condensation it slipped right through his hand and was broken. Others have broken by having them tap against a table and slipping out of our hands. The final straw and reason for this review is while washing one by hand and very carefully the glass slipped, dropped a few inches, glass flew up and cut me above the wrist. I received a two inch cut, seven stitches, and a nick in one vein. I called customer service and was told, "If you can't send us the glass we can't help you."
My husband left work to come and bring me to the hospital. Thankfully he works five minutes from home. As I was waiting to be stitched up I started wondering if I locked the door. My husband went home and checked the door and while there cleaned up the blood and glass. I found two pieces of glass he missed. Customer service acted like I was the first complaint they had received about their product and told me they would not file any report. "That is fine", I told them. We continued to talk about how thin, slippery, and cheaply they were made. I told them about defects in the glasses that are still in my cabinet and guess what... she decided she would make a file.
I sent them pictures and have had no further contact. Had the cut happened an inch or two lower this would have been much worse. Unless you want your own horror story to write about I would NOT buy these glasses and certainly not as a gift. I wish I knew how to add a photo. I'm not on social media but maybe the site can tell me a way to do it. Zero stars from me but at least 1 is required.

I was in my kitchen when I heard a sound of breaking glass. Started going through cupboards and when I opened the one with glass mixing bowls and measuring cups I found that my large Anchor mixing bowl had exploded. I am throwing ALL Anchor bowls and measuring cups out.

The casserole dish I started to remove from the oven that was on bake at 400 literally exploded in my hands and dropped onto the inner glass of my Thermadore oven breaking the inner oven glass door. When the dish exploded large shards of glass flew into and around the oven. Luckily I had large oven mitts that covers my wrists and lower arm or the glass would have cut me. The boiling liquid from the item I was cooking splattered everywhere as well. Just saw the numerous complaints. I purchased the set at Target. There needs to be a recall but I'm the one stuck having to pay anywhere from $500 on up to fix my oven door because of the product. I have pictures as well to show the damage. THROW ANY ANCHOR HOCKING GLASSWARE AWAY.

Yesterday I was cooking 3 chicken breasts in the oven in a 9 X 13 Anchorware glass dish. The only thing in the dish besides the chicken was some butter (maybe one tablespoon at the most). After 35 minutes I opened the oven door, and attempted to remove the dish from the oven. When I grabbed the handles with pot holders, the baking dish exploded, send glass into the oven, the kitchen and my face. How I didn't get cut was a miracle. Due to the butter being in the dish, the glass stuck to the oven door, the floor and anything else it touched. It took me a complete day to clean my kitchen and oven so it could be used again. I was absolutely amazed at the number of such incidents occurring with Anchor Hocking Cookware. I have not called them yet, but I don't think I would want a replacement dish anyway. I am throwing away the other one that I have. It's just not worth the risk.

THESE NEED TO BE RECALLED. I just bought your three pack backing dishes - put one in the oven and within FIVE minutes the dish EXPLODED! These are incredibly dangerous and from reading other reviews this is apparently normal. Why these are still being sold is beyond me but tell a friend cause this is a terrible and dangerous product.

This was the second time I had used my casserole dish. I was cooking my Christmas ham and the dish exploded in the oven. I'm glad I didn't have the oven open or have other food in the oven because I could have been badly hurt.


My baking dish EXPLODED, sending giant shards of burning glass all over my kitchen and by some miracle missing cutting/burning me as I stood about 18 inches away. The glass burned itself into my carpet and managed to ruin all of the food in the general area. So my dinner was ruined, my cookware is ruined and my carpet is ruined. I hope Anchor comes through and helps somehow - reading some of these other reviews have made me suspicious of their willingness to make it right and compensate for damages caused by their faulty products. I saw where they offered to send someone a new dish... Really? No thanks. I don't want another exploding product. THIS PRODUCT SHOULD BE RECALLED. IT IS DANGEROUS!

Exploding Anchor Hocking Glass - Had a small prep/storage bowl. Put some leftovers in it. After removing from the fridge, I put it on the counter and in less than two minutes it EXPLODED. Food and glass went everywhere. All over the counter and a wide area of the floor. Very scary. Thought I cleaned it up thoroughly, but the next morning I cut my finger on a small piece of glass still on the counter. I am shocked that this glass is still on the market. This product is dangerous and should be recalled.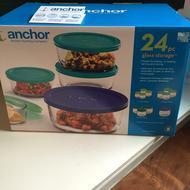 I recently purchased a 24-piece set of glass storage containers, choosing this brand because of its longstanding existence and positive experiences with past purchases. After hand washing the items and allowing them to dry, I nested the bowls and lids in two small stacks and left them on the counter. The nesting fit was roomy. Two hours later while I was in another room, I heard the sound of glass shattering and walked into the kitchen to find one of the bowls completely shattered and glass shards scattered all around the kitchen. The container had never been used, wasn't mishandled, hadn't changed temperatures abruptly.
This was scary enough that I very carefully and quickly reboxed all the items from this set and plan to return them to Walmart. I will also call Anchor Hocking to report the incident, although from all the reviews it appears that my report won't be the first one they receive. It's shocking to me that Anchor Hocking continues to sell glass that randomly explodes, sending shards of glass flying in all directions. Buyers beware!

Two weeks ago, I purchased a twin-pack of Anchor Hocking glass bakeware which included an 8" square and a 2 quart bake dish with blue storage tops from JC Penney. I washed the pieces in the dishwasher, then stored them in a kitchen cabinet. Two days ago, I opened the cabinet door and the larger bake dish had exploded into at least a couple of hundred pieces. Fortunately, no one was injured. I think this product should be taken off of the market!

After reading a handful of reviews I was amazed that how many people this happened too. The first time, about six months ago cooking a little frozen stuffed chicken half way through about 15 minutes in the oven we heard a sound in the oven and the baking pan literally exploded. Never saw anything like it. We thought maybe a fluke thing. Just about half an hour ago today, another one we had stored on top of a shelf where we keep a couple baking pans we heard a huge bang (scared the crap out of me). Looked and saw shattered glass everywhere!! Freaked me out. I thought the place might be haunted. That's when I looked at these reviews and couldn't believe so many people it happened to.
The only good that came out of it was that our house is not haunted lol!!! Regardless to say these product should NOT be sold at all!!! I'm surprised there still on the market because somebody can and unfortunately from what I have read people have already gotten hurt. Also in my opinion shattered glass hard to clean every little piece especially when it shatters like that. We had one more and threw that in the garbage to avoid another explosion!!!

I was baking a spaghetti casserole in a 350-degree oven. The recipe called for 35 minutes in the oven. After being in the oven for 15 minutes I heard a strange noise. It was the pan exploding in the oven. I shut the oven off immediately but had spaghetti all over the bottom of the oven!!! I took pictures of the incident. I would not recommend these pans from Anchor Hocking!!! Very disappointed!! I know you people owe me for this pan!!!

Last night I was cooking homemade rolls, nothing out of the ordinary. I used no fats or water or anything inside the oven, which could contribute to a rapid temperature change causing an explosion. I sat the dish on top of the oven to butter the rolls on top and to cool. My 11-year-old daughter helped me. We walked toward the refrigerator to put the butter away (minutes only) and heard a cracking noise and then a pop. The dish exploded and sent very hot, sharp shards flying feet from the oven, where a one-inch shard pierced my foot about 1/2 an inch deep, creating a wound that bled profusely when I yanked out the glass.
My daughter was traumatized from seeing me bleeding this way. If she or I would have been closer it may have pierced an eye. This is beyond dangerous. Don't use this product ever. Not worth it!! This happened to me once before with the same type of product inside my oven and I thought it was a fluke. I should have done my research then. I am lucky that I only had to put my foot up for one day so far because if I bore weight on the injury it would bleed. Seriously something wrong with this cheaply made product. Defective to say the least!!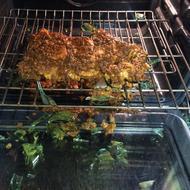 Was cooking an enchilada casserole which had been in the oven about 15 minutes. Opened the oven to add cheese to the top and the dish exploded sending shards of glass all over the oven and kitchen floor! What a mess! I had to take the oven door off because the door was open when the glass broke and hot enchiladas dripped down into the crevice where the door opens! What a mess!!

This morning, I came downstairs and began emptying the dishwasher. When I opened the cabinet to put away some dishes, I was amazed to find our Anchor 2 Cup measuring pitcher lying in pieces INSIDE THE CLOSED CABINET. During the night, this piece of glassware spontaneously exploded AT ROOM TEMPERATURE with enough force to throw glass shards 2 feet away inside the cabinet. I find this totally inexplicable since there was no temperature differential involved, no movement and no compression factor since the pitcher was sitting isolated on top of a padded shelf liner. I've included pictures of what I saw when I opened the cabinet door for reference.
This Anchor Hocking pitcher hadn't been used or moved for days because we happened to be using our Pyrex brand pitcher for cooking. Examination of the shards shows holistic cracking throughout the base. While I understand that any glassware can break under certain circumstances such as sudden temperature differentials, this is the first time I've ever seen glassware explode at room temperature.
My research on Consumer Reports indicates that Anchor Hocking and Corning now both manufacture their "bakeware" for the USA market using the less expensive "Soda-Lime" glass rather than the more expensive "Borosilicate" glass used in the past and still used in Europe. Corning uses tempered soda-lime glass for it's Pyrex bakeware line, I have no information regarding Anchor-Hocking but the implication is that it is not tempered. We will not buy any more glassware from this manufacturer and I solicit their response. For more information, Google "anchor hocking glassware exploding".

After waiting nearly 3 months to get my set from Amazon it finally came, forgetting all about it. It was kind of a surprise and so was the accident that happened the very next day when I tried to microwave my food... on the very first use after reading that it's microwave safe the glass shattered and went everywhere. Not surprising after reading all the review though. Disappointing.

I bought a new 9x13 cake pan, brought it home, washed it, made a cake, baked @ 350, took it out of the oven, walked 5 feet away from cake cooling on rack, and the pan broke into a million pieces, all over the kitchen the cake. Call Anchor Hocking, they told me they would only compensate me for the pan because I didn't keep the dish and send it back. I ask them where it says that. I still had the original pkg, and nowhere on that pkg did it say that. I told them to keep their dish, I would never buy from them again. Bad customer service, poor quality product.

Anchor lids all split. Will never buy again as they are useless without the lids. Waste of money. Do not buy. Very poor quality. I'll be buying Pyrex from now on. Had them for years.

I have bought several glass containers from Anchor Hocking. Every single one of the plastic lids has cracked rendering the entire container virtually useless, since it's no longer sealed. Completely disappointed these are not covered under warranty. I can pretty much buy a whole new set for what it would cost me to replace the lids...which by the way have only ever been in the refrigerator and dishwasher as per written guidelines. Will not be supporting this company in buying anymore glass from them.

I had a 13.5 x 9.5 rectangular bake-ware that exploded in my oven yesterday. What or who do I contact about that?

I purchased an Anchor dish a few months ago and had used it about a dozen times. It had been in the oven with some fat in it prior to placing potatoes in. I took it out of the oven and placed it on a breadboard. Before I could put the potatoes in, it exploded sending hot shattered glass everywhere. I was extremely lucky that I was not hit. The breadboard had tiny fragments of glass embedded in it and had to be thrown out as did our lunch. Part of the kitchen floor was melted where a large piece of glass had landed. We are still removing tiny fragments from the work surface and the floor.

After baking a Lasagna, I let it cool for thirty minutes, and sliced portions to remove for serving. On the next to last slice, as I was removing the knife and without touching it the Glass Baking Pan literally jumped in an explosion sending shards and pieces that had the appearance of safety glass similar to an automobile windshield, when they break.
It is imperative that these companies return to the old Pyrex style and formula. This Chinese inspired soda-lime formula are going to severely injured or kill someone, as these exploding "Bakeware Pans" are on the rise. My face and eyes were within a foot from the exploding Glass and I'm unsure if any entered my eyes or not as this explosion occurred within the last two hours. Glass shards are everywhere in my kitchen and top of the stove where the Lasagna had been cooling. I have mopped up but still am unsure if all the Glass has been picked up. Also had to throw out an entire Lasagna, which has irritated me sufficiently.

We have several small Anchor Ovenware bowls with lids. Just a few minutes ago, one of the lids just exploded all over the kitchen. The dish, neither the bowl nor lid, were being used for cooking - the bowl and lid was simply sitting on a shelf at room temperature. Needless to say, I'm removing all Anchor products from my house, including the remaining bowls and lids.

ConsumerAffairs Research Team
The ConsumerAffairs Research Team believes everyone deserves to make smart decisions. We aim to provide readers with the most up-to-date information available about today's consumer products and services.
Since 1805, Anchor Hocking has made bakeware and kitchen prep tools. The company's products are sold in major retailers nationwide and online. Its tempered soda-lime-silicate glass bakeware is designed to be durable and safe, virtually eliminating the chance of the bakeware breaking or scratching under normal conditions.
Oven safe: Anchor Hocking Cookware is designed to be used exclusively in the oven to bake desserts, casseroles or other items.
Heat conductive: Made of either glass, silicone, or ceramic, all pieces by Anchor Hocking are designed to conduct heat evenly.
Dishwasher safe: Consumers can safely clean their products in the dishwasher.
Portable: Most items come with silicon lids that seal securely for safe transportation and storage.
Best for Beginner cooks, home cooks, home chefs and professional chefs.
Anchor Hocking Cookware Company Profile
Company Name:

Anchor Hocking

Address:

519 Pierce Avenue

City:

Lancaster

State/Province:

OH

Postal Code:

43130

Country:

United States

Website:

http://www.anchorhocking.com/