Consumer Complaints and Reviews

We purchased a Maytag, ELECTRIC range/oven, Model# MER8700DSO. Electric because GAS is not an option where we reside. Nothing bothers us, and the stainless steel finish is terrific! This machine works so well our only regret is not having it sooner. Poor warranty, poor construction, and poor performance would be a definite deal breaker, but thankfully, our investment in our appliances is paying off quite well! Do NOT pay for an extended warranty wherever you purchase the appliances as Maytag offers almost the same, but a little better and a little less money.

I did not purchase it. This range came with my home. The electric range works great. It is thorough and I don't have to worry about the gas being on and filling the house up. Electric may not be for everyone, but it is the way to go for me. I will look for similar if not the exact same make/model if a replacement is necessary. I don't mind spending a little extra to ensure the product will last. So many products don't last nowadays and it is sad.
I am not an avid cooker, actually I tend to mess up a lot of food recipes but the electric range helps me to reduce the number of problems I run across with the durability and accountability of the product. It cooks throughout the entire dish/pan and I have never had a problem with the unit working properly, just the user not working properly. Haha.

Turned the oven on, and it failed to light. A little while later, it started leaking gas into the house. I'm lucky the house didn't explode!

Maytag calls peeling paint a cosmetic issue. With a convection oven it could be a toxicity issue. Waiting for an answer to my question as the fan blows the peeling paint onto anything that is not covered. Don't put foil on the bottom as this compromises the paint due to design. Truly sorry to have purchased Maytag as this line is not the Maytag we grew up with! Old school ovens and products had the quality or workmanship to last.

Less than four years ago we purchased a new set of Maytag appliances, refrigerator, stove, dishwasher, microwave, and upright freezer. To date, the only appliance we have not had a problem with is the microwave. The bottom element is not working on our stove model # MER8775AS. We will never buy Maytag or Whirlpool products again. Save yourself time and money!
How do I know I can trust these reviews about Maytag?
854,137 reviews on ConsumerAffairs are verified.
We require contact information to ensure our reviewers are real.
We use intelligent software that helps us maintain the integrity of reviews.
Our moderators read all reviews to verify quality and helpfulness.
For more information about reviews on ConsumerAffairs.com please visit our FAQ.

I have a major complaint with the Maytag double oven design. With the smaller oven above, if you spill any liquid while taking something out of the top oven, the liquid drips down between the two panes of glass on the lower oven door. This makes it impossible to clean. Maytag's reply - call a service rep and have him make a house call and take the door apart for you and clean it. Not warranty work so I would have to do this every few months. Also, when baking in the upper oven, cakes and cookies tend to overcook on the bottom as the dishes are so close to the element.

Our circuit board has went out twice. The stove is not designed well. The oven vent sends hot air over the plastic panel / circuit board. It melts... The first one was under warranty and the second, only three years later, was not. This is a very expensive part and Maytag will not even talk about giving me a discount.

I purchased a whole stainless steel kitchen from Lowe's and purchased all Maytag products because of the so called quality of Maytag. First we had to return the microwave because it was dented badly. We then notified Lowe's that the door on the refrigerator cold cut drawer falls off when opening the drawer. Service man said he would send a new door. Same problem. You can clearly see that the drawer and the refrigerator frame is deformed. Maytag says that the warranty does not cover cosmetics. The range has a aqua lift self-cleaning technology that simply sucks. The oven does not clean! I recommend that no one ever buy Maytag products. They are the worst! I should not have listened to the salesman and bought what I originally wanted - SAMSUNG!!!

I purchased this oven in April 2015. I have had nothing but problems with the unit. The temperature is off. I have had the "probe" replaced in July and will be done again next week (January 26, 2016). The AquaLift self-cleaning feature does not work. I ran the self-cleaning feature about 8 times and back to back on several occasions. The service providers stated that it really doesn't work and there is nothing they can do about it. The front of my oven, above the vent, is stained from the oven exhaust. They said there is nothing they can do about that either.
The last service company that came out for a service call to check the oven temperature came without the proper tool to check the temperature and ended up snapping the propane line. I was given 6 month of a free extended warranty "for my inconvenience" and told that the company does not replace models. They will continue to come out and repair them. I will never buy another Maytag appliance again.

We had a house built in 2007 and bought all new Maytag appliances - washer, dryer, oven/range, dishwasher, refrigerator and microwave. Consequently, we spent many thousands of $ and Maytag made much money from our purchases. In the 7.5 years since we have been using these appliances, the dishwasher already had to be replaced, as fixing it would have cost just as much as buying a new one. But it's the range that I am so angry about. I have replaced the igniter 3 times since 2007, and last night, it went out again. I have spent $494 so far to keep replacing the igniter and once I make the service call to replace it AGAIN, it means I will have spent approx. $700 to keep fixing an appliance that is only 7.5 years old. Maytag says the warranty on the appliance is only for 1 year and will not budge on giving me a break on cost of parts and/or service. I will NEVER AGAIN purchase anything Maytag or recommend Maytag to anyone.

The top of the range has blistered and has worn off. It cannot be cleaned. I spoke to a Maytag representative and was told to try and use magic eraser to clean around the burners. This did not work. The model number is mgr7775xs. Is there any solution to this problem. My range looks terrible.

CHRISTMAS morning Set oven to 325 for ham. Control board caught fire and burnt wires and burnt inside of rear cover. It got hot enough to char the wood wall behind stove. This could have killed my family on CHRISTMAS.

The first problem happened a month after we bought the horrible product. I had biscuits baking in the oven and the oven door locked itself like when in self-clean mode. Maytag sent out a repairman that had the part in his truck because they knew there was a problem with that model's door. I pointed out that the door does not shut properly, causing inaccurate heating and scorching on the outside of the oven door. The repairman insisted that it was shut properly, and that it was designed at the angle the door sits. He replaced the scorched part of the door, but it immediately scorched again. I have had the part replaced 3 times, and will not do so again until we sell the house.
I have spent over money over and over again to make the repair, because it makes the stove look like it is filthy with grease. Now, all the dots painted on the glass top are coming off, and the remaining black glass behind it also looks like burnt grease. It is so embarrassing when entertaining; but the stove is clean. I spent a lot of money for this, and it has been junk from day one. Avoid purchasing.

We have had our oven for seven years this past October 2015 and has now been down for three weeks. Last February 2015 (8 months ago) we had to replace the bake igniter because the oven would not get up to temperature. The most recent incident happened a few days after Thanksgiving (2015), I was cooking dinner and noticed that the oven was not reaching desired temperature. I then opened the door to see if it was hot inside the oven and when I did it must have ignited making a huge poof and flames came out at me! Thank God my 12-year-old daughter had walked away from cooking with me to answer the telephone because the flames came out exactly where she had been standing!!!
I contacted Maytag and explained what had happened and how we could have had an explosion or someone could've burned. The first questions they did ask me was if anyone was injured or any damage to our house?!?! I was happy for that however, it also told me that this has happened before! They called the Maytag repairman in my area and "supposedly" made it a priority call in which he could not come until 12/10 which was two weeks after this happened. Therefore, my husband and I contacted a different appliance man who came out and told us it was the temperature sensor. Since fixing it, the oven works ok and cooks properly however, when initially lighting/igniting it is extremely loud and makes a very large/huge poof! It's as if the oven is filling up with gas and eventually lighting!
The other night when I lit it to show my husband it was so loud that it rattled the door and he immediately turned off the gas to it. I googled this and it said that it's basically a mini explosion where the oven is filling with gas and then igniting! It's to the point that we could lose everything we have worked for just to make a meal! We spend over a thousand dollars on our beautiful stainless steel convect oven. It's gorgeous and when working works great however, I'm petrified to use it now because I'm scared to being burned or exploding!
Now we start over and yesterday on Sunday I contacted the original Maytag repairman who said to call back Maytag again and he'll come immediately. Maytag originally told me on the phone that they would cover labor and the service call however, ironically enough they did not write that in the dispatch order! I'm outraged! What will it take before it's safe for our family and home! My husband is ready to junk it and buy a GE however, we do not have the money especially before Christmas to do so. Oh and let me add that the first week we had the oven we had to call them for the window seal to be replaced because it was hanging. So now seven years after owning it and 10 months apart we are having major issues. What happens if it's fixed and a year later it happens again? It could explode in our home!!! SCARED & IRATE WITH MAYTAG & WHIRLPOOL.

I purchased this range from a Maytag outlet in Nov. 2006. No problems with it until Nov 2015. The oven igniter failed. This was serviced locally and replaced in an efficient manner by the local service tech. All is good until 2 days later when I decided it is time for an oven cleaning cycle. I set the cycle for Medium Soil (3hrs). After the conclusion of the clean cycle, the oven (bake) would not work. Called Maytag service, the service tech replaced burned up oven wiring as well as the igniter again. However, the cleaning cycle had taken out the gas safety valve control as well. I am now told there is no replacement oven gas safety valve unit available anywhere. I even called Maytag's 1-800 number and searched online only to find the part on backorder and not available.
I find this particularly frustrating in light that I spent over $1200 on a Maytag product I thought would bring way more than 9 years of service before it is deemed unrepairable. The average gas range lifetime is 18 years. In my opinion, not a good return for the investment. It's a shame because the rest of the range works and looks fine, which is now destined for the dump. I am replacing the Maytag with a $550. Frigidaire with manual cleaning. Will never buy another Maytag appliance or a self cleaning oven again. If the self cleaning feature has the potential to fry the controls, why would they offer such a feature, or why couldn't they warn one of the potential failure.

Our oven is 3 years old and the last time I used the self clean option caused the control panel to malfunction. Now we have to buy a new panel. The repair guy online advises people not to use the self clean as this is a common problem!!! What? I can't use that feature? That is so ridiculous!!! Now we have to pay $300. Whatever happened to the Maytag claim to quality and you would never see a Maytag repair man? Something needs to be done about the problem of appliances and electronics being so poorly made and basically disposable.

I purchased a unit in Nov 2013 and as of today Nov 2015, the handle fell off and the heater unit went bad. What ever happened to dependable appliances?

The AquaLift Self-Cleaning is a very poor substitute for a normal high temperature Oven-Range. It gives as much work as an oven without any self-cleaning, as it does nothing to the sidewalls or the door. The minimum temperature is 170 Fahrenheit, too high to rise a dough.

We 'inherited' this Maytag (Model MGR7662WW) when we bought our house this year. I love this unit. It cooks accurately, it's easy to clean and it's just rock solid in its performance. I never worry that the cook times are going to be off either. The oven racks are solid and the overall look is nice. Our friends and family love the center grill as much as we do. If I need to pull something off the burner I don't worry that I'll scratch the stove top with this feature. The oven heat is also pretty contained. Our old oven radiated lots of heat through the top. This one doesn't and that's a huge plus. The only reason I'm not giving it 5 stars is that the grills are cracking (not the center one). However, I have no way of knowing if the original buyer damaged them or if it's a defect in materials. They still work fine but I will need to replace them at some point. Given the cost of replacing them I'll wait as long as I can.

The Aqua lift cleaning system is a complete joke. Have had to replace oven light bulb 6 times in 11 months. Control panel is completely discolored. Expected far more from a Maytag product.

I purchased the Maytag oven in January and have had the service technician out 5 times to try to repair the oven because it doesn't heat properly. They've told me that because I live in a condominium that it is normal for the oven to take an hour to preheat, then another hour for the second oven to preheat. When I am baking the oven does not hold the temperature and anything I bake takes much longer than it should. They refuse to get me a new oven.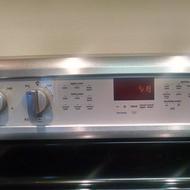 We had a wonderful Bisque Maytag double oven in 2002. We bought new stainless appliances this year, and have been very disappointed with the range. Why do you have to hold the temp and timer settings one increment at a time to set it, and why do you have to push Start after that? Frequently we set the temp or timer and walk away, only to find that the oven or timer did not begin because we forgot the new step. When the timer goes off, you have to push it twice to get it to reset. The burners themselves have too many confusing pictures for the settings. What happened to low heat, medium and high and hash marks in between? The stove top itself is a nightmare to keep clean. Give me back my coil stove any day!!!

MER8700DH - Within 6 months, left rear burner stopped working and Maytag repaired it under warranty. Within next 6 months, and just before end of warranty, right front burner stopped working and again Maytag covered it under warranty. Within the second year of ownership, the oven was not working correctly and Maytag refused to cover it because it was off warranty. So I called a local appliance repair company who gave me an estimate of over $300 to repair it and basically advised against repair stating that this stove was a "piece of junk". So I replaced it with a GE and junked the old one before it was even two years old. I filed a complaint with Maytag. At first they said they would go half on the labor, but then they said I should have bought the extended warranty and refused all further help.

Bought this stove in 2011. 9 months ago I had a 300$ repair for fuses to two out of the five stove top burners. Several days ago the ovens were not lighting and I called for repair again. Well the ignition switch in the lower oven had a frayed wire from the factory which created an issue with the control panel. Today I was quoted 600$ to repair the ignition switch and the main control board. PARTS ONLY. I am not repairing this stove. Called Maytag due to the issue of a defective ignition switch wire and got nowhere. Very poor quality product.

Maytag Smoothtop Double Oven - Bought this stove 2 and 1/2 months ago and already buttons aren't working. Very disappointed, not getting a Maytag again.

Absolutely the worst experience ever. The repair people that were sent to address the problem were great but the Maytag people did not care. I bought a new electric convection oven, the convection never worked. The repair people came out several times and checked and adjusted to try to fix the issues but the oven is totally inconsistent. Even the repair people thought I should have gotten a better response from Maytag! Maytag just said that I had a repair but not replace warranty - of course the warranty period is over now. I had trouble from the beginning, I would never buy another Maytag product. I thought that a company that supposedly has a great reputation would care more about their customer.

I have had 2 Geminis. The first one was fine, this second one is a mess. I have had at least half a dozen parts replaced. I have insurance to have this oven repaired but have paid to have the window seal replaced on at least 3 occasions. The top of the oven is so hot that when I have used the burners to cook on top I have received 2nd degree burns. I have received burns on several occasions. I asked dealer if I could trade this in but said I would have to sell it on my own. I would not subject this oven to another person as I feel it is very dangerous.

Gemini Twin natural gas range - I bought this range approximately 18 months ago. I thought it had all the features I needed and it looked good -- looking good is just about all it does! If you are a "real" cook I would suggest you avoid this range. The burner controls are preset and it is impossible to turn the flame very low if a simmering heat is required. If you are making meringues, again, the oven heat cannot be turned to a cool enough temperature. Ovens bake/broil unevenly. It takes forever to bring a pot of water to a boil, not because the flame is not hot enough, but because the pots sit far too high above the flame. Bad, bad design. Probably designed by someone who eats take-out!!

In the past 20 years, we purchased a washer, dryer, stove and dishwasher... all Maytag. The washer (purchased 20 years ago) is still functioning well! The other three appliances have all given us trouble and the dryer is no longer with us. Our stainless stove is LOVELY but that's about all it's good for. Within 12 months, one of the burners burned out... just beyond its warranty. It has two ovens and 3 years after purchase, neither will hold a constant oven temp and both take an eternity to warm up... although the digital temp on the oven tells me it's toasty warm. Recently, the dishwasher's control panel won't set properly. An attempt to set it for a normal wash/dry cycle results in "rinse only" and a "2 hour delay". Make them like you used to, Maytag! I'm no longer a customer!!!

According to Maytag's manual "Odors and smoke are normal when the oven is used the first few times... Exposure to the fumes may result in death of certain birds." What about humans? I had serious respiratory problems and the "industrial-level" fumes lingered after dozens of uses. Neither the upper nor the lower ovens are calibrated. Upper oven baked at 325 when digital readout said 350. Lower oven had to be set to 365 to cook at 350. (After several puzzling baking disasters I bought an oven thermometer.) YOU are supposed to calibrate it yourself with cryptic instructions and a lot of trial and error.
Compare Ranges, Ovens, and Stoves
Maytag Ranges/Ovens Company Profile
Company Name:

Maytag

Year Founded:

1893

Address:

553 Benson Road

City:

Benton Harbor

State/Province:

MI

Postal Code:

49022

Country:

United States

Website:

http://www.maytag.com/