Consumer Complaints and Reviews

My husband purchased the KitchenAid mixer for me. We waited 3 years before we felt we were financially able to purchase one. I especially wanted it for the rebate going on in Costco for a free ice cream attachment. My father is on dialysis and his health isn't doing well, so I was in another state for the past couple of weeks. I thought the last day of the mail-in rebate was the last day of November, but when we came back to our apartment we saw that the 29th was the last day. We were really disappointed but had hope that KitchenAid might make an exception for just another day. We called, and they refused to work with us. It got me thinking that if anything happens to the KitchenAid, they will probably provide poor customer service.
Then when I came onto this website and saw the bad reviews, it really solidified our position. My husband does not want to give his money to KitchenAid anymore and we are returning the KitchenAid to Costco because now it is forever associated with bad customer service. I'm very disappointed. I was prepared to be a lifelong customer. Not only that, but I like to recommend products to people because I like to test out different products. Customer service is a huge part of customer experience. Brands are lifelong and get passed onto children, and I'm not prepared to do that with KitchenAid since I always take customer service into account.

I purchased a KitchenAid stand mixer at Kohl's. I used it only a couple of times when I noticed gouges where the head lifts up from the base. We took it back to Kohl's and they were terrific about it and replaced it for me. While we were waiting for them to check on the color that I wanted, Aqua Sky, I looked at the ones that were on display... there were 7, 5 of those 7 on display at the store had gouges in the same spot as the one I had just returned. I just happen to have my camera in my purse, so I took photos of all 5 scratched mixers. I already had a photo of the one that I returned. When we brought the new one home and took it out, it also had scratches in the same place. I called KitchenAid and spoke to a rep and she said they would send me a new one. I told her about the photos that I took, she didn't even want to hear it. So, a couple of weeks ago, we received the new mixer, it looked like there were no scratches.
Today was the first day that I went to make cookies. After lifting the head and bringing it back down, there it was, a SCRATCH!!! I continued to make my cookie dough. All of a sudden, the metal piece on the front of the mixer fell into my batter. I dug it out, and then I noticed that my batter had black in it. I scrapped the dough... washed the mixer bowl for the second time, made a new batch of dough, and once again, black in the dough. Right now the bowl is in the dishwasher, and I'm using my vintage Sunbeam mixer to do my baking today.
I put in another call to KitchenAid and I'm waiting for a callback. I was so excited to get this mixer and it's turned into a big headache!!! I also sent in a rebate and was told in a letter that I wasn't eligible. That same day that I bought the first mixer, I bought a second one as a gift... I hate to even think of someone that I give this to having as many problems as I'm having!!! I haven't yet taken a photo of the scratch on my 3rd mixer!

I'm saddened to read of all the horrid experiences people are having with KitchenAid products. I'm specifically writing to partly compliment the company (as it used to be) and maybe to explain some of the more recent disappointments. KitchenAid was started in 1919 by the Hobart Corporation. I have the heavy-duty Hobart KitchenAid K-5A stand mixer, which has served faithfully since about 1970. I would be lost without it! I'm actually trying to find someone who "tunes up" these mixers, because it could probably use a little TLC, and I'll happily pay the equivalent of a new one to have my old workhorse keep on going. I also have a KitchenAid refrigerator, which I bought in 1987 for $1,000 (a lot of money then, "top of the line"). Seriously! It is still in my kitchen chugging along! That's the good stuff, though.
The KitchenAid story continues... In 1986 Whirlpool Corporation purchased the KitchenAid company, so - effectively - in my mind the products are now actually "Whirlpool". I'm sure if I'd purchased my fridge a year or two later, it would now be long dead (I'm guessing in 1987 it was still the "old" quality stock.). It's too bad the quality of the company as it existed for so many years is no more, and the current owners are still riding on (and apparently ruining) the reputation of the original KitchenAid (Hobart) company and products. I can't come to any other conclusion, but it really isn't the same company we used to know.

I always wanted a KitchenAid mixer, but we could never afford one. We were at a used electronics store and there was one sitting there for $35! It happened to be Mother's Day weekend, so my husband grabbed it. I don't know how old it is, but it was definitely old when we got it and I've had it for 8 years now. I use it several times a week, usually for bread dough, and have never had any issues.

My KitchenAid mixer has stopped working after 6 years of LIGHT use. It was used maybe once a month and stored under a dust cloth in a cabinet. I contacted customer service and they want me to purchase shipping to their service center for $42 and pay $50 to diagnose the problem. I asked how a lightly used mixer that was meticulously cared for could stop working in such a short period of time. The rep said that sometimes mixers break and it is not due to use or care. Since their mixers break regardless of use or care (per rep) then apparently the company has a quality control issue. I asked for a free diagnostic of my mixer. The company refused any responsibility since the mixer was more than one year old.
The company admitted to me the MIXERS ROUTINELY BREAK DUE TO THE POOR QUALITY but insisted that it was my responsibility to fix it. They expect $92 to diagnose a mixer that was HUNDREDS OF DOLLARS new (and not very old) and even more money to fix the problem (repairs cost $50+). So I am supposed to pay $150++ to repair a $300 mixer that is practically new??? STAY AWAY FROM KITCHENAID PRODUCTS!! Total junk! (I had a KitchenAid mini chopper that motor quit on me recently too- 1.5 years old and out of warranty) Never again.
How do I know I can trust these reviews about KitchenAid?
635,598 reviews on ConsumerAffairs are verified.
We require contact information to ensure our reviewers are real.
We use intelligent software that helps us maintain the integrity of reviews.
Our moderators read all reviews to verify quality and helpfulness.
For more information about reviews on ConsumerAffairs.com please visit our FAQ.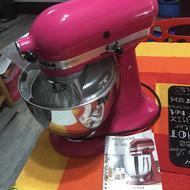 My father gave me a KitchenAid mixer as a present for my birthday last year. I was really elated when I opened the box because I have been wanting to have one ever since. He got me the pink color and it made me more excited to use it because that is my favorite color. It even came with a booklet that contains delicious recipes that I can't wait to try. I used it already to bake my husband's favorite - banana bread and it didn't disappoint. The batter was mixed thoroughly in a matter of just a few minutes. I'm looking forward to using it again.

I got this KA Stand Mixer about 3 years ago and very seldom use it. For the first year, it worked fine; however, since about 2 years ago, every time I use it, the motor gets really hot. I don't use this often, not even once every 3-4 months. And today, I'm in the mood of making bread and in the middle of process suddenly it stopped. I can't believe this mixer with its price only lasts less than 3 years, especially for me who probably only use it 3-4 times a year. Very disappointed.

I paid $600.00 for a KitchenAid Mixer at Kohl's, and it broke down 1.5 years later. Of course, the company will not back it as the warranty is for 1 year. I chose to order the parts and fix it myself with my husband, who is a mechanic. The repaired unit lasted 10 months. Same problem. Are they using cheap metal parts or what? My suggestion to anyone buying one in the future, get the extended warranty or find another brand. Check the reviews on stuff before buying. My first mixer lasted 35 years, and I used it for making bread weekly for all those years. Their customer service treated me like I was an inexperienced idiot, and didn't know how to use it.

I spent the money and bought the 600 for the power because I make bread. The machine was made in 2014. I've had it for 9 months. Gear box burned out because they are made of very soft metal. I have only used it in the house for light duty. Customer service for KitchenAid was terrible. No warranty, no help. When did this company go so far down the tubes? 6 months out of a $600 mixer! Stay away from this garbage!!!

I am a disappointed user of the KitchenAid Artisan stand mixer. Ever since its purchase in 2015 January I have had to call the company for one repair or the other. It moves and wobbles while mixing. The screws keep falling out.

My KitchenAid mixer was not worth the money. It shakes when using it. The pin located in the back of the head keeps coming out. You have to keep adjusting each attachment when you use them, and it gets really hot when you use it for a period of ten minutes. Warranty isn't worth the paper it's printed on. This company should BACK their products, especially when the price is so extreme and consumers try to purchase "name brand" appliances assuming they would last. I am so very disappointed with KitchenAid. The quality of KitchenAid is so poor that I wouldn't take a new one IF you even offered a significant discount! I rarely use mine, maybe once a month, and to have it act up like this is not acceptable...

Do not let the "KitchenAid" brand fool you! I've gone through TWO of the exact same mixers, both only lasted 1.5 years and both broke the same way! When my first mixer (KitchenAid professional 600) broke only 1.5 years into using it, KitchenAid customer service offered me to pay $150.00 to send a replacement mixer. They said this mixer must have been defective. I was not impressed to pay the $150.00 for a company error such as a defective product. This should have been their responsibility to stand behind their product! I paid the $150.00 for the replacement mixer, which I was assured would not happen again. Not only did the exact same issue happen again, it actually lasted the exact same amount of time - 1.5 years! How this company gets by selling an $800.00 mixer that completely breaks down within 1.5 years (half a year outside of the warranty by the way), is beyond me.
So we phoned KitchenAid customer service once again explaining everything expecting them to replace this faulty product. Not only did they not offer to fix it, or replace it, or for me to pay $150.00 for a new one, but they offered 15% off a new mixer! Why would I spend another 800$ on a NEW KitchenAid product KNOWING it only lasts 1.5 years and KNOWING how terrible they treat their customer and their own company doesn't even stand behind their products. By 'breaking down' I mean it completely stops mixing and makes a loud sound as if the motor is breaking down. It is completely useless. I own a custom cake company and we used it for icings & small batch batters in addition to our larger mixer. Never used it for anything strenuous like bread or pizza dough (although you would hope it could handle that also - it does come with a bread hook after all).
I will never buy another KitchenAid product ever again, I strongly DO NOT recommend this product! I'm sure KitchenAid has other products that work fine, however, after experiencing their useless terrible customer service I will never trust their brand on another product. If they can't even stand behind their product(s)/brand then how can you feel good about buying it? The second you have a problem - they're gone!

KitchenAid MixMaster keeps falling apart and dropping globs of black grease into the food I am repairing. The part that holds the mixing heads on keeps dropping down during mixing. There appears to be nothing that holds it together. I own a very expensive piece of junk. I've only had it about a year, it was purchased at Bed Bath & Beyond. Very sad. I now need to find a brand that will make my life easier not more frustrating.

My 600 series KitchenAid mixer seized up in just over one year of very light duty use. Estimate of total hours of operation 45. The gear drive ground to a halt. I opened the housing to find a number of gears had been shredded and numerous teeth were missing from the gears. This is a sign of unusually cheap metal. I believe them to have a high content of zinc as they had the dull appearance of a form of pot metal or possibly slag. The gears were certainly not steel. I called, service was not friendly or helpful, and were relieved the machine had just passed the warranty period. I will avoid the cheapened KitchenAid brand from now on.

I purchased a KitchenAid Artisan Mixer at Hudson's Bay Nanaimo, BC for a Christmas gift. I wanted a white colored one and on the box it said the color was white but when it was opened Christmas morning it was a dark purple color. We did not even remove it from the box but instead closed the lid and tried to exchange it couple days later but the staff at Hudson's Bay stated they have no white ones left and there are no white ones to be ordered from the warehouse. They also said they would not know when they would get more in. We asked them if they could call us when they get them in and one girl said they can't phone us but for us to keep checking in. We don't live close by so it would be both inconvenient and costly with gas to keep checking in. (We can phone them daily but what annoying inconvenience to do this daily)
We asked the staff if they could phone other stores but they said no one will answer the phones as it is few days after Boxing Day and no one will answer the phones at the other stores. Our family was disappointed this Christmas day as we were going to use the mixer to make special Christmas bread recipes for Christmas dinner but we could not do that. (Unless we wanted to keep the purple mixer) We will just have to wait for the white ones to come and since they cost a fair amount I think that we should not settle for just any color when we want the white one.
I know there is such a thing as human error but these toys aren't cheap and someone should be checking that the product matches what it states on the outside of the box. Next time I buy anything in a box I will literally take it out of the box to make sure I'm getting what it says on the box. Funny, I even double checked with the store clerk to make sure it was white and she read right on the box that it says it is white. Now we may have to wait months for it to arrive at the Nanaimo store.

The review by Yvonne-** of Blairgowrie, 2/2015 is spot on. This Artisan Kitchenaid mixer must have been designed by someone that has never used a mixer. It is a waste of money and now that I am back to my old Black and Decker, I am free of hassle. Now, how to get rid of this piece of junk...

After I used my mixer I am not able to remove the bowl from the base.

I have just purchased a KitchenAid Mixer after many years of owning a Kenwood Mixer. I have found it difficult to put the whisk and beater in place and after three days of use the beater base has now had some area of paint knocked off and you can see the metal underneath it. Has anyone else had this experience?

We received, for our wedding, a KitchenAid professional 600 mixer that was manufactured in 2007. This (a KitchenAid mixer- old style 4 qt.) was what my parents received 35 years ago for their wedding and was a tradition I was excited to continue someday with our 6 (and counting) children. Unfortunately, after about 1-2 years of light use, the planetary housing began to come loose and work its way off, falling into the bowl. After using it like this for a while, it became unusable.
I put it away, trying it every so often in hopes I could get it to stick, but eventually it was clear that it was broken. After moving into our new house and getting settled, I decided I would try to figure out what was wrong. I was told by KitchenAid that I could spend $70 to ship it to them just to find out what was wrong, plus shell out more for parts and labor. I found a video online that showed exactly how to take the machine apart and replace parts. I ordered the planetary that matched my model number but when it came, it was a fraction (about 1/6-1/8) of an inch too short.
After multiple calls to KitchenAid (and to the nice people at replacement parts shops), I'm still stuck. KitchenAid offers ZERO technical support, only works through their own specific repair centers and can't so much as tell me the part number that would work. I live HOURS away from their certified repair centers and refuse to pay $70 in shipping (+parts/labor) when I could easily repair the mixer myself, if only I could purchase the proper planetary. I will never buy an appliance from this company again! For $450+ you would think they would stand behind their product for more than a year and when the warranty is expired anyway, you'd think they could at least help you find the right part! Horrible customer service!!!

KitchenAid mixer tipped over while kneading bread dough. Tipped over and almost fell off the counter. My wife caught the mixer while it was still running and the power cord prongs were bent but still inside the wall outlet. After turning it off and examining the cord, I had to bend the 3 prongs back to normal, inspect the mixer for cracks or scratches, and found a scratch on the nose of the front of it. Not serious. I checked for anything loose, scratches or cracks, and found none. I do not know if I will have to replace it and do not know if damage to the cord or the power outlet has been damaged. Mainly why did it tip over in the first place? Is this normal behavior?

I just bought a new KitchenAid 600 to replace the one which had given me faithful service for decades. I tried to find someone to repair the old unit because I have been told both by dealers and users that the new ones are flimsy in comparison. When I got it home, I tried to set it up. This led to the first surprise, i.e. how difficult it is to put the bowl in the stand. There is a metal spring, apparently intended to stabilize the bowl, which makes it difficult to place the bowl on its stand. I tried calling kitchen aid only to find that customer service is not open weekends and was informed that I should call back between 9 & 5, Mon-Fri. Isn't that convenient? I will never buy KitchenAid again.

My family as a group bought me at Christmas the top of the line Professional model which I obtained at Target some years back. Used it very little, but was concerned about the loudness of the machine. Used it infrequently and then didn't use at all for about a year and a half, then retired and started to make cookies on a weekly basis. Machine suddenly came to a screeching halt and locked up. Contacted Kitchen Aid and sent with shipping bill to determine cost and reason. Cost appeared to be a generic amount of $200 but no explanation of the problem.
In Phone call lady indicated the problem on they're looking at the mixer was my misuse of the machine; it was visually abused. [Wished I had taped this call]. Then the reason it was because I hadn't used it once every month to lubricate the gears. I asked why wasn't that need stated in their documentation? She hemmed and hawed. She stated that the shop said the machine had dirt on surfaces, etc. I was flabbergasted and had her check if they had somehow confused it with another machine.
Finally, had it shipped back without fixing. It still appears the external machine is pristine [not convinced that they even opened it up to look] and is now sitting in the original box. Found out I got my mixer just after Kitchen Aid was sold to Whirlpool and mixers before that the mixers were pretty much indestructible. Meanwhile I am still using my old antique Sunbeam for the same uses with no problems. I would avoid any Kitchen Aid product.

Purchased dishwasher, refrigerator and built-in oven/microwave. Dishwasher leaked after 10 days and had to be replaced. Refrigerator compressor makes different sounds and sometimes very loud. Microwave will not pop popcorn even though it has a "Popcorn" setting. We applied for a KitchenAid rebate for buying select products but have not received rebate. Purchase date Dec. 23, 2014. KitchenAid Product Support no help on any issue so far.

New 325 watt tilt head KitchenAid mixer. The motor makes a terrible "Growling" noise when running.

On 30 Nov 2014 I bought a Kitchenaid Pro stand mixer gloss cinnamon from Toronto. THE SHOPPING CHANNEL and I applied for a $50 HOLIDAY REBATE OFFER on 14 Dec 2014 and to this date 4 months later have not received anything. I received an email reply that states my client reference number is 0. My order number is #**. The item number is 514085 GC1. The serial no is W44749566 and the proof of purchase KP26M1XGC. My client number at The Shopping Channel is **.

The 70s to present. The kitchenaid is by far the workhorse I had hoped it would be. From day one it was quieter, faster and easier to use than any prior mixer. It has never overheated, slowed down or lacked in any way. Including large all day uses for heavy bread doughs or Christmas fruit cakes. It was recently stolen during home renovations. I was gifted with a stainless steel DeLonghi mixer. It is much slower, and so VERY loud. I am going to replace it with another Kitchenaid.

Sam's Club had KitchenAid mixers on sale and also could get a rebate through KitchenAid. Heck of a deal, except good luck getting the rebate. I sent in a copy of the receipt and the original off the box upc symbol. Then I got a postcard saying they didn't receive the original off the box symbol. What a scam. Very upset that a company like KitchenAid rips people off. After looking on here I'm not the only one, this happened to. How sad. I still have the receipt and book with serial, make and model number. Shame on you KitchenAid.

My first KitchenAid mixer lasted 30 plus years! I bought a Professional model December 2013. I also got my rebate application back. I didn't get the rebate.The mixer was grinding but the rep said it was ok. It didn't mix anything well and just 2 years old it won't beat anymore.

Would like to respond to others w/ same problems. Costco purchase - got them involved to resolve rebate issue. Suspicious. Also have black frosting. I've washed bowl 6 times & scrubbed w/ salt & acid 4 times & still black.

This is simply to provide my experience with my KitchenAid mixer. I was purchased a Kitchen Aid mixer for Christmas, therefore, gave my old and trusted Kenwood mixer to my daughter. Excited to use my new mixer, I prepared ingredients for my first banana cake. Enter problem number 1. The knobs for releasing the mixer head to enable it to tilt and the knob for the speed control have sharp edges on the internal end facings making the gripping of these knobs mildly painful. This design fault could be simply eradicated with a bull nose finish. The second issue is that the controls are positioned on both sides of the mixer, meaning that you have to orient the mixer for each task, ie opening the tilt mechanism and then in order to visibly see the speed control you need to turn the mixer 180 degrees.
This is a ridiculous design error given the next problem which is that during the mixing process the ingredients are agitated to an extent that they stick to the sides of the deep bowl and consequently don't get mixed at all. Trying to insert a spatula is very difficult without opening the mixer which means you need to rotate the machine yet again. Even doing this there is little scope for spatula to easily draw the ingredients back down in to the bottom of the basin. Also I found that ingredients such as butter did not mix from the rotating wand and remained as residual whole ingredients.
In addition to this the changing process of the mixing wand is poor. The system is sprung loaded and requires exertion toward a locking pin. This process is ok loading the clean rotating wand, however when the wand has mixture on it the process for removal of the wand is messy and you get your hands covered in the ingredients. I had to repeat this several times to enable a spatula to remove ingredients off the walls of the bowl. In addition to this the name band strip housing the KitchenAid name is unglued and is a fantastic location for harbouring airborne ingredients such as flour and sugar, thus providing a breeding ground for bacteria.
What were KitchenAid thinking of with this design. Surely their brand name could have been incorporated in to the mould of the main housing structure. In regard to the tilt open mechanism, there is no slowing of the process given that it is a very heavy piece of equipment. This means that the angle arm opening can exert great force at speed and be a horrible trapping injury feature, not good when you have small children participating with you at baking. Overall all, the machines aesthetic qualities are great, however, the design issue that I have raised make this a very poor choice of mixer ergonomically. I would rather used my old Kenwood which had none of these issues, a faithful friend and a safe friend.
KitchenAid Mixers Company Profile
Company Name:

KitchenAid

Address:

P.O. Box 218

City:

St. Joseph

State/Province:

MI

Postal Code:

49085

Country:

United States

Website:

http://www.kitchenaid.com/