Kenmore Ovens
Recognized as a top appliance brand for 100 years, Kenmore brings a new level of performance with appliances that deliver time savings, convenience and great results. From quickly cooling drinks to laundry loads completed in less time, Kenmore is the most awarded brand in the industry.
The Kenmore brand understands its customers' wants and needs. Being in the lives of over 100 million Americans, performance innovations are a top priority of Kenmore product development. Ongoing engagement with our customers before, during and after purchases will help us maintain the honor of industry leader.
Consumer Reviews and Complaints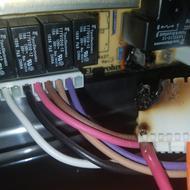 Kenmore model # 79092803013 electric range oven started smelling plastic burn every time I turned on the oven. Well, I should have turned it off but I didn't. Thanks to God it didn't cause any major damages including fatalities. The baking and broiling elements stopped working and decided to open the back panel of the range. To my surprise the control board and the harness was burned and melted until changed to complete black. They should have recalled their products knowing their safety issues. The sad thing is all my appliances are Kenmore. I will never buy their products again. Be Aware!!!

Installers messed up cabinetry, didn't fix. Temp on oven wrong all the time. I had to build a 2" by 18" plug or it would have just been open to under my stairs.

We've had our Kenmore range for 14 years and have never had a problem. Oven works great and temperature is true to the setting you select. Would definitely recommend Kenmore.

Nice range and stove top, but the electronic controller failed, and replacing a couple of circuit boards cost two thirds of the cost of a new range.

Kenmore Electric Range Model 790. Do not purchase this product!! The past few years we have been dealing with this range going directly to broil while baking. Almost started a house fire when it first happened. After calling and writing Sears I have gotten no response, no help or assistance with repair and there has been no recall even though I have read hundreds of similar incidents. I have unplugged it, reset breaker, and it works for a week or two then does it again. I have learned to cook using broil but it gets too hot and code error F10 flashes. Absolute terrible product and I am disappointed in Sears for not helping people out and for safety reasons, getting these ranges out of peoples homes. No wonder Sears is all but going out of business. You cannot run a successful business selling this kind of appliance. PLEASE RECALL THIS ELECTRIC RANGE!!
How do I know I can trust these reviews about Kenmore Appliances?
881,173 reviews on ConsumerAffairs are verified.
We require contact information to ensure our reviewers are real.
We use intelligent software that helps us maintain the integrity of reviews.
Our moderators read all reviews to verify quality and helpfulness.
For more information about reviews on ConsumerAffairs.com please visit our FAQ.

I purchased my Kenmore electric glass cooktop approximately 10 years ago, and it's been the worst stove my husband and I have ever had! Even from the beginning! It takes forever to heat up. I've had cheap stoves that preheat in half the time than this stove and this one cost us a pretty penny! Not to mention the burners that are supposed to be quick boil, HA! It's like that old adage, a watched pot never boils! And the minute we got it home, liquid leaked down the vent holes and got between the glass, and there was nothing in the manual about how to clean it, so there it stayed, disgusting looking for the past 10 years, annoying the ** out of me.
Until today when I saw something on Google and YouTube on how to clean that, FINALLY! So I did. Well, guess what? Those darn vents are extremely DANGEROUS! They are like razor blades. Sears should make those things so they are dull around the edges. I sliced my finger open on them and had to go to urgent care. Why is it so darn difficult to clean inside that glass anyway, yet so easy for it to get dirty? Nobody want drips of grease running down inside their glass forever! Disgusting! Ir to have to injure themselves trying to clean it. On top of that, now my oven front has a gap from the glass! What do I do? I hate Kenmore! Worst oven ever!

My husband and I purchased a Sears Kenmore Stove 15 months ago. Starting in January we had problems with the electronics. We called and it took a repairman 3 weeks to evaluate the stove as he had no idea what was wrong with it. He ordered parts and we called to make another appt when the parts arrived. That took two weeks. He came to install the new parts and found out they were the wrong parts. Another two weeks went by and repairman came and installed new electronic system in stove. We had inquired about another stove but they refused and said this one could be fixed. Within an hour of him leaving the electronics went out again.
Called and made another appt in two weeks time. He came out again and just rewired the original parts and from then on it seemed fine till tonight. We used the oven last night it was fine and came home today and the entire display on the stove is out. No lights to use the oven whatsoever. We had not taken the extended warranty because our parents had Kenmore's for years. We are on a fixed income and do NOT have the money $90 service call and replacement parts of $360 - to spend on the stove. It would be more than we paid for the stove in the first place. I have tried every Sears # I can find and no one is willing to help me - they just say "what do u want me to do". I want my stove fixed the right way and so it lasts.

I purchased this stove (Kenmore Elite Range 79078303013) a couple of years ago. I called to order a replacement part and received the wrong one. Just to get a return label to return the wrong part and get the new one has taken 5 phone calls and over 5 hours on the phone in different occasions! So I called again to replacement the part and it's no longer manufactured! I am being sold a replacement part for 3 times of its original price. I am very disappointed with the quality of the product.
Did I mentioned I purchased a stainless steel range for it to have Plastic all around it? I hate it!!! I feel cheated on this purchase. I didn't notice it was plastic top range trim on the stove until it Broke. By that time it was too late to return. I cook a lot, when ever you use the oven and stove it brakes with the heat. After all it's plastic. After spending 3 hours just today to order part and sure it will fit no solution was made. When I ASKED TO TALK TO A SUPERVISOR OR MANAGER I NEVER GOT TO. Waited over 2 hours just to find my call dropped or accidentally disconnected. Over all I will never purchase from Sears ever again!! This stove is not near a Stainless steel stove. My part was never ordered or my questions were never answered. I have a stove with broken trim fairly new.

In November of 2014 we purchased a Kenmore "Elite" 790 series oven from Sears. On June 12, 2017 the unit caught fire and burned the control panel to a molten mass of wires. Except for extraordinary presence of mind killing the electrical circuit we would have had a serious house fire. I contacted Sears and they refused to repair or replace the unit because it wasn't covered by their warranty. So now I own a $2000.00 range which is apparently only functional for 2 1/2 years. Needless to say I could have leased a range for less money and at least the leasing company would have replaced it. I will never again purchase from Sears.

Kenmore oven Model 790.9745 - We purchased our house in July 2014 and didn't notice at the time that the front glass of the oven was missing. We ordered a new glass front, installed it and a few months later, the front glass exploded and went all over the kitchen. Then we realized that must have been why the glass was missing when we bought the house. We replaced the glass again and the other day the same thing happened. Three times in three years. Each time someone was standing near the oven while it was baking at 350 degrees when the glass exploded. We were lucky no one got hurt.
It was unusual that the dogs or kids weren't in the kitchen with us at the time as they usually are! In addition to the glass exploding three times that we know of, the control panel had a F-10 error which is "run away temperature". The smoke detectors went off in the house to alert us to that problem due to the extreme heat coming from the oven. This oven needs to be recalled. It seems like this is a problem many people have had in reading the reviews!

Kenmore Double Oven Electric Range: The bottom oven is 50 degrees hotter than what the oven is set at. The owner's manual has a section on how you lower or higher the temperature by 35 degrees, but when going through the steps, it appears that the instructions are to change the setting from Fahrenheit to Celsius. So I am unable to use this workaround. It would have only changed it 35 degrees, and I needed it to change 50 degrees. I bought this oven for baking. So it is essentially useless to me.

We replaced our 18-year-old Kenmore Glass Top Range with another one, once we lost a two burners. Because we were pleased with the old one otherwise, we replaced it with an updated and similar model. Although, we like the convection aspect of this range, the glass portion cracked mysteriously and we had to have two associates come out to confirm the problem to replace it under warranty. The newer Kenmore, Whirlpool appliance do not seem as durable as the older one. We are disappointed and will look to other brands in the future. Glass broke within the first 6 months

Kenmore electric range, Model 790.92809012 (6-years old) encountered F10 error (run-away temperature). I set range temperature to 170 degrees for one hour. Our house filled w/ smoke, smoke alarms went off. If our Son had not been home, our pet bird would have died and our grandsons inhaled a lot of smoke. Please remove this range from inventory; extremely dangerous appliance - almost cost lives. Where can I go to get a refund - or replacement model? We are warning our homeowner's insurance company of the danger of this product.

We have enjoyed Sears Kenmore appliances for many years. However, our 6-year-old Kenmore Electric Range (Model 790) encountered F10 error (run-away heat element). I set the temperature to 170 degrees then left for 1 hour. The oven encountered extreme heat, extreme smoke and smoke alarms filled our home (our grandsons inhaled smoke and our home still smells from smoke). If our Son had not been home, our pet bird would have died from smoke inhalation. I highly advise removing the Kenmore range (Model 790) from inventory. Warn your homeowner's insurance company about the danger of this product; lives are at stake!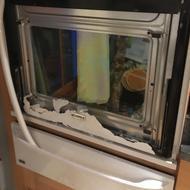 On opening the Kenmore convection wall oven door, the handle was loose and when I pulled on it, the entire glass door shattered, cutting my hand, ruining food on the counter, spraying glass as far as 12' from the oven. Using a whisk broom, regular broom and the vacuum, we were able to get most of the glass up and then we washed all of the kitchen rugs. If a small child or one of our pets had been next to me, some serious harm may have resulted. I have read about other customers having this problem and that replacing the door is not a safe option - it can happen again. It's a serious design flaw.
I have spent at least an hour or two so far on the phone with Sears and Kenmore, last night immediately after the explosion and then again this morning. They are willing to send a repair tech to assess the problem at a cost to me of $99 because I have no extended warranty. NOT FAIR! This is their problem and they should offer ways to replace the oven with a better design or recompense me so that I can get a safe oven.

Two Sears brand appliances, Kenmore, were in this house when I purchased it October 1, 2015. Both appeared fairly new and were installed during a kitchen remodel by the previous owner. Three months ago I trashed the microwave because it had so many issues. Now the stove Broil element comes on by itself and cannot be turned off at the stove console. The stove gives no indication that anything is turned on.
My kitchen smoke alarm went off while I was in another part of my house alerting me that something is wrong. A glance at the stove, the only source of heat in the kitchen, and there was no indication that anything was on. A quick look in the oven and the broil element was glowing, the oven was very hot, thus the fumes escaping that set off the smoke detector. Nothing would turn it off. I turned off the breaker in the main panel and let the oven cool overnight. The next morning I turned the breaker back on and the oven came on with it, still not showing any indication of heat on the stove control panel.
I Googled "known defects with Kenmore stoves". Seems this is a known problem though Sears hasn't been very helpful getting it fixed. I haven't reported my issue yet, not to Sears anyway. On Monday I'll be seeking legal advice about the possibility of a class action. In the mean time I'll contact Sears for a "comment". This is a safety issue, my house could have caught fire while I was asleep or away and they knew the problem existed but did nothing.

Kenmore glass top electric stove model 790 purchased 2011 - I used the broiler to cook a burger. When it was done, I turned off the oven and left the door ajar. After 15 minutes I heard the oven door fall off, first one side then the other. While screwing the handle screw back on, the whole tempered glass oven window exploded. Thank goodness I had glasses on, a thick shirt, pants and socks or I would have been cut up. My little dog was just behind me but I blocked the flying glass that flew onto counters and into the next room.
When I checked the model no. online I found out that so many of this model have had the glass door explode, that pressure was put on Sears to recall this model. Those who got new glass doors had them explode again and some people had them explode a third time. Also luckily the oven had cooled down when it exploded but many people had hot glass shot at them. This model shouldn't even be on a showroom anymore.

This is the 3rd time I had sears out to fix stove. 1st glass blew out (scratched the whole inside 2nd circuit board/ and now again the circuit board. When you use self cleaning more than 3 times blows board. All in all I have been without the use of my stove about eight weeks. When you call for service and you give them error code. They come out (waiting a week or longer) without parts and you have to wait another 2 weeks for them to fix. Just wish they would credit me and let me buy another brand. This stove is only 1 year old. Very unhappy.

I have had the Kenmore range 7909622240B more than a couple years and this is the first time this has happened to me. I have a 254 pound ham on the rack one slot lower than the middle. I was pulling the rack out to drizzle sauce on it and halfway out the rack fell out of the slot, luckily the ham was not on a higher slot or it would have dumped over. I did however get splattered with melted brown sugar and hit my hand against the side of the oven trying to get out of the way of the falling ham. The brown sugar and grease spilled onto the bottom of the oven smoked and burned! What a mess!

Purchased Elite Gas Range in 2011. Serviced twice after self-clean caused oven control board to fail. I noticed I am not alone. This is not cheap to fix. If you are buying Kenmore, check the service history! Sad to say I will no longer be buying Kenmore appliances. Now a 3000.00 oven!

This is third Kenmore oven electric s/c. First one went into self-clean on its own, nearly burned the house down and completely charred the whole oven. Second one had two major board failures, resulting in the third. This one may or may not respond to control inputs. No more Sears stuff, ever.

3 years ago, I bought what I thought would be my last stove. Brand new Kenmore, with a warming, drawer and burner. Self cleaning. 1300.00 dollar thought it was the best. I'm 60 years of age. I figured I would buy one last stove before I retired. Hey, it's a Kenmore, right? It would be here long after I'm feeding the bugs, right?
WRONG! In less than three years the oven won't heat up passed 200 degrees. The circuit board costs over 200$. I didn't buy the Sears extended warranty. It's a Kenmore!
The independent service man that came out said, he would not recommend this repair, because, this problem would keep occurring. He said, he would not feel like he had done me right, if he had repaired my stove. He charged me nothing, apologized, and left. I stuffed a hundred dollar bill in his shirt pocket, and thanked him. I called Sears. They said, I should have bought the service policy. I won't buy anything from Sears again. I replaced it with a 200$ Plain Jane stove from Lowe's, no electronic, no bells, no whistles. It works just fine!

My Kenmore Built-in oven is a workhorse. I have had one service call in 16 years of using it, and that was due to something I did wrong. I don't know how old it is, but it was built in when we bought the house in 1999. They may no longer be as good, but one can hope.

The range is not bad for the price. It would be nice if it offered a little more room in the oven. It would also be nice if you could get a good peek inside the oven without having to open the door all the time.

I did choose the slide-in model not realizing that there is an oven size compromise, so it is no fault of Kenmore. The programming features are too many to understand, too. But oven and warming drawer work great and the placement of top burners is good, however, I wish there was a medium-size burner for saucepans and also wish I could use cast iron on the smooth top. Overall, I've turned out many great 25 pound turkeys with all the trimmings for Thanksgiving.

This is my first smooth top 2 door oven from Kenmore. Before I had a coil oven which lasted for 23 years. It came with our mobile home and sold it (still in working order) before we got a Kenmore.

The Kenmore stove/range works okay. Not as good as their washer/dryers though. One burner on the stove has not worked properly from day one. Also the glass top burners take longer to heat up. I guess that is because it is energy efficient.

Love my Kenmore gas range w/ convection oven. It has five burners and the one in the center I can use with a flat grill pan. I bake a lot and the oven works and holds the temp great. The oven has a self-clean cycle that works great.

I do not recommend anybody buying Kenmore products from Sears. They seem to care if you have problems but all they're doing is giving you the runaround. They use ARS for their warranty claims and which they are rude and just plain liars... I have taken a day off work as they require a 9 to 5 window for an appointment.
After calling Sears three times during that day to say I haven't heard from the contractor all three times they (Sears) confirmed yes he is coming. The last time I contacted ARS myself as now Sears is closed. They told me he wasn't coming, so a day off work wasted... This has been going on for 4 weeks now, so my conclusion is I threw the Kenmore range out of my house and purchased a different brand. Take my advice. Do not buy Kenmore products. You will be disappointed if something goes wrong.

We bought a new Kenmore electric range model #790.93751102 in 2001. I have not had any problems with the oven until two nights ago. We turned the oven on to 350 degrees and waited for it to preheat. We put cookies in the oven and within a few minutes there was smoke inside. My daughter opened the door which caused flames. She shut the door. Smoke was all over the house and pouring out of the oven. I turned off the oven thinking that would do it. Smoke was still filling the air and the oven was getting hotter. I looked in the door window and noticed the upper element was on.
We decided to turn the breaker off. I'm so glad I did not open the door because we heard a pop and flames came shooting out of the door and then quickly got sucked back in. At that point I called 911. The fire department was dispatched as well as some deputies. We were instructed not to open the oven door until someone got there. By the time the deputies had arrived, the oven was no longer smoking.
When we turned the breaker back on, the upper element went back on, and we hadn't touched the oven. The broiler just turned on for no reason. I contacted Sears, and the technician said he had never heard anything like that happening. I told him he should do a search because I found that there are plenty of us around. I know the unit is not new, but that shouldn't happen. Thank God no one was hurt, but we could easily have been, and our house could have burnt down. I'm glad we did not leave the kitchen to go to another room until the timer went off. Thinking about that makes me shudder.
Compare Ranges, Ovens, and Stoves
Kenmore Ovens Company Profile
Company Name:

Kenmore Appliances

Year Founded:

1913

Country:

United States

Website:

http://www.kenmore.com/