Consumer Complaints and Reviews

I called the toll free number because of the concern I am having with your microwave, the paint is coming off the inside. So my concern is first why would it be coming off, is it a defect in the product or does it just happen? The person was helpful and seemed as if it was to be concerning. WELL IT IS to me. Could it make us sick, do I need to put it in the trash or what? Thanks for not helping me and not being concerned, but I am sure if it was you or family you would have had a different story to tell.

We "upgraded" our appliance package when we bought our village builder home 8 years ago. All GE Monogram appliances have rusted and now need replaced. New liners needed in oven which was so rusted we couldn't get the screws out to replace the originals. Was told by GE customer service rust to be expected when cooking. It creates steam and food particles can cause scratching!!! Maybe it should be steam proof especially a microwave. Even the door on this is rusted! Why the shelf ends in a freezer are rusted not sure on that one! Will NEVER buy this brand again and shame on them my upgraded appliances don't even make it to 10 yrs. A disgrace. My mother just replaced her 20 yr old oven. What is wrong that nowadays things don't last 5 minutes? Shame on you GE not recognizing a definite flaw in your products.

Always works well, cooks great, could use a little more space. Had GE microwave in the past and it never let me down. Had this one for 2 years now and no problems with touchscreen, door hinges or settings. Owned Maytag before and had nothing but problems.

It was given to me already used over ten years ago, and has performed consistently and without problems. The only fault is the same problem with other GE products -- their paint chips easily. It is small and on the counter model. It does everything I ever wanted to use it for, which is popcorn, water, vegetables, and reheating leftovers.

Easy to clean. It's a small white model... Fits well on my small counter. Does the job every time. I've had it for several years and it's still going. It has several features, including a clock and timer. Great little gadget for the price!
How do I know I can trust these reviews about GE Washing Machines?
669,639 reviews on ConsumerAffairs are verified.
We require contact information to ensure our reviewers are real.
We use intelligent software that helps us maintain the integrity of reviews.
Our moderators read all reviews to verify quality and helpfulness.
For more information about reviews on ConsumerAffairs.com please visit our FAQ.

My GE over the range Microwave has broken about 4 times in a year's time. My warranty company American Home Shield (AHS) has decided that instead of replacing this piece of garbage, it's somehow worth it to keep on fixing it, which is apparently their MO for all their customers but I digress. After the latest breakdown (microwave lost power completely), I was referred by AHS to GE Appliance repair. Thus began the nightmare. The tech that showed up was incompetent at best. He showed up, looked at me, made a grouchy face and proceeded to walk in the kitchen with an attitude like he was doing us this massive favor. He opened the microwave door, closed it, opened his computer and ordered 10 (yes 10) different part. Again, he literally just opened and closed the door - did not disassemble to see what part was actually messed up. No diagnosis done of any kind.
He scheduled to come out the week after that - didn't show up because I missed his phone call. Btw, I called him back pretty immediately and he didn't pick up. After being on hold for about 35 mins (which is clearly the GE standard hold time), they tell me the guy has left the area and they need to reschedule me for a week later. The day before the 2nd appointment, they called to reconfirm and then the morning of, I called, stayed on the standard 35-40 min hold and reconfirmed he was still coming and was told he was on his way. Well, the appointment time came and went and he failed to show up YET again so I called to ask wtf happened. They said he didn't come because I canceled the appointment thru an automated call. This time the idiot didn't call me like they ''always do''.
I asked for proof of this alleged automated call that was placed to me and they said no call record exist and so while it seemed like a system glitch, the tech already left the area and they'd need to reschedule it. I told them, "No, thank you." Got a local repair company to come out the very next day. Turns out, out of the 10 parts that idiot tech had ordered, only 4 had arrived while the invoice still showed 10 being shipped. Let me clarify this: All these issues stem from GE's entire company: From manufacturing crappy products to HR hiring incompetent techs to customer service being absolutely nightmarish to supply chain not sending parts that are being ordered. And if you can somehow get their alleged consumer advocate department on the phone after a 40 min hold time, they don't give a crap either. All these employees MUST hate GE to drive customers away as far as possible. I own a business and I will never ever EVER buy GE again.

Touch pad on GE CAFE over the range microwave started failing within first 2-3 years. Now, 6 years later, it has completed failed. Repair part alone (not including service call) is almost $550.00. Pure junk...made in MALAYSIA!

Great microwave when the thermostats are working. Have gone through 4 in 2 years. I have convection/microwave. This is a great oven, and microwave. The failing parts should be something GE corrects. Service contract was purchased after 2nd needed repair. Their contracted service was awful. No communication, mis-scheduling, unavailable parts, Poor customer service. Have officially requested with GE not to have this contractor assigned to correct any problems in the future.

4th service call for a piece of ** over the range microwave that keeps breaking. The service is a joke too. The sent some moron to come take a look at the microwave after I placed this latest service call. He came and without diagnosing, he ordered a few parts and scheduled a follow-up for today. He called this morning to reconfirm the appointment (which was already confirmed 2 times previously and this reconfirmation has never taken place previously) and I missed his call.
When I called him back short whIle later, his voicemail directed me to call the 800 #. After a 35 min hold with them, they said since I didn't pick up the phone in the morning, the appointment was canceled. What???? It states nowhere that they'll call you to reconfirm an ALREADY SCHEDULED AND CONFIRMED appointment and that if you miss the call, they cancel the appointment. Next service call is a week from now, which makes it 3 weeks without a microwave. I hope they rot in hell.

I purchased a GE microwave just a year ago. I've had a few problems with it like the round glass plate that you cook food on cracking in half twice when the microwave wasn't even in use, and the control panel going stupid... requiring me to unplug it to get it back on track. The worst part is I purchased an entire kitchen work of GE appliances at the same time and I've already had two service visits on the dishwasher.
GE customer service is the worst! When I call they just keep repeating themselves and they never listen to what I'm telling them. Today was the worst yet... I got this woman on the phone and she just kept telling me the microwave was not in warranty any longer as of last month. She also told me she only has two appliances listed on my account (no range or refrigerator) when they were registered at the same time as the other appliances and they have sold me filters for the refrigerator several times. All I can tell people is if you are considering buying GE appliances... DON'T! They SUCK!

I have bought 3 GE appliances in the past 2-5 years, a microwave, dishwasher and oven with cooktop. They are all white and the white paint is peeling off. The microwave is the worst with most of the paint gone from the metal around the window inside. I will never buy another GE appliance again. To have 3 different appliances with peeling paint signals a definite quality control problem in the company.

This microwave has a glass plate that sits on a rim. There are no grooves to ease the placement of the glass on the rim, It is very frustrating to have to replace when it comes off. I never had to deal with such a difficulty when using such a simple appliance. GE designers must not use the items they design or they would do things differently!

Our stainless steel finish 1100 watt JES1142 microwave is around 2 years old. Within the last year the finish inside started to corrode (yes, my wife cleaned it regularly with a non abrasive, appropriate cleanser). Also, the door latch button started sticking and a few days ago it just stopped heating. Unfortunately I can't find my receipt, but I bought it at my local Lowe's on Bell Rd. Nashville TN. Serial # is MA212483G. Manufactured July 2013. Was this just a lemon? Very disappointed.

I know this commonplace complaint, like thousands before me, will head straight into the wind because the world just works in this way: technical support and repairs works as a profit center for a corporation. My GE Profile microwave abruptly failed out of warranty after years of use. The cause was due to a wire burning up inside that had not been loosely connected, said the GE technician, so this was an issue of inadequate quality--not bad enough to cause the microwave to fail quickly but enough to cause failure over time.
After taking the microwave out of the built-in cabinet, it only took the technician about 5-8 seconds to find and diagnose the problem, several minutes to get the right part (a wire) from the truck, and a couple of minutes to fix it. The labor charge was $121 for about 7 minutes of repair work, to be liberal with time. (This charge is separate from the charge to come to our home and diagnose the problem.) This prorates to over $1,000/hour for a basic wiring change, which I think is exorbitant. I understand that the technician is a highly trained individual, but this is already reflected in the high labor rate.
According to GE, the cost to replace the "built-in" microwave, which came with a matching stainless steel frame would be $550 if we wanted the new microwave to match the frame at least (but not necessarily the oven, stove, etc.). This is the kind of cost you don't think about when you buy a new home built with matching appliances--well, I didn't. Companies like GE can rationalize all they want about all the overhead associated with servicing a repair call. I can certainly grant them some leeway, but in the end, charging an extra 8 times more an already high labor rate given the time needed to fix the problem is simply price gouging a consumer who has no good recourse. (This is why I pretty much avoid repairing anything, except for my car. It's almost never worth it.)
I recently had an experience with an experienced plumber charging an hourly rate of $150, prorated by and rounded up to half-hour increments of work, regardless of difficulty of work. Repairing an appliance should work the same way, and my GE bill would have been halved. Because of such profiteering, I will not consider purchasing a GE appliance in the future. I pray that this microwave doesn't break down again in the coming years due to some other problem. It would be a lot less expensive to just buy a non-matching portable microwave then for $100-$150 than to keep up appearances.
To be fair, the woman who fielded my service call was courteous and empathetic. Because the microwave apparently had an electrical burning problem, she previously waived the diagnosis fee. Otherwise, my simple repair would have run several hundred dollars, more than the cost of the microwave. However, she was unwilling to reduce the labor charge, so based on how strongly I felt ripped off, I give GE a star rating overall.

Today I heated some spaghetti sauce in my microwave and it splashed, so I wiped it out. My microwave is built in and was pretty new and in the house when we bought it 4 years ago. It is in the base counter so I have to reach down to clean it. l haven't had a problem with it but when I wiped the inside top I felt bumps and when I looked at the cloth to see what was on it, there was paint on it. That has never happened before so I of course looked and there is a fair amount of peeling paint in one spot. I have had microwave ovens for many years. Never had this problem with any other brand. What is that?? Can it be fixed? Is it dangerous???

We purchased this new 8 years ago however the problems started after about two and a half years of use. I called GE when the paint started peeling off of the door of the microwave. They asked me if I cooked salty foods. I cook bacon in the microwave. They told me my only option was to buy a new door and have it installed. It was $250 at the time. I did not have the money or desire to fool with it. I continued to use the microwave and it has continued to degrade. Now eight years later there is so much metal showing that we decided we must do something. It is unsightly and very difficult to clean because it's rusting.
I've been expecting electrical arcs to occur and the microwave to catch on fire. It hasn't done that. It has continued to cook the food. The entire metal area on the door is without paint. There are other large areas of metal and rust inside on the bottom of the microwave. The entire vent panel is without paint and rusted. We also had to have the control panel replaced twice. It was covered once under the warranty and once it was not. We also had to replace the element in the oven which is used rarely. To replace the microwave and oven combination now would be $3,500. When I do replace it I will replace it with a different brand.

We have had multiple service calls where the tech explains immediately that he knows what the problem is, where there is a very loud buzzing noise as if you were going to be shocked by the microwave if you touch it while it is running. Now after fixing this problem multiple times, having the display burn out, etc. tonight we find out the microwave is actually turning ON when you open the door! This is a severe safety hazard! The interlock is doing exactly the opposite of what it is supposed to do!

My 11-month-old GE Advantium oven no longer has any display, totally blank. When calling to make an appointment I was unable to speak to a live person but scheduled one for today from 1-5 pm. At 5 pm I received an automated call that the technician was running behind and would arrive in about an hour. By 8:30 pm no one called or came to repair my oven. At 4 pm when I was wondering if I would see a repairman I attempted to find on the internet a phone number that would connect me to a live person but had no luck. I have no idea what company is being sent out to make the repairs so that I can get in touch with them. Their service sucks.

I purchased this product in June 2011 for a summer weekend getaway home. I used it 5 times during that summer. The following summer I didn't use it at all. Summer 2013, I used it and everything seemed fine. That night I heard something and the microwave turned on by itself! Thank goodness I was at the house. I cannot believe this unit has not been recalled yet, as I see other consumers are complaining about the same thing. I keep the unit unplugged all the time. What recourse do I have as a consumer? I have my bill of sale and paid good money for this unit.

Consistent with many reviews about poor customer service and saga to try to get an appliance fixed, we experienced a very situation with their microwave. Power is on but doesn't heat food. 5 visits later and multiple calls to GE became a string of technicians having to order a part, waiting at least a week to receive the part and technician trying to fix it. For 2 weeks the microwave worked and then stopped working. Called GE again, and again they insist on having technician come by to diagnose the same problem. We put our foot down and asked for a replacement and were denied because it wasn't deemed to be irreparable. I stayed online until they offered a discount on a new microwave and they then took more than a week to send that and also proceed to take the old one which not convinced they were entitled to take given we had to purchase a new one.
Completely inefficient process, customer service agents who are in and unfortunate enough to follow an inefficient process that is not focused on the consumer. Really unfortunate for a top tier company whose mission is centered around the customer but fall down on execution. Really disappointing. I'm glad that we live a in capitalist state that allows us to have other choices and not feel stuck with one brand. The cost of our time and stress and technicians hourly wage is disproportionately greater than the 300 dollar retail price tag for the machine.

I was sitting on my couch and I heard something running. I walked into the kitchen and saw my GE Profile microwave was running. At first I doubted myself and thought maybe I did something and then I cleared it out and went and sat back down. It did it again and again several more time. This is very scary. It was running like someone had set it and it was getting hot inside. I'm not sure what else to do. The last time I had the same type of problem and just bought a replacement microwave and now this one is doing the same.

The door switch needed to be replaced. GE Service charged $26.40 for the part. Fair enough. It took less than 30 minutes for the diagnosis and installation. So the two repairmen added about $200 for the visit per se and labor. In my world this seems charge excessive for the simple service rendered.

We're using a white GE Digital Microwave Oven at home Model No. JEI2870SPSS. We got it from Ansons a few months ago when our previous Kyowa was broken beyond repair. The price is reasonable, the usable space inside is adequate and the exterior design goes well with our kitchen. It has touchpad controls which are very easy to use especially with the pre-programmed settings like steam cook and snacks. So far it has worked very well. It's quite excellent at defrosting meat and evenly heats our food. We have no problem cleaning it and it's pretty silent when in use. I hope this one lasts us longer since it's pricier than the Kyowa and because use of the microwave less these days because they say the radio waves emitted by these machines cause cancer.

Today my GE black microwave with rack mounted above the stove, caught on fire by itself. My husband and I smelled a chemical like smoke. We went in the kitchen and we saw fire in the microwave. We put out the fire and was thankful that we were home. If we were not home our house would have burned to the ground. The microwave was not in use at the time of the fire. I plan to contact GE about this dangerous event. My asthma has gone crazy since this horrible situation happened. I just want to let people know that GE microwave will catch on fire without being in use.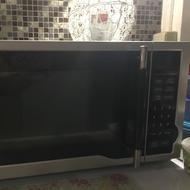 We got our GE microwave oven last November of 2014 and we've been using it ever since. We've never encountered any problems using it and it's really reliable. We use it to warm our food, cook food - eggs, popcorn and we even use it to thaw/defrost frozen meat. It has a turntable inside that can be used so that heating will be even on your food. You can press the express button if you don't want to set the time. It automatically gives you 15 seconds. It is very easy to use and easy to clean as well. It's also not that expensive.

The dishwasher does not clean my dishes and they say that there is nothing wrong with it. **! Now my microwave / convection oven is sending sparks in the corner of the oven. I have read a lot of reviews about this model and it has happened to many consumers. GE can rest assure that I'm not buying another product from them, EVER!!!! Model # PVM 1790Dr1WW. Serial# **. February 2013.

We have had this microwave GE JVM1631wb007 (2003) for a number of years installed above our stove. It was given to us by my husband's son so we did not have it registered with GE as owning it. However, I just sent an email to GE today asking for help as I find absolutely nothing on the internet about a scorched outside microwave door. We have had no issues with it whatsoever - until now.
When we returned home from a one week vacation this past Sunday evening, we came home to a scorched OUTSIDE door on this microwave! The inside is fine. The two people who came into the house while we were gone said they did not use it but it is DEFINITELY scorched around the entire area on the outside around the screen area. I refuse to use it although my husband (who is an appliance repairman but does NOT work on microwaves) says it's fine to use. It's not only hideous, it LOOKS unsafe to use. I'm scared it's going to catch on fire but my husband says don't worry and go ahead and use it! I'm attaching a pic of it... Anyone else heard of this? It's not like we don't have the money to replace it. I'm NOT going to touch the thing... You can't tell him anything. He thinks it's fine. I need PROOF that this is dangerous to convince him... Please help before the house burns down!

Popping and overheating and sparking. Less than two years old.


The GE microwave installed in my new home caught fire on its own. It is less than 3 years old. GE Consumer Relations Department refuses to replace it for free even when it caused a fire accident on its own. GE microwave failed in its safety standards. GE also has failed in its Consumer Relations. I will not trust GE brand again.

ConsumerAffairs Research Team
The ConsumerAffairs Research Team believes everyone deserves to make smart decisions. We aim to provide readers with the most up-to-date information available about today's consumer products and services.
GE has more than 100 years in the industry and provides a wide range of home appliances. The company believes in innovation and elegant design that transform a home into a modern, sleek and efficient place to live.
Full selection: GE provides the full range of countertop, over the range and built-in microwaves.
Multi-lingual capacity: Some GE microwaves are equipped with multilingual control panels and display both Spanish and English.
Removable oven rack: Many models include a removable oven rack to lift the food off the bottom of the microwave to allow for more even heating.
Many control features: Quick-function buttons are featured on several GE models including "Add 30 Seconds," "Child Lock," and "Auto Defrost."
Combination ovens: GE manufactures a top-range line of combination microwave and full-sized convection ovens. They feature self-cleaning and glass touch controls.
Special offers: There are several ways to save money on your GE purchase including claiming rebates and choosing on-sale items through the website. You can also win money back by writing a review of your appliance.
Best for Small and medium-sized commercial kitchens, small families and large families. Anyone creating meals for multiple people would enjoy this range.
GE Microwave Ovens Company Profile
Company Name:

GE Washing Machines

Company Type:

Public

Ticker Symbol:

GE

Address:

3135 Easton Turnpike

City:

Fairfield

State/Province:

CT

Postal Code:

06828

Country:

United States

Website:

http://www.ge.com/