Consumer Complaints and Reviews

In June we started the process of finding a company to replace a large window over our front door. We ended up signing a contract with Champion on June 8, 2017. During the sales conversation, the salesman Mike went on and on about how he's not going to make a cent off of this and he just really wants to help us out. I should point out that getting this window fixed by a closing date of August 4th was a contingency in the contract for the person buying my home. We agreed on a price of $1500, $750 up front and $750 when it was installed. He told us a measuring would need to be done, and the window would be installed before the August 4th deadline. We had the measuring done - no complaints. What followed was 3 weeks of silence broken by a call telling us that the window would cost more due to the size. Being the trusting fellow that I am, I took him at his word and ponied up the extra $350. The total cost was to be $2200 now.
More radio silence, despite numerous attempts to get a hold of the sales rep, Mike. Today we escalated to management. Management sent us a copy of a contract that we never signed, yet had my wife's signature on it. This 'addendum' stated that we opted to change the type of window we were installing, thus the extra $700 cost. In fact, it was impossible for us to have signed it on the date that was on the contract. Their salesman Mike had flat out lied to both my wife and I on separate occasions about why the price had jumped. On top of that, the window had not been made yet. Original date of contract - June 8. Supposed 'addendum' - July 17. The window was not scheduled to be made until the middle of this month, completely destroying the date of August 4th we had made clear we needed it installed by.
I am writing this review to warn ANYONE against doing business with Champion Windows. We cancelled our contract. We are scrambling to find something to appease our buyers of the home while attempting to find a company with ethics to work with. We are headed to swear out a criminal complaint of forgery against the Champion Windows sales rep, Mike **. May God have mercy on their souls.

I am a reasonable person and I do know that it does take time for some things to happen but this is ridiculous. We had Champion Window install our living room window. Installed in 2006. Well about a couple of years ago the seal in the center window was going bad. There was brown streaks across the window and it is difficult to see out of it. Well I decided to call Champion Windows to inquire about our warranty. I was told it did have a life time warranty. So they sent someone out on 26th May 2017. After jotting down some notes about the window, I was told that I have to pay the $99 fee for travel expenses before the window was ordered. Well the payment for the travel fee came out of my account on 30 May 2017.
After that, I called several times as well as sent e-mails wanting information when our window will be repaired. The two or three times that they did respond it was not pleasant. I still have not received a date for installation and it is going on two months. I know that I will never use them again. They were fast when installing the window but they drag their feet when honoring the warranty. I spoke with Susan today and she informed me that the window is still on order. She then transfer me to Ashley... Well Ashley was too busy to come to the phone. The Ms. ** tells me that the window was ordered on Jun 16th, 2017. WHAT! I don't know why it took so long to order the windows especially when I was told that they were ordered when I first called back in May 2017. LORD HELP ME.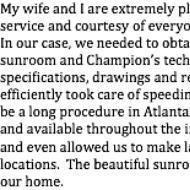 My wife and I are extremely pleased with our Champion sunroom and the excellent service and courtesy of everyone involved in the ordering and installation process. In our case, we needed to obtain prior condo HOA approval before adding the sunroom and Champions technical representatives were very helpful by providing specifications, drawings and references for HOA review and approval. They also efficiently took care of speeding the building permit process, which can sometimes be a long procedure in Atlanta. The company's construction engineer was present and available throughout the installation process for any questions we could have and even allowed us to make last-minute choices regarding door and panel locations. The beautiful sunroom has become the favorite year-round sitting area in our home.

The salesperson was fantastic! Knowledgeable and friendly! The installers however were completely unprofessional as well as the manager himself. They continually argued about what was supposed to be replaced and continually refused to do the work! It took 3 phone calls to even get them to do their job after months of waiting for the work to be completed. The whole thing was absolutely ridiculous. Future buyers make sure your work is complete before you pay your invoice!

We ordered a screenroom from the Toledo Champion and have had no contact with salespeople since the first visit. Then after waiting 3 weeks will started getting a bill from the finance company. We don't have a screenroom nor have heard an ETA on when it will be installed. This is out and out fraud and I will be pursuing a lawsuit against everyone involved. I would not deal with these people for any reason.
How do I know I can trust these reviews about Champion Window?
851,205 reviews on ConsumerAffairs are verified.
We require contact information to ensure our reviewers are real.
We use intelligent software that helps us maintain the integrity of reviews.
Our moderators read all reviews to verify quality and helpfulness.
For more information about reviews on ConsumerAffairs.com please visit our FAQ.

Window failure. I have a large sunroom and all of the glass has failed. It looks like there is a coating on the inside that is coming off which makes the glass look dirty. It's under warranty but I don't have any confidence that they will do anything about it due to numerous reviews I have read where they impose trip charges and generally do all they can to avoid fixing problems. I would find another company to replace the glass and avoid all dealings with Champion.

Purchased these windows for my entire home 7 years ago. The price was very expensive, but because of the lifetime warranty, I felt it was reasonable. The price was approximately $9,000.00. Firstly, they damaged everyone of my stainless steel window sills upon installation of the windows. They did pay to replace the sills, but a huge inconvenience. Secondly, less than one month my windows began to fog up. They agreed to replace the 1st one, but the charge was $195.00 for the installation. I could pick up and install the window myself at "no charge" so I drove an hour and a half to pick it up.
Since then, every 2-3 months another window fogs up and cannot be seen through. I have to drive far to get a replacement or pay $200 for them to bring it to me. Out of 19 windows, only 2 haven't been replaced. Today I went to install another window I just picked up from them. Now they are excluding the latch on the replacement window, so I have to remove the old one and re-install it on the new warranty window. The quality of these windows is horrible.

Glass is thermally insulated and block uv sun rays. It has sliding doors and windows built on a track. The designs cost less than other competitive company brands. It is very energy efficient. My energy bill dropped by over half from $500 to $199. It was great to that and the glass is beautiful. Really enjoying it. Rooms are also warmer during cooler months. Very happy with my customer service experience. The windows were installed quickly and cleanup was done well. Installers were very friendly and patient and satisfied you. The value of the windows were great. Lower in price than many of its competitors. Received a special promotion and discount for installation.

Great quality. Did an amazing job. Looks very nice and was done promptly. Very durable and the materials are very well made. Makes less light come in my room. It makes it to where I use less electricity. Less heat and air coming in. Very energy efficient sunroom. Very amazing customer service. Very attentive and responsive to any questions or concerns I may have. Great value. Well worth the money. Couldn't ask for more from any company of this choice. Great price for the all around service and materials.

The quality of the products are incredible. They are sturdy and very innovative with a lot of benefits. The warranty associated with the products is also second to none. They are the best in saving money, because it is low cost and low fees to maintain. I really enjoy the savings on my electric bill every month. I love the customer service. Any problem or question I have they immediately call and ensure that I am always satisfied with the product. This is a asset and have definitely increased the value of my property with this addition. Also it has not decreased in value but increased.

I was very pleased with my purchase. The product was exactly as described and the quality was above what I expected. I would absolutely buy from here again. We made sure that we purchased tinted double pane windows so our sunroom would be energy efficient. There have not been any issues with it becoming too warm or too cold depending on the temp outside. The customer service was wonderful! They really helped us pick out what we needed and made great suggestions. Thanks to their help we were able to find exactly what we were looking for. We compared prices across several sites and stores and found this to be the most cost effective. The value is great and we got a high-quality product at a price we could afford.

It was great selection and is of great quality. I have loved it every single day ever since day one. One of the best decisions I have ever made. It is very energy efficient it seems. It saves very much on energy and is just the best way to go overall. If you are considering do not hesitate. Customer service is great. They are very friendly and fast at answering any questions you may have or helping with any problem you may have. The value is absolutely outstanding. It is just great and I do not regret my decision not one bit. Have no doubt about the value if you are considering it.

It is high quality, and reliable. In the 3 years since we added on the room we have only had positive thoughts! It holds the temperature of the house well, even on hot summer days or cold winter nights. Honestly one of my favorite features of the house! Unlike other sunrooms that I have seen/been in, ours is able to be steady in the fact that even on the hottest days, and I'm in the room I am comfortable. We have not seen a huge increase in our bills even with the room. I was expecting a big difference, but I am very pleasantly surprised! They were not only eager to help, but actually helpful. They made the experience of adding on (which was something I was dreading) a delightfully easy and pain-free process. I am able to sit and enjoy the outdoors without actually being outdoors. I love love love natural sunlight and this room is my go to for when I need a little pick-me-up!

We have not regretted doing this to our home. We spend all our time here and it's increased value on our home! Greatest decision made on our home improvement projects! We love the cheaper bills we get for electric now. Ever saved money through the summer months as well as winter months. Though I haven't used the customer service for anything I'm sure they are as friendly and pleasant as the workers were that was here to install out sunroom. Satisfied with the value of our sunroom as I know we will see the return on our energy usage for years to come. Best decision we ever made!

Material is great and reliable, not expensive and very easy to use. You get great quality for what you pay. I would definitely recommend this. The energy efficiency in the sunroom is great. It gets plenty of sun light through the windows and stays warm in the winter time. It is a great place for children to play video game in. Have birthday parties or gatherings. The customer service is great and they will talk to you about different options to fit your budget. They will help you find what ever you are looking for. The value is great. You get what you pay for. It's wonderful and enjoyable. The value is like no other. I say its on top of the list.

The installation took no time. The quality of product was exceptional and the price was outstanding. I would recommend this to others cause I've enjoyed it very much. The sunroom uses the products and it only increased bill by 10 dollars a month. There is no other product that will help you relax more than a sunroom made by these people installed by these people. Customer service was excellent cause I had one question after they left and I called they answered quickly and efficiently but the installer walked me thru everything before they left so there was really no issues. The sunroom helps with aches and pains of the day and helps you relax in ways that no other product offers.

ConsumerAffairs Research Team
The ConsumerAffairs Research Team believes everyone deserves to make smart decisions. We aim to provide readers with the most up-to-date information available about today's consumer products and services.
Champion Window manufactures and installs sunrooms, windows, doors, siding and roofing materials. All their products are manufactured in the United States. The company was founded in 1953 and is headquartered in Cincinnati with 52 locations across the country.
Neighborhood Map: Interested consumers can visit the company website to see a map of homes in their area where Champion products have been installed.
Comfort 365® Glass: Champion sunrooms are constructed with the company's patented Energy-Star-compliant Comfort 365® glass. The glass blocks UV rays and helps maintain the indoor temperature.
Style options: Customers can choose from several sunroom styles manufactured by Champion, and they can customize their choice with different doors, finishes and colors.
Free consultation: Interested consumers can schedule a free consultation by visiting Champion's website. They can select a day and time online or call to set up an appointment. Sales representatives are available six days a week.
Warranties: Champion provides a limited lifetime warranty against all glass breakage and seal failures for their sunrooms. The warranty also covers installation and manufacturing defects for 15 years.
Best for Champion Windows is best for customers who live within 60 miles of one of their providers and want a year round or seasonal sunroom.
Champion Window Company Profile
Company Name:

Champion Window

Website:

http://www.championwindow.com/sunrooms/