A. O. Smith Water Heaters
Consumer Complaints and Reviews

In 2011 my AO Smith original water heater (Ect -40 200) started to leak and we weren't getting very much hot water since we purchased our 1997 home in 2007. We called a licensed plumber who replaced it in 2011 with a GE water softener and used the Morton Salt that preserves the water heater tank. In 2013 the new water heater was replaced again and I was charged the labor of $200 then 25 months later the new water heater basically blew up in my garage and caused some water damage.
I just got off the phone with one of the AO Smith reps and she said unfortunately I'm out of warranty and she also mentioned that the water softener that was installed caused the problem. No reimbursement or anything so I've decided to NEVER use AO Smith in any of my homes and will have a tankless Eco Smart water heater installed in the next 2 days. More $ but worth it in lower electric bills and clearly the wave of the future. SO LONG AO SMITH. NO PRIDE in workmanship = garbage.

We had an A. O. Smith water heater. Through problems this water heater created it seemed the construction of the water heater is not being reviewed by the manufacturer. Inside the water heater are two rings for lifting the water heater for construction. These rings are welded and when dropped into the outer shell covering the rings can break and not noticed for about two years later after installation. This causes the inner tank leakage. Also another problem in construction is the inner glue that holds a removable spiral chamber. This becomes clogged with buildup from burn off.
This causes the burner to shut off seconds after the burner is lit after going out many times. The only way to clean this is to remove the Smith water heater and take outside the and lift the spiral out and clean. Might as well get another water heater lots of work made by the manufacturer that they won't tell the buyer about. The buyer finds out the hard way and costly way. Not a fake review, pulled the water heater out to my garage and discovered this. Too much work. Got a different brand water heater.

Two 40 gallon GS6 40YBR S 300 water heaters were purchased and installed on 02-15-2012. First water heater failed on 11/22/2016. I was charged a $100.00 WARRANTY FEE and the removal and installation of $500.00. Now the second water heater failed on 03/19/2017. I will probably incur the same costs. The heaters failed due to leaking externally. Fortunately I was able shut off the water before damage to the home occurred. Please advise what can be done to recoup these expenses due to poor design and manufacture of these water heaters.

Today I had called AO Smith for the servicing of my geyser which is well within the warranty period (bought on November 2016). The machine pipe is blocked and so we are not getting a proper flow of hot water.The customer care was charging me Rs 400 as service charge. At the time of buying the machine I was told free servicing during warranty period and I hope cleaning of the machine comes under servicing. I will not recommend your products to anyone for such a poor after sale service.

Had new AO Smith GCG-50 installed yesterday and immediately started leaking. Plumber who installed advised he is not allowed to do the warranty work, but that Stan The Hot Water Man is a designated warranty vendor. After waiting overnight for a call from their service tech, I finally get a call back from him and he tells me AO Smith only pays them $100 for warranty service, so all he will do is confirm the product is defective and if so, then deliver a new one, but that the warranty fee doesn't cover re-installation of the replacement unit. So I'm in $950 for a water heater that doesn't work right out of the box and now looking at having to pay to have the replacement for the defective unit installed. How is that even remotely fair to the consumer?
I've tried to escalate to the warranty company and directly to AO Smith, but got zero satisfaction with either one. The warranty company acts like it's an inconvenience for them. Maybe they should stop being a warranty company if they're not being paid enough to service the product. And how can a manufacturer expect a consumer to pay to replace a unit that was defective before it was ever even put into use? That's a cost of business that AO Smith should absorb if you're going to manufacture a defective product. What kind of quality control do you have, if any? I've finally got the installer involved making calls to the warranty company, the distributor and the manufacturer, so at least he's trying to help. Only time will tell if it works out without me having to shell out hundreds more dollars to re-install a replacement unit. Shame on you AO Smith! I'll never buy another one of your products.
How do I know I can trust these reviews about A. O. Smith?
762,878 reviews on ConsumerAffairs are verified.
We require contact information to ensure our reviewers are real.
We use intelligent software that helps us maintain the integrity of reviews.
Our moderators read all reviews to verify quality and helpfulness.
For more information about reviews on ConsumerAffairs.com please visit our FAQ.

My AO Smith water heater has been the worst water heater I have ever owned. Purchased & installed in Sept. 2014, its model GNR50200. One month after installation I had no hot water - the gas control valve needed replacing. The plumber was kind enough to replace at no cost to me. Six months later, the gas control valve failed again. This time the part was covered but not the labor. Sept 2015 from installation the gas control valve again failed. Here it is Jan 2017, a little more than a year from the last gas control valve failure - it has failed again. I am furious. This water heater is a piece of junk.

I purchased an A.O. Smith hot water heater 2 years 4 months ago and it no longer works. After 3 parts replaced it still does not work. They will not replace it. I am out more money on labor costs than a new water heater costs. They want to continue replacing parts, with me paying labor. The heater has a 6 year warranty, but it is totally useless. I will NEVER purchase another A.O. Smith product.

I am 81 years old and had a few different water heaters. We purchased a A.O. SMITH water heater in March of 2015. It was installed by a local contractor. It lasted 22 months, from what I see it is normal for a AO Smith water heaters. We got a replacement installed today, They charged me 96 dollars for their so called paperwork. My contractor charged me 400 dollars to install the replacement, The new one has a leak. I hope he doesn't charge me again for the new one. AO Smith should pay for the install of the water heater not the consumer. I will never purchase another AO Smith product. Wish I would have read consumer affairs before I let my contractor install that junk water heater. We live on a limited income and can't afford to pay for the poor quality of AO Smith's products.

We live in upstate New York and put in a new A.O. Smith AT340 on demand hot water heater. Several week later it got cold out (-15F) and the unit froze and burst the copper pipes in the unit (in spite of the freeze protection system it is supposed to have). I read the installation manual and realized that for cold climates the exhaust should have a flapper valve installed. Our insurance covered some of the costs, and I replaced it with the same unit except this time putting in the flapper valve and also rerouting the inlet to our furnace to the exterior so it didn't create a suction in the basement. After all of that, last week the unit froze again! Be very wary of installing these units in cold climates.

Started to get very dirty, rusty water. Called a very reputable company to come out and check, flush the water heater. After 3 attempts at emptying and flushing, only dark orange water with particles coming out. I called customer service technical department of A.O. Smith, spent one and one-half hours on the phone with them, having my service technician trying everything they suggested, and they would not take no for answer. I got so frustrated and realized they were in no way going to honor their warranty, I decided to get another water heater and DEFINITELY NOT FROM THEM!

Replaced my water heater 11/14/14 with an A.O. Smith water heater, installed by Ron Kuhn Plumbing, Green Bay WI. Plumber is OK water heater is junk!!! On 12/07/16 water was on the floor, called my plumber, he replaced it in a matter of hours with a new A.O. Smith water heater--then I received a bill for $250 for parts and labor. Checked the "Limited Warranty" and indeed I did have to pay for the parts and labor--maybe every 2 years, if the trend follows.
We believe A.O. Smith is aware of this problem and should be recalling the clearly defective units and also be reimbursing the plumbers for the parts and labor costs. Homeowners should not be hung with this expense when the failure of a new water heater is beyond our control. In reading the warranty, I found that when I sell my home even with a new water heater installed--there is no warranty, only for the original purchaser. I could be sticking the new owner with a total expense in 2 years. AVOID A.O. Smith--JUNK!!!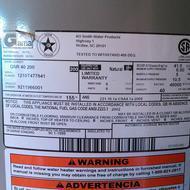 A. O. water heater model GNR 40 200 (gas). I purchased this water heater less than two years ago and had it installed by professional plumbers. When they installed, all new copper piping. It sprang a leak over the weekend and the only way I knew was due to my dogs barking and I went outside to check out what is going on and there was water flowing from underneath my garage door. Well thank GOD I know people and had a technician friend of mine come and diagnose the problem. Now customer service was very helpful in getting my part number to my technician, but he had to drive 30 miles round trip to go get this and with traffic etc.
Well I am out $300.00 and believe me it would have been at least $200.00 more. My tech told me that the counter guy at the parts store explained to him that what happened to my water heater was a known issue by the company and that they would rather wait for the break down than do an all out recall. Now this is all hearsay. So I called the customer service of A. O. Smith Co. and hit them up with this information. They took like five or ten minutes to consult a supervisor, and they came back and said that it was not a known issue. Here is the thing, I just read a bunch of complaints here and my belief is that they are lying to me.

A. O. Smith water heater installed by licensed plumber April 2015, total cost $1884. November 1, 2016 water heater is dead, no hot water and no fault codes. Plumber called and working with A. O. Smith determines that gas control valve is faulty. Cannot find the part on the west coast, has to be ordered from back east. Will take 4-5 days or can be overnighted if we pay $108. No charge for part since still under warranty. After our tenants were without water for Tuesday to Friday morning, the part is received and installed by the plumber. Cost for the plumber including shipping of part $598.
We refunded 3 days of rent to the tenants amounting to $290. Total cost to us for faulty water heater is $888 plus the original cost of $1884. Hard to tell how long the heater will no last and we are into the warranty period by 1 year and 6 months out of 6 years. Should we have any more problems we will dump this water heater and we will never buy another A. O. Smith water heater again.

We had our hot water heater replaced in 2014. It was original to the house built in 2002 - worked fine, just thought it was getting old and wanted to replace it before we started having problems. The plumber we hired replaced it with a Smith hot water heater. Within 2 years, the Smith unit looked ten times worse than the one they replaced. We called the plumber and found out it was a defect in the unit and they said it was covered under a warranty. The plumber came out and replaced it, but we had to pay for labor and parts!!! Not sure why we should have to pay for the install when the unit was defective. Why isn't Smith paying for the install!! Wish I would have read the reviews on this website before it was replaced. Of course the new unit is also a Smith... when this one goes never again!! How is this company getting away with this? The warranty should cover the cost of the install!

I bought a house in July of 2013. This house was owned and built by the builder. It had 2 AO Smith ECS 40 200 electric hot water heaters. The Builder purchased these tanks on 9/16/2010, as the house was under construction. The builder did not close and move into the house until April 27, 2012. I have had to replace one of these tanks already as it failed. It was covered by warranty. Now I have the second tank failing. But AO Smith will not extend the warranty to cover this tank because it is out of the 6 year warranty period from the date of purchase. It doesn't matter that the tank wasn't put into service until 4/27/2012. They (AO Smith) goes off of purchase date. I find it hard to comprehend why a company wouldn't stand behind their product when it is 2 months out of warranty from its original purchase date and only 4.5 years from date of being place in service.

We are a reputable plumbing company in Florida. My boss has been Master Plumber for 32 years. We have used A.O Smith, Bradford White, and Rheem water heaters. The only one we have had problems with is Smith. One of customer had one installed, went bad, and Smith replaced it. Now less than a year later, this one went bad. Sure they're going to replace the water heater, but will not labor... The gentlemen is a school teacher with not a lot of income. When I take my car in for service, when it's under warranty, do they charge me labor? Big NO on that. Bad, bad business Smith... As for the other two competitors we use, never had an issue. BAD BUSINESS SMITH. A warranty is a warranty.

A. O. Smith GCV 40 300 water heater, built/installed in 2011. In the middle of the night I awoke to the sound of water pouring from the gas/temperature unit at the bottom of the water heater. Waiting until morning to hear from my plumber. Read of similar experiences on this site, including one from nearby Crofton MD. Will update.

We purchased our home from a builder, who had installed an A.O. Smith water heater with a date of 4/2012 on it. On 10/2016, the tank stopped working entirely. Two different plumbers said it was electrical, something wrong with the temperature gauge and its ability to communicate with the ejector pump on the top of the water heater. When I search for the issue online, looks like I'm not the only one with a faulty temperature gauge.
But here's the kicker: A.O. Smith gives the runaround when you try to call them on their warranty. The company makes the plumbers jump through hoops to fix the unit. All the while YOU are paying for the plumber's time when A.O. Smith knows that these temperature gauges are faulty. So you can spend time and money trying to get the warranty and a new unit. You can spend just as much time and money to get new parts for the thing or you can SAVE YOURSELF TIME AND STRESS and just buy a Bradford White. They are much more reliable and they are more likely to honor the warranties on their products. I would love to join a class action lawsuit against A.O. Smith.

I purchased a A.O. Smith State water heater in April 2012 and installed it myself. Last Friday evening I heard the sound of water running in my office and opened up the water heater closet to find water running out of the bottom of the front gas/temperature unit. I had a plumber come on Monday morning and he said it was not the tank, but the gas/temperature valve unit had failed and that I needed to call on my warranty. I have now called five times. The first time they said that since it was installed inside the home and the door did not have a closer and weather stripping that they would have to flag it as an improper installation. They said I would need to fix these items and send them pictures as I did. As you can guess by now (and I should have been smarter than to fall for their antics) once I sent them pictures, they were not right and then there are other additional issue why they could not honor their warranty.
After reading these reviews I have just decided to get a different water heater because the cost to replace the part is 1/3 of the cost to replace the unit and then I have to pay the plumber to replace the part. I agree that a class action lawsuit is in order. I am contacting the Law firm of Caddell & Chapman who was one of the firms that handled the AT&T Class Action Suit among many others. I am sending my information to Amy ** and would suggest that each of you do the same. It usually only takes a few dozen people to get the ball rolling. A defective product/breach of warranty suit looks like the only thing that might get their attention.

I purchased a brand new home with an A.O. Smith water heater in it. 4 1/2 years and the heater had split and completely rusted from the inside. Water heater was replaced under warranty but I had to pay for labor. Fast forward 14 months, and I woke up this morning with my garage flooded. The tank was completely rotted and rusted from the inside again. My plumber said his company no longer installs this type of water heater because they are chronically defective. I could have replaced it AGAIN under warranty for free, but I am choosing to spend $800 to buy a new water heater from a different manufacturer rather than risk further damage with an A.O. Smith. Their products are GARBAGE!!! These people should be sued for continuing to produce defective and dangerous products. DO NOT purchase A.O. Smith.

I purchased my house in December of 1995. When I purchased it the A.O. Smith Hot Water heater was already 6 years old (Installation sheet said it was installed in 1989). I finally replaced it on Saturday August 20, 2016. The water heater was at 27 years old. Other than having to light the pilot on occasion I never had an issue. It was a 40 gallon Gas Heater. Personally I think their product is awesome!

Yesterday our hot water heater failed. The gas regulator / thermostat failed and the pressure release valve failed. The melting disfigured pipe can only happen through a thermal event. AO Smith is saying that it happened due to water pressure (that is impossible), even though our pressure measure 60PSI and none of our neighbors have had over-pressure issues. If you have had problems with AO Smith warranty rejection and success in resolution, I'd love to how you resolved. I have 4 plumbers from 2 different organizations and a code enforcement manager that say it was a faulty gas regulator as cause.

We purchased an A. O. Smith hot water heater from Ferguson's Plumbing and had it installed. It NEVER WORKED FROM DAY 1. After dozens of calls to A. O. Smith and replacing numerous parts and reinstalling the way it was vented, it still does not work over 4 weeks later. I have had no hot water in my house for over a month and they don't care. They refuse to give us a new one and Ferguson's refuses to take it back without an authorization number from A. O. Smith. I am so disappointed with their customer service department. They just don't care. I do not know what to do. I have 3 kids and no hot water and no more money to buy another one. I wish I had bought one from Home Depot because they would have never treated me this bad. I thought going to a specialized plumbing store and paying more money that it would be a better product. I am now finding out that is not true. So sad they can take advantage of people like this.

Drain Go installed a brand new hot water heater, a GVC 40 300 model build 09/14/2012 capacity 40.0. Less than two years. No hot water. Started questioning people. When the plumber arrived the tech at AOS started arguing with the plumber. The plumber did as requested from AOS. Apparently the tech knew about the gas valve being defective. The defective piece just cost me 130.00. Class action should be launched on these people.

Had an 80 gallon AO Smith water heater installed at my new construction house. 2.5 years after the problems started happening. First call to the plumber and 2 bad heating elements AND 2 bad thermostats all replaced. Unit was still having issues. I had to reset the unit DAILY to get hot water as it kept shutting itself off. Called Tech Support. They said I was going to have to get a volt meter and go see what the problem was myself (they would walk me through it, oh how nice). I'm no electrician. I refused to do that as it was a liability for me to get shocked. They REFUSED to send a technician because they didn't have anybody within 70 miles of my house.
A few weeks later, deep problems again! This time the unit started LEAKING from two different internal pipes. HORRIBLE EXPERIENCE. The darn thing was still under warranty as I had not hit the 3rd year of service yet! Getting a replacement next week, but hey, another 3 years of service ahead? Time will tell. STAY AWAY FROM THIS BRAND. IT IS JUNK!!!

We have had an A.O. Smith water heater in our home since 1994. Never have had a problem until the June 05, 2016 (22 years old) when it finally sprung a leak underneath and partially flooded the basement. I would recommend this product highly and if I could afford another one, I would be replacing my old one with its new replacement. Very long lived, high quality and always heating efficiently. We had the 40 gallon, 32,000 BTU and 4 people with lots of laundry and a dishwasher utilizing the hot water. A+.

2nd water heater now from A.O. Smith. Both leaked into the electrical contact compartment in just a few years - rotting the wires making the water heater useless. Something is very wrong with the build of their tank. Others have the ability to prevent corrosion/sediment decay but this product evidently is extremely weak. I would never recommend an A.O. Smith electric water heater to anyone.

We purchased a new GPVH 50 100 in 2007 after our hot water heater of 15 years finally failed. This system was supposed to be the Cadillac of hot water heaters... Not so. Now after a second replacement in 2012, 5 service calls costing over $500; AO Smith says we have NO warranty. Wow! Even with repeated failures of the O2 sensor and pressure switch, they claim it's either our fault or that of the installer. On this unit from 2012, the top is already beginning to rust. Going to try and limp by until this GPVH 50 100 fails again... For sure we will never buy another product from AO SMITH, and will warn our friends as well... I suggest you do the same.

I replaced a 40-gallon AO Smith gas HWH in 2012 after only 4 years of use. The replacement unit just went bad after less than 4 years of use but AO Smith will not satisfy the 6-year warranty claiming the warranty is only valid from the installation date of the first unit in 2018. First of all two units with only 4 years of use before leaking is unacceptable. Secondly, not supporting the product you sell is even worse. I will never buy another one because AO Smith makes junk!

This is by far the worst customer service ever... Our water heater is only 3 years old and we have had to jump through hoops to prove that it is in fact the water heater. After 2 plumbers, the city inspector, 600 gallons of water to flush system, a new android, they still refuse to warranty the heater. This is unbelievable... I have no recourse but to purchase another - not a A.O. Smith...

ConsumerAffairs Research Team
The ConsumerAffairs Research Team believes everyone deserves to make smart decisions. We aim to provide readers with the most up-to-date information available about today's consumer products and services.
Sold exclusively by plumbing wholesalers and plumbing contractors, A. O. Smith offers a broad range of residential and commercial water heaters, boilers and storage tanks. They have delivered hot water solutions to consumers for over 70 years.
Types: A. O. Smith offers a wide range of residential and commercial water heaters. People looking for a residential water heater can choose from multiple options including gas, electric, tankless, hybrid or solar. The gas units range in capacity from 30-98 gallons while electric units range in capacity from 19.9-80 gallons.
Remote monitoring: iCOMM Elite is A. O. Smith's remote monitoring technology for commercial water heaters. It allows them to interact with, monitor and manage commercial water heaters. This minimizes down time for repairs which lessens the time a business is without hot water.
Vertex water heater: The Vertex water heater was designed by A. O. Smith to have a lower manufacturing cost and save consumers a significant amount of money in energy costs. It comes in a 50-gallon power-direct vent model and a 75-gallon power-direct vent model. It has improved thermal efficiency and is easily installed.
Product selector tool: For consumers unsure of which water heater to buy, A. O. Smith provides an interactive tool to help consumers pick the right unit. By answering a few simple questions, a list of units with prices is generated.
Product support: Consumers can find a product support tool online in case they need product manuals, spec sheets or catalogs. If the product name or model number is unknown, there is a pre-made list of types that will guide consumers to the right model.
Best for Consumers looking for a wide range of residential and commercial water heater options.
A. O. Smith Water Heaters Company Profile
Company Name:

A. O. Smith

Website:

http://www.aosmith.com/