A. O. Smith Water Heaters
Consumer Reviews and Complaints

A customer of our had a defective water A.O. Smith Water heater GCVL 40 300 that was installed in 2013. It was leaking at the bottom and had a defective control valve. I picked the replacement up GCRL 40 400. It is 2 inches larger and very hard to install. We have to take door facing off and get it put in filled up. And the control valve is bad. Spend close to a hour troubleshooting with someone on the phone. And it will not light. There is no control valve in town. A.O. Smith wants the customer to go over a holiday weekend with out hot water. We snatched it out and took it back. When something is defective upon installation no matter what the reason it should be replaced.

I wanted to voice my opinion and dissatisfaction with A.O. Smith. In December 2011 we had an A O Smith hot water heater installed. Fast forward to 8/2017 (5 yrs 8 mo.) The hot water heater is leaking. We have a professional come out and say it needs to be replaced. Since our hot water heater is less than 6 yrs we call A O Smith (it's written on our tank that the hot water heater is under warranty). The 1st rep. gives us a claim # and says we will be reimbursed for the hot water but not labor. Ok cool. Something is better than nothing.
We had to call back to see what we needed to submit along with the claim number to be reimbursed and are told that we had to replace it with something from an A O Smith distributor. It's a Saturday... The company who replaced it replaced it with what they had. To offer a warranty but have customers wait or have to jump thru hoops to take advantage of it is sad to me. Maybe if it was properly explained to us we would have waited and found an A O Smith distributor to replace the hot water heater if we were properly informed. Claim #**.

I wrote a negative review about A.O. Smith Water Heater without checking further about the charges. The warranty was covered, however; the charges were from the plumbing company that were passed on to me, not from A. O. Smith. That will teach me to research further information before making a statement about a company. The addition fee was for an exchange of a water heater. Sorry for statements made earlier against A. O. Smith.

We just installed a A.O. Smith hot water heater (40 gal. electric) in our home. It was very easy to install. It only took 20 minutes. No plumber needed. We only paid $219 for it at Lowe's. It was on sale. It works so much better than my last one which is a Whirlpool. The bottom rusted and sprung a leak. It flooded my whole master bathroom! Only had it 4 years. Maybe 5??? Not sure... But the Smith I installed 2 days ago is great. It heated the water up very fast. I'd say about 10 or 15 minutes wow!!! Plus it's a lot hotter than the last one too. I have heard nothing but good comments about A.O. Smith Water Heaters.

I bought 3 A.O. Smith water heaters that were installed in 2006 when I built my home. In December of 2011 one of them rusted out and started leaking out the bottom. Fortunately, I had a custom pan made for them with tall sides and large volume in case of this problem. The leaking unit needed to be replaced. So I called a plumber and had them get a replacement unit. While they did replace the unit under warranty, I had to pay $225 to have a plumber install it.
Fast forward to July 2017 and the new water heater that replaced the original failed unit now has a problem. The gas regulator valve has failed. I call an A.O. Smith distributor because it should be in warranty and they tell me that it is in warranty until November of 2017, but that I must get clearance and a release number from A.O. Smith warranty department before I can get the part. So now I have been without a water heater for 2 days and I call A.O. Smith and they have me give them all the info off the water heater. I tell her that the distributor has told me the unit is in warranty until November of 2017. Seems like it should have gone until December or January since that was when it was installed but whatever.
The rep tells me that I have to test it with a Digital Multimeter to see if the millivolts are above 350 on the sensor. Every good home owner has a Digital Multimeter on hand for such occurrences. If you don't then you will now be out a service charge for an electrician to come out and do the reading for you or go purchase one like I did. Anyway, after purchasing one at Home Depot, I take the reading and it is well above 350 millivolts. So I call the customer service department back and get the same representative. She says that she will look it up to see if it is in warranty. I am sorry, but she should have done that before making me jump thru hoops to test this part!!!
She now comes back and says that they won't cover it because they don't warranty the new replacement water heater. It only carries the remainder of the warranty from the original water heater that was installed in 2006. So they will not warranty a NEW unit that was installed by a professional plumber to replace a FAILED unit. WOW! What a company. What a product! A $700 plus water heater doesn't last even 6 years.
So now I am out $39.12 for the Digital Multimeter, $170.66 for the new gas valve (the supplier was nice enough to give me the plumber's price for the part, it would have been more), and $100 for my plumber to install it for a grand total of $309.78. Not to mention all the time involved tracking the part down, running out to get the part, and lost time without hot water. When I was at the distributor picking up the part, he asked me for the serial number and model for the water heater. I gave it to him and asked if this was a common problem.
He said, "Oh yes! We practically have the part number memorized because we have to sell them so often. We have 24 in stock." I have also had other issues with the other 2 water heaters. The pilot light and gas valve have gone out on one of the other units and it had to be replaced. I would highly recommend that you do not purchase A.O. Smith water heaters. They are a crappy and do not last, and customer service is bad.
How do I know I can trust these reviews about A. O. Smith?
883,201 reviews on ConsumerAffairs are verified.
We require contact information to ensure our reviewers are real.
We use intelligent software that helps us maintain the integrity of reviews.
Our moderators read all reviews to verify quality and helpfulness.
For more information about reviews on ConsumerAffairs.com please visit our FAQ.

Built a new home in 2014, builder put in a A. O. Smith hybrid water heater. I noticed rust down at the bottom ring over a year ago. I never noticed water leaking on my garage floor until recently. I called A O Smith who told me to call my Favorite plumber, they had no one in this area. After talking to the person on the phone for a while, he had me shut off the hybrid system to find out where the water is leaking from. I did, now I know the heat pump part of the unit is leaking. Three years old and leaks water. Not sure what I am going to do, it does work in regular mode. I am not paying for a repair not worth it. For those of you considering a hybrid I would think twice or certainly not a AO Smith. The cost difference between a regular and a hybrid is big. Pays for lots of electricity!! The pay back can't be there if you have to repair or replace in three years.

I am writing to your company to express my utmost dissatisfaction with your service and your product. Recently, we purchased a 50-gallon, electric A.O. Smith Signature Series water heater from Lowe's in Brandon, Florida. After properly installing the heater, we soon realized that we did not have hot water. We waited, but no hot water. After speaking with a representative on the phone, we were informed that it was our responsibility to test the heater's electrical voltage and element levels. Consequently, we had to purchase a digital multi-meter at our expense, only to find that the element levels produced no reading. The representative provided an authorization and directed us to retrieve new element gaskets from Lowe's, who informed us that we did not follow the proper procedure, that your company was supposed to call them to confirm the authorization.
After purchasing the element gaskets with our money, we removed the existing gaskets and soon realized why the heater failed to produce hit water. One of the elements was severely rusted and had deposit build-up and was clearly used. Nevertheless, we replaced the elements and the heater began to produce hot water. Within hours, however, the heater began leaking from the element gaskets, despite the fact that we had tightened them and re-tightened them using a gasket wrench. The leaking continued, with the water containing rust emanating from inside the heater. The entire situation made us question whether this heater was in fact used and placed back in a box, even though we paid full retail price.
After speaking with another representative from your company without resolve (we were told they would discount $100 if we hired a contractor and that's all they could do), we emptied the heater and returned it to Lowe's. It goes without saying that we took our money elsewhere and bought a different brand of heater from a different company at a different home improvement store. The entire ordeal really should have been a simple fix; we install a new heater and it works properly. But instead, we dealt with days of stress and aggravation with little help from your company.
We thought perhaps, maybe, we were just unlucky and by some chance got a bad unit, but after reading online reviews on ConsumerAffairs, we learned that your company's products consistently received the lowest ratings, and customers warned others not to purchase your water heaters after they leaked and failed to work properly. We believe that what comes around, goes around, and eventually your company's reputation will speak so loudly (and poorly), that you will be hard-pressed to find customers. You can be assured that we will tell our friends, family, and associates about our experience with your company.

It was a bright sunny day. I went to check on my water heater and it works great. It came with the new house I bought. It was installed sometime during construction. I watched the contractors install one in another new house. They first put it on a platform, then hooked the inlet and outlet water lines. An electrician came the next day and completed the wiring. The customer service was great. When it wasn't heating right, they found a bad temperature controller and changed it. This happened 2 days after I moved in. There was no charge as it was under warranty. I have had it for 8 years.
It makes plenty of hot water and the recovery time is really fast, but I wish it didn't stay so warm on the outside. I finally put one of those energy blankets around it and it is not hot to the touch anymore. Also, I did have to change one of the thermocouples because it was giving a negative reading. The part only cost six dollars at Lowe's. I had to drain the tank but it still was an easy job. I am glad it was an AO Smith. I have heard of them from friends and they all like them, no breakdowns and no problems. I have never had such a good water heater. I have had 2 others in the past in 2 other houses and they both gave me problems.

The price of the hot water heater was good but otherwise it was the brand the plumber carried and so we bought it. The plumber installed the water heater and it went well. The old water heater was difficulty to uninstall. Our plumber is no less ne'er in business which is a shame because he was good. The hot water heater is of excellent quality and value and works just fine. It delivered hot water all the time. We like the water heater overall and we've had good luck with it.

Smith water heater was about 12 years old and reliable. It was in our house when we purchased the house. We had a home inspection before we purchased our house and he discovered the noise in the water heater. We waited awhile thinking the noise in the heater would affect the temperature of the water but the heater was not heating the water to our desired temp.
Smith water heater was eventually replaced by a new water heater by Westinghouse a couple months ago. The original date of purchase was written right on the tank which made the replacement easier knowing the actual age of the heater. The new water heater was recommended by our handyman who is familiar with the various brands of water heaters and he felt this new one was a better fit for our house. This new heater is more efficient and does the job it is supposed to do. The old water heater, A O Smith, was aged and not working reliably. We were afraid it would develop a leak or the bottom give out. It would have been nice not to have had to do the replacement as it was an added expense.

Our A. O. Smith Water Heater works well since we've had it. It has never leaked or given us any problem. The hot water lasts through several things going on at once; i.e. showers, dishwasher, washing machine, etc. and it lasts through several loads of laundry and other sources that it is used for. My husband installed it rather than the company so we would not have to pay installation charges.

I purchased an A O Smith gas water heater 40 gallon on 6/24/17 from Lowe's. To this day (7/10/17) I do not have any hot water in my home. The problem is the pilot WILL NOT STAY LIT. The first day, My home filled with gas. We turned it off. Tried to light it again and the same thing happened. The installers came out 3 times already. Finally they suggested I call the gas company because I could have a gas/carbon monoxide leak. The gas company gave me an all's clear. Now A O Smith wants me to pay to have a technician come out - WHAT!!!
I just cannot comprehend having to repair a brand new unit. I asked the A O Smith representative about a full refund and was told that's Lowes department. I had already gone back to Lowe's and demanded a refund. So now I am waiting to hear from Lowe's corporate office. What a joke. I just want this piece of junk out of my home. Homework people homework - do your homework before you spend your money. By the way, one star is too high of a rating for this company.

I have had my A. O. Smith Water Heater for 10+ years and have had no problems as of yet, the cost was what I expected and was within reason for a 30 gallon tank. It has worked to heat the water for 10 years and does a fine job, it runs quietly, has a control dial to reduce the temperature of the water that is very convenient, and the 30 gallon tank provides enough water for the house. It is energy-efficient as advertised while our other unit wasn't. The delivery and installation was on time and done in a professional manner. The old unit was removed with no damage to the home and was done at a reasonable cost. We hope our unit continues to work for 10 more years.

The water heater was installed in my home, the home was purchased brand new, and this is the brand all of the homes have installed. Most of neighbors have no complaints about their water heaters either. It seems to have functioned reliably for and we rarely run out of hot water as a small family. This is important to me, as there is nothing like a cold shower. This is due in part to selecting the proper size of water heater. My fifty gallon water heater lasted 10+ years before breaking down in what I consider a little bit early, but the fix was relatively easy. I needed to replace the thermal coupler and now it continues to function flawlessly twelve years later. I am satisfied with the water heater at this point.

The water heater is compact for the capacity. It stays warm a long time and is sufficient to keep up with demand in a 3 bath home and was quick for the installer to install. However, parts take a long time to get and the valve failed the first year we had it causing a major leak that ruined my kitchen ceiling. It is loud and immediately it's too hard to get parts for. The power bill has increased 200% and has been serviced 4 times. The last repair took a month and a half and was quite expensive. The repairmen were able to get it up and running with some patience. Also, the customer service failed to correct any issues or to assist in correcting the issue or with any costs that were associated with the problems. Wasn't informative and no followup.

My experience in purchasing my water heater was an easy one. We just bought one and a day later the guys came and installed it. They told us a few things that we needed to know and they left. I have had it about 5 years. It definitely heats my water up very quickly and we never run out of hot water. I love hot showers so that's a plus. I like the sturdiness and style so it definitely doesn't take up a lot of space. I also like the quality and the ease of putting in a changing elements and adjusting the temperature is easy too. It has always done its job and has never failed us. We are very very proud to own this brand. I like everything about it. It has all been a positive experience.

Older models I owned had issues with being loud, not generating enough hot water, breaking, or otherwise not lasting for a long time. The new hot water heater has worked better than expected! It has been purchased in the past year to replace an old water heater. It has been very reliable and more energy efficient than the previous model. It takes up less space than an older model and provides more than enough hot water for the whole family. It runs very quietly, to the point where I never even know that it is on or working during the day.
The installation took about 2 hours, was quick, not messy at all, and there were no difficulties encountered. The installation company arrived on-time, had no trouble with the installation, and were helpful when we had questions. The documentation they left was thorough and we have had no trouble since then. It has been great!

Our A.O. Smith water heater has always functioned perfectly. The recovery rate of the water heater has always been great and the water heater is able to handle our 50-gallon spa bath tub. It's made to very high-quality standards. I have heard about the A.O. Smith brand for many years and am proud to finally own one myself. The insulation contained in the hot water heater keeps the water hot for a very long time. Our experience with the customer service was excellent too. It was first class. The customer service staff was knowledgeable and extremely professional and courteous. The water heater is a bit expensive to purchase, but when all things are considered it was a very wise choice to purchase our A.O. Smith water heater.

I feel that I have the very latest, energy efficient water heater and the pricing is exceptional. I love that the company offers same day repairs. I don't have to worry about being without hot water for long because company offers rapid and reliable service. All NH Ross workmanship is backed by a written guarantee for the customer's peace of mind, and new water heaters come with industry-leading manufacturer warranties. Also, my two repairmen were very friendly and very knowledgeable. I felt that I made a good decision after choosing this company. The company charges by the job rather than by the hour, so I felt that the men were trying to give me the best service and never felt that they were in a rush. However, I don't like to wait for my water to be very warm and neither does my family. The water heats up in about 30 minutes and that takes a little too long. But heater is great.

The installation of this water heater was very easy other than getting it down the steps into the basement. After it was set into place all I had to do is run the cold water line and the hot water line then insulate the pipes. I have had this water heater for 3 years now and it has been flawless to this date. It is a very good system that lets you set programs to different settings, it is very quiet and fast when heating the water.

I have lived in my home for 3 years and the house was built in 2008. Our A. O. Smith Water Heater came with the house and it still works great. It heats the water quickly and it's not noisy. It is a big capacity heater so I don't usually run out of hot water during peak times bath/meals. It came with a tray at the bottom so that if a leak occurred there wouldn't be a mess. The body of the heater is not rusting even after all these years in operation. It's still pretty. I love it!!!

A.O. Smith has generally been fine. It had a leak for a while, but that was caused by a plumbing issue in our home, not the water heater. It does heat the water. I'm happy to have hot water and I'm happy that it doesn't leak. I wish my water stayed hot for longer, and that the tank refilled more quickly. A local plumbing company came and installed it. It took them 45 minutes or so to put it in and get the old one out. It was a quick and painless replacement.

We were renovating the house and was buying and decided that we were going to replace the old water heater with a newer version. We went to Lowe's Home Improvement and carefully selected the one that would work for us. We then decided where we wanted to place it at. My husband has his contractor's license so he done all of the installation by himself.
My experience with my A.O. Smith Water Heater has been good. I like everything about it. Heats my water up fast. Takes a significant amount of time to use the hot water up. Everyone in household can take baths/showers and there's still hot water. The temperature can be adjusted should your water be too hot or cold. The water heater itself doesn't take up much room where it's located at. We've had our water heater for approximately 5 years and never had any complaints or problems with it. I would highly recommend this type of water heaters to friends and family members. It's great.

The water heater was installed by the builder when the house was built. The process must have been smooth. We bought the house later and have been living in this house for over 5 years. The water heater works perfectly and generates heat at the right temperature. The water is warm enough. We are very happy with the water heater and very happy to use it.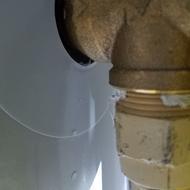 Bought this water heater a few weeks ago at Lowe's and noticed a leak already. Upon inspection I found that the leak was coming from the TPV valve. Not out the TPV, but around it. After contacting customer service they told me they could give me a $100 dollar credit to A&E service. After speaking with someone who could barely speak English I was told it would be 3 weeks before someone could come make the repair. As a result I had to fix this brand new product myself. This is not a well assembled product. I will be surprised if it even makes it to its warranty date.

Bought A. O. Smith Vortex Water Heater in 2010. Was told by supply house would have 15 hard of trouble free hot water. Tank was $1700. It's junk 7 years later, tank leaking. I could have done better at Home Depot for $500. I thought I was buying the best. I got taken. Do not buy A.O. Smith products.

I had purchased 2 nos of water heaters and both of them started leaking from the tank base unit within 3 years. Since both units had the leakage problem, I registered a complaint with the AO Smith authorities, submitting my apprehension about the quality of the product. The authorities only said that the warranty is not valid after 2 years and will be replaced only against payment.
Also my complaint was unilaterally closed, without attending. Apart from telephonic complaint, I had also sent couple of e-mails to the AO Smith officials, and I never received any reply. I was convinced that it is a manufacturing defect, as both the units started leaking within a period of 3 years. At the same time I had also purchased one Racold water heater and is working very satisfactory. Hence, I would not recommend anyone this AO Smith instant water heater product. My experience is very bad, both with the product and the authorities handling and addressing the issue.

Purchased a AO Smith Hybrid water heater (Model # PHPT-80) back in December 2012. At that time the cost of heater and installation was approximately $3000. Spent this type of money figuring it would save on electric, cool the garage (live in South Florida), and help go green. It came with a 10 warranty on parts and 1 year on labor. It worked well till one day it stopped functioning. That was in late January 2017.
At that time I called my installer, who came out 5 times over a period of many days calling A. O. Smith's technical department with average hold times of over 30 minutes and hold times while they either talked with another rep or read a manual. Each customer service rep had a different solution, none worked. Finally they decided that it was the main circuit board. I paid $53 to have it shipped overnight. When it didn't arrive after the second day, I called Customer Service and was told it was back-ordered. Question why didn't the service rep know this? His answer, "We don't know what parts are available in our warehouse."
The customer service rep was nice at least this time to check all South Florida distributors if they had a circuit board in stock. No one had any, which led me and my installer to think that there was a problem with this heater. Finally after all these calls and no parts available they authorized a new replacement hybrid water heater.
Still remember I paid $53 for an overnight circuit board. I asked about my $53. The service rep could not do anything about this, he would have a manager call me. The manager did call back and said that the circuit board was shipped and left at my front door by UPS. I said, "How could this be shipped when told it's not available." He had no answer. I never received it, and after hearing I was getting a replacement heater he authorized a credit of $53 dollars back to my credit card.
At this point my installer felt bad that it's been almost a week with no hot water, so he disconnected the hybrid system and modified it to work as a regular electric hot water heater. After almost 7 weeks the supplier received the replacement water heater. It was a newer model, shorter and much wider. My installer now had to remove the old heater and reinstall the new heater which had totally different connector points and needed to change drip pan from 24 inch to 30 inch. This took most of a day. Here is the kicker. The installer's bill for this including the many times he came out to initially try and fix this while working with a customers rep came to $1622.74.
So in four years I spent over $4500 for this heater. The bottom line DON'T BUY ANY HYBRID WATER HEATER UNTIL THEY INCREASE THE LABOR PART OF THE WARRANTY, like they do on central air conditioners. Remember this is a water heater with a reverse air conditioner compressor on top including all types of electronic circuit boards. I also asked for an extended warranty for labor. They said no such thing. Why? Because they know how expensive labor can be on this type of heater as you can see.

Shortly after purchasing our home in 1996 we installed a new AO Smith water heater. In 2009 it exploded while we were away for 3 days; but continued to pump scalding water out. Almost ALL of our walls, flooring, ceilings had to come out; it did over $59,000 in damages. They said it was not under warranty. The Insurance Contractor insisted that we must replace it with another A.O. Smith Water heater. I complained, but he prevailed. We paid extra for the top of the line model. AGAIN, in 2014 the water heater exploded! Thank goodness I was home this time and could turn the water off and stop the steam damage. Again A.O. Smith acted very surprised that it had happened, and stated that they had NO reports of such problems.
THAT IS NOT TRUE!! DO NOT BUY one of their products, they are dangerous. The product is of poor quality, the connector literally became disconnected from the top of the unit, and the top of the unit blew off. How could these products be allowed on the market? What if one of my family, or my pets had been in the laundry area when this happened? We would have been scalded to death. They should be removed from the market, PERIOD! Model # EES-40 J202172819 4500 watt.

I have a gas 40 gallon A. O. Smith unit GPVH 40 100 installed by the builder in our new townhouse. It was installed in April 2012. In April 2014, July 2014, and April 2016, the same blower switch failed. This morning it's broken AGAIN!!! Really? Four times in 5 years? The 25 year warranty does not include the $150 labor costs. This is utterly absurd. There should be a lemon law on this unit. The tank is fine but what good is it if I can't get any hot water?
A. O. Smith Water Heaters Company Profile
Company Name:

A. O. Smith

Website:

http://www.aosmith.com/