American Standard Plumbing
Consumer Complaints and Reviews


I had the worst experience with a 50 gallon gas operated water heater sold by American Standard. The unit was installed in March 2013. By November 2016, I installed FIVE thermocouples. While American Standard provided the part, I had to pay a plumber $150 to install each thermocouple. The last one installed two days ago failed in 6 hours. At that point I had to suck it up and buy a Rheem brand Water Heater and hope that it does not give me the trouble that this POS has. Do yourself a favor and do NOT purchase a water heater sold by American Standard. I tried to not give any stars but I had to give them one.

Just completed a remodel that included 2 Champion 4 Max toilets purchased from Menards. One of the toilets located in an addition with all new plumbing flushed with about half the enthusiasm as the other. I looked for any reason for the weak flush, and sought advice and eventually swapped the toilets where the same toilet still performed poorly. I called American Standard feeling I had a pretty good case and expected that after gathering info, they would send a local contractor to help. Instead I got a customer service rep who told me there was likely something wrong with my venting or that an animal crawled into my vent pipe. She explained that I would need to show proof that those items were checked before they would send me a new toilet because she knows from experience a new toilet will not help. I have never experienced a customer support so determined not to get involved.

American Standard??? The toilet I bought was made in Mexico!!! This company just tries to capitalize on the good American name. I bought a new American Standard toilet 2 years and the flow valve is leaking and now I cannot get any parts for it. I called customer service and they are not interested in helping customers at all. I will never buy another American Standard products again.

We remodeled a master bathroom in 2003, only 13 years ago, and installed an American Standard Amarilis Contemporary faucet and shower head in the shower. The shower handle stripped and eventually stopped working. We have a vise grip attached so we can turn the water on and off. It is discontinued and we can no longer get parts for it. That means we have to rip out the tile, install something new, and re-tile. I can't believe parts are no longer available. I could see if it was very old but I don't consider 13 years very old in plumbing terms. Very dissatisfied. I would even take in another finish but even that is not available. I have the exterior parts. It is the interior parts that need to be replaced. You'd think they'd be standard size/shape.
How do I know I can trust these reviews about American Standard Plumbing?
639,780 reviews on ConsumerAffairs are verified.
We require contact information to ensure our reviewers are real.
We use intelligent software that helps us maintain the integrity of reviews.
Our moderators read all reviews to verify quality and helpfulness.
For more information about reviews on ConsumerAffairs.com please visit our FAQ.

I just installed an American Standard UHET Dual Flush Toilet Model 740A.200 and it was without a doubt one of the best and fastest Toilet Experiences ever. I was totally pleased, two thumbs up with the ease in which it was able to be assembled and installed. All and even extra parts were provided, as well as special tools to add and speed the process up and make it come together in the blink of an eye, in comparisons to previous Toilet replacements. As an engineer, I was especially impressed with the design advancements and new materials that American Standard offered over Toto and Kohler offerings. Let's see how it holds up over time. There is no reason to believe that I may expect issues, but this is new ground for all UHET toilets. Toilets are usually one chore people put off, but, I am ready and willing to do one for my brother here in CA next week. Doing our part with the drought.

I have the lump sum receipt for material and labor from the plumber who installed an American Standard faucet in my bathroom as part of a renovation in 2004. But I do not have and did not know to ask for the individual receipts for fixtures that were installed. As a result, though I am the original owner of the faucet, American Standard refuses to honor their lifetime warranty for the faucet.

Count your loss early if you purchased a hot water heater from Lowe's. Tear it out and start over, or you will be paying to have the gas valves and burner units sent and a service call every time. Living for days without hot water and the hassle of draining it when it's the gas valve. It was 4 years old and the longest it ever worked was 3 months at a time. Most frustrating purchase ever made and I've been in my house 23 years.

When this happened during the warranty period, a very surly woman said, "We'll send a new actuator". That was it. New actuator installed, sounds like water is running. Sound only becomes more frequent until it is constant. Then, toilet starts flushing itself again a few months later. Call American Standard again. They'll send another actuator. If the first two actuators didn't work, I'm gonna bet that the problem is not the actuator. This toilet is a "Lowe's Exclusive" meaning I can't get it anywhere else and Lowe's doesn't cover repairs on products like toilets. I could call American Standard again, and they would tell me they will send me a new actuator. I spent THREE HUNDRED DOLLARS ($300.00) on this toilet - no rebate - and it doesn't work. The new actuator lasted just three weeks.
I am very angry, I am trying to list my house for sale, I can't sell it without a working toilet! I should be doing other things than writing complaints to American Standard. Their own site has plenty of one star, crappy toilet reviews, the company seems oblivious. Lowe's also has many 1 star reviews and warnings not to buy this toilet. But, nobody reads reviews before they buy when it comes to something like a 'touch free' toilet. My next rant will be to the BBB, and I hope others will follow. We all bought a lemon, and AS isn't acknowledging it, offering to fix or repair/replace. And this is something that needs to be addressed!

We bought three American Standard toilet sets for our new home. Within a few months of light usage, all the bidet sprays were leaking for unknown reasons. Because of that, we turned off their water source and called a plumber to fix them. Weeks after that, the leaks were still there and our bathrooms became flooded so we were forced to just remove them altogether.
Plumber said they were irreparable and we should ask for replacements. We thought of getting the replacements at the local Home Depot where we bought them but since all three sets had the same problem, we thought that there's a big possibility that it would also happen to every replacement sent (assuming they'd agree to it). We also can't find the time to go to the store so we just decided to forego the idea. But I didn't expect the leaks for such newly installed products. Very disappointing and not worth the money at all.

I have an American Standard toilet, and the flush valve system is leaking. After searching the internet, I realized this is an EXTREMELY common problem, and the company has had to develop an entirely new system. Trying to get through to customer service is a NIGHTMARE, and took over an hour of waiting on the phone. They have a laughable message about "extremely high call volumes" (except they've had the message all 5 times I've tried to phone in, which doesn't mean high call volumes, just that they are too cheap to hire customer service). Basically, you are getting a product from some third world country with almost zero support or warranty. STEER CLEAR!

I purchased American Standard 4205104-075 kitchen faucet and hired a plumber to install it. When installed there was a leak from inside the body so the plumber had to remove and install a temporary faucet till I could buy another faucet. Needless to say the replacement faucet is not American Standard. As it seems they are poorly made even at a cost of $300. My complaint is that there is no reimbursement for the cost of the plumber to install and remove a defective product. The hardware store, where I bought the faucet, takes no responsibility for the product sold.

Purchased a kitchen faucet back in 2005. Needed parts under warranty. Parts were sent in 2005. Called on 2/26/2016 for replacement parts because of faucet dripping. Even though I had the paperwork they sent me with the new parts in 2005 with PO # and all my info they now say that I need a receipt to get warranty parts. Very unfriendly customer oriented. Rather lose a customer over a few dollar parts than make the customer happy and buy their product again. No wonder when you go to my Lowe's in Savannah GA they have only 3 American Standard Faucets on the shelves compared to other major brands such as Moen that have a full wall display. That should tell you something when you go looking for Kitchen or bath room Faucets.

Brand new toilet August/2015. Developed ghost leak in Sept. - $31.87 extra water - leak stopped, again in Dec. - $101.52, again in Jan./2016 - $58.77. Just got my bill (Feb./2016). Complained to Home Depot 2x. Called American Standard Canada several times, waited about an hour each time. Finally they sent me my part after complaining, weeks later. **SHAMEFUL, IT'S OWNED BY LIXIL of JAPAN, made in MEXICO. FIX THE DAMN PROBLEM - THIS IS NOT RIGHT!

I have a Eljer cast iron kitchen sink. The enamel finish popped off down to the metal. I wrote customer service and spent the last 4 months responding to questions and providing original receipts. Early in the process they led me to believe my product was covered and just needed a receipt to show date, item, cost. They confirmed the date and told me they just need to see the item detail more clearly. I provide a PDF copy and was told my receipt was submitted for payment. I just received a letter from a different person stating my sink was out of warranty. It was their people that stated the sink was in warranty. In fact I believe it has a lifetime warranty. Since American Standard doesn't participate with Consumer Affairs I suggest you pass on all their products. I am forwarding this to the California State consumer affairs for legal action.

American Standard Toilet - I emailed them (Canada) and even fill up their survey but never get a reply from them. I contacted their 1-800-387-0369. It took me an hour to wait for the customer service to answer me back. They willing to send me the part but I have to pay the shipping and handling fee plus tax even though is under 5 years warranty. Most company I deal with such as Delta Faucet, GE, Philips, they usually free of charge. This is unfair because the warranty did not stated that there is an extra charge for shipping and handling fee plus tax.

Installed 2 new Champion 4 Max toilets. Both work amazingly well. Putting new flooring down and replaced the toilets in the baths for lower water use. I was skeptical, but haven't had problem flushing yet. Tested by several construction workers, plus I'm 6'6" tall. My personal tests flushing, didn't include anything as big as a basket of golf balls - or anything as small as a golf ball. So far I've only had to flush twice 1 time and never had to plunge which is a huge improvement over my old toilets.
2 minor issues. First AS opted for form over function. I got the elongated bowl, for some strange reason they included a seat that takes an 11/2 off of it and to make it look pretty (you wouldn't want to put your a$$ on an ugly toily). The seat cover covers the seat itself making for a deep sharp rim when in the up position. The other minor issue was that the fill valve had a minor dripping problem when installed. I called American Standard customer service. The phone was answered immediately (caught me off guard, I was expecting a wait and calming music) by a nice lady who took my name and address and sent me out a new fill valve right away. I gave it 5 stars based on the function of the product and the speedy customer support. I'd recommend them in a heartbeat.

I purchased three American Standard Toilets and they all leak water into the bowl. I have to refill it of the water that was lost every 30 minutes or so because the seal does not hold the water.

I bought faucets 20 years ago and they came with a lifetime warranty. Now they are all rusted. I called them and they asked me if I had a receipt, I said not anymore. When I told them I did not have a receipt they told me that these models don't come with a lifetime warranty. I have been a big fan of American Standard for a long time, I used to sell their products through my business as well as installing their products in my home. I thought their customer service would have been better than this. This is what an American Standard faucet looks like after 20 years. Their customer service will not do anything about after repeated attempts at looking for a solution.

Purchased an American Standard hot water tank in 2014. Two years later 2015 the tank cracked. American Standards was contacted on Monday and they asked to email pictures of the tank and the pipe connections. On Tuesday I was to email more picture. On Wed, they wanted to know more information i.e. where the tank was purchased only to receive an email stating that they will review my case and get back to me. I have been without hot water for a week now and I am not very happy. If American Standard company feels as though their products are made with quality they should stand by it and honor their warranty. I feel as though the process they take you through is ridiculous and a discouraging. I wish I came to this site first before purchasing this item. I definitely would have chosen another company.

We purchased 2 toilets (Mainstream model - 3472128020) & had them installed. The first toilet is great, but the second toilet is a total bust! Our intention was to purchase two identical products as the exterior packaging, model number, and pricing were exactly the same. We also purchased the items at the same time, on the same day, from the same store. However, upon installation of the second toilet, we found that the two products are NOT identical in quality or physical parts. Although the part numbers were the same, the second toilet had a completely different instruction manual, toilet filler, flap, seat mounting hardware, and bowl mounting hardware.
In addition, the second toilet was missing some hardware to mount the seat so our lid/seat remains unstable and wobbles with each use. The tank also had a large, black scratch across the top and we had to file down the edge of the seat as it was so uneven and rugged, it actually nicked us. In conjunction to all of the above mentioned, the second toilet is significantly louder than the first.
We are so surprised & disappointed in the inconsistent quality between these two 'identical' products! Returning them is not a feasible option as the toilets have already been installed. American Standard customer service was unable to provide us with any explanation for this occurrence.

Wish I would have read the other reviews before buying an AS faucet a few years ago. Similar story to other reviews. Bought a Portsmouth faucet 2 year ago. Faucet already leaking... however, merely needs a spout seal kit. Called the AS... waited for 20 minutes... automated message say long wait time is unusual... right... Told by customer service rep can't get a replacement under warranty without receipt from two yrs ago. Asked to speak to a supervisor. Was told no supervisors were available and was told would transfer me to their voicemail... but somehow the call got disconnected.. Ah the old games... "Bleep" product and equally wonderful customer service. What a "bleep" hole of a place. Run away!

I bought two A/S toilets from Lowe's approximately 8 months ago for two smaller bathrooms. Certified plumber came to home and did installation on each toilet. First toilet went in without a problem. When installing the second toilet the plumber advised me that the tank was rocking even after tightened down as far as he would allow without causing damage to the tank. After about 2 weeks this toilet started to leak around the tank gasket that separates the bowl from the tank. Plumber returned and reinstalled the tank. Two weeks later the tank started leaking again. Lowe's advised that they would replace with a new toilet or credit for a upgrade, but said I should call A/S and let them know also.
Called A/S and advised them of the problem. I phoned A/S and was given a hold of approximately two minutes, which turned into a 15 minute hold for a CS representative. When the representative came on line, I was met with a "Hello, what do you want?" No name, no identification of the company. I told the representative what was happening, and was told by him that the plumber installed the toilet wrong. When I told him that he had installed another without problem he told me "go back to your plumber and tell him he installed it wrong." I then asked the representative if he was a certified plumber and he said no. Bottom line to this call is that we went nowhere. I was told to take the toilet back to Lowe's even though I have an A/S warranty. And with that the C/S representative hung up the phone. So much for backing your product and taking care of the customer.

I bought a new American Standard Champion 4 Max round 1.28 gal toilet from Home Depot on Dec 21, 2014. It does not flush #2 well at all. Only 2 people about 150 lbs. use this toilet and it has failed to 1/2 the time. These are normal sized poops as Dr. Oz says. Once I flushed 7 times and it still would not go. I have had to plunge multiple times to get satisfaction. Very poor design. I have owned several houses and do my own plumbing. The toilet I replaced was also an AS that I put in 5 years ago and did not work well either. Poor design!!!

I purchased a bathroom faucet by American Standard three years ago. I looked at the warranty papers that I had on file and it has a lifetime warranty. My faucet has a drip and my plumber said that the ceramic valve is bad and needs to be replaced. I called American Standard customer service and talked to a unsympathetic lady and she informed me that I need a copy of the receipt to get a warranty covered part. I looked at the receipt and it is unreadable.
As everyone knows all the receipt you get from most store will disappear after some time. So the American Standard customer service rep inform me that I have no warranty. I think that if I can give customer service the model number of the faucet I have and even can send a picture of it they should be able to send me the part. I have a cheap Price Pfister faucet in my second bath that is over 6 years old and I had a problem with a part on it and after calling them they sent the part out that day. All I gave them is a model number.
I would like to let all who reads this review: I would not purchase a American Standard product unless you make a computer copy and keep it on a backup disk. Or the warranty paper they give you is totally useless. Maybe it would be better to purchase a Delta or Price Pfister where the customer service department reps wants you be buy more of their products so they talk nice to you and will do all they can to help you.

This use to be a quality company and they would go out of their way to stand behind their products. This has changed. The products have become inferior and the company no longer cares about their customers. I bought two toilet seats and within two years the metal hinge had broken. Emailed them and they basically said too bad it's over one year old. Not the same company they use to be so buyer beware. The name no longer means what it did at one time.

Our kitchen faucet, which we love the look of, is impossible to stay tightened. It wiggles all over the place. My husband will tighten it, it lasts about a day and then loosens up again. After over two years of this, I called AS to ask how to go about getting the proper parts to fix it. We had gotten an estimate from a plumber and it was going to cost over $125.00 just to add some kind of spacer to be able to tighten it. Just trying to get questions answered, the young lady at AS was so rude on the phone!! There was no reason for her to be rude..she just acted like she wanted me to just go away!

Purchased 2 Champion 4 toilets which started out fine but started leaking into the bowls, so new seals were warranty replaced. Now we noticed a crack on the inside of the rim that I think could grow over time so I checked the other toilet and it too has some small cracks. AS did send warranty replacement bowls but guess what, they either have clogged discharge holes, deep groves where the rim and bowl are sealed (potential crack in future) or bubbles under the porcelain. So after talking to the customer service person, they will only replace the one with the bubbles. I want my money back but they won't do it and I now feel even if they replace them both, I will get the same quality. Sorry but that's bad customer service, AS and your phone person got rather loud with me over this, which is a No No!

After a few more attempts to contact American standard, it is a waste of time & effort to resolve issues with a uncaring corporation who continues to dance around problems with their low quality product by saying they have no record of prior attempts to contact them. This is nothing more than a lack of interest in the satisfaction of a customer. I & my customer plan to never buy anything from them, and let as many people know how they operate. We have agreed to not waste any more time with a joke excuse for customer support. I have a much more harsh feeling for them but will refrain from saying it
Original Review
My customer (prior to my services) purchased a a/s colony single handle kitchen faucet. After less than a year the spout is very hard to move, I made it work better by lubricating it but in days it was trouble again. Next obvious thing was replace O-rings. I did all of this without even contacting a/s, that lasted two weeks. So I helped her e-mail a/s explaining the problem, they sent e-mail reply asking "so are you saying it is hard to turn". I was at a loss for patience, so we have replied back twice & they say, "oh we can't find your prior e-mails, could you possibly give us the date/time & who were you in contact with". I have had prior problems with this company & thought it couldn't get worse. I was wrong for sure. Now they want proof of purchase to send repair parts - I say boycott, I have for last 12 yrs.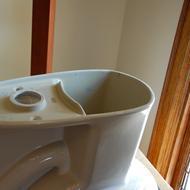 I ordered three "H2Option 2-Piece Dual Flush 1.6/1.0 GPF Right Height Elongated Toilet, white" (model # 2286.216.020) from HD online. I opened a box containing one of the bowls, removed it, and turned it upside-down to examine it. It had an oval perimeter with a lower surface (now facing upward) designed to rest on a flat floor. It also had a round drain that protruded slightly above the mounting surface of the perimeter. This would not be a problem since the floor tiles were removed in that area. BUT, it also had a slightly curved, transverse strength member about 6 inches long that was about 4 inches in front of the drain and mounting holes. THIS ALSO PROTRUDED ABOVE THE MOUNTING SURFACE BY ABOUT 1/32-INCH. When I placed a carpenter's square lengthwise across the bottom of the toilet (front to back) the square would teeter-totter on this feature, alternately touching the front and then the back of the mounting surface.
This is "NO BUENO", especially for a toilet. I called A/S Customer Support to explain the condition and was told to email them a photo. I did, and they replied: "I have received and reviewed the photos and from what I can tell and my supervisor that the minor tilt is within the allowed specifications and will cause no difficulty in mounting." I responded that I was sure the flaw would cause no difficulty in mounting and that I could mount the toilet if the tilt were 1/4-inch and that the problem is the rigid and brittle nature of the material (porcelain) in conjunction with the stresses caused by the projection.
In fact, it is because the material is inflexible and brittle the amount of "tilt" is irrelevant. Virtually all toilet mounting instructions warn against "over-tightening" the mounting nuts because doing so could cause the toilet to break. I pointed out that the "projection" below the toilet is a fulcrum and the toilet is a lever. The mounting holes are 4-inches rearward of the projection while the front of the toilet bowl is 13.5-inches forward from the projection, which is 3.4 times the distance of the mounting holes. This means any downward force on the front of the bowl will result in an upward force at the mounting holes 3.4 times as great. Therefore, 250 lbs. on the front of the toilet would create 850 lbs. of force at the mounting bolts. And these force would be in addition to those caused by tightening the mounting nuts. If these forces are acceptable, then why warn against over-tightening the nuts.
I believe the curved projection is a strength feature that was not intended to protrude below the base rim. Somehow, maybe the part of the mold that forms it may have shifted somewhat and the error went unnoticed by Q/C. The projection is either a design flaw or a manufacturing defect and should NOT be there. I repeat, it "should NOT be there." It's just not good design-engineering. I asked, "Is it possible the toilet I un-boxed is unique in that it has the flaw? Should I open and inspect the other two bowls? Or, is it likely the three toilets shipped to me are from a particular 'lot' that comprise the excessive projection and somehow got passed 'inspection'. Or, is the defect apparent in all A/S toilets? Or, just the model that I bought?"
Even though I asked these questions several times, A/S customer support refused to give me any answers. They REFUSED! I also asked them to, "Please send me the A/S specification that 'allows' this 'minor tilt.'" That request was IGNORED (most likely because it doesn't exist). I said, "The bottom line is, I do not want toilets that have this condition. I just need to know if I re-order after returning them will the replacement toilets be the same." Again, NO RESPONSE. I said, "The A/S specification should be that lower edge of the projection may be exactly on-plane with the base edge, but under no circumstances, exceed it. By any amount!"
Once more, NO COMMENT from A/S. I also said, "All the information I've sent is for the benefit of you and your supervisor, who are obviously not engineers, yet seem to have the autonomy to arbitrarily establish A/S policy concerning toilet 'specifications.'" I really didn't expect a reply to this comment. The bottom line is, if you buy an A/S toilet, you may end up with one with a defect that may ultimately cause the toilet to break. And, if it breaks you need to wonder if A/S will honor their warranty, or will they say it was "your fault." And be aware that if you buy an A/S toilet and it has a problem, you shouldn't expect much help from their Customer Support. In fact, I wish I had Googled A/S Customer Support before buying their toilets (as you should). It would have saved me a lot of trouble.
American Standard Plumbing Company Profile
Company Name:

American Standard Plumbing

Website:

http://www.americanstandard-us.com/