Consumer Complaints and Reviews

I started having problems with this flat screen TV soon after one year. It would not turn off so I would unplug and plug back in. Then, after my children used the Xbox, it would not change back to HDMI1. The TV is unusable while we stand and push the buttons over and over. It was very intermittent at first but after the third year the buttons would switch purpose. Really. Suddenly the volume would change to the bottom two buttons instead of the second and third button down. If someone accidentally hits the wrong button, it switches quick to AV and again, the TV is unusable. I just jumped in to say that if it starts having an issue, it's not you. Get it repaired before it is out of warranty! I would neither buy nor recommend this brand.

55 inch Insignia TV: Model # ns-55dr710na17, I bought this tv on 09/20/16. The tv started shutting down and starting back up on its own. I only have the factory warranty. I called Best Buy, they ordered a part sent to my house, they came to the house on 07/01/17. They replaced the motherboard, which didn't help. They ordered a new motherboard and a power supply, installed it on 07/19/17. This tv worked fine for 30 minutes, then the same problem, except the back of the tv is warmer. I called the repairman and he said he would call his field supervisor. He said there is nothing else to change, so I figure defective parts. I'm waiting for a call from the Geek Squad if they are going to replace it, or what.

I just bought my son this tv (Model Insignia™ - 32 Class) from Best Buy, which seemed like a bargain at the time. Within 2 months I noticed a spider webbed typed screen crack on the tv. I didn't purchase the 2yr warranty because I felt it should last sometime and I can add it later. This tv has been worse than my Vizio buy years ago. It's so light, weight shipping should have been free. This is the worst purchase ever! They need to recall these immediately and recompensate customers. What a fraud!

I wish I could give Insignia a -10 star review. I bought a 49-inch Insignia TV for my mom back in December 2015 and within the last month and a half (starting May 2017) we continue to have problems with it either not turning on or when the red light flashes and is telling me it is turning on it decides to take 30 minutes to come on. I will NEVER BUY another Insignia TV or product EVER AGAIN in life and based on the other reviews it goes to show just how much of a piece of crap this product really is.
I even tried doing an update on my TV only to find out that the TV's been discontinued and they no longer offer an update for that model. Really? The TV isn't even 2 years old. My 2003 HP printer still provides updates and downloads and works (totally different product but you get my point)! The few good reviews I do see makes me wonder how long the person actually had the TV for and if they provide an update between that 1 to 2-year mark or if Insignia paid somebody to write that review. I am now in process of forking out money for a quality brand name TV.

I purchased an Insignia television for $326.61 on Christmas Eve 2015 from best buy. I thought it was a good gift for my husband for the bedroom. I was totally wrong. It is garbage. I didn't realize it sooner because we are always watching television in the family room. Once my daughter moved back in and she started watching it and it kept shutting off for 10 seconds or more and then turns back on. I want a full refund for this trash.
How do I know I can trust these reviews about Insignia TV?
849,102 reviews on ConsumerAffairs are verified.
We require contact information to ensure our reviewers are real.
We use intelligent software that helps us maintain the integrity of reviews.
Our moderators read all reviews to verify quality and helpfulness.
For more information about reviews on ConsumerAffairs.com please visit our FAQ.

Insignia 50 inch TV: I've had the tv for just under two years. Several months ago it would just freeze on certain channels. I could not change the channel or even turn the tv off. It would turn on and off by itself. I had to unplug it. When I googled it, it basically told me to delete the channels I was having problems with. I was paying for these major network channels and was not going to delete them. I did not buy an extended warranty because I have never had issues so soon on with a product. Terrible tv. I will never buy this product again.

The Insignia TV screen is big but the tv itself doesn't take up a lot of space. This brand of tv is high quality at a very reasonable price and doesn't have any unnecessary components or flashy designs. The most important part of the tv is all the different programs so you can get the absolute best from your tv.

I purchased the Insignia television Model # NS-480420NA16 from Best Buy, Knoxville, Tn in October, 2015. It worked well for 1-1/2 years. Recently when I turned it on, it came on flashed the Insignia logo, then turned off and repeated that pattern over and over, will not do anything else. I don't know if I can get this repaired for a decent price, but I will never buy Insignia again and I will never buy from Best Buy again. I have read several reviews from others relating the same problem. I wish I had read reviews from this site before I purchased this piece of junk.

I have my television set up as my computer monitor and use it daily all day and night, too. It's fantastic and has an extremely clear picture quality.

Compared to what I had in the past, I really enjoy this Insignia TV. Always a clear picture and have had no problems. Although my TV is only a 32", it fits nicely on my dresser in my bedroom. I have had a couple of satellite companies which allows able to hook up to my TV with no problems. Now I have an antenna and it still looks great.

I purchased a "bundle" from Gardner White furniture which included a 55" television. After only 2 years the picture went black. I trying calling Gardner White, they referred me to BEST BUY, who referred me to INSIGNIA, who referred me back to BEST BUY. Best Buy wants me to pay GEEK SQUAD 350.00 dollars to have TV repaired, which is NOT going to happen. Insignia is the home product of BEST BUY. This is a racket! This tv sucks, GARDNER WHITE sucks and so does BEST BUY! BEST BUY does not back their own product, they are promoting garbage.

The Insignia TV brand is one of the most underrated brands based on performance and value. The quality and value is by far worth the price. It is unfortunate that cable providers like Time Warner/Spectrum do not see the brand's value and, therefore do not see it as a viable contribution to their ROI. In other words, it is not a supported brand for their DVR configuration.

I've only had it for a few months, but so far pic and size are good. The sound is okay but only small speaker on one side of back of TV. Wish it had a front speaker.

This was my son's TV. It was the first TV of its kind I have ever used. I noticed, too, I was having problems hearing the TV and made an appointment for a hearing exam. After reading this, I canceled it. There isn't much detail I can give. I was watching the news just fine, went to the kitchen, came back with audio and no picture. Now I can't get it to turn off, even when I do on the remote and TV it still flickers on and off. I just unplug it. LOL. You all have been a great resource. Would this be a situation for a Class Action lawsuit?

I have purchased the Insignia tv from Best Buy and within the 3 months the tv started shuffling on its own. Have to unplug the tv and it will stop for a min then right back to shuffling. I would not recommend this brand for anyone to purchase. Very dissatisfied with this product.

Well for starters I'm surprised people are actually bashing a cheap tv. Old tube tv lasted longer but didn't have the quality. I bought a 19-inch tv in July of 2014 and recently bumped the cable outlet and broke it but it still works. I soldered it and wala - it's fine to this day. I bought a 24 inch 2 months ago and the quality in picture just wasn't there so I returned it for an LG which has a good pic btw if you people want a decent tv, but I'm still impressed with the older model working so long in my 5th wheel when it does get jostled around quite a bit. Insignia is a brand that has made me happy but I in turn only spent $99.00 at Best Buy. Good luck peoples and try LG if you're not satisfied with this brand. I'm sticking with my old 19 for now.

For the money, INSIGNIA is a great tv. Had it two years now and still doing great. Gives a clear picture, easy to program and bought at a good price. People call the new tvs "throw aways", but I expect a tv to last a while. I would buy another insignia.

Insignia stops working after a year. Do not buy the Insignia brand tv. I have owned their 50" LED TV for less than 2 years and it started shutting itself off out of nowhere about 4 months ago. For a while I was able to just turn it back on with remote, then that stopped working even and I would have to unplug / plug back in to get it on, now it is near impossible to turn on, I unplug, plug back in and the red light flashes a bit, the Insignia logo appears, then it goes to black screen and turns off again completely.
I have seen this is a common problem, there is even a few YouTube videos of "how to fix" this very issue, with people taking apart their tv sets. There are website forums with pages discussing the issue and trying to troubleshoot the problem with all sorts of tips and tricks people are using to get their tv back on, none are working for mine anymore. Apparently, Best Buy/Insignia is aware this happens but will not recall like they should. They just keep robbing people of their money selling them a cheaply made tv that will last just up to the one year warranty, and a month or 2 later if you get lucky. Do not buy.

So one day I was just watching youtube playing games. When I go to my screen a quarter of the screen is glitched and I can't fix it. I try resetting my PC. That doesn't work either. Please help me. I don't know what to do. (And sorry for bad grammar).

Bought Best Buy's Insignia 37" LED HDTV Model # NS-37D20SNA14 on Black Monday after the Thanksgiving Day Weekend back in 2013. Worked fine for exactly three years from the month I originally bought it - not the best clear picture like the APEX HDTV I had that also had the SAME problem which was COMPLETE FAILURE of the LED picture. The indicator light comes on when remote pressed but no picture - screen all black, nothing, complete failure. I disconnected and waited for a couple of minutes thinking it would reset the TV, then re-plugged and nothing... same problem. Someone mentioned that Best Buy strikes major deals and orders thousands of a one specific TV model, way below cost and present them as special massive markdowns for the Thanksgiving Black Friday specials and Cyber Monday.
It seems different HDTV LED manufacturer's order the same type of defective mechanism part that enables that slight spring-like clicking sound you hear that activates the screen illumination, and when the screen stopped working, that spring like sound was never heard again. Wish Insignia and the other company had the problem with at APEX narrow down the part number causes the problem and contact the part manufacturer. Or maybe they purposely have it installed so it fails after three years, so the consumer buys another LED LCD HDTV rather than try to have the TV fixed.

This is a display unit for pictures on a USB stick. We paid over $65 year and half ago. Damn thing won't read the UB anymore. I call the "customer support" - their solution is to turn it off and on! Duh! Asked to speak with the manager. He says that the product warranty is only for 6 months and these things happen! This is atrocious. Something that costs so much to do so little can't last even a couple of years. This INSIGNIA - as I research is a junk company. Best Buy is affiliated with it! DON'T BUY ANYTHING THAT HAS "INSIGNIA" on it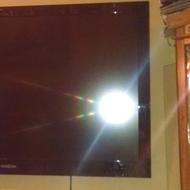 Bought a 60 inch Insignia tv. Junk is what they are. If I didn't have to give them one star to get this to post. There wouldn't even be one star there. Bought at best buy in Davenport, Iowa. I did not get remote when television ear brought and hung on wall by their staff. I paid extra for that. And they brought wrong remote. Said they would return with other remote and never did. When I called they didn't know what I was talking about and they didn't have my remote. Yep never again will I shop there.

Got my son 3 things from this maker and all 3 died from DVD players to a TV to another DVD player. All trash... TV lasted 2 months. DVDs lasted one week and the other a month... Got money back for the second and got a Sony DVD player and then I got money back from the TV and bought a 42 inch VIZIO TV - much better. Will never buy anything again from this company. All cheap garbage.

When using HDMI input #1, the manual says you can use the audio input if your PC doesn't carry audio through the HDMI cable. It doesn't work, there is no audio. When tuning in a weak over the air station and it becomes took weak to receive, the TV permanently deletes that channel. There have been times where the TV rebooted itself while this was happening. You can't get it back without a full rescan of all the channels. With antenna stations, the favorites function does not work. It randomly deletes stations from its list, and sometimes that random deletion is extended to the tuned channels so they disappear. It basically corrupts the channel database. There have been times where the TV rebooted itself while this was happening, and one time where it even froze up and I had to unplug it to reset it. The only way to correct it is to do a full rescan of all the channels.
With antenna stations, the last channel button does not work the first time you use it after the TV is turned on. When you press it, it just blacks out for a second, and the same station is re-tuned in. The second time, it works. It's not a bug, but very annoying: with all antenna stations, you must to include the .1 (point-one) in every channel you type in, or else it won't tune it in. You can use .2 or .3 if those subchannels are available, but there's no shortcut to the main or .1 channel. When compared to an Insignia CECB (converter box), this TV receives fewer channels overall and requires a bit stronger signal to receive each channel.

I bought the Insignia 4K TV, (model number NS-55DR710NA17UHD) on July 7, 2016. The screen blacked out, only putting out sound, "4 MONTHS LATER" on Nov. 6, 2016. The TV is still under warranty so I called customer service and got a repair appointment for "four" days later. However, the appointment time is between 8am and 12am, that's a "4 hour window" to just sit and wait, and wait, and wait and wait. OR, you can do like I am doing, think about the $100 you are losing from your time off from work, Google this Insignia Sadness, read the "EXACT SAME" horrible experiences others are having with this Insignia Insanity, look at your receipt and see how much money you wasted on this Insignia Sucks, and use your wait time wisely by WRITE A REVIEW!!!!
My ultimate plan is to have this Crap TV repaired and SELL IT while it's still under warranty. Btw, their customer service team are so nice and pleasant, even when they are telling you 'I'm sorry, your TV is no longer under warranty... K... bye, bye'. So for now, I'll spend the rest of my missed work time looking for another new TV..... Sony maybe?!?!

I purchased a Insignia 40 in TV last September. The past few months it works for 2 hours then shuts off for 20 min. I called Customer Service. They told me that I had 55 days after the 1 year warranty and they were going to send me an e-mail about this (after giving them my e-mail address 7x). Called the next day. Different rep. They had no info about me calling them. Had to submit info again at which time they told me that I was misinformed about the 55 days. It was 45 days and it was too late. So we all work very hard for our money and we are now buying TVs, paying good money, that last ONLY a little of 1 year. I will NEVER, EVER BUY AN INSIGNIA PRODUCT AGAIN. It a piece and the people that rep their company have no idea what the heck they are doing. I would never recommend this product to anyone.

As soon as we got the Insignia TV it started flickering. At first it was just a little bit. However, it progressively became worse and now there is nothing on the screen. This was the worst TV I have ever had and I don't recommend it to anyone.

The TV doesn't work out the box. It's completely brand new and it doesn't work at all. No lights or anything. Now they are asking me to ship it back to them so now I have to pay shipping? Even though my shipping was free so I'm not happy. Hopefully I can just return in store.

I bought Insignia TV 26" that has DVD player, then DVD player failed to function within two months. Although the paperwork indicates one year guarantee, the company crew were not interested to fix the failure. Because I don't have time to prosecute them, gave up the issue. After two years the screen went to dark. After this I'll not buy any Insignia product and also I don't recommend to anyone to buy Insignia TV. Even though the price is low, it cost you additional money after one year. The company don't respect the guarantee issue practically.

I've only had my 40" 1080p HD Insignia for 2 months... already having sound issues. Volume is set at 70 right now and you can barely hear it. In order to get it looked at, I have to drive to the nearest Best Buy, which is 3 hrs away. Not too impressed. The tech guys I called were pretty much useless.

ConsumerAffairs Research Team
The ConsumerAffairs Research Team believes everyone deserves to make smart decisions. We aim to provide readers with the most up-to-date information available about today's consumer products and services.
Sold exclusively in megahouse retailer Best Buy, Insignia TVs are a value-oriented brand of LED LCD models that come in a range of sizes.
Personalized home screen: Personalize your home screen with your favorite broadcast channels, streaming channels and devices so everything you like best is right at your fingertips.
Wireless connectivity: Easily connect to your home network and control your TV with your smart phone.
Wide viewing angle: A wide 178-degree viewing angle allows more seats in the room to be the best seat in the house.
Superior audio: Multiple built-in speaks provide superior audio.
Stunning HD images: With 1080p resolution, these TVs deliver HD content with amazing detail and crisp picture contrast.
Best for Bargain shoppers and researchers.
Insignia TV Company Profile
Company Name:

Insignia TV

Address:

7601 Penn Avenue

City:

South Richfield

State/Province:

MN

Postal Code:

55423

Country:

United States

Website:

http://www.insigniaproducts.com/