Consumer Complaints and Reviews

LA Fitness is the WORST. I un-recommend this gym to anyone reading this. I'm paying for an all-access membership, which I was told from the outset gets me access into any location in the country. Went on vacation and they are charging me $5 for every out-of-state visit. NICKEL AND DIMING. I wasn't even informed about the charges - discovered them online. Customer service sucks. Manager Erica ** was unhelpful, unfriendly and unsympathetic. Their best solution is to "upgrade." Hell no, they'll be lucky if I even keep my membership after this. Not to mention there was no hot water in the women's shower for MONTHS at my home location in freezing mid-winter... And a missing hair dryer around the same time period that did not get replaced for days.

I cancelled my membership with this company and after cancelling they still charged me. When I called to speak with customer service they said that I did not cancel the membership online and I could not do it over the phone. They referred me to the adhesion contract and said that according to the contract I could not get my money back because after 3 months of being charged and not cancelling made me unable to refuse the charges. I could not get my money back and I was charged 2 extra months.

Stay away! LA Fitness is a scam! They took payment for a full one-year membership, announced that they were closing the gym and then refused to refund the remainder of my membership because there is another gym 2 miles away! Sharp and dishonest business tactics!

Barcode #s ** and ** have been members for a little over a year and a half, and been personally trained, quite well I might add, by Brian at the Hospitality Lane San Bernardino LA Fitness facility. We have always felt welcome and well cared for there and enjoyed both the original facility as well as the exemplary new facility. For that, we thank you most sincerely. Brian is an outstanding trainer that has given us so much knowledge and encouragement as well as improved our overall well-being. Someone we will not soon forget. Someone who we consider a friend. The staff was equally friendly and uplifting with their attitude as well. We will also miss them.
Unfortunately, in November we moved some 60+ miles away. Within the first week we were seeking a local gym that we could continue going to. That was all derailed in mid December, the evening of the 14th to be precise, when I was struck by a motorist performing an illegal lane change while I was on my way to work in the ER where I am a nurse. I made it to work alright, but as a patient. A broken hand that was ran over during the accident and a separated and broken collar bone, all on the right side (dominant side) has kept me out of work as well as the gym since.
Soon thereafter, amongst the chaos our lives had been thrust into, we contacted the gym to put everything on hold as ** is now in the position where she must work 7 days a week to help recover the loss of my income. I, quite understandably, have limited mobility and capabilities and most assuredly, cannot drive. I was told by the individual at the Hospitality Lane gym that it was taken care of. Alas, the approximately $280 was taken from the account which led us to overdraft fees. I received a call stating there was a problem with the payment from a gym in Round Rock Texas. Mind you, we live in Los Angeles, and the individual eventually advised I call my home gym. Both of us, bewildered, went about our prescribed tasks. Me calling the home gym and he scratching his head wondering why I was returning a call made from his gym in Texas. The same thing happened today but from Florida.
I'm admittedly, perplexed, but no matter, onward we go. After talking to the gym, we were told it was taken care of again. Can you guess what happened this month? The $280 was again drafted from our account with another message saying that there was a problem with the payment. That is the most accurate and true statement I have heard yet There was a problem with the payment on your account. On that I am in total agreement, the draft and subsequent overdraft fees should have never have happened. Again. I am finally, after speaking with Florida? (returned call), San Bernardino, and then the 949-255-7200, I am told that now I need a written note from my doctor saying I am excused from gym time, much akin to an elementary school child. (Even as distraught as I am over this, humor can be found in almost anything, thusly helping us remain civil.)
Now, my one year contract had expired and with no big ado it became a month to month agreement. Being unable to travel and ** working 7 days a week to try to make ends meet, I was told all was well only to find out today that I needed to provide 30 days written notice and a note from my doctor now. Had this been said earlier, well, a lot could have been avoided. I understand that for an employee, with the common knowledge amongst the ranks, that you sometimes assume that the customer knows these things as well. I do not believe I was intentionally not given this information. And then in later conversations, it was probably assumed that I already had this information also. It happens, I get it. However, I then proceeded with my processes of trying to put back together the other pieces of life (and broken body parts) under the false impression that it was taken care of.
As a digression, the numbers from our membership have been substituted for our names to emphasize just how much we have been made to feel like a number in this process and not as actual humans with lives and feelings and problems and triumphs that we go through. In my last phone conversation I truly felt as if I were Sisyphus with his eternal plight rolling the boulder uphill only to watch it roll back to the bottom signifying the beginning of his toils again, having any precept of progress obliterated. I further realize that customer service reached a whimpering end when trampled to death by the Dollar Sign, Automation and a general disdain for human interaction. To that end, I realized that there was no need to continue any further and to then arm myself with the greatest weapon I have ever had in my armory, my voice. Perhaps someone of import will hear and prevent this from happening in the future to someone else.
All I ever wanted was to not be charged for a service we were unable to partake of, at least until we were at a point in life where we could again. I looked forward to the day where I returned to the gym and began the arduous task of restoring my body back to its pre-accident status and then keep working on my personal fitness goals. Even now, all I ask is for the right thing to be done. I don't want reimbursed for overdraft fees to time lost or mental anguish, free or discounted gym time or any other such nonsense, just what should have been done 2 months ago. Not to have the moneys drafted from our account so we can pay our bills as we need to until this ordeal has run its course and we can get back to some semblance of normalcy. An error was made, it was compounded, we are paying the price, dearly. It may not seem like much to you, but it makes a world of difference in our lives.
To put a person to these numbers: ** = Susan, Mother of 6 wonderful and brilliant children, Registered Nurse who works in the ER as a trauma nurse and pediatric emergency nurse, preceptor and teacher to new nurses, holder of a Nursing Degree and Business degree, loves to surprise bake for coworkers, travel with her children and experience all life has to offer and seek out the beauty in life's little things. ** = Joel, Former Paramedic, Fire Fighter and US Army First Sergeant Nurse, Medic and Engineer, Civilian ER Nurse, Vocal Actor, loves enjoying nature with Susan and her children, woodworking and riding his motorcycle with Susan who has taught him how to first love himself, then love others and life to the fullest. With this I close and shall withhold my reviews from social media until a response is heard.

While I was working out a the Richfield, MN location Monday, March 20, an employee identifying himself as a VP told me to leave an area newly restricted for trainers and their clients. I refused, telling him I was promised from day one that I would have access to this area to do stability exercises, the only reason I joined the gym. I'm 66 and have poor balance, so I need this area to workout in, as it is out of the traffic flow and has the necessary equipment. He got up in my face and told me to get out.
When I still refused, he grabbed me. I shouted loudly for him to get his hand off me, to make sure others saw what he was doing. He did release me, but then began placing his body within inches of mine to restrict my movements, making me even more unsteady. When was done, and went to the treadmill, the police showed up. It seems he told them I was not a member and was trespassing. Later that evening, I saw that he had indeed canceled my membership, but several hours after the encounter with the police.
How do I know I can trust these reviews about LA Fitness?
740,446 reviews on ConsumerAffairs are verified.
We require contact information to ensure our reviewers are real.
We use intelligent software that helps us maintain the integrity of reviews.
Our moderators read all reviews to verify quality and helpfulness.
For more information about reviews on ConsumerAffairs.com please visit our FAQ.

I called to get a refund cause I cancelled my membership in January. They didn't attempt to take money for February, no. In March they nailed for 40 dollar. When I am attempted to get a refund they call the cops.

Workers are not informed of anything that's going on in the location. If you have or ask a question they will tell you: "I don't know!" They need better training in customer service and class instructors either are late or don't show up. Communication is not something that's important to them. Very dissatisfied!!!

I should've first read the horrible online reviews, I know. Cancellation was ridiculous -- they make it very hard, intentionally. Autopay on credit card goes on and on. Your first month was prepaid, which you'll probably also forget. Essentially, you have a two month delay at the end, at best. Call corporate if you have problems. Don't them blow you off. We moved to a town with no clubs within an hour away and were able to finally get the deposit and recent charge returned. They called it a "two month refund," but it's not -- it's your own money you get back that you paid upon signing.
Anyway, hate their ripoff customer business practices. I went for yoga mostly, and treadmill. Yoga class was LOUD -- near bike class and basketball. Just a bad experience start to finish. Avoid if you have another choice, or READ YOUR CONTRACT, keeping it when you want out. Their verbal promises are totally meaningless. Read the written contract, follow it, go to classes if you like, but don't think for a moment you'll be treated fairly.

In 2012, I visited and toured a gym in New Brighton, MN and was not sure if I wanted to sign up after the tour. The salesperson called me for weeks and I gave in, all he needed was my CC# since I had left me details. A contract was filled in and signed (faked and used my initials), an email address I have never seen (saw the contract for the first time 3/2017). I was a member for 4 yrs till I lost my job. On 3/9/2017 I visited the location in West St Paul, MN intending to resume membership, I was told I owe $98. I last visited the gym in 4/2016 when I stopped paying. I notified the billing dept when they called.
The Ops Manager at the Inver Grove location (Mr **) was rude to me. I told him I never signed a contract, he produced the contract with my initials doctored and fake email address. I told him I had never seen this, nor had anyone explained the need to have written cancellation until today (3/2017). This enabled them to continue billing 3 more months after I had told the billing department on the phone that I had no income and could no longer afford the gym. When I called corporate I was told that they "continued my membership for 3 more months waiting for updated billing information". How is that possible that they would want to bill me for May/June and July 2016 after I had told them in April of 2016 that I would not be able to afford the membership and stopped using the facilities.
Apparently, they were more optimistic about my future financially than I was. Mr ** at the West St Paul location has no business representing a company in that manner, he was rude and hostile hoping to escalate our discussion, I remained calm and polite. I explained to him that I was holding LA Fitness to the same ethical standard I have of not using the facilities when I could not afford them and was unable to pay, likewise they need to reverse the 3 months of billing.

Several days ago the manager at the DADE COUNTY SOUTH LA FITNESS branch I attend switched three of the TV channels so they would always play Fox News. Several of us were very upset by this due to racist, hate speech made and/or tolerated by certain Fox News contributors. One lady asked the manager to change the station and he refused. She told us that she also wrote to corporate headquarters about it and they didn't ever bother to reply. Everyone is entitled to their own political opinions but a gym should be a neutral place. That is not the case at LA Fitness. I am canceling my membership.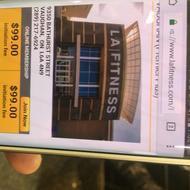 I recently joined LA Fitness last November, when speaking to a consultant I let them know that I was a full-time student looking for the cheapest option of payment. They charged me $200 in initiation fees and let me know that I was paying $39.99 because I joined along a friend. I later found out that I was paying $70 a month. This is ridiculous! They didn't let me know till after I called to complain and paid the first 2 months.
I've been trying to contact a consultant since January because a relative had just joined LA and was paying 25.99 a month for only one location which is exactly what I was doing but was paying too much more. I've been trying to contact someone at the Aurora LA Fitness for 1 months and they always say that no consultants are available and that they will call me back but NOBODY EVER DID. THIS IS HORRIBLE CUSTOMER SERVICE AND TOTAL DISRESPECT!!! When going to the gym and speaking to a lady about this issue she said that the promotion was over and that she couldn't do anything about it even though I've been calling for a long time and had proof with a picture that I saw the promotion.
Tonight I just got off the phone with an employee from the Aurora LA Fitness and he said I had to cancel my membership and charge me once again for the initiation fee to get the $25.99 a month. I DON'T UNDERSTAND HOW SOMEONE CAN TAKE ADVANTAGE OF OTHERS. We are the ones keeping them in business and they treat their customers like this. I do not recommend this gym unless you wanna get taking advantage of.

I recently moved from Michigan to California and joined LA Fitness as an additional member on my daughter's account in Fountain Valley. She had $2000 worth of personal training that was not being used and the personal training manager graciously allowed me utilize some of her remaining sessions. The new LA Fitness was being constructed and the manager of the personal trainers was very involved with the interest of my training and encouraged me to transfer to the new Huntington Beach location and continue to train. The Huntington Beach location opened and the sessions were coming to an end. I purchased an additional $3000 in personal training. After a couple of months I was not getting the results I was I asking for. I had conversations with my personal trainer with regards to this and nothing came about a change in regime.
I did not plan to cancelled my membership, but have not been to LA Fitness since Nov. of 2016. I also have not scheduled a personal training session since Aug/Sept of 2016. I was not getting what I needed from the personal training. I was asking for a refund of my personal training sessions and nothing more. Having worked within the fitness industry and customer service for several years I did not I was asking for the impossible. I do feel that Clay, the district Vice President could have done more considering the amount of money my daughter and I have invested in his company.
LA Fitness has done a disservice to me and my daughter. My daughter and I are service members working with the Coast Guard sector. We have been faithful LA Fitness members and had recently moved to California excited to meet new people who enjoyed the healthy lifestyle here in Orange County. I have now been removed from my daughter's account and cancelled my LA Fitness membership. I am very disappointed with the LA Fitness Corporation and they the way they handle customer support.

I have moved to another state and there are no LA Fitness in 50 miles radius (thank god!!!) Even based on their shady contract they must cancel the service. First of all during numerous calls, they never told me that I need to provide proof of relocation, until claim department of my bank got someone from LAF on the phone then they told me what and where I should send the documents. Even After they received the documents, still they are charging me on monthly basis. Location in Pittsburgh, PA. Worst experience ever!!

My 1st visit to LA Fitness, Main St. Bridgeport CT today w/ a friend. I notice the girl at front desk was chatting on cell phone for about 5 minutes before coming to help. She was unfriendly, no personality. Finally had to sit down to fill out a questionnaire -- no problem. I gave age, name, but the question of my marital status I thought was irrelevant & had nothing to do with me working out. The rep said I had to answer that or be charged $15.00. That is ridiculous!!! I refused and left. I would never join or use for free LA Fitness because of the unfriendliness of front desk personnel & the unnecessary personal questions.

I will highly recommend for you not to go here. If you deal with Cyrus or Scott they will be very nice to your face until you sign the dotted line. It is the worst gym by far, it's very corporate, equipment sucks. This gym was taking money out of my account for 11 months without me knowing. When I confronted them about it they said they can't help me. When I called head office they said they'll only give me 3 months out of the 11 months owing. How is that right. Then the manager Scott said he would give me my 8 months plus 3 for reimbursement, I agreed to this. After 3 months they said I had to leave because my membership was up. They lie to your face. I could not believe it. It was very disappointing.

When I first went to this gym in Long Beach, I thought the facility looked nice, had a variety of equipment, and some friendly staff. My friend had also recommend this particular gym to me based on her initial experience with the staff. I was hesitant to join since I had heard from others that gym's had poor customer service, outdated/poorly maintained equipment, poor sanity conditions, along with other issues. I was also warned that the sales reps are pushy and misleading as to the services offered & contract conditions. The employees/trainers are aloof and treat you indifferently with scripted responses to every problem. I came to find out that all of those things were true.
When I went to join, the sales rep pushed for me to sign up for a trainer for a whole year. I told him my goals and how I would be able to afford only the 6 month two times a week. He kept pushing for me to sign up for the full year and I kept repeating why I could not afford it and I was not that interested in a trainer. He then offered me 12 additional "classes" as part of a Business promotion, and I agreed to the 6 month trainers contract with the idea that I had a few more sessions to add to the ones I purchased. What he failed to mention was that I would be signed up for only two days a week with the trainer and these additional classes would have to be squeezed in at the discretion of the trainer and would expire if not used before the end of 6 month contract.
I found this out after my first trainer. He was actually a nice guy and for the first month I was ok with my purchase. He helped to show me some of the basics of the equipment and good routines. The third month went by and he kept introducing me to different routines and machines and I was starting to wonder why we were not keeping to a regular routine until I asked him and he said that he wanted me to have a feel for all the types of equipment and exercises that could be done at that gym. I was also beginning to become frustrated with my trainer by this time. He began to arrive late to my 30 minute session and on multiple occasions he would leave me to finish the routine 5-10 minutes early to "prepare" for the next client.
At this point I was ticked off and asked to use my additional classes. The trainer was not able to make room in his schedule and offered to have another trainer meet with me on a different day so I could use the additional sessions. This next trainer was far more blunt and less accommodating with my schedule and was hard to reach because he would not respond to text or phone calls and I would have to call the gym to reach him. This went on for a short while and at the end of it all I had not reached my goal and all of my "free" Sessions were not used and even two of my normal session were never used because of scheduling conflicts with the trainer and other clients. I asked to use the session, but it was at this time that the rep told me that I had to have used them while I was still under trainers contract.
I voiced how upset I was by this and got a scripted response from the rep about how this was laid out in the contract and that if I wanted to I could sign up for another 6 months and he would honor the original deal. I told him I would not be using this service again and could not afford to pay another 6 months. He then says that if I sign up for one month of lessons I could keep the sessions. I said no thanks and got up and left.
Looking back I wish I had closed my account then and there. I noticed that the sales rep & trainers didn't greet me as they had when I was paying for the training sessions, I immediately thought. I continued to use this gym with a bit of a sour taste in my mouth, but my friends continued to train with me & this facility was close to my house. My friend who had recommended this gym was offered a job in Sacramento and wanted to keep her membership and the trainer program. She was told she would not be able to use her session up north so she used them up before she left.
At this point me and a friend kept going to the gym, but we began to noticed that some of the popular cardio equipment with monitors did not work consistently and would regularly be under maintenance. When some of the big equipment broke down it would take almost a month before it was repaired. We also noticed how the locker rooms weren't always cleaned regularly. Over two days I saw the same shower cap and band-aid in a shower stall.
When I finally chose to leave this gym I called in to cancel my membership a few days before they charged me for the next month. They told me that the only way I could close my account was to meet with a rep. When I asked to speak to the rep and if there was any way to close my account. I was brushed off and told I just need to come in and meet with them and they worked from 9-6 Monday through Friday. I told them I was not able to meet during those hours as they are when I work and if I could leave them a message. They repeated their scripted response and I realized I was getting nowhere with this person.
The next day I got off early. I went in to speak with the rep. I asked to close my account and explained how I had tried to do this earlier in the month. The rep said that they would close the account but I would still be charged for the month since they had not received a cancellation form in the mail or email. Apparently I could have mailed or emailed them a form to cancel the account but their staff couldn't or wouldn't let me know this over the phone and when I asked her about it she simply asked me who told me that and left it at that.
While the rep was courteous, she kept repeating that she could not reimburse me for the month and when I pressed her to look at my account more closely kept moving from computer to computer saying that she could not bring up my account since their computers were freezing, all the while they are scanning members key cards as if there is no problem. I don't plan to go back to that gym and hope others don't fall prey to this company.

I have been charge for an account should be canceled few month ago and they said is my fault because I didn't fill up a paper that they never tell me I have to. So I don't have any solution except to pay for something I didn't use it? Beside customer service on the phone and the manager of Somerdale location in NJ have been so rude!!! Worst experience ever!!

I had the WORST EXPERIENCE EVER. PERSONNEL DOES NOT CARE ABOUT CUSTOMER SERVICE AND CLIENT SATISFACTION. I joined LA Fitness as a new years resolution on Sunday, January 1st. On the 2nd (considered this year as a federal holiday) I engaged in the personal trainer program. As part of the agreement, the person that assisted me said that I was paying for 2 to 3 sessions a week and also that as a courtesy the first session washing to be longer in order for me to meet the personal trainer and get used to the routine. I was also told that the sessions where going to last from 35 to 40 min. I went the first day, and everything was fine. The session lasted 50 min so I did have enough time to exercise. What I wasn't told was that they were going to use two of my sessions for the first day, neither I was told that I was paying for 25 mins session.
They scheduled my second class for Wednesday, I told them that I needed to be called to be reminded of the sessions since I wasn't used to the routine; they called right after the schedule session was over and added the session as worked and discounted it from the sessions left. Nonetheless, I schedule for Thursday and the personal trainer couldn't go. First he told me because he had to left his girlfriend at work he was going to go 30 min late and even though I agreed he never showed up and said his car was broken... Really?! We reschedule for next day Friday, and he didn't show up, he said that he forgot to put the alarm clock on time... What type of UNPROFESSIONALISM is this. I certainly got mad and asked for my contract which they barely make you look at and they don't give you a copy once you signed and they said that I had to come back from 9am to 5pm, it was unbelievable.
I did went back to look for my contract very UPSET to one close to where I work, and asked for help to get me out of this contract since this wasn't I agreed to pay for, and instead of helping they were acting like piranhas talking bad about the LA Fitness where I signed and getting all the credits, how could an ethical business possibly do that?! WORST SERVICE EVER...!!! I wanted to get out of the contract badly and by the time they finally realized it, the person said "I'm sorry. Yesterday was the last day you had to claim a full refund. Now you have to pay besides that a 50% of your plan non-used." I did got pretty UPSET due to his LACK OF DESIRE TO HELP and got even MADDER when I asked for a corporate number. They gave me the first number they came out with that didn't even work.
When I read the contract it said if I wanted to ask for the full refund I needed to claim the funds within 3 days after the contract being set up clearly stating excluding weekends and holidays, so basically I thought it was my lucky day, since I got into the contract on a Sunday, which they don't count as a work day. Monday was classified as a Federal Holiday this year leaving Tuesday as the first day of my contract and three days after would have been Friday which it was the day I asked for the cancellation. I felt on my rights to asked for the refund so I called the headquarter at a phone number I found in Google, since apparently no one that works for LA Fitness knows the phone number, DISAPPOINTING, and when I explained them the situation they said that Thursday was the last day and that they couldn't make an exception "keeping in mind that I WAS CANCELLING IT DUE TO THE HORRIBLE SERVICE I EXPERIENCED''.
They said that in order to do so I had to contact the person that subscribed me that they were going to place me in a brief hold... BRIEF HOLD THAT LASTED 3 HOURS AND ENDED BECAUSE I HUNG UP THE PHONE...!!! I called the person I was supposed to talk to and he picked up the phone within 5 mins which make me believe that all the time they just wanted to have me on hold to get me tired of waiting... WORST CUSTOMER SERVICE EVER...!!! When I talked to the person I was supposed to in order to help me claiming my funds instead he was offering me other personal trainers and insinuated that if the problem was that I couldn't afford the payments... ARE THESE PEOPLE SERIOUS?!?! It made me think if I speak well English and Spanish, for an instance I THOUGHT I WAS TALKING MANDARIN.
I sent an email to the director of that one with my cancellation form that I found online, because NO ONE HELPS YOU OR GUIDES YOU TO GET OUT. I sent him my complaint and the full picture and he replied that he was going to give me a call on Monday, January 9th, 2017 and as of today Monday 23rd still haven't received his call. DISAPPOINTING...!!! I did send my cancellation also to the address listed on the contract with my complaint on that Saturday and they replied back that my cancellation was process that still they were going to charge me for the rest of the contract. That I didn't provide specific supporting and verifiable documents and that was cancelled voluntarily therefore they were going to charge me 50% of the current remaining balance owed... ARE THEY INSANE?!
Im not cancelling it because I can't afford it, or because I quit going to the gym the first week, I cancelled it because of a breach of contract, since I didn't receive the first week what I was told I was going to receive which they were my 2 to 3 sessions, because of the lie that each session was supposed to last 40 min and in fact it was only 25 min, because of the lack of respect the personnel have for clients and the lack of professionalism... I cancelled it because I feel offended with the way they treated me and they still do. It's unforgivable what happened and the way they are still handling it...!!! WORST GYM EVER. DO NOT EVER EVER ENGAGE IN ANY CONTRACT WITH LA FITNESS, AVOID A HEADACHE AND ABUSE!!!

This place is disgusting. The locker room has more sand and dirt on the floor than the beach. There are dust balls everywhere. The garbage is always overflowing and the walls in the shower are growing mold. Some agency should do something about this. Each time a member complains they state the manager is not in but they will let he or she know. Terrible disease ridden place.

My story - I am from Long Island N.Y. and they did not properly close an account I signed for and every time I thought it was closed, they said it would be taken care of but failed to give me a receipt. 13 months later I'm trying to get my money returned. They insult me by saying why didn't I get a receipt. That's my fault. Since I didn't get one that I'm the stupid one. Without piece of paper no proof. They tell me I have no case against them again I am the Stupid one, I've been putting up with them for these months trying to get reimbursement for 13 months of auto billing. I was not aware I was being billed because I thought they closed the account 13 months earlier. And I am the stupid one.
They got paid almost 600 dollars for services not rendered and for account I thought I closed 2 minutes after It was opened. And because I didn't get receipt I am the stupid one. Not to mention being told by four account specialist they would forward my complaint to VP. I was told they would get back to me. Never did. And finally today told me I was told I'm getting nothing back because I signed their contract and it was my responsibility to ensure a copy of cancelation be obtained from them. Just sharing my pain.

So I bought the guest privileges for an extra 20$ every month. With the guest privileges, I can bring in any 2 people I want to work out with me. I usually arrive first to workout and my 2 friends will come after me and I'll just have to check them in. But recently they changed their rule and said that I have to COME IN with my friends in order to get them in. I told them, if they're just gonna have us do that, I'll come out of the gym to get my friends and come back in. Then they told me that I won't be allowed to come back in if I do that and also they told me that I can't workout 3 times a day. (I would probably never go to the gym 3 times a day, but I like to have my options! lol) I was confuse and angry. I mean I bought the guest privileges, shouldn't I have the right to bring any 2 guest I want as long as I'm in the gym?
They also told me that I'm not allowed to train with other people in the gym and that if I want to have a trainer I need to sign and pay for a personal trainer at LA Fitness. That's bull! LA Fitness is just being selfish. The only reason why I joined LA fitness was because all my friends were in there and now I can't train/workout with them? The first day that I joined LA Fitness, they tried to convince me to sign up for their personal fitness program. I still remember the personal trainer saying to me with an attitude, "You'll never reach your goal if I'm not training you." To me, I felt like that was very unprofessional and I took it offensively. He also told me that we can't be seen training with a friend. I made a strong eye contact with him and told him, "You think I can't do it by myself? Well watch me. I don't need your help. I'm not signing up for this." I was pissed off. But I shook it off, whatever, I'm just here to work out. Urgh, should have never signed up for LA Fitness.

When I joined the gym I had a goal for myself. I even signed up for training and I told them only for 6 months. I will add if I feel I want more training. Well I was still getting charged for training and it should have been done November. Well it was kind of funny how my 6 months ended up being 12. Now I will have to pay half of the remaining months left.
I knew I shouldn't have joined this gym, but I was talked into joining this one. Training started out good, but pretty soon it's like "We'll you need to take this pill, drink this drink" and my calorie count kept changing. Pretty soon my body was all messed up and I was busting my butt at the gym, but nothing was happening. I had no more weightloss, I was working out with the trainer 3 days a week for an hour and taking a class.. Also I went to the gym to get into shape, lose weight and get healthy. Not be stared at by people cause I am overweight and talked about. That went on all the time at this gym, it's like a meat market.

The Greece club is by far the worst club I have ever been in. Dirty towels on the floor, hair in the lockers and just dirty. But yet you come in and 2 or 3 employees just hanging out at the front desk talking and having a good old time. Not to mention that 4 machines are broke and no plan to fix until March. Pathetic management other clubs are not like Greece. I know 10 people who have or are canceling their memberships.

The monthly membership doesn't appear to be a problem but they will coerce you into signing up for a personal trainer. And with all contracts, watch out for the fine print. You ARE NOT allowed to cancel at any time so when you get sucked up in the $200 monthly fee in addition to your $29.95 monthly fee, know that you will be paying for no less than 12 months before you can cancel.

For more than a month it seems I'm being called by other LA Fitness locations to renew. Every time I've asked them to remove me from the call list. Isn't this kind of practice illegal esp on my cell #?

They apparently don't process cancellations, and then blame the consumers for it. My wife canceled her membership at a branch. They deactivated her account, and immediately started spamming her email with offers to return. But they never stopped charging her credit card. Three extra months they charged, at $66 a month. I had to file a dispute with my bank. Then I canceled my account at a branch location. The person said it was done, and I had no more payments. But I called the next month, and what do you know... they never canceled my membership. The manager at the branch even said there was no way to refund my money because he said that I "didn't cancel properly." ME! I DIDN'T CANCEL PROPERLY! What the actual **?! I had to put a good on my credit card. Apparently this scam is part of their business model. We need a class action against LA Fitness and they need to go out of business. ** scumbags. They make me sick.

Where to begin. It all started when I wanted to go gym out and work my physique back to my former glory days. All in the pretty mild days of October and November when the incident took place. I signed up blindly to a membership and PT contract. This is where the nightmare begins. I figured out that I did not need all these added fees on my membership nor my Personal Training due to my circumstances and proceeded to come in 3 days AFTER I signed those contracts. It is IN THEIR POLICY to allow you a full refund for everything if you come in to cancel within those 3 days and submit the paperwork. I came in with my family members to discuss this and thought I cancelled both membership and Personal Training while getting a cheaper membership deal (without those ridiculous fees that I won't be utilizing their benefits).
Then a month happened. It is now November. I was expecting a refund for the mistaken charges against my bank account but I was charged additionally another $195 and $43 for contracts I had CANCELLED ALREADY. It hit me and my family really hard that it occurred to us that they did NOT submit the paperwork and allowed it so that we do not get a full refund on the contracts I cancelled for in the first place. I had charges mounting up to $700+ within the first TWO MONTHS. Being a broke college student, this did NOT make my day.
I had to come in AGAIN in November and boy, the PTD (Personal Training Director) was absolutely RUDE and DISRESPECTFUL towards my older siblings who are well off with their family and kids. They were APPALLED by the behavior that this guy demonstrated towards us. Not to mention the guy handling my membership? He was never there since that time I wanted to straighten out my contract for membership. Can you believe it? These two are in cohorts to make off with your money. And I imagine reading the other reviews on this site, they are all true and happening in all parts of our beloved America. Employees like that should be burned to the stake. But anyways... Back to Reality.
We called corporate later that November night to find out that the PTD LIED to corporate about wanting to cancel my Personal Training contract and the same *probably* happened with my membership too, but I was more focused on the Personal Training at the time. The person at corporate told us to dispute all the charges made against me with my bank - and I did so promptly after we hung up with corporate.
Corporate called back to follow up with the complaint I had the night before - and guess who was on the phone... the PTD... it was a conversation call made to my cell phone... (ugh I hate this) the PTD named Frank - he was absolutely rude like I said earlier - making gestures like "Let me speak to X privately" and a lot of other bullcrap like "I believe how old is X again?" --- I say that gives you no right to allow me to have someone speak on my behalf if I do not know what is going on and should be standard practice when discussing things like this anyways. I confirmed I wanted to cancel completely a full refund on this (at least I was guaranteed this) and I saw receipt emails. This is probably what I should have gotten when I wanted to cancel back in October. My fault but at least I managed to sneak it in the system that I wanted to cancel back then.
From what entailed onwards, I patiently waited into December while hearing the various reports from my brother and sister in law that the PTD was really avoiding them and giving them the "look" he gave me back then. The membership person who I signed up with (and want to punch in the face -- strangely looks like my old calc teacher in High School) "left" the gym. I started to work out exclusively at home. I made a promise that if I had to pay off anything else from LA Fitness I will never return to any gym for another contract until X months passed (as if I was still continuing at the gym).
December - I received confirmed about 2 of the 4 charges made against my account. They agreed to refund EVERYTHING on Personal Training. The bank is still working on membership dues charges made against me (although I am starting to doubt whether these other 2 charges will be credited back to my account). I barely used the gym since then, even in those 2 months I had a membership with them then, I did not feel comfortable knowing my contracts were on the line (after reading various reviews like yours on this site and others).
Present day - I have a part time job now (only working as needed by my supervisor) so I guess it's fine now. I really want my other 2 charges credited back to me and I would be so happy if it happened. I just graduated from college not too recently and I have to work towards paying off my student loans. But the clincher is that I have barely any money to go off since this incident. It's driving a huge hole in my bank account along with other necessary purchases like food, clothing, cleaning supplies, helping out family, etc. Even if I have to end up paying the remainder of $291.16, it would leave me nothing as I have to pay off my class (I took a job training class in order to get where I am now), loans, and other things. I soon have to take another prep class so I can try to get into grad school so my money is at an all time low. Still debating the 2 charges - hoping it goes well and my bank can take back the charges against my credit card.
END OF OBJECTIVE REVIEW. Rant time. These ** employees, Frank and James can get some karma handed to their asses for trying to deceive a honest customer like me. If James (the membership handler at that time) gets his share of the money from me - which I highly doubt is much, can be lost in some accident (blown in the wind, dropped wallet, etc). If he gets a lion share of the money, then ** him. I want to see him lose it on something he'll regret on. Frank, I have his information card when he was "nice" to me, but I looked him up and he was using probably a FAKE phone number.
None of these LA Fitness Employees who are THIS competent to even work at gyms should go reflect on themselves before karma hits them for a turn for the worse. LA Fitness is where the Devil and his disciples work their black magic on unsuspecting fellows like us. And to the founder of LA Fitness, I hope your rich lifestyle is worth the thousands of people's money you robbed forcibly by telling your employees to be the duplicitous jackasses they are reputed to be. You can go die in a hole. Do me a favor LA Fitness. Give me back my money you robbed me or face some damaging consequences for the rest of your pathetic existence your gym runs. I will continue to submit these types of reviews on other sites/social media so try me.

I joined the gym in October 2016 & used the gym for the 4:30 body works class only. In December the 4:30 class was permanently eliminated and I was unable to get my membership join fee back. I advised Lauren (a membership management personnel) I was willing to get a prorated amount back but was denied from management. BEWARE before joining that this happened to me. I am now out my initial money.

I don't know where to start. The gym went from a 10 when it was opened to a zero. I would say about 30% of the Cardio machines are broken all the time, and the rest have zero maintenance and falling apart if not a out of order sign on it. Water from ceiling leaks a few places, the rugs are all stained with sweat, the crowd has turned to very loud, yelling stuff out as they do the free weights. The locker room should be shut down until cleaned up or replaced. Section one of the showers out of 4 showers, one works, and works horrible. It should be condemned!!!
If the board of health ever seen this place, I guess they not doing their job. Usually no cold water, all the showers have mold on them, broken tiles, dripping water, hair in the drains, band aids, clothing, paper towels on floor, no shower heads, the sauna is dirty and the wood is broken, locker room is falling apart, front door always has a broken sign on it for months and months. That's just for starters. A friend told me they were going to remodel 6 months ago, still nothing...

I wanted to sign up my son for 5 days beyond the visiting period he gets from my signing him on my guest list when I first joined. First, we were given a price of $75 for him and his wife for 2 weeks. But we were told that it could be less in a few days (after the New Year). Indeed, it was more for him alone in a few days. And they try to sell you a trainer right off, as well. I'll join another gym next year.
Compare Gyms and Fitness Centers
LA fitness Company Profile
Company Name:

LA Fitness

Website:

http://www.lafitness.com/Pages/Default.aspx