Consumer Complaints and Reviews

For the second time, I went to Planet Fitness as a guest with my daughter. The first time, there was no problem. The second time, the new employee at the front desk asked me to register with a long line behind me but said that her internet was slow. We had to wait more than five minutes while she attended everybody behind me and even let others in who have not "registered" either as guests. I went to the manager who was right there with three other employees doing nothing to help this new employee, and her response was, "our internet was slow" and did nothing more than look up from her computer when I was speaking to her. I grew upset and left the premises and my daughter was upset that I was upset. I suggested she change gyms but she did not want to. OWNERS- do something about your lazy staff, managers (at 8 PM on 8-15-17), and slow internet!

Don't lock yourself into their contract. Too hard to cancel & once you give them your credit card, they keep charging it if you don't call and cancel at the precise moment. Cancellation fees are high. Get the $99 special and pay $99 for the entire year for one location with no fees and no contract.

Hi, I signed up for PF membership on 12/05/2016 at E. Riverside, Austin,TX club. On 12/5/2016 Club was running a no commitment/Month to Month/no contract/cancel anytime without penalty Promotion. Now I want to cancel membership and they are telling I have 11 months commitment. They showed me the contract papers with 11 months. It was against what was said when I signed up the contract. Please look into your past Promotion offer. New members thinking about joining club BEWARE of their Promotions... It's kindly of CHEATING...

South Philly 24th and Oregon and ALL the planet fitness locations. This kid called me stupid because I should not have signed the contract without reading tiny print from 2 months ago saying they will charge me $39 two months later unless I cancel by the 25th of the previous month. I explained to the girl that I was speaking to, not the idiot that walked up behind her, that I will take it up with corporate as it wasn't her fault and this idiot comes up when he is not even in the conversation and calls me stupid for not reading the contract and signing it. Then he would not shut up and kept going on and on and neither of the stupid women at the counter were telling him to shut up. I will find a lawyer to file a class action lawsuit and I will NOT rest until this ignorant ** has lost his job. I was shaking and had to call my husband because I have never been so insulted by a public customer service employee.

When I joined I was informed I could quit at anytime. Turns out it costs $58.00 to quit. If you have a thought to join this establishment, don't do it. They are rude and uncaring. You would be best served going somewhere that has integrity.
How do I know I can trust these reviews about Planet Fitness?
855,731 reviews on ConsumerAffairs are verified.
We require contact information to ensure our reviewers are real.
We use intelligent software that helps us maintain the integrity of reviews.
Our moderators read all reviews to verify quality and helpfulness.
For more information about reviews on ConsumerAffairs.com please visit our FAQ.

I guess it is true that when people want to do a Negative review quicker than a positive review. If I can do no stars I would. Planet Fitness I joined the gym because the advertised a dollar down and then the $20 a month which sounded good but first of all it was out of my way the all the benefits the 24-hour opening all that sounded good so I join. So when it came time to go I only went one time I went to go to the gym to try it out for the first time with a friend, they wouldn't do anything. The people that were at the gym exercising taught me everything about the machines. Those young kids and at the front desk didn't even acknowledge me as a person really. They stayed there at the desk laughing and smiling and talking. Very unapproachable. For a company that advertise no judgment you kinda contradict yourself with horrible employees.
So I cancelled a week after I joined I went with crunch right in my neighborhood... Love it btw. So I went to another location at Planet Fitness bigger more control but still horrible service by the employees. I recorded the conversation. Dasheen was going to charge me 50 dollars cancellation fee... For one day? I said! I didn't pay it. He had me sign and put his initials on a document! How unprofessional! But I cancelled the vibe and negativity. I can take my money elsewhere. And they have bad phone service. They pick up, it cuts out bad. Then I get hung up on while talking they pick up the phone with irritations in their voices. I hate Planet Fitness!

I go to Planet fitness on coronation Blvd. in Charlotte, NC. I have never had a issue with them up until yesterday. I was working out on the 30 min rotation area where it was only me and one other lady in the area where she asked me to rotate as I had just got on the machine, but I guess she was in a rush so I kindly asked her to wait. The lady then decided to tap me firmly and ask me to rotate, the situation became very irate. I spoke with Rebecca the General Manager today where all she could do was apologize and tell me she does not know who the lady is when I'm pretty sure she can look and see who scanned in their membership card and they have cameras but she was too lazy. It was very inconvenient that I had to leave and I pay my 20$ a month just like other members and the general manager Rebecca does not even care. VERY POOR BUSINESS!

OK. I have been seeing a lot of advertisements for Planet Fitness lately. Received a flyer, so I figured I would check them out. WOW, talk about hidden fees? That's not the worst of it. When I said I wanted to sign up for a Membership, I was advised I needed to provide my Checking account information. Are you out of your mind? Why in the world would I do such a thing? When asked if I could pay for the year in advance, I was told no, we take it out of your account. In today's society, a place of business is declining 12 months revenues upfront! Went elsewhere.

I recently became member of Planet Fitness. The beautiful girl at the counter explained to me that the lower priced package comes with a contract and that one of the benefits of choosing the more expensive package is that you don't have a contract and can cancel anytime. Now that I am considering moving to a gym that is more focused on weight training and body building I found out that I am in a twelve month contract with a 50+ dollar cancellation fee. I am very frustrated about it and it doesn't seem like there is anything I can do and again the girl is really cute and nice so I don't want to cause any issues by bringing it up with the manager at her location.
The other issues I have are that although I am a beginner I would like to really exert myself for Max benefit but always feel too uncomfortable to do it. I feel uncomfortable because intense workouts sometimes can leave other beginners feeling inadequate or intimated. I feel like I would be a better fit for a more body building focused gym but can't afford two membership at once.
The hydromassage machine and massage chairs only give you five minutes per day which to me is simply not enough time to benefit from the massage. And lastly the billing is setup in a way that I feel is intended to collect late fees. Instead of having a specific date that the bill comes out they give you a 7 day window. They say the bill can be withdrawn from my account anywhere between the 11th of the month and the 17th which means I have to have money in it for the entire week.
I run out of money every single week because I have a crap job so this will almost always result in a late fee. The sporadic timing of the bill coupled with the fact that things like paying for gas at the pump leave pending transactions in my account is sure to result in late fees as well as overdraft fees for me in the future and it's really stressful just knowing I have to be on the lookout for this for the next 12 months. I feel like in 2017 there is no good reason they cannot just pick a billing day and stick to it unless they are intentionally doing so to generate 15.00 late fees. Direct withdrawal is the only payment option.

I signed up with Planet Fitness in a month to month base contract, where if I decide to cancel my membership all I had to do is to give one month notice. Well I decided to cancel my membership 2 months later and now I had to pay $58 because Victor the manager said: I signed up for 12 months deal. And that is lies. Employees are rude, unprofessional and no one should take their word for anything.

I am distressed with the recent change in my neighborhood Planet Fitness since our former manager, Gabby, has been gone. I am an older female and have enjoyed the approximately three years I have been going and have always felt very comfortable and welcome until Gabby left. All the young people who work front desk regularly have always made it a point to say hello (and even call you by name if you attend often enough) when you enter, wish you a good workout and then make it a point to wish you a good day when you leave. Unfortunately this simple interaction seems to be "unimportant" to those who were not regulars under Gabby.
I think it is important for the local owner to know how this particular location has lost much of its appeal. I have only seen the new manager a couple of times but he could very possibly be busy with trying to establish his style and rhythm but he has made no effort whatsoever to introduce himself to me or any of my friends who are members, nor has he made any attempt (that I have seen) to offer his assistance to the front desk employees if several members/ potential members arrive at the same time and there becomes a backup. All I can hope is that the new manager finds his footing before he disappoints too many of the members/employees. Until this unfortunate change I would have rated my experience 5 stars.

I was charged an additional $15.95 a month, they were not authorized to do so and refused to refund my account when notified of the error. I ended up going thru my bank to get it corrected. Very poor business practices! Shameful.

The tanning salon, the tanning beds absolutely filthy. They do not clean the tanning beds. They do not provide sufficient materials to clean nor do they provide goggles which is a direct violation of state and federal law not to mention the health department. I have reported it to the regional supervisor. He said he would take care of it. I even spoke with the general manager. They refused to clean the tanning beds. My next step is I'm calling the Health Department.

I joined Planet Fitness on Florida Ave in Hemet, CA in April 2017. The assured me that personal trainers would be available in a couple of weeks. It is now July 10, 2017 and no personal trainers are there. I plan to ask for my money back, my monthly fee plus the yearly fee because I have not received what I paid for. When I called the regional manager I go voicemail, left a message but he did not respond. False advertising!!

I just went to sign up with Planet Fitness under the advertising on TV... 10 dollars a month and 1 sign up with no contract. So when I filled out the form I was being charge some 7 dollar fee not even sure what that was but the 39.99 annual fee was the one that got me. I contact the local Planet Fitness and they told me they were upfront in advertising. Nowhere have I seen a annual fee but the scam on TV 1 dollar down and 10 dollars a month, no mention of annual fee. TO ME THAT IS THE BIGGEST FALSE ADVERTISING I HAVE EVER SEEN!!!!

I lost my debit card, Planet Fitness notified me 1 times. I forget who has the auto removal, only notified me 1 time and then continued to bill me late charges but never billed me, only to my account. Just does not make any sense. Now if I go back they want almost 200 from me. Never notified me, never said boo but just kept piling on the money. Everyone sends you notifications when you are not paying. I am a single mother and what they did was wrong, worse part is when I called to work it out, they said flat out no.

I complain several times to the front desk regarding Loud Music. Houston Hwy 6S and Bellair. But no action was taken. Several of the members left the club due to loud music. Planet Fitness provide 20 TV screen to watch but even with top notch quality earphone, it is difficult to listen. I have visited few of the club in Houston, Kansan and Canada. They play light music. Elevator type music. I notice folks come at fitness club are above 40's. Health club suppose to be quiet place, so one can concentrate in activities. I left message for the manager but no response. Manager should try his earphone for review.

This company is a scam. Do not give them your credit card and do not give them your SS number, they will keep taking your money even after trying to cancel. If you sign up pay cash. Their managers are trained to 'forget' to cancel your account and they force you to send certified letters or go on person. Not even a bank does that, you can call your bank and close your accounts at any time but not your $10 gym membership. It's ridiculous, all in their favor so they can keep charging you month after month. I've been fighting with them since October 2016, I had to put a block on my credit card to stop the payments, they almost forced me to close it. I left the state and I can't come in person to cancel, sent 2 letters and they still refuse to cancel the account.

I signed up and thought nothing bad at first. Sure the gym had a habit of not being the most clean gym around but they were very busy so I never thought much about it. I just made sure I wiped down all equipment before and after uses. The real problem is that employees they hire don't care about the customers. I went into the Planet Fitness in Clifton, NJ about 4 months ago and told them I would be leaving the country for work and would like to cancel my membership and would most likely join again when I was back in the country, due to the fact they were conveniently located near my home.
The young man (barely out of high school) explains to me that he has no authority to personally cancel my account and he would need some information to give to a manager for them to be able to cancel. Without hesitation I gave the information he asked for and thought nothing of it. He said I would receive a letter in the mail confirming I canceled. About three months later I returned and have a statement from my bank of overdraft fees. The bank account was an old one that I removed all my monthly charges from and would have been fine if Planet Fitness had canceled my account like they said they would.
Come to find out, the manager from the location said that was absolutely wrong and any employee can cancel a membership. The night I went in it was close to the end of their business hours, so I guess I have to pay for the young kid's neglection of doing his job but instead his mind was focused on turning out the lights. If the young man had told me for any reason he could not cancel and I would have to come back and spoke to someone who could. However, the young man reassured me this happened all the time and there was no issues.
After speaking with Felix the regional manager he explained to me that I would only be able to get the half of the balance I supposedly owed Planet Fitness credited and nothing more with a strict understanding that this would be done if I stayed a member. I told him I wanted to speak to his manager. Felix insisted he was the big shot and there was no one above him. After writing a review on the gym's survey I wrote I wanted to speak to the CEO. Some guy calls me and says he's the big shot and that he stands with Felix on this matter. So, to clarify they want me to pay for their employee's mistake and on top of that they want me to take the hit on the multiple overdraft and late fees that occurred for no other reason but their neglect to want to keep a customer.
I explained if they made things right and I would stay a customer just because of their location but the big shot said he's done that plenty of times and the people cancel anyway. If you speak to any customer and say (you're just like the rest of them) you won't be in business much longer I can assure you that. This situation has been a headache with all the phone calls and time I spent trying to have them right their wrongs and it went on deaf ears. They don't value their customers.
This weekend I will be trying to set up a small rally and call in local news stations just to make a point that it's not the money but how your employees represent your company. If you can't take responsibility for their actions and right their wrongs then you have no right to be in business. I have spoken to many friends and family and will be covering their first 2 months if they wanted to cancel as well. I am going to a much better retro fitness where I will be taken care of like a valued customer. From now on I will strongly urge people against signing up to this horrible service provided by Planet Fitness. The money wasn't the issue the principals are. The only reason to sign up is if you want horrible customer service and pizza on Fridays.

Joined Planet Fitness in North Charleston and upon moving out of the area provided the required documentation for account termination. Months later, they are continuing take the fee out of our bank account. I will be having the bank stop payment.

Planet Fitness has absolutely no experience in customer service. They're unbelievably rude and in fact their system for withdrawing payment is a false operation. Not only do they continue to take your money to pay for maintenances that never have new equipment nor updates, but they make endless excuses to take as much money from you as possible every time you make a payment with false statements of previous payments not going through, false time and dates of account updates, and fees that were never brought up when registering for the membership. Not to mention the General Manager of Planet Fitness on 3975 E. Thomas Rd, Phoenix, AZ 85018 was extremely sarcastic, rude, and unreasonable. This company is a complete waste of money, time, and commitment.

Cancel membership - When calling the Rocky Point Planet Fitness I was told by their customer service at that location I need to write a letter which I did on 3 occasions waiting for them to reimburse my account. Then today I went to the location and was told they save everything. My letterhead show my name address and phone number as well as my email and because the membership was in my daughter's name they never called me even though my number was on the letter and comes out of my bank account and then I called corporate and told they were just a franchise but yet my checks go to Planet Fitness.
I will be reporting you to the Better Business Bureau as well as instructing my bank to deny those charges. I have never dealt with a company that just doesn't care about what their franchises are doing, shame on you, and had I known I would have never joined and P.S. the place smells and is dirty good going. And by the way the cancellation has no order number, nor membership number.

I joined the Elkhart, IN Planet Fitness in late Dec. 2016. The front counter staff was extremely friendly and very eager to help me with any questions that I have. They gave me a tour of the facility and explained the 12 month Black Card commitment. I use the gym nearly every day. It is clean. It is not overly crowded. The counter staff is friendly. The trainer is very outgoing. I saw her at the grocery store the other day and she stopped and asked me how my weight loss was going. 37 pounds thank you very much!! Thank you Planet Fitness Elkhart for making my first foray into gym membership VERY PLEASANT!!

I let my 19-year old sign up for a $10 no commitment membership in Las Cruces, NM. After not using for a couple of months I told her to cancel the membership so they would stop debiting my account for $11.85 a month. When I called them they told me that either she or I would have to go in to the gym in person to cancel the membership. When she went in they told her she had to do a letter. Unfortunately as a busy college student she never got around to it.
Well a year later, supposedly on the year anniversary I had a debit of $42 from my account. When I called to find out about it they said that it was an annual renewal fee. I told them that I had not authorized a withdrawal from my account. Of course they bring up their contract. I told them I personally have never seen the contract so I was not aware that there was an annual fee, and did not want to renew the membership or pay for another year. They said in order to cancel the membership I had to go into the gym in person. I had to go out of my way and drive to that town and gym to cancel. Then the staff tells me that they cannot refund the annual fee, because the contract says it's non-refundable. I told them I hadn't seen the contract and needed a copy. They grudgingly provided me a copy of the contract, and the cancellation.
I told them I wanted to talk to the manager. They told me he wasn't located in that town, but they would have him call me. He called me the next day and gave me the same line about the contract and annual renewal. I told him I hadn't seen the contract until the day I went in, and I hadn't been notified prior that they would withdraw an annual fee. Like an airhead he kept stating that it's in the contract. I kept telling the moron that I never saw the contract. He said my daughter should have told me. Yeah right, like a teenager is going to repeat the stipulations of a contract to me. He told me he was independently owned and was not in the habit of giving refunds regardless of the situation.
I called corporate the next day and spoke to customer service, which is not anymore helpful. They basically said the same thing. I mentioned that they should at least send out a warning prior to withdrawing any money from people's account. From my understanding it is illegal to withdraw funds from people's accounts without prior consent. She said that that was an ongoing suggestion from dissatisfied customers, and that Planet Fitness Corporate Office hadn't implemented it yet. Well of course they wouldn't. Imagine the money it would cost them if they suddenly couldn't blindside people. She suggested I call the regional manager again. I told her he was an idiot and I wasn't going to waste my time. Planet Fitness claims they don't have "Lunks". Well they do, and they all work at the front desk and offices. If some lawyers want to start a lawsuit on Planet Fitness for fraudulent charges I'm all in.

Please do not ever get a membership with these people. It's a scam!!! They get you with the $1 sign up or that $10 a month **. Then after they suck you in, they suck you dry!!!! They keep taking money out of my account then charge to cancel that bs!!! I will be taking my money somewhere else. I will never go these people again. They need to close down permanently!!!

"Bait and Switch". That's what's the policy of PF. Came in to get a membership thinking that was the only fitness business that charges month by month and cancel when you want with no fees... WRONG!!! They basically bring you in with those huge adverting (false advertising!!) but once you are in it's a complete lie. They make you sign in and you are screwed. I was tempted by their ads and I went to inquire and possibly sign up... but they sign me up with a different membership that you can't get out from until you pay a $58 fees or wait 12 months of paying them even if you don't wanna do it anymore or if you move to another state where they don't have PF.
They never gave me the contract that I signed telling me that their computer has problem with the printer when I first sign up and sign the contract. They told me that they will email it to me... they didn't!! I came back after a week, ask them for a copy because I didn't get it on my email. They said they will correct that and they will send it to me... waited a week. Nothing happen. Went back again and ask for a hard copy. They couldn't print it for me and the salesperson at that time didn't know how to send me the contract by email. She needed her manager help. He promise to email me the contract again but never did.
When I was ready to move to another state for my job I went to cancel my membership. The rude and unprofessional manager Ms ** told me that it's considered cancellation and they will charge me $58 as a fee for doing that… so stupid!! I don't wanna be part of that club anymore and I'm ready to take them to court for not providing me with the contract that I signed which state that I have 15 days to cancel if I'm not happy with the terms but they waited until the 15 days passes to finally gave me after 6 months my hard copy at the gym but it was too late to cancel/move/switch without being hit with $58 fees… Be careful and always get the hard copy before leaving the gym when you sign up and make sure you sign up with the right membership. They switch mine without me knowing!! Scammers!!!

I wish I would have read all these reviews before signing up with Planet Fitness. Mailed a letter to cancel and guess what they never received it. I find that hard to believe. I have never had a problem with my mail getting to point A to B. Now I have an overdraft fee with my bank because of money I didn't expect to be taken out. Well I sent them another letter to cancel and I will be calling them soon to confirm they received it because for some reason Planet Fitness doesn't receive their mail like everyone else.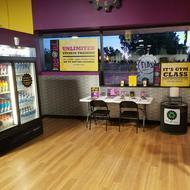 I have been putting my all into Planet Fitness West Mason Green Bay, WI but I can't do 100 percent because I am not a manager. It has always been my dream to be a manager of a fitness store and I really think that I could make Planet Fitness have 5 stars I have gotten more reviews that people love me and I want to continue to help people and follow my dream and success in life and I want to do it for Planet Fitness and give them my all 100%. I have been through a lot of trials in my life and for me to be at the point that I am in my life and being success and telling success stories I'm very happy with myself and to reach my full potential. I put a new area in by the coolers for the Planet Fitness training program. I did it for our trainer Jim and I hope he enjoys it and that he can get more customers and bring in more revenue for Planet Fitness. That's what it's about and that's what I want to do and that's what I'm going to do.

I signed up with Planet Fitness for health purposes and to keep in shape. My daughter accompanies me and at my sign-up time, I have to show my driver's license. All the information was in their system, so it was a smooth sign-up as a black card member, my card given to to me, and my daughter was my guest. At the time I signed up with my daughter as a guest I had no problem. Going forward, whenever I arrive to enjoy working out, there was always someone stopping my daughter after the fact that they took her picture, and had a profile for her. To my understanding every time I had to swipe my card, she had to give her number, saying that she's my guest.
The 4th of June, today, I went in for a workout for me and my daughter. Finishing my work out I was yelled at to come and take a picture. So, I asked, "What for?" I am a black member, and all of that was established, why do I have to go back and take a picture? I think I'm being harassed. Why wasn't I asked in the beginning, when I made my account that I had to take a picture? He promised that he was going to cancel my account. I'm the only one who has access to cancel my account, so why was I being harassed by this manager in Port View?

I have had nothing but problems with Planet Fitness! They are not FOR the customer at all. They are very inconvenient with their systems for transferring and electronic withdrawals. Their computer system and the way they take out your payments each month is a complete mess along with their whole system for transferring locations. I moved to Detroit area for a month and a half (part of my schooling for an internship) and wanted to work out in that area and when I moved back home I had to wait 90 days to go to the new location. Their reasoning is because the Planet Fitness' are owned by different owners. So I was paying them each month not being able to work out for what I was paying them.
They also take days to "process" when you want to transfer locations. The employees all tell you different things regarding whether you are allowed to work out before the "transfer" is complete or not. Another time I came in to work out and brought my boyfriend along (I have the membership where if I bring a guest they have to pay $20). The worker that checked us in was extremely unprofessional and rude and said I had an "overdue balance" in which I tried to understand why and he just would not explain it and kept saying over and over "You can't work out." Little did he know he just missed out on $20 from my boyfriend but also respect and business - very bad impression.
Another time when withdrawing my monthly payment, I didn't have money in the account (my fault) but they kept trying to charge my card AGAIN a couple days later! They do not have permission to do this. So when I did go into the location to pay, the girls told me I didn't have an overdue balance! Then when I tried to work out at a different location, they told me I DID have an overdue balance. LOTS OF HORRIBLE COMMUNICATION SKILLS HERE!
Compare Gyms and Fitness Centers
Planet Fitness Company Profile
Company Name:

Planet Fitness

Website:

http://www.planetfitness.com/