Huffman Koos
For over 55 years Huffman Koos has partnered with high-quality manufacturers to provide its customers with top of the line furniture. Our main objective is to create a pain-free purchasing experience for each of our buyers that keeps them coming back for years to come. If you're looking for affordable, high quality, in-style furniture, Huffman Koos is the place to go.
Consumer Reviews and Complaints

One star because site does not allow 0. Sold us defective chairs with dinette table. Many tries to correct problem resulted in lies, misdirection and general incompetence. After seven months in small claims court won a definitive judgment against them. Now, need to find their Bank or their EIN in order to execute the judgment. Anybody know either of these items?

Do yourself a favor and do not shop at Huffman Koos. I purchased a bedroom set less than a year ago and have had nothing but problems. My initial experience was that the store messed up my delivery. I told the store that my building had delivery restrictions and they specifically told me up to the day before that the delivery would be made in the morning. To my unpleasant surprise, I got an automated call at 6:00 a.m. informing me that it had been changed to the afternoon. Despite my frantic calls, the driver showed up too late and my superintendent would not allow him in. This happened after I took the day off and made arrangements for people to help me get rid of my old bed, which means I not only lost a day of work for nothing, but I also had to sleep on the floor from Friday night until Tuesday. The worst part was that no one was the least bit apologetic. In fact, the store manager attempted to blame it on me.
Fast forward, my brand new mattress is now sinking significantly in the middle, so much that it's extremely uncomfortable to sleep on. I have been calling customer service about this for over two months. Naturally no one in the store is willing to help me and it's nearly impossible to get someone on the phone in customer service. By some miracle, I got an employee about a month ago and she set me up with an inspector, who came and took pictures, then submitted a report the same day.
For the last 20 days, I have continued calling customer service to try and resolve this once and for all. I have left no less than 4 voice mails for a supposed manager without one returned phone call. I have tried leaving messages for random people in the directory as well. Yesterday, I finally got someone and was told that the inspector mistakenly wrote in his report that it was a king size bed. I informed her that it is not in fact a king and sent her my receipt showing that it's a queen. I was promised a callback, but of course it never came. I was able to reach the same person today and was told that the inspector will have to come back and take more pictures because of his mistake.
Every day that this drags on means another night that I have to sleep uncomfortably. The store's customer service is absolutely disgraceful and I would never spend another dollar on their merchandise. I wish I had read some online reviews before going there because it's very clear that I am not alone. If I could go back in time, I would go to a store that actually stands behind its products and cares just a little bit about its customers. Since I can't do that, I'm going to file complaints with every agency that will take them and if I have to, file an action in court for a refund. Since I'm an attorney, that is not a problem for me. Hopefully other people will see my review and the hundreds of others before making the same mistake that I made.

I purchased a sectional from Freehold Huffman Koos in February 2016, was told it would take 8-10 weeks, when it was actually 15. That alone was upsetting, but when it finally was delivered, I was at work, so my husband came home quickly to accept it. After getting home later in evening, naturally I looked at it, but it was for a sunroom that we didn't use often, and we were going away, I did not notice a small cigarette-sized hole in the top back of one end until we returned about 6 days later. I called the store immediately and was told there was nothing I could because anything had to be noticed within 48 hours. I had purchased a protection plan separately, and was told by the manager to call them. I did, but because I didn't know how the hole got there, it was not covered.
I made several calls, and stops to the store within the next week to speak to a manager, and NEVER getting a returned call after being told he would look into it, and contacting customer service, and being told there was nothing they could do and being so frustrated with the LACK of customer service, I decided to contact my credit card and dispute the payment. Within several weeks, my credit card sent me a letter stating all the money was credited back to my account. By this time it was the end of the summer, and I was expecting to be contacted by Huffman Koos.
So, fast forward to February, 2017, I got my mail the other day, and among it was a letter from a collections agency for the delinquent account. I have never received ANY type of correspondence from Huffman Koos prior to this. All I was looking for before this whole mess began was someone from the store, to make good on the damaged part. It was the smallest end section of the sofa, that could have been repaired. Considering the cost which was over $ 3,000.00, I don't think that's asking a lot, especially if you want to keep customers coming back... I WILL never recommend, or set foot in a Huffman Koos store and I advise everyone to do the same!

My experience with this company at first was ok at the Queens location. Sales rep was cool. Got a good deal until they got our money. Told us the Aspen furniture won't be delivered until Sept 2016 but we got it early August. Once the order came all furniture was damaged. Pasha bedroom set also damaged. Come to find out they shipped me the floor sample. Numerous emails, pictures and complaints. Nothing has been settled. Now my bed rails are falling apart. Still nothing has been solved. When I call they give me the run around and 100's of excuses. I just want to get our 100's of dollars back and they can keep this trash they sold me.

I ordered custom Craftmaster Furniture from Huffman Koos on Oct. 13, 2016. I was promised delivery in 8 to 10 weeks. I am a fairly patient customer so even though I did not receive my furniture before the Holidays (10 weeks) I was not that upset. After the Holidays, I still gave it a week but never heard from Huffman Koos. I began calling them on January 9th. Each time I called I got a different answer and was promised that a manager would call me. A manager never called me until January 23rd, after I had my credit card company reverse my deposit.
On January 23rd (15 weeks), the polite manager informed me that she still could not tell me when my furniture would arrive, where it was, why it wasn't shipping etc. We can track pizza but not furniture, it is truly unbelievable. They are supposedly currently "re-branding" to carry a more expensive line of furniture. With this record of customer service I don't see how they survive. Consumers expect better and the more they pay for things the higher level of service they expect. Do not purchase furniture from this retailer. I should have read the reviews before I did.
How do I know I can trust these reviews about Huffman Koos?
884,672 reviews on ConsumerAffairs are verified.
We require contact information to ensure our reviewers are real.
We use intelligent software that helps us maintain the integrity of reviews.
Our moderators read all reviews to verify quality and helpfulness.
For more information about reviews on ConsumerAffairs.com please visit our FAQ.

I purchase a bedroom set at the Queens Blvd. location. I don't recommend this store to anyone! When my furniture was delivered the delivery driver brought to my attention that the thread on the mattress was all coming off all around the bed. The furniture had all nicks and scratches almost on all the pieces. I spoke to someone that the delivery person called and I was reassured that the mattress would be changed as soon as possible and that they would send someone to inspect the furniture. It has now been 3 months. I can't begin to say how many phone calls I have made to the store and the corporate office is impossible to speak to anyone. Very unprofessional and greatly disappointed with Huffman Koos and its staff.

We order dining room furniture on Feb 7th 2016. On March 12, they deliver a table and eight chairs, which included two damaged chairs that we sent back. After repeated phone calls through April 13, they delivered china and two replacement chairs. They fulfilled the order with used items and damaged pieces. As with previous order, we rejected all the pieces of this order. Their deliveryman also confirmed that the items in the April 13 order were used. Frustrated with the vendor, we started to call them again and they kept on expanding the delivery date by telling us the delivery will happen next month. After many calls and complaints, one of the sales person Bruce ** sent us an email stating that he spoke to his manager, Julio, and agreed to cancel the order and refund the full amount if we do not get brand new items with the three weeks time frame, which is to expire on November 30.
When delivery arrived on Nov 23rd, we asked the deliveryman if the items are brand new. As expected, items were floor sample and he because they repacked the items to look new by putting them in boxes. Before they began unloading the items, I went inside the delivery truck to check if they were brand new items. Without any hope, I found they were damaged and looked old. As promised by the sales agent, Bruce, in his written communication had the vendor will refund the money if the items in the order are not to our satisfaction.
As of today, we have not received our money which we paid prior to the February 7th delivery. No one answers our phone calls and are given runarounds. We have no alternate left but to take legal action. For all those planning to even purchase a small furniture items from the Farmingdale, New York, store to please go and show at other store because this place will take your money and will not refund you by giving you the turnarounds.

The Farmingdale, NY location of Huffman Koos furniture store fails to provide customer service to their customers. The salesmen we worked with were fine. We purchased furniture on Dec. 5, 2016 and paid in full for it on Dec. 7, 2016 on the condition that it could and would be delivered to our home out of state on or before Dec.24, 2016. We made it clear that if that was not possible we would not go through with the sale. The manager and Joy the woman in charge of scheduling deliveries ensured us it would be delivered prior or on Dec. 24, 2016. We called several times to speak with both a manager of the store to be told repeatedly that they were gone for the day or not available. $14,000.00 is the amount we spent on furniture in that store. I think someone should speak with us.
After repeated calling I finally spoke with Joy who said the furniture would be there on Dec. 24, 2016. The furniture never arrived creating a disaster for my holiday. All they had to do was be truthful about the delivery and actually take time to provide customer service. You had no problem taking our money. This experience was horrible and I would never recommend this store to anyone. I want to know where my furniture is. Please contact me at **.

One star is way too much. Bought bedroom furniture, finally delivered, and missing several crucial parts needed for assembly!!! Over 20 phone calls - non returned. Payment stopped thru credit card company--a week later they call! Twice tried to deliver missing parts--wrong model, wrong size!!! This has been the WORST buying experience of my life. I should have checked the online reviews. STAY AWAY!!!

I will NEVER buy from HK again. We bought a wall unit in Sept. and when it was delivered the delivery men dropped a top shelf which damaged the panels. Long story short, we stopped payment and after 11 phone calls (to date) the Customer Service REPEATEDLY screwed up the work order to reship the shelf, OR hardware, OR the # of craftsmen to be sent! AWFUL! People would not call back. We always had to call. It will now be repaired in January! I tried calling the corporate office (president or some other higher up) who might care that the consumer was handled poorly but got no one. I am left to be put on hold and I have to follow up constantly to get what I paid for! I WANT THE PRESIDENT OF THIS AWFUL COMPANY TO CALL ME!

On Labor Day 2016, I placed an order with Huffman Koos for a Natuzzi sofa and love seat which they said is a special order because I wanted black leather. They just delivered it today, but it was damaged. When the delivery men unwrapped the sofa and love seat, I started inspecting it and found scratches on both and the sofa had 2 tears. A Huffman Koos representative at the local store told me that they would send a technician to come and check it. NOO!!! I purchased brand new sofa and love seat and waited 3 months, not a floor sample. I don't want it fix since the tears and scratches to me means BAD QUALITY CONTROL. New means no tears and scratches. If I wanted a floor sample I would not pay $2500. Also, the area where you rest your back looks very poorly stuffed. The back of the love seat has a 2 to 3 inch thick line that looks like dirt. There are indents where they shouldn't be any.
I am very disappointed with my experience. I advise people to strongly think about it and make sure they are getting sofas that are perfect condition when delivered. They offered to fix it. Why should I need to fix something that was just delivered with these flaws? They should replace the sofa and love seat with a seat that has none of these flaws or give me a full refund. That is only fair.

I purchased a Natuzzi 5 piece Soprano. On the day of delivery in Aug, the coach came damaged. The dust cover on the bottom covers the 2 main pieces were ripped. When we called Customer Service after waiting 2 months then to find out the order was never placed at the Corporate office and after the tech came by TWICE to tell us the original cover with the zipper is not available but they can send a tech and staple the dust cover on the bottom 2 pieces. NOOOOOOO!!! I paid over $6,500. I expect to get the pieces fixed as it should have at the time of delivery.
As of Oct 27, 2016 I emailed Crystal ** from the Corporate office and NO REPLY!!! I used my hard earn money to purchase this couch. AND I purchased EXTENDED. It is unethical what Huffman's Corporate office is doing - ignoring and neglecting to fix the damages that was made by THEIR own delivery people. I even said to Crystal ** "If you were the one that purchased a $6,500 couch, would you be fine with customer service saying we can't replace the dust cover with the original zip cover but we can have it stapled into the couch." I will reach out to the Corporate office this week. I am very disappointed! Very!

We purchased a reclining sofa and LOVESEAT around April. We were told it would take about 8-10 weeks to deliver. When the delivery men arrived, they had trouble getting it into the house. They damaged our front door, moulding, and closet door. When they unwrapped the pieces they were two different colors! One dark brown love seat that looked like it was dirty and a light brown couch. We called the store. They said they do not even make the pieces in light brown! They put the pieces back in the delivery truck and promised to rectify the situation.
The next morning the delivery men arrived and took the pieces off the truck. IT WAS THE SAME TWO MISMATCHED COUCHES! Back onto the truck. My husband went to Huffman Koos to talk to Julio. He promised we'd have it the next day but they needed to get them from the warehouse in NJ. By 11:00 at night we had the correct two pieces. It was the last day of May 2016. While there, we decided to also purchase a new mattress and base. It is a $5,000 mattress/base. They offered a free pillow. I asked for a mattress protector instead. When my husband went down to the store to talk to Julio about all the delivery problems, he told my husband that if I wrote a positive review about him online that he would give us $100.00 in store credit.
Around August, someone was reclining in the LOVESEAT. I noticed there was a lot of dust or powder underneath. When I moved the love seat, I saw a piece of metal poking through the back of the couch. It had been gouging out pieces of our wallpaper and dry wall. I moved the couch and noticed the same thing! I called the store and customer they told me I had to deal with their service department. I called and was given an Email address to send photos to. I sent the emails me photos. No response for a few weeks. I called again and realized I had misspelled the name of the email address so I resent the emails correctly. A few weeks passed. I began to notice other issues like sagging cushions, a cracked recline button, and padding under the seat bunching up. I don't think the couches should be falling apart after four months.
Around November, a service tech arrives. He took photos and I pointed out all the issues. He left and said he needed to order parts. No response for a while. I began calling the store. I asked to speak to Julio and left messages and my phone number. He never called me back. I have called Julio maybe twenty times since then but he never calls me back.
Multiple calls to the store, customer service, corporate... One evening I drove down to the store. I spoke to Ted, I believe, and told him about all the issues. He told me that once the furniture arrives to my house they are no longer responsible for it. He looked into my visit from the service man and he only noted the damage to back of couches, and none of the other issues. I left, very upset and I called the service plan that they had charged us $199.00. They told me they have no record of us or our furniture. So Huffman Koos charged us for this protection plan and never enrolled us.
The next day, I called the store and asked to speak to the highest person in charge. Her name is Joy. I began to tell my story and she told me to come down and reselect new furniture. I drove down there with my invoices. I saw Julio. I asked him why he never called me back and he told me that he never got any message from me. I told him that if he is a Catholic, he'd better go to confession! Joy got on the phone with corporate. They said in order for a reselection or refund of the couches I needed another service call. I asked her to set one up. She promised someone would be there that Monday.
Nobody arrived that Monday. I also pointed out that we were charged for a protection plan that Huffman Koos never enrolled us in. Joy wrote up an invoice with my bank account info and the reason for the refund. She told me the money would be refunded. A couple more emails to the service department who now began telling me I needed to contact corporate. I did so three or four times. There's no option to speak to a Human being. I then called Huffman Koos in New Jersey and spoke to someone there. She sent an email to corporate. Then, Ms. **, finally called me. She informed me that the damage to the furniture is my fault since we had it too close to the wall and they will not repair our furniture. I am beyond frustrated. I have wasted countless hours on this matter.

I bought a Capri sofa in Oct/2016 and I was told I would receive the sofa by November. I just received a call saying it will take another month. So I called the store to cancel my order and the salesman and manager are out. If I want to cancel I have to pay 20%. Very disappointed. Never go to this store again. Go somewhere else!

On Oct 16, 2016 my sectional couch with sleeper sofa was delivered. As soon as delivery men left, I discovered a large rip in the mattress which was obviously done with box cutter when attempting to remove plastic. I immediately contacted number on my receipt and sent pictures of the damage. The woman, Michele, emailed me confirming receipt of pictures and said "corporate" would contact me with delivery date for new mattress. I have not heard from anyone nor can I get in touch with anyone. No one is ever available to answer the calls and I have left several messages. This is extremely frustrating and totally unacceptable customer service. I have emailed and called the woman who I originally spoke to to see if she could expedite things. As I stated before, no one from "corporate" has responded. I purchased this sleeper/sectional because I have company coming next week and I need the bed for them. I just don't know what else to do.

I am extremely upset and frustrated with service I have received at Huffman Koos in Farmingdale, NY along with the corporate office. On August 17, 2016 I purchased a mattress, box spring, bedroom set, and leather sectional. At the time of purchase, I was told all items would be delivered in a week. As promised, I received a phone call scheduling my delivery for the next day. At the time of the call I confirmed with the rep the items scheduled to be delivered. She said all pieces except one piece of our sofa.
When the delivery truck finally showed up (1 hour after the call saying they would be there in 10 minutes), the only items on the truck were 3 pieces of the sectional, one of which had a rip in the leather. The delivery men did not have any information, and when I called Customer Service, she couldn't provide me any information other than the pieces weren't in yet. This is completely unacceptable. When I confirmed with the woman who scheduled the delivery, the items being delivered, I cleared out all my old furniture in order to make room from the new set. Needless to say my husband and I spent a week sleeping in the floor and a couch due to us not having the promised furniture.
After multiple calls to the store, the store "found" our mattress and agreed to have it delivered a week after the original delivery date. When it was delivered, again the item was damaged. There was a rip on both sides of the mattress. Although we were happy to have a mattress, we still would like our bedroom furniture to be delivered. Again, after multiple calls and refusals from managers to speak to us, a customer service rep promised our furniture would be delivered by end of September, not acceptable considering we placed the order over a month ago and were promised delivery one week later. Needless to say September came and went, and we did not receive a delivery nor has there been any attempt by Huffman Koos to contact us to keep us informed.
Only after phone calls by both me and my husband were we finally able to speak to someone, and the woman now says the items won't be available until December, again not acceptable. That is 4 months after my purchase date. When I was given this information, I tried to cancel because this is not a company I want to do business with. I was not allowed to cancel over the phone nor would they even put a manager on the phone to speak to me. I still very much intend to cancel my $9000 order, but in the time being, I do not recommend anyone shop at this terrible store. This is the worst customer service I have ever encountered.

Huffman Koos delayed my mother in law's couch delivery for over a month. When they scheduled the delivery, we specifically asked that they call my mother in law's aide, since neither I, nor her son, live with her at the assisted living facility and we would be at the doctor's all afternoon. The store assured us that the delivery crew would call the aide 30 minutes before arrival. They did not. Instead, I found messages on my voicemail stating they would be there "in 10 minutes" and then again "since there was no call back they were leaving". When I retrieved the messages, I immediately tried to call customer service. Despite it being normal business hours, no one answered the phone, and I left a message which no one returned.
The store, who had told me that they specifically pointed out the aide's number to the delivery center, couldn't understand why they would call me instead. I asked for the truck to come back, but when she called them, the driver responded, "once we leave we don't go back." Let me emphasize, that the delivery was at an assisted living facility, which has numerous staff right at the door who could have let them in! My mother in law is 83, has dementia and because we moved out her recliner in anticipation for the couch, had NOWHERE TO SIT.
The store arranged for redelivery later in the week and promised to leave ONLY THE AIDE's number for them to call. The next day (because THEY NEVER CALLED ME BACK), they told me that several contact numbers were associated with the delivery (still?) and that the store never pointed it out to them. Whether it was the store or the delivery doesn't matter, the customer should have been properly notified -- the right number, with 30 minutes notice.
I posted all over our community board to stay away from Huffman Koos. I am also filing a complaint with the BBB, because HK never offered to rectify the situation, compensate us or otherwise make this right. Prior to dealings with Huffman Koos, we purchased from Raymour and Flannigan, which always responded and had great customer service. HK, in sharp contrast, has poor customer service, does not stand behind its product and fails to deliver as promised. Shame on you. I will never shop at HK again.

Very, very bad experience. August 30 I spend $3000 for sofa and to love seat. I receive sofa which have stain and damage. They promise me they're gonna deliver 2 week by the September 7. When I call them they're very rude and nasty with me especially Eli manager. He was nice to me when he sell the furniture. When I call after ask for my furniture his answer was he not responsible. How I trust this Huffman Furniture company. I never recommend no one this company. Today is September 20 there told me maybe I will receive October 15. I need my money back. I work very hard for my money.

I don't usually post negative reviews. But my wife & I have to let everyone know to stay away from Huffman Koos if you're looking for furniture. We had all kinds of problems with them, horrible custom service. They were suppose to deliver our sofa & love seat Saturday to our house in Cutchogue. We hadn't planned on being there that weekend but went out just to receive the delivery. At 7:15 AM we had a call that they would be there in 45 mins. I told them the address on that call for the Cutchogue house. An hour & half later I called the delivery person to see when they'd be here and they said we're here. Where I said? They went to our Greenlawn home instead. They told they would bring it to Cutchogue. A little later my wife got a call from HK that they want to re-schedule. She told them that wasn't acceptable and they agreed to shift us to the last delivery with a window of 4:30 - 8:30.
After several calls during the afternoon with HK telling me that they would still be coming, I called the delivery guy at 8:20 PM & he said to me my schedule is over call the store & hung up on me. Then I did call the store and couldn't get to speak to the mgr but was told that either Ted or Julio would call me first thing Sunday morning. I phoned the store once more on Sunday afternoon and left a VM (the answering machine said they reply within 30 mins). Now it's late on Monday morning no calls, no emails, no anything. This was the latest of several problems dealing with them, not getting call backs as to when the furniture would be in, no responses etc.
Finally I went to the store Monday afternoon. Ted was there. He told me he wasn't in on Sunday. He had no knowledge of my situation. He said there was an email about my problem from the last person (Shannon) that I talked with but no response. Ted was very apologetic but could not accommodate a new delivery date that works for our schedule for another two weeks since we are not full time residents at that house. Our time is very valuable. At this point I am prepared to stop payment with our bank if do not get satisfaction.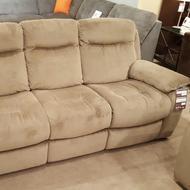 On Sept 12, 2016, I had a pretty good experience at the showroom in Queens. I was greeted by a friendly woman and then handed over to Fabian who answered our questions and made the process of deciding really easy. We ordered a custom power sofa recliner in a light microfiber fabric and he told us it would take about 4 months because it would be made in Italy, but possibly it would be sooner since it was the beginning of the week when the order would go in. He was able to get us free delivery, no tax, and $150 off the stain guard plan. It came out to about 1300 in total. We gave him a deposit of $600 and had to sign a pretty lengthy contract that had all these requirements about not being able to cancel which at the time I thought was pretty odd.
After getting home, I read all of the horror stories online and I am now a bit concerned. It seems that there are a lot of problems with the time to delivery (we hope it will be sooner than Jan) and actual condition of the product upon delivery. Fabian assured us that the backs came off of the couches and there should be no problem getting it in the apt. I am hoping to be able to report back in about 4 months on the outcome of my purchase.
UPDATED ON 09/26/2016: I ordered my couch with custom fabric on 9/12/2016 and on 9/22/2016 Fabian left a message that the fabric was discontinued. Why did it take so long to contact me? This puts my order back another two weeks I assume? I went back to the store on Saturday Sept 24th to review the fabric samples. As soon as they realize that I am in to fix an existing order, they don't really pay attention to you and sort of avoid you as a customer. Very different treatment from a new customer who they are trying to get money from.
I was not really pleased with the available offerings and no one there was really being helpful. I think that Fabian was busy and he just gave me the swatches to choose another. Never saw him again. The person at the desk made a photocopy of the back of the new swatch that I selected and couldn't tell me anything else other than he would pass it on to Fabian. I am not sure about the status of my couch at this point. The manager, Eli, verbally stated that they would rush the order, but he had no idea who I was and what I was referring to. I really wasn't pleased with having to choose another fabric. I would like to inquire about canceling my order because I think that it will end up taking too long at this point. I am concerned that all of the reviews that I have read about problems with this place are true and would like to cancel my order while I am ahead.

I came in to look at sofas. Unlike the other furniture places, I didn't have someone following me around and asking me if I need help every two seconds. I had a guy that explained their sale and let me find my furniture. It was a pleasurable, no pressure situation. No problems.

I had a very nice experience while looking at Huffman Koos in Freehold for a couch. My saleswoman, Diane was extremely helpful. She was knowledgeable on all of the inventory and able to answer any of my questions I had regarding the different pieces I looked at. I never felt rushed or pressured into buying anything. She was able to give me the measurements I needed to make sure the couch was able to fit into my house properly. I would definitely come back again and I would recommend anyone else in need of furniture to do so as well. Thanks again!!

I ordered a leather sectional couch on January 9, 2016 from Huffman Koos. We had to choose between a textured leather and a smooth leather; we chose textured. It was supposed to take 12-14 weeks for delivery but it took much longer. After waiting nearly 5 months for this couch, two of the sections of the couch were covered in the wrong leather and one section had scratches and wrinkles. It took more than 3 weeks for a serviceman to come to my home to take pictures. The pictures clearly showed 2 sections of the couch had smooth leather and the rest of the couch had textured leather. The pictures also showed the scratches. The serviceman also pointed out that the colors did not match either.
After spending over $6,000 for a couch that took over 5 months to arrive, no one will return my calls or offer any type of resolution. It was not until after disputing the charge with my credit card company that I received a letter from Huffman Koos stating "a serviceman came to my home and service was refused." I was never offered any type of service so that is a completely false statement. To this day (Aug 22) no one has returned any of my numerous phone calls, nor has anyone responded to my emails or letters. Huffman Koos has demonstrated a lack of professionalism and a lack of customer service. They did not offer any resolutions to correct their error and then falsely accused me of refusing service. I did not receive the custom couch that was ordered. Instead, I received what appears to be a pieced together sectional made up of mismatched and damaged sections.

Custom ordered a Natuzzi Leather Sectional in February 2016, and delivery was attempted on 7/9/2106. During the delivery all of the pieces (5 total) of the sectional was damaged and I refused delivery. After 2 weeks of chasing the customer service manager at the Freehold location (Wayde **) I was giving their corporate number to call to get status on replacement. After speaking with customer service I was advised that the full sectional will not be ready for another 14 weeks (which puts delivery around November 2016). That would be 10 months to get a sectional. At this point I just want to cancel my order and get my sectional from somewhere else as I cannot go this long without furniture. I was told I need to speak to the manager at the corporate location (Arrianna **) but she has not been returning my calls.

I had a terrible experience with Huffman Koos in Farmingdale. 8 Weeks ago I went in to buy a couch with Gus the sales rep. I made my delivery for 3 weeks in advanced because I was waiting for my apartment to be done. I had to change my delivery date the day before and was actually surprised that no one had contacted me. When I called they told me my couch was not fully in stock so they set me up for another delivery date for July 2nd because they said the rest of the couch would be in June 30th. Once again no one contacted me while I actually waited for delivery on July 2nd and no couch. I called and they said that only another piece came in. Getting frustrated I asked when would the whole couch be in and she said to me "There is no way to tell." She said she would try to email the manufacturer to see its progress. Again no one called me back.
I then showed up at the store three times looking for a manager and all three times at PEAK hours they told me that there was no manager in the store. I then called to ask for the manager and Julio was actually in but could not come to the phone. I asked why and they had said because he is on the sales floor. I am actually really shocked that a store that held beautiful furniture is being run this way. Every time I call no one seems to know anything and I get the runaround.
The worst part about this the guy Gus that had sold me my couch tried to get me for 3000 and I said absolutely not, I did wind up paying 2500 IN FULL and he made it seem like I was getting a deal and insisted I pay credit card instead of financing to get a better deal. Meanwhile my couch is listed actual price at 1900 on the website. I am beyond furious and wish I read the reviews before I went there because there are many others that are going through the same. I don't suggest anyone do business with this company! I want my money back or I will take legal action.

Huffman Koos should be shut down! I have had the worst experience. I received damaged and USED furniture. I purchased a sofa set. The ottoman had broken legs, discolored set, and frayed. They sent a tech out twice and they were unable to fix. Tech stated it was used furniture. I called multiple times (approx 20). No one ever returns your calls. They said they were analyzing pictures of damages. The set was bought in Feb. Five months to review pictures of damaged furniture that a technician already said needed to be replaced. I'm beyond disappointed. I am in process of being them to small claims court. DO NOT BUY from HUFFMAN!

Back in February we ordered a sectional and a TV stand from Huffman Koos (referred to hereafter as HK). 8 weeks later they call to set a delivery date, "sorry the TV stand is back ordered and won't be with it". They come as scheduled but the corner wedge is wrong. Delivery guy tells us to accept everything and deal with HK to straighten it out. Yeah I don't think so. We make him take the corner wedge back and kept the couches. We go to HK and they tell us they think our corner was sent to someone else.
About 2 weeks later they tell us the factory made it wrong and they are ordering us a new one and tell us another 8 weeks, and "by the way your TV stand won't be in until June 30th!" TV stand finally arrives but they open the box and one of the legs falls out. Back to HK probably for the 4th time by now and they tell us they're going to fix it but give us $200 off the original sale price. TV stand comes back and the leg is fixed, but they send us a coupon for $200 off that we can use towards future purchases, not $200 off the TV stand. The wedge arrives at last, but the delivery guys moved the couch to put in the wedge and scratch our floors we just had redone. The delivery guy lets me talk to someone (dispatcher?), who tells me someone will be in touch about the scratch. Our salesperson called to find out how the delivery went and she too was going to contact the shipper about the scratch. We haven't heard back from either.
When I call HK they now put me on hold and don't return. I don't blame them, I wouldn't want to deal with this nonsense anymore either. Since making the last payment, the manager has also stopped returning texts. Everything after they made the initial sale was a terrible experience. Their entire system from just after you make your purchase to the end of your experience with them is completely broken and miserable. No one is held accountable, and no one takes any responsibility. They all blame someone else. Delivery blames sales, sales blame the factory, and nothing ever gets done. We really should have read the reviews for this place. It would have saved us a lot of headaches. I will never shop at this store ever again. But we'll always have the scratch in our floor to remember them by.
UPDATED ON 07/30/2016: After Huffman Koos left a response to my last review, and being contacted via email by them seeking to resolve my issues on July 11th and July 12th, I sent the information they requested on July 13th. When I didn't hear back, I requested an update on 3 separate occasions with no response from them. They finally wrote back on July 29th to tell me that they no longer work with the delivery company they were using when I got my delivery, and I would have to take the matter up with them. It's pretty typical of them to pass the blame off on someone else. The concern they showed in response to my last review seems to have been all for show so they look like they take complaints seriously when in fact they could care less. My issues with Huffman Koos remain unresolved, but I can rest easy knowing that I will never again have to deal with this company.

My husband and I ordered and fully paid for furniture in October of 2015. We are now in July 2016 and we're still missing furniture. Going back and forth between customer service and the store we originally bought it for. They bought in 1/4 of the furniture (full living room and bedroom sets) in October and left the bedroom set in boxes, the movers said to wait until the full set came in for us to unwrap everything. We slept on a mattress on the floor till June just to get a full bed set, we are still waiting for a second night stand AND dresser. The two night stands were originally sent out in boxes, in our bedroom.
We finally had one of the movers unbox it in June, and one of the night stands were damaged. We told them to take it back. After contacting the store, they refused, and the store receptionist refused to take it back also. We had to put it in the trunk of our car to take it back. Today, July 6th, we had a delivery time range of 1-5, I stayed home from work, and it is 9:15 and I'm still waiting for this one night stand, not even the dresser with it. I've called them at least 5 times to get updates, and now, at 9, they've stopped answering my calls. No one called me for any confirmations or updates. Also, the furniture quality is pretty bad honestly.
The "soft closing" drawers don't actually close till you force it closed, it's very wobbly and unstable. The granite on the top has so many imperfections on it, so does all the wood on the king bed frame. What a shame. We spend about $10,000 in that store in one shot and I honestly wish I shopped at Ikea. So not worth the money. Please don't make the mistake we did. The living room set wasn't perfect either. The cushions started sinking 2 months later, the foot was broken off of one, and a big indentation on the other couch. We had the service guy come and try to repair it, he takes the picture for the part, and the wrong side arrives a month later, so the repair guy came back again and sent another request. Still isn't resolved. It's been a wild goose chase.

We visited Huffman not sure what to expect - we don't furniture shop all that often - but we do know that sales reps can be quite pushy at furniture stores. Bill - he's the opposite of that. He's professional, courteous, and honest. He looks for the bottom line price for you - even if he can tell you're not happy - he will always go back to the manager and try to swing some more dollar signs off. The manager is also super friendly and seems quite established in the furniture circle. He has had many of his designs published in magazines and works with furnishing homes to people even outside of the country (e.g. Israel). We would rate our experience a perfect ten out of ten and we look forward to working with them in the future.

Purchased furniture back in December 2015 and still working through issues as of June 2016. Customer service is not responding. Purchased a dining room set with buffet. When furniture was delivered in January they didn't have screws to put table together. They left tabletop on top of chairs. When they came back and unwrapped tabletop it was damaged and there were scratches on chairs. They pulled out an expo pen as their remedy for scratches. Door on buffet has marks. Nobody from the store gets back to us. This is definitely not the Huffman Koos from 20 years ago. Avoid the store on route 110 in Melville.
Huffman Koos Company Profile
Company Name:

Huffman Koos

Address:

125 South St

City:

Passaic

State/Province:

NJ

Postal Code:

07055

Country:

United States

Website:

http://www.huffmankoos.com/