Consumer Complaints and Reviews

I purchased furniture for my living room in September 2016 from the Winston-Salem, NC store. I ordered two leather sofas that were delivered right before Thanksgiving. I loved the overall design and look at first, but noticed the leather fading on one of the sofas within 3 months of delivery. My designer asked that I send pictures of the defect to corporate and was very apologetic. Since contacting corporate, I was asked to send a sample of the leather and told it may not be replaced! Feel like company is not going to standing behind their warranty.

Ordered a dining room set in November of 2016. Told them at the time we were moving and gave them our new address. After four months of waiting for delivery, they said some of the pieces were damaged. Have never dealt with a more incompetent or unprofessional company in my life. We cancelled the order and went elsewhere for furniture. Will never shop at Ethan Allen Furniture again. Buyer beware. Also noticed they are not a member of the Better Business Bureau or Consumer Affairs.

We purchased over $15,000 of new furniture from the EA gallery in Annapolis MD. Our design and furniture is beautiful, however, our designer, Natalie **, after making an error with a balance took it upon herself to charge my credit card without my knowledge. She had remained in constant contact about coming out to our home to see our new purchases to offer accent and lighting ideas, yet never contacted me to about a charge to my credit card of her error. Four days had passed when I had noticed the charge and questioned it. I spoke with the store manager and the credit card company, who encouraged me to place a fraudulent claim. I choose to accept her apology and resolved to not associate with this sales person.
My mistake... On Saturday, 2/25/2017, the final piece from our order arrived, a lovely rug. It took the delivery guys (Scott ** and partner) less than 10 min. to drop it off, as my husband had moved all the new furniture, and the rug was ready to be rolled out. We tipped them and thanked them. Prior to them leaving we remembered they were the two who delivered the bulk of our furniture earlier and had been generously tipped, they both remembered us. Sadly, my husband's wallet left with them. A police report was filed. We have visual confirmation it was them. We will place criminal charges. Not planning on ever doing business with Ethan Allen again... Fool me once, my bad, Fool me twice... criminal charges.

Good news is my husband and I recently purchased our first EA sectional sofa (special order) and leather recliner on Jan 27th. We worked with a wonderful designer (Brandon) in the EA Annapolis and he was excellent. Love him! I would give him 6 STARS for his design acumen and outstanding customer service. He is very responsive even on his day off. :-)
Bad news is it's taking five weeks just to deliver the recliner. The recliner was a store display and was 50% marked down and we paid $1,500+ and delivery charge. Beautiful black leather with nail heads FYI... Store pick up occurs every other Thursday in Annapolis location so pick up did not occur until 2 weeks later (Feb 9th). We were supposed to get a phone call to schedule delivery from their Service Center the week of Feb 13th but did not get one phone call. Brandon followed up and sent them notifications to call us for schedule but no luck. So we went ahead and called the Service Center ourselves (Feb 17th) and got voicemail after multiple calls. Although I missed one call (on Feb 17th) and they left me a message and I called back but no answer.
We called again today (Feb 20th) and success! Someone picked up and we are scheduled for delivery on March 3rd! So it will take five weeks from the day we paid the recliner before it's delivered. Disappointing! We could have just put it in the back our SUV and saved delivery fee. :-) Seriously, EA needs strive to do a better job with their delivery service. Good customer service does not end until the product is received promptly by the customer.
My husband and I have collected EA furnitures for over 25 years. I am biased with this brand. EA is synonymous to quality (although expensive) as far as we are concerned. Our bedroom and dining set are in great condition and purchased them in 1990-1991 after moving from multiple military duty assignments. We purchased end tables, coffee table, and buffet from the Annapolis location about 10 years ago after moving back to US and continue to be satisfied with the quality and craftsmanship of their product.
Read the recent negative reviews on EA and it makes me worried. I have yet to determine if indeed EA is not the same 25 years ago as claimed by other EA customers. Since it's our first time buying a special order EA sectional couch, ottoman, and the recliner, only time will tell if EA continues to be synonymous with quality. The special order couch and ottoman will not be ready until mid to late March. I hope I will have a better delivery experience this time. I'm being optimistic.

I had bought over 60k worth of furniture from Ethan Allen. The designer was useless, but I would like to comment on the customer service. There is a young lady named Marissa that helped schedule all of my deliveries. She helped me go over each and every thing I bought, each and every dollar amount I spent, and how much I had left to pay after delivery. She was very sweet, and warmhearted, and was never annoyed with my million questions. You may have to leave a voicemail with her, but she gets back to you within that same day or the next. Very productive and fast. She is easy to talk to, as if you are talking to your granddaughter.
I even offered to have her over for lunch! I see all the other reviews are not welcoming, but they did not have Marissa! When the delivery team came to my home, they were so nice and polite. Stayed at my home for over 2 hours helping me arrange my furniture. Very sweet boys. I tried to tip them and they refused! Saying it was unnecessary and that it was a pleasure hanging out with me. I will ALWAYS buy from Ethan Allen and as long as Marissa is there to schedule, and the young men are there to deliver!
How do I know I can trust these reviews about Ethan Allen?
717,175 reviews on ConsumerAffairs are verified.
We require contact information to ensure our reviewers are real.
We use intelligent software that helps us maintain the integrity of reviews.
Our moderators read all reviews to verify quality and helpfulness.
For more information about reviews on ConsumerAffairs.com please visit our FAQ.

We made a modest purchase of two leather chairs and a silk rug, around $6k worth of stuff. No lie, the time from when we said yes, to the time they gave us the final paperwork to leave the NYC branch was 1 hour and 15 minutes. Yes. 1 hour and 15 minutes. The salesperson was nice and kind and appreciative of our patience. But I have to believe most folks would have thrown up their hands sooner and walked out. Be warned.

I bought a silver accent table and a vase from Ethan Allen. Needless to say that the quality is amazing. They first sent me a damaged table which I returned with no issues. They placed an order for a new one and waived the shipping cost without my asking them to do so. Great company and service.

Ethan Allen is not the same high-end store it once was about 25 years ago. I recently purchased 4 dining chairs which have been a total loss to me. I emailed a picture to my designer of my current dining room table and told her I wanted to get new chairs to match it. The color of my table is mahogany. When I received the new chairs they are black. Ethan Allen refuses to exchange them. They said the color is within 'value". Lol. They completely ruined my Xmas this year. Not to mention losing the money I lost. Do not shop at Ethan Allen.

I hate to admit that my husband was correct in telling me to stay away from Ethan Allen, but he was totally correct. A large area rug that I paid top dollar for has faded horribly, despite the fact that it's in a room that's not sunny AND all the windows are covered with custom Ethan Allen treatments. I'm sick that I have to toss this rug. What a waste of money. My mother was loyal to Ethan Allen. The quality now is AWFUL!!!

I searched high and low for a new sofa. I've had many sofas, my last being from Mitchell Gold which I was very happy with and still own. I was excited to work with Ethan Allen as I thought I would be getting a fantastic new sofa. Nothing could be further from the truth. My experience since the delivery of my brand new sofa has been a nightmare.
The new sofa arrived with several stains which they say came from the delivery truck. I guess this is the same delivery truck they tout as "white glove delivery" and that I paid extra for on top of my $4,000 sofa. All the stains could be removed but one which their repair man spent an hour trying to remove. It is on the front panel of the sofa. Ethan Allen's fix - to run another dye lot of my fabric, rip off the front section and place on a new front panel. Now I did not pay that kind of money for a damaged and repaired sofa. Dye lots vary between 10-15% color-wise every time they are run so now they are trying to push off to me a pieced-together sofa.
I spent a weekend going around to furniture stores in the DFW area (Crate & Barrel, Ralph Lauren Home, Mitchell Gold, Pottery Barn) asking about how they would handle this situation. To a furniture store they said: "well if we tried to get out the stain and we couldn't, we would tell you to keep the couch until we could deliver you a new one." Beware furniture shoppers: if you expect a company to stand by their product DO NOT SHOP AT ETHAN ALLEN!!! I will update this if anything changes but I am using every means I have necessary from Facebook, Twitter and my membership in the Junior League to warn everyone NOT to shop at Ethan Allen. I will update this if anything changes.

We've been (had been, I must say now) customers of Ethan Allen for couple of decades, and had always enjoyed everything purchased there. The design and quality was always evident, hence we didn't mind the prices. However, after a long gap in buying furniture (we were still buying little things, accessories, paintings, mirrors, etc.), we've ordered custom set of sofa + chair. Waiting 2 months was not a problem, however, we were a bit nervous after reading all the current reviews about how E.A. is not the same anymore, etc. Unfortunately, we have to confirm that it's 100% true, and in fact, Ethan Allen is NOT what it used to be, quality wise.
They did, however, fool us by showing "similar" display items, based on which we've made our order, however, what we received wasn't nearly as good. The chair is practically useless, impossible to seat on, bulging bottom pillow with 100 psi pressure assures it. The sofa actually had a thin steel nail nicely poking on a side of arm rest, so my wife cut her leg pretty bad on the first day she just passed by it too close. Took me some effort to go around all seams, and pull all such nails out (I found a couple, btw). This "craftsmanship" is good for somebody's basement work, but company with reputation should definitely do better, especially considering the price levels, and number of other choices consumers have nowadays. I'm definitely not coming back to them, regardless, I'd rather shop in Home Depot.

My husband and I had the great displeasure of working with a sales associate at Ethan Allen named Margot, who I now call "Not working with a full deck Margot," because she is either a pathological liar or a delusional crazy person who sees the world in a different, alternate way that's clearly not reality. I strongly believe she is the former, a pathological liar who is only interested in making herself look good, even if that means telling two sets of lies, one to me and another to her manager. The worst of it is that after speaking with her Manager, who tells me yet another one of her lies, the Manager says that "Margot is currently having personal problems."
No, I think "Not working with a full deck Margot" has issues, not personal problems, that probably won't get resolved until she seeks serious professional help which would probably start with her admitting to herself that she is a ** artist who can't remember how to tell the truth. This is sad, because we're talking about a 65 year old lady who is acting like a lying 16 year old about why she wasn't in class. Personal problems should never be an excuse for lying sales associates.
What's infuriating about my ordeal with Ethan Allen is that they feel that it's ok that their salespeople are unethical, lying sociopaths that are apathetic to their customer's needs. I'm sure "Not working with a full deck Margot" got a promotion after this... because after all, she still made a big sale! In short "Not working with a full deck Margot" made a mistake, I called her out on it, she put it on me (not her fault), then I had evidence to show that she made a mistake, she apologized, said that she ordered the new product, never heard back from her until I called the store directly, then she said that she ordered the new product.
Then she proceeded to tell me about a scheme of how she ordered the new product so that we just have to pay her directly for it rather than through Ethan Allen which will save us money (I then came to the conclusion that I was working with a back alley furniture dealer, and unfortunately "Not working with a full deck Margot" was our handler).
Finally I spoke to the store manager, who looked into the order and said that the product was never ordered, and that it would take an additional 6-8 weeks (we are now in September and we originally ordered the product in June). After the Manager's half heartfelt sorry, was when I got upset (you can see I have a lot of patience), and canceled the order and said if she wanted the product that was incorrectly ordered she could come to my house to pick it up, which she did, and said again "sorry" and that "Not working with a full deck Margot" "forgot" to order it. Not surprised, another lie from "Not working with a full deck..."
I was polite and nice and just said that you have a "deceptive, lying" employee working for you. She wanted to let me know that this is not how Ethan Allen does business. Unfortunately, it is exactly how Ethan Allen does business, because a business is only as good as their employees. Her lack of ethics, transparency, and honesty directly reflect on Ethan Allen. Bottom line - Ethan Allen does not care about their customers. As my family continues to grow, we look forward to buying more furniture. Needless to say, Ethan Allen will not be in our purview.

I had the worst services you could imagine having at a wedding. Their staff was very rude to me and my guest. They rushed and harassed us to hurry up and get to the ballroom when my family and I were taking our pictures. They served us our food an hour later than the schedule time and then started throwing away the food before we could even finish, saying that they had to go home. I had a really big beautiful cake that they didn't even serve to my guest instead they toss the WHOLE cake in the garbage. I paid for a 10 hour cocktail and they didn't even serve the whole 10 hours. They were rejecting my guest drinks.
After everything was done and over I went to the Hotel suite and realized they switched my room without even notifying me, claiming that they had a bigger room for me then a security guard came to the room saying he got a call that my room was having a party, which we weren't. There was only three people in my room including me. And when I went to the front desk to make a complaint the worker guy was being very disrespectful towards me so I just left and went home.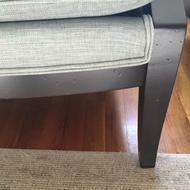 We purchased 2 Grayson chairs from Ethan Allen. They arrived with about 60 small dents on the wood on 1 chair and about 25 small dents on the 2nd chair, making the chair quality look 2nd hand. Ethan Allen sent an "expert" out to inspect the chairs and he informed us "ignorant wood finishing customers" that the chairs were in fact "distressed wood" and the dents were NOT a sign of damage. But, We NEVER ordered "distressed wood finish" furniture. On their website and in their show room the wood is sold as "exposed wood" finish. He said he could "REPAIR" the dents for us and so we would have "REPAIRED DISTRESSED WOOD FINISHED CHAIRS"! AT FULL PRICE!!! $1,500 EACH!
But, surely if the chairs were in their "normal distressed wood state" then what exactly is he "repairing"... The "expert" couldn't answer this but he could explain what distressed wood is to us in detail. Yet, In his explanation of distressed wood it didn't explain how these specific DENTS (enclosed photo) happened. Waiting on Ethan Allen's response... Meanwhile would love to hear any similar experience on distressed wood finish vs. damaged wood please...

Abuse of power and lack of basic integrity. Probably one of the worst experience with any furniture store I've ever had. Management is unreliable, pushing pushing pushing for results. Has no customers so asking their designers to "Convince any way possible" to purchase their furniture. Even it is clear the customer already purchase what is necessary they will keep on pushing you to buy more. Total Ripoff.

Thirty years ago, I bought a sofa and a love seat from Ethan Allen and had that furniture for 25 years. I was very satisfied but when moving to a small condo needed smaller furniture. I worked with a designer who helped me find a very nice striped sofa and a plain colored love seat. I said I needed a rug and she helped me design an area rug to coordinate with the furniture. Two months later when the rug came, I thought it had a rose-colored hue that clashed with the red in the sofa (it was supposed to be khaki).
Two friends who are artists came to visit and each exclaimed, "Why did you get a pink rug?" I called the designer who, after looking at the rug, said that the rug was all wrong. For 4 months, I tried to get a new rug or my money back. I got nowhere. Finally, I accepted 50% (the district manager said he was "doing me a big favor" giving me that). I used the money to buy a wedding present vowing never to buy a thing from them again. Now I'm looking for chairs. Looking everywhere but Ethan Allen.

I have been a loyal customer for years and have spent over $100k. I have purchased 6 sofas and the last is just horrible. From day one, the fabric started getting weird marks then the fabric started stretching on the cushions so the edging is moving down cushion. This is a summer beach house with weekend use. No little kids and not main sofa and it looks like a 10 year old sofa. My designer left and now I'm dealing with the store manager Ed ** and he's been useless in getting this resolved. I just want my money back! Beware. I was once very loyal. Not no more! I will update if this gets resolved to my satisfaction.

Bought an incliner couch from Ethan Allan. Thought they were a top notch company. NO! They aren't. Can't sit in the couch without a headache. Top of couch pushes our heads forward. Company says we need to break it in. How do you break something in if it's so HARD you can't sit in it? The seat sits at a 20 percent declining angle before you even sit down. Then you sink into it with your neck being thrust forward. I kid you not. When you get up from the couch the back cushion is shoved down under the back cushion so that the bottom cushion pops up 4 inches every time you get off. They sent an independent "furniture expert" to look at it and he "apparently" told them nothing was wrong. Hmmm....paid by company, guess he knows where his bread is buttered. I'm 64 years old and thought we deserve a good quality sofa. I'm going back to Macy's. Meanwhile, the $5000 couch is sitting in my garage.

Poorly made. A leg fell off dresser, it had almost nothing holding it on. Turned it over, fixed it myself and I'm a woman - It wasn't easy. OMG They said it was my fault! Took over a yr to get a bedspread, it was wrong 3 times. They said I bought a new bed. Ordered shades, when it was time to get them took old ones down... They didnt show. When they did come - WRONG SIZE! I had sheets at my window for 6 months. The bedspread was so heavy I gave it away after 3 months. The shades started falling apart after only 6 months. I have no kids, just me. Wanted to send everything back. They were going charge me 20% anyway. WHAT?? The designer said she used to own her own business (used to) should have listened to that. I'll never go there again. Rude people. No wonder so many stores have closed. Poor quality rude people.

I ordered several pieces of furniture in early April 2016 at the Ethan Allen Jamestown Manor store in Pasadena, CA. I put 50% down and assumed that I would pay the balance at the time of delivery. Today they called me to let me know that my items are ready for delivery, but first I must settle the balance before they call the delivery company. Further, the delivery company schedules the appointment.
I have purchased furniture from Ethan Allen for years, and in several different states. I have never had to pay before delivery. I told them that I never pay any company in advance. I argued with the store manager. I've decided to pay and hope that the delivery goes well, and that the furniture is in good shape. So they win this one; however, I will never do business with them again, and I feel great satisfaction that I can write this review and share it with so many people--so thankful for social media!

Drapery contract entered into at no charge on 11-07-13. They are now trying to collect an additional $397.15 on May 30 2016. Viera Design Center, stay away.

I bought some couch in 12/2015 as well as curtains. Once the couch was delivered, there was several defects and it took almost 10 weeks for their customer service to correct it. Now, we hang the curtains and they are 8 inches too short! Went back to the store and they told me there is nothing they can do!! The customer is never right with this company, no matter what. I have now spent countless hours trying to resolve this issue. Do yourself a favor and DO NOT SHOP here!

Buyer Beware - Ethan Allen now manufactures furniture in Mexico though they represent their furniture is made in the United States as American made. I have been a shopper with Ethan Allen for over 25 years because their furniture is advertised & represented as American made, being made in United States factories. I worked with an E.A. sales associate for the past year in Melbourne (Viera) Florida store and have told this sales associate on multiple occasions that I ONLY buy furniture manufactured in the USA & made in an American (United States) factory. She has always assured me on each & every occasion that my ordered furniture was made in the United States.
I now discover I was deceived & lied to as my recent couch purchase has a consumer origin label that it was manufactured in Mexico. I also discovered chairs purchased last year also have consumer origin labels of manufacture in Mexico. The company appears to want to make a higher profit on their furniture by deceiving the public by now making furniture in Mexico but implying they manufacture only in their United States factories. Ethan Allen cannot be trusted & is deceptive in their consumer business practices.

From the moment I walked in the door I sensed a commission quarrel among the salespersons. I had previously ordered a dining room set for $6500 that kept being put on backorder for several months to the point that I canceled and was able to get a refund. Only then did I check reviews. Until that time I had the impression that Ethan Allen was the company it was 25 years ago. It's NOT. More recently, because my decorator selected it, I went into the store to order some grasscloth. Another fight over whose customer I was ensued. The product appeared to be overpriced by about 400% for Lowe's quality. Until my memory fails, I intend to never go back. Poor service, quality, attitude, value, leadership - need I say more?

We purchased a Lynn sofa in Feb 2015 which was delivered in May 2015. By November 2015 both of the back cushions and pillows had shed so many feathers that the cushions appeared to be deflated and bi-weekly vacuuming was required to keep the room feather free. The store said the cushions were down - they are not down they are feathers. The bottom cushions had no structure either and no longer appeared like the store model. The Ethan Allen store referred our complaint to "customer service" which resulted in a visit to our home to proclaim the sofa was acting as it was supposed to (killed time).
Then, the salesperson brought out the cushions from the store which were not shedding feathers and the seat cushions were 3 inches thicker than the cushions that were delivered with the sofa. DO NOT purchase the Lynn sofa. Ethan Allen is NO LONGER providing high quality upholstered products. The last sofa we purchased was 17 years old when we retired it. I can hardly wait to get rid of this horrible uncomfortable Lynn sofa.

We bought a bed, chair and 2 chandeliers. The sales rep, June, was extremely helpful. We painted the walls and ceiling in our bedroom based on her recommendations and it looks amazing. The chandeliers have been late. The first one needs to be re-ordered because one of the lights is not working. They send a technician to look at it and said they would pay for a electrician to take the first one down and hang the new one. The second light arrived today and have not hung it yet. June has been very responsive and keeping informed of our delivery. Ethan Allen has been so much better to work with than the other major furniture companies we are currently working with (Arhaus and Pottery Barn).

I have been interacting with Ethan Allen since late last summer. I ordered a cabinet for my foyer and a designer came to my home to see my home and draw up a plan for my foyer and living room. It involved a $20,000 expenditure to get started. I liked her choices, but decided to take things slow since I'd not done business with them before. I ordered a couple of rugs, the foyer chest, artwork, and large metal sconces for the wall. With the exception of one of the smaller pictures, I had complications on different levels on all that I ordered. The store manager told me that Ethan Allen can't control their manufacturers or suppliers in spite of their claims to superior quality. All that has been said in these negative reviews has been my experience also. The worst is the disdainful and disrespectful treatment.

I purchased a $3500 motorized leather recliner March 2015. By November 2015 the motor had stopped working. The customer service department was very bias but did refer it to the repair department. Suffice it to say I am still waiting for my $3500 chair to actually recline. It had been 3 months... the replacement part arrived in 1 week. I only called once to express concern and was told "you must be very dependent on that chair". Omg yes I am. I had shoulder surgery and needs to sleep sitting up. This was the reason for the purchase. I also purchased an $1100 ottoman and a $5000 sofa. When the sofa was delivered they were not smart enough to remove the legs until it was stuck in the door frame. By that time the woodwork had been chipped all the way up the stairs. Please don't buy their overpriced furniture. The extra they claim to do for the customer does not exist.

In September 2015, I ordered two Connor Leather Recliners. The chairs were delivered without the ability to recline. They took them back to fix them and redelivered the chairs without the ability to recline. The delivery people tried to convince me that if you jump on the chair in just the right spot it would recline. I waited several weeks, then Ethan Allen sent someone to the house to try and fix them for a third time. The repair person was unable. I waited several more weeks, while the people at the store sat on their hands, and insisted on some resolve. They decided to reorder the chairs. Well guess what, the new chairs came in with the exact same problems. They don't recline.
Ethan Allen called me and told me that I can get my money back or order something else. I told them that I just wanted what I ordered and I wanted it to actually recline as it should. It's now February 2016 and I'm still waiting on two reclining Connor Chairs. Meanwhile I have the original two broken recliners in my house and I'm paying on chairs that don't work.

We bought a large wooden dining room table, 6 chairs, and a breakfront. I don't have the receipt, but it was expensive around 7 grand. Our old Ethan Allen table -one we had for 40 years we gave to our son. It was in great condition. So went returned to Ethan Allen to buy our new set. 1 1/2 years later the color around the ledge is fading and Ethan Allen is disavowing any responsibility to help us fix it. Very, very disgusted with Ethan Allen's attitude in helping dedicated (no more) customers.
Ethan Allen Company Profile
Company Name:

Ethan Allen

Year Founded:

1932

City:

Danbury

State/Province:

CT

Country:

United States

Website:

http://www.ethanallen.com/