Consumer Complaints and Reviews

Dunkin' Donuts prices keep getting higher and higher. They are the ONLY coffee shop that charges extra for almond milk vs. cream and sugar. Their cappuccino/latte prices are almost as high as Starbucks especially when you request almond milk that they add an additional 50 cents for. I'd rather go to Starbucks now, and for the same price get a true espresso/latte made properly with no added charges for almond milk. When you get a coupon for a free coffee drink, they still charge you for the almond milk, but it's suppose to be free right???

In the north Ridgeville Dunkin Donuts is poorly managed there in never enough of fresh doughnuts and the doughnuts sometimes sold are so stale you can use them as a baseball. I prefer the north Olmsted Dunkin Donuts. Would like to see an improvement so the place stays in business.

I go to Dunkin' almost every day for a Large Iced Caramel Latte (whole milk and 1 sugar) before work. Sometimes even on my days off. I have been going to DD for almost 6+ months now on a regular basis and I can say with total confidence that Dunkin' Donuts has a big problem with the quality of their services being consistent, at least around my area. I switch off between two different locations and despite me ordering the same thing every day, my Latte will vary in taste dramatically every 2nd or 3rd visit to either of these locations. Sometimes it tastes like burnt coffee, I don't understand how but they manage to make it wrong or differently so often. When they get it right it's amazing but I am reaching my limit with how often I get terrible tasting lattes.
At first I kind of shrugged it off but after the last few visits where I was given an Iced Latte instead of a Caramel Iced latte (which I spoke very clearly) or given a hot instead of ice, or given a med instead of a large, or given soy milk instead of whole (wtf?), or no sugar, or if I order food being given the wrong order, I am getting really fed up.
I am usually one not to get so upset, as I understand mistakes happen but this is kind of ridiculous. Today was the straw that broke the camels back when I went to DD and placed my order. When I drove away and took a taste, I realized they had given me the wrong order. It looked right but tasted nothing like a caramel iced latte w/ whole milk and 1 sugar should. I could have turned back around but I had to get to work. Part of me blames myself as by now I really should know better to taste/check the order is right before leaving but I feel like that shouldn't be the customer's responsibility to make sure the workers are getting it right!
The customer service is usually fine, although the 2nd DD I frequent often has this spastic lady who cuts me off in the middle of my order all the time but I can ignore that. I am so upset about this given the fact that each of these lattes are almost $5 with tax. They are freaking expensive (to me at least) and to have my order messed up or taste off so often is just not worth it anymore. Like I mentioned early on when DD does it right I LOVE my lattes but this problem with inconsistent quality is driving me nuts.

I worked at two locations and was never paid. I worked October into November. I have called both my managers Brittany and Mike but they never return the calls. To put icing on my crappy cake -- these people even filed taxes stating that I had earned 500+ on my last check. I had to pay taxes for wages that were never paid to me!!! I need help getting my money, I am poor literally living at a shelter now. My managers were Brittany and Mike. They never return calls and purposely dodge me when I call even when I see their cars/expedition there.

I bought a large coffee cup and was promised in will ALWAYS pay only 99 for refills. I was at a location in Las Vegas on W. Charleston. They charged 1.61- I called corporate. They simply said "we can't help. Each location is independently owned and they can charge what they want!!" I never would have bought the travel cup had I known this. Other coffee places that unlike Starbucks, Coffee Bean, and even Bruegger's all adhere to the same prices you are originally told none of this in switch and bait business. At the very least because I was told an untruth they should have sent me a 30.00 certificate or anything to absorb the future costs. I believe this should be a class action suit for false advertising.
How do I know I can trust these reviews about Dunkin' Donuts?
697,993 reviews on ConsumerAffairs are verified.
We require contact information to ensure our reviewers are real.
We use intelligent software that helps us maintain the integrity of reviews.
Our moderators read all reviews to verify quality and helpfulness.
For more information about reviews on ConsumerAffairs.com please visit our FAQ.

We've gone to DD for years. Recently we've been to 3 different DD and the coffee taste terrible. It's very very weak. The last purchase a few days ago was returned. They told us that DD has recently changed their coffee blend. What a bad move. We will not go back. We got a gift card for Christmas but I will give that away. The coffee now tastes like a cup of hot water with a spoonful of coffee added.

I stop in different Dunkin Donut locations in the Chicago area. I've noticed that the chocolate on top of the donuts is much darker, it hardens and is not as sweet as it used to be. I've asked store manager at 3 different locations if they have changed the chocolate. All said no. That is simply not true. Trust me, I'm an expert. I don't know why they have gone to this type of chocolate but I'm guessing it's more profitable for the company. That might be true as far as product cost but not when they consider all the customers that they are going to lose starting with me. Disappointed.

I have sent a note to Dunkin' Donuts how when I got in my car the large skinny latte slipped in my hands. Went to grab it from spilling and to stop it from falling it splashed my left eye lid, cheek, chin, neck and chest. It spilled on my shirt which made it burn more. I have sent a note. Nobody responded. I was on my way to the dentist, for witness and pictures. Thank you. No receipt given.

Dunkin' advertises perks and does not follow through! As of now they owe me $10 plus in perks and no response to the 5 emails. Have called several time with a 30 min or more hold. They have no intentions of correcting this app. Don't do the Perks, not worth the aggravation!! They don't deserve a *1!!

A new store opened in North Lima Ohio 44442. After 3 times stop to buy beans, they (assumed) were out. Asked and was told by clerk they do not carry beans. Her excuse was they are all different and this was privately owned. Not a good excuse. On that note headed out to Columbiana store, 44408. Purchased them many times there, but they were out. Asked a clerk and was told new manager of 1 month did not reorder. Gave benefit of doubt and stopped back as they are on sale now. Still none and not even an empty spot on shelf.

I stopped at the DD by my house because it was nearby. They opened at 5. I went at 6 in the morning. The racks are full. I ordered 2 dozen. The person behind the counter didn't seem to want to be there. I got home and the doughnuts tasted old. Within 3 hours they had become paperweights. I've had this happen plenty of times before but I figured this store by me at Bay Pines in st Petersburg Florida was new so I would give them a try. Well it was the old same thing at a new store. I guess next time I'll go the distance for quality. No receipt given so no order number.

I am new in this town and have visited the Dunkin' Donut four or five times...will never be back. The service is terrible, the doughnuts are stale, there are only a few selections, they are very overpriced and they only make my favorite sour cream on the weekend (only 5-6 MAYBE!). I was told this is the owner's instructions. Does this franchisee want to stay in business? This is not customer service... Corporate needs to do something about this.

Some years back all the DD were good, because the donuts were always fresh. Now things have changed and not for the better, not here in Delaware. I only know of 2 good DD with fresh donuts most all the time, the one in Glasgow DE and the other on RT 13 near the 13/40 split. Any of the others that I've been to unless it's first thing in the morning will sell you stale donuts and not even blink an eye. This just happened to my wife and me on 11/8/16 in Middletown, DE. I gave them good money for bad donuts. Had I given them bad money for good donuts they'd call the police.

Placed my order with one associate and while she prepared it, a second associate (the owner's father) went to take my order and after telling him I already ordered and was waiting to pay. He abruptly stop helping me, ignored me, and shouted to the following customer, "NEXT IN LINE". Very dissatisfied. Will not go there again.

What happened to Dunkin' Donuts coffee? When you get it at the coffee shop it is terrible. It tastes like the Styrofoam cup that the coffee is poured into! It wasn't long ago that it was the best tasting morning coffee available. I don't know if they changed the coffee they purchase, or they are using lighter cream, or it's a combination of both. The bottom line is it is just bad. Time to get my morning coffee from McDonalds. The Dunkin' Donuts company is making a mistake in getting cheap with their signature product. People are not stupid. They will leave. Interestingly, the bagged ground Dunkin' Donuts coffee I purchase at Stop N' Shop is has not changed and still tastes great.

Dunkin' Donuts sign outside of establishment. I stop by before going to work after seeing two billboards. I stop by to get breakfast... "So sorry. We don't serve donuts or hot meals only self-service Dunkin' Donuts coffee." I was really upset. What a waste of time!!!

DD in 60044 Lake Forest at Waukegan and Rockville Rd. Amazingly painful. Clerk overfilled a large coffee last winter, lid popped, burning my wrist with second degree burns. I am not someone who seeks recompense for things like this, but it sure hurt at work the next two weeks. Glad to hear they support the military overseas. Now I know why when we deployed, we bought 20 pound bags of Starbucks with us.

I bought a cake for my mom's 50th birthday from this store at 9 p.m. Well the cake was nice looking and everything. But when we tried to cut it at 10:30 pm we were struggling really hard. 4 to 5 people tried to cut it with a knife and we had to wrestle with the cake to cut it. The frosting started to melt but the cake was almost impossible to cut. At last when we were finally able to cut the cake after messing it up really badly it tasted like ice. It felt like it was an old cake. Well I bought cakes from dunkin donuts before and it was never that bad. It tasted like pure **. As it was my mom's 50th birthday it was really special for me and the cake made me so upset.

Usually Dunkin Donuts comes out with a new sandwich every six months or so and they are sometimes creative and somewhat tasty. For a fast and hot breakfast, this might fit the bill rather satisfactorily. However, in saying this, I just experienced their new Belgian Waffle Sandwich and I have to give this one the thumbs down in a very big way.
Let's start with the signature and "so-called" Belgian Waffle. It was not prepared properly to begin with, otherwise it would have been toasted crispy with a golden brown yumminess and still tender on the inside. I received a very pale, but hot steamed waffle which was horribly undercooked and doughy. It had the consistency of a nasty mealiness and stuck to the roof of my mouth. I had the chicken, and it too, was barely cooked, and mushy. The entire mouthfeel was dry and barely edible.
If they wanted to make an impression on a new sandwich many things needed to be done. Toast the waffle to a nice crisp before adding ingredients. Actually toasting each item separately and then assembling it afterwards would have made a huge difference. It also demanded a sauce of some kind. In this instance a maple syrup sriracha butter would have been both delicious and added much needed moisture and a little heat. Do yourselves a favor and pass on this one unless they change the recipe and improve it significantly; there are no redeeming qualities with this one. They should hire me to design sandwiches for them. I have some fantastic winners.

It never fails. EVERY SINGLE TIME I go here they get my order wrong. No toast means NO TOAST! I stopped going here for a while but decided I was being silly and tried again. Guess what, WRONG, WRONG order! OMG, people is it really that hard not to toast a bagel? I mean, seriously! Oh and ladies, pay attention to the female workers there. Last time my husband got a phone # in his bag with his doughnut, and yes, I was standing right there next to him. Can you say... Rude!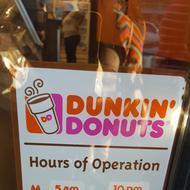 Ordered a decaf ice coffee, and was told by a very rude employee, "We don't have decaf coffee here". Walked away, and started on his cell phone texting. This particular establishment is located on 506 Clarkson Avenue. This was around 6:45pm, date, 8/7/2016. This is unacceptable. Dunkin' Donuts needs to give customer service classes to this individual. Totally dissatisfied.

I frequent DD on a regular basis since the introduction of the "Frozen Hot Chocolate". I have become a big fan of this delicious cooling drink when it's made as requested. I always ask for extra cream/milk and sugar to be added because I like the rich flavor it gives my frozen chocolate. Well needless to say I hardly ever get what I ask for. Being polite and asking me "What can I get for you" is nice, but why ask if you're going to give me what you want me to have, and 9 times out of 10 this happens. I don't need a lecture about what it already has in it. I'm a paying customer so give me what I ask for... Please!

I ordered a strawberry banana smoothie expecting a healthy smoothie made from strawberry and banana. The ingredients were: milk, water, sugar, strawberry powder, and then lots of chemicals. The main ingredients should have been: strawberries, bananas, ice. I took one sip then threw it in the trash.

When EVER have you entered a Dunkin' Donuts and they had ABSOLUTELY NO DONUTS? It happened to me on 7/9/2016 at 6:45am. I stood on the line for about 7 minutes before the workers even acknowledged me and I had to get their attention for service AND I was the only one on the line. Not only that they started speaking another language and looking at me as they laughed. At 6:45 am EVERYONE is expecting Hot Coffee and Fresh Donuts, NOPE not at this Dunkin' Donuts... And the sad part is that the workers found this funny. I didn't. I found this to be SAD. Never again will I enter this Dunkin' Donuts store or probably any Dunkin' Donuts establishment. I love Dunkin' Donuts but there is a BAKERY 2 blocks down, I'll pay the extra money. At least I'll know the donuts THERE are FRESH and the service is POLITE.

I go to Dunkin' Donuts almost every morning for a cup of coffee. I am feed up with the constant mistakes, the staff never gets the order correctly. I don't tolerate cream and always ask for whole milk, but for some reason always get cream, even though I specifically ask for milk. I complained directly to a store manager, and he apologized yet the mistake still keeps happening. This is not in just one location, this is in multiple locations. The cost of the coffee goes up yet the staff is so poorly trained and I think overwhelmed. I ask for milk and extra sugar. I get cream or I get dark coffee with no sugar. I have suffered from problems with my stomach due to the mistakes and I also am starting to worry about what they're doing behind the counter and nobody can see them making the coffee either. Very disappointed at the way Dunkin' Donuts handles their business.

I often go to DD for coffee and I'm satisfied with it. What I dislike are the old fashion donuts. I'm an avid fan of old fashion donuts, but the ones at DD taste and feel like they are deep fried regular unglazed donuts. They need to be more dense (not fluffy) and have a crunchy outer glazed texture. I have tried the old fashion donuts at several DD locations around me and I'm very disappointed because they are all the same. :(

I've known Dunkin' Donuts since I was a little girl. My parents would bring home a box of munchkins having assorted flavours, but my favourite one is the white bavarian-filled munchkin. It was only when I've grown up that I learned to appreciate the other flavours of munchkins and they're all sooo good! Sometimes, they may feel a bit dry in the mouth but they're scrumptious nonetheless. There came a time, several years back, when all these other doughnut shops started coming out of nowhere. I've tried them all, and they were good, too. But honestly, they tend to be unnecessarily expensive, which is why I still often opt to purchase from Dunkin' Donuts when I crave for doughnuts. They also have a selection of refreshments which I believe are good too. Dunkin' Donuts is my trusted brand of doughnuts and now that I have a daughter, I've introduced the munchkins to her as well. :-)

When I get donuts and drinks, the donuts are hard and the drink is not correct. I give this place 1 star. They should replace all the Management.

I live right across the street from this location & easily spend around $400 a month there. I didn't even mind waiting in their outrageous line every morning just to get my coffee which was always inconsistent. I have repeatedly given them chances thinking oh it was that employee or whatever excuse but the truth is they have inferior training for these moronic young people who want money but don't want to work! The old manager lady is so overworked & run ragged that she doesn't even care about customers anymore. Day after day they give the wrong item even after repeating out to me when I order, to the extreme of I ordered a big & toasted with sausage & got a croissant with egg & no meat! Maybe they were concerned about my cholesterol? Yeah right!
My girlfriend has had many an unhappily visit there over a simple dunkacinno that they hardly ever got right. Tonight was out! I have had it, my girlfriend was coming over after a long day of work & she hasn't had dinner but all she wanted was the new milky way Ice cream in a s. So she went to the store at 11 pm to get us a couple of ice creams for us. The door was locked but drive thru was available so she went around and carefully placed her order, the guy repeated it twice correctly. The girl behind counter made them, needless to say when she got home the ** hit the fan. She asked for no nuts & hers was loaded with them & the kicker was there was no milky way ice cream! The reason she went there OMG! I opened mine it was completely wrong.
Well it was late & she was tired & crabby so it started us arguing & she threw hers in the trash. I called the store & they said the manager wouldn't be there till 6 am. The girls answer was "well come back. I'll remake it", as to I responded was "isn't FREE - I can't keep driving up there!" So with a disgusted voice she says "well I can put your name on the board to remake it." I told her this happens way too often & that they need to be accountable. She replied "sorry" in a snotty tone that made me want to choke her. Waiting to speak to manager tomorrow, I'm sure with no satisfaction as usual! ** Dunkin'. I will never come back nor will ever stop spreading Ill will towards your stores! I am a small businesses owner & I am going to start some campaign such as trade in your Dunkin' branded merchandise get money off your bill! Don't worry I will share with all my social media outlets also!
I was told these are independently owned and the last time I complained to corporate the franchise owner responded to me. I thought we had a nice conversation & understood each other, he offered me gift certificates to which I refused emphatically & he repeatedly insisted "please take it!" The problem is they think giving me money back is the answer but I would much rather have the employees there more professional & understanding to the customers. Dunkin' corporate should step in & force change before the whole Dunkin' name is garbage! Of course she paid cash & got no receipt.

Since highschool, I've been an avid customer of Dunkin'. Our school canteen had a Dunkin' stall, me and my classmates would flock them during our first break. Their donuts are not only delicious, but also really affordable. I really love their choco bavarian (I remember one time when I told the attendant when I wanted the bavarian, the customer beside me said, "Miss, me too, 'barbarian'"). It's not too sweet and really flavorful. They have other bavarian flavors that I like, like strawberry and cream. Recently, they raised their prices but that's okay, as long as the taste is still as delicious as they have been. There are other new donut companies out there that I've tried. They are okay too but Dunkin' is still different. Also, their donuts are ALWAYS fresh. I've never eaten a bad donut from them. The next time I go to Dunkin', I'll try their coffee.
Dunkin' Donuts Company Profile
Company Name:

Dunkin' Donuts

Website:

http://www.dunkindonuts.com/dunkindonuts/en.html