Consumer Reviews and Complaints

On 9/5/2017 I made a mobile deposit to my checking account. The only reason I made the deposit was because it clearly stated that my funds would be available to me the next day. Instead my account went in the negative as the bank put a hold on the check. This check I had waited over 1 month to receive. When I called Suntrust, I explained that we were expecting a hurricane and I needed my funds to provide water, food, gas, etc. The bank was less than caring and sympathetic to the cause and refused to release my funds. I explained that I had direct deposit to cover the funds in the event it would not clear and they put me on hold and came back to advise me that they were sorry.
I am a regional manager to a multibillion company and I can say that we strive on excellent customer service. There are exceptions to every rule. I would highly recommend that you do not give Suntrust your business. There are much better banks that have a definition of excellent customer service and it is not Suntrust. I will be closing my account and will let everyone know the awful experience they will encounter with Suntrust.

I tried to report a fraud activity on my debit card account, made phone calls, first phone system took many options to figure out, then it made me to wait more than 95 min. These thing repeated for many time whole weekend, adding insult to injury, on first working day on Tuesday, also it took my 98 min and could not reach the person to contact. Then used international number to reach and shouted at operator to transfer to "a person" in Fraud department.

This grotesque business does not even deserve the recognition of a poor review, let alone a one-star award. One star gives far, far too much credit. Suntrust deserves no such thing. I deposit two checks into my account. The next day, part of the funds had cleared, and part of the funds were held. This was annoying but I understand. The transaction foot note clearly stated that the held on these funds would be cleared up on 8/30/2017. It is 8/29/2017 when I deposited the funds.
Like any normal, logical human being I made purchases with the available funds. Like anyone, I was careful NOT to exceed my available balance. However, when 8/31/2017 rolls around I notice some phenomenal had happened to my account. Not only was the hold still in place, the hold was now for a significantly larger amount than originally. But wait... It gets better. Suntrust apparently has a very savvy system in place that will retroactively decrease your available balance due to the increase in funds held two days after a deposit was and one day after it supposedly had cleared. This means that those transactions I made in the time in between were made with money that didn't actually exist in the available balance.
It gets even better. Not only was my available balance retroactively decreased they decided it was fair to tag on $36 over draft fees on EACH GODDAMN TRANSACTION THAT WAS MADE THE PAST TWO DAYS. Plus an extended overdraft fee, and a maintenance fee. My account is astronomically in the negative and no one at SunTrust has yet to give me any reasonable answer as to why this happened nor will they do anything about it. Suntrust, you are, without question, the embodiment of human corruption and deceit. If there is a God, he has created a uniquely destructive corner of hell for the men and women who "run" your company. You sad, sad, excuse for modern banking.

I'm tired of the ATM telling me I have insufficient funds and when I know I don't cause I check my transactions every day on my phone. Then when I'm on the phone talking to customer service and they are telling me my transactions are approved but I'm getting no money so I go into bank and they are saying they dont see it. First time $400 some dollars on August 18, 2017 which that was taking care of but now. Sending me an email saying they may have an error and they are reversing the 103.50 on September 7, 2017. August 21, 2017 3 transactions, one for 100.00, one for 120.00 and one for 102.50 all authorized were suppose to fix in 48 hours then 48 hours come still not fixed so escalated another 48 hours still not fixed.
Basically, first woman I talked to said my account was being frauded. Ugh no it's not. I'm sick of blocks being put on my card every day arguing with this bank. I have 500 overdraft but somehow it's up to 585. And last week when they screwed my account up it was neg 715 so they also screwing me on my overdraft fees cause out all this money I havent got back. They charged me 36.00 overdraft fees and this is their mess up not mine and I told them I will not have my account fixed with them until they fix my account themselves!! I have bills as well I always have money in the bank and I would never fraud a bank and they want to try to turn this around on me. Dont think so. This needs to be fixed please.

My cellphone bill came out of my account for 30 dollars, Yesterday the money was in my account. Well today they are gonna charge me a 36 fee for the phone bill saying there was no money in my account when clearly I had it come out according to my app. Lady on the phone was rude, my boyfriend who is ** said that he always gets a warning when he's in the negative but here's the thing I wasn't, this bank just tries to charge its members to make money off of them. This bank like all the others are frauds.
How do I know I can trust these reviews about Suntrust?
880,156 reviews on ConsumerAffairs are verified.
We require contact information to ensure our reviewers are real.
We use intelligent software that helps us maintain the integrity of reviews.
Our moderators read all reviews to verify quality and helpfulness.
For more information about reviews on ConsumerAffairs.com please visit our FAQ.

I applied for the Suntrust Prime Rewards card online on July and got approved. They sent me a letter with my credit score. After 30 days and no card I called Suntrust. This is where the headaches began. First they kept transferring me to different departments. No one was able to give me an answer regarding why I haven't received the card. Finally they tell me to go to a local branch and take me ID so that they can look up the information. I went to the branch and they called the card services. They put their own employee on hold for 1 hour trying to figure out what was wrong. They had closed the card even though I never received it. I asked them to issue a new card but they said that since the old one was closed they are not able to issue me a new card.
Keep in mind I never received the new card and it was never activated. I waited an entire month for this card and now they tell me that the account is closed and there is nothing I can do about it. How can they close my account if I never received the card? They had no answer as to why the card was canceled or why I was not able to receive a new card.
The reason I applied for the card was to have a balance transfer to avoid APR fees. I guess I'm lucky that the card was closed because I much rather pay Chase the annual APR than to deal with this terrible bank. No wonder they have 1 star rating. I guess their customer relations never checks this site because they have by far the worst reviews for customer service and overall dissatisfied customers. Please stay away from this bank at all costs. In summary I got approved for a card, never received it, account was closed, card was never shipped, "sorry there's nothing we can do about it. Try again next time". FAIL.

Suntrust's helpful, available and pushful in selling their products. They called me several times at work and at home, trying to sell their products to me.

The worst bank. High fees. No customer service. My account was compromised 3 times in 19 months. Each time there were multiple charges and no one called me. I found out on my own.

I submitted a legitimate fraud request to the bank 1 year ago. This was for 2 transactions totaling ~$800 for goods that were not received and the vendor never responded (to calls, emails, live-chat, faxes, and letters). I called SunTrust to report fraud. Originally, I was told by a lazy customer service representative that they needed only 1 of the 2 transactions and the other transaction could be added to the case later. Foolishly, I believed her. Turns out, when I called to ask why the case only listed 1 transaction, I was told that they couldn't find the other transaction even though I gave them the exact date, time, and transaction ID. Apparently, they don't keep proper records of your transactions.
Giving up on the $300, I tried to at least get back $400. After calling almost every 2 weeks, I was finally told to submit additional documentation. I did so promptly. Not just via mail, but via fax too. After that, they kept telling me to wait because they wanted to contact the vendor that charged my card. Again, I kept calling every month now to check the status. Fast forward 1 year since the original application, I received an email stating that they denied my request because the transaction was legitimate. When I called to ask what was going on, they changed their statement to, "We didn't receive documentation from you by the deadline," which is a complete and utter lie. I have some call records from this bank but I doubt I'll get my $800 back after wasting 1 year with this worthless cash grab of a bank.

Wouldn't want any part of a huge bank, like Citibank or Wells Fargo. Suntrust is regional and just OK. Too many fees, but they all do that now. Lousy CD rates, like the rest. But in good financial standing, I have read. Lobbies are clean and attractive; quite a few branches, so getting to the bank isn't a problem.

I opened a new account at the branch. I showed them a code that gave you $200 when opening a new acct with direct deposit. I specially asked the lady if I had to do it online and she said no worries I will handle everything for and enter the code for the promotion. She explained all you have to do is wait 90 days and you will receive the promotion. Well it's been over 120 days and they said that in order for me to get the promotion I had to do it online. I could not believe it. I went as a new customer was told nothing else had to be done she would take care of the promotion for me and now they blame me for not opening it online. Very dishonest.

We've not had a problem with Suntrust Banks with the exception of the inside bank tellers rarely being available to wait on customers and most are doing double duties such as monitoring the 'drive thru' as well as other office duties. This concerns us as the tellers are rushing to perform more than one task and must find it difficult to concentrate on any transaction they're performing.

Of all the financial institutions I access online, Suntrust has been the most problematic. Their online banking has improved somewhat over the past year however. When I have had online problems with them, their customer service has been very helpful. One reason I chose them years ago is that here in Florida there are many branch banks available, making them easy to find. That is less important now since I do almost everything online now.

I have had Sunstrust for awhile and this is the most sorry team of customer service and management at the branch in Indian Trail NC. Spoke with a manager Darryl. I explained how my acct on the app was -4.10 and now it's -40.10. Well it seems like he just knew off the bat he wasn't going to waive any fees from my acct due to his worker that I just argued with. She kept me on hold for 10 minutes before he got on the phone and you could hear her in his office while we're on the phone (so unprofessional). I explain to him what I knew was in my acct from the app so basically he tells me not to follow the app and it's wrong. Argues with me. Tells me that I am taking a gamble following the app and he is not going to waive 36.00. Are you serious!! Worst experience I had in a long time. This is why so many people stop banking.The manager at this bank was the worst. I will never go there again.

A family member opened an account in my daughter's name which wasn't successful and they held my funds because she stole my checks and tried to deposit them! I went through every step as I was told and it took forever for them to resolve the problem! This is the worse bank ever. They have lost my service!

I received biweekly checks which were directed deposited into SunTrust. I switched to weekly and deposited my first check into my account. SunTrust held the money from my account for 8 days even though they had "cashed" the check and had already received the funds from the other bank. They insisted I "prove" to them they had received the monies! I am closing all my accounts and moving to the bank that issues my checks. Thanks but no thanks SunTrust.

I see I'm not the only one unhappy with their experience at SunTrust. I have an auto loan through SunTrust and I wish I knew what kind of shady company this was before I got involved. I make my payment on time every month and my balance is not getting any lower. I asked about this and it seems like all of their customers service representatives are rudely trained with the same robotic response. They never want to help you. They never have a solution for your problem and NO ONE ever wants to get down to the bottom of the issue. I don't know how this company is still operating. Light stream, who does the refinancing is just as terrible. They're a bunch of rude, lying, unskilled workers who are also no help. How do we get the attorney general involved with this? I've had enough!

I noticed there was a charge for $29.95 coming out of my account every month. I realized I had no paper work for it and the statement did not say exactly what it was for. Could not get in touch with the business with the number listed on statement. I disputed the charge and asked to have it removed permanently. EVERY MONTH Suntrust continues to take out the charge and I have to fight with them to re-deposit the amount and remove any over the limit fees. I have tried every which way but lose to have this charge taken off. Can't get in touch with a person at the supposed insurance company. Suntrust says I have to go through the processing bank which is Chase. Chase says I have to go through the company where the charge originates. The company does not answer and I have no address or email for the company and I have been given different names for the company.
This is FRAUD and Suntrust seems to be in it. Do NOT bank with Suntrust if you can help it. They have serious ethics and integrity issues and I am fed up!!! I am going to change banks. I am at the end of my rope. I have banked with these buffoons for over 40 years (I think they have gone through mergers so the original bank was called something different if I remember correctly). SUNTRUST SUCKS!!!

In the beginning the bank was great. I was unhappy with CB and T, that bank I was with for 20 years. SunTrust was friendly but the online experience and debit card issues were terrible. The bank was not helpful in person either. The problems began to worsen. I am actually afraid to go inside without a bondsman to close all accounts. It's been too much of an ordeal. They apologized at least, CB and T never did that. It was terrible and it started so great.

Fake checks were deposited in my child's account by other teenagers that also took my monies. Suntrust won't return my money or the fees. I have been dealing with them for a number of years. I am very disappointed in their service. My mother opened up my account when I was 18 now I'm 56. I started my son's account when he turned 4. This is the thanks I get for long banking with them.

SunTrust has been taking money out my account for no apparent reason. Every time I check my account I always make sure I check the available balance as needed and when I withdraw my account I get an additional pending charges that our previous from two to three days later from the merchant. It doesn't make any sense to me. When I had Wells Fargo and Bank of America, Bank of America has not ever treated me so wrong and Wells Fargo has not ever treated me so wrong. When SunTrust they don't give you an explanation and don't explain to you the correct way of doing things. They are a scam artist in there taking people money for no reason.
They cannot be trusted and they does not put their customers first. My receipts, my screenshots do not lie, my ATM withdrawals do not lie, the receipts that I received there telling me it doesn't matter because it's not from a branch. I have branch receipts they still have not gave me my money and my account is still negative. These people are unprofessional and they're allowing their merchant to cause my account to be negative. I have not ever been this broke in my life and I'm trying to rebuild myself back up and I make transactions and I make deposits and I actually work for Lyft and Uber and I feel like Uber and Lyft should step up and make their own bank so we can feel safe to make our deposits because I cannot go to work cause I have no money because the bank took it. I need help. I need someone to help me with this situation. I have not ever been treated so wrong in my life and I have not ever took a dollar that I have not earned.

Suntrust and its accounting procedures are costing me money - the bank will not accept electronic transfers unless you have a bank account with them. I have scheduled payments to go out from my bank 15 days before payment is due, and every 4 months, the bank says they did not receive the payment on time and hits me for another $40 late fee. These guys are either incompetent or criminals.

I got a new mortgage with Suntrust and that experience was very positive. However, once, they had my info they actively sought to get my other banking business. I set up a checking, savings and credit card account which I have found much less customer friendly than with other banks. There are small things, such as their ATMs can only give $20 bills rather than cash in various denominations (as I was used to with PNC). And then there are things that just waste time, such as the menu on their customer service phone line that has a very detailed and restrictive menu system that takes an inordinate amount of time to get to a live representative and then even longer to get to the correct representative. Add to that incorrect information and lack of knowledge by some of their phone and branch reps and it just creates an overall negative customer satisfaction experience that I cannot recommend to others.

I opened an account online only because years ago I had an account with you and had no issues. So with us relocating back to the East Coast I figured, "Why not?" Yep. The biggest mistake I ever made after my uncle sent 3 mobile deposit which were part of my inheritance. You closed it within an hour and I have to wait 15 days for that money to be sent to me. Well thanks to you guys my family has been evicted from our home and now have nowhere to live other than our van. So you will be hearing from my attorney.

SunTrust bank can lose more deposits than any other bank I know. They once lost a cash deposit through a teller! Thank God I kept my receipt! But it still was a few days before they could put my money back, not to mention the hassle. This time it is a mobile deposit that was deposited then removed! And that it's going to take 7 to 10 business days to retrieve! When my checks run out this bank will be history.

I filed a claim with Suntrust and they are having me jump through hurdles just to FILE the claim. I went online and filed via the online site and they had me fill out this long application for the claim. I filed it along with proof of my claim and thought I was finished. I checked my email and they are having me fill out a physical paper and making me fax it back to them. Mind you the paper says exactly what the online claim said. So I'm confused as to why I have to do an electronic claim AND a paper claim. I'm EXTREMELY dissatisfied with my account and will close them as soon as I can make it into a branch.
My Bank of America and Wells Fargo accounts have never ever put me through so much hassle. Bank of America all I have to do is call and file the claim and I have a provisional credit in as soon as 12 hours. Wells Fargo is the same way. I'm also disappointed that Suntrust does not have temporary cards. Suntrust, you guys need to catch up with the times if you would like to stay relevant. But that's just my opinion.

I used to love dealing with Suntrust. At some point, they started outsourcing their calls and it became a nightmare. For one instance, I spent three hours on the phone with five different calls and four different stories to find out what was preventing a payment from processing when money was in the account. The call center is all too quick to give you a generic answer or "Best guess" rather than to help you actually resolve the issue. This has happened with other issues, where you are given an incorrect answer just to get you off of the phone. Additionally, if you are subject to your card being stolen, you will not be able to reach them 24 hours a day. I am changing banks and looking for someone who cares more about their customers and less about saving money by outsourcing staff.

Suntrust has been overcharging my account for OCM analysis fees for at least two years. The charges are around $1000 a month spread across 13 accounts. I brought it to their attention in January. They still haven't resolved the matter. I have asked to talk to someone at the main office and have been told they are not trained to talk to customers. The people I am allowed to talk to tell me they can't help me... they agreed I am being overcharged. I have emails from the internal people admitting they overcharged me and owe me refunds... and the people that CAN help me... well they are not trained to talk to customers... that is what I'm told.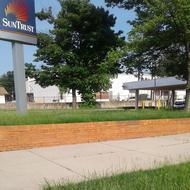 I was thinking about banking with them because it is close to my job. This Suntrust is not in the best area but that doesn't mean it looks like it's abandoned or a prop in a scary movie. The outside looks terrible. The grass has to be at least 7 to 9 inches long. I never in my life seen anything like this. In my life its a disgrace and a shame. It's the Oxon Hill MD and Eastover branch. I really hope someone read this and do something about it and I know this might be something silly to complain about but this is just so uncommon.

I recently opened a checking/savings account. I made errors in my account and became overdrawn a couple of times but immediately put funds in the account. I made a mobile deposit a check from another account into Suntrust, realized the very next day that I deposited the wrong check. Contacted customer service and asked if the deposit could be stopped. Explained the situation. I was told "no" and that the check would just come back as a return deposit item.
Fast forward to 5/17/17 my ATM card would not work, contacted Suntrust who told me due to the return deposit item my account was flagged by the FRAUD dept. and all funds are on hold and the accounts are being closed. My social security check was just direct deposited that day and I cannot access my FUNDS. No refund for 10-14 days. In VA I am pretty sure it is against the law to freeze social security benefits!! They are a bunch of idiots and I am going to consult an attorney.
Company Name:

Suntrust

Address:

303 Peachtreet St, N.E.

City:

Atlanta

State/Province:

GA

Postal Code:

30308

Country:

United States

Website:

http://www.suntrust.com/