Written by

Edited by
Our promise. We provide a buying advantage with verified reviews and unbiased editorial research.
About Newrez
This profile has not been claimed by the company. See reviews below to learn more or submit your own review.
Newrez (NMLS #3013) is a mortgage lender that originates conventional and government-backed loans, including VA and FHA loans. In 2022, Newrez, doing business as Shellpoint Mortgage Servicing, agreed to a $500,000 settlement in a class-action lawsuit regarding misleading mortgage statements.
Pros & Cons
Pros
Licensed in all 50 states
Online application process
Smartphone app available
40-year non-qualified loan option
Cons
Does not publish starting rates
Above-average rates in recent years
Pre-qualification tool may not produce a rate quote
Bottom Line
Newrez is a nonbank lender that promises a simple online application process. However, some customers may find obtaining a custom rate quote more difficult than expected. If you have trouble meeting traditional loan requirements, you may also be interested in its 40-year non-qualified loans.
Rates
Newrez does not publish its current rates, but Home Mortgage Disclosure Act data shows its average rates for home purchase loans were slightly higher than the national average from 2019 to 2021. To see what rate Newrez would offer you, you'll need to complete its pre-qualification process.
Newrez average home purchase rate vs. national average
| Year | Difference from national average |
| --- | --- |
| 2021 | +0.04% |
| 2020 | +0.11% |
| 2019 | +0.25% |
Information pulled from public Home Mortgage Disclosure Act data. Rates reflect noncommercial home purchase loans only.
Newrez offers both fixed- and adjustable-rate loans. An adjustable-rate mortgage (ARM) has a fixed rate for a set period of time, and then it periodically adjusts through the remainder of the loan term. When it resets, it changes in accordance with a benchmark interest rate; so, if the benchmark interest rate is higher than the ARM's initial rate, the monthly payments should go up.
Most borrowers like the predictable payments and security of a fixed-rate loan. But there are times when an adjustable loan makes sense. If you plan to refinance the loan or sell your home before the introductory period is over, you may save money with an ARM. Your loan officer can help you find the right loan for your short- and long-term goals.
Application process
Newrez's QuickQuote pre-qualification only takes about five minutes. It asks a few very general questions about your estimated purchase price, down payment amount and some other personal details.
However, the QuickQuote name is a bit misleading — completing the form isn't necessarily enough to get a quote. Once you're done, you may be asked to move on to the next step in the application process or to reach out to a loan consultant for a quote.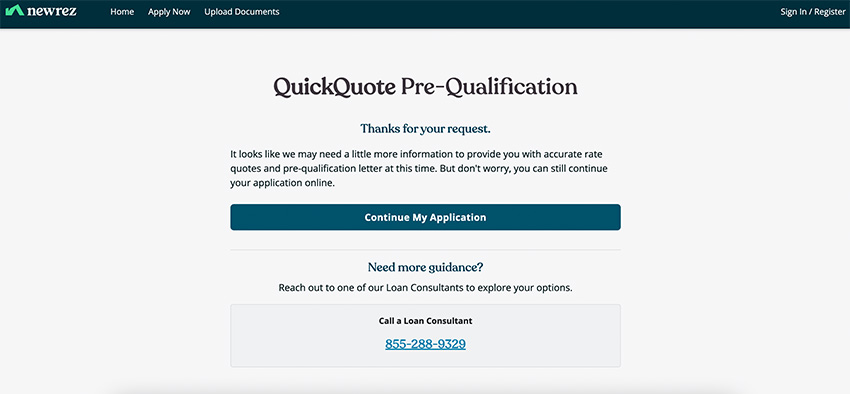 The next step in the Newrez mortgage application is to create an account and begin submitting documents to the portal. You will also be able to check the status of your loan application and access key information here.
Newrez application features
| Features | Availability |
| --- | --- |
| Online application | |
| Mobile document upload | |
| Physical branches | Undisclosed |
| Publishes minimum rate on website | X |
| Rate lock | Undisclosed |
| Pre-qualification (no hard credit pull) | |
| Certified approval letter | |
Loan types
Newrez offers conventional loans (with both fixed and adjustable rates) and government-backed loans (including FHA loans and VA loans). However, it doesn't offer jumbo loans or USDA loans.
In 2021, it closed 15,904 loans out of 22,771 applications (about 70%), and its denial rate was in line with the national average (around 8%).
Loan applications for home purchases only by year
| | 2021 | 2020 | 2019 |
| --- | --- | --- | --- |
| Home purchase applications | 22,771 | 15,041 | 16,880 |
| Home purchase loans closed | 15,904 | 9,498 | 11,095 |
| Home purchase applications denied | 1,859 | 1,868 | 1,275 |
| Home purchase preapprovals denied | 0 | 0 | 0 |
Information pulled from public Home Mortgage Disclosure Act data. Includes conventional, USDA, VA and FHA mortgages.
In September 2022, Newrez also introduced a 40-year non-qualified mortgage that offers a fixed rate and interest-only payments for the first 10 years before adjusting to a 30-year, fixed-rate loan with monthly interest and principal payments. This type of loan is designed for borrowers who may have trouble getting traditional loans.
Refinancing
Even before rates hit historic lows in 2020 and 2021, about 68% of all Newrez's closed loans were refinances. In 2021, though, refinancing accounted for roughly 88% of its closed loans, reflecting an industry-wide trend. Nearly all lenders saw consumer demand for refinancing spike in this period as low interest rates spurred borrowers to try to lock in lower rates and save money.
That trend is not likely to continue, though. Mortgage rates rose throughout most of 2022, so fewer borrowers are expected to refinance. Refinancing can still be worthwhile if you can lower your interest rate by 1% or more, but be sure to take closing costs into account when you weigh your options.
Home purchase vs. refinance loans by year
| | 2021 | 2020 | 2019 |
| --- | --- | --- | --- |
| Home purchase loans | 11.61% | 11.18% | 31.73% |
| Refinance loans | 61.39% | 69.62% | 38.40% |
| Cash-out refinance | 26.69% | 19.01% | 29.63% |
Information pulled from public Home Mortgage Disclosure Act Data. Includes conventional, USDA, VA and FHA mortgages.
Requirements
Newrez doesn't publish all of its requirements for borrowers, but we've collected what's available and included some general information below to help you set your expectations.
Newrez requires you to have a credit score of 580 or higher for an FHA loan. For a VA loan, you need to have a score of 600 or higher to avoid making a down payment. If you can make a 5% down payment, the credit score requirement drops to 560, though.
Newrez doesn't specify its requirements for conventional loans, but you typically need a credit score of at least 620 and a down payment of at least 3%. (Most down payments on conventional loans are higher.)
National mortgage requirements by type
| | Min. credit score | Min. down payment | Compare with other lenders |
| --- | --- | --- | --- |
| Conventional | Typically 620 | Typically 3% | Mortgage lenders |
| FHA | 500 | 3.5% with 580 credit score | FHA lenders |
| VA | Set by lender (often 580) | 0% | VA lenders |
Costs and fees
Newrez publishes a partial list of its fees, which is more than most lenders offer but not enough to accurately predict your closing costs ahead of time. In total, closing costs for a home purchase generally equal 2% to 5% of the loan amount. Closing costs may include lender fees, appraisal fees, real estate taxes, attorney fees and mortgage insurance premiums.
You won't have to pick a lender with no information, though. After your application has been received, you'll get a Loan Estimate that itemizes what your closing costs should be. You'll also get a Closing Disclosure later on with the final totals for your costs and fees.
FAQ
What is Newrez?

Newrez is a nonbank mortgage lender that is licensed nationwide. It offers conventional and government-backed loan products, and you can use the Newrez app to upload documents and keep up with your loan's progress.
Is Newrez legit?

Newrez is an operating company of Rithm Capital (formerly New Residential Investment Corp.). Newrez has been in business since 2008, and it originated $97.6 billion in loans in 2021.

In 2022, Newrez, doing business as Shellpoint Mortgage Servicing, agreed to a $500,000 settlement in a class-action lawsuit over misleading mortgage statements, though it did not admit wrongdoing.
Where is Newrez available?

Newrez is licensed in all 50 states, Washington, D.C., and several U.S. territories.
A link has directed you to this review. Its location on this page may change next time you visit.
How do I know I can trust these reviews about Newrez?
4,244,075 reviews on ConsumerAffairs are verified.
We require contact information to ensure our reviewers are real.
We use intelligent software that helps us maintain the integrity of reviews.
Our moderators read all reviews to verify quality and helpfulness.
Page 1 Reviews 0 - 10
michael of Carlstadt, NJ

Verified Reviewer
Original review: Oct. 20, 2022
I was assigned to this company when I refinanced my mortgage in January of 2022. In the time since I have had no problems of any kind. I do my business with them strictly online so I have never reached out to them and can't comment on their customer service.
2 people found this review helpful
Newrez Company Information
Company Name:

Newrez

Website:

www.newrez.com
You're signed up
We'll start sending you the news you need delivered straight to you. We value your privacy. Unsubscribe easily.