Consumer Portfolio Services
Consumer Complaints and Reviews

Ashley and Eileen in customer service - We recently used this company for an auto loan and it was complete chaos. Firstly, their customer service reps are extremely unprofessional. The supervisor "Eileen" is the most passive person I've spoken to there out of FOUR reps. She had the highest title. The company is unorganized and claims they could not confirm my employment. However I answered the monitored and recorded phone call in which my employment was verified. The company also stated I had no proof of insurance when I use AAA and had to use the insurance on the new car I have just last week from a blowout. I have been a gold card member with AAA for 8 years. Not that hard to verify. Not at all. Anyway, if you can avoid using this company I highly suggest it. They're extremely unorganized and unprofessional.

Hi. I was wondering if you can help me. I have a 2012 Nissan Sentra S. I did not pick this car. The deal told me I had to come up with more money. After putting over fourteen hundred down they said to get something else. I would have to come up with another grand so it's two and half years later and I can't trade it in. No one wants it because I owe so much. I have kept the payments up. Now I'm forced to a repo because they won't lower the payments.

I missed a month because of some personal reasons and before I realized it, I was already 30 days past due. The second bill came in and I was like oh crap. Anyhow, I said, okay, next paycheck I will play catch up. Nope, I get the infamous 1-800 call. Actually, I think their number was 1-888. Anyhow, the guy over the phone explained that I was 2 months past due, and I said "I know. Can I pay next week on this day?" He said sure. He then said he will extend my payment date out so I won't be late on this second month. He took my debit card info and it was as simple as that. He did inform me to make sure the funds were there, if not the file would have to leave his desk and there was nothing he could do at that point.
I was pretty surprised. Being a subprime auto loan company, I thought I was going to be yelled at and lectured over the phone. Nope. They kept it professional. Better yet, it seems as if the 1st month I was late did not appear on my credit report. =) Fast forward today, and I am back on track and a month ahead in my payments.
Everyone at one point has had or will have to get a subprime auto loan. For those who say the payments are too high, perhaps you should go somewhere else if you have better credit. (Your payment is high because of the interest rate, if you cannot understand how interest rates works, you should wait to buy a car and attend a free financial education course at your local community college or somewhere, never pay for that.) I would recommend this company to anybody since I have had a pretty good time with them.

Back in 2006 I bought a trailblazer through cps financial. I bought one car but I paid for 2. I had down payment and trade in. My payment was 560 a month. Was never late with a payment. I was so ripped off. I found out they are a 2nd financed company. You can't be late with one payment with this. I want some of my money back. That's horrible and they treat you like crap.

My bankruptcy was discharged last month and some money is owed on my 2009 Volkswagen Jetta. I was planning to pay off the car in full using money from a legal settlement I received and then pay cash for a new car. Since the discharge, I have not received a statement or any mail from CPS or any calls from them with the total amount owed. (FDCPA violation?) I made sure that my contact information was up to date so that we could get in touch with each other. Today, they repossessed the vehicle at 4am. I was not even given the opportunity to pay them since they wouldn't tell me what is owed. They just took the car with no conversation at all. I have the funds to pay off this car but now there's a repossession on my credit report so I'm really not motivated to give them anything. The car needs about $5000 worth of work and the check engine light is on. I believe that there's about $3200 owed.
One page on the website says that my payoff amount is $3200 but another says that $8000 is due in October, 2019? Seriously, they couldn't even send me a bill or call me?? So, today I called the Reinstatement Department 3 times and after holding for a few seconds, the system hung up on me EACH time. So, I called back and pushed 1 to get a voicemail box. That was a few hours ago and I have not yet heard back from them. I really can't spend all day on the phone with these people. What a horrible way to treat customers.
How do I know I can trust these reviews about Consumer Portfolio Services?
697,568 reviews on ConsumerAffairs are verified.
We require contact information to ensure our reviewers are real.
We use intelligent software that helps us maintain the integrity of reviews.
Our moderators read all reviews to verify quality and helpfulness.
For more information about reviews on ConsumerAffairs.com please visit our FAQ.

Like everyone else. Making payments on time and my balance still does not seem to go down. I was 50 short on one payment and made arrangements to pay it and they still called me like I hadn't paid them anything. They should be sued and hung out to dry. Terrible way to do business. Might as well file bankruptcy because that may be the only way out. Smh. Please don't do business with this company.

My husband and I financed a vehicle through Consumer Portfolio Services post bankruptcy. The interest rate for the auto loan was absurdly high, but what other choice did we have at that time? A few months later (and not one single late payment made), we decided to trade in our vehicle for a cheaper one with a bank that offered lower interest rates. We informed CPS that the vehicle was traded in and that the dealership would be paying off our loan within twenty days. We maintained proper communication with them to avoid any damaging late payments on our credit report. My husband then misses a call from CPS. When he returned the call, after being transferred multiple times, he ended up speaking to a woman who demanded that he give her his social security number. He told her that he did not want to give his social security number, and she continued to insist that he do so.
He told her that he did not have to give it to her, and that he would verify account information another way. She repeatedly said, "Wow" and "This call is being recorded. You know this call is being recorded," in a rude and condescending manner that was extremely unprofessional. After arguing with her for several minutes, she finally verified the account information via phone number, name, address, and last 4 digits of his social security number. My husband then informed her that we had traded in the vehicle and had notified them of that, and asked if the payoff had been made. She said there was no note in the account that the vehicle had been traded. Then she told him he "better contact the dealership and tell them to get them their money soon," in a very threatening tone, that reminded me of some sort of ghetto gangster altercation over drug money.
As soon as my husband got off the phone with her, we called our dealership where we learned that the vehicle had already been paid off that same day. My husband then called back to Consumer Portfolio Services and asked to speak to a manager, which led him to a voicemail box where he left a message. The call has yet to be returned. Had I read the reviews for this company, we would never have used them for our auto loans. They have obviously learned nothing from the lawsuit against them a few years back. Please do not make the same mistake we did out of desperation, and be taken advantage of and disrespected by such an atrocious company.

I have been around the world and back with this company and I am so tired of them! Never once have I heard of a company charging a $300 late fee on an account that is only a few days late or harassing customers every day after a payment arrangement has been set up on their website! This is ridiculous! Please do not do business with this company. They are a rip-off! The interest is awful which has sent the payoff to the roof and now I can't get the vehicle financed through another lender. No one will touch it! I've had my car 2 years and it seems like an eternity already! Please exhaust every opportunity before going into business with them! They are not worth your time and energy! I only regret not reading the reviews before I decided to go into business with them!

This place is horrible... PLEASE DONT DO BUSINESS with them!!! They are trying to charge me 30K for a 14K car that I've paid 18k to. They were sued for doing this before and I think they should be sued again.

I have had my car for 9 months now, and was late on a few of my payments, but on time with a few, I ask for a deferment on my last payment and they faxed me a paper stating my last payment maturity date would be due on August of 2021, I brought it to their attention and they said they couldn't see that on their end. I told them I wasn't signing it until it's fixed, I was told if I didn't sign it I would be in default and they would repo my car. I said I will circle it and and send it back to them, but I am not agreeing to that maturity date. After reading these reviews I am getting worried. I can't afford to lose my car. But I hope someone steps in to investigate this company, I cannot believe they are allowed to treat people this way. I am trying right now to get refinance by someone else but nobody want touch it, I am thinking I have been hung out to dry. Help if you can... God bless all my brothers and sisters of being financed by them...

I have been harassed repeatedly by this company. One guy called and had me in tears with his rudeness. I explained to him why I was late with my payment (my husband was hospitalized and with him being retired I am on a fixed income) and he started yelling at me stating that I need to plan better so that I can make my payments on time. My balance never seems to go down. The balance was originally $7,000 and after 2 years (yes I said 2 years) it is 4,378. My payments are 322.73 a month for a 2006 Mitsubishi Eclipse. I hate this company so much!!!

After reading all these reviews on CPS I am fearful that I have made the wrong choice by getting financed through them. After months of miscommunications and late payments due to this I am afraid I have no options at this point to get away from CPS. If anyone has any recommendations as to what I could do to help please email me **. Thanks in advance.

Went to a local dealership to purchase a car I had my eye on for a couple years. Had tried getting this vehicle and was denied at least three times. Finally, in 2014, I went back to the dealership I had previously did business with and was able to secure the vehicle I wanted with CPS, Inc. as the finance company with a 24% interest rate.
I knew that the interest would be extreme as my credit was not the best. I begin making payments on my 2012 Kia Sportage, beautiful car with only 12,000 miles at the time I bought it. Payments were steep ($510.81), with a 72 months' term. Like everyone, I wanted that car so I endured and struggled until it became too much. I fell behind three months and hoped and prayed daily when I went out to go to work that my car would still be in the driveway, or I was scared it would be snatched from my job. It never happened, only by the grace of God.
I was able to come up with the three months of missed payments at one time, which totaled more than $1,700.00 in a lump payment. First, let me mention that the amount financed was 19,650.00 in April 2014. Two years later and at least 22 payments ($11,237.82) and that lump payment, it still showed me owing 19,351.00!!! All the payments I had made, including that lump sum went to the interest, except for four minimal amounts. Unbelievable.
I called and complained about this and was given the reasoning that it was because I had a simple interest loan. This loan is one you want to run far away from. With this loan, interest is accrued DAILY. So, if you make your payment even one day late, interest will be charged. Fortunately, I got lucky and they suggested I try finding a dealer to buy it from me on a settlement. I went to the dealer I bought the car from and they bought it back for $12,000.00, and they accepted that as payment in full, because they knew that it was not worth what was owed. Now the magic is seeing if they will report to the credit bureau that it is paid in full. So, if any of you are still having issues with CPS, bring that option to them and see what they tell you. Good luck to you all.

I have been financed by them for about a week now (16-June-2016) and it has been a real mess with these guys. This is for an auto loan by the way. They wanted proof of income so I have given them my pay stubs for the last 3 months along with my wife's and that wasn't enough. They called my wife's work and asked if she worked there, they said yes, but called me and said that the company had fired my wife for a while now... I said I have a pay stub from yesterday, he asked to email it. I did and he calls them again.
Her work answers again but this time I was at her work when they called and they DID say she works there and then they gave the employer attitude and told them they would call back later. I then called them and you'd never guess... They don't answer even after I just talked to the guy. One thing he told me when I did get a hold of him was that they don't answer for just anyone. I swear this to be true and accurate. So, WTF, how do these guys even stay in business?

I purchased a vehicle in 2011 for 23636.00. I paid $2000 cash down, financed 21,636. 60 payments later I was told I owe over $8100. The way they moved money around on my account was unbelievable. After 6 phone calls and told I was sol. I traded the vehicle. Got a 10 day pay off from them. Dealership paid them and now they are asking for more $$$. Do yourself a favor and never do business with these people. Karma will get them or the gates they think they are headed for is actually a trap door to a hot place.

I just paid off my car with CPS. Financed in 2012 with CPS for 18,000 loan. Added up total payments and I paid 28,000 total - over 50% interest and this makes me sick. Seriously feeling ill because of this. Car is only worth about 8k now. If there is anyone who has advice on how we can see how this is even possible I appreciate it!

Repoed car. Won't tell me where my personal belongings are after they snuck up and took it. Just want my stuff, been almost 3 weeks. I call, email and text 5 times a day to be put on hold for 30 minutes at a time.

I was called by them and the way they talk you gets you mad as hell. So what I did was I started talking to them the same way and told them "I'm coming to your office the payment and I'm going to have it in my pocket and it's going to be in a check and I would you for you to reach in my pocket and take it from me and I'm on my way." And when I got there the doors was locked and called the police and they never opened the door for the police because no one was there. It's just a office and it has their name on the door and everyone works from wherever home or in their car. No one's ever in the office.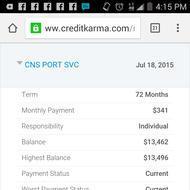 My first time financing a car. Bought my car 7-18-15. 2012 Honda accord 13k. All my payments were made before the due date. They deposited my Oct payment (money order) on Sept 24th. For some reason I was told that they hadn't receive my payment, I was told that they researched the money order # but it wasn't in their system. No one ever called me to update me of this, after paying fees and countless calls to Western Union (whom I purchased the MO from) I received the photocopy with an acct # on back for Bank of America.
What do you know, after going to Bank of America I was advised that it was a business account for CPS. Long story short, my payment was just applied 11-11-15. None of the ** I reached felt I was due for any compensation!!! After time, money and stressful days of trying to track down my $342 missing payment that wasn't actually missing at all! I freaking hate this company, I haven't even provide all the details... They need to be stopped, I'm seeking a lawyer to try and get out of business with them.

I purchased my vehicle on Feb 19, 2015, from a local Kia dealership. I traded in a 2008 Sorento which I had some negative equity in. CPS will not work with me on the payment date even after being told I get paid once a month. I am having a medical issue with the car which started 2 months after buying the car. At first I just thought it was me adjusting to the car. I am petite and driver's seat is causing my legs from my knees up through my back go numb. I have Spina Bifida, which is a birth defect and this car is aggravating it.
I have tried to go and trade car in, but I have a lot of negative equity in the car. I have even tried to get CPS to work with me and help finance another car, but they refuse. I haven't paid a payment in a couple of months while working to get rid of it. I'm contacting an attorney & doctor is writing a letter because of me trying to get rid of it through a lease I will tell them to come get it so I can get another car but due to medical issue they will not blackball me on my credit report. This was out of my control. My payoff shows more than I financed. These people are doing illegal stuff. They call all day long. Warning please stay away from these people. It's been a stressful, horrible experience.

This company is full of **. I bought a car with them back in May 2013. My car loan was for 14,440. I been paying my car note but I now owe 11,330. It's like my payments are going towards the interest and not my car. This company sucks **. Is there a way to get out of this loan with this company? I need to do something. They harass you and is no help at all when you maybe late in a payment. No understanding and help to their borrowers.

I bought a car through a car dealer who ended up selling me a lemon. I ended up just filing for bankruptcy since I was now stuck with a car that is gonna cost more to fix than the car is worth. I got the car on March 18th 2015 drive a week before it started acting up and it's been sitting in my driveway waiting for Consumer portfolio services to come repo the damn car since it's now the end of August. I've contacted them many times trying to get them to come get the car I'm no longer liable for and I've never even paid 1 payment on it ever! Any ideas on how to get them to come get their car??? I hear all these stories about the repo man coming but I can't seem to be so lucky.

Never get an auto loan with this company. The interest rates will have you paying off on their loans for the rest of your life. This company is a rip off and they're very unprofessional, and it don't show that your payments were made on time on your credit report.

I prefer to estimate the monthly interest charges, particularly since we are adding extra to the payment. I estimated $191 for this month and was charged $205. Fifteen dollar difference is significant! I do not have a problem with one or two dollars, but $15 is outside of reasonable. I have emailed a request for their formula used in calculating this period's interest. CPS has previous judgements regarding accounting irregularities, and it appears they are back to using "funny figures." If you don't know how to calculate compounding interest, google it. OK, not the easiest formula but a spreadsheet will help.

I am the Power of Attorney for my Dad. Everything was fine until my Dad became ill, and is now in a rehabilitative/nursing home. Anyways I asked Toyota for a two-month extension and even though my Dad is gravely ill, they refused. I have been trying to make payments and have made a few this year. I asked for an extension, due to my Father's illness and my lack of hours at work, but they refused and did not give me a reason! Now I said I could make a payment Friday, but they were threatening to repo my car. I have tried to make payments and get one extension, but they will not help? What is my recourse? What else can I do?

I financed a car with CPS. Had the car for 1 month. I got a call from the dealer saying CPS returned the loan and would not finance it, that I needed to return the car. Well I contacted a lawyer and found out that was not true. CPS was already on the title. I have had the worst experience dealing with them trying to get the title corrected. Each time I call them I get the runaround. Today I got a lady who told me they didn't have to correct it. Once I told her the Secretary of State advised me to contact them she was RUDE as hell saying I was trying to get a free car. Well I let that rude ** have it. I also sent an email to management; not sure it will help because this company is all about FRAUD! Even after being fined they continue their illegal practices. Run if someone offers them as a finance company. It's not worth the hassle.

I had a vehicle loan through CPS. When I lost work they would not do anything to help me keep the car. Per lawsuit my "account" was supposed to be forebearanced or expunged within 90 days. Here over a year later it's still being reported and hindering my credit.

I got a 2013 Chrysler 200 in September of 2014 and was financed through them. I have made payments but to my surprise they are lost. I got behind due to a work related issue. I was given an arrangement of $700 and the two months added to the end of the loan. To my surprise when I made the payment it ended up being a transaction OUT OF THE COUNTRY. My bank froze all of my finances and I had to reorder new bank cards and everything. When I called them about this I got no answers.
I made another payment at the end of the of April on a Wednesday night and Thursday morning they repo'd it before 7:00 AM. When I called about my car they said they hadn't received a car payment since October but I only owed $1815 and if I didn't make a payment by May 28, 2015 it would be auctioned off. Two weeks later my car was sent to the auction lot. How do you stop them and who does something about this?!!!!!

I purchased the car a month ago. Everything was approved! I got the welcome call telling me congrats and when my payment is due and all that. I get a call today from the dealer that the bank has denied my loan and have to return car. The finance company couldn't give me a legit reason on why. I'll never finance a car through them again.

I bought a 2008 Chevy Cobalt and when the first payment was due I didn't know where to send the payment. I contacted the dealer and they told me CPS was suppose to contact me. When I called CPS they were rude and they tried to charge me a late fee for THEIR mistake on my first payment. The times I did fall behind for legitimate reasons either they had an attitude with me or I noticed if they are trying to be nice they would say "We can't help you if you don't help yourself", and I heard that from a few different reps. Just to see if my payoff would go up I called 3 different times and it did go up all 3 times.
I spoke to a ** and explained to him that my mother would be sending a payment for me at one point. I talked to Mr. ** about a week later and he says he spoke with my mother which he did not because he has NO WAY of contacting her AND she would have told me. After reading the experiences of others I wonder why this place is still operating. If there is a way to shut this place down please put my name on the petition.
Consumer Portfolio Services Company Profile
Company Name:

Consumer Portfolio Services

Website:

http://www.consumerportfolio.com/