Consumer Complaints and Reviews

My social security is deposited into their online bank. They locked my account because of failed attempts to access my account. It was me trying to get into my online account. I never carry my card. I am working out of town. They shut my account down because I wired myself emergency funds via MoneyGram. I have proven my identity. Via security questions multiple times. Faxed documents with acknowledgment receipts and they claim to never get them.
They are an overseas boiler room operation that you can't get a manager to take a call. They have my money locked up and never once tried to notify me of suspicious activity. I reported both of my cards lost. Expedited replacement was futile. They still won't unlock my account. It takes two months to get social security changed. I'm livid, have no prevailing legal authority to complain and feel like they are my enemy rather than a bank earning trust and respect. I intend to find an attorney to file a lawsuit.

It takes more than 1 hour to get to a live person and then it is absolutely terrible customer service. I had an unauthorized ATM withdrawal in another state over 500 miles away. I notified them immediately and they will not give me my money back. No letter just customer service telling me No error found. No information about the investigation. Because there was none.

I have had an account for only 2 months. I have 2 checks deposited from social security. That is all I have to live on. They have held my money for over a week and I can't get a dime off of it. They claimed I would be receiving a new but haven't gotten it yet. What I have left is all the money I have to live on. I can't get a penny of it now. Still haven't gotten not a penny to buy my medicine or groceries for any thing.

I have been with AccountNow for quite a while now. I have not had many major issues, but the minor issue that I do have are hard to get resolved in a timely manner. My account was hacked and I called in to the customer service number, the same day. Informed them of the hack and they shut down my account and reissued me a new card. This all happened on 8/3. Here we are on 8/9 and I still do not have my card or my money back on my account. I have no way of getting my money out.
Luckily, I called in yesterday to check on my dispute, I was informed that the dispute had not been filed yet. I asked, how is that when I called and spoke with someone on 8/3, they shut down my card and everything. Needless to say, that person did not file my dispute. So I had to go through the whole process all over again, even though I faxed my documents to the fax number on 8/7, they do not consider them to be uploaded until you actually use the upload method. Which is stupid, because why would you have the fax as an option, if you don't accept them or it takes longer that way. I uploaded my documents and was told that my dispute is not in progress. That is it. I have had it with this "bank". I'm going to start back using my traditional bank account where I am actually able to go into a branch and speak with a person face to face in case something like this happens.

AccountNow can someone help? I deposit $20 dollars into my account yesterday through MoneyGram. I haven't receive it yet but when I log into my AccountNow account it said $20 was credit. Can someone tell me? How do work? I haven't got my money on my card yet. My account says $5.05 in my account but my $20 dollars will I get it tomorrow??
How do I know I can trust these reviews about AccountNow Prepaid Card?
848,010 reviews on ConsumerAffairs are verified.
We require contact information to ensure our reviewers are real.
We use intelligent software that helps us maintain the integrity of reviews.
Our moderators read all reviews to verify quality and helpfulness.
For more information about reviews on ConsumerAffairs.com please visit our FAQ.

This is the first and the last time I will be using these people. Yes I should have read the reviews on these people first but I figured because they were from MetaBank just like Netspend everything would be fine. BOY WAS I WRONG. I had my tax refund put on my card mind you. I fought with the IRS to get my tax refund amended because everything was put in wrong. So it took me since Feb. to now to finally get things straightened out with the IRS.
It is now August. I finally got my refund on the 26th of July. It is now August the 3rd. These no English speaking P.O.S put a hold on my money saying they need to verify my identity. Really. You know the IRS sent this money. You really think that they would not already have verified that I am really me before they sent me my money. But ok so I sent them the documents. They said 72 hours. Well it's been 72 hours. WHY DO YOU STILL HAVE A HOLD ON MY MONEY. I am a single parent of three toddlers with virtually no money right now because y'all won't release it.

I've been using AccountNow since about 2009. I've had a few problems and account now always caught it, and shut down my card, and then sent me a new one. Ironically, since I relocated from Chicago to Indianapolis. This new one started on 7/19/17. A request by mail from "National Bank" for 1290.95 cents was permitted to be removed from my account, and then a card to card transfer for 500 dollars. I immediately contacted account now, and they shut down my bank account. So now, I have no way of getting my money out of the account, then, I sent in all the dispute forms they asked for to try and get my money back and they've told me they can not do anything for 10 more business days.
They claim to be a FDIC, but they don't respect the FDIC laws. Also, my funds are protected by the Electronic Funds Transfer Act, and are supposed to be available to me within 3 days of the shutdown, but AccountNow is telling me I may never get that money back because the investigating party has received a dispute. Don't ever use this company! They are thieves! It's as if they have been bought out and are now selling people's information. Also, how about a customer service center where people don't have Indian/Pakistani dialects? Speaking to someone who is easy to understand would be nice.

I've been with them for 11 yrs now. They allowed someone to purchase something for $200 at Best buy in Boston, then when I went to pay for car repair they said it had declined and I know I had money on it. I just got paid and the only thing I paid for was some tires. When I called the rep told me "he had to shut my account down until 3 pm Monday because it was the weekend," so I had to leave my car in the shop until I get the money which never happened but I still had to pay storage space and didn't get all my money back.
Then AccountNow used to have a loan service where you could borrow money until payday and they stopped that. It was very helpful for people who was making ends meet, I have good card and they charge me $9.95 just to have the cars and it cost nothing no different than the regular card. When I ask to back to the old card he told me it didn't exist anymore so I'm stuck with it???

I was asked to fax my driver's license, social security card and bank card to a designated number. I was informed the next day that items were received and no further action was needed. I called customer service and they confirmed the recorded info was correct and it would take 24 to 72 hours to release account. 72 hours later still nothing so I call customer service and more documents required and another 72 hours. Funds are there but I cannot access account even though I have the card in my possession because card is not accessible. No one to speak to in main office because they don't accept calls.

I had this card for only a few months. They have froze my account twice due to many deposits. Wait what? Too many deposits? What the hell? I thought that's what these cards were for to upload money on them. Well according to them you can only make a very limited amount of deposits. Well I work for uber and I cash out every day at the end of my shift. They closed my account without even contacting me what kind of crap is that? I deposited my money and now my money is in limbo because of this dumb ** company. I had a bill to pay today now I can't do it. Don't use this company unless you want all kinds of stipulations on what you can do or not.

After having my wallet stolen, I contacted customer service. Instead of them cancelling my card and sending me another; my account was frozen and no access to my funds was available. This was due to the representative not being able to understand what I was saying (He mispronounced his own name!). When he was trying to enter my security questions into the system. I was then told I had to send in documents to prove my identity. Problem was my id was in my wallet along with my bank card, something I had already told the rep!
After speaking with a supervisor I was told they would review the call and coach the rep on what he should have done if anything. What!? After about using this company for 10 years now they want to verify my identity? I was also told this would take 24-72 hours. I sent in the documents and decided to call everyday until my funds were released. I call the following day only to be told that if I do not hear from them by 7/3, please call them back. What?! That is a lot longer than 3 days!!! DO NOT USE THIS COMPANY!!!

AccountNow is a scam, they send you in circle of your own money, can't get no help with your account, and they rarely speak proper English. They have been holding my money over 30 days. Can't even access my account or retrieve my money off my card. It been blocked.

First, I never received a card and when I called them to let them know they charged me 10 dollars for an replacement. Then I called to activate the new card and it read off 2 cards on my account and I pressed the menu to report a card never received and they blocked the new card I was activating. After talking to customer service I was informed that they would have to send me another card for 10 more dollars. I had my payroll deposited on this card and now I have to wait 7-10 business days to get access to my money. Later I tried to find out if my check was deposited to the card and they had blocked my online access stating that I can't access my account until I receive the new card. Please, if you can avoid using them I'd suggest that to everyone. Netspend is the best prepaid company I've every used!

I lost my card on 6/20 and reported it lost through the automated system so not only do I not have access to my funds, I'm waiting on a new card, and on 6/23 a new card come in mail. So when I tried to activate it it wouldn't go through and I tried online and via phone so I gave up and called during business hours... just for them to tell me that was NOT my replacement card. It's the same card I had just sent because the one I reported lost was compromised which I don't understand how. And then they KEPT saying I ACCIDENTALLY reported the card lost and I called to report it lost intentionally because I couldn't find it so not only was the card I lost turned off so was the one they sent in the mail and wasn't allowed to be activated. So I was told I could either pay 25 dollars to expedite it which would be 3-5days or wait 7-10 days for the new one that was already in the mail to be sent.
So how can I expedite something that is already sent out???? I went ahead and ordered a Walmart card because I'm very familiar with it and once I do get this card I will be canceling my service with them. I get paid and can't touch my money because there is NO other option to retrieve your money in a situation like this... be careful everyone!!!!

My card was lost so I called for a new one (replacement card) and was told 7 to 10 business days. So I waited. Then, I didn't receive the card in which I was supposed to so they cancelled it and told me they could send me a new one. Another 7 to 10 business days, or they would cut me a check but I would have to wait another 7 to 14 days for it. I have money on there that I have worked for and I feel they are holding it. I have bills to pay and places to go. And that takes money that they are not going to let me borrow from their pockets in the meantime. I will never do direct deposit with them ever again! TERRIBLE AND UNREASONABLE!

I thought I would give the AccountNow Visa debit card a try. Little did I know, and part of it is my fault for not reading the fees very closely, that there were be a dollar fee every time I use my debit card. I was charged on Amazon an extra dollar, I was charged even when I used my pin, and I was also charged when it was ran as credit. It may not seem like much but who does not use their debit card almost everywhere now? I will be going back to my old prepaid debit card.

Why the hell do credit card companies insist on sending and sending and continuously send consumers credit card offers in the mail? I've written letters to credit bureaus to opt-out, letters to the credit card people to opt-out and telling them I'm not interested. This has gotten out of hand in today's world, it can give anyone a freaking heart attack!

HORRIBLE!! Without asking they sent me a gold card. I activated it and told the terms conditions over the phone. I had card 2 months never used it! Loaded it bc I didn't have my bank card or Netspend. $20 down the drain for 9.95 monthly fee for a card I never used. Customer service pz were negligent and not helpful all. I'm a college student and a mother and I like being ripped off. These guys are FRAUDS!

I brought up the no surcharge ATM's around me the other day & proceeded to the closest one. It was supposed to be no surcharge, right sol. The ATM charged me $3 plus AccountNow charged me $2.50 for transaction. I called to see if I could get my $3 back since it was supposed to be no surcharge ATM. The guy, who I could hardly understand, told me that it was up to the store to charge the $3, little did he know I had already checked with the store & they told me that it was up to the card owner, which is AccountNow. Well anyway I didn't get my $3 back from anyone. They've changed the ATM's we're used to. I was only paying the $2.50 to AccountNow but now I'm paying a total of $5.50 for access to my own money. I don't think so.
When my checks are deposited I'm going to withdraw every penny from my AccountNow account & open a bank account where my daughter banks. There are no fees for using the banks ATM's or anything as long as I get my statement electronically, so it's truly a fee free bank account. I'm telling AccountNow bye-bye & so long now. They will never get any of my business again & anyone that will listen to me I will advise them NOT to open an AccountNow account, they will RIP you off!!!

No phone numbers work anymore to contact AccountNow! My card was declined after adding money today when I tried to pay an important bill. I try calling the Cust Serv number on the back of my card and after a long silence finally I get a message that says, "Your call cannot be completed as dialed. Please check the number and dial again"! I look them up on-line and try calling literally every number I can find on-line to contact them and NONE OF THEM WORK! Help!

Account Now is one of the worst companies I've ever dealt with. I needed them to transfer funds from a closed card to a card I have now. What did they do. They sent out a new card with my direct deposit. When you call they consistently give you repetitious talk and will not answer your question you asked. It took my military background to bark at a man for him to say, "Yes we goofed on our end." They told me the day I called the card was shipped, but each day after, it was a different story. Because of these idiots ** my money I lost my housing and became homeless.
IT IS TIME FOR THIS ** TO STOP. AS OF NOW I AM PLACING A LAWSUIT AGAINST THE COMPANY. THIS IS MY EMAIL: **. Please, if you have had any type of trouble and wish to join the lawsuit, contact me with your name and email and I will pass it onto my lawyer. Because I lost my place I had to tell my mentally delayed brother, who is all I have and I was all he had, that I had to place him somewhere temporarily until I can find us housing. My brother became very upset and committed suicide. He was all the family I had left. Ladies and gentlemen, ENOUGH IS ENOUGH. It is time for the consumer to strike a blow at Account Now and let them know that they cannot keep playing with our money and our lovely goods. Take a stand, take a stand, take a stand and let's sue this company and get the justice we, as consumers are deserving of. Thank you and God bless.

On May 1, 2017 my AccountNow card was compromised, I didn't realize it until I was in Walmart buying food for my kids. I get to the checkout and swipe my card only for it to decline. Knowing I had about $560.00 on my card. Needless to say I had to leave the store without my food. I proceeded to call the customer service number provided on my card and a woman which I could not understand told me to file an dispute. So I did.
One whole week went by and I called back only for another rep to tell me I had to download some documents to the website. I did as asked. So a couple days pass and I call again only to be told that my dispute was closed without any reasons to why. I proceeded to ask to speak with a supervisor which whom couldn't tell me anything either. So now my blood begins to boil. I ask for a manager for him as well to tell me that he didn't know why and that a letter will be sent to me. The letter never came. So I call back to customer service and ask for a corporate number to be told they can't provide me with that, and that I would have to schedule for them to contact me. This company is a FRAUD! PERIOD. I need help to find out how can I obtain my monies from this so called company. What do I do?!

Went to a kiosk at the mall. Was gonna buy something. Changed my mind. The man canceled the transaction and gave me a receipt. This company still took my money $987 and made me fill out a dispute form and wait for like 15 days and it was 2 weeks before Christmas and I had adopted a family. I will never do business with them again!

AccountNow has deposited my brother's SSI check into an account and has it pending. When we call we never get a live agent to answer. We have contacted the Social Security office and has confirmed that his check was deposited on a certain date. After calling the number on the back of his card, to no avail have we spoken to a customer service LIVE PERSON as of today. This card service has been a disservice to us and my brother. We will be contacting an attorney to file charges with this company. We have five to six different prompts to choose from and none of them has given us a live person yet. Looking for a solution immediately.

I am on hold again - this will be the 8th person I have been transferred to. I used the bill pay service and this is the 4th check that has been lost in the mail. I get conflicting stories from each rep I have had to speak with. They say I have to wait 90 days and it's been about 80 days. So I have to put a stop payment and be charged $200.00 each lost check and then I should be refunded in 10 business days. WOW. That really makes sense. Account now is the biggest FRAUD. Beware and do not open an account. If you don't believe, read the thousands of other complaints. This company needs to be shut down!!!!

April 23 I loaded my money on my card w/ green dot. Now on the 24th I tried to get money from the atm it gave me a code unauthorized user??? So now I'm sitting at a gas station with no cash and a new born needing to get home on the other side of town??? Called customer not so service... They tell me there is a block on my card due to suspicious transactions??? Yada yada send in ID ss and bills in my name.. I did and it said succefully uploaded and it will take 24 to 72hrs??? Now the 26 of April they tell me they received it but was blank now they want a fax... So I did now another 24-72... Asked for a supervisor serial time and the young lady kept repeating the same thing over and over sounding like a robot so I tell her again "Ma'am I'd like to speak to a supervisor." she hung up???

I had been with AccountNow for years. On February 12, 2017 my card was compromised. It was useless trying to contact anyone on Sunday so the next day I contacted AccountNow. It was more like pulling a hard boiled egg thru my nose. They were not helpful at all. After explaining to them that my paycheck was on this card and that someone on the west coast was using my card while I was trying to use my card in a store here on the east coast. They had me to download applications to send in. This was done like three times and I kept calling to check on the status.
Finally on week two I was told they could not find anything wrong so they canceled my dispute. So not only was I robbed by whoever on the west coast but now I am being robbed again by AccountNow. The remaining monies that was on my card they canceled that card and I can't touch it. Now a month later I am still trying to figure out what's going on. I am being told to again send in yet another application along with my drivers license and social security number. Also the customer service representative told me if I go into a store to purchase something with him online he will unlock my card so that I can use the money. Now this is very interesting because if he told me that then guess what? Those idiots may have told the thief the same thing to compromise my card. I will never do business with this company again.

I usually get my direct deposit at 5 am the day before or day of I get paid by my employer... which is in a Thursday or Friday. It is now Sat. 1 1230 am CST... and I still didn't get my deposit from my employer which was sent on Wed. I wish that I could reach through the phone and slap these reps. I want to know where my money is? No one is going to pay my late fees on my bills. Don't use this card service. I sat on the phone for 2 hrs waiting on a rep. If I wanted a sup I got placed back on hold for I don't know how long then hung up on. I am canceling all of it.

I've had an account with them for about 10 years. And let me tell you if you have an issue it's going to be a pain in the ** to get the issue resolved. Long story short I called 2 months ahead of time before my ATM was going to expire, 1st card got sent back for some unknown reason, 2nd card I had them change my address to my UPS box and that got sent back because they failed to put in my box number, 3rd time calling to update once again to have them put in my box number and now waiting on it again! Not to mention now my current card is expired.
So after hanging up with the person who couldn't even speak English I tried to log online to make sure she got my correct address. I couldn't! Because they now RESTRICTED MY ONLINE ACCESS!!! This is super frustrating!! I have 2 deposits coming in within the week and I won't be able to access nothing all because these illiterate fools don't understand a lick of English! There is NO SUPERVISOR!! Just an FYI. Their call center isn't based in the US. Bunch of Filipinos, you're lucky if you could even understand them! I'm so done with them!!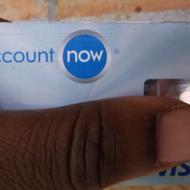 I have been with AccountNow since 2006 (but actively used the card since 2008 when I got my Tax Refund deposited on the card). When I tell you that I have had hardly ANY issues with this card until recently I am not lying. Other than card updates, I never contacted them for anything even though I know other people who have had issues with their cards. This is where things went downhill quickly. When I ended up getting my card "phished" (apparently someone used a scanner and took all the money off my card) I called to let them know what happened and they decided to send me another card. When I first talked to their Customer Service department (I'll get on them later on) the rep said that if they were able to get my money back I would be able to immediately get it back. Well they did indeed get my money back BUT I had to file a dispute for MY OWN MONEY which pushed things back another week.
The stupid postmaster here in my town here in Mississippi (Sunflower) sent my card back because it used a physical street address instead of a post office box so that's another 10 business days. Well I decided to order ANOTHER card and tried to do it online. Well if you don't have a CVC code you can't do it online (remember I never got my new card so I only have my old card that got compromised). Called their Customer Service and instead of the Customer Service rep saying that the questions she was asking me was my security questions, she implied that these were new questions for the new card so when I missed one of the questions it locked me out of my account AGAIN and I had to upload documents proving my address. Well after 3 days they FINALLY got around to verifying the documents but didn't contact me until AFTER they sent the new card so I couldn't get the card expedited.
They never called me during any of these instances despite asking for my number numerous saying they would contact me. Customer service for AccountNow is among the worst I've ever dealt with. I'm not against non-US citizens working at all but if it is ONE area where it is REQUIRED it is Customer Service where the customers primarily speak English. Even if someone with a country accent like myself from Mississippi were speaking with someone from NYC we would understand each other. When you have reps that are sticking to a script and barely grasping the language you can see why the reputation for their Customer Service is validated with how bad it is. Once I get my new card I am taking all my money out and making my secondary card the main card I use. I didn't know that Green Dot had purchased AccountNow which only will push me away from them even faster. It was a nice run but I can't deal with them anymore.
Compare Prepaid Debit Cards
AccountNow Prepaid Card Company Profile
Company Name:

AccountNow Prepaid Card

Year Founded:

2004

Address:

P.O. Box 1966

City:

San Ramon

State/Province:

CA

Postal Code:

94583

Country:

United States

Website:

http://www.accountnow.com/