Consumer Reviews and Complaints

WHAT A JOKE this is! You CAN'T connect to a REAL person to ask questions, INCLUDING closing out your account or getting the remaining monies back that's left in your account. You are only allowed ONE free withdrawal of YOUR money once a month, and unless you use ATMs at selected banks, there is a fee. My complaint is not the only one, I know, but my question is WHY does Social Security even SUGGEST using Direct Express??? There are people who only get $300-$400 a month to LIVE on! Imagine how tough it is on them!

I will not waste my or your time repeating. These stories are common and true. They are. I would just say cancel your card. Use a Walmart card, use a bank, do something but get away from this card asap and hope their problems and practices of their morally challenged employees' practices don't follow you. Their behaviour and practices are often criminal and at best ethically degenerate. The character count and the value of my time, limit further warnings and citations of their malpractices. Run.

In August 2017 I found almost $4,000 IVR transferred from my account to a Wells Fargo Bank according to the routing #. I called customer service to tell them and they said they can't do anything until I fill out a form they have to send to me. I still have not received the form. I called them back to see if they would put the money back because it was not me and they will see that when they investigate. I asked her what am I suppose to do about my bills and the wench at level two told me my personal business is not hers. I told her my money is my personal business and said there is nothing she can do. CAN SOMEBODY PLEASE HELP!!!

My mother is 80 years old & receives social security. She called the Direct Express number to check the balance on her card. $1100 had been removed from her debit card, UNAUTHORIZED. We called Direct Express for 4 days could not get through, finally they tell us it was IVR money transfer. My mother would not, will not or did not authorize ANYONE to remove anything from her account. How does this happen? The company is dragging their feet, meanwhile my mother can't pay her rent, life insurance, lights or gas, not to mention FOOD! Where do you go, who can help you? I'm at a loss.

I have tried for over a month to create a login for Direct Express. The page shows a message stating 'New user registration is temporarily unavailable'. I was told to download their app. The only device that I have that it would install on was a KODI TV box, but it only works on some smartphones. Talk about amateurish programming!
How do I know I can trust these reviews about Direct Express?
884,041 reviews on ConsumerAffairs are verified.
We require contact information to ensure our reviewers are real.
We use intelligent software that helps us maintain the integrity of reviews.
Our moderators read all reviews to verify quality and helpfulness.
For more information about reviews on ConsumerAffairs.com please visit our FAQ.

So my dad's card expired last month and they sent him a new one. Turned out to be the wrong card so they sent ANOTHER new card. Mind you, he suppose to get his SS on the 3rd and he hasn't been able to pay bills or eat! We got the card today, activated it and it says he's -$12.47! So we call and ask why and the customer service was horrible! The people are rude and have no consideration for their customers. And they have the nerve to tell us not to get angry when they ** up! And hang up when they don't hear what they want.
We aren't allowed to be angry at their ** ups but they can hang up in our face when we do! That's **! Now they have to send a new card and we don't get to eat or have lights until it comes! As soon as he gets his money from those crooks, we will be taking legal action towards this company! It's ridiculous how they treat people that's making it possible for them to stay in business! We will no longer be going through Direct Express!

I had Christine call me from Direct Express and their team was able to stop the transaction and handle my problem. Thank you Direct Express.
Original Review
On Aug 3, 2017 my Social Security disability funds were deposited in my account, at 00:34. I had a IVR money transfer of all my funds but 3.00 out along with a IVR money transfer fee of $1.50 was also included. I have Direct Express app on my phone and it alerted me of the transaction, I immediately called them to get a rep tell me to calm down or she wouldn't help me. I told her "I am just upset please stop this", she told me if I didn't apologize she wouldn't help me. After I did she hung up on me, I've finally got a hold of fraud dept, level 2, fraud papers are being sent a police report was made and Comerica bank was called.
Looking into the matter, further looks like IVR is their in house way of transferring funds back to themselves, but can't be proven at this level. I continue to call hoping to get help. I am 3500 miles away from home, I came to visit my parents with dementia, I have no way home or no place to stay as of Sunday. I am at my wit's end, I am disabled so I have no other source of income, I am without a car, HELP!!!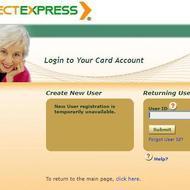 I have direct deposit for myself on disability, but have a direct express card for my daughter, where I am the representative payee. Ever since I enrolled for my Direct Express card, I have tried to set up a web account, so I can use the web to administer and see my info. However, every time, it does not allow me to register, get a new id, or password.
This morning, I tried to activate my new replacement card and the standard phone menu did not recognize the new card, so I could not set my pin or use my card. I tried calling the international collect customer service number but it is always busy. There is no email contact address. I had to use the regular customer service menu, then error out, to go to main menu. I finally managed to hack through the phone menu and get a web support person on the line, but she told me the registration for the web is closed. They don't know when it will re-open. I suspect they had some kind of Hacking incident, and are revamping their website, but is this really a reason to lock out people from using the web page altogether???

I'm a senior citizen that has been taken Fraudulently advantage of & am still in need of a refund that was returned by the merchant on 5/3/17, in the amount of $129.95, and "Direct Express" is refusing to give me my money back, and keeps lying to me with saying that I already received the funds back to my card and was done on 5/3/17, which is NOT TRUE!!! I Never received the refund back on my card, I am just told that I did by the customer service reps. It is unfair to be taken advantage of when all I'm seeking is what is Rightfully mine and is TRUE & FACTUAL! Obviously, someone is a thief and liar at Direct Express and I'm appalled by it, and need help Please!!! It's been almost 3 months now that I've been trying to resolve this issue & am tired & feel so helpless!!!

After 1 year of trouble free use, I received a call from DE stating THEY received a call from MasterCard questioning an international charge. I quickly refuted the charge. The card was then closed and I was offered a new card, of which I would have to wait over a week to receive while my remaining funds remained in limbo or; I could pay $13 for an expedited replacement. I was also told to check for other questionable charges and I was given THE number for DE to request what amounts to a theft report. After I checked my account, I saw nearly a dozen fraudulent charges from at least three different vendors (over $200 in purchases all totaled). When I called DE is where the insult on top of injury began. ONE number for the entire operation. You get a menu with some six options. Good luck getting a real person. All but one of the options inform you of "high call volumes" and invite you to "try calling at a later time" with an abrupt, automated hang up.
On the 3rd and 4th tries, I got rude, impatient people who heard my issue but informed me that nothing could be done by them and that I needed to speak to someone at "level two." Both times they went through the motions of transferring me KNOWING full well that my call would be dropped. Of course, I didn't catch the drift until my 5th and 6th calls. I was informed by then that there was no direct dial number to that or any other department. Only after another call did I finally get someone who had a little compassion after she noticed that I had called five times previously (meaning that ALL of the others knew that I had already called numerous times). Miraculously, she did not blindly transfer me and was able to "put" my call through to level two where I held on for another 20 minutes. Lo and behold, another grouchy and disinterested person took my information AGAIN.
She said a packet would be sent out in three or four days. 12 days later, (and counting) no information. Out of desperation, I contacted the merchants that those fraudulent purchases were made with (all were major internet businesses). Guess what? THEY all had proper conflict resolution processes. Without a single phone call and done by instant message and chat, I got ALL of my money back! No assistance at all from DE.
I quickly researched and requested a different, more highly rated prepaid card. Because my current card was with DE, I had to GO INTO my local SSA office in order to switch my direct deposit. Defiant to the end. Everyone at the local office seemed to be familiar the horror stories involving DE. How can this company STILL have a government contract? How can major corporations like MasterCard and Comerica Bank continue to put their names on and behind a slipshod organization like DE? I won't be waiting around for the answer.

On the following dates: 7-2-2017, 7-3-2017, and 7-9-2017 five transactions were made on my Direct Express Card that I get my SSI payments on. The total stolen from me was $484.54. I reside in Louisville, KY but the transactions were made in California, San Francisco & Sacramento to be exact. I called on the 9th of July to report these transactions because I had called my card to check my funds. The amounts stolen on the 2nd and 3rd were so small that I hadn't noticed. I spoke to someone after 9-10 attempts to get through to the fraud services department. The excuse I kept getting was some crap about high call volume.
I demanded to speak to a manager, and was finally able to speak to a lady named Amber who seemed to want to help me. I received the fraud services department form that they sent in the mail and faxed it back with the requested information. I was initially told that I had to wait for the charges to clear the account before the funds could be reimbursed. I faxed my statement to show that the transactions had already cleared!!! I am going to change where my funds go to now because this is ridiculous!!! I don't live in California and have NEVER even visited there!!! What's so hard about giving me my money back? I am going to report this everywhere I can, so that no one else has to go through this. This is like Direct Express stealing from me!!!

After having my information stolen, Direct Express has twice sent a new debit card to thieves. I had to pay each time $14 for the fraudulent card shipment, $4 card replacement fee, and $14 shipping of new card to me. I am allegedly eligible for a waiver allegedly processed after the fact... a program I'm not sure truthfully exists. I'm now struggling to receive needed information from them to have my direct deposit set to a real bank account. While a company that scams its own customers is bad enough, one that accepts vulnerable, underserved customers from government agencies seems particularly cruel.

I was shorted at an ATM however funds were still withdrawn from my Direct Express card. I called the 1-800 number for the bank that owned the ATM. They were extremely pleasant, agreed with the fact that I was shorted, said they would not dispute the shortage and gave me instructions on how to report this to Direct Express to get the money reimbursed onto my acct. I have read numerous reviews regarding the dissatisfaction with Direct Express, extremely rude customer service, lack of resolve of the issue at hand, etc. On May 3, 2017 I was shorted at an ATM. Direct Express customer service said I needed to speak with a Level 2. It took 6 days of numerous daily calls at all hours to be able to get in queue, as they say, to wait up to 45 min to speak with a Level 2. After numerous phone calls I received a provisional credit in the amount of the shortage.
On June 23rd I received a letter from Direct Express stating: "the investigation has been completed and case has been closed. We are pleased to inform you that the provisional credit applied to my account on 5/24/17 will remain as a permanent credit on my account." Four days later, 6/27/17, the amount of the provisional credit was deducted from my card as a reversal debit resulting in my card to go in to a negative balance. I've had to call several times daily at all hours of the day and night since then. I have been given different information from Level 2, Level 3, Level 3 supervisors and what they call "upper management." I am told Issue Trackers, emails, Urgent Expedited emails have been sent to dispute resolution, fraud and investigation departments. That is depending on who I speak with.
Yesterday a Level 3 supervisor told me I needed to go directly to the bank that owned the ATM that shorted me, bring them the approval letter I had received from Direct Express and that, that bank was responsible for giving me back the money. This Level 3 supervisor even went as far as to tell me that he's worked there for many years and has seen this issue numerous times and that most of the Level 2 and Level 3 are not aware of how the procedure works in these cases. He then said he was part of a team of supervisors who are reinventing forms and trainings for all customer service. I went to the bank and found out that I was misinformed by Direct Express on how this kind of procedure works. They called over to Direct Express for me to try to assist me in taking care of this matter. Customer service said they would hang up if I put on the speaker phone.
I got through to a Level 3 who told me that the other Level 3 gave me misinformation and that he shouldn't have sent me to the bank. I broke down in tears. My electricity has been turned off and any day now the Sheriff's office will be knocking on my door to formally evict me. I was told by that Level 3 and her supervisor that they expedited my case and promised to call me back by the end of the day. I never received a call. Once again I called Direct Express and when I finally was able to get transferred to Level 3, he spoke to me very rudely, was talking over me, threatening to hang up on me etc. He treated me so horribly that I was crying uncontrollably to the point of hyperventilating and not being able to breathe. I feel so beat down by this company and am at a loss of what to do.

Every three months I received a deposit to my Direct Express card. I have not received my deposit and I cannot get customer service to inquire about my deposits. I just want an explanation about why the payments stopped.

So I had made purchase online and a pre authorization payment was taken out. However the product was not going to be available so the online company said the cancellation was complete and the funds should be available. I checked the card balance, not there. I was told wait 5 days, checked 7 days later more money was missing and I hadn't used card. When I checked transactions the pre authorization was put on there 5 times which left me with 2 dollars. When I called I was getting a huge attitude, put on hold for almost 40 minutes, and told I have to wait for packet for unauthorized use of my card. 2 months later no packet and guess what no refunded money and the online company sent me copies that they only charged once and that it was shown to be refunded. This card is such a scam and I believe they are involved in some type of fraudulent activity!!! Please someone help us. This isn't fair.

My SSI payment was put on my Direct Express Card on June 30, 2017 at 1:00 AM. I went to a Chase Bank ATM to withdraw the complete payment. While there, attempting to withdraw I heard the money dispensing inside the machine and suddenly I get a receipt saying, "This device had experienced a technical problem... to confirm your last request was completed properly please visit a Chase Branch out call 18009959635." I was confused because the money didn't dispense out of the ATM for me to withdraw, and this never occurred before so I tried to withdraw again. After trying I get a receipt stating insufficient funds, (even though the ATM didn't dispense my money.) It was deducted from my account!!! I called Chase and was told to call my bank. Upon calling Direct Express I was told I'd be mailed an investigation packet to fill out and mail back to them.
It's been thirteen days later and I still never received the form they said should take 3-5 business days to get. I've been calling frantically for the past 8 days to figure out why I didn't receive a dispute form yet. After being disconnected and rudely spoken to astronomical times I was finally able to get through to level 2 today for them to supposedly "mail me another dispute form." This is ridiculous, I'm literally broke until the first of July because of an error they're responsible for. I now have to wait who knows how long to get the dispute form, fill it out, mail it back, and wait up to 90 days for a repayment. Even though I have the receipt from the ATM showing it malfunctioned, Direct Express said it works between 45 and 90 days for them to decide if my funds would be reissued. I'm going to switch banks next month to avoid this from happening again, I suggest you all do that same. Worst company ever.

DIRECT EXPRESS you suck and you lie, you are fraudulently taking funds. On June 30th, 2017 somehow someone went to an atm 20 miles away withdrew $382.50. The thing is I have my DIRECT EXPRESS card, not stolen with me. I keep asking how this is possible. "Hold please," she says. "You need a supervisor." Ok click. Get a recording saying "you're experiencing high call volume." I bet you are they arent interested in my case. Have not sent me nothing or have regard for this crap. This wasnt any online purchase but an ATM that needs a PIN#.
This is RIDICULOUS. You're insured. You should be returning these funds and INVESTIGATE. Maybe they dont because the funds being removed is taken by DIRECT EXPRESS and know they can get away with this. Well they have. Why isn't our "government" investigating all these fraudulent actions taking federal funded monies? Whats up and whats wrong with these charges? The customer pays the price for fraud since when isnt anybody noticing these reports SSI makes you get this card. Someone needs to be held accountable. GET REAL.

I am disabled and diabetic on several medications I can not do without. This is my second bad experience with US Direct Express. On 3rd of July I had a doctors appointment, for which I needed someone to drive me because I recently had shoulder surgery and can not drive. I sit in the doctors office for several hours and finally get out. I go to purchase gas for my drivers car and my card is declined. I check the website and my funds have been deposited but my card is under "L2 Suspension."
So I call the number for customer service and wait for almost 30 minutes and finally get hold of a live rep with the most horrendous attitude I ever encountered. She told me I was sent a new card with a "chip" in it and had not activated it so my account was suspended. Which I never got. When I tried to explain to her I was 30 miles from home and was diabetic and had not eaten for several hours and had to get gas to get home, I was told that is not her problem. I told her I received no warning that my card was suspended and this put me in a very dangerous situation. She proceeded to tell me that the best she could do was issue me another card and that would take 5 to 10 calendar days or I could have them expedite it for a 13.00 fee which would take 2 to 3 days.
I then asked her to speak to a supervisor to see if someone could just reactivate my card since it was still good till next year and she got really irate with me and told me that a supervisor would tell me the same thing she did and there was no need to talk to a supervisor. My companion spoke up and said that we needed to speak to a supervisor or someone who could help us. This really upset the lady in customer service and she started yelling at me to take her off speaker phone that she refused to discuss anything with a 3rd party.
Before I could get the phone off speaker phone the rep hung up on me. I wasn't given the chance to tell her I wanted the card expedited to me. Now when I try to call back all I get is a recording stating that my new card has been sent and I should receive it in 5 to to 10 days. I have most of my bills set up on auto pay. My car insurance has been canceled, my cell phone has been disconnected and my daughter got me a very nice socket wrench set for Fathers' day that she paid almost $200 for and I had to sell to a perfect stranger for $25 to get gas to get home.
Today is 7 days and I am going to be late on 3 of my bills that will cost me close to $100 in late fees. I have very good credit and now I am going to have a record of these late payments against me. Not to mention I am having to re-use syringes for my ** until I get this straightened out. I feel what I was put through is totally ridiculous, unprofessional and even life threatening, not to mention embarrassing. How can they just suspend my card when it was still good without notifying me? If anyone knows where I can lodge a formal complaint I would appreciate your help.

I was wondering if I was the only one this happen to but I saw this complaints and now I am more worried because I always pay my rent on time every month. I just got a new place. Only been here three months now so my landlord not happy I didn't give him his rent money this month. I told him I went to a Chase ATM in Walmart like I have before to get my rent money but this time the ATM said technical difficulty. I took the receipt but throw it away thinking I didn't need it, walked to another ATM to get my rent money. That one read insufficient funds, I said "What". I called my card, the Chase ATM, took my money off my card and didn't give me my money. My landlord is Mexican, doesn't speak English very well. He don't understand what happen except he don't have his rent money.
It's been almost a week now I still haven't received the form to fill out and I can't get a hold of someone at Direct Express due to high number of call volume then hangs up if I do finally get a hold of someone. After trying all day I can never get to a level 2 person lucky talked to one once to get the form mailed to me. I have told them this is my rent money. I don't have no one to help me or have anywhere to stay and my dogs and I don't want to go back to the streets. The lady on the line didn't seem to care and I felt like she thought I was exaggerating being put on the streets just to get my money faster. It was the truth.
I think it's your money. It only took a second to be deduct from your card they should give back to you as soon as possible especially if you're going to be homeless and it's not your fault. It's not fair that the ATM screwed up and you have to suffer the condescension just because you put your card in an ATM to do the right thing like get your rent money so you won't be on the streets. This whole thing is stressing me out.

Today I got burned like so many others. I went to the ATM to withdraw funds but it failed payout but DirectExpress still debited my account. It took my over dozen phone calls and hours on hold to talk to uncaring, rude Customer Support people just to open an ATM Dispute that may or may not be mailed to me. I was told it would take 45 to 90 days to investigate my "Claim" once they get the Dispute form back to them. Yep my $300 is a long time in returning to me. Since I am retired and have some free time I am going to start phoning and writing... to SSA, My US House Rep, My two US Senators, AARP, and the local and national press to fill them in how DirectExpress is a piece of crap. I suggest everyone else who has problems with the "Corporation" to do the same. If a enough noise is made maybe SSA will put the screws to DirectExpress and cancel their contract. Let's not just complain but do something about it.

Customer service for my card is non existent, rude people that don't know what they are talking about. You get a different answer every time you call. The only way to speak to someone is to pick the option for a stolen credit card. I tried to do a transfer from my card to my bank and it failed for some reason. USDirectExpress kept the transfer fee. I called several times to get it credited back to my account, I was always told the paperwork was filled out and I would receive it in 5 to 7 days. It never happened and when I finally got transferred to level 2, they just hung up on me. I hate card, I was finally able to get my deposit directly to my bank and as soon as card has a zero balance I will close this card. I made a complaint to Social Security also.

Very poor customer support. On the few occasions I've had to contact them, such as the a transaction I needed to be canceled recently, I only receive a recording that they are experience a heavy call volume, no matter what time of day I call, and then the call is hung up on. Impossible to talk to a human. Avoid them at all costs.

If you enjoy rude people who could care less about a disabled vet's problems after over $400 came up missing then this is the company for you! Since the 6th of June my husband has been trying to get the funds replaced so we can pay our bills and get food for our 2 kids and ourselves. It took almost a week just to make the report due to the employees hanging up on my husband and he just received the card last night well over the 2 business day mark. Husband got charged the extra 13.50 for them sending it out UPS in express mail and they STILL have not replaced the funds.
Today (6-14-2017) we have been spoken to rudely twice and have got a different story about the funds 4 times. Remember... we keep getting hung up on so we have to call back and do the whole process all over again with each call. Hopefully they will get themselves in gear today bc we have been without proper food, water and power for 4 days now and we live in Florida where the heat is intense. So sad that someone who took 2 tours in the Gulf War gets treated so poorly. While the majority of employees were still in diapers or school my husband was protecting their freedom and it seems as though they could care less about what all he has done or how he is suffering now because they can't get their ** together.

They are frauds, you can never get them on the phone no matter if you call day or night. I had charges that I didn't make on my account. They gave me the run around said they never received my paper work twice and then would always have a "heavy call volume " when I called and would get disconnected. I believe they are the ones stealing the money from my account. Just horrible all around. I am changing my direct deposit company!!!

I have been calling Direct Express since Fri June 2, 2017. It's a joke, I was on hold Fri for an hour then was disconnected. I have called several times on Mon June 5, 2017 and can't get through to level 2. All I get is apologize and excuses. When asking to speak to a supervisor because I didn't say what I wanted to talk to them about the agent hung up on me. I had two transactions not authorized and can't get anyone to help me. It's ridiculous there has to be something done.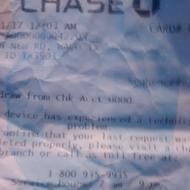 My only source of income, my SSI payment, was put on my Direct Express Card. Ok the first of June. I went to a Chase Bank ATM to withdraw my funds and the ATM issues me a receipt saying, "This device had experienced a technical problem... To confirm your last request was completed properly please visit a Chase Branch out call 18009959635." I then went to another ATM to withdraw money and found a balance of insufficient funds. Even though the ATM didn't dispense my money it was deducted from my account. I called Chase and was told to call my bank. Upon calling Direct Express I was told I would be mailed an investigation packet to fill out and mail back to them.
Even though I have the receipt from the ATM showing it malfunctioned, Direct Express said it works between 45 and 90 days for them to decide if my funds would be reissued. So I guess while Direct Express is deliberating over my case, my kids and I will just be out on the street or at the nearest homeless shelter. These people handle money for the elderly and disabled whose livelihoods depend solely on their government benefits and should not have the liberty of taking up to three months to reissue much needed funds. It's a bunch of BS. I am the most patriotic person in the country, but I'm also very ashamed that the government of my country would tell me to use such an incompetent service. I'm going to lose everything I've got now thanks to the U.S. government and Direct Express!!!

I called in for them to help me with an issue. I added my son two yrs ago to my account, and because I didn't know his ss# they transferred me to another dept. to verify who I was. They asked questions that didn't pertain to anything in my area but said I had to answer. They locked me out of my acct. and no managers on site they say. I now have fax my ID and ss to them to be able to get into my account. I verified every urgent my else. They shouldn't be able to pick me out because their verification system doesn't work.

I call my card on 5/16/2017 had money on it and telling me pending deposit will be deposit on 5/17/17. So I go to use card, cashier said I only had $8.00 on it so I'm looking at her, "Not so." I call the number on card. After talking to several people which by this time I'm in shock, disbelief, hurt. The complaint come on with attitude keep telling me it got be someone close to me did this. I'm like, "I have my card with me all the time." She like, "Did you let someone use your card." I was like, "My son and daughter use if I'm too sick to go the store." For one my son make $23 hr and my daughter had her own business and my son-in-law make $19 hr so she was like, "We going send you package and send out you a card but if you want it fast we have to charge you so we send it regular mail."
So my daughter pull up the app on this card it said "transfer was made through irv". Never heard of it. It some kind of phone software etc; so my daughter look up review on Direct Express. This happen a lot. People not getting money this over $900 dollars. I got this card because it was on social security paper so I thought it be safe. Social security need to shut this company down. It sad that they taking from people that only have one income so if you like me it already spent. Then I get. Mine's the third Wednesday of the month so this had to last me until 6/21/17.

I am on disability 2 times since December. My card has had unauthorized purchases and you have to wait broke, no money until they decide to replace your money. This is ridiculous. My vehicle insurance elapsed, utilities cut off, no groceries. This outfit should be shut down.

Direct Express employees made transactions without my consent on the exact day I got paid. I'm tired of trying to communicate with them. All they do is hang up on you. I have Sprint. Paid Sprint So April 26, 2017 and they made an AT&T bill transaction.
Direct Express Company Profile
Company Name:

Direct Express

Website:

https://www.usdirectexpress.com/edcfdtclient/