Consumer Complaints and Reviews

My SSI payment was put on my Direct Express Card on June 30, 2017 at 1:00 AM. I went to a Chase Bank ATM to withdraw the complete payment. While there, attempting to withdraw I heard the money dispensing inside the machine and suddenly I get a receipt saying, "This device had experienced a technical problem... to confirm your last request was completed properly please visit a Chase Branch out call 18009959635." I was confused because the money didn't dispense out of the ATM for me to withdraw, and this never occurred before so I tried to withdraw again. After trying I get a receipt stating insufficient funds, (even though the ATM didn't dispense my money.) It was deducted from my account!!! I called Chase and was told to call my bank. Upon calling Direct Express I was told I'd be mailed an investigation packet to fill out and mail back to them.
It's been thirteen days later and I still never received the form they said should take 3-5 business days to get. I've been calling frantically for the past 8 days to figure out why I didn't receive a dispute form yet. After being disconnected and rudely spoken to astronomical times I was finally able to get through to level 2 today for them to supposedly "mail me another dispute form." This is ridiculous, I'm literally broke until the first of July because of an error they're responsible for. I now have to wait who knows how long to get the dispute form, fill it out, mail it back, and wait up to 90 days for a repayment. Even though I have the receipt from the ATM showing it malfunctioned, Direct Express said it works between 45 and 90 days for them to decide if my funds would be reissued. I'm going to switch banks next month to avoid this from happening again, I suggest you all do that same. Worst company ever.

DIRECT EXPRESS you suck and you lie, you are fraudulently taking funds. On June 30th, 2017 somehow someone went to an atm 20 miles away withdrew $382.50. The thing is I have my DIRECT EXPRESS card, not stolen with me. I keep asking how this is possible. "Hold please," she says. "You need a supervisor." Ok click. Get a recording saying "you're experiencing high call volume." I bet you are they arent interested in my case. Have not sent me nothing or have regard for this crap. This wasnt any online purchase but an ATM that needs a PIN#.
This is RIDICULOUS. You're insured. You should be returning these funds and INVESTIGATE. Maybe they dont because the funds being removed is taken by DIRECT EXPRESS and know they can get away with this. Well they have. Why isn't our "government" investigating all these fraudulent actions taking federal funded monies? Whats up and whats wrong with these charges? The customer pays the price for fraud since when isnt anybody noticing these reports SSI makes you get this card. Someone needs to be held accountable. GET REAL.

I am disabled and diabetic on several medications I can not do without. This is my second bad experience with US Direct Express. On 3rd of July I had a doctors appointment, for which I needed someone to drive me because I recently had shoulder surgery and can not drive. I sit in the doctors office for several hours and finally get out. I go to purchase gas for my drivers car and my card is declined. I check the website and my funds have been deposited but my card is under "L2 Suspension."
So I call the number for customer service and wait for almost 30 minutes and finally get hold of a live rep with the most horrendous attitude I ever encountered. She told me I was sent a new card with a "chip" in it and had not activated it so my account was suspended. Which I never got. When I tried to explain to her I was 30 miles from home and was diabetic and had not eaten for several hours and had to get gas to get home, I was told that is not her problem. I told her I received no warning that my card was suspended and this put me in a very dangerous situation. She proceeded to tell me that the best she could do was issue me another card and that would take 5 to 10 calendar days or I could have them expedite it for a 13.00 fee which would take 2 to 3 days.
I then asked her to speak to a supervisor to see if someone could just reactivate my card since it was still good till next year and she got really irate with me and told me that a supervisor would tell me the same thing she did and there was no need to talk to a supervisor. My companion spoke up and said that we needed to speak to a supervisor or someone who could help us. This really upset the lady in customer service and she started yelling at me to take her off speaker phone that she refused to discuss anything with a 3rd party.
Before I could get the phone off speaker phone the rep hung up on me. I wasn't given the chance to tell her I wanted the card expedited to me. Now when I try to call back all I get is a recording stating that my new card has been sent and I should receive it in 5 to to 10 days. I have most of my bills set up on auto pay. My car insurance has been canceled, my cell phone has been disconnected and my daughter got me a very nice socket wrench set for Fathers' day that she paid almost $200 for and I had to sell to a perfect stranger for $25 to get gas to get home.
Today is 7 days and I am going to be late on 3 of my bills that will cost me close to $100 in late fees. I have very good credit and now I am going to have a record of these late payments against me. Not to mention I am having to re-use syringes for my ** until I get this straightened out. I feel what I was put through is totally ridiculous, unprofessional and even life threatening, not to mention embarrassing. How can they just suspend my card when it was still good without notifying me? If anyone knows where I can lodge a formal complaint I would appreciate your help.

I was wondering if I was the only one this happen to but I saw this complaints and now I am more worried because I always pay my rent on time every month. I just got a new place. Only been here three months now so my landlord not happy I didn't give him his rent money this month. I told him I went to a Chase ATM in Walmart like I have before to get my rent money but this time the ATM said technical difficulty. I took the receipt but throw it away thinking I didn't need it, walked to another ATM to get my rent money. That one read insufficient funds, I said "What". I called my card, the Chase ATM, took my money off my card and didn't give me my money. My landlord is Mexican, doesn't speak English very well. He don't understand what happen except he don't have his rent money.
It's been almost a week now I still haven't received the form to fill out and I can't get a hold of someone at Direct Express due to high number of call volume then hangs up if I do finally get a hold of someone. After trying all day I can never get to a level 2 person lucky talked to one once to get the form mailed to me. I have told them this is my rent money. I don't have no one to help me or have anywhere to stay and my dogs and I don't want to go back to the streets. The lady on the line didn't seem to care and I felt like she thought I was exaggerating being put on the streets just to get my money faster. It was the truth.
I think it's your money. It only took a second to be deduct from your card they should give back to you as soon as possible especially if you're going to be homeless and it's not your fault. It's not fair that the ATM screwed up and you have to suffer the condescension just because you put your card in an ATM to do the right thing like get your rent money so you won't be on the streets. This whole thing is stressing me out.

Today I got burned like so many others. I went to the ATM to withdraw funds but it failed payout but DirectExpress still debited my account. It took my over dozen phone calls and hours on hold to talk to uncaring, rude Customer Support people just to open an ATM Dispute that may or may not be mailed to me. I was told it would take 45 to 90 days to investigate my "Claim" once they get the Dispute form back to them. Yep my $300 is a long time in returning to me. Since I am retired and have some free time I am going to start phoning and writing... to SSA, My US House Rep, My two US Senators, AARP, and the local and national press to fill them in how DirectExpress is a piece of crap. I suggest everyone else who has problems with the "Corporation" to do the same. If a enough noise is made maybe SSA will put the screws to DirectExpress and cancel their contract. Let's not just complain but do something about it.
How do I know I can trust these reviews about Direct Express?
824,103 reviews on ConsumerAffairs are verified.
We require contact information to ensure our reviewers are real.
We use intelligent software that helps us maintain the integrity of reviews.
Our moderators read all reviews to verify quality and helpfulness.
For more information about reviews on ConsumerAffairs.com please visit our FAQ.

Customer service for my card is non existent, rude people that don't know what they are talking about. You get a different answer every time you call. The only way to speak to someone is to pick the option for a stolen credit card. I tried to do a transfer from my card to my bank and it failed for some reason. USDirectExpress kept the transfer fee. I called several times to get it credited back to my account, I was always told the paperwork was filled out and I would receive it in 5 to 7 days. It never happened and when I finally got transferred to level 2, they just hung up on me. I hate card, I was finally able to get my deposit directly to my bank and as soon as card has a zero balance I will close this card. I made a complaint to Social Security also.

Very poor customer support. On the few occasions I've had to contact them, such as the a transaction I needed to be canceled recently, I only receive a recording that they are experience a heavy call volume, no matter what time of day I call, and then the call is hung up on. Impossible to talk to a human. Avoid them at all costs.

If you enjoy rude people who could care less about a disabled vet's problems after over $400 came up missing then this is the company for you! Since the 6th of June my husband has been trying to get the funds replaced so we can pay our bills and get food for our 2 kids and ourselves. It took almost a week just to make the report due to the employees hanging up on my husband and he just received the card last night well over the 2 business day mark. Husband got charged the extra 13.50 for them sending it out UPS in express mail and they STILL have not replaced the funds.
Today (6-14-2017) we have been spoken to rudely twice and have got a different story about the funds 4 times. Remember... we keep getting hung up on so we have to call back and do the whole process all over again with each call. Hopefully they will get themselves in gear today bc we have been without proper food, water and power for 4 days now and we live in Florida where the heat is intense. So sad that someone who took 2 tours in the Gulf War gets treated so poorly. While the majority of employees were still in diapers or school my husband was protecting their freedom and it seems as though they could care less about what all he has done or how he is suffering now because they can't get their ** together.

They are frauds, you can never get them on the phone no matter if you call day or night. I had charges that I didn't make on my account. They gave me the run around said they never received my paper work twice and then would always have a "heavy call volume " when I called and would get disconnected. I believe they are the ones stealing the money from my account. Just horrible all around. I am changing my direct deposit company!!!

I have been calling Direct Express since Fri June 2, 2017. It's a joke, I was on hold Fri for an hour then was disconnected. I have called several times on Mon June 5, 2017 and can't get through to level 2. All I get is apologize and excuses. When asking to speak to a supervisor because I didn't say what I wanted to talk to them about the agent hung up on me. I had two transactions not authorized and can't get anyone to help me. It's ridiculous there has to be something done.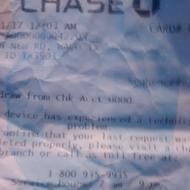 My only source of income, my SSI payment, was put on my Direct Express Card. Ok the first of June. I went to a Chase Bank ATM to withdraw my funds and the ATM issues me a receipt saying, "This device had experienced a technical problem... To confirm your last request was completed properly please visit a Chase Branch out call 18009959635." I then went to another ATM to withdraw money and found a balance of insufficient funds. Even though the ATM didn't dispense my money it was deducted from my account. I called Chase and was told to call my bank. Upon calling Direct Express I was told I would be mailed an investigation packet to fill out and mail back to them.
Even though I have the receipt from the ATM showing it malfunctioned, Direct Express said it works between 45 and 90 days for them to decide if my funds would be reissued. So I guess while Direct Express is deliberating over my case, my kids and I will just be out on the street or at the nearest homeless shelter. These people handle money for the elderly and disabled whose livelihoods depend solely on their government benefits and should not have the liberty of taking up to three months to reissue much needed funds. It's a bunch of BS. I am the most patriotic person in the country, but I'm also very ashamed that the government of my country would tell me to use such an incompetent service. I'm going to lose everything I've got now thanks to the U.S. government and Direct Express!!!

I called in for them to help me with an issue. I added my son two yrs ago to my account, and because I didn't know his ss# they transferred me to another dept. to verify who I was. They asked questions that didn't pertain to anything in my area but said I had to answer. They locked me out of my acct. and no managers on site they say. I now have fax my ID and ss to them to be able to get into my account. I verified every urgent my else. They shouldn't be able to pick me out because their verification system doesn't work.

I call my card on 5/16/2017 had money on it and telling me pending deposit will be deposit on 5/17/17. So I go to use card, cashier said I only had $8.00 on it so I'm looking at her, "Not so." I call the number on card. After talking to several people which by this time I'm in shock, disbelief, hurt. The complaint come on with attitude keep telling me it got be someone close to me did this. I'm like, "I have my card with me all the time." She like, "Did you let someone use your card." I was like, "My son and daughter use if I'm too sick to go the store." For one my son make $23 hr and my daughter had her own business and my son-in-law make $19 hr so she was like, "We going send you package and send out you a card but if you want it fast we have to charge you so we send it regular mail."
So my daughter pull up the app on this card it said "transfer was made through irv". Never heard of it. It some kind of phone software etc; so my daughter look up review on Direct Express. This happen a lot. People not getting money this over $900 dollars. I got this card because it was on social security paper so I thought it be safe. Social security need to shut this company down. It sad that they taking from people that only have one income so if you like me it already spent. Then I get. Mine's the third Wednesday of the month so this had to last me until 6/21/17.

I am on disability 2 times since December. My card has had unauthorized purchases and you have to wait broke, no money until they decide to replace your money. This is ridiculous. My vehicle insurance elapsed, utilities cut off, no groceries. This outfit should be shut down.

Direct Express employees made transactions without my consent on the exact day I got paid. I'm tired of trying to communicate with them. All they do is hang up on you. I have Sprint. Paid Sprint So April 26, 2017 and they made an AT&T bill transaction.

Getting hold of tier 2 support for fraud investigation is like doing your own appendectomy. Once you run the gauntlet and finally get a "human being", these people are less than customer service. I have been trying to recover less than $200 from fraudulent charges on my account and was spoken to as if I were the blame. I had employees hang up on me, double talk me, and calmly have no idea what they were talking about or doing. I am going to another card company for my military pension deposit since Direct Express cares nothing about the consumer. Beware of this company!

After having fraud charges on my card Direct Express called me and recommended I get a new card. I agreed. After waiting patiently for my card for 2 weeks (supposed to be here in 5 calendar days) it never showed. I now have to wait again or pay a new card fee and shipping. Guess I should have been extorted the first time and I'm sure my card would have been on time. I called and they said all we can do is cancel that one and send you another one? So this time I opted for the $13 two day delivery. That's when the girl on the phone got rude. She had already told me everything twice.
When I said I have no time for this (information that had been repeated twice already) plus everything was already done so I could get my card, she said "you will listen to me or you won't get your money." I said "excuse me? You already did everything you needed to do. I don't want to spend anymore wasted time." She said "I guess you don't need your free money then". Wow.... thanks for talking down to the disabled. I asked to talk to her manager. He was conveniently standing right there. He got on the phone and started yelling at me. He said "if you want your free money then shut your mouth and listen..." I bit my tongue and said "will you please finish." He then said "are you sure you're done?" I lost it and said "I just told you I was listening, don't talk down to me." I said "hurry up and finish repeating yourself." He then told me about a $4 fee 3 more times just to be a scumbag. I plan to put my SSI money elsewhere and you should too.

My wife has Alzheimer's, and I'm her recipient Payee. Nevertheless, I could not give ANY information without the Customer "Service" gal interrupting me insisting that Federal Privacy Laws prohibit talking to or listening to anybody but her. Besides being a lie (they could have heard me talk, then hear her verify that what I had said was correct), it's flat out cruelty to an Alzheimer's patient to grill her for information from her memory.
Finally, I answered the "CS" gal's question by SHOUTING OVER HER TRYING TO INTERRUPT ME, so that the actual information was given. Then I invited her to get confirmation. No such luck. My wife had to remember on her own, with the threat that if I spoke on the line again she (the "CS" gal) would hang up on me. Funny thing, the FIRST call I made I talked with a "CS" guy who had no trouble talking to me, taking verification from my wife as needed. I wish he'd stayed on the line. This was at about 4:30 PM CST on 5 May 2017. Anybody on the Direct Express end is welcome to talk with me. Direct Express has no "Customer Complaint Number" for seeking redress of problems like this. Pursuit of this may take time, but, if possible, TAKE YOUR BUSINESS TO SOME OTHER SERVICE.

I got a refund for $27.74 from a Deli, but Direct Express dispute department gives you excuses why you can't get your refund. They said that it takes up to 30 days to post up a refund on your statement. They deny that there's a refund when you can prove it with a refund receipt, yet they refuse to give me my refund which is my DISABILITY BENEFITS that they are robbing. How do I get my refund when the companies issue them and Direct Express refuses to issue the refund? I have 3 refunds totaling about $100 and they won't even transact the first refund. They want me to fill out a claim dispute form that takes up to 45 days to get my refund. How can they do this simply & hassle free besides RIP OFF FREE?

I have been trying to get my money back from Direct Express for three charges equal to $600. I am a 100% disable veteran struggling to get by on a budget. Several unauthorized purchases were made. I have face with rude, disrespectful nasty and question about my ability to manage my funds, when the fact is Direct Express should be investigated for mishandling veteran's/consumer's money. IF THERE IS SOMEONE OUT THERE WHO CAN help me please send contact me.

Unauthorized charges were made to my account. Within 3 days after receipt of the monthly statement I reported $313 in unauthorized charges by an apparently scam company. Account Dispute for Direct Express reported that $61 had been credited but told me that the rest was denied because they "could not find where an error has occurred". Of course the error was a scam charge. But, Direct would do nothing more. They did nothing to protect my interests and actually helped to advance the Fraud. Direct Express should not be allowed to do business Especially with customer's Social Security money.

This bank and its customer service is a disgrace!! The phone reps are rude and horrible! Beware!

I used Direct Express several years ago and was happy with them at the time. Due to some confusion at my bank last month I had my SS check put back on Direct Express, big mistake. If my check came into my bank on Friday night it was released Saturday morning but not so with Direct Express. They have it pending and won't release it until Monday. That is a crock because it's the end of the month and I need it. You can believe I will be back at my bank next month. It's my money and they have no right to hold it.

My story is much like all the others almost exactly with a twist. 550.00 was missing from my card so I called, canceled the card, and they sent one out in two days. I paid extra cause she said the money will be on the new card and so started the investigation. She told me someone used the card at Amazon so I waited, broke for days, and stranded when it arrived with only 46.00 on it. I called back and got the same story as others about the packet and waiting longer and how the previous woman who helped was wrong. Having had enough I finally called Amazon and gave him the credit card number to look up the charges... there was none!!! Amazon was very helpful and supportive nobody used my card, this bank or someone working there is scamming customers! Now what? My daughter is still waiting for me to come home but I am stuck in another state waiting on this so-called bank! Why are they getting away with this?

Unintelligent, delinquent, unclean, unhealthy company policies. This company Direct Express fails to secure your money after card is stolen taking days to shut card off after reported stolen. I lost my funds by a thief! Direct Express is a loser company. They steal money out of my account every month like 15 or 32 dollars a day. They allow overdrafts if you forget a tip because it may be charged to account days later. How peculiar. Shut them down!!!

I was fraudulently taken for $600.00, almost my entire month's money to live off of. I am paraplegic, and have no way of working anymore, so like everyone else here I had to get SSI benefits. On February 1st a motel I had been staying at took $600.00 off of my card, which they had fraudulently kept on file. I had a judge's orders saying that money they were asking for in the Unlawful Detainer case was dismissed without prejudice, yet they took it anyway.
So I faxed Direct Express my dispute letter, along with the court order, should be very easy right?! NO WAY! They waited the 16 days to tell me that they "closed" the case, because my letter was illegible (they couldn't read it) which is a crock of crap! We all know they will do ANYTHING to keep from having to pay us back. I have gone as far as trying to contact the department of treasury, no help there. I say we get together with an attorney and file a class action lawsuit. Contact me if you're interested.

I went to check my balance on my card this morning only to find out that Direct Express had authorized 4 charges to my card to lye car service and 2 more to Sonic restaurant in California. I live in NY. All 6 charges were made within a few hours of one another. Apparently they do not monitor these cards. These were my social security benefits. The person that hacked my account was kind enough to leave me $25 on it. Lucky I called or that would have been gone too. Direct Express did not seem concerned about this and will check into it they said. Their attitude was totally unconcerned. I will be calling them every day till my money is put back on my card. I will also let social security know. Do not use this card... they do not monitor activity!!!

Here is the skinny on these slimy scumbags, they snag accounts automatically through disability. I did not choose them, OK? I noticed a lot of money was missing, checked the website and it showed some km343 or something like that withdrew the funds, first I google that company and found out it was some scam that somehow magically gets into people's accounts and just robs you (they play the law of averages, rob 100 people maybe only 70% catch them). Anyway, I call Direct Express and inform them that the pending transaction is unauthorized. Please stop it, yep here was my response, basically they said nope! "We can't do anything until the transaction is complete" (soon as you're done being robbed) then call us back, did they refund it then? Nope, not at all after watching myself get robbed they then sprung into action.
Here is how they handle it, after getting robbed you must wait a few weeks for this big packet to come in the mail, you most likely will have to ask them a few times to send it because they say they do but it never shows up, when it finally gets there you have to fill it out then take it to the police station and file a report, send it back and after about 9 months to a year you get some ** excuse or they'll just keep needing more information, basically they directly express it up your **! They're most likely involved with the thefts in the first place because they allow people into your account, again they just assume you are disabled and unable to pick up on it.
My recommendation is to get rid of them as soon as possible, you can have your disability sent directly to your bank. As a disabled person I understand what it's like to have your ability to provide taken away then have a bunch of clueless idiots pass judgement on you and a million dirtbags line up to try and rip you off, get rid of those people they are no good.

Forget biased opinions or other reasons you may glance over a review, please listen: there are factual reasons that you must move your benefits to another card immediately.
FACT 1: VICTIMS OF CC THEFT WILL WAIT 10 BUSINESS DAYS AT MINIMUM BEFORE GETTING THEIR STOLEN FUNDS BACK. At least two that I researched (AmEx and NetSpend) return your stolen funds within one business day in most cases. If you have money stolen from your card, Direct Express will always every time force you to wait 10 business days from date theft reported to get your provisional credit (your funds back). That's right, you live off your benefits and a credit card thief takes them all, you are screwed for at least two weeks no food, no bills paid. They may tell you it can come sooner, but I assure you ask anyone with prior claims.
A representative at Direct Express who actually cared that I lost my apartment even told me they probably won't EVEN LOOK at my claim until that last 10th business day. Oh and, no way to contact the dispute team. Not for you, and supposedly the workers can't contact them either. Guess what!! American Express Serve: you get your funds almost immediately after you report your card stolen as long as it's been registered. NetSpend: you get your funds back usually by the next day. Do some research I'm sure there's many more that are just as good.
FACT 2: YOU WILL NEVER, EVER GET YOUR BENEFIT DEPOSIT ONE SECOND EARLIER THAN SCHEDULED. Once again, AmEx Serve and NetSpend and may more options give you your money 1-2 days early each month. Unless your benefit pay date falls on a weekend or holiday, don't ever expect access to your money before 1 am on your payout date. Guess what!! Almost any other prepaid card out there will give you this money up to two days early. I have seen first hand that AMEX serve will two days early every month. And say your pay date is on a weekend or holiday, well then you'll get it two days before the new early day as well, so up to 4-5 days early possibly!!
FACT 3: Other things to consider, you can't load funds onto Direct Express, when you call into customer service expect significant hold times and hang ups after holding over an hour, and much more. Pretty much every other prepaid card lets you load funds and first hand experience with AmEx Serve and NetSpend proves customer service wait times of mere seconds on most occasions.
My opinion is that the Direct Express card is absolutely horrible, the company unethical, and there are so many disadvantages. After my $950 was stolen by thieves in another state, I lost my new apartment and went without meds and food. They didn't care. Also, you might trust this card because it's promoted by the Treasury. Guess what, when I went into the SSI office homeless and hurting, they basically informed me that they know nothing about the card and it was obvious there's just some money making partnership there. Please, don't accept this card. If on it already, get off now before your money is stolen and it's too late.

Around November 1, 2016, I attempted to make an online order for Scentsy with Direct Express card. It was denied. After several failed attempts, I contacted Direct Express. I was told that my card had been put on hold for an "unusual transaction attempt". I thought that was crazy because I knew I had used my card before then to order Scentsy. The hold was taken off my card. Then, December 1, 2016, I was able to use my card to order Scentsy, bought a few small things later that day, then I went to Wal-Mart that evening. On my way to Wal-Mart, I called Direct Express to get my balance on my card. I had $75 + left. I got what I needed and got to the checkout. When I ran my Direct Express Card, IT WAS DENIED! I knew this couldn't be right because I had just called not even 30 minutes before. I tried several more times, even putting a few things back... DENIED, DENIED, DENIED!!
Totally frustrated, I went home and called Direct Express to hear my balance again. It said it was $0! The next morning I called Direct Express and finally got to talk to someone. I was told that DirecTV had withdrew the remaining $75 off my card for "unreturned equipment"! I was completely shocked and furious! I had not authorized any "autopay" for DirecTV. When I told the Direct Express Customer Service lady this, she acted like it was no big deal. She basically said that if I used my card even once for DirecTV, that it gave them the right to withdraw off it. I was absolutely furious! I felt like I had been robbed! I have a Torn Rotator Cuff in my right shoulder and am unable to work. My VA check of $133 (on my Direct Express Card) is my only income, so I couldn't afford that big of a loss.
Then, maybe two weeks later, thinking that maybe DirecTV had refunded the $75 once they realized I had returned their equipment, I called Direct Express to see what my balance was. Not only had they not refunded my money, but I had a NEGATIVE BALANCE of $75!!! I have had my Direct Express Card for 10-15 years now and have never had that happen. If I had tried to make a purchase without enough on my card, it would be denied. It has never let me use what I didn't have. I tried to reach Direct Express and DirecTV on this matter and haven't been able to get anything straightened out.
As for when I "signed up" for DirecTV, first yes, I used my Direct Express Card for the initial $50 because it had to be paid then. When asked if I wanted autopay in that card I said NO. The "autopay" line on the agreement/receipt is empty and I never was asked to sign the agreement. A couple weeks later I received a bill from DirecTV for the initial $50 that I had already paid!! When I asked about this, I was told that the salesman had been with an independent company so technically DirecTV hadn't gotten their money. I will never get DirecTV again and will be canceling my Direct Express Card as soon as I am able to.
Direct Express Company Profile
Company Name:

Direct Express

Website:

https://www.usdirectexpress.com/edcfdtclient/