Consumer Complaints and Reviews

Serious problems with functioning of the product, and even worse now that the Intuit (makers of Quickbooks) sold off this brand of products. The product does not download my business bank entries like it did before. There has also been problems with categorizing entries. Customer service is poor. When I tried to get help they talked me into a $199 service agreement that was demanded or they would not help with the problem. A couple of months later I got a call from someone who said they were with Quicken and knew about the service policy, stating they were having difficulty downloading an update to their customers. That appears to have been a scam because the phone number I asked for was not in service. Had I seen so many negative reviews on this website, I would never have continued with this company.

Look harder for alternatives to Quicken - I am. I didn't read any of the reviews on here until after I had bought 2017. I've used it for almost 20 years now and regret it more each year. As many have already said on here, you are forced to submit a lot of personal information to Intuit just to open the program. Not acceptable. There are constant hassles with downloading information, transferring information, categorizing information. It's time to break their stranglehold on finances just like with Microsoft for operating systems and office software. They are far too deep into our information which could be acceptable except that it is only making the program slower and less effective. Good luck.

Quicken 2017 Deluxe - I purchased this at Staples. When I installed it, the program said it was saving my files. I had saved a copy myself, but the Quicken program overwrote my GOOD file and the file they saved was no good--it was missing MOST of 2017. No help from Quicken, though they did try. The last update I had was in February, so it was my fault I didn't back things up sooner. I had to import that file and lose much of my data. After I updated what I could by hand, I saw a duplicate and tried to delete the transaction. It deleted the transaction that was ABOVE the one I wanted to delete. Quicken had me run an update. It had an error. They said to try again in a few days. The program is FULL of bugs and I don't DARE try using the online banking feature, let alone the mobile app.
OH ONE MORE THING. When I had to sign in, it wouldn't take my password and when I clicked "Forgot password" it asked questions like, "What was the amount of your last deposit into your checking account?" The next question was, "What was the last amount you paid on your credit card account?" WHY do they KNOW this information? Are they keeping track of your money? I DO NOT LIKE THIS NEW QUICKEN and if I find another program similar to it that does NOT have online banking, I WILL switch.

Just upgraded to Quicken H&B 2017 since we are kind of forced to if we want to continue to be able to download transactions which is essential for using Q efficiently. Have been user since 1995. With this upgrade, we are forced to log in into Intuit. Don't like that at all. Number One: Privacy Issues - I don't want Intuit to know about my finances. Number Two: Intuit log in on the blink. It is forcing me to log in with my email/PW before Automatic Update will function. Well, it's not logging in after multiple tries. Keeps saying - "It's not your fault, it's on our end." Well I have work to do so I tried manually downloading from banking site. When tried to import, the Intuit login screen comes up anyway. There's no go-around! This is very bad. This is OUR info, NOT INTUIT'S!!! BAD BUG!!! Must fix ASAP!!!

I have always tried to use Quicken in a standalone mode on my personal PC to track and manage my finances. I have never used, or wanted to use, the additional financial services provided by Quicken. However, since the 2014 update, Quicken requires you to log into Intuit for all transactions, such as downloading your transactions from a bank. Customer service says this is for verification purposes only, but it is even required if I download the web, connect file to my PC and then try to import it. There is no network security issue here, and I should be able to do it without logging into Intuit.
What bothers me is the privacy agreement which states: "The type of information we collect may depend on the Quicken features you use and may include:... payment and financial data; information that includes third party content and functionality... Quicken is a personal financial management service that can automatically download financial information, such as current account balances and transactions. To provide you with this service, we may need to access your online financial accounts. Also note where your data may be located. The data we process may be transferred to, stored, and processed in, the United States or any other country in which Quicken or its affiliates, subsidiaries, or service providers maintain operations."
To me this means that if someone in another country comprises my data, I may not have any recourse for compensation. With Quicken, I thought I was buying a standalone product for my PC, but apparently now it is a network product that insists on moving my information out of my home and into the network. That is not what I am looking for.
How do I know I can trust these reviews about Intuit?
743,097 reviews on ConsumerAffairs are verified.
We require contact information to ensure our reviewers are real.
We use intelligent software that helps us maintain the integrity of reviews.
Our moderators read all reviews to verify quality and helpfulness.
For more information about reviews on ConsumerAffairs.com please visit our FAQ.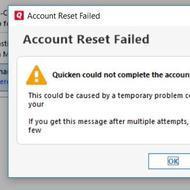 Upgraded to the new 2017 version since I was having trouble updating my bank accounts and all I can say is hold off as long as possible. Having more issues than ever. Been a very long time user of Quicken but this latest upgrade is terrible. I'm having to try and reset my accounts and this only works half the time. Minor issue is the graphics are very generic, but I could live with this as long as the program works. See the attached picture, doesn't even fill in the blanks on the failed reset message. SAD, wish there was another product I could buy. Lack of true competition is making Intuit's Quicken programs sloppy and we users pay the price!

Quicken is killing me. Like many making these posts, I have been a long time user of Quicken... decades. I have kept the tool functional, as I have valued historical reporting. Unfortunately, I have now run into a situation where online updates are failing in several of my banks and accounts. It all started last Friday. If I try to deactivate an account, it will not reactivate, due to some internal quicken error. They must have fun with the message "It's not your fault", but that is not helping me. I've been on 3 very long calls with reps who have had me upload log files, still have no clear answer as to what the issue is. Something happened last week and they still have yet to fess up to their crime. Personally I think they put a "time bomb" of sorts to "force people to upgrade".

DO NOT BUY THEIR product until their issues are fixed. They do not connect with Wells Fargo or Chase or credit cards to do computers issues. This has been going on for 6 months. PLEASE. Quit making so many upgrades that your own technology cannot keep up. It is all manual uploading of files, keeping log of dates so you don't duplicated transactions. Might as well just enter them manually every month. It's easier. IT SUCKS, and I have been using it for 14 years. They should have kept it simple.

I have been using Quicken since 2001 and upgraded a few times. The last one I bought was 2014 and had it on one laptop that crashed so I downloaded it onto another laptop and transferred all my backed up files from each successive year to my current laptop. I did not really like 2014 prior to my moving my files due to the fact that the screen seemed to roll after each transaction and my sound was not working. However other than that I was satisfied. Shortly after moving the 2014 to my new laptop, I began to experience opening problems and would have to go to the actual app on the start page of Windows 8.1 to open it, and sometimes was getting an error upon trying to open using the desktop shortcut, as if the program could not be found. I knew that in April of 2017 Quicken would need to be updated again in order to be able to download the transactions from my bank and credit card companies.
It had been a few months since I attempted to open it as I don't do my balancing monthly... yet I went ahead and bought a copy of the new 2017 Quicken program when it went on sale. So today I was going to download the new program when I opened my laptop and did not see the Quicken icon on my desktop. Now that I think of it, it's not been there for a while but I did not need it so I just didn't really notice. Upon a quick search I found the icon was not on the start up page, and when I looked in all programs it was not listed in the programs. I did a search on my computer and found it was not in program files either. The only place anything concerning Quicken was at, was in my documents where my backup files are located and when I attempted to open those files my computer asked me what program I wanted to open with.
I'm about to attempt to reinstall 2014 from the disc to see if I can even access the backup files. If not... I'm in a world of hurt. At the moment it's attempting to download updates and taking too long... reminding me that I have had to do this a couple months ago just to get Quicken to open, and it did not ever finish the updates I had to just open without finishing. Just now I attempted to open a backup file and it crashed it and the error report also failed to send. I'm about to attempt to reinstall and hoping the updates will finish and I can then install 2017. After reading some of the other reviews, I'm not expecting a good outcome!!!

Like many others, I've used Quicken for many years. Now it crashes frequently. Most of the time I can simply re-open it and go about my business. This week, however, I have encountered what appears to be an unrecoverable error. I cannot use my saved reports without a crash. I've reinstalled, reset, and done everything I can think of and read about in the community support site. Waiting an hour on line for tech support only to have someone sing-song me through the same scripts I read online is simply unacceptable. Once I recover my data, I'm going to look for another program. Quicken 2017 is a disaster. BTW, I purchased the product directly through Quicken/Intuit.

I've been using Quicken in general for many years and I have saved all the transactions since 1997 since I like to be able to research issues in my life based on prior activity. I'm surprised that the program has been able to retain all these transactions. I have just added all the transactions in all the accounts and came up with about 40 k in transactions alone. I don't if there is complexity that varies in all the different account types that complicate that total. All I know is that it represents my personal information (and a three year duration of a small business) without ANY trimming over that time.
I haven't had many of the severe errors or problems that I see written at this site, but I have had a couple that I will relate. The most worrisome came happened several years ago when it appeared that ALL my transactions and or the entire file had been compromised in some way so that I couldn't go on until I solved the problem and integrity of the numbers (balancing of accounts).
The program Quicken couldn't download transactions from the bank and make me secure in the belief that the data is accurate. I tried several ways of moving my data from the source file to another NEW file so I could be sure that the database was simply accurate and not scrambled. There was no tools that would simply and completely export the transactions (accurately) and allow for the importing into another new fresh file.
Somehow I came across the answer, or just an attempt to try anything. I tried the VALIDATE file operation. And It worked! Believe it or no, that was the answer. All the transactions worked as they were supposed to and the processes were correct too. I had no further problem after that point. I now do a process every so often when I either reach a plateau of activity or the new data that I'm going to enter is particularly unique or even when I'm going to start changing the text in many transactions significantly and I want to protect the existing transactions from irrevocable harm. That process is to COPY the current file to a physical new file and append the name with a progressive suffix so that the naming will be obvious. Part of that action includes doing the VALIDATE action once in a while and constant backups. This process may solve some people's file problems, but I can't be sure of how many.

Have been with Quicken since 2001, recently upgraded to Quicken Deluxe 2017. Since then problems have arisen with Capital One and Discover accounts. Transactions are not downloaded. Web connect no longer works, deactivated and re activated both accounts. Reset accounts. No results. Contacted both the banks and Quicken help. No resolution. This has been going on for over two months. Not happy. Will no longer recommend Quicken.

I have used Quicken since 1994. When the ability to download accounts from banks became available this was great. Unfortunately, Quicken has to provide an "update" every year in order to make money. These updates have made Quicken completely unusable. Quicken has NO live support as I know of. Now someone could make a lot of money to provide a replacement for this terrible company. I will be your first customer.

Like everyone else, I discovered that Quicken is not what it was when Intuit owned it. Tech support is a JOKE (and it used to be so good) and may folks end up with 3rd party hustlers: "Vincent" of VA, I share your pain. I too was charge $400 for support that did not fix my problem - and made it worse. Stay clear of "Boomerang Tech Services". They are a SCAM! I also "upgraded" from Q2015 to Q2017 - HUGE MISTAKE! Fortunately I had saved copies of my last Q2015 file and I still had my Q2015 CD. I deleted Q2017 and its file and reloaded Quicken 2015 (and started a whole new file. It was a PITA but I was able to reconnect to my financial institutions and download what I needed from them. I am doing just fine with my "old" Quicken Deluxe 2015 - and a brand new clean data file.

Quicken Customer Support Scams. For some odd reason Quicken does not post their Customer Support Phone Numbers. If you Google Search Quicken Customer Support Phone Number or Quicken Customer Service Phone Number you get several erroneous links. DO NOT FALL FOR THESE! Although I'm frustrated with not being able to easily find the right phone number, I'm very pleased with Quicken Customer Service when I need to contact them. The correct phone numbers are: 888-311-7276 and 650-250-1900. These lines are ONLY answered Monday-Friday, 5 AM-5 PM Pacific Time.

I have been a user of Quicken for almost 20 years. Each year the usability of Quicken has significantly deteriorated making the product more difficult and time-consuming to use. After loading the 2017 version I am now 100% feed up with Quicken and looking for a replacement software so, I can immediately unload Quicken. If you never used Quicken, my recommendation to avoid a great deal of frustration, is to avoid Quicken at all cost. I have spent hours with Quicken Level 1 and Level 2 support teams and their knowledge of the banking and investment industry is at a 7th Grade level. Their knowledge of QUICKEN is even less. I cannot even imagine what quicken will be like in 2018.

I upgraded to Quicken 2016 late last year to my everlasting regret. To summarize my situation as of today: 1. I can no longer open the program on my desktop computer running Windows 7. 2. I had already lost 90% of my transactions going back at least to 2013. 3. #1 above occurred after I "upgraded" the program with the latest software revisions, hoping to recover my missing data.
I am looking for an alternative program with 2 major requirements, as I am an independent contractor and need to be able to split my monthly credit card statement into different categories, separating tax related from personal expenses. My other major requirement is to have the ability to print a tax report after each year end.

QuickenBillPay.com has become an annoyance. My password is reset and I'm locked out almost weekly as I get errors when using Quicken software after doing updates. I called Annie today in customer service; I've done this 4 times this month to reset my password. I confirmed the security questions, as it's under my husband's name. I've reset this myself many times, Annie refused to without my husband. After asking for a supervisor and threatening to cancel and getting very angry with her, she hung up and magically my password reset and I could login. It's unbelievable that I have to yell to get customer service to do what is asked. If I answer all security questions, as I have many times in the past, they should reset it immediately. Horrible customer service.

Quicken Deluxe continues to fail regularly when trying to download banking information (whether One Step Update, or individual update per account). I used the popular option to get bank info downloaded to Quicken, via Quicken configs, called Express Web Connect. Up to Quicken 2015 at some point, it worked fine 85% of the time.
Quicken 2016 was purchased last year, to try and fix the issue when it wouldn't go away at some point (had tried every workaround - including dropping accounts out of Express Web/One Step Update & putting back in, and changing bank passwords and changing Quicken account passwords, and changing Vault password, etc...all the typical Customer Support efforts). At one point I was told the database group would have to look at my uploaded configs/file so they could figure it out. Nice eh? Send strangers who sell software everything about you without already feeling to good about them! The software worked for months, then again it began the hours of failure and trying to download successfully bank information/transactions. Cannot tell you the number of endless hours over the past 8 months we've spent just trying to get simple transaction downloads to happen when requested from Quicken.
We went to Quicken 2017 recently, to see if it would fix the problem (after hours and hours of trying to fix it, two weeks in a row), and it still happens. I find myself trying workarounds (like downloading the transactions from the bank's manual download section, one at a time, or trying Once Step Update 4 or 5 times and crossing my fingers, etc.), but Quicken has exhausted me. Very tired of this, I cannot recommend this product to anybody. I use one of the largest banks around, readily recognized by Quicken, but Quicken fails waaay TOO MANY times. We've come to hate doing our billing/budgeting because of Quicken. Anybody have a better known product for a home user?

I recently purchased Quicken 2017. After installation, I was asked to sign in which I did. However, each time I opened a new account I was asked to sign in again and again. I don't want to sign in. I don't want Quicken to monitor me or to have access to my information. I certainly don't want Quicken snooping around or monitoring my activity. If I can find another program that is not so invasive, I will purchase it at any price.
I've been with Quicken since 1985 that's 32 years. As they have added more features, they have made their product more complex with features that are forced upon the user even if you buy the simplest version. I'm not saying that some people can't use these new features but many people don't need Quicken's extra features. Add to that fact that Quicken makes you sign in all the time and the annoyance factor is no longer bearable. But maybe things will change now that H.I.G. Capital purchased Quicken. We all know how important the UX (User Experience) is to capital investors!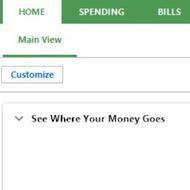 I have been using Quicken for Windows since about 1989 and have upgraded regularly as new versions became available. Quicken 2017 upgrade has been a frustrating experience. I have 5 different Quicken files as I manage multiple investing accounts for family members. The GUI and display has changed to a poor quality pixelated image (see attached image) that is uncomfortable to use and it is not my monitor. Fonts are NOT clear...expect a headache and eye strain. The necessity to sign in to the Quicken online portal is absurd. Another password and sign in for WHAT! I got locked out twice and had to reset passwords. That is ridiculous.
Accepting downloaded transactions from my brokerage firm takes 5-10 seconds for each transaction and response to keyboard and mouse input seems to hang at times. The software code is obviously bloated and poorly constructed. I am no computer novice...I always stay updated as I buy new high end hardware every 2 years. I am actively looking for alternative software and intend to scrap Quicken...after more than 20 years of being a satisfied customer. I would scrap Windows too if a decent Apple financial management application became available. I have recommended Quicken in the past but now only can advise people to AVOID buying it. The frustration is not worth the hassle.

I purchased Quicken (2017) for the first time this year when I was looking for quality budgeting software. The program responds slowly and booted me out multiple times just during the initial setup of my budget. I called customer service in India with a basic question about the budgeting function, waited on hold for 24 minutes and then was asked repeatedly for my personal information in order to answer a simple software question. The rep. I spoke with did not know the answer and only insisted on having my personal info so she could connect to my computer, which I refused to do. I was on hold for another 20+ minutes and I never got an answer. I finally hung up while on hold. I am returning this program for a full refund. I wish they could refund the hours I lost on it!

I have been a user of Quicken since 2003 and have overall been extremely satisfied with how well it works to keep my business expenses clear and to be able to download and categorize transactions. I am now using Quicken 2016 and discovered a couple days ago that I was unable to do an online backup of my Quicken files. I called the Quicken support number and they looked at my computer using remote access and told me there were numerous errors in my file and that I could entirely lose all my information unless I had it fixed. This was in spite of the fact that I regularly have been doing online backups to their cloud and paying for the service.
They offered me three different tech support options, a three-year option for $400 and two other longer options. The three-year option included getting an updated version of Quicken each year for the next three years plus TurboTax. Because I am so dependent on Quicken for keeping track of business expenses, I reluctantly paid $400 for the three-year service agreement.
The service that followed to try to fix my problem has been horrible. On Friday from around 12 noon till around 7 PM they had remote access to my computer. Whenever I checked with them to find out what's going on I was usually glibly told "Everything is fine sir. We should be done in another hour." Often when I checked the computer, it seem to be locked into some scenario that wasn't moving or going anywhere such as saying that it was checking for updates and it was still doing the same checking hours later.
Finally they told me to call back on Saturday and they would fix the problem. I was working 24 hours Saturday but I left the computer on and they told me that everything was good to go all I had to do was log into my account and then I would be able to back up my information and everything was done. They told me they could not do this for me because they are not allowed to handle my username or password. They told me to call them Sunday when they are also open and I could complete the process with them then and it would not take more than 45 minutes.
Today is Sunday, and when I called them I spoke to a service technician who told me that they were updating Windows and to call back on Monday. I told them that that was not the case and my computer was not updating Windows. I could tell from looking at the screen. I told him that I was told something different the day before. He was not helpful and spoke very poor English and acted like what I was saying was wrong and I was misinformed.
I then asked to speak to a supervisor. The supervisor then told me something entirely different. He told me I had to call back Monday because the database team would work on my problem. None of the people there seem sympathetic to the fact that I was told a lot of contradictory information and that I haven't been able to use my computer for the last approximately 48 hours or so. Some of the people that you interact with there speak an almost unintelligible form of English. They do not seem to be on top of my problem and seem to just give me scripted speech here and there to just put me off and maybe push the problem off to somebody else. Very disappointing. Maybe I need to start looking at an alternative software program.

Been a Quicken user since Microsoft discontinued Money. Also used Quicken Bill Pay. The 2017 update was a complete disaster for me. First, the GUI is crap. Fonts look like something from a cartoon and columns that were fine in the previous version are badly mis-sized. Worse, it corrupted all my Quicken bill-pay records. Finally, it showed huge negative balances in many of my accounts. After reviewing other users' experiences with this update, I did not bother to contact Quicken support. I gave up on Quicken, cancelled Quicken Bill Pay, and switched to a free web-based bill pay provider from another financial institution. If you have never used Quicken, DON'T START. If your'e already a Quicken user, DON'T UPGRADE to 2017 and find other financial support software as soon as possible.

As an user of Quicken for over 20 years and using various updated versions I was thoroughly disappointed in the updating process from 2014 to 2017. The experience revealed that this new private company does not have best practices in development and integration of this new release. After numerous phone to resolve the over 1000 records lost when updating to the new version and the responses I received from support staff I returned the product. Here in summary are the errors:
Asked why records with category of "transfer" were discarded from processing to new version. I was told that this category could not be used for PC-based only in the Cloud. Why? Then why not tell buyer some of these changes and have a means to address? I sensed I was an end user helping them develop the product. Then called another day to find if there was a way to get those transactions into 2017 without erroring and was told reenter them into the new version. What? Over a 1000 transactions to work back into the product. What kind of support and development talent does this company have? Requested them to see if a different file format could be use that would bypass the system and was told a file format that was unusable.
Comment: Anyone upgrading to new version do a backup of old version before entering the twilight zone of Quicken support. A company with great product and now in the hands of a grossly negligent development process to a new version is beyond my comprehension. As one who worked in this industry for 33+ years and educator in information system development this is a great example of poorly developed, testing, and integration of software, and the worst is training of support personnel to resolve technical problems of clients. The nice courteous chat crap does nothing but further irritate one when sitting at a screen with a list of larger than one wants to consider with a response go change them as a solution. Why buy the software? Alternatives are available. They need more than a new CTO.

1/17/2017. This morning when I opened Quicken, it automatically upgraded the software. I went to one of my bank accounts to download transactions. A pop-up came up from Intuit requesting a login. I have no idea what password is so requested new password. Went through the process and Intuit will not accept anything. I am locked out and cannot use any downloading transactions. I have been a Quicken user for many years even in our business using Quicken Pro. I have researched and researched and no suggestions work. Highly frustrated and wouldn't recommend this product to anyone. It is really messed up.

I have used Quicken since 1990. It used to be terrific software from a great company. In recent years it has become nothing but a problem. It corrupts saved passwords; it fails to download transactions with mysterious messages; customer support is terrible. I wish I could find a desktop replacement. I don't want to put all this information online.

I have been a Quicken user for many many years and have loved the program. I upgraded to the 2017 version and it has been a total nightmare. When I merged the two programs, I got accounts that don't exist, lost information, and lost accounts. I live chatted with a person whose English was so bad I was totally confused. After some time of not being able to make sense what he was trying to tell me due to his English and grammar being so terrible, I apologized and asked if I could please speak to a person whose English was better than his. Eventually I got a supervisor (supposedly) and the same thing happened. He couldn't put a proper sentence together. After hours, he told me it was my bank's fault and I needed to call them.
In the time I was with him, I followed his directions, which in turn made me lose a lot of my backed up data. A few days later I called and this time I got someone who could speak my language, but due to the damage done by the previous chatter, he was unable to bring all of the data back. I was on the phone with him for well over 2 hours. I'm furious and now it's time to do my taxes and I can't find all of my data. Plus I've lost my years' past data. Who's going to get this fixed. They take no responsibility and I'm fed up. What is it going to take to get this fixed?

GIVE IT A WIDE BERTH! I have been a Quicken user for many years, and many might be wondering why, since I'm posting this. Many of my earlier versions, while lacking all the present day features, worked flawlessly. Now it seems with all the added whistles & bells the beta testers have taken far too many lunch breaks! I made what I consider to be the last mistake with Quicken in 2015 to upgrade to the 2016 version after having been told that their banking connectivity issues had been resolved. Not so! For the last year I've struggled through every banking download session and web connect. The software constantly gives me error messages and I find the only way to download banking transactions is to edit & delete the individual accounts one at a time. Re-initialize each one & hope for the best. This is a royal pain when you have many accounts at one institution.
Now for the support side. Where is it? While the folks on the other end can certainly read a word track well, the sincerity just isn't there when you have to repeatedly call in to get a problem resolved. Frustrating to say the least when you're told your issue will be escalated only to find out they are just playing a big shell game in hopes of wearing you down. And you'll simply go away. I'll struggle on with this version until it's no longer supported. But in the meantime will keep an eye out for something more user-friendly & reliable!

Quicken 2017 software is confused. It did not let me start off where I left off. It showed all my transactions that had already cleared going back to 2015 or whenever I started. I had to fake it out by marking all past cleared items as cleared and then accept adjustment of over $2,000 to my account. I don't get it. Why didn't it start with my last reconciliation that was done on January 6, 2017? What is going on? I should have kept my old version and not paid for this 2017 junk. Surely, you have software engineers that can figure this nonsense out. And, you can't post complaints directly to Quicken. What a joke. They get your money and you can't get help or complain. Total Joke.
Intuit - Quicken Company Profile
Company Name:

Intuit

Website:

https://www.intuit.com/