Frontier Communications
Frontier Communications Corporation provides communications services for residential and business customers in the United States. The company offers local and long distance voice services, including basic telephone wireline services to residential and business customers; and packages of communications services. It also provides data and Internet services comprising residential services, such as high-speed Internet, dial up Internet, portal and e-mail products, and hard drive back-up services; commercial services, such as Ethernet, dedicated Internet, multiprotocol label switching, and TDM data transport services; and wireless data services.
In addition, the company offers switched access services that allow other carriers to use the facilities to originate and terminate their local and long distance voice and data traffic; and direct broadcast satellite services and fiber optic video services. Further, it sells a range of third-party telecommunications equipment for business customers.
Consumer Complaints and Reviews

My journey with this company began when Frontier took over my internet and television service from Verizon. We dealt with all of the problems during their transition phase and even stated to our family and friends that we would like to give them time to fix kinks in their system. Then our promotional period ended and we decided that the new monthly payment they were offering was something we did not want to do. So my husband called to cancel and was sent to customer retention. Once with customer retention they were able to find a program that worked for us.
When we received the bill it was not for the new program we signed up for but actually for the program my husband said he did not want and the bill was increased nearly $100 per month for this. He called to get the error corrected and was told that they actually should have set up a field tech to come out and bring new equipment for the new program he had requested. He asked if they could just have that equipment mailed to him and that he could ship back the old equipment. The customer service rep said that with this program a tech would have to come out and that someone would need to be there to let him in the house. He asked if I could be there. I took the day off and cleared my schedule for the appointment that my husband set up with the service tech for January 16th between 8 am and 12 pm. When no one called or showed for this appointment I called customer service.
I have spent the majority of the day today on the phone with Frontier communications customer service because they scheduled a field tech to come out and deliver new set top boxes and a dvr between 8 am and 12 pm. They did not show. The online chat person that my husband contacted said it was because there was a medical emergency with the field tech and they rescheduled the appointment with no phone call and no confirmation that the new time would work for me. I called to reschedule and try to get someone to come out today since I took the day off and found out that actually there was not an medical emergency and that the order was not processed correctly so a field tech was not scheduled. I was told that I did not need to be home after all and our new service did not require new set top boxes or a field tech.
I asked why I was told this by customer service and they responded that they did not know and that the order was never completed on their end and that they did not have a supervisor that could help me. I told the customer service rep that I could not hang up until I had some kind of confirmation that the order was placed correctly this time since twice now the order had not been processed correctly. After 2 and 1/2 hours I finally got a manager that told me the orders still were not correct and that he would fix it. Then I asked again for confirmation. He said he had no way of confirming that and that I would just have to trust he did it right.
I have already talked to 3 people that confirmed they fixed it yet I am just supposed to trust this guy? Why? This manager offered no recourse for our inconvenience of incorrect billing, incorrect order processing and inconvenience of missing a day of work for an appointment that they never completed and that I never actually needed in the first place. I assure you if it were easy to change internet companies I would but it seems they all know this and have the same policies. I really hope this is something that can be changed in their training because no one at that company seems to understand how their systems work or how to process an order!!

We moved and had called Frontier two weeks prior to the move to schedule a service install. Everything was OK until the day of the move when nobody ever showed up to install the service. We waited all day for somebody to show up. We called several times to check on the status of the technician and every time we called we got a different answer. At one point dispatch told us the technician had come out and nobody was home so they left. Another excuse was that the technician came out to our home and we refused service and sent them away. Both of them were lies. We have now switched companies to Spectrum and will never do business again with this company. I would strongly advise stay away from this company. They do not have the proper communications channel to reach out to the technicians and horrible customer service.

First it's beside me that a company as horrible as this is still in business. They are the WORST in Customer Service and the WORST in internet service. For 8 months we've been going thru technical support and had multiple technicians in our house with their laptops doing what I don't know. It's the WORST experience I have ever had and I will let as much people as I can. Nobody deserves CRAP LIKE THIS. If you enjoy your sanity STAY AWAY FROM THESE IDIOTS. I wish I could give them 0 stars. They don't even deserve this.

I think this company is having a hard time. When I phone, there is an extensive menu that you can't cut through, but no worse than some (I've been dealing with state agencies, too). The people I have talked to there have been nicer than nice and willing to help, but extensive cost-cutting policies make it near impossible.
First, I switched out my router and no longer had FTP access. I talked to several people and was told I had to upgrade to "networking support plan" to get help with that. Huh? It's a setting in the new router and worked fine on the one previously that had the same interface. I called their corporate offices and complained to their Public Relations fella who told me the same thing. FTP is a standard protocol that everyone uses and you can even plug it into your browser. It does not require a networking expert. I solve that myself by downloading the firmware update for the new router, turning the entire thing off for two minutes, and restarting. If I can figure it out, they should be able to.
Today, the battery backup box in the garage is beeping as it did a few years back. We know that's what it is and we call and ask for the battery backup to be sent--that's what they did in 2013, the last time this happened. Several long automated menus "because our options have changed", wait patiently at each menu and in about 15 minutes, I get a real person. Again, a nicer than nicer but now you have to replace the battery at your own cost. He said "you can also buy it at Walmart and some battery stores" and connected me to Customer Service so I could get a price to compare--I waited 20 minutes on hold and finally gave up.
Overall, I think that Frontier is not acting ethically. By ethically, I mean I pay for a service, and the company acts in good faith to provide that service. Routine services like getting FTP to work when you install a new router and getting that set up are part of what I expect when I pay for the service. I'm sure it doesn't cost them $100 a month to run the data and phone line to my house, probably not even 5% of that. So I expect support to be provided at no cost when I occasionally do need it.
I also pay for the landline. I pay for that in this age of cell phones because I want the security if and when we have an emergency where the cell phone towers are unavailable. I lease the equipment that provides that from Frontier. Nowhere did I agree to maintain their equipment, which climbing up on a ladder to replace the battery with one I bought myself seems to me to include. Suppose I were some little old lady living here? Frontier has missed the concept of "service" and while I really could not ask for nicer to people to talk to, that just doesn't offset the fact that you pay $100 a month just to have the account with them but if you want actual service on top of that, they charge you extra.

We own a business and it is in a rural area. We ordered DSL service and had it for about a year. The service was spotty and the techs were able to help but the service always degraded a day or two after the call. If it rains we were out of luck, it would just stop working. Finally it stopped completely after 12 months. We scheduled a technician, which was a two week wait, and he never showed up. I was using my iPhone for internet service and my data charges were adding up.
When the tech didn't show up I called Armstrong and they came out in about two weeks. After 4 weeks so far so good and it is ten times faster than Frontier with no outages, even in the rain. I called Frontier to find out where to send the modem and they told me that I would owe them $400 because I was automatically renewed after 12 months. I told them I would take it up with the attorney general which I did. They are working on it to help me avoid the automatic renewal fees. Frontier is an incompetent and dishonest company.
How do I know I can trust these reviews about Frontier Communications?
672,188 reviews on ConsumerAffairs are verified.
We require contact information to ensure our reviewers are real.
We use intelligent software that helps us maintain the integrity of reviews.
Our moderators read all reviews to verify quality and helpfulness.
For more information about reviews on ConsumerAffairs.com please visit our FAQ.

Waiting for a supervisor on hold for over 35 minutes to discuss unexplained charges on closed account, (since billing/collection agent was unable to clear out explanation for extra charges, gave me two different ones), supervisor never picked up the phone. The billing/collection agent just left me holding without regard or consideration for my time. I asked to speak to a supervisor twice before being put on hold again for second time. It has been now over 25 minutes and I am still on hold. This is completely unacceptable treatment for customers.
I am still on hold, 1:20 minutes later finally got a supervisor ** on the phone that told me I needed to pay the charges due to prorated balance on early termination fee was applied, even though I had paid the prorated balance termination fee they told me I needed to pay when I closed account back in 2010. He stated they were having "system issues", this is why I was kept on hold for so long without even the agent checking in with me to let me know what was going on. When I asked who he reported to he stated he reported to no one and my next step would be to contact the office of the president at their website. Needless to say I am contacting the office of the president today to report this unspeakable customer experience. If I could give 0 stars I would!

The amount of incompetence this company and their reps display is uncanny. It is like nothing I have ever experienced before with any other company! I have had issues with everything from pricing to incorrect services being provided since day one. I was wrongly quoted and they refuse to give me the correct price. They supposedly needed to review the call of that the misquote was given in. Guess what? After several requests and inquiries in regards to this call and a verdict on the matter, still nothing. It has been three months! I would not recommend this company to my worse enemy! I have called them 36 times in 3 months without any issues being resolved!!!! Yet at the end of the month they want a prompt payment of 190 bucks or else!

I really need help! I'm being charged for tv services and internet for 2 months now. I only have internet!!! My bill is over 200. When I signed up for Internet they said I would pay 89. This is crazy!!! I can't believe they are so dishonest!!! I was told maybe I can get credit for some money for one month. Really??? Why not for the last 2 months you are lying on my bill saying I have tv services.

We used to be with Verizon Fios. This was the greatest service we have ever gotten. Ever since this Frontier took over we have continuously been overcharged for services that we have been told over and over should not be that high! Even their customer service people have told me this repeatedly! So this is where the extreme levels of misleading and frustration come in! I have called this company to change my service and rate plan, as of today I have placed call # 8!!! Each time I get someone (DIFFERENT) on the phone to explain to them that I am no longer in a contract and I NEED to lower my monthly bill, I am PROMISED up one side and down the other that "TODAY IS THE DAY, AND I AM THE ONE WHO CAN RESOLVE THIS FOR YOU!"
Well needless to say that after 7 customer service people, plus 1 additional in the "customer retention dept" as well as 2 online chat reps, I am STILL being overcharged monthly, not a single thing I have been promised has been done. Last month when I FINALLY got fed up and decided that I wasn't paying the bill until they fixed it, and gave me the bill credit (THAT I WAS PROMISED REPEATEDLY). What do you think happened? THEY SHUT OFF MY SERVICE!!! ARE YOU KIDDING ME!!! So at that point I was just DONE. So I called customer retention to cancel my service.
The lady who answered the phone was asking me why we were leaving them. So of course I go through the WHOLE THING with her... AGAIN!! She now seems like she has a brain in her head and possibly the ability to fix this, which she PROMISED ME she would THAT DAY! She gives me a reduced rate, we go over all my services and what I am keeping and not keeping, and then tells me she is submitting for the bill credit for the past 6 months or MORE I have been overcharged while waiting for one person after another to resolve this! She says the reduced rates will also be retroactive one month so that when my new bill generates in a few days, it will be for the lower amount she is promising me.
After AT LEAST an hour and a half on the phone with her, it all appears to be settled. I get her name and direct extension, and she promises me that she will follow up with me the following week to let me know the status of the bill credit. She tells me that in the morning my "ultimate entertainment package" that I originally had but am not cancelling, will be turned off due to the new rate package I am in.
In the morning when all my premium channels were still on, I should've known I had been duped again!!! I have called her at least once a day, or more, every day since then, and no answer and no call back!! BIG SURPRISE!! But I was holding on to the faith that she would come through for me this time! THAT CALL WAS 3 WEEKS AGO! My premium channels are STILL ON. So I tried calling her one last time today, and of course NO ANSWER, I left all my information AGAIN, no call back! So I got in touch with customer service online today to see how much my new bill was, and if my new rates and bill credit had taken effect, I was quoted the amount of the old bill AND... THERE IS NO RECORD OF MY CALL WITH HER OR ANY OF THE PROMISES SHE MADE ME!!! NOTHING!
This has now been taken to a level I call FRAUD, SCAM, CONSUMER MANIPULATION. What are my options? Don't pay the bill, my service goes off and I end up in collections. So now I plan to pursue this as a possible civil lawsuit for all that I have overpaid! I would appreciate any comments or input I can get for help with how to proceed. In the meantime, save yourself a lot of time, money and aggravation and avoid this company like the plague!!

For the past 3 months I have been receiving a bill for service I never received. I canceled it before they even hooked me up! I have had to call Frontier every month to explain that I never received the service and ask why am I getting a bill? I found out that they automatically created an account for me before I received the service. As a result it has taken them 4 months to cancel the account. I would never go with Frontier! I wouldn't even call them! Very poor business practice!!

Moved to "Southwest Florida", Sarasota area in October of 2016. Since my wife worked from home, I needed the internet service hooked up and started shopping for prices. I had only 2 choices concerning availability in our area (DirecTV and Frontier Communications). I could not get "DirecTV" due to the restraints on having 2 dishes on my roof, so we chose the only choice we had, "Frontier Communications". I was told not to do it by other customers in the area because of their bad experiences, but I had no choice, my wife needed the service for her employment and I thought we would do all we could to make sure we get the right billing and the right service.
Well, we got the installation and from day one, the package was wrong, the price quoted was wrong. I have talked with 5 different people in customer service, each time telling me that I was correct and the bill will be adjusted, but it never is. They never call back, they never do what they say they will do, and they just do not care. Each month they tell me to pay the negotiated amount until the bill is fixed, and I do. However, they still sent a disconnect notice and as long as it's not fixed on the system, it won't matter. They will disconnect us and we will be even more in debt to them. It's amazing they get away with this.

Here we go again, 7:12am, Jan 11, and I'm paying bill online. ONCE again extra 60 bucks on bill (has been up to 90) and again, details on bill don't explain it either... SO got to say goodbye to Frontier. For those looking at their site for pricing and service.. RUN... JUST PLAIN TIRED OF THESE PEOPLE, switching TODAY!!!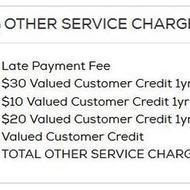 Since July of 2016 I have noticed my FIOS bill going up in small $5 to $6 increments. My first contact with Frontier via 'chat' assured me there was a error and I would receive a additional credit. Next month... another small $5 to $6 increase. My second 'chat' session I was informed a 'promotional discount had expired'. Now I'm looking at my bill while this guy types this. There are no discounts indicated and certainly no 'expiration dates'. I offer to send him my bill showing nothing like that. He assures me that 'the bill is correct'. Which turns out to be a common phrase at Frontier despite all kinds of proof otherwise. So I ask to 'document' our conversation. He assures me I will be sent a transcript and I logged off.
Next month... another increase of $5 to $6. Now I'm paying $77 for a basic internet and phone with no TV. Up from the $58 it had been. Well, since I got FIOS back in 2014 from Verizon and no transcript of my previous complaint I start getting suspicious and file a complaint with the FCC, the Florida Consumer Protection people, and the BBB. And the next month rolls around bill is now $88 and the FCC sends me a letter that says 'Frontier stated your bill is correct. Complaint closed.' Which is quickly followed by similar letter from the Florida people and the BBB.
I'm amazed. Here I sent these regulatory agencies copies of my bills showing no 'discounts' and no 'expiration dates' but documenting my ever increasing charges... and they bought Frontier's 'The bill is correct.' over my proof? It all became clear on my January bill. Now $121. It seems that Verizon had set up $60 in 'Valued Customer Credit' with no expiration dates when I got FIOS back in 2014. So Frontier never bothered to change the wording of the 'credits' or the amounts indicated or added any 'expiration'. They just simply 'applied less and less' of the $60. So instead of receiving the full $60 I was receiving $7.22.
When I pointed this out (because now I knew what to look for. And there it was on every bill since July 2016. Every time my bill went up what was 'applied' was that much less.) to a Frontier corporate representative she had the outright gall to tell me 'The bill is correct. What you are seeing is a unfortunate error in billing that we will now correct.' I was stunned. They had been stealing from me a little at a time hoping I wouldn't notice and when caught still stated 'The bill is correct.' That the various regulatory agencies just closed my complaints despite all the proof I had presented them... it just proves that they are 'captured' by the Industry they are supposed to 'regulate'. Be Warned if you have Frontier FIOS. They are very deceitful... but 'The bill is always correct'!

Got this service in July 20 - they CONSTANTLY sent a bill of $800+ monthly - I called & escalated the problem every single month!!! I was promised by supervisor after supervisor that it would be corrected on the following bill. Needless to say that was never done... I contacted to the corporation and no one knows what they are doing. Thanks God I change the company after I got assault by Frontier.

I am always hesitant to believe consumer reviews because for the most part you don't write a review unless you have a negative experience. However after getting the runaround, and then confirming on this site that plenty of others have gotten the runaround in the last two weeks, I believe it. Frontier stood me up 3 times on service appointments, causing me to lose hundreds of dollars after taking vacation days to stay home and wait for a technician. And each time it was not the technician's fault, but the company.
First they moved my appointment without contacting me, then they gave the technician my work number, which does no good as I sit home and wait for him, and then they told me they had expedited my order to two weeks earlier, and when they failed to show again they magically showed no record of that expedited date. I caught them before my 4th appointment (which also shifted dates 3 times) and canceled. If they are this terrible before I have their service, how would they be with my business?

When I moved had been customer for almost 30 years. The experience with them for new address has been nightmare of incorrect information, improper router for wifi. So canceled and refused to pay early termination fee because they did not fulfill their end of contract with improper equipment. Now have been trying to say did not return equipment which tracking showed them receiving it. Been calling for 3 months to resolve and they have sent to collections. If you are rural few options. Am doing without internet and wifi if have to use Frontier. Filed complaint with BBB.

I live in a rural Illinois town, where Frontier internet was the only option when I first moved in. Got a rate of $34.99 for internet, which already seemed a bit high considering the service was spotty at best, but that is what you get for country living. After two years, my bill increased to $49.99, without any form of notification. This is not that unusual as most services offer a promotional rate, problem was I was never informed. I called in when I noticed the increase, and customer service representative confirmed it was never notated on my paper bills that there would be an increase. I was told that they could put me back on the $34.99 rate, or they could offer me a promotion for faster service, and for one year I would pay $24.99 (rep told me the original package price was $44.99, so I would receive a $20 monthly discount for one year).
I agreed to this and that was that. Well the next month my account was charged $44.99. When I used the chat service, I was informed that there was no $24.99 plan or promotion available in my area, and that the notes indicated I agreed to pay the higher rate for the offered service. This was flat out wrong. So I called in and customer service told me the same thing, that there was no promotion for that price available in my area. There was no apology or empathy, they just made me feel like I was a liar. After a few calls I finally spoke to a supervisor as I had enough. Supervisor was extremely helpful, and as I was explaining my case, she said she looked up that promotion and it was not available in my area. Her explanation was that the customer service rep should have looked before offering me that promotion, but got me to agree to it and then likely looked and saw it was unavailable, but did not tell me and set me up with the service anyway.
I asked how this could happen and they said it shouldn't and apologized. She told me the only thing she could do was get me back on $34.99 with the speed lowered back down. I agreed to this. She explained that the next bill would show a prorated discount from the date I originally called in, and that my price would be back at $34.99. Well last month bill was prorated and lower, but still showed the normal price of $49.99 for Broadband Max service. This month's bill became available to view, and sure enough, it is showing they will deduct $49.99 from my account this month. So I just contacted customer service, again, for the 6th time with this issue. They told me that $34.99 price for Broadband Max is not available in my area. They said to get that rate I would have to call in and talk to the "Saves" department, which I assume means I call and say I want to cancel my service.
I cannot understand how they can keep promising me resolution on the phone with no follow through. I mean they record the calls, if I need to obtain them to prove they are lying to me. Recently I received a survey which indicated Frontier has hired an outside vendor to conduct customer service feedback for them. Apparently I am not the only one with issues with this company as they are realizing they are in need of help to save their brand. I will be moving in 2 months and I cannot wait to never have to use Frontier again. TL;DR: Customer service promised me a price for a sale that was not available but set me up with the service anyway. Subsequent calls to customer service were all useless and made me feel like a liar. Even a supervisor promised to resolve the situation and lied to me about a promotional price they could get me. My recommendation is to avoid Frontier for any service.

Before I start my story I just want to note that I have been on hold with Frontier now for 36 min.! So let's see if I get someone to help me before I finish typing this (and I don't type fast). Here goes! My family and I moved into a new home in Dec. On Dec. 9 2016 I called to have cable installed with Frontier. After speaking with the representative he talked me into a "bundle package" all this great cable internet on and on! "But we need a $215.00 deposit," today he says! OK he charges my credit card and gives me an install date for Dec. 16 2016.
On the morning of installation I receive a call stating that needed me to fax a rental agreement to them because service in someone else name was already on at our address. The former tenant had died and I don't know what she had or did not have. So not having internet I went to Staples and faxed what they asked for. Next day called to check status and was told that department was backlogged for 4 weeks and had not reviewed my case. By this time my family had been without any tv, internet, etc. With 6 kids that's not working out well. Finally on Dec.27 2016 I called DirecTV and had them install cable (which they did next day) and then Spectrum Time Warner took care of our internet the next day! I asked for my deposit back from Frontier on Dec.28 2016 and as of today Jan. 9 2017 I have not received it! By the way I have been on hold with them now a total of 48 min. I hate this company and somebody needs to do something about these cable crooks!

By far the worst costumer service. As well as price. The sales rep lies on charges. Usually downplaying the final cost by at least 20%. They offer a phone that will charge long distance charges from Fl to NY! Average wait on the phone to speak to an agent (once you buy the service) 47 minutes. Most agents and installing technicians wing the answer to any question, different answer on every communication. I would stay away from this so-called communication service, probably at any cost. Only gave 1 star, no 1/2 available.

I wish I had read these reviews before switching to Frontier. We were trying to save some money and got a huge headache in return. When I received the first month's bill, there were charges on it that I either had not ordered or that were not outlined specifically when I ordered the service. At the very least, they should have explained that there would be some additional costs on the first bill. Had I known about these I would have canceled the order on the spot. At least I would have had the choice. The result is that my bill for what should have been $167.08 was $391.97. The only extra charge I consider legitimate was an on-demand fee of $9.99, which I am fine paying for. Shipping charges, a security bundle I never ordered; these are just a sampling of the rest. I did get a CSR who was able to get $85 taken off and is working on $33.35 more, but this is ridiculous.
I asked to speak with a supervisor and he obliged, but I sat on hold for about 10 minutes. Then he cautioned me that the supervisor could very well undo the reductions he submitted. I have no way of knowing if this is true or simply a training tactic to discourage people from disputing charges, but ultimately I didn't want to risk it. After all that, the month's worth of service we have had has been less than satisfactory. The internet is slow and spotty; our landline is malfunctioning for the second time in a month. I would eliminate cable TV altogether if I could but am outvoted by the rest of the household. Frontier's business practices are very questionable to say the least. In any case, we are terminating service as soon as Comcast is reinstalled.

I have never had such horrible customer service in my life! Here are just a list of what I've had to go through to get THE SAME SERVICE provided to me by Verizon: 1) In 8 days I've logged over 11 hrs on the phone with customer service, and tech support. 2) I actually had a technician tell me "well, what are you going to do? No one else provides internet service in your area." 3) I have been disconnected by customer service multiple times, never received a return call even though they ask me for my phone number so that if we are disconnected they will return to me.
4) I have requested 3 technicians to come out to my location to physically look at my modem. Frontier will not make an appointment, and ask me to be available between 9 am and 5 pm. ALL three times, not just no one showed up, or try to contact me, but when I call and ask customer service what happened their reports read the tech talked to me. These reports are outright lies. And every time I call for help a customer service rep always offers to upsell me Elite level customer support.
5) When I called a "Customer Support Supervisor" and asked them to monitor the status of my complaint her response was, "I can't do that sir as my screen wipes out at the end of the day and I can not verify if tickets are complete". So I ask her to take my phone number to which she replies, "I'm not allowed to have paper or pen at my desk", I ask her for her number and of course, "oh sir I can't do that, it's against company policy". Even a supervisor has zero responsibility to see a matter resolved.
6) Frontier insists they can only guarantee 75% of internet service. When was the last time someone bought a car that only 75% of it worked? When I asked if I can only pay 75% of my bill the service rep laughed at me only to respond "no sir, you can't do that."
7) Frontier shut down ports (open by Verizon, and ALL OTHER INTERNET PROVIDERS) to my webmail service used to send and receive mail. When I asked to open those ports up, Frontier upsells me, "the only way you can do that is to have our Elite Service Customer Service" which I do get. Then the customer service representative says they can not open that port for "security reasons" but they CAN upsell me Frontier email. To this day I still can not send or receive work emails through my home system. During that time I lost 5 clients which greatly affected my fourth quarter. 8) I've had to retype this complaint three times as my service continues to shut down as I try to write a complaint.
To this day, my internet still does not work to the same level of Verizon even though I pay more. I have very limited options for internet in my area. Internet is not a service, in our day and age it is a utility. One can literally NOT function in modern society without it. I should be able to sue with impunity for having my life held hostage by this horrible company.

JUST SAY NO. Horrible, horrible, horrible... I am trying now to get my 294 deposit back and am spending hour #3 on hold since I've tried scheduling service Dec. 27. I had to practically beg for a service install and then they had to have a deposit, even though we have Verizon phones forever and excellent credit. I went ahead and gave them my credit card info for their deposit since it wasn't going to happen otherwise, but operator couldn't tell me why they had to have a deposit. I just wanted my WiFi and cable TV. The homeowner before us had Frontier, which is why we decided to go with them. Since the service equipment was already installed in the garage, we only needed the cable boxes and turn on, I guess.
So today finally arrives and they're going to be out between 8-12, and why did my gut tell me last evening to confirm since I haven't heard "boo" from them since they took my deposit. Tried going through the @frontier.com email address they provided, which is so not user-friendly, and got nowhere. Three promised call backs from yesterday later... still no call back, so I again had to call them and heard there is no service scheduled, they will give me another "due date" for service. What? Not even. My deposit will be refunded in 7-10 days and the third party operator ends our call, "Thank you for contacting Frontier. Is there anything else I can do for you today?"
Unbelievable... until I read these reviews and want to wring my own neck for not doing so sooner! Our other option in this area is DIRECTV, and we would have gone that way if the equipment had not already been installed at the new house. I'm rambling, typing 1000 WPM, like everyone else who got ** by this company. So wrong!

I cannot believe this company can stay in business. I've never been so angry in my life. I switched to Frontier from Xfinity. It was less expensive for the same service. To start off, 2 days after my installation I get billed $640. I was told I was getting free installation and service for $135 a month! Then, my first bill comes in at $860!! I get on the phone with these fools and nobody can give me an answer why my bill is so screwed up and they can't even explain the outrageous charges!!! Then the fool suggests that I just pay it and they will figure out the bill later!! Not gonna happen!! It took 5 months to finally fix my billing and stop overcharging me!!! And countless hours on the phone. Now I get a past due bill. I admit, I was behind on paying the bill. December is rough. My bill says it's due on 1/12 or my service will be temporarily suspended.
On 1/6 they shut my service off!!! I called and paid my bill to restore the service and waited and it didn't come on. I call back these morons. 4 hours on the phone!!! Talking to 5 different people who are complete morons!!! Trying to tell me I haven't had service since October!!! Omg!!! My service just got shut off today!!! I can't believe these idiots!! And, after 4 hours I still don't have my service on and they told me they needed to open a new account for me because my service was permanently shut off and not just a temporary shut off!!! I am so angry I'm seriously thinking I'm going to stop payment to them and go with another cable company tomorrow!!! I have never encountered such a company that is a rip off and such incompetent morons working for this company! If I could give 0 stars I would!!

Frontier advertised on the internet and in mail on their special bundle plan for $79.99. No Annual Contract, No activation fee, FIOS TV, Voice & 100/100 Mbps Internet + $400 Amazon gift card. I call Frontier customer service on the advertisement and they were happy to setup my new service according to the advertisement. I confirmed with Frontier customer service twice that I want exactly what is on the promotion $79.99 bundle and only need 2 TV boxes ($19.99). No need modem because I have my own. They said I was all set. When I got my first bill in the mail, I was shock on the $340.82 bill. I call Frontier up and they said I was not put in any promotion bundle but I was put in a 2 years contract regular charges. Also, I was charged activation fee and for modem rental (my own modem). I am still getting these fake promotions in the mail. This is fraud!

Frustrating is the only way to describe the mental midgets at customer dis-service. To describe what I have been going through to get the simplest thing corrected would take up more time than anyone would be willing to read. To condense things, Frontier has altered my contract without my knowledge and has continued to repeatedly do so. Any adjustments that I was told they had to make would not resemble anything I had before but it was the only way to do it. Endless hours waiting on the phone for a rep that either can't or won't make the easy correction.
They changed my service to changing my payment which is for much more than what I'm supposed to pay. Each time I called they quoted a different payment amount, I don't know what to send in to them. This incompetency can't be just a few workers, it has to be hush hush instructions in order to have the customer just give up and pay what they say. B.S. I say. Frontier is the very worst company I have ever had to deal with and when my contract expires, so will they. Totally disgusted.

On hold an hour, placed on hold again, then rep couldn't help me. Called back again to cancel everything and waited 45 minutes on hold then found out Frontier refused to port over my phone number. I'm filing complaint with TX Attorney General.

I have Lifeline (landline) service for my tel, and I pay 6.84 per month. On 12/14/16 I got offer from Frontier regarding an offer for internet service at 13.99 per month if I have Lifeline. I called them and they confirm on 12/17/16 that I switch to their internet my total bill will be for $20.83 for tel and internet, plus no contract, no installation charges and free router... I placed the order. I got the service and on 12/25/16 I got the bill in mail to pay them $103.68 for my tel and internet service. So far I have called them several times and no one has helped me to sort out their stupid mess.

On Sunday I was able to complete the cancellation of my television service. Frontier doesn't want to do anything for their customers until they are in danger of losing them. Then, they make noises like they want to help, but it's all talk. Their internet service seems to be okay. Haven't had any problems with that.
All I can say to Frontier is...Be upfront about the contract issue, and tell customers that their bill is going to go up with no explanation.
Original Review
Have been a Frontier Communications customer since June 2016. In that time, my bill has gone up 3 times. When I, original, signed up for service I was quoted a price of $74.86/month (all taxes, fees, rentals included) for 2 years. Nothing was said about the $140.00 installation fee. My first bill included one month + one partial month + installation fee for a total of $236+. My bill went up $6.00+ in July. It stayed the same through November. During this time I called Billing 2 times trying to get a resolution. No luck! My December bill went up another $4.41. Today, I spent 1 hour on the phone (not counting hold time) with Billing again. At this time, I found out that my 2 year contract only applies to the internet service, not the television service.
I was transferred to the "Customer Retention" department. When she found out that I hadn't said I wanted to cancel, she got quite nasty and informed me that there was nothing they could do for me. She proceeded to try to talk over me and tell me that I didn't know what I was talking about. I hung up on her! Called back and tried to cancel my television service but was informed that nothing could be done today as the account was locked to prevent modification. Told to call back tomorrow and it might be unlocked! The new billing cycle begins in 3 days. I can already see where this is headed. Frontier needs to be sanctioned! Their service is horrible and they are very dishonest and misleading about contracts, fees and service rates.

I got a work-at-home job that required I had my own dedicated phone line. Since I wasn't allowed to have VOIP phones and Frontier is the only company in my area that offers landline phones, I had no choice but to go with them. I made my first call to them to order my new service on the 12/12/2016. They gave me an installation date for 1/17/2016. I had a deadline to meet. My phone had to be hooked up by the 19th. It just so happens that on the day it was supposed to be installed, my brother was medflighted to ICU three hours away. I waited at home all day long on the tech to arrive, until 8 PM, despite the fact that I needed to get to my brother. The tech never showed up. When I called the next day, the rep told me that the tech said he called and didn't get an answer and he came to the house at 1:30 PM, but I wasn't home. I told her that I was here all day long until 8 PM.
She told me it was a mix up in the addresses, even though she had my address on her screen, the tech's somehow got the wrong address? They rescheduled my appointment to the 19th. The tech didn't show that day neither, and I waited all day long just like I done on the 17th. Luckily, I was able to get an extension from work. They gave me until the 28th to have it installed. When I called the 800 number, they said that he came by and I wasn't home again. Like before I told them that I had been home all day. So they rescheduled again for the 22nd. The tech did call on the 22nd and told me that he couldn't come out until the next day (23rd). On the evening of the 23rd he called and told me he would be out soon. Around 6 PM he called and said he couldn't be there until the next day, the 24th, which was Christmas Eve. I waited here all day long on Christmas for him and he didn't show up.
Me and my children were suppose to be at my Dad's by 4 PM for the party and all that was ruined because Frontier can't keep an appointment. Keep in mind that I live in a really small town and there is no way that they are so busy that they have to miss every appointment, even more so, they shouldn't lie about missing it. I was furious when I called them. They were very unhelpful. The tech said he came by and I wasn't home on the 23rd. I TALKED TO HIM ON THE 23rd and HE SAID HE COULDN'T COME! I have the call logs to prove it! The closest date they could give me was the 28th, which was the day of my deadline. They transferred me eight times. Every time I would ask them about why the tech didn't show, they wouldn't say anything, I would just get transferred and have to give my information and everything to another rep. Then one guy says that he can't even find my account and that I didn't exist in their database.
I submitted reports to the Chief Officer and never heard back. Anyways, on the 28th the tech didn't call and didn't show up. I had his phone number and when I called and told him that this line is really important and I need it for a job or I'm getting fired, he said there's nothing he can do. I told him that my installation date is for today how is there nothing he can do. He said, "I'm not the one who's supposed to install it today. It's someone else." HE was the manager, how wouldn't he be able to help? Anyway, he said he would call me back in a few minutes when he got a hold of the tech who was assigned. Two hours later, no call back. So I call back and I get no answer. I wait another hour call back, and no answer. He was ignoring me! Well, nobody showed up that day either. So I call Frontier again and they said the tech couldn't make it that day because they were tied up...at least they didn't lie and say they came by that time I guess.
I told them today was the last day to have my phone line for work. They didn't care. The customer service is terrible. They rarely try to help you. They don't care that you are going to lose your job or that your phone is out. Anyway, they rescheduled...again...to the 6th of January. They were supposed to escalate the installation to an earlier date, but they never did...they are liars! Every one of them lie to you and tell you what you want to hear. This business needs to be discredited! They are poorly trained and they don't know jack **. I managed to get a FINAL extension. It was extended to the 6th, today. Well they didn't show up today and now my agent account has been suspended. I lost my job because of them. That was money that my fiance and I desperately need. Now, because of them, my truck is in danger of being repossessed and my power is more than likely going to get shut off.
I was relying on that job to pay my bills with him being laid-off and all. And then when I call to have the service cancelled, they have the nerve to try to sale me their internet (which is a piece of crap by the way) and their cable (which is also crap). I am not the only person around here who cannot stand Frontier. My sister's phone went out one time and they rescheduled her repair date a few times too. It took them a month and a half to come to her house, from the time she reported the outage until the time the tech came to fix it. I have friends and family that all have complaints about these guys. The customer service number cannot help you. They can only call the people they call "dispatch" and then do what they tell them to do. In fact, the only people that are actually nice and try to help is their tech support representatives, but even they have limited access. All they care about is money, they don't care about their customers.
They have had many class action suits against them for this same exact thing. They bought out Verizon's service and instead of keeping Verizon's systems to keep their existing customers services turned on, they decide to switch everyone to their own and people were out of service for months because of it. But they were still paying for it even though they didn't have it. Oh, and if your phone ever happens to get disconnected for non-payment, your billing doesn't stop. They still continue to bill you. When you call to ask them why they were still billing you even though your services has been disconnected, they will tell you that it wasn't cancelled, just temporarily unavailable. Call me crazy, but that seems like a scam to me. You shouldn't have to pay for something you don't have. That's stealing. And nobody does anything about this! Nobody cares. They have my whole entire area on lock down.
The only way you can get landline is if you go through them. There is no other phone service around here unless you go with VOIP. What kind of company lets their workers miss appointments with customers five times and then lie about it? I've never worked for a company where you didn't get in trouble for mistreating customers. It's simple, they don't care about you. They care about money. Please don't do business with them if you can help it. They are crooks. Let's put them out of business and give another company a chance to do better.

This is the worst internet provider in the entire United States. I took the connection when there was some promotion going on and when I see the bill they charge me more. I called customer service and there was some lady who answered and she was not at all well behaved and was shouting on me. Woooo. We pay and you earn my dear. Have some respect for the money you get from us. This is ** provider and I think it should be taken with some legal action.
Frontier Communications Company Profile
Company Name:

Frontier Communications

Company Type:

Public

Ticker Symbol:

FTR

Year Founded:

1927

Formerly Named:

Citizens Communications Company

Address:

401 Merritt 7

City:

Norwalk

State/Province:

CT

Postal Code:

06851

Country:

United States

Website:

http://www.frontier.com/