Frontier Communications
Frontier Communications Corporation provides communications services for residential and business customers in the United States. The company offers local and long distance voice services, including basic telephone wireline services to residential and business customers; and packages of communications services. It also provides data and Internet services comprising residential services, such as high-speed Internet, dial up Internet, portal and e-mail products, and hard drive back-up services; commercial services, such as Ethernet, dedicated Internet, multiprotocol label switching, and TDM data transport services; and wireless data services.
In addition, the company offers switched access services that allow other carriers to use the facilities to originate and terminate their local and long distance voice and data traffic; and direct broadcast satellite services and fiber optic video services. Further, it sells a range of third-party telecommunications equipment for business customers.
Consumer Complaints and Reviews

I called Frontier on 2/11/17 to cancel. I felt I was paying too much for horrible service. I received a bill and go on "chat" chatting with Nia she wrote that I would be getting my final bill and refund in the mail. I received a bill for $20! So I went on "chat" again and chatted with Desiree. She was of no help so I asked for a phone number (I was trying to avoid calling). When I called I spoke with Vicky, I told my situation. She say, "Oh ya I see we owe you $22. $2 per day for 11 days. Let me put in the request." She continues to say, "Oh wow looks like you have 3 other pending. Sorry, but you need to call tomorrow to check on status. Collection dept is now closed." I said ok.
I called 3/18/17 (I figured I give them a day to figure it out). When I called I spoke with Jamil. He said he saw the issue and he was going to request a "credit". I said that won't work. I paid 1/31/17 which I was told by a rep paid for all of February. He said, "Ok. Looks like your account never had issues. Unfortunately you need to call back and contact collections. They are the only one that can help."
May 20, 2017 (today). I spoke with a rep. Didn't bother to get a name anymore. I asked for collections right away. They transferred me to collections. Now I'm told the Frontier bill I paid 1/31/17 was for January 10-February 10. (Remember I was told that they charge forward not backward). I said, "When I cancelled on 2/11 you said you couldn't disconnect until 2/17. So now, I was told 59.99-39.99= 20 (thanks captain obvious) and that why I owed $20. I said, "So you're saying I owe you from 2/10- 3/02 when on the 17th I cancelled. You charged me on 59.99, the charge didn't go through." I told them, "You shouldn't have charged me again. My bill was paid and I should get a refund."
So lastly I was transferred to Joe. Title billing & order supervisor. So I went the scenario with him. He said yes I owe $20. I said, "I don't understand why when I paid for all of February & cancelled on Feb 11, but you couldn't come to disconnect until 2/17/17." He said, "Ok. I credited you the 7 days so now you owe $6." I said, "So the seven people before you has incorrect data and you're the only one who has the right one?" He said correct. Summary: 5 reps tried to get me $20 credit. 1 supervisor Joe said I owe $6 and he was the only one with the correct information. So according to their records I owe $6... really???!!!! I had horrible internet at home which is why I canceled, but now I realize internet isn't the only horrible thing going on with Frontier. (Disgusted)

When talking to these people on the phone, they will hang up on you if they don't want to deal with you. They will keep you on the line for a while, like they are doing something, and then you get disconnect. Why would someone calling in for help just hang up. So it is them. I had this issue a couple of years ago and now it is still happening. It must be a protocol with them. When you call back to get the same person, you can not!
I had one very rude customer service rep that stated there were over 500 hundred of them and how could he know who is who... Odd that they cant look up the persons name or even see it in my account who was working with me for the last 45 minutes. They will quote you a price but they state they can not send that out in writing so, when you get your bill, it is NOT what they quoted you. This practice has been going on for years now with Frontier Communications. Sorry I had to give them even one star.

Set up service between 8 and 12... No show... No call. Call to Frontier at 2:30, spoke to technician, who said, "I will be there in 5-10 minutes." An hour and a half later, no show, no call. Talking to customer service now. They have no idea what is going on... TERRIBLE customer service.

It has been two months since we called Frontier Communications to transfer the service to our new address, and six weeks since the first technician showed up to discover that we needed a fiber-optic line run to our house from the street, and we still have no service and no idea how much longer the process will continue to take.
In the meantime several other technicians from at least two different departments showed up to complete the job but decided that they could not because the gas company had not marked the location of the gas line. That is the story they have been telling me over the past six weeks every time I called (and went through the long process to find our order) -- that the gas company was holding them up and there was nothing they could do but to wait. So what is their solution to the stalemate? They suggested that I should "reach out" to the gas company, which, sure enough, told me that they needed to coordinate with Frontier Communications. Then today during another telephone call, they suddenly discovered that since my son called in the transfer order on my behalf, they could no longer discuss anything with me.
This whole fiasco tells me that their operation is totally disorganized and none of the individual I spoke to, from service representatives to supervisors, has any interest in finding solutions to the issues on hand. Interestingly, they do not seem to care at all whether we remain their customer or take our business elsewhere. Well, guess what? Neither do we.

I was the first Verizon FIOS customer in our neighborhood many years ago, and told many of my neighbors about the speed and quality of the service. We had discussed cutting the cable bill, as it had gotten out of control cost-wise, and we are now retired. Then, Frontier came along. We got a quote on the phone of $54.00 per month for a year for just high speed internet. When we called to get rid of the cable and phone, we were told there was no way anyone ever quoted us $54 per month, and it would be $69.95 for the first year, and would be higher after that. So - we told them to come get their equipment out of our house, and cut everything off. They spoke to me as though I were a prisoner, and didn't really mean that. I assured them that they would receive no more funds from us, and they finally terminated all of the services. Sadly, all of the equipment is still here, so I'm returning it to one of their stores.
Now, I see an ad for $40.00 per month for Frontier internet for six months, and then an increase after that, but still far less that they quoted us - long-time customers. How can this be legal? Why doesn't Consumer Affairs look into this? We will never consider using Frontier in the future. They employ liars, and treat their customers like servants.
How do I know I can trust these reviews about Frontier Communications?
766,665 reviews on ConsumerAffairs are verified.
We require contact information to ensure our reviewers are real.
We use intelligent software that helps us maintain the integrity of reviews.
Our moderators read all reviews to verify quality and helpfulness.
For more information about reviews on ConsumerAffairs.com please visit our FAQ.

Overpriced, slow DSL Internet service. Constantly being dropped/losing connection. Took 3 different technicians to locate last problem with cable running through trees after I pointed them in the right direction.

I responded to mail-in offer by Frontier Communications for a FIOS Business service, which clearly stated in writing that the installation is free and that the all inclusive price is good for 1 year. The first bill arrived a couple of days after the line activation. To my amazement, it listed the $149.99 installation fee, a charge for the next month of service and an info that effective May 15, a Business High Speed Internet Fee of $1.99 will be added to my account! I called a customer service and after 38 min service call (the operator was putting me on hold each time I ask a question) I found out that my dispute will be reviewed, it will take 2-3 weeks but in the meantime I have to pay the bill in full. She also explained that if my dispute is resolved in my favor, my account will be credited $149.99, which means I will be paying for 7 months of service in advance! What a way to make the customers happy!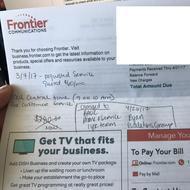 Called to request business INTERNET service -- no phone, no high-speeds, just enough to check email and play music. I was told "our lowest business package is $60/month, and it includes free phone service. Installation is waived with a 1-year agreement". I agreed. One month later I receive a bill for $315. When you call to ask one simple question, you get switched to various departments with those authorities and cross your finger they don't disconnected on you after waiting on hold for 45 minutes. Finally had the service fixed (the rep on the phone enrolled me in the highest, most expensive plan, over $100/month). Now, 2 months later, they are running a promo for $35/month for THE EXACT same service/speed I have. They refused to adjust the pricing. End of story. They don't care about service or keeping people long-term.

Frontier's DSL speed, equipment, and technical support is horrible. I have tried for 2 years to have connectivity issues resolved and have been stood up, LIED to (according to their own field techs), treated like an idiot (have a degrees in engineering and computer science), ripped off, and completely ignored. Appointments are regularly changed or just a "no show". According to several field techs, customer service lies about conditions regularly to pass the issues on to them. Almost everyone I have come in contact with have treated me like I'm clueless when it comes to anything internet related.
There were $40 in worthless features that took me over a year to remove (who charges $2.95 for NOT having a Frontier home phone line). I was told several times it was an internal line issue and it's not covered under my package although I have printed out the bill several times and shown the techs, who then shake their heads in confusion over the matter. Unfortunately, I have heard the same from several people in the area who use Frontier. Well why not just drop Frontier??? Well internet availability here is either Frontier or Satellite and Frontier takes total advantage over this fact.

I ordered Frontier and then canceled 1 day later. They said do not worry there would be no bill. The following is the transaction I had with them and then they gave me a bad mark on my credit. I write this to all and beware of this company's flagrant deceptive practices. Do not get service from Frontier Communications at all. They will screw you. In the end I had to pay even though they said I did not have to. They even gave me a negative mark on my credit.
History: Frontier Communications billing issue. Frontier Communications never sent equipment needed for DSL internet. I called a month later and canceled service. On 10/18 I talked to Savanna. She said account was immediately discontinued and disconnect confirmation number #**. Savanna said I would receive confirmation. I waited for the statement to come in the mail. 10/24: Talked to Teresa about not receiving a zero (0) balance confirmation. She said I would receive a statement showing a zero (0) balance soon. I waited for the statement to come in the mail.
11/27 @ 7:22 am: received a statement showing payment due of 149.66. I called and talked to Darrel. Darrel said the account was zeroed and I should not receive bill. He said he fixed it in their computer system. He said a statement and email would go out showing zero balance and to disregard the bill. Email was never received. I waited for the statement to come in the mail.
12/22 @ 1 pm called Frontier and talked to Keisha regarding a bill I received stating I would be sent to collections if the bill was not paid. Keisha confirmed that the account should be zeroed. @1:06 pm Keisha said she will call collections to make sure the account has not been transferred to their department. @1:10 pm Keisha asked to put me on hard hold so she could get the account resolved. Account will not go to collections. @1:22 pm Keisha said she would email me a zero statement. @ 1:29 pm. Keisha said she will contact me in 45 minutes. ID **. Never received a callback.
Called Frontier billing @ approx. 3:30 pm to find out status. Eric said he would transfer me to billing. Talked with Christina @ 3:48pm regarding not receiving email showing zero account balance. Christina was not in billing. @ approx. 3:52 she said she would transfer me to billing. Talked with Tia @ approx. 3:55 pm she said it takes 2 billing cycles to show the balance. Tia read the history of the account and confirmed that the service was never connected. Tia said they sent modems but I never received anything. Trying to send the credit from her terminal. @ approx. 4:36 pm I was disconnected from the call. @ approx.4:42 Tia called me back. Tia put the adjustment in the system correctly now. It should not take as long to approve the credit. Sent directly to supervisor to get credited.
12/28 @ approx. 8:30 am. Called Frontier regarding statement received on the 27th showing no credits and a balance of $149.66. Prior billing service members have stated that my balance should be zero. Talked with Chris. Chris said he would be my advocate. All credits are still pending. It takes a week or two to go through. Tia set everything the best way possible.
1/24/17 Called at approx. 2:40 pm and talked to Tina. She said the account is closed since October of 2016. Credits were denied but do not know why because I never had service. Tina will escalate to supervisor. Asked me to hold for supervisor. I will need to talk to collections. Give this number **. They will credit the account for me. 1/24/17 Talked to Marisa in collections @ 4:04 pm and she said is adding notes stating I never received service and she will request to adjust balance to zero. Marisa said the delinquency was reported to credit. If I do not hear back in 5 days e-mail offline adjust. wsmcollections@frontier.com.

First - I've never taken the time out of my busy schedule to send a review. BUT!!! I am so upset and feel that what I have experienced is illegal and, at least VERY unethical business practice and potentially a violation of my privacy rights! I'll try to keep this short and to the point. I arrived home from my work office yesterday and prompting logged started my home computer to continue working from home. I was not able to access two VERY critical sites that would enable me to check and respond to customer messages (unlike Frontier, I take customer service seriously... Sorry, I digress).
I rebooted my laptop several time. Rebooted my wireless router several times. NOTHING. I could get to any and all other sites except the two that I use everyday. I called these sites... No help. They said it was ISP issue. I found this answer strange as I could access other sites just fine. Finally called Frontier.
They did a "test" and said they saw a bad line??? How could a bad line just stop access to certain sites... Okay, I played along.
They said they would send someone to our neighborhood to start finding the "break in the line." I asked to be transferred to billing so I could ask that I not be charged for service until it worked. NOW the fun begins... The billing agent says we are one month behind in payment. I'm already looking at Frontier site and see NO NOTICE of cancellation or interrupted service. I log into my bank and see that I mistakenly sent a payment to Verizon (previous ISP which I was very happy with until they abruptly sold my service to Frontier). Hence a month behind...
I made payment over the phone and GUESS WHAT??? The "broken line" was magically fixed. I could now access the sites I had been trying to access for the past 4 hours. This is very unsettling. How can an ISP selectively block access without any notice or even internal awareness within their own company? This feels very threatening to my privacy. If I had a choice I would switch IMMEDIATELY... Unfortunately, I don't. My neighborhood is Fiber and Frontier now owns that fiber... ARGGGG. I have lodged a complaint with the Texas Attorney General. Not sure it will help. But Frontier should not be allowed to operate like this.

I had cable, phone and internet service with them. I decided to cancel the cable and phone service and only keep the internet service. For 4 months Frontier continued to bill me as if I had cable & phone service. Every month I got a bill I would have to call and spend hours on the phone telling them I canceled months ago and returned all their equipment. Every month I paid for my internet and after 4 months of wrong billing they turned off my internet because I wouldn't pay for services I wasn't getting.
I got tired of 4 months of calling and a total of 17 hours on the phone with them that I canceled all services and went with another internet service. They are still billing me and now sending me to collections and they owe me money. Frontier has the worst customer service I have ever. I have been told it takes 3 months for their billing dept to catch up with work orders. Come on this is the computer age, DON'T GO WITH FRONTIER COMMUNICATIONS!!

Long story short, we signed up for Fios through Frontier Cable back in January 2017. All was set up fine. Received first bill and chocked. It wasn't what was quoted to me. Called to ask why it was so high. They informed me it was because of taxes and fees. I told them it was too high and what other deals do they have to lower my bill? They said we could downgrade from 3 room package to 2 room package and with the promotions, it would be far cheaper. I was very happy and said it sounded really good and we just needed to ship back extra cable box, which we did.
Two months go by and we are billed what our quoted rate was supposed to be. Came home from work tonight to a bill that was almost double what we had been paying and what we were quoted was our rate for the first year. I thought it was a mistake and called customer service. They informed me that we had been getting 2 promotions and were only allowed 1 and the new figure was going to be our bill going forward. I tried to explain to them it was what I was told our bill would be by customer service. If I had known it was going to be double, I wouldn't have told them to move forward with the service.
I didn't make a mistake, Frontier gave me false information and without notice, would be debiting the new amount. I said this was unacceptable and I felt completely lied to. I was on the phone with several different people including 2 different managers for 4 hours. The last manager of the night told us they didn't believe any customer rep ever quoted us the lower price to begin with and that we shouldn't expect to get service for free. I didn't expect anything for free, I just expected them to honor what they had sold me to start with. Then to be called a liar to boot, sent me over the edge.
Plus we have to pay the higher amount and wait for a credit on our next bill, That we were lucky they aren't charging us more for the computer glitch because we owed more than what was being charged. I have never been so disgusted with a company's lack of regard for customer service in my life. Ended up canceling cable and only keeping internet. That's until I can find another company. We shall see if the credit is given or not. Somehow I doubt it. Stay away from Frontier if you have any other option. They could care less how they obtain your business, even if they have to lie to get it.

Was having issue with Frontier cable (installed month ago) as the on demand wasn't working. Called customer service and invested almost 2 hours on phone with no solution. They just kept having me unplug and plug box back in. After wasting two hours, Chris (the rep) said, "I am sending a technician to your home in 4 days, you will need to be there between 8-5." You will note there was no, "What day might work for you..." Nope, just this day. I can't just skip day of work because their equipment not working. I asked for supervisor. "Nope, can't speak to supervisor, I will send them message and they have 24 hours to get back to you." You heard right, 24 hour wait.
So here we are 30 hours later and guess what... no call. Shocking! So they can't make a call in 24 hours and they expect me to wait around 8 hours in hope the service tech is better than the customer service and the supervisor. Shaking my head at such loss poor service. They employ over 20,000 people and still cannot help clients. My customers would hang me if they were treated this way. Please find another service provider if quality and service important to you.

I added Frontier in Sept. 2016 when I moved to St. Petersburg. We are now in May 2017 and I have yet to receive one bill correct. They keep sending me emails to sign up for auto-pay - What a joke, why would I do this if they keep trying to over-charge me every month. I took a simple double-play package - Internet & Cable for $109.99 Promotion - With all there extra fees for equipment and service my bill was going to be approx. $124 a month - My bill every month comes in ranging from $170 - $190 (Different every month) I have to call EVERY month for them to adjust the bill and promise me that everything is fixed and next month my bill should be correct. Yet every month they still get it wrong!!!!
This is an outrage already!!!! If they sell packages at a certain price, you would think as big as these companies are, that their systems would have that set up to bill properly. Imagine if I would have signed up with their auto-pay, not only would I be out the extra money from my bank account every month, but then I would also have to go through the nightmare of trying to get it back! JUST DISGUSTED ALREADY!

I accidentally hit my button twice, making a payment online, and it subsequently took the payment amount out of my account twice. I have talked to 3 different people in 3 weeks' time. Twice I was assured payment would be sent back... Still not done. Now a 3rd person tells me I have to talk to collections. Why did the previous 2 people tell me payment will be returned within 5-7 business days?? Incompetent liars!!

We were paying around $85 a month for internet and cable. However, we do not watch much TV, let alone specific cable stations. So, we called in to simplify our service and pay less. On March 24th, 2017, a Frontier employee, knowing we were previous Verizon customers, gave us a promotional price for internet at an affordable $34.99 per month for TWO YEARS. Mind you, this was a verbal contract with an official confirmation number from the company. Fast-forward to the next bill, and we were still charged the $85 (new amount had NOT taken effect). An employee helped us again, crediting our account and promising we were good to go with our billing.
Fast-forward to the current May bill. We were charged $54.99 for just internet. Spent nearly 2 hours today talking to various employees. NO ONE honored Frontier's OWN CONTRACT with us. Later, I spoke with the floor manager. He explained we had been "automatically disqualified" because they no longer honored that promotion (what!?). Bearing in mind they never communicated this change to us, their so-called "automatic disqualification" was a euphemism for underhanded billing practices.
Here's the important detail for future Frontier customers: NO COMMUNICATION or CONSISTENCY. Not only did they not honor their contract with us, but they also NEVER communicated our "automatic disqualification" of our promotion. Additionally, they swore they could not adjust our monthly bill to consistently reflect the amount they agreed to. Who does this in a business? I was only asking for something THEY had previously offered to us. So, in short, here is our issues with Frontier: hidden billing practices, breach of contract, bad communication, lack of effort to serve customers. Please know that this is my first review online for bad business. I am not someone seeking a fight or looking for trouble or even a lawsuit. I just wanted to warn future consumers. Thank you for listening.

Called month in and month out for the past 5 plus months, every time spending 90 plus minutes on the phone with them. Even with names and employee ID numbers and confirmation numbers. They continue to charge me wrong amounts. I ended up paying them more than authorized just so I didn't get sent to collections. I hate this company more than words could ever explain!!! Crooks are beyond words!!!

Wow. First of all... DON'T... I REPEAT... DON'T USE FRONTIER!!!!! I saw the 1-star rating and thought, "Well, let's see. I hate Comcast but was forced to use them in the past. But I survived. Let's see how it goes with Frontier." Which I'm forced to use now because our apartment building only supports that and/or something else which also has a 1-star avg rating. Well... it's even WORSE than I could've ever imagined. First of all... They make empty promises: "You'll get a 200 dollar Amazon gift card".
This is supposed to be 'Verizon'... But they made the mistake by letting Frontier take over. Great. I called them and after a long, hard struggle reached someone. He went through the process with me, but not ONCE did he say they'll check my credit (and it'll hit my credit in the process). I even ASKED if it would be better to do this on my husband's name. They said, "It doesn't matter"... Now, if he had said that they would check the credit, it DEFINITELY matters (because I know his credit is far better because he's been in the country for much longer and my short history of credit is hitting my score at the moment). Nonetheless. Everywhere online when I check my own credit score, it says it's "Good" or "Very good" depending on where you look and which system you're using.
Unaware of this I decided to proceed. The man on the line said that payment options don't matter right now because they will take care of it on the installation date. So I was planning on setting up my husband's credit card then when they were SUPPOSED to arrive. FIRST MAJOR RED FLAG ---> I receive a text after my phone call saying my scheduled date for installation is a week plus later. Now I work from home... What am I supposed to do for 10 days?
SECOND MAJOR RED FLAG ---> I receive an automated phone call confirming appointment the day before. (Why it's a red flag will become apparent later in this review.) THIRD MAJOR RED FLAG ---> No one shows up in the 4-hour interval they gave us between 8am and 12pm. That's FOUR hours. My husband had to drive back and forth from work because I had an appointment in the city just so that someone would be present when they arrive... as they said there should be.
FOURTH MAJOR RED FLAG ---> I call Frontier. Ask them what is going on. Now it's 12:20 pm. The guy says, "No technician has even been assigned to you." I ask how??? He says, "I don't know... That's so weird." The **? I told him we've been waiting a WEEK for them to come out. His reply: "That's odd. Something must be up. They usually come out 3 days after the initial call. We'll have to reschedule though. We'll reschedule for next Wednesday at 1pm-5pm"... ANOTHER 8 more days! Now, we're waiting almost half a month JUST FOR INSTALLATION.
LAST ** UP ---> I received a letter in the mail. Dated 26th of April. "Your credit doesn't meet Frontier's criteria. This might've hit your credit." Excuse me? No one said they'd check my credit. If they had mentioned it, I would've immediately transferred the details over to my husband's name. But they said, "It doesn't matter, we'll deal with all that when we do the installation." Now... it's dated SIX DAYS before the first installation date, WHY would I receive a phone call to confirm installation the day before? (Refer to the second red flag). Also, how couldn't the guy (referring to fourth red flag) see on their system what's going on and tell me that this is the case? They are ridiculously unprofessional and I don't trust them at all. I thought Comcast is bad... Well, nothing could be worse than Frontier Communications.

This is what I wrote to their President with no response yet and instead of writing a new review I am copying and pasting in hope that someone else doesn't make the same mistake we did.
I was a customer from about October 2016 until I finally cancelled services May 3rd 2017. I would like to start by saying in my 27 years I have never had to write to a company like this or had the amount of issues as I have had with Frontier. My husband worked for ** which requires home phone and reliable internet to work. When we began services we lived at ** and moved to ** which is right next door around December 1st. While living at ** we had no issues with internet or phone. However, when we called to move services over I got the runaround with customer support and was even told at one point to hook it up myself and as I had just given birth November 29th I became quite upset.
We finally had services installed and they worked for about a week before we began having issues with the internet speed and internet dropping. So my husband was forced to call off work multiple times while waiting for technical support to come fix the issues. Since December 1st I would say we have had a technician come out to the house about every 2-3 weeks until we finally cancelled services. I should have cancelled right away but I was promised time and time again the issue would be resolved. We even upgraded our internet speeds in hopes that it would help and it didn't. Having reliable internet was vital to my husband's income and mine since he was the one working while I cared for our first child.
Since we installed services with your company they have ran new lines from the road, rerun wiring, switched out modem boxes 2-3 times and yet I would say on average my husband was only able to work 25-28 hours out of the 40 he was scheduled since we had services moved. For the last 3 weeks he was unable to work at all and 3 weeks without income has hurt our family possibly beyond repair. I don't think I need to explain the amount of stress this caused my family and the amount of bills that began to pile up. Yet we always paid our bills with your company in good faith that things would get better. They didn't.
I am writing this in hopes that 1) you will help make this situation right by us and give us restitution to make up for lack of income because of YOUR company and 2) that this might not happen to any other family. If needed I can provide proof of his lack of income or you can just look at our usage log and see what I am referring to. It is pretty bad. When I called about 1.5-2 weeks ago I was told by a representative they could see our internet had dropped over 100 times that day. Please make this right by my family.

I have had Frontier Communications as a landline supplier for several years. Unfortunately I don't have any other viable choices because there is spotty cell service in my area. VOIP is not a choice either because satellite internet from Frontier is my only choice. In the past 3 years I have lost phone service on average of every 45 days. The outage usually lasts for over 24 hours. I have gone so far as reporting the poor service to the Washington State Utilities and Transportation Commission. All they did was provide a letter stating the Frontier had fixed that particular problem. I also sent a registered letter to the Frontier CEO. The letter was received and signed for but has never been answered.
I have been involved in the telecommunications industry for almost 50 years and I have never seen such shoddy service coupled with exceedingly poor customer service. My dealings with the field technicians has been the only positive note but they are spread too thin. My advice is to think long and hard before dealing with Frontier and to explore any possible alternative.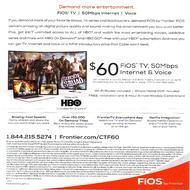 Don't do business with Frontier Communications. They are nothing but thieves. Don't believe in their offers, they installed my service 8 days from date of order.
The special was $60.00 per moth 50/50 internet, TV, and phone service. 3 days after installation I check my bill online it was $340.98. Called them, they said it included installation activation and equipment when I was told all of that was free of charges or was included in the $60.00 a month deal plus tax which should be about $70.00 per month. I have been trying to cancel services since April 17 2017. Today is 5/3/17 and still not been able to cancel, every time I try to cancel they just put on hold forever or just drop my call when I say that I want to cancel. They are liars. Don't believe in frontier communications staff or you'll be surprised.

We ordered Frontier FIOS. We got a quoted price along with package details and an install date (4/25/17). They showed up on the date they said they would and installed the equipment. The installer did his job except for making sure everything worked and he took all the power cords from our previous provider and to top it off he left most of his tools in our home when he left. He assured me everything would be working in minutes and before he left. TV worked immediately but internet and on demand were not functioning. We contacted tech support and spent more than 2 hours running diagnostics with tech and finally tech said all would work in the morning. The tech said if not working in the morning call in and start a service ticket and they would expedite the ticket to no more than 2 days for resolution.
The following day the system didn't improve so we called in. Frontier reps Jake and Monica stated that it would be at least 6 days for next repair appointment and we would have to pay for the repair appointment. After further phone and chat time with reps Connie and Wedel we were told we would not have full service for at least a week. When we requested return of power cords taken by installer we were told it would be easier if we "just went to Walmart and replaced them ourselves". My fiance finally got to a supervisor and said she wanted to cancel service and we were told it would cost us $230 to cancel even though service didn't work. The Frontier rep said we were long term customers and we would have to pay for cancellation. WE ARE NOT AND NEVER WERE Frontier customers before 4/25 but they were so sure that they were right that they accused my fiance of lying to them.
We provided documentation from our rental complex and our TV/internet service provider and that didn't matter to them. We finally got them to see that we weren't past customers and cancelled the service without fees and now, 4 days later, they say we have ordered new service, and any further cancellation will cost another $230 and we are responsible for double charges. We have cancellation confirmations and recorded all conversations because they warned us conversations were recorded and now we are told we owe $460 for 2 cancellations. We still never had functioning service. We have talked to agents that have agreed with us in the matter of not having previous service (including supervisors) and we have talked with reps (including supervisors) that say we owe $230 and $460 for service we never had. We have been accused of lying and have been threatened. Please help!

I signed up for a promotion that came to me in flyer to my home in March. It was a triple play + HBO and tech support for 6 months for $60.00 + tax. Sounds too good to be true??? Well it was!!! I signed up for that and received a bill saying something completely different!! After spending an hour on the phone with them in April to fix it, once again in May I am doing the same thing, this time they never heard of that promotion!! UGH So, I gave in and the best thing they could do for me was make my bill 89.66 + tax with no TECH Support of course! How can they get away with this? I am so tired of cable companies. All of them are the same!

When I opened my acct with them. Some idiot spelled my name Daniel instead of Danielle. So my acct went to the fraud dept. They have now turned off my service 3 times (For no reason at all!) Even after speaking with corporate office! And being told the problem was solved... Everyone single person I spoke with. Was completely unprofessional, rude, and uneducated about their job! Just plain incompetent people! I switched my service to them. To save myself $40 a month... Honestly, I'd rather pay the extra. Than have to deal with those freaking idiots one more time!!!

YOU DON'T HAVE TO READ MY RANT. FRONTIER IS A HORRIBLE COMPANY!!!! After being a loyal customer to Verizon for 8 years this Verizon to Frontier take over has been a disaster. Frontier's service is beyond horrible and as a company they should really re-evaluate their customer interactions and really listen to what their paying customers have to say. I was a Verizon customer for over 8 years and was completely satisfied. Unfortunately Verizon Fios in our area became Frontier. I was worried since everything I read was bad reviews for Frontier but I figured same equipment new name on my bill. It took maybe a less than a month when I started to deal with the horrible customer service Frontier has to offer. My speed went from 70 Mbps download to 18 Mbps and when I called all they would say "We don't guarantee our speeds. You can upgrade for higher speeds"
In my head I wanted to tell this idiot, "If you can't get me 75 how are you going to charge me for more and still not give me the speeds I want." But I was so frustrated because we had gone over so many troubleshootings I just ended up cancelling the chat and decided to deal with this another day. Well today was the other day and needless to say the experience sucked again!!!! I clicked the chat button and began my chat well. Once we got to the same point where this guy is explaining how they can't guarantee service I told him to please cancel my account and this guy's response was "Are you still there?" I would respond yes and then eventually he closed down my chat due to lack of response but I was responding.
I started another chat and the representative said, "I will send a tech. Please be advised that charges will apply." I asked why and she said, "Well if it's not Frontiers fault you will be charged for the tech." I asked what were the possibilities of it being something else other than their equipment, their lines, she said she couldn't tell me. So I asked how often are customers charged when tickets like these are created and she said often. So my response of course was, "Can I see your technician's training manual because there is no way that most of your customers would have issues with internet speeds and it not be Frontier." No response on their end. Needless to say I will be cancelling my account tomorrow. I am lucky that I am on a month to month now and don't have to deal with cancellation fees. DO NOT SIGN UP WITH FRONTIER!

Letter to the President of Frontier Communications or whomever is not playing golf at the time, and can read! It is inconceivable to me that Frontier Communications review is nothing but Wall Street BS, not a truthful and objective review of the importance of Customer Service, and the horrible and well-earned reputation of that company. The support that Frontier pretends to give to their long-term customers as I have been, unfortunately is non-existent, and/or very poor to say the least.
To ignore the top 3,155 complaints about that company (see:https://www.consumeraffairs.com/cell_phones/frontier.html) in favor of promoting their stock values is insane... A lot of wind from the company and a lot of anger for those who like me are stuck using Frontier in areas where only Frontier is available (I live upstate NY where until very recently only Frontier was available as a telephone and Internet provider, and a consumer-hated monopoly of communications services that should be illegal when it leaves no choice to go somewhere else).
The rating with the Consumer Affairs Bureau is ONE star out of five, and I am sure that zero star was the choice of many, if it was possible to input zero star. Even some of their technicians in our area are changing their services from Frontier to another one, experiencing the same technical problems and difficulties as the regular consumers experience on a daily basis.
The painfully slow connections at a very high cost to the consumer, the ineptitude, and aloofness of their technicians are well known facts... For example when you say that you are using an Apple computer, there is usually a long silence on the other line, a lot of "huh's?" and "Well we're not very familiar with Apple computers"... Succinctly it means we do not know ** about Apple computers and how to service your connection problems. In today's world, many companies and individuals rely on Apple products, from iPhones, tablets, iPads, Apple TV to Apple computers, and Mac is still considered the best performing platform. Granted, they are expensive and Window based PC are still very popular... it makes no difference to Frontier as it doesnt make Frontier work better for the one or the other... But is worse for the Mac, indeed. That's a more than fair statement.
They also made me purchase equipment to boost the connection, in the order of almost $350.00. It worked a little better, but not significantly. They would not let me use my Mac Time Machine which is AWESOME, ONLY because they cannot troubleshoot it... So I have perfectly good working equipment that I am unable to use because of their ignorance and ineptitude to service anything... That Time Machine can also be used as a router, making their equipment obsolete. But no, they would not allow me to use better equipment.
When an appointment is made for a repair... the technician does not show up. It happened to me, FOUR TIMES in a row. NO ONE SHOWS UP!!? Disregarding the fact that a person will wait an entire day, probably canceling appointments to make sure to be available to the technician, and making THEIR TIME available to nickenpoops who have no regard, nor respect for the persons who pay their salaries. That is outrageous.
Telephone calls to Tech Support avail to nothing being resolved. Credits have been asked and responded by "Yes, we will credit you for this month"... Then you read your statement and there is no refund. That company SUCKS big time and does not deserve one cent of stock growth unless they start hiring people who have the competence to fix their own line problems, customers problems, and equipment problems. I understand that the deal of buying some equipment and territories from Verizon was a big mistake, since it is now well publicized that Frontier received outdated equipment from Verizon. Shame on Verizon... but nevertheless it was Frontier's decision to purchase that crap.
I have been a customer for 13 long years with this inept company. What broke the camel's back as they say, is that during my last phone call - at the beginning of this week - to Frontier Tech Support, when I complained about non-ending disrupted connections, the lady from tech support had the audacity to say to me "Well, we have a program to offer you and for $12.99 a month we can protect your equipment"... Say what? Isnt that what I am already paying for? I could not answer anything to this poor woman, except that I started laughing. That did it for me... ENOUGH IS ENOUGH... NO MORE of this BS!
I am now switching to Spectrum, for better or for worse, as I feel that anything is better than Frontier. I would NEVER recommend this company to anyone. In the long run, Frontier has been unable to perform, and is entirely incompetent, not deserving one hair of financial growth. Actually I am thinking about starting a class-action lawsuit against them to refund money to ALL unhappy consumers. If anyone has suffered from services not provided by Frontier, i.e. poor connections, failing to repair, failure to replace faulty equipment, interruption of services without reimbursement, please contact me by email at **. We will put our heads together, and I know an excellent Attorney (used to be a Prosecutor) who will be more than happy to take this on.

Beware of this company. They try to sell you the world and quote very low prices and then when the bill comes they have a bunch of reasons that have nothing to do with you why the bill is so high. I have now posted on FB after I could not get the 800 operator to even find my bill. She said that the computer software they use for my bill is different from what they have online. Can you believe that? I am going to see now what they do. If I don't get satisfaction I will cancel this service. I was even told by UPS after they sent me a bunch of receivers I did not request that they were not honest.

I quit service with Verizon before they went to Frontier. The service was turned off. Verizon passed me on to Frontier because I started to get billed by Frontier for service I wasn't getting because the service was turned off!!!! Where I rent the landlord started service with another company. Frontier continued to bill me and all attempts on my part to contact them fell through. I couldn't even get an address to send the boxes and modem to. Now they have turned over the billing to a collection company which will put a dent in my credit. Stay far away from this company.

DO NOT DO BUSINESS WITH THE IDIOTS! They are incompetent, lack compassion and respect for your time and patronage. I ordered service for my business 3 weeks ago April 12th. THEY made the appointment for Friday April 21 between 11 & 3... never showed and not a single courtesy call or email. Called 2 days later on Monday April 24 and was told my order was hung up in Engineering. At that point I was told the Engineering Department would call me back within 24 hours. Needless to say that never happened either.
I gave them the benefit of the doubt and waited an additional 2 days until Thursday April 27th. I called to complain and asked to speak to a supervisor. I was told that I cannot but the operator I talked to would fill to a form and submit to the supervisor and it would be 20 to 30 minutes for a return call. I informed her I had been waiting for a call for 3 days so why would they ask me to wait again? So sorry was all I got. I waited 2 hours before I called back and just cancelled the service before it started.
These incompetent idiots think they can run the business whichever way they choose in complete indifference to what their customers are saying? Thank goodness I found this site before I waited another 3 weeks for an answer... was nice to see that they have the worst possible service... other than United Airlines of course... I can honestly say that cancelling the order before I got started was the best feeling I have had in a very long time and I encourage others to get out or even better? NEVER ORDER INTERNET SERVICE FROM FRONTIER IN THE FIRST PLACE!!!
Frontier Communications Company Profile
Company Name:

Frontier Communications

Company Type:

Public

Ticker Symbol:

FTR

Year Founded:

1927

Formerly Named:

Citizens Communications Company

Address:

401 Merritt 7

City:

Norwalk

State/Province:

CT

Postal Code:

06851

Country:

United States

Website:

http://www.frontier.com/