Frontier Communications
Frontier Communications Corporation provides communications services for residential and business customers in the United States. The company offers local and long distance voice services, including basic telephone wireline services to residential and business customers; and packages of communications services. It also provides data and Internet services comprising residential services, such as high-speed Internet, dial up Internet, portal and e-mail products, and hard drive back-up services; commercial services, such as Ethernet, dedicated Internet, multiprotocol label switching, and TDM data transport services; and wireless data services.
In addition, the company offers switched access services that allow other carriers to use the facilities to originate and terminate their local and long distance voice and data traffic; and direct broadcast satellite services and fiber optic video services. Further, it sells a range of third-party telecommunications equipment for business customers.
Consumer Complaints and Reviews

I cannot get Frontier Communications to change my programming after 3 phone calls over three months. On hold with Frontier Communications as I type, the representative cannot tell me what is bundled in FiOS Custom Essentials for $68.99 a month -- unknown! I have asked three times to remove FiOS Digital Voice Unlimited Package for $44.99 a month. We have 4 AT&T cell phone lines, and travel all the time. We just want phone hooked up with long distance enabled for emergencies ~ $12 a month. This is just the latest issues.
Frontier Communications has totaled up about $1,000.00 in fraudulent charges, and they will never even answer my claim. These companies avoid the law by refusing to give you a non-PO address to prove you sent a legal "statement of claim". This is their scam; you cannot prove the delivery per a FedEx. There is nothing you can do per expense of an attorney, and they put me on hold for hours until I give up. Great business model = scammers.

I THINK IT IS UNFAIR THAT I HAVE TO GIVE THEM AT LEAST A 1 ON RATING. THEY DONT DESERVE IT!! This company needs to be destroyed and barred from providing service to anyone!!! The idiots that answer the phone are ridiculous and cannot provide any honest answers. They do not assist with anything... How can this company afford to pay call centers of people that do not know what they are talking about???
My complex has a contract with them so we cannot get any other service. I have chosen to not have any services. Now if I want to use the internet I hotspot my phone. It sucks but I would rather have slow internet than to have internet with this company! DO NOT GET SERVICE WITH THIS COMPANY!!! You will regret it if you do!!! They will not even get you a supervisor on the line if you ask for one... They get scared of their job and either hang up or transfer you back to the automated attendant... Frontier will not get anymore of my money!!

My bill recently increased due to an of the promotional period. OK, I accept this. Despite the mailed correspondence stating that I could "save my rate", customer service stated I did not "qualify". I am being billed for FiOS, but why I am paying for "fiber optic" connectivity, when there are no fiber optic lines in my area? How does that work; paying for something you are not getting? Furthermore, the quality of service is terrible. When my communications were through Verizon, I had no issues, however since Frontier took over, the quality of service has diminished significantly. I've called Tech support and customer service without success to my issues. They have either stated they have no record of my issues or they say it's a "usage and availability issue". What does that even mean? I would NEVER recommend this provider. If you can avoid them, do so.

We have been a long time customer of Verizon Fios. Had no problems. Ever since Frontier has taken over we have had nothing but problems with lack of communication between customer service reps. Our internet connection has been down twice for no reason. It takes a tech at 5 days to come out. It seems like they don't care about their customers only about making money.

I just started with Frontier Communications. What a mistake, you call for help and it is if you were asking for top secret information. I have yet to get an answer to a question that I could use. It's best to just hang up and try to work it out yourself. It has been nothing but a mess with billing and trying to get the wifi to work. I would like to use a bunch of four letter words to describe what I think of Frontier. Spectrum is willing to buy them out and it looks like an option at this point. Customer service should close up shop. If anyone is considering using or changing to Frontier be careful, you are in for a bunch of headaches. Don't even ask about a problem with Wifi, It looks like Frontier is joining the change to a world system, no respect, no integrity, just don't care.
How do I know I can trust these reviews about Frontier Communications?
829,326 reviews on ConsumerAffairs are verified.
We require contact information to ensure our reviewers are real.
We use intelligent software that helps us maintain the integrity of reviews.
Our moderators read all reviews to verify quality and helpfulness.
For more information about reviews on ConsumerAffairs.com please visit our FAQ.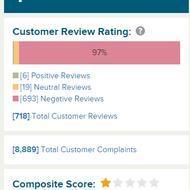 This company is by far the worst I have ever worked with. Their customer service employees are not trained properly, their bills are filled with errors and double billing. They close accounts with zero correspondence, transfer balances through accounts, and cannot unwind the chaos they create. After countless hours on the phone with a number of different customer service reps, and continuously being "disconnected" after an hour or so on each call, they still were unable to solve the tangled mess, and there was not a single supervisor available to discuss this ANY of the times we called.
After being told we would have to wait 3 weeks to get our account reconciled, they turned off our internet service. They would not turn it back on even though they knew they were not able to provide us with an accurate amount payable, and we had initiated all correspondence trying to settle our bill. I wish there was the option to give a zero!! Be smart - do what our business did not do... Check the Better Business Bureau, and you will see that Frontier scores a solid "F".

I called and ordered a new service on 7/11. I was given the slot of 8-12 today, 7/21 because everything else was taken. I didn't mind. Today is 7/21 and I have been waiting, not daring to go anywhere, not even to the backyard. At 11:20 when no tech showed up, I called Frontier and asked about my order. The answer was that the tech who has my order is finishing a job right now and will call me when he's heading to my place today. Do Frontier employees think their customers are stupid doing nothing just waiting for them. If the tech shows up at my door at 12 PM (if that, he may come later), he will not be done before perhaps 2 or 3 PM. MY WHOLE DAY IS RUINED, vs. a planned half day. This is not acceptable. That's why I give you one star. You need to start planning 2-hour windows.

Most dishonest company. Product was returned, they acknowledged that they received the product but I never received my $145 refund. They raised their rate from one month to another by 60%. I paid. I disconnected their service and switched to Comcast.

Prior Verizon customer suffering under hostage of Frontier and haven't received a correct bill since the unannounced takeover. Dropped TV and Phone but continue to receive phone and video billing and taxes on my bill. Call monthly, speak with a long cast of apparently incompetent supervisors who all promise to fix the issues. Stay away from Frontier if you can avoid them in your market!

I had simple internet service for six years with Frontier in Illinois. Although the service was more reliable than its predecessor (Verizon), it was consistently subpar (below 2.5 Mbps download speed and below .50 Mbps upload). I lived with that, despite spotty customer service and the inability to get a reply to complaints via email. So when I moved, I thought I'd finally be rid of this damn albatross. Unfortunately, no. When I disconnected the service, Frontier charged a $9.99 "Residential Broadband Processing Fee." So in addition to being bad at their basic jobs providing internet service they're also shameless fee gougers. Congratulations Frontier. Superior work.

Switched from Spectrum to Frontier and was promised an Amazon Gift card for $400.00 if I upgraded to the triple bundle, which I reluctantly did. I was told that I had to have the service for 3 months before they would send me the gift card. It's now 7 months later and they said they won't be able to get me the Amazon card. Recorded the call and the supervisor said it was their fault but-NO CARD FOR YOU!

After hours of calls over several months, a Frontier "retention specialist" made an agreement for a base price to keep us as customers. We had been with FIOS for years before Frontier took over. After that, every month, the bill was messed up, hundreds of dollars in additional fees. Every month spent hours on the phone getting them to adjust and honor their agreed price. Six months later, they sent a huge bill again. When we called, they first lied and said they had no record of the agreement. Another hour later, they admitted they had the agreement. Then they simply said they had no intention of honoring the agreement anyway. No excuse, no reason, just that they didn't want to do so. The supervisor confirmed. So did her supervisor. They just laughed about it, as if they couldn't care less (they couldn't).
It sounds as if I'm making this up, but I'm not. They actually just said they no longer employed that agent and so they didn't have to honor any of her arrangements with customers. That's breach of contract, of course, but Frontier couldn't care less. They're a mega-company and a near monopoly, after grabbing the old Fios contracts. We're changing to XFINITY, which is a hassle, and we're asking Governor Scott of Florida to look into revoking their permits in the State (hold your breath for that one). Stay FAR, FAR away from this company. They promise, cheat, lie, and admit they lied without blushing, all the while cheating you out of hundreds of dollars. Amazing.

I have had issues with this company ever since they took it from Verizon... always overcharging my bills... late fees when there weren't supposed to be... but what was the last straw was when I finally decided to kick them to the curb and go Spectrum for business. So I called spectrum and everything was running smoothly I had a date already set up for the Port Out to happen but then Frontier goes and disconnects my phone line without even letting the new provider know and I had to call back to them to let them know to put the line back on until the Port Out date actually happens.
So now it's been a week since my first call and every single day they keep telling me that they will reconnect my line the day that I call and nothing actually happens. Their customer service is completely incompetent and lack of knowledge in their own system and communication is beyond dumb. They themselves don't know how to reach the right department.. keeping me on hold for 45 mins or more... and not resolving the issue at all. They are a bunch of imbeciles.

Situation: My wife called 01/08/2017 to request a cancellation on my service after several years of service with Verizon Fios and over one (1) year with Frontier. Our request was to have service discontinued before new cycle started around 02/01/2017. Nathan, the agent attending the call, instead, cancelled the account the same day without our consent. We found out a few days later upon returning from a short trip out of state. We called Frontier on 01/11/2017 and spoke to Donna, only to find out the service was disconnected per Nathan's request. Donna recommended to wait for bill which would show a prorated amount. Nothing was noted in the account as far of any of our requests. We received a bill by the end of January and decided to call back Frontier. Spoke to Paige whom was not helpful, hence, we requested to speak to a supervisor.
She stated that supervisor by the name Rosa was busy at that time but Rosa had addressed our concern requesting full credit. However, once again, nothing was noted in the account. She basically denied our right to escalate the call at that point in order to obtain resolution. We received a collection letter once again and decided to call back. Spoke to Denise on 03/26/2017, whom was very helpful and recommended to speak with sales department, and acknowledged that she submitted a request to prorate amount in statement since we only received service from 01/03/2017 to 01/08/2017. Denise confirmed all the records for request to disconnect service and that workers Paige and supervisor Rosa had done nothing but brush us off one more time.
It is now 4/6/2017, and one more collection letter arrives in the mail for a full balance of $270.19. It appears that either Denise did not submit the request for revision of the balance, or it was not addressed by Frontier collections department. We called one more time and spoke to agent Lamar, whom directed the call to Collections Department 1-888-567-4739. At 4:28 p.m., my wife speaks with Jim whom again stated that we would receive a statement with prorated amount, now from 01/03/2017 to 01/11/2017. This did not happen. Again, as usual practice in Frontier Communications, they once again gave us the runaround as a way to get rid of our call. They brushed us off.
It is the end of June 2017 and we received a collection letter dated 06/27/2017, once again, asking for full payment. We called Frontier 07/14/2017 and spoke with agent by the name Renee, whom stated she was unable to see any contacts addressing our concerns for disconnected account as done by Nathan on 01/08/2017, or anything for prorating balance to receive credit. We requested to escalate the call to find resolution. Call was escalated to a supervisor by the name Sherone. Sherone clearly stated that she would annotate in the account the request for credit in the amount of $195.27 out of $270.19, basically leaving us with a balance of about $70, however, she stated the request would need approval. She assured that we would call us back on 07/15/2017 at 4:00 p.m.(PT). We did not receive a call, hence, decided to call back this horrible company one more time.
This time, we called Frontier 07/15/2017 at 4:25 p.m. (PT), and spoke to Kayla. Kayla, reviewed the account and confirmed that request for prorated amount/credit is in pending per Sherone's request made 07/14/2017. Kayla acknowledged that many people have been in our account, however, there is no record of agent Paige or her supervisor Rosa ever making a request to review the collection as previously informed on 02/11/2017. Kayla did not identify either any annotations for a call back on 07/15/2017 as promised by supervisor Sherone. Kayla apologized and stated she would annotate in the account our concerns, and promised to escalate the request to expedite the account review for prorated balance/credit from 01/03/2017 to 01/11/2017.
Kayla went one step further, and promised to call back for follow up at least once per week to give us an update, stating that hopefully this time, it would take less than a week to resolve the issue. I am giving Frontier one last opportunity to resolve this matter and I will patiently wait until the end of business day 07/20/2017 to receive updates. If no updates received by then, I will proceed accordingly since our credit has been affected by this obnoxious, irresponsible, and lack of accountability communications company.

I was checking on my mom's Internet service and when I logged into her account, it said she was paying $19.99 for an Ultimate Security Bundle. When I looked at prior bills, I noticed she did have a Frontier Identity Security Bundle that was $9.99. (There was a $5 credit). Someone might have convinced her to add that when she signed up. But no one spoke to her about upgrading it to an Ultimate Security Bundle. I had them look into it and they had no record of a call. I spoke to a supervisor, and they said there was no record of her calling, and someone actually did do that without her permission, and they should not have done that. It was flagged for investigation.
I had to ask to be credited for the past month's extra charges, which they did do after I asked. But this is fraud - they admitted it. And I would not have caught it if I had not decided to log into the account to try to diagnose the internet speed issues we were having. She would have just been paying an extra $15/month without knowing why. At least they fixed it.

I absolutely will never tell anyone or recommend anyone to use Frontier's services. Their service sucks. WiFi is so slow it barely works and me and my family aren't able to enjoy and have movie nights or anything. I wouldn't wish this aggravation on anyone not even my enemy. Whoever reads this do me and yourself a favor STAY CLEAR from this horrible service. They don't deserve your money nor time invested... so disgusting.

The guy was awesome. BUT... He got me all set up and told me someone would be out on Thursday with the two Quantum boxes so I can have outdoor wireless. No one showed. That prompted another live chat the next day. Spent 1 1/2 hours on chat and got disconnected before I got anything done. I called today. I also go through two people a tech and a customer and spend an hour on the phone. On my account it showed I had a order and it was closed on the 13th which is the day someone was supposed to be out (who closes a ticket when nothing was done). Well neither of the ladies found a order.
The CS placed an order for the new boxes today. She was showing I had the boxes already. I kept telling her what I currently had in my home 2 different times and what the ticket showed I was supposed to get. I hate dealing with these people. When Frontier took over for Verizon service got 3 times worse. The only choices we have in my area is Frontier and Time Warner. Time Warner does not offer the FIOS internet. But I probably would not be any better off with Time Warner. So pissed. Can't people follow through and complete their job. People have gotten so lazy... I so wish I had copied my live chats. I have in the past. MY BAD.

Last December a Frontier rep knocked on our door with an offer that looked too good to refuse. We were on Spectrum at the time and the service was OK but like everyone we are always looking to cut costs so he signed us up for this killer package. Blazing fast WiFi, free DVR, free HBO, no early termination fee plus a $400 Amazon gift card after 4 months. Wow. What not to love about this one...! We the first storm clouds started with the installation date. The guy never showed up at the appointed time and no one called. My wife spent the entire day waiting in vain. Called the up the next day - profuse apologies etc. New installation date, this guy shows, speedy install, everything looks good. It took me about a week to realize that it was impossible to call in on the new landline phone line. I could call out but incoming calls were met with a "this line is no longer in service" message.
Spent the next month with tech support. Got to know them so well I felt like part of the team. In the meantime the TV signal started to do wacky things. The picture would just freeze (of course this always happened during the climax of the shows). Two more service tech visits resulted in the picture problem being resolved but the phone line got worse. Now we lost the outgoing line. In frustration I called them to drop the phone line service. What was the point of having it? And after all I would save a little. Right?? BIG MISTAKE. The next bill I got from FRONTIER had my monthly charges go from $127 to $290. By dropping the line my bundled package disappeared and now I was at A La Carte Premium prices. Called FRONTIER and found a very sympathetic rep who said she would make everything right again. She put the bundle back together again, even gave me some credit for the lost phone service.
The tech department even managed to get 1/2 my phone service back (the outgoing part). The way I saw it big deal. I would only have gotten a lot of telemarketing call coming in anyways. The only bummer is that $400 free AMAZON gift card got kicked down the road by three months. FLASH FORWARD. It's now three months. I check my email and YES TA DA. There is that link from FRONTIER with the code for that free $400 gift card. But then I read the fine print and I see red. Here is the fine print: "Your Amazon.com Gift Card can be redeemed towards millions of items at www.amazon.com. You will need the gift card claim code below.
With your new Internet service, you have agreed to a two-year term and $400 pro-rated early termination fee on your internet service. This fee will be automatically charged if you cancel your internet service prior to the two-year expiration. If you should have any questions regarding your Frontier products or services, please call customer service at 800-921-8101. Thank you for choosing Frontier Communications."
Now if you remember I said the original contract I had with them clearly stated "NO EARLY TERMINATION FEE". This has been a very rocky ride with a company that clearly is pushing the ethical boundaries of marketing their product. Yes I just cashed in my gift card on Amazon and I'm about to cancel my service and no doubt they will stiff me with a $400 cancellation fee and yes I will take them to small claims court as I believe countless other disgruntled consumers have and Yes I should have done my due diligence back in December and GOOGLED "Frontier service complaints" which would have taken me to this website of 3,308 unhappy Frontier customers. (FYI - For each one of us who bothers to file a review there are about 100 unhappy customers who never bother to complain.) So if you are a new potential customer for FRONTIER and just checking them out - YOU HAVE BEEN WARNED.

I don't understand why the sales representatives from Frontier Communications behave in such a bad manner, the sales representative folks asked me and asked tons of questions and told me to take Frontier and they checked my house address and said they don't have. Later they called me and again after a week and told me that they are going to provide the connection and gave me some options and then I said "let me think", as my existing provider is ok and no problem with them. The sales representative just hung the phone. I was under the dark side, why these crooks behave in such a manner and I didn't ask them the service and why they call and make me upset. Moreover those folks talk like they are in demand - Rubbish. Never entertain these crooks. Please.

Service has been a NIGHTMARE! I had a problem right after they purchased the company and they sent out a repair guy. I explained that - when working - my service was intermittent. He informed me that, while Frontier bought Verizon, they did NOT purchase the digital programming, and that it should straighten out "in a few months." I was later billed $89 for the service call, despite paying for maintenance insurance every month. The rep told me that I failed to pay it - only on that particular month. When I told her I had proof, she suddenly found it.
It's been a year now and my service is no better than it was initially. I have internet TV, so it is interrupted constantly due to this disruption in service. I pay for 24 hour access but have never had it. When you call with a complaint, they want you to up your speed (more $). Why would I pay for a faster speed when this one doesn't work!? I am on a fixed income, and the local cable company requires an installation fee up front, but I am definitely dumping Frontier.

Initially when I set up service they sent me a bill. I use my bank to pay all my bills. They sent in the amount and I thought nothing of it... Until I received a late notice from Frontier. I wasn't sure what had happened. I thought maybe the amount didn't get sent in so I resent them a 2nd payment. Same thing. I call Frontier to straighten it out. They assure me everything is taken care of. I tell them to write all of our discussion notes on my account. They confirm they are starting a payment investigation to find out what happened to the money. "Great" I think.
Fast forward a month later I get a notice that they will shut off everything if I don't send them payment. I'm confused now because I know I sent the payment in but I'm getting this crazy notice saying I'm delinquent so I send in a THIRD PAYMENT! They claim nothing was received. Contact the bank and they verify that ALL 3 PAYMENTS HAVE BEEN CASHED BY FRONTIER! I call Frontier and get a rep. I'm pissed. They said this was taken care of so I immediate escalate and ask for a supervisor. The rep informs me that I just need to go thru a stupid 200 step process that I ALREADY went thru with their previous incompetent idiot working the phone who DIDN'T WRITE ANY NOTES! NOTHING!
Rep tells me to hold on. Rep comes back on asking for dates of payments when I inform rep she has no clue that previous rep did the same thing that's why I'm escalating to a supervisor who may know what's going on. She puts me on hold a second time. Comes back again and informs me that she can't escalate to a supervisor until I give her the dates. This is utter nonsense. I inform her that she does not require anything other than to forward my request and get me a supervisor. She hangs up on me!
I call back and get another rep. Explain the situation that just happened. Magically, this rep is able to get me a supervisor in 2 minutes! I explain all this to a supervisor and he apologizes for the rep. Then proceeds to ask if I remember the name of the person I spoke to 1 month ago. IS THIS GUY INSANE??? How many of you remember the name of the rep for your phone or cable or gas from one month ago? And a better question: why isn't the rep name on the NOTES the rep was supposedly entering into my account on my behalf??? I inform him of this and he tells me we could get this process moving if I could just remember details (the same ones I shouldn't be expected to remember since they should all be written down anyway!!!).
He ends up blaming me for not remembering stuff that no sane person would care to remember since it should all be in the account notes. He eventually tells me to contact my bank to get proof of payment. I get proof of payment and call back. I get another rep who tells me she's so concerned and they'll take care of it (Just like last time! LOL.). I ask her to find a supervisor to let them know that I'm getting delinquent notices and to pause all activity until they find my money! She says she can't do that? WHAT??? And the worst part is: her reasons CHANGE FOR EVERY EXCUSE I EXPOSE!!!!
First she tells me she can't find a supervisor who can do that. I inform her she's working at a company that controls my account and OF COURSE there is a person who can do it. She just has to find him/her. She then changes her excuse to say that she knows her boss won't do what I'm asking. I tell her then go over her head and find another supervisor who will. She then changes the excuse TWO MORE TIMES. So let's recap. I just want a supervisor to step in and find MY MONEY THEY STOLE and then to not penalize me while the process is going on to find out what they did with my money. She gives me FOUR DIFFERENT EXCUSES and then in the end she says she'll get the supervisor. WHAT??!!
THESE PEOPLE ARE INSANE!!!! They are utterly incompetent morons who don't know their jobs or are poorly trained about what to do with customers. I suspect the latter. It's a culture of incompetence because as we all know these companies don't allow rivals to come in and compete. They pretty much have a monopoly on the services. I only have Comcast to choose from and they're not much better.
If Google Fiber comes in, I will drop Frontier (former Fios) in a heartbeat just to get good customer service!! Lack of competition in the market is making these types of companies lazy, apathetic, and dishonest! They guys are the absolute WORST because they lie, they're incompetent, they blame the customer for the problems they caused, they're not accountable to their mistakes, their reps don't know proper protocols, they're rude and hang up on you, etc. The list goes on!

I am a small business owner, and I just start my business 4 months ago. I was shopping with other companies before made a decision. When I called them everything was looking good. They offer me: 2 lines on phone and internet 50/50 for $104 for the first year and $135 for the 2nd year. Installation should be $60. So I decide go with Frontier. Wrong!! Huge Mistake!! Since 1st bill they never give me the $104 deal... first bill $352... 2nd bill $173... 3rd bill $116... 4th bill $169... every single month I have to call to try... just try to get a discount, because never they honored the original price $104 for 2 lines plus internet 50/50. Now I am waiting for a call from them... if don't get a real discount I will be canceled this contract because they don't honored what they promised. Do not use this company!!! They are not honest!!! Stayed away from Frontier!!! Believe me!!!

BUYER BEWARE: Horrible, Slow, Expensive Service. May 2017 Download speed .62 - that's POINT-62. Upload speed .35. June 1, 2017 download speed .41. Upload speed .30, and I'm told that's the best I can expect. Up until two years ago, the service was "ok". They keep taking on customers without improving infrastructure. Account "Managers" only patronize. No solutions. But guess what? Every month they take my $60 without fail. And I'd better not be late.

Might as well wait up for the Great Pumpkin to show. Unfortunately, live in an area where Frontier is the only DSL provider available. Had okay service from them the last year, as we were close to a college campus, but after a move (7 miles from previous address, and previous owners had service from Frontier), we can't get service hooked up. We have made three appointments now, with an all-day window (8-5), and on all three days, nobody showed up or called. Calls to the only available customer number get a "Gee, we're sorry, let's reschedule." Absolutely no assistance whatsoever.
I may have to live with using my phone's mobile hotspot for internet forever. Such a shame, because it was nice not having to sign a contract, and they were easy enough to deal with as just an isp (no phone or TV). Sadly, will have to cancel my account and live without service, since they can't seem to be bothered to hook up service unless it's within two miles of the campus.

Frontier is the worst company I have ever been subjected to in all my 50 years of life. After being transferred and hung up on several times, I was finally able to order a landline. The date was set for the technician to come install and I was told they would be there between 8 am and 5 pm. 9 hours is a ridiculously long time to wait but I really needed the landline so I did. They didn't show up. Nor did they call. Keeping my anger and shock of their incompetence to myself, I called to schedule another time to have a technician come install. Same thing happened. I make over $100 a hour. I think I should be able to sue them for my time. If you aren't forced to use this company like I am, don't go near them! Sadly, they are my only option for a landline.

I received a pamphlet in the mail stating that I can sign up for TV, internet and telephone (triple play bundle) for $60 a month for 6 months. Then from month 7, through month 24, the price goes to $90 a month. I called in and signed up for the $60 offer and on June 27, I had the system installed. I got a bill for $272. I called and talked to Alberta ** at billing/retention dept. She promised to fix the problem. She issued a credit of $38 and $99 and that the credit would take effect in 48 hrs. The $38 took effect immediately and brought the total bill to $234 instead of $272 but I never saw the $99 credit. I then chatted with Vincent on the 4th of July and he admitted that I signed up for $60 and that he would issue another $52 credit to bring it down to $83 ($234-$99-$52) instead of $234. I checked the online account again on July 7, and still showed a balance of $234.
I called in and spent 1:26 minutes on the phone with Qora ** and she made a lot of promises but couldn't fix anything. After realizing that I was getting nowhere I decided to close this account. I wrote a letter to the CEO Steven Crosby at officeofthepresident@ftr.com, explaining the RIPOFF I received from these THIEVES. I seriously doubt he would bother to have one of his cronies answer it. I will not pay $234, I will only pay what I signed up for from June 27, to July 10, which will be the disconnect day. I have everything in writing of what I signed up for and there is a recorded conversation also. I have a credit rating of over 800 and I hope they try to ruin my credit so I can have a good payday. Stay away from this incompetent company.

Frontier is the most unreliable internet service provider I have ever worked with. The internet is constantly down and it takes 5 days to get a tech out to fix it. To add insult to injury contacting the support for Frontier gets you no results but gives them an chance to push offers of products to you rather than fix the issue you contacted them about. They claim a "up time" in the 80% range, that is pure fantasy... as I write this review 30% is a wildly optimistic number for them. Needless to say most of Frontiers customers have no other provider to choose from. If you are fortunate enough to have a choice other than Frontier you should take it and consider yourself lucky to have avoided the worthless offering from Frontier.

This is the worst company for internet I have ever seen. Have had them for several years now and it get slower all the time. I am down to download speed .42 and upload speed .16 and they tell me that is as fast as it is going to get for my area but a few years ago I had hi speed internet but because they took on more customers I am slower. A new customer just got Frontier is running at 40 but I can't get even 1. The customer service wasn't worried about me or how long I have been with them that didn't mean a thing to them that I have been a good customer for all these years. I am going to take action real soon and say goodbye to their internet. Why pay for something that doesn't work.

"Reasonably" satisfied (internet fairly reliable; needed reboot ~ 3 times/yr; price high) with Verizon FiOS in SoCal. Then Frontier bought Verizon service area in So Cal. Last month was time to renew contract. As "loyal" customer was offered: 75/75 instead of 50/50 internet FIOS (previous contract) and phone for the same price as before (getting 50/50 and phone). First bill came, found out that: 1. We were in a 24 month contract with only a "rebate" for the 1st 12 months. 2. "Personal security bundle" that we didn't ask for was on the bill at $15/month. 3. Under speedtest, we were still getting 50/50!
The new contract would have been $20/mth more for the first 12 months and then $50/mth more for the next 12 months. Definitely "not the same". Just called Frontier again. Based on "retention agent", hopefully this is straightened out; (based on this hope, this rates the 2 stars), if not, one star. FCC should require written confirmation of ISP contracts that have been done verbally by service agents.

In late May 2017 I discussed with Frontier Communications getting service for my residence in Sarasota. The house had previous Verizon service and it was already wired with FIOS cable… over the phone, multiple times, as well as in person at your Sarasota 34236, 1701 Ringling Blvd store. In all cases, and I have it well documented, I was quoted a Triple Service (internet, TV and phone) for $ 90 plus $ 40 for the four (4) tv top boxes plus $ 10 for the Quantum feature. A total of $ 140 plus "about" 15% taxes and fees, for a total months 1-6 of $ 160-165 or so. That amount was supposed to increase by $ 25 on the "base of $90" for a sub-total of $ 165 plus taxes of about $25, for a total of about $ 180-185.
The package was supposed to include internet at 100/100, TV Ultimate including all premium channels, and a phone line. No modem/router was included because I have my own. Furthermore my notes clearly state that there will be No installation charge, no contract required, and consequently no termination charges of any kind if I decide for any reason to terminate the service at any time during the 24 month (such as moving away, death, health, etc.).
I requested a "confirming email or a print out (at the store)", but was unable to get either. I was promised an email, but it was never sent. Additional calls to Frontier Customer Service were unsuccessful in getting any proof of what type of service and charges I was going to get. And every call a different person had different numbers and quotes. Totally unacceptable. To my surprise I received my first/second month bill today in the amount of $ 729.18. That is irrational. Included were items such as $80 for installation, $ 17.99 for STARZ/ENCORE, $40 for a two year Wi-Fi Router and many other unidentifiable charges. A very convoluted and confusing bill. I called today your customer service but was unable to have them adjust most of the charges so the total, regardless of how you do your billing and accounting, would be about $ 160-165 for the first 6 months, and about $ 180-185 for months 7-24.
Frontier Communications Company Profile
Company Name:

Frontier Communications

Company Type:

Public

Ticker Symbol:

FTR

Year Founded:

1927

Formerly Named:

Citizens Communications Company

Address:

401 Merritt 7

City:

Norwalk

State/Province:

CT

Postal Code:

06851

Country:

United States

Website:

http://www.frontier.com/