Consumer Reviews and Complaints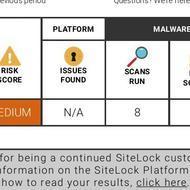 I have nearly 500 domains, and far too many hosted to notice SiteLock's message sooner: "Thank you for being a continued SiteLock customer." Never heard of 'em before tonight. "You are receiving this email because you signed up for a website scanning solution." That's a lie. But, then comes the best part... They say one of my too many Websites was at MEDIUM risk which, without prejudice, is an even BIGGER lie: It's my own code, so... Gave 'em a call.
Nice lady answers, to whom I apologize in advance of my growing anger... Since their crawler offered no information regarding platform issues, and they found ZERO malware issues? She offered her employer no defense. She did explain that it was (the hosting service provider for that specific domain) that had signed me up (i.e. given them access to my informations via their third party agreement). Reckon they did me no real harm, save for offending my pride, but when they spew out nonsense like that email? I recorded that call, just like their disclaimer stated could be done, and saved it as "Sitelock_spam_scam.wav."

I contacted SiteLock on referral by HostGator when HostGator shut my site down due to a malware issue. They committed and guaranteed to cleaning my site if I signed up for their firewall and monthly monitoring. They claimed to have cleaned the site however Hostgator says the site is still infected. Sitelock then says that they only did an automated scan and that the malware must be in a data file. And in order for them to clean the site I'll have to pay for additional services. At no time during the initial consult did they say that the scan and malware removal would be limited, they just promised to clean the site. It seems to me they aren't a company that can be trusted to do what they say they will or stand behind their product. Meanwhile my site is still down because SiteLock refuses to do what is right.

After having outside sources check my site for "malware" that SiteLock was flagging and none being identified, I made sure all points of entry were closed except through the Bluehost admin. I continued to get malware warnings they would not identify unless I upgraded my service, I began to strongly suspect Bluehost was placing malware on my site for SiteLock to flag and thus create an upsell opportunity. While I cannot prove this, nor am I inclined to commit the time and resources to do so, I recommend to all who ask me to avoid these companies.

Write your complaints to BBB!!! YES sold on month to month plan. YES the only time I had problems is when SiteLock partnered with iPage! YES Automatically Signed me up for another 6 month. YES Cancelled well before date!! YES SiteLock took money for six months BUT NEVER Activated the software on my website! YES they still took money from my account after cancel. YES they still want MORE money and my website is held hostage to their viruses malware and Trojans!!
After being harassed by SiteLock for monthly payment I decided to call iPage to speak with a manager to complain about my situation. Upon a lengthy conversation and reviewing my account, iPage representative notices there were additional charges made by SiteLock to my iPage account that were invalid. And immediately gave me a credit on all those charges. Unfortunately I had to call SiteLock directly for the monthly fee reimbursement. Interim I was being harassed with numerous phone calls from Sitelock. When I called a representative at SiteLock I was immediately pressed for the monthly fee. I was seeking three (3) months credit!!!

SiteLock does not provide any of the services they claim and charged me for and when questioned about them they give you a hair brain answer that starts off with "we are fighting a battle." An expensive lesson has been learned. Avoid them like the plague.
How do I know I can trust these reviews about SiteLock?
882,235 reviews on ConsumerAffairs are verified.
We require contact information to ensure our reviewers are real.
We use intelligent software that helps us maintain the integrity of reviews.
Our moderators read all reviews to verify quality and helpfulness.
For more information about reviews on ConsumerAffairs.com please visit our FAQ.

I experienced the same as others on here. I thought their malware/virus scan would guarantee that my site was safe. Of course, there was malware detected on my site so my website was deactivated! When I asked why their malware scanner didn't detect it, they said that it can't detect all malware and that this was an especially difficult one. And so...I have to purchase their upgraded plan for $100 per month. This is the SECOND time this has happened and I had to pay extra the last time to get my site "cleaned up".
The guy I spoke with was supposed to send me a contract to sign so they could get me on this plan, but I didn't send it back after speaking with Bluehost (my hosting provider) and with my own IT guy. Together, Bluehost and my IT guy fixed the problem, but I still saw a charge from SiteLock on my card! It just felt like a scam. I did call to cancel the contract I didn't sign, and got them to reimburse the money at least. I'm not sure if they are legit, but the way they conduct business does not make me feel good about using them. Have signed up with another company now.

I upgraded my service with Sitelock online. Then called them to apply their Sitelock seal for which they needed my hosting login ID and password. Two days later the seal was missing. I was disconnected from Sitelock, two nefarious cookies had been add to my site: is_mobile and is_redirect. My directory of blocked IP addresses had been emptied. I am in touch with them now on the matter.

I'm located in Vietnam. Anytime you have a question or a problem you have to wait their working time, which is 14 hours behind than my working time. It makes me wake up at 5 am to contact them or wait until 10 pm... They are not a global company but just for USA. Ok, it is their choice, but not working for us. Even for the technical service, they have a limited number of people attending 24 hours. You have to come back at their working times to have some answers. To cancel my automatic subscription I had to call them more than 10 times, send more than 6 emails and try to chat with them. And if you don't communicate the cancellation 30 days in advance, they will renew it automatically.
It is some kind of cheat policy: they make the things complicated and slow to see if you give up and the automatic renew can't be cancelled. My 6 month subscription finished on July 5th but after my notice to cancel it (over 30 days in advance) they have cancelled immediately, leaving our company unreachable. It is a shame of service. They just unplugged and leave us black out!! Don't use SiteLock, this is my recommendation.

The SiteLock is one of the worse companies I have come across. I called Hostgator and somehow reached SiteLock. I didn't realize it until I signed a contract that I wasn't talking to Hostgator. I was looking for something to speed up the website but she convinced me and sold me her malware system which was completely useless. I signed a contract and tried to cancel it the same day. They said "NO, you have to pay early cancellation fee of $150."
I left it for a month but I disabled my e-commerce website just because of them. They still kept sending me reports about the malware they caught for my non-existing website. It's ridiculous. The real and serious companies give trial period of 30 or 60 days money back guarantee. These people will not let you cancel the contract or will make you pay early termination fee because this is the only way they make money. Losers!!!

I had several WordPress websites I had hosted at Bluehost. I was a customer of theirs (Bluehost) for 15 years. NEVER had a problem with my WordPress sites until this year. I received an email that some files were infected with Malware and when I got on chat support to inquire about it, I was immediately transferred to a SiteLock representative who wanted my credit card # to start "cleaning" my files. After reading the eerily similar reviews here of SiteLock and Bluehost, I wouldn't doubt they pull this scam together to get a quick few hundred dollars out of their customers and split the money. Literally MINUTES after starting the SiteLock "service" I received an email from ANOTHER SiteLock "SENIOR WEB SECURITY CONSULTANT" that said (again -- this is immediately AFTER I started service and gave my credit card number!!):
"Your site is currently infected and does need the cleaning/rewriting that my suggestion would cover. It would cover any future incidents as well as putting a strong proactive measure in place. (The rate of reinfection is very high). There is currently nothing in place to protect it. You will want to implement a proactive measure to help prevent reinfection: Web Application Firewall. The automated malware detection removal tool is strictly reactive and does have limitations: If There is some Malware that is more deeply embedded in the website coding that the automated Malware detection and removal tool is unable to remove as it might affect the functionality of the website. This can be taken care of with a manual scrubbing. In addition, there is not anything in place to prevent reinfection."
"There's currently nothing in place to protect it." -- REALLY? What did I just purchase then? "In addition, there is not anything in place to prevent reinfection." -- Good to know I can expect that my sites will be shut down randomly until I pay hundreds more in this endless game of "Now you need THIS level of protection, now THIS level." Create your own clean backups of all of your sites and databases and have another hosting option ready if you need to make a quick move but avoid this shameful company at all costs.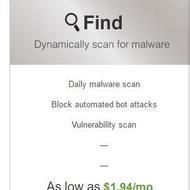 I have a simple WordPress site with only information and a contact form hosted by iPage. I purchased the basic SiteLock plan through iPage. The plans says it "Blocks automated Bot Attacks", "Daily Malware Scan", "Vulnerability Scan". I was notified my website was shut down due to malware. I contacted SiteLock and the support rep says and I quote "That plan does nothing and you need to upgrade to the Premier Plan." When I called her out on it she said she didn't mean to say that, well I bet she didn't. I've complained to iPage. They shouldn't being selling products and receiving referral fees for products that clearly doesn't work.

I'm a web designer/WordPress developer and have used SiteLock more times than I care to admit. It comes with some of Godaddy's and Bluehost's hosting packages. I no longer use them and am moving all of my clients off their service (which is no small feat). Their dashboard tools are terrible and their customer service is pretty much a sales team who is not there to help you, but rather tries to up-sell you with every issue. They do nothing to fix the issues that their service is supposed to protect you from. About once a week, I get an auto-generated email from Sitelock telling me that they could not connect to my files on my website. These emails do not include a domain... so I'm expected to login to over 40 clients' accounts and find which account has the issue. If you reply to this email, you get no response. If you call them, they try to up-sell you.
Once I find the account with the issue to reconnect, it is an absolute nightmare to do so. You have to enter the FTP info, then sift through EVERY SINGLE Godaddy site on the server to find yours (I'm not kidding, and I'm sure you can imagine there are a lot of sites on Godaddy's server - why I have access to every single one of them via SiteLock seems like a security issue in itself). It's an extremely tedious, SLOW and frustrating process.
Worst case scenario: a site will become infected with malware. Again, I get the auto-email with no clue to which site is infected. You have to upgrade your account to get it cleaned and then it never stays clean. It continues to get infected every few months and they do nothing to help you prevent or fix it. The one site that I've had this happen to, I ended up upgraded to the manual clean & monitoring service. Instead of them cleaning it when it happens, they send that email (you know the one, without any clue as to which domain it is referring) and then I have to call them to request it to be manually cleaned. AGAIN. They don't just automatically do it, like the service implies. I cannot tell you what a frustrating phone call it is. They have no email or chat support and you are stuck to a phone call with someone who is trying to earn commission and has no interest in supporting you. DON'T USE THEM.

These guys are crooks! I entered a 6 month agreement. I called today to cancel AFTER my first 6 months, and guess what? It's an AUTOMATIC renewal for another 6 months!!!! Crooks. I'm a hostage of Sitelock for another 6 months now. STAY AWAY! Not honest!

I have numerous accounts on Bluehost. Recently I have received warnings from SiteLock informing that I have pages with worms. When you call or contact Bluehost you are redirected to SiteLock and they DO NOT HELP. They only care about selling you their products. I asked for a malware.txt file in order to fix the problem myself. Impossible. I was obliged to find out by myself and to fix it by myself. Shame on SiteLock and Bluehost.

These guys claim to repair virus issues to your site. I had 3 sites that took 3 years to build and they added their premium services. Prices changed and then they started playing around with promotions and would still charge full. The worst of it is that they mangled my sites. On all three there are MySQL errors and did not take any accountability for their actions. They kindly told me to now go and find a programmer to fix. What **!!! They did not even have the courtesy to refund.

This company has the worst customer service I've ever dealt with. Worse than Mcdonalds! They are charging my card monthly for a service that was suppose to be a one time charge! STAY AWAY FORM THIS SCAM!

I used SiteLock on my website and found it to be extremely helpful. SiteLock's TrueSpeed CDN is reliable and fast, and the customer service provided to me by their company was topnotch. Overall, I'm highly impressed with the effects of the CDN and my users are too. The SiteLock malware removal tool is great too. Many people don't realize that their websites have malware on them. For the price, I don't think it can be beat.

I started with a 30-day free trial and quickly decided this was the right security software for my website. The SiteLock team make the process incredibly easy, and their customer service is excellent. So far, I haven't experienced any hacks since implementing SiteLock's security. I would definitely recommend this to anyone who has been hacked in the past.
Question and Answers - SiteLock
What problem is SiteLock trying to solve?

Over the last several years, cyber breaches have dominated news headlines. It is proven that the majority of businesses that have suffered a cyber-attack will be out of business by the following year. It's not a matter of if it happens, but when. The problem is, most organizations are not prepared when it does. A large number of data breaches occur because a company's website is not properly protected. Hackers find a way into websites through vulnerabilities, which allow hackers to take control of a website in many ways. These ways range from stealing customer data to shutting down your website completely. Once this happens, a company's reputation and creditability is effectively destroyed. SiteLock is here to help prevent this from happening, and to ensure online businesses stay safe, accessible, and always making money.

What sets SiteLock apart from the competition?

The art of effective website security lies in a comprehensive, 360˚ approach. This means protection from the inside out as well as the outside in. Other security providers out there today merely offer one small piece of the security pie, like only offering malware scanning, but not malware removal, or only offering a website firewall, but no scanning solution. SiteLock has the technology to do it all, which is daily scanning with automatic malware removal, a managed PCI-certified web application firewall with a global CDN for a blazing fast website, advanced DDoS protection and an unrivaled 24/7 phone support staff. There is no security provider on the market today that offers the breadth and depth of what SiteLock provides.

What needs does SiteLock fulfill, and how does your company fulfill those needs better than your competition?

SiteLock's comprehensive security suite provides all an organization would ever need for their website security. Organizations that may choose to employ a provider for one area of website security will likely need to find another company to address another needed area of protection. For example, one company will be needed for application scanning, yet another company is needed to provide a firewall solution. SiteLock is the only top of the line, one-stop-shop when it comes to your website security needs. And, we are here for you 24/7, when all other providers are sleeping.

How does SiteLock measure success?

Since SiteLock was launched in 2008, our business has grown substantially. Over the last year alone, we have seen explosive growth. To put things into perspective, in 2014, we were protecting over 1 million websites. Today, one year later, we currently protect over 5 million websites. Most importantly, we have been at the forefront of educating and assisting millions of website owners in understanding and confronting website security challenges and responsibilities.

What's the most common misconception consumers have about the cybersecurity industry?

One of the most common misconceptions we see is that security professionals and executives in organizations falsely believe that they are fully protected. This is not always the case, just because an organization's network infrastructure may be protected, that does not mean their website is as well. Without the proper security plan in place, a security breach stemming from a website vulnerability could cause much more damage than executives and business owners may believe. Also, many business owners think that a data breach simply will never happen to them. The sad reality is that the cyber-attack bomb is ticking, it's just a matter of when it will go off.

How has the cybersecurity industry changed in the last 5 to 10 years?

The cybersecurity industry is the fastest growing industry right now. The topic of cybersecurity is quickly becoming a board of directors level issue, meaning board members are spending a considerable amount of time discussing how to properly address the problem of hacking and cybersecurity. It's an unfortunate reality, but cyberattacks are dramatically on the rise, with absolutely no slowdown in sight.

What is something you wish every consumer knew about SiteLock?

We wish consumers could see for themselves just how highly advanced our security products really are. SiteLock® Infinity™ is a state of the art malware and vulnerability remediation service with highly advanced, patent-pending technology that combines the deepest website scanning available with automatic malware removal, to a degree of accuracy and frequency that is truly unrivaled in the security industry. We have an enterprise-grade web application firewall offering unlimited DDoS protection, and fully customizable plans for organizations of all sizes.

Has SiteLock received any awards or recognition for its products or services?

SiteLock has received the HostingCon 2013 "Best Website Security" award as well as the 2014 Online Trust Alliance© "Online Trust Honor Roll" recognition.

How has SiteLock grown or evolved?

When SiteLock started in 2008, it was geared mainly towards offering website security to small businesses. Historically, website security was typically only accessible to large corporations that could handle the significant financial investment. With the growth of the online small business, SiteLock recognized the need to deliver website security technology and tools to support them. Fast-forward to 2015, SiteLock has now installed itself as a cornerstone of the small business market, having exclusive partnerships with the largest hosting providers out there, such as GoDaddy, Bluehost, HostGator, 1&1, Media Temple, Network Solutions and so many more. SiteLock has now expanded into supporting enterprise organizations with our robust, highly advanced and competitive product and pricing website security solutions.
Company Name:

SiteLock

Year Founded:

2008

Address:

8800 East Chaparral Rd. Suite 130

City:

Scottsdale

State/Province:

AZ

Postal Code:

85250

Country:

United States

Website:

https://www.sitelock.com/