Consumer Complaints and Reviews

Thanks to the fabulous engineering at Volkswagen USA, my 2001 VW Jetta 1.8 Turbo has been in and out of VW dealerships like salmon up the stream during mating season. As an honest man or woman you are lost to these salesmen and corporate (types) at VW. I have seen a water pump recently kill the timing belt and the cylinder head, some 15,000 miles before the water pump should ever have to be replaced. I've seen the all-too-often problems of the repeated check engine light, windows, and anything but expected performance out of my VW Jetta.
If not for one great dealership (Hyannis Volkswagen), my experience with VW service would be horrendous to say the least. First of all, VW service is $65+ an hour for labor, but who is really getting paid this money? Twenty bucks an hour to the techs, 15 of those dollars to healthcare and all the goodies, 10 more for overhead, while leaving 20 dollars plus to the pockets of the greediest and could-care-less-about-their-customer "businessmen" in the world.
I used to say I love my VW, now all I can say is I hate it and I hate the company. Advice: never, ever, buy a VW. Why pay $20,000 to drive one off the lot plus another $10,000 grand to "service" it before it reaches 50,000 miles? To all those folks out there in my predicament, and I know there are thousands of you, my heart goes out to each and every one of you.

The deception/lie that Volkswagen did on the diesel cars will affect you as a regular fuel Volkswagen car owner when it comes to trading in your car for something other than the bad reputation VW now. Be prepared to be raped when you get your trade in value as the dealerships are going to give you "Auction" since no one trusts VW anymore. They are concerned that if they were deceitful with the diesel, what's to stop VW from making false claims about the gas VW's. I have a 2015 VW Passat Limited, in excellent condition, financed for 4 yrs at 0% financing and my trade is worth $7,500 at "Auction" per the other than VW dealerships (Dec 23, 2016), I have NEVER been upside down on trading in a vehicle before, and note, this isn't upside down, this is rape, over $7k upside down. And NO, I don't want another VW!! One very upset VW owner that has a worthless vehicle now due to their false claims on the diesel.

I bought my 2010 VW CC sport a few months ago. I was pretty happy with it at first. I rolled 60K and took it down to Hallmark (Henderson TN) dealership. I asked for the 60k service that my manual stated it needed which includes the following: oil change, spark plugs and coils change, tire rotation, brake inspection. I paid 300 for all this to be completed. After leaving the dealership my car starts misfiring after only 20 min. I drive it home and called the dealership only to be told CARBON build up in the motor needed to be cleaned. (There is no carbon build up.) I asked for more details and they hung up. So I decided to look into my car and see what they "actually did".
Lo and behold the spark plugs were still in the car from 2014. They charged me $90 for the tune up that they did not even do. I looked at the coils and it was the same thing. Except the coils were the original 2010 ones. Now my car wont even stay running because of something that they did during their "SERVICE". They want to charge me another 1300 for them to re-diagnose the issue and clean the non existent carbon. (The carbon was previously cleaned before taking it to them.) MY advice, do the basic maintenance yourself and don't ever visit this dealership. If I could afford to swap this VW off it would be gone like yesterday.

In October 2016 I registered my 2013 VW Jetta TDI with VW as a buyback. As soon as requested I submitted copies of registration, driver's licenses and lien holder info. About a month later (definitely not within the qp days VW was supposed to respond). I got a "final" offer letter. I signed the correct places, had it notarized and faxed it on as directed. Two weeks and two phone calls later to customer support the status remained as "waiting for fax". So I faxed the documents again. Another wasted phone call to CS to find out why they don't/can't acknowledge receiving my fax... Then I get an email stating I didn't send all pages of my offer. So back to another fax ($8) every time. Twenty four hours later status is 'waiting for fax'... I have transmission receipt showing all 7 pages were successfully sent. Another call to CS and again they give me a non answer... "I have no way of knowing". VW is stalling. What is our next recourse?

Handles very well. Extremely smooth ride. Corners incredibly. Quite stable. The Volkswagen Tiguan 2017 is an all new crossover. Drives and handles like a dream. Extremely comfortable for the tall. Not so gadgety. Easy to read dash and controls. Rolls out with a lot of extras.
How do I know I can trust these reviews about Volkswagen?
668,849 reviews on ConsumerAffairs are verified.
We require contact information to ensure our reviewers are real.
We use intelligent software that helps us maintain the integrity of reviews.
Our moderators read all reviews to verify quality and helpfulness.
For more information about reviews on ConsumerAffairs.com please visit our FAQ.

I am part of the VW diesel lawsuit. I think Volkswagen is trying to make me their enemy for life. Five times I have had to send the same legible document, except to anyone who is legally blind, to them. Finally after at least 10 attempts, I got someone on their 800 number. She was polite but totally in the dark as to what is going on and totally unhelpful. VW keeps telling me to hit the non-showing, if non-existent chat button on their e-mail and portal. Show it to me VW!!! They are just trying to see if you will give up. IS this what the court and our lawyers agreed upon. VW, I will never ever do business with you again. Your dealership stinks too!

Runs forever with little maintenance. Gets good gas mileage. I love my bug. It's easy to drive, fits in small parking spaces. I was worried about cargo space but you would be totally surprised the room and what I can fit in there!

I like my diesel Volkswagen Jetta but the biggest problem I have with it is it shakes like crazy when stopping at lights or any other time I stop especially in the summer. Volkswagen has no answer for this and doesn't seem to care. Spent lots of money trying to fix something unfixable. Also radiator fluid sometimes leaks. No reason why. Volkswagen should have done a recall. It seems lots of people have the same problem with this car. I am not happy with the Volkswagen people. Very disappointed as German engineering is usually excellent.

I have a 2011 VW Jetta diesel and am trying to complete a VW buyback per the recent court settlement. In mid-October 2016 I submitted the basic information about my car through the VW court settlement web portal and created an online account. Within 10 days I received a preliminary "offer" valuation and was told to send back scanned copies of my driver's license and the legal title to my car. I did that and ten days later received a "final offer" and a 7 page document that needed to be signed and notarized in order to show my "acceptance" of the offer. I was never told that these documents needed to be sent in PDF format and I scanned and sent them back (unfortunately) in jpeg format through my account portal. The portal in my online account closed when I sent them online and I had to call VW (their settlement claims phone number) to verify if they had received them in acceptable format.
After a 45 minute wait I got a helpful claims assistant (the only one) who told me that they were UNACCEPTABLE because they were not in PDF format and she verified this by pulling up my account and viewing my submission. She helped me with instructions on how to scan them and convert these seven pages to PDF and save them for later resubmittal. At this time I was told that I could not resubmit them until I received an official reply from VW that my originally submitted forms were unacceptable accompanied by a request to resend them in PDF format. Only at that time would my account portal be reopened. I was told that it might take a few weeks before this review would probably happen. At that time I could resubmit the forms for review, with another 30 day wait turnaround time.
I was rather upset and decided to speed the process along by sending copies of these 7 signed pages via certified mail to the Auburn Hills (Michigan) PO box that was listed on a prior VW information sheet for mailing in any required documents. I paid my local post office over $4 to send this 8 1/2 x 11 envelope Certified mail with a USPS tracking number. It was mailed on November 19, 2016. I was told by the post office it should arrive by November 23rd.
On November 25 I went online to the USPS tracking site and entered the tracking number. What did I find? The letter had arrived at the Detroit Destination Facility at 1:10 PM. The status of the letter was "In Transit to Destination". Today, November 28 at 5 PM, I checked back to see if VW had accepted my letter and the status was the same, "In Transit" with a note that read: "The package was delayed and will not be delivered by the expected delivery date. An updated delivery date will be provided when available." VW is obviously not accepting mail at this designated PO Box in spite of it being listed as their mailbox for claims submission!!! Other VW owners be warned!!!
Today (Nov 28, 2016) I called VW again at their designated number (1-844-98-CLAIM) and after another 45 minute wait got a claims assistant who reiterated that she had no ability to reopen my claim portal and that I had to wait a few weeks for VW to review my original submission of forms and reply to whatever request was issued for a resubmission of data. This person would not connect me to a supervisor in spite of my insistence and she also claimed she had no knowledge of the fact that mail was not being accepted at their designated mail address. She was cordial but totally unable to do anything but listen. The phone call ended with me verifying that VW has no understanding of the words "Customer Service" and that this buyback will take 4 to 6 months for me to complete. There is no way I will ever buy another VW automobile and I will discourage any potential buyer from doing the same.

I filled out claim. Was told 10 business days I would receive documentation notarized then I would be scheduled an appointment to bring my car into dealership for buyback program. Status of claim says received reviewed and processed. Called CS - getting runaround. They don't have any answers. Kid on phone, supervisors talking in background tell them non truth about results. Someone needs to look into this situation asap. This is fraudulent because the court settlement is over. Should be able to bring car in for buyback.

I've had my 2013 Tiguan for 3 years now (3 months out of warranty). I love the way it looks and drives. However, even though I've kept up with VW's recommended service, I just paid $2500 for repairs that shouldn't be happening on a car with 45k miles (a new alternator, timing case cover gaskets, control arms replaced, carbon cleaning). Just two months ago, the fuel door wouldn't open. The dealer sanded it down, calling it a manufacturing flaw (which I still don't get since it worked for a bit over 3 years). What I'm getting at is that this VW is needing way too many costly repairs for a 3 year old car. I was expecting to have this car for well over 100k miles in great condition but I'm not sure it's going to work out that way. They sold me on the idea of German engineering being so good, lol. Fool me once.

I bought a VW Tiguan 2009 from Koons Tyson Chrysler Dodge with 58K miles. The problems never stopped ever since the purchase. First, its engine hood release broke, then is truck lock broke that, then brake, then AC, then car check engine light start to come on, and the car is shaking when idle and low speed. After changed all spark plugs and coils problem remained. I went through 3 shops to find out that the engine timing chain tensioner have to be replaced. It will cost me close to $4K to do it. The mechanic told me it's a common problem for that model year because VW changed turbo but I don't understand why they didn't do a recall. What kind of a car has common major engine issue at barely 60K and company continue to ignoring it. I bought the VW thinking good German engineering, well it turns out to be the exact opposite. VERY DISAPPOINTED!!!! Never VW again...

Each month I have to call VW Credit so they remove the tax as it was already paid to my state as they note every month yet it magically "reappears" and they fix it for the month I call but never for the entire period. I love the vehicles but this will be the last one I have after spending a significant amount of time each month getting this corrected, only to have it reappear on the following billing cycle. Incompetent and probably illegal. They probably won't even pay attention to this. Next stop is to seek legal counsel. Can't wait until I am no longer upside down on the vehicle to get another vehicle and separate all ties with VW Credit.

Unfortunately, in only about a month after a complete failure and replacement of the Turbocharger unit, an even more dramatic failure occurred. After an erratic idle, the vehicle EPC light came on, followed by a loud metallic noise coming from the engine. We immediately stopped the vehicle and arranged towing. According to the authorized Volkswagen service technician, the timing chain tensioner has completely failed and has caused a damage to the cylinder head. Total cost to replace cylinder head, timing chain, tensioner, parts, labor = more than $5,500.00.
It is worth noting that we have been more than diligent in making sure that the vehicle has always been serviced according to the maintenance schedule. When we bought the vehicle new, we had purchased the extended 7-year premium warranty extension from Fidelity (which just expired earlier this year). After spending close to $2,000 out-of-pocket to repair the turbo unit, we are now faced with another $5,500+ bill. A quick search on the internet reveals that there are numerous early failures of the timing chain tensioner on the 2.0T engine, including lawsuits and a pending class-action investigation.
It is almost not an overstatement to say that we have experienced nothing but grief with this vehicle. Everything from complete engine failure, turbocharger failure, all-wheel drive differential failure, fuel pump failure, air intake failure, throttle body failure, sunshade failure to a "check engine light" coming on every 6 months like clockwork, requiring "random" wild goose chase fixes such as "clean up the air intake gum"...
VW has definitely a huge amount of responsibility here. It is obvious that all these failures are way above the average normal expectations that a car owner should have from a 2009 vehicle that has been serviced according to the schedule. Faulty parts, skipped due-diligence in design and test or whatever other reason, it is clear that VW has ONCE AGAIN proven to U.S. consumers that their products are of inferior quality and therefore their advertising is deceiving and misleading and their products overpriced. The case of the timing chain tensioner is a great example of how severe a failure can be. This goes beyond the scope of unnecessary burden or inconvenience. This a dangerous failure as when it happens it can result in complete immobilization of the vehicle causing a great threat to the safety of the driver, passengers and other vehicles on the road.

My five years old 2011 VW Tiguan had two major mechanical problems. One problem with the fuel injection was fixed for free because of the recall. Another problem was the antifreeze leak that would cost me more than $3K to fix. That made me decide to trade it in for the reliable Volvo. One week after giving away Tiguan, the second car made by VW Jetta Sport Wagon 2013 didn't start. The dealership "diagnosed" sensor problem that can be fixed for "only" $300. After few hours they call us back (probably thought they didn't ripped us off enough) and told us that the computer is broken and need to be replaced.
It will be another $1600 + $300 for the sensor that might be broken or not. We are very scared to hear from those VW people tomorrow. The car is very expensive and in the hands of people we don't trust who "keep finding" wrong things with very costly parts. I already told my sad story everyone I know. At this point we used to have two new cars and ended up with nothing just because we shopped at VW. I hope people learn from our mistake and that VW manufacturing stop producing these very expensive but so below lowest quality cars.

I am an owner of two VW Rabbits on which I invested substantial money to adapt them with hand controls. I do love VW cars and I was planning to buy another one but shortly. After 60,000 miles the 2007 started jerking and clunking down to the next lowest gear. It shudders and jolts the whole car especially from 3 to 2 and/or 2 to 1. I took the car to Volkswagen Kearny Mesa (8040 Balboa Ave San Diego, CA (858) 300-8160) and they confirmed my suspicion: I am facing the dreadful VALVE BODY issue!
After talking to previous VW service managers, copious reading in the vortex forums and research in NHTSA I realized this is a well-known issue by VW that affects AWTF60SN (09G) transmissions. Unfortunately the 2009 Rabbit just recently exhibited the same symptoms which now leaves me with two soon to be undrivable cars. One is the backup of the other so I don't have to rent hand controlled cars when I service one.
I would like to give VW the opportunity to do the right thing and fix my two vehicles ASAP and at VW cost. I am sure that the reviews I found in Consumer Affairs are not an accurate representation of how VW treats its customers. Let me use this opportunity to also bring to your attention that your website shows no recalls for any of my vehicles while clearly there is one and that I was never informed despite VW having my information. I will wait week to hear from VW and I am confident of a happy resolution.

Customer service is horrible. Probably the least helpful of any manufacturer. Car has had nothing but recalls since I bought my 2014 Passat TDI in August 2014. It has 3 recalls currently with no fix in sight, such as air bags, electrical wire harness, and emissions. They won't tell me when a fix will be available for any of the recalls, and on top of all of this they lied about emissions. Oil changes are $100 at the cheapest I've found, and the DSG takes so long to shift that sometimes it takes 5 seconds for the car to move after pressing the accelerator.
VW states this is normal operation. This is not normal and will wind up getting someone killed. I can't wait to sell this car back. I will never buy another VW and I will not recommend, anyone buy a VW. Be warned, this company overprices their cars for what you get, and service is horrendously expensive. I am buying electric for my future vehicles, and no I will not consider a VW electric, as they do not know how to build anything electronic.
My radio is in rainbow colors when the backup camera comes on, and I've had error codes, The clock is always slow, I have to keep resetting the time as it slowly goes 1, 2, 3 minutes behind. Warranty sucks on the car, the brakes failed on the car with 10k miles on it, they had to rebuild the entire front end brakes at 10k miles with rotors and all. I'm very dissatisfied with VW. It was my first and will be my last. You've been warned.

Gunther Coconut Creek - the worst dealership ever!! Dishonest with their customers. I took my vehicle in last July due to water leaking into the vehicle from the windows. The floor got flooded and the vehicle smelled like mildew. They kept the car for more than a week and said they had fixed the problems and replaced the carpet. Only to find out, the carpet was NEVER replaced. The car still smelled like mildew. I took the car back to the service department and they refuse to replace the carpet. They also state there are no mildew smell at all. Beware of GUNTHER COCONUT CREDIT... They are sleazeballs!!

Absolutely the worst Customer Care I have ever seen or heard of, with every question I ask or point I make Corey with CC replies with the same textbook answer of "Sir I understand your frustration" and "I stand behind my dealership (right or wrong)". The turbo went out of my Passat TDI as it has in 1,000s of others and they are blaming an outside source, therefore voiding my warranty.

Since starting my lease in March I have had nothing but problems with this 2016 Passat including a complete transmission blow out, three times where the car won't start and having to be towed in or serviced on the spot. Another transmission problem occurring right now. The VW Customer Service people are rude and rarely helpful. I bought this car for my 62-year-old wife and have had nothing but problems. This is without a doubt the worst car experience we have ever had and I would encourage everyone to stay away from VW. This company is terrible at handling issues and builds cars that are unreliable. I have had all of these issue happen in the first 5,000 miles she has driven the car. My wife is scared to take the car anywhere for fear that it will breakdown. We now avoid using this car as much as possible.

I want to put it out there that Volkswagen is the WORST car ever made. I bought my 2010 Volkswagen CC in 2013. From the first year I bought it, I have had nothing but problems. In July of 2015, I was in the line at Taco Bell, and my car just died. It would die EVERY TIME I stopped the car (at a red light, parked, etc.). I had to have the Fuel Pump control module replaced. In December 2015, I had to have sensors replaced. In June 2016, I have had my engine replaced when I took it in for the "Steering Column Defective" message.
In July 2016, my Steering Column Defective message popped up yet again, so I took it in again. They replaced the Steering Control Module. A week later, the "Steering Column Lock Defective" message popped up again. I took the car back in and they replaced the Immobilizer. It's been about a week since I picked it up and today, the check engine light is on YET AGAIN. Let me just say, I don't miss oil changes, I do not "rag" my car out. I am a responsible adult who drives 16 minutes to work everyday and 16 minutes home. I do not take it across the country. I take care of my car, but this has been nothing but problems. Problems that are not "maintenance".
There have been recalls on the engine and the parts for the "steering column lock defective" issues. My VIN wasn't on that list, but yet I've had the problems. My warranty company has put $10,000 into this car in the last 2 months. I have spent $800+ in repairs out of my pocket. My car isn't even at 100,000 miles yet. This company has done NOTHING to help me with these issues. I have contacted corporate on MULTIPLE occasions about this and they won't do a thing.
This car also has the airbag recall. I tried to trade it in (AT VOLKSWAGEN) and they said because it has the recall, they can't give me but $6,000 for it. $6,000 for my car that I paid $16,000 for and that has MULTIPLE BRAND NEW MAJOR ITEMS!!! So not only is this car unsafe because of how it was put together and the parts that keep going bad, if I get in a wreck, my airbag may have metal come through and stab me in the face and kill me! But they don't seem to care about that.
Trust me, buy a Toyota or an American car. My fiance has a 2010 Toyota FJ Cruiser and has had to replace the battery once. That's it. He bought it a year and a half before I bought mine. Volkswagen, I'm meeting with my attorney next week to get this fixed. It isn't right and the fact my car is constantly unsafe and you do not care, proves that you have no conscience as a company!

On March 16, 2012, my daughter purchased a 2009 VW Tigua from Herman Cook, VW, Inc., 1435 Encinitas Blvd., Encinitas, CA 92024. Since then, the vehicle has had numerous problems, and has cost her thousands of dollars in repairs at VW dealerships in Southern California. She has followed due diligence in having the car serviced, but has continued to have costly repairs. Listed below are the issues.
June 27, 2012, only three months after purchasing vehicle, paid $290.95 at Volkswagen Santa Monica (Invoice **) for: front headlamp, engine oil service, balance 4 wheels, brake fluid replace and bleed. August 29, 2012, paid $237.30 at Volkswagen Santa Monica (Invoice **) for: removed and replaced driver side HID light bulb. June 7, 2013 paid $50 (deductible) at McKenna Volkswagen for: right headlight (Invoice **). April 22, 2014, paid $382.65 at McKenna Volkswagen (Invoice (**) for : bulb (N-103-201-02), perform campaign # **. Recall Fuse (Plug-in position F 16), 40,000 mile service (non-turbo). November 21, 2014, paid $241.71 at McKenna Volkswagen (Invoice **) for : 013 campaign/recall 4515 CV burned out turning light bulb N-103-201-02 bulb, and 50,000 mile service.
September 5, 2015, paid $3,075.52 at McKenna Volkswagen (Invoice **) for Perform Intake valves De-Carb, 03511 optimizer 2 Pack, flush AC system and replace AC compressor, condenser and expansion valve, recharge AC system, replace wiper blades, replace rear brake pads, replace right brake lights, cornering lights, and bumper marker bulb (3 total bulbs replaced for this invoice). Invoice states EST: 1,069 31AUG15 13:34 SA: 1692). I believe there are major issues with design of engine that caused sludge to build up in engine at low mileage, and also poor AC design that caused compressor to come apart and cause tiny metal particles to infect the entire AC system that resulted in over $1,600 of AC repair.
June 3, 2016, paid $2,465.90 at McKenna Volkswagen (Invoice **) for replaced left outside brake light, replace leaking water pump and coolant, perform complete coolant system flush exchange, replaced leaking valve cover, vacuum pump gasket, upper timing cover and CAM sensor seal, replaced front brake pads, replaced 2 tires and balance new tires, front end align, perform oil change and filter.
Today, August 13, 2016, as I was preparing this communication, my daughter texted me to say that the car's message system is now telling her that now something is wrong with the parking brake, and that another light needs to be fixed. This never ends, and the car is a lemon that has numerous faulty issues. Therefore, in four years of purchasing this used previously owned vehicle from a Volkswagen dealer, the lemon car has cost an additional $6,744.03. My daughter has been very diligent about taking the car in for routine service, but the additional costs are totally unacceptable and she, as a part-time working single mother with a 3-year old child, cannot continue to afford what I consider design flaw costs for the 2009 Volkswagen Tigua.

I would rate my experience minus stars if you had such a thing. From the day I bought the car I was no longer important to the Tracy Volkswagen Dealership. They didn't have enough time to go over all the details of this new car and said we could have more time on the coming Sat. They never called. When I called them with problems of charging it, they told me they were on vacation, but if you come in I can give you a little time. When I asked about problems with Barnstable free chargers around Hyannis they didn't know why I couldn't charge on them. Said they would check it out. They never did.
After a month of trying to figure it out myself I gave up and took it back. They wanted me to go the lemon law route. I told them I thought it was damaged and that they knew about it. That would be fraud to do the lemon law. I ended up paying them a total of over $5,000.00 to get out of the lease. The Corporate VW was no better. They had nothing to say to me, even though they had me fill out a survey for their company. I sent them letters, all the information and copies of everything and nothing. I'm warning you, do not buy from Tracy Volkswagen in Hyannis Ma.

My husband and me have been the proud owners of three new Volkswagen cars. We have always had our cars maintained only by the Donaldson Volkswagen dealership in Sayville, NY. Ever since I have owned my 2004 VW Beetle, I have noticed that the ignition cylinder lock. I verbally mentioned this several times to the Donaldson's Technicians and was told VW Beetle had been made this way and I was informed to wiggle the steering wheel and place my foot on the brake. I never check out this information given to me by the technicians. My beetle is now over 88,000 miles and without an extensive warranty.
On 7/18/16 my car broke down and locked. My car had to be towed to the Donaldson dealership. I explained to technician this was an on going problems throughout the years that I owned the VW Beetle. I had to fix the car. The Donaldson Technician wrote: Found steering column locked. Mechanically faulty causing damage to ignition lock cylinder, removed and replaced ignition lock cylinder, removed and replaced steering column lock. This cost was $532.30 to repair. I asked the technician again if anything could be done with the cost of the repairs since this was an ongoing problem with the ignition lock cylinder. Technician replied, "no, your warranty has expired and the car is over 88,000 miles."
The technician gave me the VW Cares telephone number but I received the same comment from Improvement Customer Service person Martin ** as well as their team leader MaryJo ** who made the final decision. Both of them would not give me their last names. I learned two lessons from this experience. 1) I am not a value customer at VW Donaldson. 2) Check out an on going problem with your car and find out if this problem is ongoing with other VW 2004 Beetles. My husband and me were going to purchase two more VW cars but we learned our lesson from this experience.

2010 VW CC 70k miles, in 10 months, has gone through 2 water pumps, an intake manifold, fuel pump control module (failed driving down the road, started to overheat and it sits on top of the fuel tank... fire waiting to happen?), coolant line cracked open and leaked, 3 oil leaks, new spark plugs at 40000 miles because one failed, new ignition coils as one started misfiring, windshield washer fluid pump has stopped working, the driver side window now goes down by itself (I've had to unplug the buttons to keep my window closed), and now I'm experiencing random power loss... Total cost so far in 10 months? $6,000!!!
Oh and with VW direct injection, my valves were caked in carbon at 50,000 miles. That's a 1500 dollar fix but my engine was already in pieces to fix everything else. Total absolute junk. Not even useful as a paperweight because it will spill its fluids over your paper. I would reckon the 2.0 tsi is one if the worst engines made. Too bad it's not diesel or I'd have VW buy my car back and never touch a German product again. I would sue VW but Texas has terrible lemon laws so I'm stuck with VW customer service doing something about it or notifying anyone who can fog a mirror to never touch a VW product.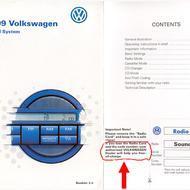 So after dealing with the Strong's VW dealership, they are refusing to do a service that says right in the manual they are required to do. Now they are making excuses like their machine was down for a month and now their worker is gone for a month... I am now trying to call VW of America to report this and can't get a hold of anyone. It has been 2 hours... sitting on the phone and it says they are open. This is ridiculous. If this is how they treat customers over a simple issue like a radio code, I can only imagine if I encounter a bigger issue.

The windshield on my Beetle with 4700 miles spontaneously cracked overnight, with no previous stone chips, car crashes or pothole collisions. The break is an obvious stress fracture, coming from the side of the glass and extending into the windshield. Customer Care first said that all defects, including glass are covered. The dealership where I brought the car (who was not really interested in the problem and assumed it was a stone chip before I even brought the car in) sent in some cell phone pictures, and some local supervisor later denied the claim. VW Customer Care refused to tell me who he is or how he made the determination. They told me to go to my insurance company and that they couldn't do anything for me. This was my first VW and it will certainly be my last!

I have a 2012 Jetta TDI and was never contacted by VW about the diesel scandal. I typed my VIN into their website back in November and December and it said there were no recalls on it. It did not say anything about the diesel scandal or the Goodwill package. I recently found out that my car is affected by the scandal and had a similar experience with VW customer service. They have a separate website for news about the diesel scandal and the customer service representative I spoke with told me she didn't know how I would have known about it.
If they truly meant Goodwill toward their customers they would have found everyone who owns an affected TDI by VIN and sent them the Goodwill package. I believe it was solely for publicity and to divert everyone's attention from how badly and irresponsibly they behaved. In a way I'm glad I didn't get the Goodwill package so that I can clearly see what they did and not be swayed to stick with the company for $1,000. I was on the fence about what to do with my car, but after this experience I will sell them back the car and never shop with them again. I am truly disgusted by what they did and what these cars are doing to the environment.

Really not happy! I have received a notification from the DMV that I will not be able to register my 2012 Golf unless I provide a certificate with proof of airbag correction. It states that I should contact my local dealer for a free repair and gives a phone number to call if problems occur 1-800-242-4450. Well the dealer acts as if it's not their problem and the operator on the 1-800 "help" line says he has never heard of this!!! I was instructed to ask the DMV what I should do!!! Really!?! I paid $30,000 for a 2012 Diesel Golf that now has an airbag that can kill me and a total fraud in the emissions category!! I have no faith that VW will make good. So very disappointed. I will never buy a VW again.

I spoke with someone at VW customer service on the phone July 1st, 2016 who assured me that I could make a payment through the automated system via telephone on July 4th at 8:00am. I was hung up on all day yesterday and now it is July 5th 10:20 EST and I cannot make a payment via online or through the automated system. The customer service rep told me my credit will not be affected. This is UNACCEPTABLE. Now going on 1 full hour on hold with customer service 800 number. Still have not spoke with a live person while I am calling the automated number as well.
Normally, my car payment is due on the 4th of each month so I tried to make my payment through the automated system on July 1st. They have been performing "system maintenance" for 5 days now. I am giving 1 star but if I could give 0 I would. Never buying a VW again and it's a shame I've had 3 and like the cars but this is not worth the stress and horrendous customer service or lack thereof.
Volkswagen Company Profile
Company Name:

Volkswagen

Website:

http://www.vw.com/