Consumer Complaints and Reviews

I own a 2006 Toyota Tundra and absolutely love and trust this truck. I bought it used in Fort Wayne Indiana with 38,000 miles. I take care of my vehicles. Oil changes regularly (Royal Purple synthetic), regular maintenance is done as well. Two recalls and a Toyota service notice have been taken care of. Recalls were lower ball joints. Toyota covered this with no problems. Frame inspection recall. Mine had no issues. Tensioner belt assembly issue. I paid for that. Currently have 119,000 miles as of 11/8/2016. Changes I have made, removed the muffler for a more rumbling sound, leveling kit, 285 sized tires, cold air intake, replaced the radiator (very easy to do) along with temp sensor and thermostat.
Fuel pump and starter are still good. The starter is buried in the engine and will cost $700 plus when time to replace. I have replaced the stab links and stabilizer bar bushings. Wheel bearings no issues with those yet. I replaced the front shocks within the strut at 100k. Timing belt, water pump and belts were replaced at 98k miles as a precaution for $750. Timing belt still looked new. Tech said could of went another 30k miles easy. Drive shaft, no issues, 4wd never an issue. Replaced all the gearing oils front, rear and transfer case with Royal Purple synthetic. Replaced rear supports for the tailgate. Most likely will never buy anything but a Tundra ever again. I get my truck oil sprayed yearly. After 10 years, this truck can be mistaken for new. Satisfied customer here.

In 2010 I purchased a Toyota Tundra thinking that this company would stand behind their vehicles. This company has had and still does have a problem with the secondary air system. They have extended the warranty for this system admitting that they have a problem. This is an expensive fix for consumers over $4000.00 and still no recall from this company to fix the problem. Without this fix you are unable to get an inspection because it is an emission problem. Consumer beware that you will have this problem if you keep your vehicle for over the extended warranty time allowed.

Have a 2016 Toyota Tundra with 7000 miles on it, purchased new. The transmission started slipping on it so had it towed into dealership. They stated it had slippage codes in computer so they would need to put new one in but would not cover it under warranty. They said at sometime the rear wheels were spinning faster than the front is why. I do not understand how that deems it unwarrantable.

My first new 1987 Dodge pickup mostly junk. Then a new 98 Ford 4WD Lariat, a bit better but had inadequate brake issues and transfer case sticking problems. At 5 years old couldn't wait to get rid of vehicles. Bought a new 2003 Tundra and has been almost like a fine Swiss watch. Had to have the fuel filler neck replaced because the old necks in this model year was causing a sensor light to come on in the cab. I live in AZ so body rust not a problem. Because I let the truck go to log without replacing front shocks I had to have some minor work done. Other than that and new batteries can't think of anything I have had to have done. One thing that is annoying every time I schedule service with Toyota they practically beg me to sell. From what I understand somewhere in the 2001 to 2005 range are the best model years. I'm tall so I have to hunch a bit to get under the top of the door jam but there is plenty of head room inside.
About 2004 I think they put in taller cabs and offered 4 door models. I like mine cause it looks sleeker with the shorter cab. It runs off the line like a bat out of hell nearing 5 second zero to 60 time.. Though I did get in one minor accident I got it back to still looking practically new. I just cancelled my Service appt yesterday cause someone at the dealer called hours after I made the appt asking all kinds of weird questions that seemed unusual. The fact they want me to sell every time I make an appt.
If you have one of these coveted model years try to keep it unless you're having lots of problems. I don't like the new Tundra - way too big unless you want to tow with them. If you want to see the fastest pickup ever made GOOGLE it. ON the site I found it had the 10 fastest pick ups ranging back 20-30 years. There is a Tundra model forget the name (a standard cab) that they claimed could stay right up with any Italian sports car model off the line.

I bought a 2006 Tundra a few years ago and got the vehicle nicely washed and polished at a dealership in Tucson. After about 10 washes the paint disappeared on the hood and roof. I contacted the dealership and they accused me I did the damage probably myself and refused to fix the issue. I wrote Toyota and got no help whatsoever - no surprise. Well, that's just an optical issue. Later I got 2 recalls and went to a dealership in Sierra Vista to get the recalls taken care off. The service guy was just laughing and said Toyota "might" have the parts for the repair late Summer 2016. Called today - nothing. Recently the truck starts to overheat, driving in city traffic. Since I got it, the ac won't blow cold in slow traffic.
Toyota is only interested in quick sales. There is no customer care. Also the repair prices in their dealership are outrageous. I had the U-joints changed and Toyota dealer wanted $1200. Got this fixed at a local car service shop for $380 including parts. Never ever will I buy any Toyota product again. For the same money you can get a high quality German product. I am just waiting for the Mercedes Benz Pick-up to come out next spring and these arrogant Toyota guys can kiss me goodbye.
How do I know I can trust these reviews about Toyota?
633,474 reviews on ConsumerAffairs are verified.
We require contact information to ensure our reviewers are real.
We use intelligent software that helps us maintain the integrity of reviews.
Our moderators read all reviews to verify quality and helpfulness.
For more information about reviews on ConsumerAffairs.com please visit our FAQ.

I just purchased a 2016 Toyota Tundra Limited 4 days ago, after waiting for it for over 6 weeks. This morning, when I was familiarizing myself with my brand new truck, I discovered that the spare tire is an 18-inch Michelin while the ones on the truck are 20-inch Bridgestones. My suspicion was that the tires were swapped at the dealership from Michelins to Bridgestones and that whoever did it did not even bother with the spare. The dealership salesman I dealt with said there may have been a mistake installing the wrong size, wrong brand spare. But who would make a mistake like this - The Toyota people at the factory?
If this is the case, what other incorrect parts were installed? This to me is indicative of a very ineffective Quality Control - let the customer find out the defects years later after the warranty expired, or God forbid, after a major breakdown, and then they tell you you're SOL. Less than 1 week and I'm already regretting my decision to buy Toyota. Anyone out there has had the same experience?

I have a 2006 Tundra and am very dissatisfied with it. I own a farm, and I expect a truck to perform. With 33,000 miles, I noticed transmission oil leaking from the bell housing where the front drive shaft connects to the transmission. There is no way to check for low oil because the transmission is sealed with no oil stick (how stupid!). The dealer changed the seal under warranty, but the mechanic admitted the seal he took out looked good. The only way to truly fix the problem was to also change the drive shaft also, but the dealer did not. About 50,000 miles later, and I now have the same problem. At 40,000 miles the tailgate would not open and shut. When I removed the tailgate panel, the piano wire and Teflon bushings looked like parts out of a cracker jack box. I was shocked at the flimsiness of the parts. For a farmer, a truck without a tailgate is like a bird dog without a nose.
Toyota company was rude and refused to fix the drive train problem, even though the problem was really never fixed under warranty. I now have to pay $1600 for a new drive shaft and cannot be certain it will fix the problem, because others on the internet have encountered the same problem and a new drive shaft and seal still did not fix the problem. I have bought Toyotas for years on my farm, and years ago they were the best. My wife and I (and my friends) have now switched to Hondas, and we are getting 500,000 miles and more without any power train or engine problems. I have a motto on my farm, "if it is diesel, I buy a Kubota, if it is gasoline, I buy a Honda". Honda and Kubota is what Toyota used to be, and even better. I am writing this to warn others that Toyota has really gone down in quality. Stay away from Tundras, and if you don't believe me, simply Google "Tundra drive shaft problems" on the internet.

Have a 2007 Toyota Tundra Limited with severe Bed rust with 45000 miles on it. Took it to the dealer and they said they can do nothing about it, call Toyota customer service hq's. Well we know how that went. "Sorry you are over the 5 year limit." This a known problem with their trucks and they chose to do nothing about it. I don't care if it is 9 years old, there should be not rust like that at this age. Also had to have the water pump replaced at 44000 miles. Not under warranty. Another known problem with all Toyotas they just say normal wear and tear. So much for the great Toyota reliability they keep advertising. Found out about the rust just in time to stop the wife from buying a new Camry xle. Will never buy another Toyota.

I own a Toyota Tundra truck which I purchased new. There were serious issues with the truck and apparently there were recalls which I did not get. The entire drive train is badly rusted and the vehicle is not safe to drive. It only has 17,900 miles on it. Toyota is not willing to take responsibility for the vehicle and their representative has been quite rude each time I have called. The cost of the needed repairs is approx. $6,000.00.
In addition, I purchased the vehicle so I could install a plow as I have nearly a mile of driveway to clear after snow storms. I was told by the dealer I could install a plow before I bought the vehicle. The next day I called several plow companies who informed me the truck is not capable of supporting a plow. Toyota is not willing to do anything about the recalls despite my efforts. They were actually quite rude and not helpful at all. Please think twice before you buy Toyota. The trucks are not well built and rust is a serious problem. I will be seeking legal council to resolve this matter.


My grandmother recently purchased a used 2000 Toyota Tundra from my son. Not knowing the extent of the undercarriage rust. I had the vehicle inspected and it failed. I looked into a recall that I was notified of and took it to my local Toyota dealership. They then tell me that there is nothing they can do about the rust because the warranty had ran out on 3/31/16 for the campaign and they were not provided the chemicals nor the equipment to apply the corrosive preventer, that if I wanted it fixed I should take it back to New Jersey where it was originally purchased. I contacted Toyota and their statement was, "well if the inspector says it does not need a new frame then there is nothing we can do, and only cold climate states have the corrosive chemicals." If you are going to make and sell vehicles they should stand by their product and fix their screw ups. Very disappointed in Toyota and their customer service.

I am still driving a 2002 4x4 Tundra Limited, 87000 miles, I bought new. Sorry that some owners are/have experienced poor quality work, quality, craftsmanship, etc. with their trucks. This does cause me to take a step back considering my next purchase. From 1977 to 2002, I owned Chevy and Ford trucks. This is my one and only Toyota product. Something could break down today on my truck, but for 14+ years, this is the best truck I've ever owned. I had a engine light sensor (circuit board/chip) replaced 6-8 years ago. That's it! I am diligent about maintenance for my truck. The Toyota dealer I bought the truck from are the only people to touch the truck for service. I have friends that are waiting/hoping for me to sell. My words may not help, but I wish the best for those of you having problems with your Tundra.

Purchased a 2016 Tundra, (200 miles from home) we noticed a vibration, we didn't think anything of it as the road we were on was bad, but the longer we drove, and the further away from the dealer we got, we saw it was not getting any better. So we decided to head home and go to our local dealer to figure out what the problem was. After heading to our local dealer, they said it was the tires, and we were no longer welcome at that dealer. So we went to another dealer only to hear the same crap. So we went and purchased a new set of tires, and also tried another set of rims, still had vibration.
Ended up complaining to corp. and they sent a field tech out and he checked the truck out, top to bottom, only to end up reading his report that states the following: FTS then performed a comparison of the data and was able to confirm the condition the customer and FTS experienced was a 4th order engine vibration resonating into the steering wheel and at times from the floor board. The slight resonation felt was experienced in both vehicles and the NVH data was comparable as well. FTS determination is the customer's concern, is an operational characteristic of the vehicle with no defect in material or workmanship present. FTS does not recommend any repairs or adjustments at this time. FTS and the customer test drove the new unsold truck together and the customer confirmed the concern felt in his vehicle was present in the new unsold vehicle as well.
FTS will submit a Field Technical Report to Toyota to document the customer's dissatisfaction with the operational characteristic of the truck and that the vehicle does not meet their expectations, in order to communicate the voice of the customer. So with that report, Toyota has decided they were NOT doing anything to fix the vibration, and we must deal with the problem.

I own a well maintained 2003 Toyota Tundra. There have been multiple reports of defective frames. I recently discovered mine is now among them. I brought the truck in for a frame inspection in 2012 and was told it passed. According to what I've read it had to have marble sized holes in it to qualify for a new frame under a "campaign " which expired in December 2012. I wished I had known of the replacement option at that time as I would have pushed them for a frame. I put my faith in the dealership and in Toyota and took their word for it. BIG MISTAKE! I filed in a claim with Toyota which is being denied because the "campaign" expired in 2012. No frame replacement, no buy back, no credit towards another vehicle. NOTHING. Very disappointed in Toyota. I have been loyal to the brand since 1988. That ends today!!!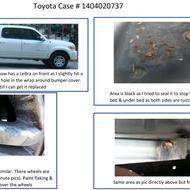 There are 6 bolts that hold the bed to the supports on the frame. The 2 near the tailgate are fine. The 4 remaining bolt locations are rusting terribly. One is wide open now. To the point you can see the ground. Put it this way I can place my hand in the opening. I told the dealer, Toyota on Nicholasville in KY, when they sprayed my frame. They wouldn't even look at it. Told me to contact Toyota. They were no help whatsoever. You would think they would try to help as this impacted whether I buy from them again. I bought many thru them before but none since. I contacted Toyota and sent them pics of the bed rust problem. They would not do anything about it. I have a few friends with this truck & theirs are in the same shape. It rusts because water/dirt gets between the support & the bed. Toyota put mastick around the support but not completely around it.
Eventually my truck bed will fall down. Not sure how many trucks need to rust before anything is done. The image also includes a rim pic. Not intended for this. The rust in upper right pic is now big enough to put all my fingers thru. My truck is in the pic as well. Well-cared for truck. I leased the truck new in 2005. Later I bought it out. I am the only owner. Side bar, the frame coating was a joke. My frame was not even cleaned before the spray. I looked before the work & found collections of dirt & rust debris on supports. I looked after & it was sprayed on top of the debris. Quite a bit of the spray has fallen off.

Me and my husband have a 2006 Toyota Tundra that we bought this year. Me and my friends went on a camping trip Friday, 13 of November. We were driving down the highway on November 14 going 70 miles an hour, then turned onto a dirt road. About a half a mile up the road the ball joint broke causing the tire to flop over and break the axle and the tie rod. That was about 8:30 in the evening. We tried calling AAA but they said they would not come till the morning. So we went back to camp. Came back in the morning to call the tow truck. When we got there the truck was gone. So we spent Sunday trying to find the truck. We found out that It had been towed to a town called Whitehall in Montana.
While we waited we looked up some things on Toyota found out that the ball joint had been recalled. So thinking Toyota would fix it so we had it towed to Bozeman Montana to the Toyota dealer there. But that was Sunday so they were closed. So we had to spend the night and get a hotel cost $79. Not to mention we had to pay for the towing which was $125. So now it's Monday we missed work. And we're talking to Toyota to try to get things figured out. They tell us "yes it was recalled" and that they will pay for the ball joints and try to get a rental. We have to get a rental because it's two weeks out for the parts. So we wait around all day Monday trying to get things figured out. Eventually they tell us that they won't be able to do anything that day. So now we wait.
It's Tuesday we have to pay for another hotel. Miss work again. Then they tell us that they won't pay for any of it because apparently the truck came from Canada. Which we had no idea when we bought it and knew nothing about the recall. So now we have to pay over $2100 to get the truck fixed so we can go home. Now it's Wednesday we're waiting for the truck to be fixed. Just one more day not working and had to pay for another hotel. Not sure how this is not Toyota's problem. You made a faulty product and now are telling us we have to pay for it. If that part would have broken minutes before we all could've been dead, we were going 70 miles an hour. So I ask that you please do something about this we cannot afford this. If nothing is done we will have to file a lawsuit.

2002 Tundra Limited. As I understand it, Toyota recalled 110,000+ vehicles including mine. Apparently, before I was the owner, it had a rear cross member serviced and truck had a rust inhibitor treatment. I recently was having some exhaust work done and it was pointed out to me that the frame is rusting through. Yes, all the way through. I can poke my finger right through the frame. I contacted Toyota and was shocked to find out that the recall ended 12-31-13. (I believe that was the date). INCREDIBLE. LIKE RUST ISSUES WERE GOING TO GET BETTER AFTER THAT DATE. They said since my frame wasn't replaced prior to that date that there was absolutely nothing I could do. Any advice on where to get further exposure to this unbelievable issue is welcome. .

My 2003 Toyota Tundra that I carefully maintained and had the frame inspected and treated by Toyota in 2012 has just been deemed unsafe to drive by my Toyota dealership due to frame failure due to rust. I had only 94,000 miles on the truck. I just assumed that I would get a credit, probably small, towards a trade in or the like. Toyota's response to my sudden loss of a truck from frame failure. Nothing. Zero. No advice, not frame repair, no trade in credit. Nothing. My truck that was on paper worth over 7000 dollars on Friday was now worth $250 as junk on the following Monday.
I was told I needed to tow it off their lot. I kept hearing that there was nothing they could do, but what they were really saying is that they now assume no responsibility for their poor frame construction. I am very disappointed to lose an otherwise fine truck that had much use left in it because of Toyota's poor choice of frame metal and its treatment. I had planned to replace my Tundra with a new Tacoma last week, now I have joined the ranks of "I will never buy another Toyota truck" ranks. Never.

The steering has been shaking between 60-70 mph for the past several months. I have taken it to the dealer and of course they cannot duplicate the problem. The truck only has 30,000 miles. Last year when I took it the dealership for routine oil changes their technician made a note that the left ball joints are leaking. They deliver my car to me without saying anything about it. Before I pull away from the dealership I notice the notation the tech had marked. I get out of my truck and ask to speak to someone about the leaking ball joints. Service advisor tells me "No need to worry. You still have plenty of time," until my warranty runs out.
I could not believe what he said. They kept giving me the runaround. Well I just had my truck back at the dealer for routine oil changes and I address the ball joint leak again along with the steering wheel shaking. Upon picking up my vehicle the next day they could not duplicate the steering wheel shaking and the ball joints are really not leaking in an excessive amount. This "GREEN SERVICE" I had done was pretty much an oil and filter change that cost me $376 and my steering wheel still shakes and my ball joints are leaking. I know they are just waiting for my warranty to run out. Absolutely disgusted and frustrated with Toyota.

My customer experience has been horrible as Toyota headquarters is not addressing the need for a new frame to ensure my safety and the public's safety. Priority Toyota inspected the vehicle in Aug 2015 and stated the frame needed to be replaced; the dealership immediately generated a report and documented the failed frame with photos showing the rust perforation despite Toyota's service campaign solution of a CRC application.
It is clear from the many complaints on the NHTSA website and all the Toyota forums, the CRC "remedy" did not resolve the problem with the Tundra's service campaign that expired in 2012. It only masked the problem until the campaign ended. In subsequent service campaigns, hundreds of owners of Tundras, Tacomas, and Sequoias report the CRC failed to stop corrosion. It is a chronic and systemic problem. I have filed complaints w the NHTSA, the Federal Trade Commission, and am in contact w/ several Toyota owners who have or are currently experiencing the same issue. My family have been sole Toyota customers for close to 40 years and have purchased 9 Toyotas. I still drive my 1994 Toyota pick-up that has 352,000 miles. The 1994 frame looks great. My 2001 Tundra has 173,000 and a rust corroded frame.
My family has been loyal customers because of a quality product and a company that stands behind their product and supports customer needs. My family and I (as well as hundreds of customers in the same boat) are appalled at Toyota's disregard and allowing unsafe vehicles to travel the roadways. The "service campaigns" mean nothing if the "proposed solution" does not solve the problem which originally initiated the campaign. Your customers are telling you they are still dealing with failed frames and Toyota is not listening. Unfortunately, it appears that Toyota will only respond to the gravity of the situation when one or more of its customers (and perhaps other innocent bystanders) lose their lives in a tragic accident because Toyota cares more about the dollar than life.

I purchased the 2001 Tundra brand spanking new. She has 139,000 miles on her and is running strong. The only issues were the back vent window mechanism broke and the cabin light cover broke in the first year. No complaints as everything else has been solid! The original battery lasted over 11 years! She is currently in the shop to get the frame replaced, all under the recall. The dealer gave me a RAV4 to use for free. It's not a pickup but a very nice vehicle nonetheless. I may buy it for my kids.
The problem I have now is that I was told it would take 2 months to replace the frame. It's well over 3 months now and no end in sight. The dealer told me there is a national back order on the frames. One poor Tacoma owner has been waiting for a frame since March! I hope they put my truck back together and it continues to run the same as before. And soon!

At 20,000 miles I have noticed a vibration in the steering during braking only. The Dealer where I purchased it now claims that they see no issue, but a independent certified mechanic has confirmed warped rotors. The issue has yet to be resolved. At 21,000 miles the air injection valve and pump had to be replaced. The check engine light came on and the truck went in to limp mode. This issue took four days for my dealership to find and address. For someone who has been buying Toyota vehicles for 20+ years, I am very unhappy. Looks like I will be giving Ford Motor Company a closer look. I'm done with Toyota.

While driving yesterday my Toyota Tundra started shimmying at about 60 mile an hour. It felt like a tire was going down. I pulled over got out check the tires and they were fine. Got back in and took off and the shimmy was gone or vibration whatever you want to call it. Has anybody had that experience? My son owns a Toyota repair shop in California and he said it could be what is called torque converter shudder. Maybe there's a Toyota recall for this. It has only done this twice in five years but it's starting to concern me. Any help would be appreciated.

Not happy with Toyota! My 2007 Toyota Tundra bed has big rust holes in it. The truck is in beautiful condition, no rust anywhere except for the bed - 4 big rust holes makes me sick. I also see other posts from others with the same problem. Toyota should fix it!!!

I currently own several Toyota Tundras (08', 09' and '14) and have actually considered buying the upcoming 2016 Toyota Tacoma, however, it is completely contingent on the location of the alternator. I have loved Toyota trucks and have bought several of them in my lifetime. I bought them because they seemed to be more reliable over the years than the American trucks that I bought. However, recently, my faith in Toyota has been shaken due to the amount of recalls I receive on my trucks as well as one very particular design problem. Toyota designed their engine block with a serious design flaw that is costing me thousands and something Toyota has been unwilling to help me out with. I bought my 2009 Toyota Tundra with 3,000 some odd miles, certified from a local Toyota Dealership (Thompson Toyota in Doylestown, PA).
Well, a couple years in, the alternator failed. Most alternators are located in easy to access locations where you can pop out the bad and pop in the new. Toyota designed the Tundra engine in way that the alternator is in a very difficult to access location. You must dismantle the underneath of the truck to get to it. Just to get the old one out took 7+ hours from an experienced professional mechanic (not including the time needed to put new one in). The alternator location is prone to getting wet from water spray from the tires.
I must give Toyota credit for the first time this happened. My vehicle was one month out of warranty and they covered the replacement. However, this has happened again and they will not cover it. I am very upset. The replacement cost as per the dealership was stated at "beginning at $2,000 but it could go over and does not include the new alternator cost". This is normally a $300 to $500 job. But this should not be happening to a truck that is garage kept and only has 55,000 miles. I am certain there are others out there like me. I am very upset with this problem.

My 2000 Toyota Tundra had 180,000 miles on it when the driver's side ball joints failed, dropping that side of the vehicle to the ground. Luckily, I was moving slowly and no one was injured. I had both sides replaced (both sides were worn out) with ball joints supplied by the local NAPA store. Three years later, both sets of ball joints were again worn out and required replacement. I had driven 38,000 miles since the first incident. Why are there no grease fittings on these joints which would have prevented these failures?

I just purchased this vehicle a few months ago, and so far I'm in love. The interior of the truck seems to be bigger than my first apartment, and even has reclining rear seats (which is a first in my book). I opted for the leather interior option since I'm constantly carting the kiddos around and want to stay ahead of any spills. The rear window rolls down which is awesome for visibility and for easy access to the bed.
While the interior is extremely roomy inside, it also makes it a bit difficult to reach over to the other side of the truck while sitting in the driver seat. Good thing it has power locks and doors because it would be extremely difficult to reach and manual locks. Along with the beautiful interior the truck came with the backup camera, which has been an incredibly useful feature, especially trying to navigate parking garages downtown.
The engine and transmission are on the exact same level of the interior... Lots of size and power to boot. I've had no problem at all chugging along on the highway, or racking up the revs to pass folks. This thing will pass just about anything on the road except a gas station. Regardless of hitting the gas or trying to granny it along, I've averaged about 13.7 mpg consistently.
The only negative I've seen with the truck so far is that the tailgate does not seal very well when it's locked into place. It wiggles a bit which causes a bit of an annoying rattle when driving sometimes. The other thing would be to just make sure that you are comfortable driving a large vehicle before pulling the trigger on this thing. It definitely requires a much different approach when doing simple tasks such as parking at the grocery store or in parking garages.
The huge footprint requires a bit more finesse to make it fit into spaces, and the higher weight of the truck takes a much longer time to stop than my FJ cruiser did. All in all I'd highly recommend this truck to anyone that doesn't mind driving a bigger rig, and who isn't looking to save money on gas, maintenance, or tires. They are all really expensive, so if that's not something you are looking for...I'd probably look elsewhere.

What can I say? I have mixed feelings about my Tundra. Bought in new in 02 and it's been reliable, where I've never been stranded, but it's always needed constant attention and if I didn't do the repairs to my vehicle, I would've sold it in 08 since it wouldn't be worth the cost fixing it. Now have 174K miles on it. Problems: Highway vibration when changing over to new tires. Used extended warranty from Toyota who graciously extended my warranty beyond 100K for the issue, but I ended up replacing the front calipers, turning the front rotors and getting new front wheel bearings under a TSB which didn't fix the issue but solved a wheel vibration during braking only. After two years of dealing with the issue it was found that a special Haweka adapter was required to hold a hub centric wheel perfectly centered on the balancer to fix the issue along with road force balancing the tires down to 20 lbs/tire (not the 40 lb standard for truck tires).
Rusted frame didn't qualify for replacement since I regularly washed it in the winter time, so no 10mm perforation to qualify. Ended up painstakingly wire brushing the frame and drivetrain with pneumatic tools and by hand in order to apply POR-15. Later got the recommended CRC "treatment" from Toyota to protect the inside box of the frame and a secondary coat external over the POR-15 for added protection. Downside is that I get grease on myself from the CRC rubbing off on me every time I work under the truck.
Steering column shifter made of cast aluminum just broke clean off one day under little to no force in the parking lot. Toyota was only concerned that I wasn't hurt or that nobody else was in the matter. They didn't offer to repair something that should never happen so I did the work myself and paid over $200 in parts. Front steering rack leaking at 98K miles due to being damaged by dealer when replacing a torn intermediate steering shaft boot under warranty. Didn't notice the issue until I brought it to another dealership for alignment and they pointed it out to me. Replacement leaked after 8 months, but Toyota dealer stated it was normal and never documented my visit since I didn't pay for it, so when it showed up as a definite leak 1.5 years later, I was out of warranty. Leak is small, so I'm still driving it as is.
Replacing front brakes at 90K miles required drilling out the rotor pins due to rust to put in new ones and avoid paying for replacement rotors. New pins are now properly greased. Replaced Lower Control Arms at 140K miles when alignment hardware seized from rust for caster/camber since never adjusted for all my alignments whereas only toe was adjusted. Nice that it stayed in alignment, bad that it was never exercised to prevent seizure. New LCA and alignment cam bolts/nuts are properly lubricated to prevent issue from occurring once again.
Have replaced resonator and muffler with new stainless steel OEM hardware. One of the pipes going from the catalytic converter to the resonator is leaking and temporarily patched with aluminum flashing and clamps until I get the pipes replaced. May still have an exhaust manifold leak which will cost me $1600 to replace and is not a job I would do myself. OEM radio died at 110K miles and was replaced with an aftermarket HD radio which now requires replacement as well.
Experienced a temporary misfiring of cylinders after a heavy period of rain due to carbon and rust buildup in the spark plug wells and inside the boot to the spark plug coils. Have since cleaned out the wells and coil packs and have not experience issue any further. Learned the hard way that waxing a vehicle is necessary in a cold climate to protect the clear coat from prematurely wearing down during winter snow months. Now need a chip guard for the hood to prevent daily rock chipping of paint.

I own a 2008 tundra which I bought new at Avondale Toyota. I also own a 2006 4Runner which is why I bought the tundra. The 4Runner is a great SUV but unlike my 4Runner my tundra has left me with a bad taste for Toyota quality which the tundra falls way short on. So here it goes, I only have 56k on it and I am on my 2 oil leak, the latest oil leak is the timing cover which they gave me an estimate of $3500 to fix. I thought for this price I might be Getting a new engine but no. This to me is a prime example of poor workmanship/quality. The days of owning a Toyota and driving it for 200k with little or no issues has gone the way of the do-do bird. Very disappointed. I guess it is trade in time. Maybe I'll get a Chevy at least the warranty is better. Buyer beware.

I noticed the paint on my 2010 Toyota Tundra was starting to dull with fist size spots all over it. Toyota gave me the run around and agreed to wet sand it, they called it "ghost spotting". It turned out ok but not like a paint job should look like. Still off dull.. I took the truck in because of tire balance issue. Service manager told me he thought he could get the truck repainted. Yeah! The service writer came to tell me they found a cam seal leak that needed repair. $2500 worth of repair. I only had 66,000 miles on it. 6000 miles out of warranty. The district rep said they would fix one or the other. I opted to get them to pay for the repair. I would live with the poor paint job. Toyota knows they have a problem with the Super White paint, but will not fix it. They leave me no choice but to buy a GM truck. I've bought 5 Toyotas but no more after the way they handled this.
Toyota Tundra Company Profile
Company Name:

Toyota

Website:

www.toyota.com