Consumer Complaints and Reviews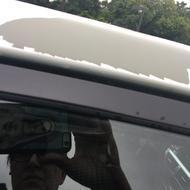 I have a 2012 Scion IQ and the paint is peeling off in sheets. This is happening on the roof mind you, so I can't even be blamed for cause the problem by hitting something. Toyota's response was to tell me paint is only warranted for 3 years or 36,000 miles so they aren't responsible. Obviously customer service isn't one of their top priorities.

A few months later I go on the weekend driving at normal speed on the highway (about 45 to 50 mph) and I notice that the check engine light comes out again. Generating another visit to the service building that was last Monday (4/17/2017 and today is Thursday (4/20/2017) and they still do not call me to tell me what happens with my vehicle and when I call services they tell me that person who is working with a vehicle is not and the manager cannot talk to me because he is with another client (of course he is with another client). They are doing very bad business. I just need someone to help me with this situation as this vehicle was financed and I have very high payments. Thank you and do not do business with Fordham Toyota / Scion Dealer which is 236 West Fordham Rd, Bronx, NY 10468.

Solid steering column, quick 4 cylinder with Turbo, haven't had any mechanical issues in 75k miles. I bought my 2011 Scion Tc used with 40k miles on it 2 years ago. I've driven it coast to coast across the US with no mechanical issues. I drove a v6 5speed VW before and was nervous about dropping down to a 4-cylinder, but this thing is surprisingly quick. Steering and control are very tight, just an overall well-made car.

Hello group. I up until Dec 03, 2016 owned a 2006 Toyota scion t/c which I loved very much and took very good care of. I am now in the process of screening attorneys and contacting my insurance company because my driver's side airbag deployed in my face right after accelerating from a cold start from leaving work. I got in, started my car and realized my gas light was on and my airbag light flashed which never happened before. I turned my wheel and put my car into drive and accelerated and that's the last thing I remember before someone beeping their horn asking if I was ok. The pictures and video below are proof that this really happened. I was briefly knocked out and was told I accelerated into a light post. If you own a Scion there is a recall on side airbags for this problem but not driver or passenger. I advise you call Toyota today and make an appointment.

2010 Scion XB - My experience with Hickory Toyota was very good. At first the financing went pretty smooth all the way. Had to be called back in order to finish my financing but I have been very satisfied overall. In the 2nd month, after I've had the car ranging from 2012 to now 2016 I have put 15 sets of brakes on the car back and front here. Lately I have had the rotors turned 28th another set of brakes. I'm still not satisfied with the overall appearance of the way it stops. My car stalled on me. Sept 2016 I had to put a battery in it which I had already put a battery in it a year ago from Toyota.
October my car stalled on me at the red light. I made it to my workplace and the car completely cut off. I called Toyota. They were very nice and send out a wrecker which cost me a lot of money to have the car towed for them to fix it. It was my alternator which cost me a total of $764 minus $100 that my insurance paid on the towing bill. My car still is not in Tip-Top shape but I could really understand because it does have over 200,000 miles on it. This is really getting on my nerves because of the way my car still is wanting to cut off at stops or when I come to a red light or stop sign.
I am very very confused with this. I just wonder what's going on with my Scion XB. Is it the mileage on it or do I just need to try to it something else. I've had a bad experience with this car and it seems to be getting worse and worser. Oh yes after I picked up my car from Toyota replacing the alternator, my car sound awful and sound like it was going to cut off. I told them about it, they looked at it again and said it should smooth out on its own. Well it has not. Thank you so much for listening.
How do I know I can trust these reviews about Toyota?
854,137 reviews on ConsumerAffairs are verified.
We require contact information to ensure our reviewers are real.
We use intelligent software that helps us maintain the integrity of reviews.
Our moderators read all reviews to verify quality and helpfulness.
For more information about reviews on ConsumerAffairs.com please visit our FAQ.

My kin folks were following me while I was driving on the highway and when we got to where we were going, I was informed that sheets of paint were flying off my almost new truck and hitting his windshield! I called Scion and was told that my 3 yr. 36 thousand mile warranty had expired. If nothing else it should be a violation of hazardous materials all over the roadways! They should not sell new cars that they forget to prime. The whole truck needs repainted!

I have had my Release Series 1.0 Scion xD now for 8 years and will turn over 100,000 miles this week. So far she has performed flawless. My only repairs have been a timing port gasket because of weeping and new headlights because of the typical fogging. New tires and oil (synthetic) as regular maintenance is all she has needed. I would give her a 5 star review however the clear coat is failing now, and Toyota will do nothing for me... not halfway, end of discussion. After being a loyal supporter and purchasing a number of their vehicles since 1985 I feel I have been crapped on. They will force me to go to another manufacturer. Whatever.

I bought my 05 Scion - in 2009. So relatively new- I wanted a Scion for a long time. So to my excitement I finally owned one. Now I am pretty car savvy. I can diagnose and hear what the issues are as far as ticking, grinding etc. For the first 6 years all was great. Then... the first thing that happened was - my interior passenger side window mechanism, broke - falling completely off of whatever pulley system was in place to allow the button to be pushed, no big deal.
The only issue I had after driving it off the lot at 4 years old was a very faint whirring noise in the back end... It would get louder with higher speeds. Ok had that looked at - I was told it was because my tires were cupped. THEY WEREN'T. I was told it was because they were low-pro and just sounded that way due to the level of the tire to rim ratio or whatever the hell someone tried telling me... That WAS NOT IT EITHER. Ok fast forward... The noise has been present since day one...
Then, my hatch started malfunctioning, sticking, and jamming. I would have to double click the lock manually from the inside of the car twice - before it would unlock the back hatch, and it still would stick. Eventually the weight of the hatch, bearing on that small plastic cover over the back of the hatch lift, broke - completely in half and dangled. I ordered a new one online to replace. 35 bucks, installed myself. I have never had any oil or engine problems, fluids leaking or what have you - I just hit 200k and still have an engine that feels like it is brand new. No sputtering, nothing. Quiet and smooth.
Then, the tires. Oh the joy of low profile sport performance, STUPID expensive to replace, and stupid in the winter. Winter tires. HAHAHA. Yeah 800 dollars later. Forget that **. The brake pads are comparable to the thickness of a pack of gum. I have done my brakes probably - 25 times in 8 years. I am not kidding you. The hub assemblies. I have the back left and right both replaced numerous times. The back right 6 times, and the back left 2x. Now both my fronts are ** - apparently when it's been looked at by numerous mechanics, whoever pressed the bearings into the hub assemblies prior to my owning - I hope... but used the bearings after they stripped it. So it caused some major stress and damage to the hub assemblies... warping them, and causing me to have to replace my hubs, on all 4 tires now - going on 12 times.
I have never had such a ** experience with parts, not lasting as this car has done. It pisses me off because the engine is great. BUT Scion makes things difficult when you cannot just replace the bearings, you have to replace the entire hub because of the way it is built. The hubs - which have warped numerous times, which come to find out - WAS THE ISSUE CAUSING THE UNGODLY CONSTANT-OBNOXIOUS whirring noise for the entire duration of owning the car.
I have not been happy with the quality of the parts as far as the tires/hubs/bearings. I feel like they were poorly set up being the first gen of the Scion tC. However I do love the car and I have an emotional attachment - BUT - this problem no matter how many times I fix and replace the hubs keep warping. And I am seriously sick of paying 90 plus a hub assembly - only to get 4-6 months of drive out of it before another one warps on a different side.
Overall the assembly of the car and its drive system is **. A lot of the car interior, like the floor boards that have come apart - carpet has peeled up - the cd player stopped working- the lights have malfunctioned, the locks and window buttons have broken, and to top it all off... the sunroof- sticks when trying to close. And when it gets to the point in closing where it is about to retract down and seal, it backfires and re-opens itself all of the way. I literally have to stick my hand out the window - press it down and guide it over the track and allow it to seal...
Oh and the weather stripping - it's discolored, and the front strip on the wind shield that disconnected on the free way while I was going about 75 and it was smacking my Sun roof causing me to almost crash out of being startled. So, no. This car is great to look at - and maybe whip around in - but it's not economical as far as quality and performance.

Since I buying this car (October 2015) in Puente Hills Toyota, 17070 Gale Avenue, City Industry, CA. When I using the navigation system (GPS) using radio or not THE NAVIGATION SYSTEM'S VOLUME IS LOW AND CAN BARELY HEAR THE VOICE. I went today August 18, 2016 to Puente Hills Toyota and they only update but they not fixed, I can't use my navigation system because is unsafe to see the screen only when I am driving.

I own a 2011 Scion Xb with 35,360 miles on it. My transmission has gone out on it and I am 1 month and 6 days beyond the 60 month factory warranty and because I did not have the car regularly serviced at Toyota facilities they refuse to work with me. Again, 35,360 miles on a vehicle that was/is regularly serviced just not by Toyota dealerships. Toyota dealership told me $5000.00 to replace transmission when in fact it is just a solenoid within the transmission that needs replacing. I will not be having the necessary work performed by Toyota. Up until this experience I was very happy with the vehicle but, for this to occur 1 month and 6 days outside of the 60 month/60,000 mile warranty on a vehicle with 35,360 miles on it is ridiculous. That is what I call very precise, planned obsolescence.

The air condition unlike all of the other vehicles leaks inside my car. I have own many other cars and when I turn on the air condition it drips outside. Well in my Scion it drips inside my car. It is so bad that it has saturated my carpet all the way to the back of my passenger side. So I call the place that I bought the car to make an appointment and to find out if it is covered by the car manufacturer warranty. He says, "NO, it's not. It will cost a minimum of $125 and then you need to replace the carpet and that will run you around $1000.00." I was livid. Never heard of such a thing. Toyota sucks! Will never buy another Toyota.

I leased a 2013 Scion. After about 30000 the engine blew. Just like the other review there was no check engine light!! No warning, the engine just quit!! When the mechanics at Toyota checked it out they said there was no oil in it. I argued with Toyota but they refused to pay anything towards the resolution of the engine failure. I had to replace the engine out of pocket. SIX MONTHS later the replacement engine did the same thing. I'm so aggravated with Toyota who's got the money to replace 2 engines in the same year due to manufacturing defects. I repeat due to manufacturing defects! If it lost the oil and the dummy light didn't go there is obviously multiple defects! This Scion FRS is a piece of crap. Toyota needs to man up and stop being **!!!

I got a brand new 2016 Scion iA. I fell in love with it until after 6 months of ownership and less than 7,000 miles my display screen started to turn off while I was driving it! I've gone to the dealership three times to get it fixed and they tell me since they don't see what goes on they can't do anything to fix it! The customer service is beyond lazy, unprofessional and rude! I have several videos of my screen turning off while I am driving it and they keep insisting that nothing is wrong with it! I know my car. I've had it for a little over 6 months so I know that something is wrong with it, but because they don't want to get off of their lazy butts and find the problem I'm having to be terrified that something else might go wrong with it!

I am a full-time student which doesn't leave me as much time as I would like for work. I also have 2 dogs that ride around with me when I do have a day off. The AC in my 2009 Scion tC has stopped working yet again for a 3rd time. I get that the AC is a difficult thing to understand because of all the mechanisms that makes up the AC unit, but to have this problem 3 separate times is wrong. My sunroof squeals and it scares me, sometimes my car really shakes when I first start it. I have read that many people had trouble with their engine blowing out. I could not afford that and most importantly I am concerned for my dogs Buddy and Teddy's safety as well as my own.
I understand there was never any warning signs before everyone's engine blew. I've been disgusted with the service provided to me so I've been really reluctant in my decision to go in for service. I will never spend any money there or on another car from there. My AC should be covered under warranty. If not they can keep the piece of trash they sold me. I'd rather walk everywhere. This made me give at least one star, in my opinion they really deserve 0 stars.

My car had a knocking noise. Had the car towed to FRED HAAS Toyota in Spring, TX - they will not warranty the car because the engine had no oil. However NO notification lights came on to warn us of any low oil pressure, therefore I was not aware that the engine did not have oil. We have maintained this car within the 3 to 5000 miles. As matter of fact the car is well taken care of - it is our baby. I cannot get Toyota to provide any info as to WHY WE NEVER got a warning light on the car if the oil was low. They will not go into that nor do they want to discuss. FRED HAAS AND TOYOTA both have just said no oil so it is not warrantied. This is not acceptable since it is clearly a malfunction somewhere whether it is the oil pump and the warning lights. I want answers and this car is to be warrantied.

My son recently had an accident. He lost control of his 2005 Scion tC. Hit a wall. According to appraiser, his car is totaled. Major front end damage. Neither airbags deployed. Is this something that has happened to others? I bought it used. Are car lots suppose to check on these things before they sell vehicles?

Since I bought a new Toyota Scion tc in 2007, I've had issues I've never had with a Toyota before. I was a lifetime loyal but this vehicle: intermittently radio station rotates to static, the hatchback slams down on my head and the dealer would not fix it or the radio randomly will lose a station, the hatchback door kept slamming shut so hard that the securement latch on the bottom occasionally jams where the door cannot be opened at all (the dealer charged me to open it), the paint scratches if you sneeze on it, the floor board protectors came apart, the cover around the stick shift came apart, the front bumper broke the first time I pulled into a parking place with a curb stop on front, etc.
Since I bought it, Toyota has made national news for this dramatic decline in quality. On the upside it was reasonably priced, the people at the dealership are always nice even if they are not authorized to acknowledge or take responsibility for the issues and it has a lot of zip. They've lost my brand loyalty nonetheless and this was the 6th Toyota I've bought!

I acquired this vehicle from my brother-in-law two years ago. I've noticed that when it rains, the rear seat floorboards end up soaking wet -- in some cases, with standing water. My cursory examination seems to indicate the problem is much worse when driven in the rain as opposed to a static situation. I am now suspecting that the rear wheels throw water up into the wheel well when in motion and that water gets in through the body and ends up on the rear floor.
I believe this may have been a problem for him as he complained about the 'smell' of mildew in the car but mistakenly believed it to be from a repair to the rear hatch that was improperly done by the Scion dealership he visited in Los Angeles, CA. He never established where the smell came from and of course, being California, it only rains a few months out of the year, so the problem would only present at certain times. I keep getting postcards in the mail from the local dealership telling they would like to 'buy my car' - towards a trade-in of course, and I think to myself, 'I would never buy a Scion or a Toyota again.' I am going to assess the car this weekend and attempt to establish if my theory is correct and, if so, I am going to clean it up and apply some spray-on rubber to points.

Handle broke. A/c controls broke. Replaced belt more than once, never stops squealing. Driver side lock broke.

Terribly frustrated with Toyota's Scion. I have an '05 Scion TC. My back door handle broke off because the part is plastic and wasn't designed to handle the weight of the door. This is a common issue for most Scion owners. I called to speak with both my local Toyota dealer and Scion corporate and both told me there was a warranty extension issued a few years ago, but it wasn't recalled. My car is an '05 and the warranty enhancement program only extends 5 years from the date of first use. So, now I'm out of luck. I can spend nearly $400 to get the part repaired, or drive with a dangling handle next to the Scion logo. Looks like Scion's going to look bad on this one.

I bought a 2007 Scion Toyota brand new, I did the oil changes and maintenance as required. I started having problems with the oil consumption. This has been the worst car ever. I am very upset that I have to frequently check my oil because it runs low. I'm a full-time student now and this car has been very inconvenient. I don't think I will ever consider buying another Toyota car again.

Well, it sure was a life changing experience to say the least. I am not a car-savvy user who knows ins & outs of how a car works and I admit that. But I am a layman who understands that when you get your car for a routine service and end up paying ~$500 for it, the least you can expect is the car works perfectly fine. What you do not expect is while you are going at 75MPH on a freeway, your car steering wheel freezes and within 30 seconds all the indicators start going haywire, you barely escape a life threatening accident and your wife has a panic attack in middle of all this!!
What you do not expect is then the service center to care so little for what has happened that it starts defending the work done earlier well before even inquiring if the people associated are fine!! What you do not expect is the engineer then gives you another $400 bill saying its for the battery and alternator failure! But guess what, Round Rock Toyota Scion, you tick all the boxes here!! Kudos to you for that!
Can I put a price on my wife's panic attack and a migraine that this caused her? Can I send that bill to you? Can I put a price on the trauma that I had to go through because of all this that made me miss the work??? To add to that, the reason I drove that car was because your agent asked me to add about 30 miles and get it back to the center the next day... Now I am not an expert, but it surely looks like you couldn't care less for customer's satisfaction, let alone his or her life! Thank you for the wonderful experience!!!
Now, your service manager was nice enough to give me a discount ($55!!!!) and I do thank him for that. But this has to be the worse customer service experience I've ever had in my life! Thank you for that!!! Also, if you intend to reply here, please do not ask me to call the service center again or try and tell or convince me that the "issues" that almost led to 2 accidents were all coincidental because I've heard that and I truly do not have any trust or time left in the excuses that you would make.

Had my 08 Toyota Scion for a year and motor went. No light telling me oil was low. I had the var towed to the dealership and said car needs a new motor. Way too much for me. Had another motor put in and a year later same thing happened. No oil again with adding oil every week. Took to mechanic and he said the exhaust seal need to be replaced. He took it for a test and the cat started banging. He said it was clogged and can catch on fire. The oil is all going into the cat. Every 60,000 miles he recommends replacing the cat. Ridiculous. This is the worse car and I am being treated unfair by the bank and the dealership.

My 2009 Scion XD had thick black smoke pouring out of the driver's side door after I started the car and rolled the windows down. It smelled like burning tires. I was in a crowded parking garage on the 4th floor. I turned the ignition off and ran away from the car because I thought it was going to go up in flames. Luckily the smoke disappeared...but not the putrid odor. I proceeded to drive home...but I was petrified the entire trip. I called the dealership the next morning and left a message. No one returned my call. I called back a total of 12 times....nothing....so I called back again. No one would help me. I took the fuse out that powers the windows and drove up to the dealership. I located a service advisor and told him what happened. I have an appointment tomorrow morning. I'm really frustrated with this situation. I wonder if anyone else has experienced this type of problem?

I purchased a new Scion XB in 2008. I drove it for around 55,000 miles with no major problem. I gave it to my daughter for her first car. She brought it in for oil change and the car was almost empty of oil. I told mechanic to check for leaks. None reported. She drove home for weekend and I checked the oil myself and oil was low again. Check engine light didn't come on. Added more oil, now I get a notice from Toyota that they may have a problem with oil consumption. She brought it in to dealer, they gave oil change, sealed the oil refill cap. One thousand one hundred miles later, they will check oil loss. It's burning oil, and I don't know what will be the conclusion of this problem. Plus the dealer, stinks. Not helpful.

I bought a used 2007 Scion tC for my son's first car. He loves the car he kept it clean and kept up the maintenance on it etc. He drove to his grandparents' house that is three hours away when he got there he said something was wrong and that it started running weird. I told him to check his oil and when he did it was low. He had to put 3 quarts in it. After that it started running fine. When he was heading back home with his grandmother in the car it made a loud noise and they pulled over to the side of the road. We had to have it towed three hours back to our house to a mechanic that we use. He looked it over could not find any leaks and could only tell us that the engine blew from low oil.
After much discussion (my son loves the car) we decided to have a new engine put it cost us $3000. A week later we received a letter saying there was an issue with our Scion tC and it may consume too much oil. We were told to take it in for special testing. I called the number on the letter, told them what happened and was told that because I hadn't taken it to a Toyota dealership that there was nothing they could do to help reimburse us. Since then I have found that there are already court rulings regarding the issue of taking vehicles to only dealerships for service.
Our mechanic is in the process of calling the number on the paper and talking to them regarding the engine and no leaks no warning signs nothing. The next step will be small claims court or possibly looking into a class action lawsuit regarding Toyota's lack of support in notify consumers regarding the over consumption of oil issues and lack of willingness to stand by their crappy products. My advice don't buy a Toyota/scion.

I have owned several Toyotas in my lifetime and have never had a complaint...until I bought the 2013 Scion xD. Very poorly put together death-trap. The noises that come with every day, normal driving are constantly increasing. The front end sounds like it will fall out any moment, the windows squeak and squeal when put up/down, the rattle "somewhere in the dash area" is maddening, and if I have to hard brake...oh my gosh...sounds like the front of the car is hitting the pavement! And I have new, very expensive tires on the car!
The service personnel at the dealership keep saying that the problem "can't be duplicated." I have 25,000 miles on the car and the serpentine belt and battery had to be replaced. The interior is cheap and falling apart. WORST decision I ever made!!! Toyota...wake up and pull this car off your list! You are losing loyal customers in droves! This car is dangerous!!! Now to hear that airbags aren't deploying on impact!!! God, what next on this car?

Poor customer service on a known issue. I am the second owner of my 2006 tC. I was never notified of the issue and Scion refuses to assist as it is outside the 'extended warranty'. Basically being punished for taking care of my car up until this point. Back door hatch garnish snapped off. I called the dealership who just said I had to call Toyota's corporate office. When I spoke with **, she stated that was incorrect and I should have called Scion directly. She was kind enough to transfer me to ** within Scion directly.
I cut to the chase with ** who ultimately stated the following, "There is nothing we can do. I understand the letter may have been lost in the mail, however the 'extended warranty' has expired." I continued to ask why the dealership did not make me aware of this and he stated, "The warranty only covered the part during the warranty period, should it break after that is not something they could cover although it was acknowledge as an issue." I had asked to speak with **'s supervisor, ** who has yet to return my phone call. I was also injured at the time the hatch decided to fail in opening.

I am a Toyota/Scion person! In fact, my whole family is! But I'm very upset about my treatment regarding the way Scion has passed the proverbial "buck" on to me. I finally heard that there was a recall of the hatch/garnish for my 2005 Scion! I was not personally notified. So I called when I heard about it and was told that in order to qualify I would have to produce a receipt that I actually had bought & replaced my hatch.
As Murphy's law would have it the receipt is misplaced and my Scion dealer in West Palm Beach had revamped their computers and all previous info had been deleted including the receipt for the hatch I had bought! With no proof that I had already replaced my garnish, which took me 4+ hours, I am now not able to take advantage of the recall. As you might have garnered from my complaint the 2nd hatch I installed also has bitten the dust. So for the past 6 years I have not been able to open my trunk. Very aggravating! I have used duck tape to hold it on all these years waiting for this recall that I can't take advantage of due to a missing receipt! Very disappointing Scion. Is there anything that can be done about this?

I am writing this letter to Toyota today due to an unfortunate event that has occurred. This is in regards to my 2007 Scion TC currently at 120,000 miles. On Thursday March 19, 2015 my motor blew 28 minutes away from my destination in Panama City Beach, Florida. I had left the previous night to drop off a friend that was going down to Florida. We performed all regular auto checks as anyone would when going on a long trip like we did. We checked the tires, windshield washer fluid, blinkers and the oil. We noticed the oil was fairly low, so while we were at the gas station we had purchased (3) quarts of oil (receipt not on hand) to add in. As we proceeded on our trip we were 28 minutes away from our destination and my oil light came on and stayed on, this has never happened. It has only blinked before and as soon as it did I would check the oil level.
So as soon as the light came on, I got nervous and told my friend "let's stop at that gas station ahead (approximately 1,000-2,000 feet in front of us) to check the oil before my motor blows". As soon as I said that my car made a clanking noise and started smoking. I felt as if I was in a movie. Luckily, I was only driving 45mph and could pull my car into the grass median. As soon as I pulled my car in the median I opened the hood and it was steaming and my car had stalled itself out is what I assumed. At this moment I had no idea what was wrong with the car. I didn't know the motor blew. It's a Toyota there's no way my motor should blow, I was thinking in my head. My friend and I searched the road and grass to see if possibly a part or anything had fell out. I found a metal piece which was the connecting rod that at that time I didn't know what it was because it's currently in half. (Can provide photo if needed.)
So, an older man and his daughter pulled up in their minivan and asked us if we needed help. We checked the dip stick and oil level and there was no oil in my vehicle at all. The dipstick was completely dry. Once again, we had no idea what was wrong with the vehicle at the time. So, the older man suggested to add oil. I had mentioned that possibly the motor could have blown and we thought maybe the motor hadn't seized yet. He drove up to the gas station and bought a (5) quart of 5w-20 to add into the car. (Once again receipt not on hand, wasn't my concern at the time considering I was in the middle of the highway with a car that wouldn't turn on.) I am currently in the process of locating the gas station and seeing if they can retrieve a copy of the receipt for me.
After we added the oil the vehicle still would not start. He stated he had chains and a hook to tow my car which is when we towed it right up the road to Bay's Auto. It stayed at Bay's Auto and he had determined that the motor blew. At this point I had no idea what to do. He stated it was most likely due to the vehicle having no oil in it. Now, I had received the Toyota letter for excessive oil consumption problems that were being reported two days before I went on this drive.
When I came home that next day I went to Metro Toyota and they suggested that I call Toyota corporate and the Panama City Toyota. I called Toyota and told them what had happened and they assigned me a case manager. Her name is ** . ** calls me and I explain to her everything that has happened above. Also, I had explained to ** that I was planning to bring my car in to get the oil consumption test due to my vehicle consuming excessive oil. October 12, 2014 my car had 112,000 miles. Now, March 19th my car is at 120,000 miles. In a matter of 8,000 miles I have changed my oil myself twice and had the oil changed at Conrad's and at Kal's Auto Group.
The last oil changed I performed was in February which I provided ** a receipt of the oil and filter that I purchased on January 31st from Advance Auto and had stated on there it was for a 2007 Scion. Not to mention I ONLY use full synthetic oil which is projected to last anywhere from 5-8,000 miles if not more. She tells me to gather all my oil change, oil fill-up receipts and anything else pertaining to this oil consumption issue. I gather all the possible receipts that I have. Like I stated earlier I do not have all of the receipts, which is my fault for not keeping them all.
After two days ** calls me and tells me there is nothing they can do for me. She stated two of my receipts were not valid enough and I had stated "okay, even without those two receipts it still states that my car was consuming more oil than the average amount." She continued to tell me that "the techs have determined the motor did not blow due to oil consumption because they found oil on the dip stick". Well, of course there will be oil on the dip stick, we added (5) quarts of oil AFTER the motor had already seized. She tells me I can pay for the engine tear down, or pay Toyota $7,000 to repair my Scion TC that is most likely worth $7,000 and that is all. I'm sure you can pull up the telephone conversation, I was not very pleasant with her.
She stated that there was nothing they can do and that was it. After this I called Toyota, spoke with ** and he even stated that it will not be worth it for me to pay to have the engine tear down completed since something like oil consumption is very hard to prove. I feel VERY mistreated and undermined. I don't believe I would be as upset if I knew that Toyota had done everything to help me. At the beginning of this process I knew I had two outcomes to expect from Toyota, they would either fix my car or not fix it. Now, my problem is that Toyota did not help me to the best ability that they could have. I understand I do not have all of the receipts for the oil added but is that a sufficient reason to just close the case and leave me with nothing?
I understood from the beginning Toyota may not pay for this and that is not even the reason why I am upset. Toyota did not provide me a sufficient reason to why my motor had blown. That was it, case closed. I understand you do not work off of hearsay but I am just suggesting add the pieces together. I do not feel treated as a valued customer one bit and I will spread word of my horrific experience with Toyota. I do not think I will EVER buy a Toyota again due to this. I will be sure to never refer Toyota to anyone. I hope this letter goes to someone who can take this into effect and hopefully treat other customers with more respect, understandment and appreciation.
Toyota Scion Company Profile
Company Name:

Toyota

Website:

www.toyota.com