Best wheelchair vans
Compare wheelchair van companies


Written by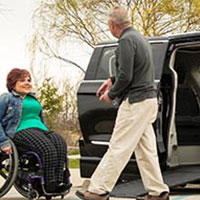 Wheelchair users can get around with the help of a wheelchair accessible van. Whether the user intends to drive the van or act as a passenger, there are many options available. You can find reliable car models with the necessary modifications to make a van safe and convenient for wheelchair users at a variety of dealerships. They're partially tax deductible.
Our 3 favorite wheelchair accessible vans
When comparing wheelchair accessible vans, we considered pricing, customer service, vehicle features, warranties and availability. When buying a wheelchair van, make sure to consider whether you prefer a side entry or rear entry option. Ask the company you're considering buying from if they have any available discounts, and do research to see if your state offers any additional financing options. Last of all, make sure to test drive the wheelchair van to confirm it's a good fit for you. The best wheelchair van companies will be happy to let you take one of their models for a spin.
Types of wheelchair vans
There are broadly two types of wheelchair vans: side entry and rear entry. Side entry is better for wheelchair users who want to drive the van. Rear entry is preferable for families where one of the children is using a wheelchair.
Side entry wheelchair vans
GREAT FOR:

Parallel parking
Drivers or passengers using a wheelchair
People open to modifying their vehicle
Most non-commercial wheelchair vans are side-entry. It's easy to pick up or drop off a passenger curbside with a side entry wheelchair van. If the van has a ramp for exit and entry, a handicap space is usually needed to accommodate for the extra width needed. Side entry wheelchair vans typically have seats that can be removed. Some even have seats attached to the door that can be set up once the door is closed. Side entry vans allow the wheelchair user to either ride as a passenger or drive, making them a good choice for wheelchair users who want to sometimes or always drive.
Rear entry wheelchair vans
GREAT FOR:

Perpendicular parking
Passengers using a wheelchair
People wanting minimal vehicle modification
Rear entry wheelchair vans feature a lowered area in the rear to accommodate the wheelchair and a foldout ramp. With this setup, you don't need to modify the van as much. The middle seats can remain unmodified and allow for other passengers to sit there. This type of conversion typically costs less than side entry conversions.
Although this modification is minimal and in many ways more convenient than side entry, it really only works for wheelchair users who don't intend to drive. Parallel parking is also a challenge with this setup, since a large amount of space behind the van is needed. Rear entry wheelchair vans are great for families where one of the children uses a wheelchair.
Wheelchair van costs
How much is a handicap van?

A wheelchair van can cost anywhere from $40,000 to $100,000. Wheelchair van prices can be broken down into the price of the van itself and the cost of additional modifications. The cost of a van can range from $20,000 all the way up to $70,000. The cost of handicap van modifications ranges from $15,000 to $30,000. This might seem like a lot, but these modifications require highly skilled, careful engineering.

Grants are available to help offset wheelchair van costs. Availability varies by state, as does the amount offered. Certain charitable organizations can also help, as can Veterans Affairs programs.

Will Medicare pay for a wheelchair van?

Probably not. Medicare Part B is the only part of Medicare that might cover a handicap van because it allows for coverage of durable medical equipment (DME). But usually, Medicare will not cover it. This varies by state, however, so it's always a good idea to check the rules where you live.

Will Medicaid pay for a wheelchair van?

Not in most cases. Medicaid generally follows the same rules as Medicare. Except in the most severe cases of need, Medicaid will not cover the price of a wheelchair van. Disability grants are available, however, to help cover the cost of a wheelchair van.

Is a wheelchair van tax deductible?

Partially. The handicap vehicle itself is not tax deductible. However, any modifications made to the van in order to make it wheelchair accessible are deductible. Besides a ramp, other deductions include transportation for medical purposes, gas, tolls, parking fees and insurance premium costs. If the van is being driven for commercial use, further deductions are available.
Our favorite
BraunAbility
BraunAbility is our pick for handicap accessible vans because of their fair pricing, wide selection and nationwide availability. BraunAbility has five models to choose from: the Toyota Sienna, Chrysler Pacifica, Dodge Grand Caravan, Honda Odyssey and Ford Explorer. Every BraunAbility van comes with a 3-year/36,000 mile limited warranty. BraunAbility is also able to convert certain vans into wheelchair accessible vehicles.
A free survey on BraunAbility's website helps users find the best van for them. The survey asks relevant questions like whether the wheelchair user will drive the car, what type of ramp is desired and how tall the user is when sitting in the wheelchair. Once you've completed this survey, BraunAbility will recommend one of their models. You can also "build your van" on the site, starting with either the vehicle's make and model or the conversion type. Other options to choose from are trim, color and customizations. Customizations include the docking system, transfer seat base, hand controls and the independent driving system. Rear and side entry options are available. Each van model includes a manual latching system.
You can search by ZIP code for dealers near you, and also search through the dealers' inventory. BraunAbility vans must be purchased through a dealer, not through BraunAbility's website.
BraunAbility Wheelchair Vans
Starting price
Features

Dodge Grand Caravan

$43,179

Rear-entry and side-entry options
Flip-N-Fold for more seating
Power doors

Chrysler Pacifica

$50,480

Rear-entry and side-entry options
Power 8-way driver's seat
Premium fog lamps

Toyota Sienna

$58,495

Rear-entry and side-entry options
Power 8-way driver's seat
Blind spot monitor

Honda Odyssey

$67,750

Side-entry option
In-floor power ramp
Blind Spot Information System

Ford Explorer

$71,765

Side-entry option
In-floor power ramp
Forward sensing system
Great features
Vantage Mobility International (VMI)
Vantage Mobility International (VMI) offers four different models of wheelchair vans: the Chrysler Pacifica, Toyota Sienna, Dodge Grand Caravan and Honda Pilot. These are available with side entry and rear entry options. VMI offers up to $2,000 in rebates for veterans and has a wealth of resources on its site to help veterans understand their benefits.
Other resources on the VMI website include dealer locators, vehicle builders, payment calculators and information on financing options. You can also get in touch with customer service or request a demo. VMI's helpful vehicle selection tool will match you to the vehicle that best fits your needs. VMI's models have convenient features like power ramps, park assist, voice command, blind spot mirrors and rear view cameras. Every van comes with a 3-year, 36,000-mile limited warranty. You can check out 360-degree interior and exterior views of the vans on VMI's website to get an idea of what they really look like. Through the dealer locator, you can find a local dealer and also check inventories of any VMI dealership. If you find a van you like, you can set up a test drive through VMI's website.
VMI Wheelchair Vans
Starting price
Features

Dodge Grand Caravan

$50,385

Three ramp options
Rear backup camera
Park assist

Honda Pilot

$56,044

In-floor manual ramp option
Multi-angle rearview camera
Vehicle Stability Assist

Toyota Sienna

$58,535

Three ramp options
Blind spot mirrors
Power liftgate

Chrysler Pacifica

$65,117

In-floor power ramp option
Park assist
Integrated voice command
Our pick for warranty
Rollx Vans
Rollx sells new and used wheelchair vans. Their five models include the Chrysler Pacifica, Dodge Grand Caravan, GMC Savana, Dodge Ram Promaster and Ford Transit. Each Rollx van comes with a solid 7-year, 100,000-mile warranty. Options on their vans vary and include useful features like rear backup cameras, keyless entry, power 8-way driver's seats and brake assist.
Rollx is committed to helping out veterans who need a wheelchair van. In addition to supporting the National Veteran Wheelchair Games and working with the Semper Fi Fund, they also have a program offering $1,000 off for veterans and will process any VA paperwork needed for a purchase.
Once you purchase a van, it can be delivered straight to your home. Rollx will also help with repairs. A Rollx technician can come to your home, or a Rollx customer service member can help you find an appropriate service shop. Their roadside assistance is also available 24 hours a day and comes free with any purchase for the first year. This includes towing services, flat tire assistance, gas delivery, lockout service and more.
Rollx Wheelchair Vans
Starting price
Features

Dodge Grand Caravan

$54,845

Power 8-way driver's seat
Rear backup camera
Power liftgate

Chrysler Pacifica

$60,295

Rear backup camera
Ready Alert Braking
Keyless entry

Ford Transit

$67,995

Reverse park aid
Rearview camera
AdvanceTrac from Ford

Dodge Ram Promaster

$69,995

Rear backup camera
Brake assist
Rear park assist

GMC Savana

$99,900

Stabilitrak
Rear backup camera
Driver's power seat

Bottom line
Mobility vehicles like a wheelchair van can make it easy for anyone in a wheelchair to stay mobile. To help offset the high costs, look into state grants that can help pay for wheelchair vans. Make sure to test drive a van to see if you are comfortable with it. It can also help to write down a list of features you want in your van before buying. A wheelchair van is worth it for the sense of freedom and wellbeing it brings. If you're not able to buy a wheelchair van, a wheelchair lift is an alternative option.
Did you find this article helpful?
|
You're signed up
We'll start sending you the news you need delivered straight to you. We value your privacy. Unsubscribe easily.