Consumer Complaints and Reviews

I'm so over Nissan. I can't even begin to formulate my frustration into words, but I will try. Ever since I purchased my 2013 Nissan Altima I've had nothing stress and headaches. The car has not broken down on me, but I know that there is a problem because when I accelerate on the gas there's a vibration throughout the car. It's loud and sometimes it feels as though the car does not want to accelerate. On top of that there's a humming sound that will not go away and the car jerks a lot. When I try to drive at a constant speed of 20-30 mph there is a constant vibration and it sounds horrible! The dealership where I bought the car from is named Car Vision. DO NOT GO THERE TO PURCHASE A CAR! All they will do is basic maintenance and send you to the manufacturer to have your car serviced for major repairs like they did with me.
When I bought the car it had less than 25,000 miles and now it has a little over 25,000 miles. I took the car to a certified Nissan dealer on Essington avenue in Philly and he told that's the way the car should sound and was very impolite in regards to my concerns about the car. Later I decided to take it to Ardmore Nissan to be service and all they are telling me is that nothing bad is coming back from the codes, so the car is fine. They hear the sound, but there's nothing they can do about it.
So I guess they're waiting the transmission to go and I will not have any transportation to get around in. I've only had this car for a month (10/4/16-11/10/16) and I thought that I was getting a good deal. I thought Nissan was great running car. I had to take my car to MIDAS, just so they could diagnose what was actually wrong with the car. I've seen several reviews from other Nissan owners experiencing the same complication, such a huge mistake buying a Nissan once again.

I own a 2014 Nisan Altima and the problem I have is that when I drive around the city and I stop constantly the car wouldn't accelerate. The RPM would jump up but the car would not move. I would have to stop and turn the car off and then turn the car back on and the problem stop for a while but if I continue driving it the car would continue with the same problem. I don't know what to do. Can someone tell me how can I get this resolved?

I purchased my Altima in June 2015 from Enterprise Car Sales, and it had 34,000 miles. A year and 3 months later (September 2016) I am having fuel pump and transmission problems. The car has 54000 miles. I call Nissan because I see that that they had a recall on this model's transmission and request assistance with fixing this problem, because it will cost me at least $3500 to fix a car I have had for only a year, and I was keeping up with the regular maintenance on through Nissan Dealership and now I am without a vehicle and about to be out of money to fix this problem which is obviously a Nissan issue. But I digress. Nissan states that the recall on the transmission was VIN# specific and is not applicable to me. I am livid and want nothing to do with Nissan and its deplorable customer service.
To spend what I consider a decent amount of money, my hard earned money, on your undependable product/vehicle is shameful and now a company/product that I once considered reputable is now synonymous with trash to me. (I previously owned a 89 & 92 Nissan Sentra and those were good cars.) However, it appears Nissan has become comfortable with cutting corners, and are equally as comfortable with passing the ramifications of a poor quality car off to the consumer. Again shameful. I discourage anyone from purchasing this car new or used. I encourage consumers to do research before purchasing a Nissan. I wish I had.

We recently purchased a used 2014 Nissan Altima. It only had 24k miles and in great condition. However, after one month of owning her and driving, the transmission decided to not accelerate and leaving me and expensive clients on the freeway dropping to 25mph. Whatever is wrong with these cars needs to be recalled and pulled off the road. And also have had a problem with the cotter pin continually loosening and there is a vibration and hesitation at times when accelerating. Poorly made and definitely a road hazard.

I am currently going through the process of contacting Nissan Consumer Affairs about Nissan's rejection of services. I have a 2014 Nissan which I got in July of 2014 with 4000 miles on it. It was previously owned by the the dealership's owner. The car began to have hesitancy issues at stop lights and stop signs but I thought it was me. The car's RPMs would soar up and the car wouldn't budge an inch. I would stop and restart the car after a few min. As it would happen sporadically, I began to fear for my safety so I took the car to Kelly Nissan on 95th in Oak Lawn and the dealership where I bought it, Star Nissan on Touhy. It took them a week apart at 57000 miles. Both dealerships gave the verbatim response that because the issue was non replicable they could not assist me in any way. The dealerships both wanted to charge me for "services" like verifying the issue.
The issue persisted until it finally happened again and the check engine light came on. Was able to drive the car to an AutoZone where they ran the codes on the car and told me the transmission was gone. Called Nissan Consumer Affairs and informed them of my two documented cases of bringing the car in for evaluation. They just contacted me, while I write this, asking me to take it to a dealership for evaluation. Will keep everyone posted on the outcome.
How do I know I can trust these reviews about Nissan?
638,664 reviews on ConsumerAffairs are verified.
We require contact information to ensure our reviewers are real.
We use intelligent software that helps us maintain the integrity of reviews.
Our moderators read all reviews to verify quality and helpfulness.
For more information about reviews on ConsumerAffairs.com please visit our FAQ.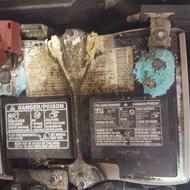 2013 Nissan Altima: My battery cracked and ate through the terminal contacts/wires. Replacing everything now for $255. Found out by accident. I came to the dealership to replace the handle on the front driver-side door. I would count that as a fluke, but the handle on the passenger-side front door has already been replaced. Coincidence? Problem with door latch mechanism. I've already replaced a tire pressure sensor. We have been a Nissan family.

I have had my car for 1 year now. I started having issues for over a month where it makes a rattling, shaking noise on the right hand side in the morning and it would go away after it got warmed up. I took it to the dealer (Hooman Nissan of Long Beach) the 1st time, they couldn't find the noise but my battery needed to be replaced because it failed a battery test. The noise was still there I took it in 10/4/16, they kept it overnight 10/5/16. They said it was the strut, they changed it.
I picked up the next day, 10/6. I picked it up in the morning and drive off the noise was still there went back 10 min after took my concerns to Service Department Manager. they kept it again. I got a call on 10/8/16, was told that it was ready they said it was the right side wheel bearing. Ok, took it for a drive with a tech, it was fine. The next morning, noise was still there. I called Hooman Nissan of Long Beach on Monday 10/10/16 so frustrated, overwhelmed. I felt I was not being heard and they were just guessing what the issue was. I was told to call Nissan of North America, called same day, 10/10/16. They started a case for me, got a 1 missed call from them on 10/11/16. Had a voicemail that a case was open and will get a call back until Friday to review my case. I tried calling, could not wait until Friday, emailed the guy. Nothing...
Got a call Friday, 10/14/16, that he reviewed my case and will talk to a service specialist to schedule something. I informed him the noise was more often and that I worked and it would need to be early morning or when I am off he said that he will let the service specialist know because they only work Mon-Fri and will call me back next week, Tuesday, 10/18/16, more waiting, got a call that the technician is available on Thursday, 10/27/16, at 10am. I told him it would have to be earlier or on my Friday off. I have missed so many days from work and I can't request any more time off and again told him the noise is in the morning the car would need to be there the day prior. He said he will let the technician know and will call me Friday this week to let me know.
I am so overwhelmed and stressed out with this situation that I don't know what to do no more. It's like they don't want to work with me. My main concern is my safety and my children's safety because I drop off my kids to school and I don't know if it's even safe for me to drive it like that I'm so overwhelmed. I work so hard to pay my car and it has this big issue that I have to be worried about every morning hoping and praying everything will be fine. But it's a big concern to them because they are taking their time with my case and they guy said he doesn't know if it's safe because he is not a technician. I just want to be helped and have my car get the attention it needs as soon as possible.

Beware - I have a 2012 Nissan Altima with 85,XXX miles and the transmission has failed. No assistance from Nissan, even though it is common with this car (as you can see online). If you must purchase this car, buy the extended warranty. Better yet, purchase something else.

My 2014 Altima Nissan started stalling at stop signs and red lights about one month ago. I took it in to Nissan dealership and they can't find the problem. They keep insisting that we take it back, I keep refusing, as the last time it stalled I had my 5 year old in the back seat. Nissan is putting their customers and families in danger. They've had my car for one month but have not identified the problem. My husband took the car for a drive with the service manager two weeks ago and the car stalled, so they have witnessed the issue, but because they can't get it to replicate in the shop, they say they can't find the problem. Now want to send us home with the car and the diagnostic computer so when it stalls again, we are to plug the computer in the car so it can catch the problem in action. They also handed over a bill of $800, though nothing was fixed. Unacceptable! I will be fighting this with Nissan's head office and will seek legal counsel if needed.
Nissan settled a class action lawsuit against them for similar problems with their Infiniti's and Pathfinders, here's the link: **. We have decided that we will be trading in the car, my concern for my family's safety and other innocent people's safety has given me no choice. I am so disappointed in Nissan. I was told they were an ethical company and their cars were very reliable, now I know both statements are false.

I have been purchasing Nissans since 2002 and usually upgrade every 3 years after warranty runs out. They have gotten cheaper each time! The 2010 was an absolute lemon, so I upgraded to the 2013 which hasn't been much better. My 3 year old car needs more new tires, front and rear brakes, another new battery AND a compressor since I have no a/c (and live in AZ). ARE YOU KIDDING ME! I stopped taking my cars to ANY of the dealerships for service or even oil changes because each time it would come back with something else broken or not working.
The service depts at each of the dealerships I've been to all have the same problem... RUDE service techs that aren't interested in giving you the time of day. You walk in and just stand there and not a single one acknowledges you... and I'm a decent looking blonde woman. Go figure! Now I'm worried the transmission will be the next thing to go and I'll be stuck with the car. Time to switch to TOYOTA!

I have a 2014 Nissan Altima who car transmission went out on me while driving with my 3 kids in the car. Nissan knows the cut transmission is an issue and won't do anything about it. Is anyone interested in joining me in a class action lawsuit against them?

I have owned my 2013 Nissan Altima for 2 years almost to the day. I also purchased the extended warranty good until 5 years/84,000 miles. I drive 55 miles one way to work. My car has approx 92,000 miles on it. About 2 weeks ago I was driving through my town and the car kept stalling out when I would come to a stop light, but I was able to restart and move on. I thought that maybe I either had a bad load of gas or that I had been running the air conditioner too much. I promptly took it to a mechanic that I had used for oil changes and minor work. They diagnosed it as a transmission problem and wanted to replace the transmission. They charged me $148 for diagnosis.
I wanted a second opinion so I took it to a mechanic that came highly recommended. He had the car for 2.5 days and stated that he couldn't definitively point to a transmission problem. He did say that the battery was bad and replaced that. I was charged for the battery and $40 for diagnosis. I drove it home. The next day it started stalling on me again while I was driving up my street on my way to work. When I returned from work, it stalled again on the highway. That evening it stalled and bucked while I was at slow speeds. The RPM's were racing but it had no power. I reported this to the second mechanic. I also called Nissan who gave me a reference number and suggested that if the car continued with the problems, to take it to the dealership.
I did take it that evening and parked it. I received a diagnosis of "bad transmission" and was given an estimate of $4200+ tax. I was told that since my extended warranty ran out that I would be responsible for the payment in total. I see that others have had issues with their Nissan Altima's 2010 & earlier (these had been covered and warranties extended to 120,000 miles). I was told that my year has "a different model" of transmission. However this transmission obviously has issues too.

Purchase a brand new 2015 Nissan Altima. A month after purchasing my Altima, noticed VIBRATION of steering wheel, side armrest, breaking pedal. Took to the dealer (Mossy Nissan, San Diego). I was told to keep driving the car. Car need to get used to it and eventually will go away. Really, it was all bunch of **! The vibration got much worst. The all car vibrates now. Went back to the dealership about the vibration... They told me that it is the character of the Altima and the CVT transmission.
Went back to the dealer again with another problem: the gas tank is defective. LOUD NOISES IN the GAS TANK! Gas sloshing/clonking, while driving, turning on corners, stopping, reversing or going over a bump. Nissan and the dealership has SAID NO to fix or replace the gas tank. I guess Nissan has not used Baffles inside the tank. I am stressed and panicky. I think it's very dangerous having gas sloshing in the gas tank. Why do I need to live with those problem, after spending $24,000.00 on a new Altima?

I bought this car with 0 miles and before one thousand miles started giving problems such as the alternator. Which had to be replace. The passenger airbag. Knocking noises to the back and under the car. My speakers sound horrible. And many more problems. I made a claim with NMAC Nissan corp. They didn't want to help me and said everything was normal. All I want to say is I threw away 36 thousand dollars on buying this junk.

I bought 2013 Nissan Altima in 2015 with roughly 47,000 miles and currently has 70,189 miles. Vehicle had no prior issues other than routine maintenance but it turned out new transmission was needed when I took the car into Nissan dealer when car started to shudder and vibrate when coming to stop or moving in low speed.
After diagnosis, I was astounded when dealer told me I needed new transmission because the internal mechanism was locked and whole new transmission was needed. The cost to replace the transmission was more absurd when they told me it would cost $4,315. I opened the case with Nissan Consumer Affairs but the rep who handled my case pretty much said I was out of luck because the powertrain warranty had already expired.
I could not help notice number of people complaining about the same issue with their 2013 Altima. Nissan had recall on their 2003-2010 Altimas for transmission issue and I don't think this issue is resolved since so many people are still complaining. Given 2013 model is fairly new and still in its early year for transmission problem but expect complaints will pile as years progresses. Nissan has either flaw or defective transmission from the manufacturing and they need to address it or consumers end up paying the price, a hefty price.

I bought a 2008 Nissan Altima and 3 months later my transmission broke down and I paid a mechanic to try to fix it and months later I received a mail after my warranty was done stating that I had a warranty on my transmission that was finishing up at 120,000 miles which I never knew I had and when I received the mail my car was already over 120,900 and I called consumer affairs and they didn't care and said that my warranty is up and there's nothing they can do. Customer service was horrible and if they continue at this rate, there will be no one buying Nissans. The car is broke down and it was just a waste of money and will never buy a Nissan again.

I purchased my Nissan Altima in 2009. I too had my air go out too, like others I see in these reviews. My main issues is the seal coat issues. My car is completely oxidized and they are telling me it is the environment. I am hoping that other people throughout the country come forward if they are experiencing this same issue. If we all come forward they will have to do a recall and repaint out cars. The seal coat is the issue, not the environment. If that was the case, all of my vehicles would have oxidized. This company does not stand by their products and are not willing to help the consumer at all! Shame on you Carlos Ghosn, CEO of Nissan.

I have been a loyal Nissan customer since 2000. I bought a 2013 Nissan Altima 2.5 SL; currently has 98000 miles and the CVT transmission failed. The car just died on the road. It jerked and vibrated a couple of times and then just died. Towed it to the dealership, and after $125 for diagnostics fee, they found metal pieces in the fluid. They mentioned that this is not the first time they have seen this, and it is nothing that you did wrong and there was plenty of fluid in the trans so it should have never happened. The total cost came out to be $4200.

A year and a half ago I bought a Nissan Altima SL from Carmax. About 7 months after I noticed a high pitched whine coming from the transmission. I didn't think much of it until I tried to go uphill. The car wouldn't go over 15 miles hour up the hill. I took the car to Carmax and they said the transmission needed replacing. But I was still under warranty with Carmax shop. I only paid 200 out of pocket. On June 8th I noticed the same sound coming from under the car, so I went back to the shop. They got the 2600 dollar transmission for free but I had to Pay almost 1800 for labor. I was driving last night and guess what? Yup, there is the sound again. 12k warranty on the new transmission. These were brand new transmissions, not used. But I am at 14k because I drive Uber. Let's see what happens.

I brought my vehicle to the dealership because the rear door won't open. The vehicle is 4 months out of warranty and I have been told that I have to pay for the defective door. I was told that there something inside the door has to be repaired or replaced. Since this isn't an issue that would be caused due to normal wear and tear, driving conditions, etc. I was rather upset that I would have to pay for this. This is clearly a manufacturer defect and, therefore, I want them to incur the cost of repair. It's upsetting that my Nissan dealer won't "simply" do the right thing but they have refused and told me that since it is my car I am responsible.
They lie about their gas mileage claims. I have read multiple reviews online about different models that don't get anywhere near the stated MPG. I noticed this same thing when I got my vehicle 3 years ago and I took the car to the dealer to find out what the problem was. I was told that it was most likely due to the "way I drive the car." While that answer seemed ridiculous I let it go since I didn't think there was anything I could do. Now that I have been reading online about other people this has happened to I have realized that it's time for Nissan owners to file a lawsuit against Nissan. Mitsubishi and Honda owners have already won and settled claims with those manufacturers and I believe it is "more than obvious" that Nissan has also intentionally made false statements regarding gas mileage about their vehicles.

I have a 2013 Nissan Altima. Got it 2 years ago and since then 2 door handles have broken and now they're saying my gear shift needs replacing! Both of these issues seem to be a bad problem with these cars. I love my car but these issues need to be fixed by Nissan and not the consumer since it's a problem with manufacturing. Send a recall out Nissan for replacement on both issues!!!

I purchased a 2016 Nissan Altima about 6 months ago. I previously owned a 2007 and 2011 Nissan Altima. I noticed right away after driving the 2016 Altima when it was raining that the windshield wipers do not clear the windshield properly when it is raining. It seems as if the wipers barely touch the windshield so it does not make it clear for viewing when it is raining and especially when it is raining hard which happened over the holiday weekend. I was scared to death because we could not see. If a bug hits the windshield and is in your line of vision you can't spray it with the windshield cleaner and then use the wiper to clear it off because the wiper will not clear it.
When I had my last oil change at Jack Ingram Nissan in Montgomery, AL, I mentioned it to the serviceman and he said that he has had other complaints but no recalls. I asked him if we replaced the wiper blades if he thought that would help and he said there is not guarantee. This is definitely a road hazard. I have never had this issue with an automobile before. This very well could be an issue that needs to be checked into before someone gets hurt. Thank you for your assistance.

I purchased a 2014 Nissan Altima with 45 miles off the lot. Since my purchase I have been to the service department more times than I care to mention. It has been one thing after another. The first month it was minor issues, such as the radio not working, bluetooth not working. Then it was the dashboard gauges not reading correctly. The radio has been replaced twice and will be replaced again (it is on order). My concern now is the transmission. It was just replaced with a refurbished (but new according to the service department). I am beginning to have the same issues with my car again when accelerating. Now, my air conditioner is not working properly and they are replacing the compressor and sensors.
I have been reading the other concerns people have written about their Altimas and my car is following the same path of major repairs. I have only had my car two years and I am so frustrated to have you be dealing with all these defects. You purchase a brand new car so that you do not have these issues. Do these cars fall under the Lemon Law? How can Nissan be held accountable for these defective cars? Can a class action suit be brought against Nissan, especially if they are aware of the problems and they keep producing and selling these defective cars?

If everyone shopping a car would read our reviews, they would think twice before getting an Nissan. I have a 2009 Altima. My car wouldn't turn on, had it towed to the Nissan Dealer. Diagnostic, steering lock unit open causing ignition malfunction, repairs $1,100.00 (two hours repair). Fixing was verified prior to repairs, what choice did I had. Will never buy another Nissan again or take the car to the dealer for repairs unless there is warranty. My feeling, unarmed highway robbery.

I'm going to be brief with this review but it is very complex as I've been dealing with Nissan Consumer Affairs and the Nissan Dealership. I have experienced the worst customer service of my life and will never buy a Nissan again. I've had my Nissan Altima (2008) for 6 years. I bought it certified new in 2010. Never had any issues before this other than regular maintenance (brake replacement, tire changes, etc.) Last year, while I was still covered under the "extended warranty" I brought it to a local Nissan dealer because of a wheezing noise from the transmission. Nissan dealership changed the fluid in the transmission and said it was fine.
I drove it another year until August 9, 2016 when the car lost power WITHOUT WARNING while I was driving with my infant son. I'll be brief - the transmission completely failed. The CVT transmission is junk. Had it towed from a specialty transmission mechanic who told me this free of charge. Under Nissan's instruction IT HAD to go to a dealership. Dealership wouldn't touch it until I paid them 105$ to "diagnose" it even though I already told them the transmission was crap. So I ended up paying $225.00 for nothing (tow bill + diagnostic fee from Nissan Dealer). Bottom line, Nissan says I'm out of their extended warranty. They refuse to help in any way. Won't return my calls. Nissan dealership basically laughed at my husband when he told them we shouldn't have to pay $105 for the "diagnostic fee."
Apparently, Nissan sent a letter to consumers a few years ago regarding the CVT transmission when they extended the powertrain warranty, but I never received this letter or any notification of the transmission issues when I took it in for routine service. I could have had this issue addressed had Nissan properly notified me of the CVT transmission problem before the mileage exceeded their extended warranty.
Nissan is quite aware with the problems of their transmissions but since there have been no severe fatalities they are not doing the right thing and recalling it. A transmission should last more than 8 years. Luckily, I am a paralegal work for very smart attorneys. We are working on a letter to Nissan and if that doesn't work I will explore my options in small claims court. At the very least they owe me $225 for the tow and the bunk "diagnostic fee". Just another way for Nissan to prey on their customers that they could care less about.

My 2013 Nissan Altima is the third Nissan I have owned. At 70K miles I have just been informed today that my transmission needs to be replaced for the second time! The first time was shortly after I purchased it. A few months ago I had to replace the AC compressor. I am 65 years old and owned many new cars in my life and I have never had to replace a transmission or AC compressor and I drive cars till the wheels almost fall off. I love the mileage I get with my car and I love the dealership at Nissan of San Marcos Texas but I think I am done buying Nissans.

I purchased a used 2006 Nissan Altima with an engine designed to destroy itself. 2 weeks after my purchase, the engine was out of oil. It did this every two weeks or so at first. I contacted Nissan to see about any recall on the engine. They told me my VIN wasn't part of a recall. I contact dealer and they say it was purchased on auction and that there was no way they would know of any issues. I bought it as is. State law protects them from becoming financially responsible for selling a vehicle they don't know about. Nothing I can do.
So a year goes by and I've already spent about what this car is worth just to keep it running. My job is too far away for public transportation, btw. I kept taking it to different mechanics to patch it up and keep it running, they all tell me it needs a new engine. Last mechanic tells me that there was a recall on my VIN for the engine. He knows this because he already has a 2006 Nissan Altima in his shop taken apart that he was fixing. I tell him I contacted Nissan and my VIN isn't part of that. He tells me Nissan doesn't like to pay for recalls and lies to their customers. He prints off the affected VINs and sure enough, my VIN is on the paper.
I call Nissan back and demand to know if the recall had been corrected, they tell me again there was no recall or campaign open on my vehicle. I direct them to NHTSA.gov and tell them that there is public record. The Philippine lady on the phone then says, "Okay, there was a recall on your vehicle in 2006, but it was corrected in 2007 sir." Then I ask to dispute that the problem actually was corrected. She argued that the computer said it was, and by now my car is eating 5qts of oil a week and has already seized once, so I know it isn't. She finally tells me to take it to a dealership for inspection. I go to the dealership at 8:00am and was told sales opens at 9:00am and to come back later. Good thing I'm not buying (Side note, sign on door says sales opens at 8:00am).
I explain the situation and he tells me that he is sales and not his area of knowledge. I ask where I should go and he tells me service. Okay, where's service at? I ask and he finally directs me around the back of the building. I drop my keys off, livid at the customer "service" they provided (not the mechanics, they were nice), and I leave for work. I later get a call from the mechanic asking for a case number which I don't have. He then tells me that I should have called Nissan first. I tell him that I did. So I call Nissan back to get a case number and they put me through the whole fiasco again. At one point the lady on the phone asks me why I took it to the dealership! She asked when I had purchased the car and I told her a year ago. she said, "A year ago...?", I replied yes, one year ago. Then she says "sir, just to be clear you purchased this vehicle a year ago?", I reply, "yeah".
She then promptly tells me that she will be handing this case off to a specialist and she gave me my case number, I then verify that this is the case number I give to the mechanic who requested it. She tells me not to give the mechanic the case number and I hang up and call the dealership mechanic and gave him the case number, while on the phone he tells me that my engine didn't look like it had the recall corrected "which I had talked about". The dealership mechanic is telling me that the engine is junk, and that it was his opinion that the recall wasn't done on this vehicle. I asked what the recall would be, he tells me an engine replacement.
So finally, a few days later, a specialist contacts me to tell me that the engine was replaced fully in 2007. I tell him the engine the vehicle currently has is garbage. Apparently, an engine designed to burn oil until the piston rings are useless causing an engine seizure after hundreds of dollars in lost oil is one of Nissan's "A+" standards. He tells me that he will investigate further and contact the dealership to ask questions. The other thing he will do is look into "Goodwill Assistance" to see what they can give me to help me out. He will contact me in 2-3 business days.
The next day he calls me tells me that they are willing to do absolutely nothing about the engine since it is like 60 something months out of warranty. I ask about the Goodwill Assistance, he tells me I get no Goodwill Assistance. I call the mechanic and ask him about it. He asks me if I've ever owned a Nissan before. I tell him this is my first, and last Nissan I will ever buy. He tells me Goodwill Assistance is meant for dedicated customers. So I ask about the engine and he said it was junk, and that the warranty was only 30 months past. (Side Note: it seems the least paid people in this company know what's going on the most).
It's a shame that the knowledgeable mechanic that can verify what every mechanic has told me about the car can't do anything for me because he is just a mechanic. He told me he would look into what the Nissan dealership (not Nissan Company, they're separate somehow) would give me for a buy back. I still owe more than what this car is worth and Nissan has given me the longest runaround of my life. Worse, is the guy who originally bought the car, at the dealership that I got the car from, actually passed away from old age. My fiance talked me into this car and it's put a huge strain on our relationship, our finances, our ability to even get to work, and more.
Nissan is garbage, their customer service is garbage. I've never had car problems like this in my life. I had to buy another car to get to work, couldn't trade the Nissan in as that would add the monthly bill to the new monthly bill and I would be stuck paying one large consolidated bill. The engine is ready to either seize again, or catch fire. As of now, I owe $5,000 on a fancy lawn decoration that can make large clouds of oil burning exhaust. What am I supposed to do? I can actually, honestly, and truthfully say that my biggest life mistake was buying a Nissan. Please for the love of God, don't make the same mistake I did.

I purchased a certified 2013 Nissan Altima S from the dealer. On Monday my car broke down on me and was towed to the Nissan dealer for repair . I was told by the service adviser that my car was not covered by extended warranty nor covered by Nissan. This is a power train issue and the car won't shift. It locks in park. I paid $2600 for extended warranty and the repairs will cost me out of pocket $1000. I thought Nissan made a good product but evidently not. I won't be buying another Nissan.

I had some Transmission problems right after I bought my new 2013 Nissan Altima. Took it to dealer and was told that is the way it would act when shifting at a low speed sometimes. I had the same problem at higher speeds and also when driving with the cruise control on at 70 mph and a straight road on no hills. Transmission seems to slip like it would if you were driving a vehicle with a stick shift and the clutch was wearing out and slipping. Took it to the dealer and they can't get it to do the same thing. At times it feels like it is going to quit running but then I step on the gas pedal and it will snap out of it for a while.
I have the 3.5 with just under 23,000 miles on it and it makes me wonder if I'll get to 25,000 at this rate. Went looking for a recall or some other form of info and so far it sounds like I'm kinda screw with getting Nissan to do anything to fix this problem after reading all the reviews and problems other owners are having getting anything done about this problem. If need be I will give my VIN # but at this time I'll just bitch and not recommend any of my associates to buy any Nissan until they do something to change their customer service for people that are having issues.

I purchased a 2013 Nissan Altima S brand one year and 2 months ago. Very disappointed to find out transmission is bad as diagnosed by Nissan dealership, with only 78k. Contacted Nissan consumer affairs and was told since I do not have a warranty, Nissan would not be providing any assistance with financial costs. I am confused as to why this issue has not been recalled as from research I have conducted this seems to be a common problem with Nissan brand vehicles. Also, Nissan dealership seemed inconsistent in actual repair costs.
First, I got quoted at 5k to fix transmission then 4500. My vehicle is now not even worth half the costs that I owe due to faulty transmission. I was told upon contacting Nissan corp, I would receive call back from regional sales manager whom did nothing but tell me the same as the original representative, that I don't have warranty so nothing can be done. Why is it, I was told Nissan would be checking into issue to see what caused transmission failure, when none of that seemed to occur. Will not be purchasing another Nissan again!
Nissan Altima Company Profile
Company Name:

Nissan

Website:

http://www.nissanusa.com/