Consumer Complaints and Reviews

Bought the Magellan Roadmate 2525LM at Canadian Tire on sale, now I know why it was on sale. Maps are outdated and website doesn't confirm it came with lifetime maps. New gps that is basically useless, buy a Garmin if you're looking for a good gps.

Roadmate GPS - Free lifetime maps is a joke. Does not work - refers to new website which sends you into a never ending circular routine. As such, impossible to upgrade maps. I have wasted 3 hours on this useless unit. Says to unplug unit to complete update, and when you do so, it asks you to plug in and retry. Absolute garbage. I am switching back to Garmin - much more reliable and consistent.

Purchased a 5045-LM for lifetime map updates. Now they have come out with "map upgrades" and use SmartGPS Eco for these "updates" which do not include "upgrades." SmartGPS Eco does not tell me what the latest map version is, and will not tell me exactly what I should be updating. Instead, it sends me to the Magellan site to select my device and tells me that I can pay for maps for another region (EU) or use SmartGPS Eco to keep my device updated. Map updates sends me in circles and gets me nowhere. I had to guess for myself that map upgrades were the new updates, and that they weren't included in my "lifetime map" unit. This was a scam and a serious case of thievery, and I would not recommend this crooked company to anyone.

Magellan GPS 5230T-LM effectively killed my unit --- support is a bad joke --- told me they don't support Win10 & said only solution was for me to buy and install win7. I finally was able use a friends Win7 computer. Their new web based Content Manager did only to update maps - was useless since the update was so old. I was told that the only feature that worked on new CM was map updates. Buy Magellan only if you want useless junk equipped with frustration and headaches. I'm out on Magellan. Purchased with new Magellan saying **.

I used the Magellan RoadMaster 6265T-LMB for a long time. Recently, the company has discontinued support of 'Content Manager' that allowed the user to easily and quickly update the content of the GPS. They have replaced it with a web product that is slow and cumbersome to use. Look for a product from a different company. Their new solution is far too difficult and time consuming to use.
How do I know I can trust these reviews about Magellan?
854,137 reviews on ConsumerAffairs are verified.
We require contact information to ensure our reviewers are real.
We use intelligent software that helps us maintain the integrity of reviews.
Our moderators read all reviews to verify quality and helpfulness.
For more information about reviews on ConsumerAffairs.com please visit our FAQ.

Two days ago I downloaded and installed a software (maps) update. When I unplugged the GPS from the computer, the GPS had no map memory and would not accept any address. I just spoke with the Magellan rep who informed me that my GPS likely had a power failure during the update and is now garbage. He offered me 30% off on a replacement GPS but I will never buy another piece of Magellan crap. Spread the word and stay away from any Magellan product!

I own, or should I say owned, 3 Magellan GPS units. (2) 9416T and (1) 9212T. As of today they have been smashed with a hammer, set on fire, and the ashes spread into the wind. They do not have ANY software to update their maps or sync your addresses. The software they have, Content Manager and Smart Eco, do not work hence you cannot do any updating or syncing.
I dealt with customer service via phone and chat lines and got NO HELP whatsoever. They had me remove software, add software, delete software, on and on, nothing. They tried to tell me that it worked on others' computers, so it must be MY PROBLEM. Funny I have a Windows 10 PC running Chrome and Firefox and it works on neither. I even downloaded an old version of Firefox ver. 32, and it didn't work there either. Oh, yeah, it will not work on my wife's Mac either. The last guy I spoke to said everything to me under the sun. I guess he would have told me to ** but figured he'd get fired. As for me, I will never, ever own another Magellan product again. Be forewarned, you're in for some real big frustrations and anger if you buy any of Magellan's products!!!

Magellan RoadMate 9200_LM. Got this unit on sale, it is a large 7" so I can see it. It is still offered for sale from Magellan! Thing are working, except for current maps and POI (according to the date on the files) are 6/20/2015. I can't believe the maps are current being two years old. The unit can be seen by their software, it will allow me to buy an update to the speed traps. But new roads and POI are two years old. The scam is, according to their own website, "when maps are available." The maps come from a secondary source, as I have twice online chatted with the company. The employee even recognizes they are almost two year old, with no update.
New business open and close, of course they say free map updates, not new POI. Every year my auto GPS has a new map/POI. This is where Auto Android will destroy these companies. Mainly you need a 2015 or newer car and a simple free addition to your car's system and Google maps for free! Yes, you need a data plan, but everyone is giving away data anymore (oh, competition). Car map update are $150 - $350 per car. Again Auto Android will kill that in many cases, just like these personal GPS units. Very unhappy there are no updates, this to me is a outright lie to sell the unit.

I purchased my Magellan GPS online from Walmart and it did not work from the get-go and would not take input addresses. I contacted Magellan Support and received a replacement Magellan Roadmate 5320-LM which worked fine. I then went online to Magellan website looking for a mini wall charger for the Magellan GPS and found one compatible for the Roadmate 5320-LM for $14.95 and ordered it. The first time I used it it would not power up the Magellan. When I unplugged the charger from the wall socket one of the two charger plugs remained in the wall socket. I contacted Magellan and support offered that I purchase a new one for double the cost of my original charger that was less than two months old. Now that is pretty bad!! Next time I will stick to Garmin products. Do not recommend Magellan.

I have been trying to buy (3) car chargers for the RV9490T-LMB GPS at the Magellan Factory Outlet store. They have shipped me twice the wrong charger. It is obvious to me that as a customer buying this Magellan GPS from Camping World was a mistake based on Magellan (Mitac Digital Corp) ability to support the equipment they sell to unsuspecting customer that think that something like this GPS at more than $350 would at least have part support.

I bought a RM-9400 at Fry's in Anaheim in early December 2016 to replace my RM-1700 that worked great for about 6 years. I powered it up indoors and programmed several addresses into the "one touch" memory without any problem. I installed it in my wife's car and took it on the road. The unit kept turning itself off every few minutes. After getting back home I took it inside again and it powered up OK and ran for several hours. Again I put it back in the car and had the same problem. I tried powering it back on, and sometimes it would work and sometimes not. After a week or two, the unit went completely berserk with the screen flashing vertical gray stripes and would not power off even after pulling out the power plug. It eventually powered off after running down the internal battery. I contacted MItac customer service, but they were completely useless.
I took it back to Fry's and exchanged it for a new one. I went through the same set up one the new one without a problem and let it run on my desk for several hours without a problem. As soon as I put it in the car and took it on the road, it turned itself off after only 3 minutes of operation. I removed and reinstalled the power plug each time this happened, but got the same results. I put into another car, and had the same results. My theory is that there is a software bug or a hardware limitation that only shows up when the unit is in motion. My theory is that the internal processor gets much busier when in motion that when it is sitting stationary and suffers a fatal software crash. Of course having it work only on my desk is not very useful! I returned the unit to Fry's and got a Garmin Drivesmart 70. I don't have any results on that one yet. Be forewarned!

I purchased the Magellan Roadmate GPS 2220-LM model at Canadian Tire. It just so happened this GPS was a sale item. However it was still priced at $100.00. I used the GPS and it worked perfectly for the first 6 months. The unit comes with a lifetime of mapping updates. I recently went online and as the company suggested used the SMART GPS ECO. BIG, BIG MISTAKE!!! The mapping updating program wiped out all the download maps and the unit would not work. I contacted the chat line and that was a waste of time. The call server eventually disconnected the call after suggesting I use the content manager site. No idea what that was until I searched online. I called back and the chat representative sent me a recovery, 35 step process to follow. I had my son, the computer genius follow the step by step and when it was time to select the download the unit still did not work.
When I spoke with a service rep because the unit was still under warranty, I was advised they no longer offer this unit as it was discontinued so they offered me a refurbished one model upgrade which if I did not accept, then there was no other recourse because the unit is discontinued. I didn't purchase a used GPS unit from Canadian tire so why am I offered a used, refurbished unit from the company as a replacement. DON'T BUY MAGELLAN!!! Do yourself a favour and buy Garmin. Had one before and it got stolen. This has been a relatively cheap lesson in life... $100 bucks.

Purchased this piece of trash from Canadian tire prior to a vacation to the United States. Carefully followed instructions and unit appeared to be working. Once I got out of the road unit kept turning itself off and back on with query "Do you still want to go to". Tried numerous mounting systems in an attempt to rectify the problem. Left it dormant for two years and now when I try to update it after the near hour download time it has "insufficient space". For the past two years have been using Google maps and writing instructions to necessary locations with no problem and will return to this system as Magellan is ABSOLUTE PIECE OF GARBAGE!!!

Cyclo 505 cycling computer - I bought the unit 13 months ago. I noticed some issues with my touch screen. You can see from an angle that some water succeed to get into the unit. Probably sweating when biking, or some light rain. BTW the units is advised that it can be used under rain. I called them and of course one month elapse for the warranty. BUT, worst thing I heard, they DO NOT HAVE A REPAIR SERVICE!!! How can a company be authorized to sell expensive units like that without a service repair, after consumers spend $400 on it!!! Shame on them. As it is for biking, they might think it might get damaged or screen broken or other and we should be able to repair it.

I'm reading a lot here about maps. My gps malfunctioned within two weeks. Will not take a charge from the car's power source. If I could give this product less one star I would. LM must stand for lemon.

I purchased RoadMate 9400 LM from Canadian Tire on clearance ($109 reduced from $249). I guess I still need to learn that you get what you pay for. The first unit failed multiple times when trying to download map update through Magellan's SmartGPS Eco website. Despite showing huge amount of available space, time and again the map update stalled and declared "insufficient disk space". Online chat was not helpful at all. Having confirmed I actually owned the GPS the solution was to send it to Magellan and they would replace it. Technician advised that failure of map update rendered unit not usable. So, instead I took it back to Canadian Tire. Had I read the many reviews of similar problems and repeated failures I would simply have gotten my money back. Instead, as they had another one in stock, I simply took another one.
So here I am at home again with a near identical repeat of the problem on a second "new in the box" GPS. Map update failure over and over and over. Sometimes it freezes, sometimes it gives error of "insufficient disk space", but after 4 hours of trying again and again, I'm just giving up. I'll take it back to Canadian Tire (... who, thankfully will simply refund me my money) and I'll buy a Garmin. After reading the myriad bad reviews I do have to wonder how Magellan is still in business?

I have 3 Magellan RoadMate units with free Lifetime Updates. When I used the Content Manager I was asked to BUY my map updates. To resolve this, I used the Magellan CHAT service and they updated their database to include the serial numbers of my GPS units. Very simple. Everything works fine.

Yes, this past week I too am experiencing frustration in dealing with Magellan. Firstly toll free number does not apply to anyone out of country USA I believe and secondly the GPS products that are on the shelves of stores I find out are refurbished with RF after serial number (which we did not know at time of purchase). And you are not eligible for free upgrades of maps. Upgrades cost more than our original purchase price from Magellan. All the chat line person did was try to get me to purchase new GPS at small discount price. Never will I purchase Magellan. Loyalty program sucks. Does anyone know where to find free upgrades to maps?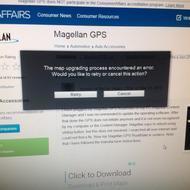 Early August I contacted through Magellan GPS site forms a concern about being unable to complete my free map updates. On August 18, 2016 I was contacted the company and was given useless instructions to follow, delete content manager, re-install, try to update, etc. I relied again on August 25 to say their suggestions did not work and included screenshots and was ignored repeatedly. I re-sent my concerns again and again and finally on September 4, 2016 I sent a complaint into Better Business Bureau. I heard back from BBB on September 5, 2016 to say that my complaint was being processed. I finally heard from Magellan support late afternoon September 9, 2016 just in time for the weekend when their support does not operate with nothing more than much the same steps as before. I did these same steps September 10, 2016 all afternoon only to get the visual in the screenshots below this review.
I have now requested from Magellan, because I have been ignored and not assisted properly: That they deal with BBB directly to resolve this product issue. That they provide an address to send their useless device back to and refund me fully. That they be alert to the possibility of a class action suit as I see many here on this Consumer Affairs site who have been having similar concerns and complaints with this device. I also asked again today, why, as part of the update process I am being denied my original address content and also being asked to provide an AAA membership #? Weird! Also, I noticed every time I began the process of updating there was another update possible, PhantomALERT premium? Of course this particular update was for an outlay of more money! I wonder if I had chosen this as an update if my entire transaction install and update would have worked?
Anyway, my review for those of you have not bought this device is be forewarned about the updates and install features with this device and also the support from the company. It appears that the free lifetime map update does not install and the company support is severely lacking. For those of us stuck in the middle of trying to get these devices to install updates and function properly, I will continue to inform you as I progress with BBB and possibly actually hear back from this company Magellan. It seems from reviewing others today at Consumers Affairs the rating for Magellan is a dismal 1/5!
Alas, I am shutting down any further attempts to complete the supposed free lifetime map updates or any installations to actually make this device return to functioning at all after just completing my fifth and final attempt today, September 10, 2016 5:00 PM. If everything else I have said in this review hasn't deterred you from buying from Magellan I hope the wasting of an entire afternoon trying to accomplish something that CAN NOT be done will!

Their website is constantly down and we have no other recourse for updating maps. I'm leaving tomorrow for a trip and I've tried all day to get on to their updating website http://www.smartgpseco.com/ and it rarely works.

I bought a Magellan RoadMate with free lifetime map updates. I was not able to update my GPS even one time during the 3 plus years that I have owned it. I contacted Magellan customer support and they direct me to a website that is supposed to give me my map updates and the site does not work. It is always temporarily unavailable or I can't log in. Please don't buy their products. If you do you are wasting your money...

Please don't make the same mistake I did in buying a Magellan GPS. I've had two of these and both were a complete waste of money. I had better success in finding my way using a $15.00 map book. STAY AWAY from Magellan!

Been researching GPS for RV use and decided Magellan fits the bill, as it comes with Good Sam's directory. Strangely enough, it was no longer available on Amazon nor Walmart, so I went to the Magellan online sales website for an answer to my question about 2 similar items with a $100 price difference, expecting to find a phone number for product sales information - not available!
After trying to get in touch with them by phone (all prompts geared to "out of warranty" tech support and voice prompt says only contact is live chat or email), chat (at 4pm it was OFFline although it's supposed to be live 6:30a-5pm), and email (was forced input detailed information to create a support case# which they emailed to me with a link to create a password - but had to click on FORGOT PASSWORD to generate another email with temporary password and ability to create a new one - which never arrived), all wasting 35 minutes of my valuable time with no result. Luckily I know about Consumer Affairs and checked their reviews - which are beyond dismal - and rightfully so! C/A just saved me several hundred dollars, as I'm not buying any Magellan product - EVER! I can only deduce that this company is going out of business... DON'T BUY THEIR PRODUCTS!

Roadmate 5235t-LM - Great GPS... ZERO support. Updates are now farmed out and do not work. Paid for lifetime maps and can't get them! Update killed current map and now GPS that I liked is a paper weight and no way to fix it through Magellan. DO NOT BUY, soon to go bankrupt the way they are operating.

I had purchased two Magellan RoadMate GPS with a promise of lifetime map updates – big mistake!! I went to the Magellan website to update the maps on one of them. I followed all the instructions and when I restarted the GPS, there was a circle on the screen that kept going round and round forever. I contacted their technical support chat line and they emailed me a recovery tool file and nothing happened. Which meant, that my GPS was now toast!! Guess what they promised me in return for ruining my GPS – a one-time replacement with a refurbished unit, take it or leave it. They did not care. I had no choice but to accept. They processed the order and it never showed up. Contacted them after two weeks and was told they do not see the order in their system and they processed another order. Even that never showed up.
Contacted them again after another ten days or so. This time I contacted their 800 number (supposed to be a big no-no for folks with out-of-warranty products lol!!). After a long argument for 30 minutes or so that their chat line was not at all helpful, the lady finally processed another order for a replacement. This one arrived in a week. It was a horrible piece with a scratched up screen. The brightness at its max was so low that you cannot see the words at all from certain angles. My original one had no scratches – I handled it with kid gloves and it was bright and beautiful. Besides, it is a very basic model compared to my unit that they ruined with their so-called map update. Anyone out there shopping for a GPS I would advise to stay away from Magellan. Their after sales service is very very poor. They will not be fair and provide me with a new replacement even if they are the ones who have ruined my unit.
Updated on October 1, 2016: Further to my review of this unreliable product dated 07/02/2016, I had received a refurbished replacement from Magellan. That has also died on me within a month.

I have a Magellan Roadmate 3030-Lm and I had problems to update maps. I have contacted the support center and they helped me with my GPS. The website did not recognize my GPS correctly so it wanted me to pay for the update but the technician unlocked it and everything was fine after that. I have this GPS since 2011 and never had other problems before. Happy with my purchase.

Please folks, for your own good, don't even think about buying any Magellan product. I say this based upon my personal experience and reviews of hundreds of customer evaluations which I have read over about the past five years. This may sound like an emotional, sweeping generalization, but all available evidence is that this company is crooked from bottom to top, endlessly sells worthless, expensive, unreliable or inoperable products, rarely offers customers any useful help, does not stand behind their warranties, and couldn't care less. Don't take my word for it. Surf the net and do the numbers.
The business model seems to be that there is an endless supply of new and innocent customers who know nothing about Magellan, its products, and the company track record. If a good advertising program is maintained, and distributors go along with the scam, the gravy train can chug along forever. There is no need to stand behind anything, and it is extremely unlikely that any angry customer, or group of them, would have the money or motivation to launch and stick with a meaningful class action lawsuit to put this despicable company out of business permanently. Sadly, they are probably right. But it would be most entertaining to see the hornets nest that would be stirred up should Magellan itself ever attempt to use the courts to try to silence any of its countless angry critics.
A few years ago, knowing nothing about the company, I spent over $300 on a wide screen Magellan 9055-LM GPS. That's the version with the supposed lifetime map updates. They provided one update, count 'em, one. That's it. End of story. And the GPS has seldom worked predictably, from the day it was new. Sometimes it will power up and sometimes not. I wasted a lot of time checking connections, power sources, and talking with their online techs. Various menu items did not work, particularly Points of Interest. It would just lock up the system. Seems that a tech allowed as how they knew about all these problems but didn't know if Magellan planned to fix any of them. Curious, I thought.
They offered to replace my unit, but said the new one would be "just the same". I said no thanks, and tried to make do. The thing has been a nightmare... sometimes works, sorta. There has been one system software update, which helped briefly. On long turnpike trips of 500 miles or more, it tells me that every exit is the one where I should get off. It sometimes tries to loop me around in circles. Sometimes it will power up, sometimes not. The problem is unrelated to connections, power supply, temperature, season, or anything else that I can determine. I could write a book on everything it doesn't do, but the Roadmate 9055 is just a total loser.
A girlfriend had similar unhappy experiences with her Roadmate 3055, until it simply locked up and became completely unusable... She gave it to me, to play with or throw away. I eventually figured out that Magellan had updated the whole software package, without telling users that their GPSs would become junk unless they would change the software, which I did. Now it works, sometimes, maybe. Most recently, it simply stops functioning, with the display staying on a certain spot on a certain route, no matter where you really are or how many times you power down and reboot. I have found ways to trick it into erasing its location memory and searching for a new location. But I shouldn't have to.
The product should just work, or the maker should offer suggestions for a fix or replacement. They are the ones who did it, and sold the trash to thousands of trusting customers for actual money. We need cell blocks with big signs marked "Reserved for Magellan". Bank robber Willie Sutton couldn't get away with it. Why should some guys in an office in California?
On my advice, the girlfriend bought a Garmin GPS, and I have another of their models, also. Both have been totally reliable and trouble free. I now drive with the other two Magellan GPSs in one of my cars, playing Magellan roulette for my own entertainment. Will one work, both, or neither? But in my experience, a Magellan GPS should never ever be trusted when you actually need guidance.
For awhile, I tried to be patient and talk with techs on the telephone, trying to fix problems. A couple of them really did try, but the product is a loser. And the corporate level people won't even answer a civil, constructive letter asking for help or an adjustment. That told me all I needed to know. These guys are simply giving their customer base the figurative finger. "Give us the money and shut up". Ever hear of any Magellan product being used for aircraft navigation, where it counts? Of course not. As a one time pilot, I keep up with such things. But some of the other consumer GPS manufacturers do. I rest my case. But please, please, please. Do yourself a favor and stay as far away from Magellan products as you can get. And ask your friends about their GPS experiences, before buying. I didn't.

I bought the Case at a great discount so I'm not complaining about price. What I'm disgusted about is their Customer Service. When I bought it new in a sealed package, I discovered the headphone jack didn't work. The self help suggests getting a special kind of adapter that is sold by Apple. Well, Apple doesn't sell it and the description of this adapter is rather vague. So I tried emailing them several times over a week for details on the specifications but no response. I tried Chat but no one ever came on. So I tried calling the Customer Service # and after waiting on hold for 30 minutes (Nonpeak Time) I was given a Lady who had no interest in helping me, and acted like she had no record of the product. She finally said they no longer make it so they wouldn't provide any support. I pointed out that it's still offered on their site!!! She said that didn't matter. I asked to speak to her Supervisor, she didn't want to do that but I persisted.
She supposedly was putting me through to the Supervisor and I thought I was on hold, but after 30 minutes I realized that she had disconnected me. I'm sure this was no accident. I was never rude to her but I got this treatment anyway. Luckily I hadn't spent a lot of money with Magellan, I just wasted hours of my time and all this just for the need of a little information, not anything that would have cost them anything. Don't buy from Magellan, they obviously care nothing about their Customers once the sale is made, and from what I'm reading from others experiences they are predatory.


Bought a Magellan 5202 LM. With free map updates. Went to update maps. They demand money. A complete ripoff. Never buy a Magellan. Contacted customer service chat line. Complete waste of time. Person cut me off part way through conversation.

ConsumerAffairs Research Team
The ConsumerAffairs Research Team believes everyone deserves to make smart decisions. We aim to provide readers with the most up-to-date information available about today's consumer products and services.
Founded in 1986, Magellan is a global positioning system (GPS) company specializing in consumer navigation electronics. Magellan has over 200 patented products, including on- and off-road vehicle navigation systems; dash cameras; RV navigation; fleet navigation for trucks, buses and vans; as well as a whole line of handheld navigation devices and GPS watches.
RoadMate vehicle GPS: Magellan offers several products in its RoadMate line, including the Auto Series, RV Series and Commercial Series. The Auto Series is intended for consumers to use in their personal vehicles, while the RV Series is specifically designed to make RV trips more enjoyable and safe. Consumers with a fleet of vehicles and professional drivers can benefit from the Commercial Series with truck-specific features.
Off-road navigation: Many GPS companies only offer navigation on streets and residential areas, but Magellan also offers thorough maps for off-road navigation and exploration. These can be used in vehicles or worn for hiking and other activities.
MiVue dash cameras: Magellan offers a line of dash cameras at various price points for consumers interested in increasing safety. Some features of the MiVue dash cameras include a low light display, expandable memory, HD resolution, departure lane warning and parking guard.
60-day map guarantee: Consumers who purchase specific Magellan navigation devices are entitled to update their device's map free of charge if the company issues a new map update within 60 days of the original purchase date. All other updates can be purchased through the website.
Customer support services: Magellan offers a variety of customer support services including product registration, warranty, repairs, returns, product recycling, manual and software downloads, and troubleshooting. Customer service representatives are available via live chat, email, or telephone and you can also search an extensive Frequently Asked Questions section on their website.
Best for vehicle, RV and commercial vehicle fleet owners.
Compare Auto and Truck Accessories
Magellan GPS Company Profile
Company Name:

Magellan

Website:

http://www.magellangps.com/