Extended warranties for cars with over 100k miles
Coverage is available for cars with up to 300k miles

Written by

Edited by
CARCHEX, Endurance Auto Warranty, CarShield and olive

If you're behind the wheel of a car with 100,000 miles or more on the odometer, you're probably going to deal with some mechanical problems. Purchasing an extended car warranty can help protect you financially if your vehicle develops a significant issue. These warranties, also called vehicle service contracts, help cover the cost of repairing a vehicle with engine or transmission trouble, air conditioning failure, fuel system problems or other issues.
Are extended warranties on used cars worth it?
Buying a used car warranty can be worth the initial cost, especially if you plan to keep the vehicle for a while and don't have money to cover unexpected repairs. Even if you only use your extended warranty once, it may pay for itself. It's similar to insurance: You may not use it, but you're glad you have it if you need it.
Let's say your used car needs a new transmission — would you rather be on the hook for up to $3,400 in parts, labor and taxes to replace it, or would you rather pay just a $100 deductible required by an extended car warranty?
An extended warranty is also worth considering as costs for car parts go up. During a phone survey, one policyholder in California said they got a vehicle service contract because their car "was coming up on 100,000 miles" and modern cars are "so electronically filled with stuff."
The most important thing is to understand exactly what is and isn't covered before buying a plan. Most people who are dissatisfied with their warranty say it's because a claim gets denied. This is often caused by a misunderstanding about coverage.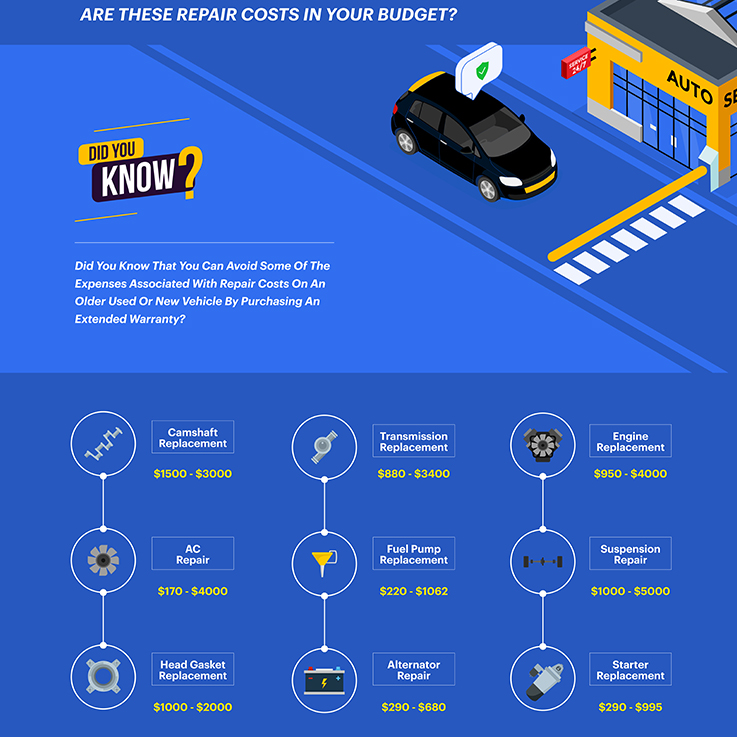 4 best high-mileage car warranties
We compared 13 of the top-rated auto warranty companies on mileage restrictions, waiting periods and coverage options to select our picks for the best high-mileage plans. Read our full methodology for more on how we picked the best.
The right extended car warranty for you varies based on your car's make, model and mileage; what you want covered; your budget; and where you live. Get a quote for the most accurate pricing estimate for your car.
Our top pick overall
Endurance Auto Warranty
Maximum mileage: 200,000
Waiting period: 60 days and 1,000 miles
Transferable: Yes
Availability: Most states (not CA)
Endurance offers plans for most makes and models up to 20 model years old and with up to 200,000 miles. Plans cost $350 to $700 per year.
Our pick for high-mileage vehicles: Select Premier plan
Select Premier plans cover essential components, including air conditioning, fuel systems, heating, electrical parts, the transmission, the engine and the drive axle assembly. The standard waiting period is 60 days and 1,000 miles from when you sign the agreement.
Perks included with the contract:
24/7 roadside assistance (one year)
Key fob replacement (one year)
Tire repair and replacement (one year)
Total loss protection (one year)
Discount for collision repairs (one year)
What reviewers like: Positive reviews frequently mention Endurance's "bumper-to-bumper" coverage and "very helpful" reps. "I called around, got a couple of quotes, and I was happy with what Endurance had to say, with their price and the things that they covered. They also offered the yearly maintenance, and that was awesome," one customer told us during a phone survey.
Another said they got a plan when their car reached 100,000 miles because electronic components are so expensive to replace. "I've got a 2018 Silverado that has got more computers in it than a space shuttle," the reviewer said.
"If you're a single mom out there and if you can afford this, that's another insurance for you. Your car goes down, transmission goes out, motor blows up, you pay $100, and it's taken care of," a reviewer in Texas said.
Our pick for older vehicles
CarShield
Maximum mileage: 300,000
Waiting period: 30 days and 1,000 miles
Transferable: Yes
Availability: Most states (not CA)

Learn More
CarShield offers coverage for older vehicles with up to 300,000 miles. Customers can personalize a plan to get the coverage they want for a car. Plan prices start at $99 per month.
Our pick for high-mileage cars: Platinum plan
The Platinum plan, which CarShield calls the "best coverage option" for vehicles with higher mileage, covers your car's engine, transmission, starter, air conditioner, electrical system, water pump, fuel pump and more. There's a $50 transfer fee (only the original purchaser can transfer coverage) and a $50 cancellation fee if you want to cancel early.
Perks included with the contract:
24/7 roadside assistance
Courtesy towing
Car rental reimbursement
Trip interruption reimbursement
What reviewers like: "What a relief it is to have coverage on my vehicle after turning 100,000 miles," a reviewer in Florida said. "I really liked the fact that you can customize your coverage. Excellent customer service, I would definitely suggest getting coverage if your factory warranty expired."
Another Florida customer with "mileage just over 100k" said they got coverage for all major parts. "And I was given a deductible of only $100," they added. "Now I really have peace of mind."
Our pick for no waiting period
olive
Maximum mileage: 140,000
Waiting period: None
Transferable: Yes
Availability: Most states (not FL)
olive is a great choice if you like to do everything online (you can sign up and manage payments from your phone). Pricing varies by the car and mileage, but most olive plans are between $30 and $80 per month.
Our pick for high-mileage cars: Complete Care
olive's most comprehensive coverage includes the engine, transmission, suspension, braking system, air conditioning and heating, instrumentation and more. You can have the plan until your car is up to 14 model years old or has up to 185,000 miles. You can also transfer or cancel your plan at any time.
Perks included with the contract:
Towing reimbursement
Car rental reimbursement
What reviewers like: It's easy to sign up, and the reps are helpful without using high-pressure tactics.
"I called a few insurance companies and some of them were very expensive. Olive offered me a better deal with 100,000 miles on the car. Also, they were very, very responsive and nice," a reviewer in California said.
A customer in Minnesota told us during a phone survey that they got a plan for their wife's Explorer because "once they get over 100,000 miles on it, they — I just don't want to have any, 'Oh my God' … Especially with COVID-19 right now, looking at the cost to do it, like if I did it again through the dealership, I'd have to go out of pocket 3,500 bucks. And that's a stretch right now, you know."
Our pick for coverage options
CARCHEX
Maximum mileage: 250,000
Waiting period: 30 days and 1,000 miles
Transferable: Yes
Availability: Nationwide
CARCHEX offers extended car warranties with its "No-Haggle, Lowest Price Everyday Guarantee." On average, plans cost about $1,500 for five years of coverage. You can transfer a plan for $50 or cancel anytime.
Our pick for high-mileage cars: Silver CARCHEX Care by Royal
The Silver plan provides essential coverage to major systems for up to seven years. Coverage includes the engine, transmission and drive axle, plus fuel delivery, air conditioning and electrical components. Seals and gaskets are excluded.
Perks included with the contract:
24/7 roadside assistance
Towing
Key lockout service
Rental car reimbursement
Trip interruption service
What reviewers like: CARCHEX reps are helpful and professional. Positive reviewers highlight good experiences with vehicle protection plans.
A reviewer in Virginia just purchased a car with more than 150,000 miles on it and got a plan: "It's a good car and was in good condition but it's a machine and typically, machines break down. I figured I'd rather build my roof when it's sunny out than when it's raining."
They said the plan was a little pricey but worth it, adding, "CARCHEX was a straight shooter and I felt I wasn't being hit with any gimmicks. I didn't feel like I was talking to a salesman who was trying to make a sale but rather a person that understood exactly the plight what I was in."
A reviewer in Indiana said the rep "explained everything including different levels of coverage and what they cover." They were "surprised" to get five years of coverage on a 1999 vehicle with 182,000 miles.
What do extended auto warranties cover for used cars?
Warranty coverage varies based on the plan you select, but most companies offer coverage for the following:
Air conditioner
Brake system
Drive axle
Driveshaft
Engine
Electrical components
Fuel system
Steering
Suspension
Transfer case
Transmission
Companies offer different types of warranties — powertrain warranties cover your engine, transmission and other parts that deliver power; drivetrain warranties cover everything that moves the car except the engine; and bumper-to-bumper coverage, the most comprehensive, includes all the major components and systems of the vehicle.
All warranties have their limits. Specific coverages and exclusions will be outlined in the terms of your contract. In general, plans don't cover regular maintenance service or parts that tend to wear out, like brake pads and windshield wipers.
Compare high-mileage car warranties
Mileage limits vary between extended auto warranty companies. Check your vehicle's odometer for its current mileage and compare it against the table below to see your coverage options.
| | | | | | |
| --- | --- | --- | --- | --- | --- |
| | Highest mileage plan | Maximum mileage | Maximum model years | Waiting period | Learn more |
| | Select Premier | 200,000 | 20 | 60 days and 1,000 miles | Read reviews |
| | Platinum | 300,000 | 25 | 30 days and 1,000 miles | Read reviews |
| | Complete Care | 140,000 | 10 | None | Read reviews |
| | Silver CARCHEX Care by Royal | 250,000 | 25 | 30 days and 1,000 miles | Read reviews |
Car maintenance for vehicles over 100,000 miles
Maintaining a regular vehicle service schedule makes it easier to fix minor problems before they get worse.
Poor maintenance and delayed repairs just make problems worse, "and sometimes it can get really expensive. For instance, if there is an oil or coolant leak in the system, the problem must be treated as soon as possible, before it damages the engine," according to Matas Buzelis, an automotive writer and head of communications at carVertical, a vehicle history report platform.
Here are three maintenance tips for higher-mileage vehicles:
Change your oil: With high-mileage vehicles, it's a good idea to get your oil changed roughly twice a year. If you want to be more precise, you can time your oil changes by your mileage. Some vehicles need an oil change every 3,000 miles, but many can now go 5,000 to 7,500 miles or longer between services, depending on the type of oil you use.
Check your tires: Uneven tread wear can be a signal of bad wheel alignment that leads to unpredictable control of the car, Buzelis said. It's a good rule of thumb to have your tires rotated every 5,000 to 8,000 miles. Rotating your tires evens out the wear pattern so they can last longer.
Keep your car clean: Dirt on the floor mats can cause them to wear out quickly. It's also important to keep the body of the car clean. Even "slight touches" on a dirty car can cause significant scratches that require polishing or repainting, according to Buzelis.
Many warranties require you to perform regular maintenance to prevent voiding your service contract, which may include oil changes at the recommended mileage, regular tire rotations, changing filters and tending to spark plugs and engine coolant.
Each provider has its own definition of regular maintenance, so read the fine print of your service contract carefully. For more, check out these tips to prevent some of the worst car issues.
Frequently asked questions
How much do extended warranties cost?

The average extended car warranty cost is around $2,500 total. Most people finance the plan over a couple of years and then only have to pay a deductible (if necessary) for the remainder of the term (typically up to 10 years). Plans can be more expensive, depending on the company and the coverage.
What's considered high mileage on a car?

It depends on the make and model, but generally, people mean over 100,000 when they say "high mileage." J.D. Power considers 200,000 the "upper limit" for buying a used car. It also depends on how well the car is maintained. For example, transmissions last 150,000 to 200,000 miles; timing belts usually need to be replaced every 60,000 to 100,000 miles. Most people drive between 10,000 and 20,000 miles per year, for reference. We recommend an extended car warranty for vehicles with more than 100,000 miles if you own a quality vehicle and are dedicated to maintaining it.
When should you get a tuneup on your car?

Tuneup schedules vary depending on your vehicle. Newer cars require a tuneup roughly every 30,000 to 100,000 miles, while older cars with nonelectric ignitions might require a tuneup every 10,000 miles or every year. Some signs that your car might need a tuneup include the check engine light turning on, deteriorating fuel efficienc and vibrations or shaking.
How does an extended auto warranty work?
Label
Authorized Partner
Company name
Logo
Contact
Summary
Get Pricing

Label
Authorized Partner
Company name
Logo
Contact
Summary
Get Pricing
Bottom line: Extended warranties for high-mileage vehicles
Even if your vehicle has a lot of miles on the odometer, you can still find a vehicle service contract that covers expensive repairs for essential parts of your car. Customers we surveyed said they purchased a plan because "it can pay for itself in one trip really easy" and "they have centers that I can go to and I can go to any authorized mechanic."
Many extended auto warranty companies offer high-mileage car warranties, but not all are the same. It pays to investigate what coverage each warranty company provides for cars that have more than 100,000 miles.
A top high-mileage warranty plan can make your car repair budget more predictable and add years to the life of your car. Some plans include 24/7 roadside assistance, towing costs, rental car coverage and reimbursement for food and lodging if your car breaks down far from home.
Methodology

The ConsumerAffairs research team started with a list of the 13 highest-rated auto warranty companies on our site. Companies were scored based on their percentage of 5-star reviews and the difference between the number of 5-star and 1-star reviews.

To choose our top picks, we researched mileage minimums and maximums, included and excluded vehicles and additional coverage options.

We then analyzed more than 4,600 recent verified customer reviews to find out what the happiest customers frequently highlight about each company.
Did you find this article helpful?
|
You're signed up
We'll start sending you the news you need delivered straight to you. We value your privacy. Unsubscribe easily.