How an extended auto warranty works
Learn how to successfully submit a claim in five steps



Written by

Edited by
Find Extended Auto Warranties near you
Audi, Endurance Auto Warranty, CarShield and olive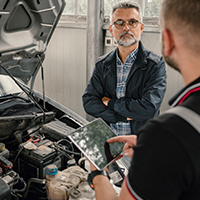 An extended auto warranty can give you peace of mind and protection against expensive repair bills once your factory warranty runs out. But how exactly do they work? How do you file a claim? When do you get reimbursed? And when does your coverage actually start?
Read on to find out.
---
Key insights
Extended warranties can provide similar coverage after the factory warranty that came with your car runs out, but you should pay attention to the start date if you want your money's worth.
Most extended warranty repairs must be pre-authorized. That means you bring the car to the shop, the shop diagnoses the issue and files a claim for you, and the warranty company pays the shop directly.
You may have to call around — or simply call your provider — to find a shop that takes your extended warranty card.
What an extended warranty does
As the name implies, an extended auto warranty can effectively "extend" the length of your factory warranty, adding additional years or miles of coverage to protect you from repair bills for longer.
Since your extended warranty is an entirely new plan, you can actually improve on your factory coverage if you'd like.
Keep in mind that extended warranties, just like factory warranties, only cover factory defects, though. So, if your infotainment screen suddenly goes black or your transmission won't shift, your warranty provider would likely pay to fix the problem, minus the cost of your deductible.
However, any issues arising due to damage, neglect, abuse, misuse, aftermarket part interference, racing or off-road use generally won't be covered.
» LEARN: What is a vehicle service contract?
When does an extended warranty start?
Now that we've established what an extended warranty actually does, we can get into how you actually go about using one, starting with when coverage begins. Unfortunately, that answer is more complicated than you might think.
Extended auto warranty coverage is typically measured from one of two start dates:
The in-service date is the date when your vehicle was sold to its first owner. If you're not the first owner, you can check your vehicle's in-service date by calling the dealership or checking the Carfax report.
The warranty purchase date is when you purchased the extended warranty. (This is sometimes known as the contract effective date.)
Broadly speaking, most manufacturers' extended warranties (like Honda Care or Audi Pure Protection) start from the in-service date. That means if you purchase a seven-year/100,000-mile Audi Pure Protection plan, your extended warranty will only provide an extra three years or 50,000 miles of coverage beyond your original four-year/50,000-mile factory warranty.
In contrast, most extended warranties from third-party companies (like Endurance or CarShield) start from the warranty purchase date. So, if you purchase a three-year plan from Endurance, you're truly getting three extra years of coverage starting now.
Well, "now" in a figurative sense.
If you purchase an extended warranty today, your coverage could begin as quickly as tomorrow morning. Other times, you might have a waiting period of up to 90 days, depending on your provider and the terms listed in your contract.
Waiting periods are often a way of weeding out vehicles with preexisting conditions.
Some providers, like olive and Mopar (the official warranty provider for Chrysler, Dodge, Jeep, Ram, Alfa Romeo and others), have no waiting period, and your coverage begins as soon as they're able to process your paperwork.
"We get plans registered within 24 hours," wrote a rep from Zeigler Auto Group, a car dealership group that sells Mopar warranties online.
Other warranty providers, like CarShield, have standard waiting periods of 30 days and 1,000 miles. Some can stretch as long as 90 days. So, if you're looking to close the gap between your factory warranty and your extended warranty, be sure to check your warranty agreement and time your purchase accordingly.
Now that we've covered what an extended auto warranty does and when it starts, how do you actually use it?
How to use an extended auto warranty
Let's say you have extended auto warranty coverage, and something happens to your car. Maybe your parking sensors stop working, or your engine is acting strange. Now what?
Follow these steps to maximize the odds that your claim will be accepted and your repairs will go smoothly.
1) Notify your warranty company

When your car needs repairs, it almost never hurts to simply call your warranty company to ask about its process and get help with the next steps.

While you're on the phone, you can ask about roadside assistance (if you need it and it's included in your plan), whether or not your breakdown might be covered, and preferred local mechanics (more on why that's important in step five).

2) Get your vehicle to an authorized shop

Most third-party warranty companies will let you take your vehicle to any ASE-certified technician to have repairs done. By contrast, most automaker-backed plans require you to go to the nearest licensed dealership.

That said, manufacturers' plans typically include free or subsidized towing to the nearest dealer, and they may even waive your deductible if you have repairs done at the same dealer where you bought the warranty (also known as a disappearing deductible).

3) Let the shop know that you have a warranty

This step is essential for two reasons.

As previously mentioned, almost all warranty repairs must be pre-authorized by your warranty company. If you forget to mention your warranty, pay for the repairs out of pocket and then try to seek reimbursement from your warranty provider, you might be out of luck. Most providers will automatically deny payment for any repairs that weren't pre-authorized.
There's a chance that the shop will not honor your warranty. "Some shops refuse to take our coverage, however it is not for the reasons you may think," wrote CarShield in a response to Steve, a ConsumerAffairs reviewer from Virginia.

"Some shops refuse to take any outside coverage because they want to be in charge of their own prices. There is a nationally recognized labor guide that tells repair facilities what to charge for what services and things like that. But it's up to each individual shop whether or not it wants to follow it. With coverage like ours, we keep shops from overcharging our customers and shops don't always like that."

If your preferred shop refuses to perform warranty work, your next best step might be to call your warranty provider back, let them know and ask for recommendations.

4) Wait for diagnosis, pre-authorization and repairs

What happens next is largely out of your hands. The shop will diagnose your issue and send the diagnosis code(s) to your warranty provider for pre-authorization.

Once it has pre-authorization, the shop will go ahead and complete the repairs. If your warranty provider denies the repairs, the shop will generally call you to ask how you'd like to proceed (i.e., pay for repairs out of pocket or open a dispute).

Before you open a dispute, it might be worth double-checking if your part is covered under warranty (and if you have any ground to stand on).

"A lot of the time, people think that the exhaust or batteries are covered. They're not," wrote the rep from Zeigler.

If your warranty provider does pre-authorize the repairs, you'll move on to step five.

5) Retrieve your vehicle and pay your deductible

Once the repairs are complete, you simply pick up the keys and pay the shop your deductible.

The shop should never charge you more than your deductible amount, and if it does, you should call your warranty provider right away.
Once your vehicle is in the shop, the process from diagnosis to pre-authorization to repairs could take anywhere from a few hours to a few weeks. It largely depends on the complexity of the necessary repairs. Something as simple as a foggy headlight could take just a few hours, while an electrical issue or major engine malfunction could take longer.
Another major factor is how quickly your warranty provider can pre-authorize (or deny) repairs. Some providers can be slow on the draw, which causes frustration at the shop and delays for you. That's why it's important to consider the reputation — not just the pricing — of the warranty providers you're considering.
"I took my 2014 Lexus ES350 to the Lexus dealership for service and the car was fixed without any fuss or questioning," wrote Diane, a ConsumerAffairs reviewer from Illinois. "When I told the dealership that I had CarShield, the representative said he would contact CarShield and take care of the rest. I received an email that showed everything was covered."
For a curated list of companies to consider, check out our top picks for the best extended car warranty companies.
Extended auto warranties are a bit more nuanced than they might seem. Like auto insurance or health insurance, there's a process you have to follow and understand to get things right and slash your bill. But, as long as you know what's covered, know your waiting period and get your repairs pre-authorized, it should be smooth sailing.
Did you find this article helpful?
|
You're signed up
We'll start sending you the news you need delivered straight to you. We value your privacy. Unsubscribe easily.