Firestone Service Centers
Consumer Complaints and Reviews

I used them in May 11, 2017. They did the technical inspection and offered to replace all 4 tires, replace alternator drive belt, do alignment service on my truck. I agreed and paid 622 dollars for the job they did. I have an old Toyota truck that never caused me big problems. I traveled a lot on it. So after I left the station I started to hear a strange banging noise from the back that I never heard before. A few weeks later I went back to the Firestone and asked them to look at it. I was told that the spring locker was taken from one side and put next to the other one on the opposite side.They immediately started to tell me that they had nothing to do with it and I took the truck after they worked on it somewhere else to work on it more.
It was a despicable lie and I told them so. When I came home I called the Firestone 800 number and complained to them. Then some employee Paul called me and started to scream assuring me that they had nothing to do with the problem, that I can bring my truck to their other station for full day and they will look at it and charge me for that. I had no intention of paying them more money for something they did from the beginning and asked my neighbor who is a license auto technician to look at my truck. He immediately told me that when they were working on my truck at Firestone they simply forgot to put the part back on its place. He fixed the problem in 15 minutes. What made me mad was the inability of the Firestone people to admit to the error and deal with it on the spot. Instead I was bullied aggressively by them. Firestone, teach your employees some conflict resolution techniques and make them treat paying customers right.

What brought me into Firestone was that the front shocks needed to be replaced on our 2011 Dodge Avenger. So I brought our car into the shop on Saturday to get the work done so everything got FIXED and I left. Well apparently it wasn't. There was a horrible knocking sound coming from the driver's side so I immediately took our car back in to be looked at. Come to find out the sway bar links came loose and was banging around. They're like "oh we took care of it. You're good to go. Have a nice day." Lo and behold the very next day I had to bring the car back for a second time because it's making a clunking noise from the front right side. This is the service we receive after paying $1000 for professional service. Firestone on Jefferson in Rockford IL we will never come back and we are cutting up our credit card. If you want professional service don't go to Firestone.

I have been dealing with a situation since 4/3/17 in regards to poor customer service and lack of repairing my car at a local Firestone in Conyers, GA. This particular shop is such a mess that they don't know if a car is ready or not. I ended up driving back to VA, where I use to live, and getting my car repaired there, because Phil at Firestone in Conyers, GA refused to continue to check on the issue, which was a noise turning hard right in the front end. I told my mechanic in VA about it, and lo and behold, rack and pinion steering issue. Phil also tried to get me for a tune up 15000 miles early, as they don't like to look at the history on cars because it's all there. My car has only been serviced by Firestone. It just takes a few minutes to look at it. Thank you. And GOODBYE FIRESTONE! I am asking for a refund of my tire balancing and alignment costs, as I will not deal with them again.

I took car in for engine light May 2017. Long story short was charged $671.00 for service. One week later I'm back same problem. It's now June 2017 still have same problem. I've called corporate headquarters twice. Service all around sucks. After a lot of back and forth my money for service was refunded and my credit card is cut. I'll never go to Firestone again!!!! Bad service. Bad business.

I went to Firestone located at 6100 Winchester, Memphis, TN 38115 around January 14, 2017 to check my alignment. The mechanic, a young 22 man told me I needed a driver side inner tie end rod and that will fix my alignment. I paid for the service. When the young man working on my car took off the passenger side caliper off my wheel, I asked him why did he do that and he replied that when you do an alignment you suppose to adjust the caliper. I asked him why he did not take off the other side, if that is true. He said it did not need it. My car still did not align. I Called the corporate office to let them know of my visit.
In February 2017 I went back because the car was shaking so bad when I drove it I almost had an accident. The car would shake while braking and shake when driving at 45 mph. I took the car back to Firestone on 6100 Winchester. The same young Firestone mechanic said I need a axle on the driver side and a outer tie rod. Firestone did the service and attempted to align it and it did not align; the camber was out. I called the corporate office again about the visit. On March 4, 2017 I took the car to the Firestone on Hacks Cross and they told me I need one rear tire and that will fix the alignment problem. I bought the tire as recommended by Firestone. The car still shook while driving, veered to the left while driving and the brake pedal shook while braking.
April 17, 2017 I took the car back to Firestone because it was getting dangerous to drive. Firestone master mechanic told me he was going to do something that usually fix any shaking and alignment problem. He said he was going to put front rotors, front brake pads, one caliper, balance tires and align. He said this service is at no cost because of the past issues. He did the service. I saw no one bleed the system after putting the caliper and other parts on my vehicle. Two weeks later while I was attempting to brake; the brakes scrubbed and slipped. I had to pump the brakes to stop. I immediately called Firestone corporate office and told them about the brakes.
I called the Firestone on 6100 Winchester and told them how the brakes performed when I was stopping. I took the car to the store and they would not work on the car until they hear from the manager although I called corporate and the work was still under warranty. May 10, 2017 I took the car to Principle Toyota and they kept the car overnight. They put me in a rental yet I paid $45. The next day I was called by the service advisor and went to the store and was told that the rotors were warped and the right camber is off and the car is not aligned just the same as it was in November 2016 when I came in for oil change. Toyota said to fix my car they need to do front rotors, front brake pads, replace struts, do tire balance and alignment. They said the alignment and camber was off because of front struts and not anything else can fix it except struts and not what was done by Firestone.
I immediately called Firestone and talked to the manager at Germantown. He said bring the car to the Winchester store. I took the car to the Winchester store. They told me they could not work on my car until they hear from a manager. Firestone refuse to check my brakes, rotors, balance or any warranty work. I was forced to take the car home. I called the Corporate office and told them about the situation. I called the Winchester Firestone and they said the manager suppose to call me. He wanted to refund me part of my money for the drive axle, inner tie end rod and alignment. I told him what about the brakes and rotors that they put on. I told him to put my original parts back on my car and he said they do not have them anymore. So I was left with the bad parts on my car and did not have the money to pay $2000 for new parts. Although the Firestone parts was still under warranty.
I asked Firestone was my car safe to drive and they said yes. May 20, 2017 I was driving home from the grocery store. The car ahead of me abruptly braked although I was about two car lengths behind; it did not matter because I applied my brakes and the car did not stop so I applied my emergency brake and the car skidded and crashed into another car. I was injured and went to the emergency room. My knee is still the size of a melon. I have dizzy spells and a concussion. My back hurts badly and I cannot sleep. I am too nervous to drive. I reported this to Firestone corporate office and they did not send anyone out to look at my car. My car was totaled.
I am devastated because I could have lost my life or someone else lost their life. I have been in tears since the accident. I am having nightmares whenever I fall off to sleep for a short time. I am on medication for pain and nervousness and insomnia. I have to endure steroid injections, physical therapy, medication, this accident stops my job relocation. This accident has changed my life. Firestone is responsible for this mess. I have paid $3782 for car rental, medical care, hood, grille, bumper, headlights repair. The rotor, brakes, alignment, tire balance are still not fix.
How do I know I can trust these reviews about Firestone?
794,387 reviews on ConsumerAffairs are verified.
We require contact information to ensure our reviewers are real.
We use intelligent software that helps us maintain the integrity of reviews.
Our moderators read all reviews to verify quality and helpfulness.
For more information about reviews on ConsumerAffairs.com please visit our FAQ.

Friends would tell me I have white smoke coming out of my exhaust so I took it to a mechanic and they told me my car was overfilled by 8 quarts of oil. I took the dealership receipt back to the Firestone location and they argued with me and the advisor basically called me a liar that someone else had to of put the oil in. I have no reason not to tell them the truth. Horrible customer service after being a customer to them for over 7 years.

My family and I have been satisfied Firestone customers for years but had a recent, horrible experience. My father and account holder Floyd ** is very displeased by what occurred. On 4/30/17 my husband took our 2003 Saturn L200 for an oil change to Firestone at 3691 S. Noland on Noland Road in Independence, Missouri and my husband reported that he had been hearing a squeaking sound, so probably needs brakes looked at too. A brake inspection occurred and ** Technician reported all fine.
The next morning when my husband went to get gas for the car, the ABS lights came on, the pedal was heavy, and hard to stop. Luckily, our teenage son, who normally drives this vehicle, was not behind the wheel. My husband returned to Firestone after work the next day. This time, he was advised brakes were needed and a whole host of other needs totaling $669.58! Furthermore, my husband was blamed as Firestone said he/someone must have slammed hard on the brakes to make this happen. We had the car towed and service repairs done elsewhere. Our safety/lives were put at risk because of this mechanical negligence/incompetence. We had our vehicle towed to Sears Automotive Independence who reported that the rear brake problem should have immediately been detected. They took care of all our needs and test drove our car 2-3 times to ensure everything was in good, working order.
We've discussed this issue with other mechanics, described the situation, who also report disbelief by what we experienced. Unlikely we will be returning to Firestone ever again, at least this Noland location, and we will be sure to alert all our family, friends, and co-workers. Moreover, when I notified Firestone headquarters about this issue on May 3rd was advised someone would follow up with us. It is now a month later, and after repeated email promises that someone will call, no one has yet.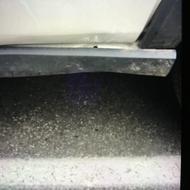 I brought my vehicle in for brakes to serviced and was told I had to rebuild my calipers. Change my rotors in the back. Mind you my vehicle only has 12000 miles on 2015. Ripoff. Ok I told them, "Make repairs." $1700 later I was called that my vehicle was ready and could be picked up. I went to get my car and there was damage to the side of my car both sides from the lift. I went in the business to complain about the damage. Tom from the Firestone at 70 State Highway 139 Upper Jersey City 07306 brushed me off and told another employee to go look at my damage for that employee to have another employee come out and check.
I was told they will repair and one of the mechanics come out with a pry bar and a hammer to make repair... I asked him not to touch my car with those tools so they didn't do any more damage to my car. All they could tell me was I have to come back when there's a manager on duty. I had to make a police report. This Firestone does shady business. Very overpriced false repairs. I wouldn't recommend this company to anyone. Very poor service... aside from my personal vehicles I have a fleet of 13 vans and I won't return to Firestone for service.

The reason for me writing this review to express my frustrations and disappointment in this store as well as this company as a whole. I've been a customer with this company for over a decade including my immediate family. We basically all have accounts with Firestone. In the last 4 months I have spent over $1,000 dollars with them in repairs and car work. This is not including the money I have spent with them over the last 5 years. I'm not about to even get into what that number is around. Just know I probably have paid for a new car by now. I was even upgraded to a premier rewards gold member because of the money I spend with Firestone so that should tell you I spend money with this company and my family. Recently at this particular store I have had nothing but issues. A few years ago this used to be one of the best stores in Columbia.
The guys up front took care of me and I never had any issues with the work that was done there. That's what made me want to do more business with them. Recently in the last 6 months under new management of the store the service levels have declined drastically. I have had to come back to this store repetitive times because of issues with my car. In the last month I have spent over $400. Recently about two weeks ago after spending over $700 in brake service I came to get some maintenance things done and get a new alternator belt on. I noticed a week later the alternator belt was already threading down. I took it back to Firestone and the service manager assisted me with putting another one no charge and was very helpful. I recently came back last Wed. because I had to get some other work done and mentioned to the service manager again that the belt is threading down.
Because of the other work I was getting done and since I had warranty he replaced the belt again. It was Thursday before I got my car since they had to order part and I was fine with that. When I went to pick up car not an hour later with me driving it I hear a pop and my car shuts off turning on a street. I was in the middle of traffic holding it up and had to get out and literally push my car out the road and into gas station. When I lifted up hood I noticed that alternator belt completely popped off and other things were not damaged under hood. Before this I never had issues with this alternator belt. Even the first two times Firestone replaced belt it never popped. So I'm asking myself how did it pop this time. What I don't understand is how you can be a brand recognizable company and don't hire and make sure your techs are certified and know what they are doing.
Sometimes I feel and is actually a fact that the techs that work at Firestone are not certified and really don't know how to fix a lot of issues on cars. A lot of them just know about cars are maybe worked on them or maybe good at oil changes or tires and they learn on the job how to do belts, brakes, etc. They lie about working on something or know they didn't fix it right but just want to get your money. You have to understand everything is about money and numbers and I get that. But at the same time if I pay you money I expect my car to be fixed and not bring down on road as soon as I come it. So I reached back out to the Firestone that did my work and spoke with manager to let them know what happen and that they need to pay for tow to bring it back there. The service manager once again was very helpful and didn't mind doing that and told me he would take care of it. My car was taken back to Firestone on last Thursday.
It has now been a week and my car is still at Firestone. Nothing has been fixed. I'm still without a car and I have not even been offered a rental. The store manager at this store has not been helpful at all. She seems like she doesn't know whats going on and wants to make every excuse about why she can't do anything. She never offered to me what she can do and never gave me satisfaction that she will get this resolved. She told me she can't put me in a rental and I don't understand. My car will not crank. My car cranked fine before I brought it to you, it cranked fine after you fixed it. I feel she doesn't try to listen and understand where I'm coming from and trying to tell me whats going on. Their telling me now it's a timing belt issue but how. I never was told from you all that it was timing belt issue and never had one before I came there.
I really feel like I'm being lied to and just being told things until they figure out what to do and its very frustrating. It's very frustrating for someone to have your car that long and is not even trying to have a sense of urgency to make it right. You are just letting my car sent there and don't even care if I have a car or not. You don't care if I have to get to work or if I'm at inconvenience. I reached out the customer hotline and was able to get in touch with Area manager in the Columbia region. She was helpful and she told me she would take of it. I also requested my car be towed from the Parklane Rd. Firestone over to Two notch Firestone since I don't trust the techs nor management at the store. The Two Notch store manager let me know they had to file claim and my car may now have to go manufacturer dealer. He also told me the claim process could take up to month and I should be able to request rental from Parklane store manager.
Once again this manager is giving me excuses to why I can't get a rental but you are messed up my car. I have also got the regional manager involved because I feel like there is no sense of urgency and everybody is taking their time. I will keep continuing to escalate this until my needs are meant and I'm compensated. I will also be filing complaint with SC consumer affairs dept. and will be looking into legal action. I will also write horrible reviews about this company and how they take care of their loyal customers who spend good money with them. My whole thing is this is not right and I shouldn't have to deal with this. I recommend everybody stay away from Firestone for heavy car work if you don't want your car messed up.

I was hearing a noise from back of my car, so I took my car to Sterling, VA Firestone and asked to check my brakes and shocks for me and see what the cause of the noise is. They called me the next day and gave me an estimate of almost $2,500.00 saying my breaks were bad, my shocks were bad, and my CV boots were ripped and also my calipers were damaged and needed to be replaced. I asked them to put the car together and I will pick it up.
Then I took it to my regular mechanic and asked him to check the same thing. After his review I was told there is nothing wrong with my car, shocks are good, breaks are fine and have at least 5000 more miles to go on front and about 15000 on the back breaks and none of my CV boots or calipers were bad. The noise I was hearing was a loose screw on the backseat which he fixed for me for free. And what is worse they charge me $20.00 to lie to me. People work hard for their money and should not be ripped off by unethical, lying cheating mechanics. Never going there again. Do not use them.

After two visits and much discussion the manager finally called in my fleet information and I arrived to have four tires put on my fleet service vehicle. Had experienced a flat and was running on my spare, was told they didn't know where to put the spare back on to the truck. I said, "you better find it. You're a tire shop." Then they said, "well your truck has roof racks on it and it's hard to get it higher on the lift." I told them I wasn't going to lay out in the rain and put it up underneath the truck myself, they got it done.
Then I was told I needed a alignment and TPS reset. Tires were worn bad on edges in the rear only. I asked if the alignment would fix that and he said no. I declined the alignment said yes for the TPS reset. He then told me, "I went on the computer but you can't have the TPS reset, your fleet account won't allow it." I said, "please get them on the phone. I'll talk to them and I have to have that reset. It's a safety issue and we cannot drive around with a safety issue on our vehicles." He declined to call them said I should just drive down the road. It may or may not reset. At which point the mechanic came out from the back and started arguing with me and he said, "what's your problem?" I said, "I want my TPS reset." He said, "I guarantee you that's a Ford right, yes. I guarantee you it will reset within a half mile." This manager tried to bill me for something that he knew would reset, they drove it in the parking lot and reset it. Hmmm.
I think these jerks are on an incentive plan, they sure try to extrapolate every buck out of me possible. They should try to make their money legally. I've never been jerked around so much in my entire life and I've been driving these vans for 45 years. Lot of tire changes. I don't recommend anybody go to Firestone unless you feel like getting nickel and dimed and treated rudely. What a total disgrace. No wonder you have a one star rating. I give you 0 star rating.

I payed for 175 65 14 let. After they put the one, got on the interstate. My car hit hard. It had a little dip there. I thought it was because I had new tires and I needed to ride them. I don't buy new tires always used so I didn't know. So I got ready to get off the interstate. Another dip. My car hit so hard I had to pull over right then I seen a piece of my bumper came off. So I was maybe three minutes away from home so I made it home.
The whole time every bump in the road was making my car hit hard and my car started shaking bad. So I made it home. They put 195 65 14 on my car. Way too big. I called back. I took my car back. The man took the piece of my bumper and threw it away. My car drives awful now. I did a claim. They said someone would call me in 24 hours. No call. Called back. They said 3-5 business days. Called this morning 5/15/17. They told me to leave a message with the claim department supervisor. Still haven't heard nothing back. My bumper is hanging and plus my car is shaking very bad.

I am part Hispanic, part Indian, part ** male. The lady that waited on me and the manager ran several customers ahead of me on the waiting list. I got to the Firestone (6102 Slide, Lubbock, TX) before several other customers and they ran them ahead of me. I waited for 2 1/2 hours and they did not even move my pickup! Was it my clothes? Was it my hat? Is it the color of my skin? Why am I not good enough for Firestone?

Firestone Service Center, Farmington Ave Bristol Ct. rated this 5 stars by Tire Rack. BIG MISTAKE. Purchased 4 Continental tires thru Tire Rack and this Firestone SC was one of the installers recommended within my area. Made an appointment and the earliest they can accommodate me was Sunday at 1000hrs. We arrive about 15 minutes before the designated time and after the preliminary discussions with the salesperson the service technician took the car in to have the 4 new tires balanced and mounted. An hour and 15 later the salesperson called my name to discuss the issue of 2 stripped lug bolts with stripped threads. I asked him if I could see the problem bolts and showed it. I noticed that the 4 new tires were already in their designated rims and mounted in the car.
I told the technician that this was not right because when I mounted the nuts I usually hand turn them until they're halfway in then I use the lug wrench in sequence at least 3 times in each nut until they're tight. To make long story short we are charged exactly $463 and 3 hours later. I am old and retired and don't have that kind of money to give away on other people greeds. If this is what most older retired folks will encounter while getting their vehicle service by a well known brand like Firestone, then God help us all because the service nowadays are horrible- nobody takes pride on what they do.

On Friday the 28 April 2017 while I was returning home from work I noticed my brake pedal was very soft. I pulled into my driveway and parked my 2004 Yukon Denali. While the car was still running, my brake caution light was displayed on my dash. I turned the car off and checked the brake reservoir. It was empty. I looked under the driver's side of the car and noticed my brake lines were corroded and one of them was completely ruptured. I now had a large amount of brake oil under my car. I called GEICO emergency road service on Saturday the 29 April 2017 and they quickly arranged my car to be towed to Firestone Complete Auto Care by the Honolulu Towing company. Once on site, the assistant manager Mr. **, told me they would look into in a few hours and call me back. I left the car in their possession at 1011 am under work order **.
Since I didn't receive a call that afternoon, I called them at 5pm. He told me they would work on it first thing on Sunday the 30 April 2017. At 0932 on Sunday I received a call from Assistant Manager Service Advisor (**) from number 808-263-2009. He told me his mechanic was uncomfortable to replace all four of the corroded brake lines since they run close to the car frame. He then told me they serviced the reservoir and that the brakes were working. To be clear, they noticed that one of the brake lines were corroded to the point of rupturing and just topped off the oil reservoir. He then told me the car was "drivable" and that I should take it to the dealership for repair.
This shop is a certified safety inspection station for Hawaii as well. Telling a consumer that it was safe to drive this automobile across the island to the only GMC repair shop knowing the brake line was ruptured is completely unprofessional and unsafe to the general public. I'm still in shock. After telling my story to GEICO emergency road assistance representative, they arranged my car to be towed tomorrow 01 May 2017 at 1030 from this Firestone Complete Auto Care shop in Kailua to the GMC repair shop in Honolulu. They were also amazed that an assistant manager would recommend to a consumer to drive a vehicle with a known ruptured brake line across the island (approx 25 miles) for a dealership repair. GEICO overwhelmingly agreed with me to NOT drive my Yukon with a known ruptured brake line. The GMC service department is closed on Sundays which is why we arranged my car to be towed on Monday.
I called the service advisor back at this Firestone shop today to let him know that I was not going to drive my car across the island with a leaking brake system. I also told him GEICO was willing to pay for my SECOND towing evolution since they decided it was too hard to replace 4 corroded brake lines since his mechanics felt "uncomfortable". He then responded to me that was fine and hung up the phone. Much Aloha!

Very disappointed. I've been a loyal Firestone customer for years. I brought my car in and asked for a full inspection because I needed it to be ready to make a 400 mile round trip to visit my mother for Easter. They did about $600 of work on my car on Saturday, tell me I'm good to go. Sunday, I'm driving down I-95, going about 70 miles an hour, suddenly, my steering wheel starts shaking uncontrollably. I'm terrified, wondering what's happening. I hear a loud pop noise and my car starts skidding to a halt. I almost get rear-ended by the driver behind me, he has to swerve to avoid hitting me. I desperately try to change lanes without being hit by the drivers speeding around me, even though my car will barely move.
My husband had to miss Easter with his family to come help me (I know how to change a tire but I have severe carpal tunnel and problems with gripping things so I was worried I wouldn't be able to tighten the lug nuts tight enough) and missed getting to see his grandma who is in stage 4 liver failure and probably will not make it to another Easter.
The next day, I brought my car in to explain the entire ordeal. The manager was horrible. Completely nonchalant about the whole thing. He actually said to me, "Look it's nobody's fault." No, dude, it is unequivocally YOUR FAULT. I bring my car in and ask you to make it safe to drive and you leave me with a car that is NOT SAFE TO DRIVE, that is your fault. I called the corporate complaint number and currently have an open case. I was supposed to hear from the area manager within 24 hours (which would have been by 10 am today) but have not gotten a call from him. I'm going to call my case worker back.
I am extremely disturbed by the company's horrible response to this situation. It says a lot more about a company how they handle their mistakes than how they are when things are good. I've always used Firestone for major repairs. I've bought tires for them for all of my vehicles for the last 15 years. I am so angry about how this whole situation has been handled that I never want to use them again. If my car breaks down in front of a Firestone, I will pay to have it towed somewhere else. Don't trust these people to fix your car.

Service at Firestone 1458 El Camino Real Redwood City, CA 94063. I received fake report on alignment on 04.17.2017. The report was dated at 10:42AM, 04.17.2017. My daughter called there for the first time at 11:13. They blamed computer for wrong time. Computer is silent, the humans manage computers. After my daughter left car at 12:23 women from that Firestone called me after 1 hour and 10 min at 1:33pm and said alignment, balancing, tire replacement was done. They wrote my VIN number on the alignment report and used someone's posted as my alignment report.
I said for that short time it is impossible to done all work and asked for manager. She said manager on vacation. I called after few minutes and man who picked up phone said manager is busy and talking to other customers. After some time the manager called me with caller ID not showing private number and I heard that I expected -- a lot of excuses. Except replaced tire, they did nothing and requested money for alignment, balancing and replace tires. If you want to be foolished -- welcome to Firestone!

Went to the Queensbury, NY Firestone store (manager Fred **) for a oil change on a Toyota Camry which is a company car. Specifically told the manager, Fred, three times that's all we wanted because the car is being turned in for a new one. Went to pick up car and he had put 4 brand new tires on the vehicle, never called us for a heads up. Because it was a fleet car he thought that he could make some money and get the tires approved through fleet, which he did. We told him that the car was being traded in in 2 weeks but he did not listen. He was rude and unprofessional and until we get an apology I will continue to give him negative rating on social media.
Ask to see the old tires and when he brought them out they look good. I measured the tread depth and they wasn't even close to being illegal (when do 4 tires wear at the same rate). I will never go back to Firestone and the company has escalated it and his store will be put on notice. When we picked up the tires he told us the old ones were gone... How convenient. Fred, with his grin thinks this is funny... I don't think so... Firestone unprofessional and rude, robbed a company.

I have been going to Firestone for years for everything from inspections, tires, oil changes, etc. I recently took my vehicle in for a free brake inspection feeling positive they were getting close. I was informed that to replace rotors and pads would cost over $1,300. I did not have that kind of money and was expecting to pay roughly $300, with the sale they were running and the information listed on my very recent inspection.
My friend said we would get the parts and do the job ourselves. I've never done brakes but would learn to save money. I purchased new rotors and pads wanting to ensure that everything was good and even all around. This cost me $277 retail. The front brakes were replaced in one hour by the two of us, the rear took a little longer because the rotors were stuck. With the help of the internet and some creative people, this took roughly 3 hours including all of the time spent on the internet!
Firestone would have gotten a better price than I did for the parts, so why would it have cost $1,300 plus??? I feel that they thought they saw a female coming who would just pay the price quoted without batting an eye. I saved over $1,000 doing the job myself and Firestone has lost a good customer. I don't even know if I feel okay to buy tires from them anymore. I am so disappointed that I finally am submitting my story to let others know what happened.

I took my 2005 Honda Element in to have a noise diagnosed from the front end at the Firestone store in Monroe, LA at 1630 Louisville Ave. I was told after the diagnosis that the issue was related to one of the front wheel bearings and it would cost $800 to replace 1 front wheel bearing. When the technician told me the price for the repair it seemed way out of line to me for the work that would be done. After I left the shop I called several other repair shops for quotes and the actual price to make this repair from these other local shops was between $250 to $350 with parts and labor. I also check multiple online repair websites for quotes and their prices were in line with the prices I was quoted between $250 to $350 for parts and labor.

I took my van to Firestone on March-22-17 for a full tune up. It was already a problem because I had a quote that I had got for a full tune up but the prices was different when I actually went in for the tune up so I question about that. So the manager gave me a somewhat of a discount but not the actual prices from the quote that was given to me from his store. So I went ahead and got the tune up and then after that my van started making noises and check engine light on my van cuts off while driving and light flicks bad odor coming from the vents when a/c is on my van stalling. When I try to crank it up leaks underneath.
I never had these problems before till after that tune up at Firestone. I call up there to talk with the store manager Dominick ** so we schedule an appointment so I took it up there. He stated that everything check out good and that I should take it to the dealer. They not willing to fix what they mess up. They broke my PCV valve and they thought I was going to pay for that part.

This is in re: to the Firestone on Colorado Blvd in Pasadena. I quit going to it a few years ago because they take too long and a couple of things they said they had fixed broke again soon after. But I decided to set up an appointment today to look at a tire with a slow leak. I mean, how hard can it be to fix a stupid tire? In the first place, don't even bother to schedule an appointment. It is *always* first come, first serve. So I had to wait for 30 minutes for them to even get to the car and look at the tire. Which they said had a nail in it and couldn't be repaired.
It's a Mercedes Benz, and an expensive tire -- you can't fix / patch a simple nail puncture? I thought all current model tires were fixable, but okay, whatever. So I told them to go ahead and put a new tire on it. They had advertised a sale online for tires for that model car for $90-some dollars. They charged me $176 for the new tire and never, ever, mentioned the word "sale". They took a further hour to put the new tire on. After over 2 hours of waiting I finally went up to the cash register and stood there snarling at the cashier lady. She mumbled a bunch of mechanic talk about why it was taking so long, so then I went outside and stood OVER the mechanic telling him I was tired of waiting and just give me the damned keys. Oh, they wanted to charge another $135 to change a headlight, but couldn't get the new headlight to work so that didn't even get done.
I got home after prying the keys out of the mechanic's paw and he had left one of the tire caps off -- and NOT on the tire I needed to have fixed, so I don't know why he was screwing around with it. AND he messed up the tire pressure all the way around so I had to let air out of all four of them to meet the spec's that were listed in writing on the door frame. I haven't mentioned the list of other ** they wanted me to have done, too, after I specifically told them I was NOT interested in a full diagnostic -- I will not never ever never go to this place again. They used to be pretty good - reasonable prices, dependable and not terribly long waiting times. That has certainly changed in the last 5 or so years, and I'll start watching the WSJ to see if they're teetering on the edge of bankruptcy too, like Sears and Penneys. Serves 'em right to be unemployed, buncha incompetent lying crooks.

I scheduled an appointment online and received an email with confirmation of the date, time and location. The supposed appointment was for 1:30 p.m. and I went through much trouble to take my vehicle at that particular time. When I arrived at the Firestone location, a worker checked my online appointment and informed me that it was for 4:30 not 1:30 even though I had a CONFIRMATION email showing 1:30. This businesses online reservation system does not work and this likely happens to other customers. It's a Poor business offering no solutions and deserving of low ratings.

Lack of disclosures and attitudes and too many mistakes. I go to the service center and after setting up an appointment I rush to meet appointment after explaining exactly my concern about steering on my car. After checking in for appointment I am informed that there will be a $30.00 review fee before checking anything on car. Common disclosure would say that if the car is going to be checked that there would be a fee. Called corporate and am waiting on response.

Firestone ripped me & wrecked a perfectly good exhaust system. I never authorized the 1726.00 hack job they did to a car I literally owned for 2 weeks, now the exhaust sits on the frame and makes a racket when I turn left, even after spending another 100.00 at another shop to correct the situation. Bob the fat, lazy and rude manager of Firestone in Pinellas Park, Florida, I can take the parts off for you, or can pay for the repair, I asked him to put the on a hoist so I could take photos of the dented muffler and all the rigged, aftermarket junk parts they put on my new car. And on top of that they have been charging 99.00 per visit for diagnostic. They were suppose to credit that fee toward the repair, and half the time I told them upfront what the problem was. I have filed charges with the police, the Better Business Bureau, the credit card company, and the corporation. I am looking for an attorney, anyone want to do a class action too?

I have a 2004 Mazda with (44123) miles that I dropped off for a routine oil change, when I went to pick it up there was one recommendation to replace the coolants. They never said there were any issues, my father had the oil changes every 3000 miles. After driving the car engine started tapping, I brought the car back for them to find the issue and the was no oil on the dipstick. The manager quickly replaced the oil and told my husband "not that it was their fault, but that may have to replaced the engine", that was four months ago. They had a third party come out and say it wasn't due to low oil pressure. They continue to focus on the wrong issue, trying to find everything else wrong with the car. I have wrote to everyone in the organization, but they continue to deny my claim. A $30 oil change has cost me a family possession. I have been a customer for over 20 yrs, they won't see me again.

Today I went to the Firestone in Laguna Hills Mall to verify if they did align my car which I brought in last week. The mechanic said it was done. How could it be done if my car still swerves to the left. Furthermore there was no report given that it was aligned. The printer was out was his reply. I told him that for years I have been bringing my car in for alignment when it swerves to the right or to the left and each time it was always corrected. This time around that did not happen. I informed the mechanic I was not coming back. "We would like you to come back." "I do not trust you," was my reply and left. I bring my car to another mechanic and when I told him about the incident, he said he has clients that said Firestone would recommend a repair and upon his inspection there was no need for it. Are they becoming crooks? And the words of the Founder says that honesty is their business. How ironic?

Was a certified master tech for 27 years. Took my 97 Chevy truck in for an alignment. Was told it needed an upper ball joint and idler arm. I had just replaced all front steering components. I went over to Firestone and checked it out myself and found nothing wrong. Told them to align front end and they did. Picked up truck, steering wheel was off to the left, they said it was because idler arm was bad (wrong). I straightened wheel myself. Also when picked up, drivers door wouldn't open and drivers window wouldn't go up. No more Firestone visits for me.

In the past we trusted Firestone to take care of our cars. We had tires put on our SUV. The lug nuts were not put on tight enough causing lug stems to break at frost. I did not know this. I drove to Alabama from West Virginia. My daughter borrowed my SUV. She was surprised I made it there. Took it back to get it fixed. Same thing happened again the third time after supposing it was finally fix. We were taking it back the tire falls off on the road. Two guys who saw it happen got it back on their response. We were lying we should have sued. We were dumb and had our oil changed there a month ago. I had it back three times which I thought was a tire problem. I told them about light on dashboard kept flashing. They could not find anything. I was worried took car somewhere else. It was short 4 quarts of oil. It could have destroyed our car. Never going back again.

I went to Firestone to check the sound which was coming from the Front right Side whenever I go to a bumpy road. The sound was very annoying and was disturbing a lot. I paid the 10$ amount to get complete car inspection and they recommended me to get the Engine mounts replaced and provided me with estimated cost of 1120$. As I got the car recently from one of my friend, I thought to give it some more day before I make the decision of getting it fixed.
Two days later my car started behaving abnormally and the noise which was very less earlier it increased like hell. Now the noise was there every time even when I am driving on a smooth road with normal gaps or bumps. Earlier the noise was not that much and not also very frequent. I am sure that Firestone guys did something with my car and broken the system which was running fine earlier. The noise which was coming has now increased a lot and really making it impossible to drive.

Lauren FixAuto & Finance Contributing Editor
Lauren Fix, also called The Car Coach, is an automotive and auto finance expert. Her understanding of vehicles has made her the "go to" person on TV, radio, print media and the Internet. She has authored multiple books and writes a column for several outlets, including Parade Magazine, NewsMax and Car Coach Reports. She is a regular guest on major news and morning shows, discussing the latest updates on cars and car financing that will help drivers make smart decisions when buying, maintaining and financing cars. More about Lauren→

Firestone started as a tire manufacturer in 1900, and the company originally supplied tires for Ford's Model-Ts. The first maintenance and repair shop opened in 1926, and there are now more than 1,700 locations.
Completely Firestone: Firestone's website features a wide variety of informational articles to helps consumers understand the way their vehicles work and how different maintenance services keep them running longer.
Towing: Customers who face an unexpected breakdown can call Firestone Roadside Assistance & Towing Service to receive a discounted tow to a Firestone location. Firestone ensures that all towing companies associated with them are reputable and offer fair pricing.
Car Care Academy: Firestone offers hands-on workshops from its Car Care Academy. These free classes teach drivers how to make their vehicles more fuel efficient, how to check their fluid levels in their vehicle, how to choose the best tires for their needs and more.
Time guarantee: Firestone's On Time Guarantee promises customers that their vehicles will be ready at the time estimated time. If the vehicle isn't ready at the appointed time, customers receive 10 percent off of their next service.
Online scheduling: Those ready to purchase tires from Firestone and/or have their vehicle serviced or repaired at one of their locations can make an appointment by visiting Firestone's website.
Best for Firestone Complete Auto Care is best for consumers looking for a service and repair company with a long history, established reputation and locations across the nation.
Compare Auto Service and Repair
Firestone Service Centers Company Profile
Company Name:

Firestone

Year Founded:

1900

City:

Akron

State/Province:

OH

Country:

United States

Website:

http://www.firestone.com/