Consumer Complaints and Reviews

I have a 2015 Mazda CX-5 which is under warranty with Mazda. I took it in for a 5,000 mi oil change and engine check and, except for needing tires, was told everything was fine. I went to Firestone on Juan Tabo Blvd in Albuquerque and purchased a set of Pirelli tires. When the job was completed they advised me they had done a courtesy check on the car and that I needed a new battery and that the coolant reservoir was empty. Since I had just had the car serviced I took it back to Mazda. They showed me that the coolant reservoir was NOT empty and then they tested the battery, which came out as still being in very good condition. I have not contacted Firestone yet, but intend on doing so.

These tires are terrible, they almost cost me my life. I had new brakes and tires and rotors put on less than 5,000 miles ago and one tire blew which forced my vehicle across the yellow lane and into the ditch. 3 tires were blown and my insurance totaled my car. Don't buy these Primewell tires unless you don't want to live. They need some type of lawsuit against them.

On November 2010, I purchased four Destination LE Owl P235/70R17 XL 108S 60,000 mile tires. My tires are worn to the dangerous extent!! My F150 has driven 35,015 miles on these tires. The tires have been rotated every 5,000 miles or less. The original truck tires had 53,283 miles on them and still had plenty of tread. Purchased new tires because of travel plans. Very disappointed in Firestone tires. I am elderly and on a small fixed income. I thought this set of tires would outlast my driving career.

I called to schedule an appointment on Wednesday 5/25. Was told they could get me in on Friday 5/27 at 2PM. Arrived at 1:55PM. Was told I had a 2 hour wait. This is not the first time this with Firestone. But will be the LAST. I do not recommend doing business with Firestone. And at very least do not prepay them for any services. They do not come thru!

Bought 4 new Primewell tires (50,000 mile warranty) for Chevrolet Trailblazer that were aligned the day of purchase. Less than 1.5 years after purchase and after 30000 miles, woke up to flat front tire that was non-repairable. Mechanic inspected both front tires and stated they were both worn on the inside due to horrible front end alignment that was done by Firestone in Bridgeport, CT when tires were purchased. Firestone did NOT honor the 50, 000 mile tire warranty, nor did they honor their faulty front end alignment labor. Instead, both their corporate office and dealership give you total excuses for why they will not replace the tires for free. Buyers BEWARE! This is a prime example of a money-hungry corporation that does NOT value its customers or backs its products or services. My recommendation is to go elsewhere.
How do I know I can trust these reviews about Firestone?
637,576 reviews on ConsumerAffairs are verified.
We require contact information to ensure our reviewers are real.
We use intelligent software that helps us maintain the integrity of reviews.
Our moderators read all reviews to verify quality and helpfulness.
For more information about reviews on ConsumerAffairs.com please visit our FAQ.

I was an employee of a dealership and purchased some tires through them directly for my personal vehicle. After 22000 miles the wear bars are showing and I have tried to contact several Firestone locations to replace the tires under warranty. No one will replace them or honor the warranty so I had to spend another $900 on a new pair of tires that were only 6 months old. All I wanted to do was exchange them for another pair of Firestone at that time. I believe customer service is greatly lacking with the Firestone company and I would recommend to no one to buy the tires.

After only 5,000 miles, one of the Firestone Tires on my 2015 Toyota Sienna developed a bulge on the sidewall. I took the Sienna into a local Firestone franchise to have the tire inspected. I was informed by one of the employees that the tire was not covered under the manufacturer's warranty, and that I would have to purchase a new tire with no compensation. He also told me the problem with the tire was my fault for driving over a pothole or some other obstruction in the road. So to my understanding, a new car that comes with Firestone Tires is not covered by a road hazard warranty. My big mistake was accepting the new Sienna from the Toyota dealership with Firestone Tires in the first place. Since I do not drive on perfectly smooth highways with no potholes or speed bumps, obstructions, etc, and since Firestone does not stand behind their products, I will not have a set of Firestone Tires on any car that I own in the future.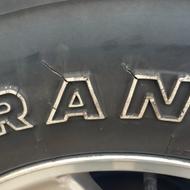 Tires purchased September 2015. Firestone Transforce HT with around 7,000 miles on them and 3 months old. They have never been down bad roads, in accidents, or off road. Truck informed me 2 tires were low. Stopped to fill them up. Turned out almost every letter on 3 tires were split through. My wife uses the truck mostly and my 5 year old daughter is always with her. I didn't take any chances and replaced the tires immediately. Tire shop said it was the second set of Firestones he had seen like that this month. What's better than having to spend $1100 on tires the weekend before Christmas? Just glad my family didn't get hurt as 2 of them were steer tires. Very unsatisfied.

On 12/4 I purchased 4 new tires from Firestone. Before taking my car to the shop I marked on all of my tires walls so I could make sure my work was done. I was completely shocked when I looked down at my tires 5 days later & discovered that my old back tires had been moved to the front & 2 new tires had been put on the back. I had Potenza G019 Grid on my car & switched to Potenza RE 970 AS. I probably would not have discovered this indiscretion if the tires hadn't been marked. I just wonder how many people get ripped off & don't catch it! How did this happen???

I can remember a time when Firestone stood for quality. On the good side I do admit that I always get great service which is why I continued to go there. I dropped car off last night for new brakes for my BMW and was shocked when they called in and said my tires in the rear are bald. I just replaced them in August of this year and it is November. I do recognize that my 550 has the sport package and the rear tires are wider so I can't rotate the tires. I looked back at my records and I have replaced tires 9 times over the last 2 years (2 were for punctures). This isn't a slam on the employees. They are great but the product itself seems to be lacking big time. I just told them I am going to buy the tires from another store because I just can't trust the Firestone tire brand anymore. It is a shame. I can remember when Firestone sold a great product.

710 tire - I own a Chevy Impala I purchased 4 new tires 14,000 mls ago. The tires all are cracking on the edges. I noticed this after one failed at 70mph. The tire came apart. The tread peeled off and took out the fender headlight bumper cover and wiring. Firestone said I hit something and damaged the tire. I am keeping the tire and will contact a large law firm that specializes in things like this. If firestone just paid the damages, and just didn't insult me by saying I damaged the tire I would not be on this rant. The other three tires will do the same thing if I keep them on the car because they are all cracked around the edges my mechanic said.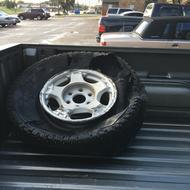 Bought brand new set of Firestone Destination A/T for my college daughter on a 2000 Silverado in FEB 2014. Last night (Oct 2015) with 22K miles she was on the freeway going home when the left front blew out shoving into the median barrier. Thank God she is ok other than bumping her head. First estimate is $5200 in damage to the truck and of course insurance company says it's her fault for not controlling vehicle, well I say it's Firestone's fault and I'm starting here. I don't know about everyone else but if this had happened to me as a young driver or even now the results could be the same.

I just had my Firestone Wilderness 235 75R 15 rear tire separate while driving. Fortunately no accident occurred but had I been driving on a freeway, I am not sure what the outcome would have been. I emailed Firestone and advised them and because my vehicle is 4 wheel drive I have been told that I will need to replace all 4 tires. I am awaiting their response. Will keep you posted.

Sales guy said price included warranty after I showed him online price that was 1/3 of Firestone price. Charged $19 brake fluid exchange, another $60 for brake fluid labor, bought a $77.99 tire. My bill came to $733.74 and it should have been about 1/2 that amount and I am mad.

I purchased a set of 4 - 20" Primewell AT's for my wife's 2007 Dodge Ram 1500. Firestone mounted and said they balanced them. I ended up with a severe shake, loud thumping noise on the highway and a rattle, causing me to take the truck to a Dodge service center for them to use their "Finger Adjustment Plate" to try and properly balance the ties. Two long visits later with NO LUCK. It has NEW brake rotors, NEW brake pads, NEW rear axle, NEW front hubs, NEW shocks, NEW ball joints. Dodge confirmed all parts that could have caused the issues at hand were replaced and NEW, ruling them ALL out. The final decision given to me by 3 different licensed service techs was that the tires themselves were BAD, out of round and deformed. They advised me to take all 4 of them back immediately before I get screwed royally by Firestone!

I have been buying Firestone tires forever. I go through tires fairly fast. Do a lot of driving. Last few sets of the Destination LE tires I got for my Toyota truck. I only got about 1/2 the mileage. Alignment is fine, rotate frequently, and balance. Up till now Firestone have been pretty fair and credited me on my next set. This last set of the Destination LE were terrible. Always shake at 55-70 mph. I would take it in and have balance and rotate -- still same problem. I said, "Something wrong with your balance machine, or there is a tire problem." "Oh no, rest assured everything is fine."
I got frustrated after driving on these tires for almost 30,000 miles and most uncomfortable ride ever. It was hard for me to take my truck in all the time. For one they are too busy and you have to make a appointment, and leave my truck all day for oil change, balance and rotate. That's insane. The last visit I asked them, can they trade me out of these tires? And they said they would give me 30% off on a new set. On a defective set of tires?? That's not fair. Should at least be 50% and even at that, I think Firestone should give me a set. But to be human and fair I think I should get at least 50% off. I wish Firestone corporation would help me on this.

Bought a set of Primewell tires for Ford SUV. Have 5,300 miles on them and less than 3 years age (purchased Sept 2011). Tread wear is less than 15%. Tires have been leaking air slowly and continuously since purchase and now 2 have severe tread separation. Only a matter of time before the other 2 fail. Will only be reimbursed partially for 2 of the 4 because, technically, the other 2 have not yet separated. No way would I not replace all of these tires. Was told by Firestone dealer the tire separation was caused by dry rot due to my SUV not being parked inside a garage.
In my opinion that is nonsense. Bought road hazard warranty and paid for mounting, tire stems, etc. Have 40,000 mile warranty that will not begin to cover loss of having to get 4 new tires already to replace faulty, inferior Firestone's. Not to mention a defect like this could cause severe injury. Will never buy another Firestone product again. Ever. Why has there not been a consumer protection investigation into some of the issues in these reviews? Gave this review 2 stars, as first star is angry, 2 is dissatisfied. I am not angry, but extremely dissatisfied.

So I called the store in Desoto Tx today, just simply wanting to know about any warranty that I may have available. Well, a young lady by the name of Vanessa pulls my account up in the system and proceeds to tell me about what they didn't charge me for. So again asked her about a warranty. She still continue to Tell me that I did not choose to purchase a warranty. So I asked her... "Ma'am if someone comes to your store and purchase 4 brand new tires, the only way that person will get a warranty is if they purchase it?" She then states "Well you have a 40000 warranty that comes with the tires." WOW! I don't understand why she wouldn't have told me that at the beginning? I have never had an issue with the store until today. Up until today management and all of the employees have treated us with the best customer service!!!

I drive for a living, sometimes quite long distances!! I bought two new Firestone tires 3 months ago. My understanding was these were supposedly a fairly good tire!! (Back Wheels) To my horror they were anything but!! The road noise was deafening. The centre of the tire wore to the limit on the tire thread gauge after only 20,000 Kilometers.

I purchased 4 new Destination LE tires at a local tire shop in my home town of Independence, VA 24348. I chose the Firestone Destination LE because of the brand name and tread life warranty of 65,000 miles and also because of the look - I am old school and like smooth sidewalls without all of the fine decoration. The tire performed well in regard to ride and road noise. However the tires didn't wear very well. I had only 23,000 miles and I was down (to 5/32 tread life from 17/32 when new stated by Firestone rep 1-800-847-3272).
I live in southwest VA in the mountains where it snows a lot in the winter. The wear bars were showing and I changed tires and sent the Firestone Tires off for adjustment. Firestone rep advised me that they would not give me a adjustment because the tires were not down to 2/32 tread life. I might have got another 7 to 8 thousand miles if I was lucky and that would have still only been around half of the tread life 30,000 miles of the tire. It doesn't take a rocket scientist to see that the tires would have worn out before 65,000 miles. So I would not advised purchasing Firestone tires. I will not buy anymore Firestone tires "as in sandlot forever".

Two different size tires were placed on the front of my 2004 Neon by Firestone tire in Richmond, Ind. on November 2014, burned up transmission too. l lost $2.000 dollars, called their corporate office several times, faxed bills that we paid by myself to them. They just blew me off saying that STUFF HAPPENS - not their fault.

I bought four new Firestone tires two months ago. I noticed a bulge in the sidewall of one of the tires. I check the warranty online which says that they will repair any defects such as sidewall issues. When I got to Firestone, they said that the problem was a pothole not their tire. And I gave them difficulty about that answer, they said "we will look inside the tire and see." Of course they came back saying "it was not sidewall" and I gave them difficulty about that answer. They said "we will look inside the tire and see." Of course they came back saying "it was not a defective sidewall." I will not buy these tires again. Firestone has a totally fake warranty that is meaningless to the consumer.

I took my used 2000 jeep in to have it looked over. After their inspection I was given a list of problem with prices. The prices were 2-3 times more than I could buy them at the auto parts store. When I emailed to ask why it took two weeks for a reply that told me the added cost was for a warranty. I do not buy extended warranties on anything. Why should I be made to buy one from them on a part for a 15 year old car. I am not happy with their reasoning of the time it took to even get a reply.

In late 2013 I purchased 4 Firestone Tires (replacement tires) for my 2011 Ford Mustang which was purchased new. The 4 tire replacement was due to an accident that occurred the previous day. 2 of the 4 tires blew-out, so I replaced all 4. I honestly thought the double tire punctures may have been caused by a road hazard during the accident. At the time, I did not associate the accident with what seems to be coming to fruition all on its own now. A preventative recall needs to take place on regarding the defects of these Firestone Tires!
From 2013 to present, the new tires had only 12,000 miles of wear on them but I continue to experience the same "Low Tire Pressure" issues ironically on a brand new recently replaced tire! I replaced a perfectly good tire due to an unrepairable flat (according to Firestone). This time around the low pressure warning occurred while driving on the turnpike in a heavy downpour of rain. I drove with extreme caution and arrived at my destination safely. When leaving I discovered my tire was completely flat?? Low tire pressure warning to flat? I had to purchase a brand new tire replacing 1 with only 12,000 miles of wear? Firestone would not warranty, so I spent $141.00 + + totaling $214.00 when done!
I'm thinking back & the old tires had an uneven and unusually fast wear about them but I figured it was due to the high performance tires? The replacements had to be done regardless but to continue experiencing the pressure warnings due to defects in a tire that are causing Dangerously Low Tire Pressure is certainly problematic. It's downright disgusting and grossly irresponsible by the manufacturer! The reality of it appears to be this, how many people need to die before a hazardous defect is considered hazardous enough? There is a simple solution "A Preventative Recall" needs to take place, yesterday! If you are experiencing suspiciously obvious defects with any brand tire, please take action and write a review! These consumer resources were up to date and the only one way I was able to find similar truths in addition to my own experience! We are the family of consumers, it's imperative we be heard!
Firestone Tire Specifications: Firehawk Wide-Oval AS BL 235 / 50R18. Dot # V61PW062214

Got talked into buying tires. Bought Primewell. Possibly the WORST tires I have ever owned. They make the car wiggle when driving over seams in the road. I believe they are a safety hazard. My last tires were Dunlops. They told me they were comparable. Then I find out they are made in China.

I went to Firestone last year for new tires. Everyone was nice and they serviced my care, did the inspection and did not come up with a million things wrong. Well this year my son needed tires and we brought his car in and they gave him an estimate of like $1700 worth of work. "Nope we just wanted new tires, we'll pass." The following week I go in since I got my coupon for NYS inspection. Now I needed $700 worth of work plus whatever they find when they perform the diagnostics. Well I had been to the dealer 2 weeks earlier and had my vehicle completely checked out and repaired. They failed the inspection. I did not have what they suggested fixed, brought my vehicle back to dealer, passed inspection with NO issues!! Cost me $20.80. Ripoff!!!!

Primewell tires - These tires were noticeably splitting in the center of the tire with 10,000 miles. The company prorated the replacement and we now need new tires and an alignment. Very dissatisfied with the quality and safety of this product.

Overpricing on car. Kept finding different stuff. Charged of $1000 in 2 weeks, on fixed income on budget. Won't ever go back. Dissatisfied.

I purchased a set of Firestone avid tires top of Firestones line up and found them to be out of round by Toyota's spec's of 3mm or less described by their bulletin. They in return put another set of Firestone tires on Destination LE2 and had the same conditions vibrations at highway speeds due to out of round of tire. Went to Toyota 4 times for them to tell me the same thing - tires out of round. They used a lateral run out gauge to test them. Replaced at my cost one tire to show me it was the problem but Firestone told me they don't use that to find a problem, basically they go by a whim.
Now after rotation of tires problems back and 8 months into the tires with only 6000 miles on tires they want to charge me more to balance again 5 times firestone and 4 times dealer to prove the problem lies within the tires and all along after sitting for one hour tire acquire flat spots. They damaged the frame of my vehicle rims and center caps that had just been repainted. Firestone bad place. I wish that people had more pride in their products. Now I have to pay to have tires tried and rebalanced at my cost of 130.00 +tax, not fair. How can I get help.

Bought 4 new tires (06/2013) for my 2008 Dodge Durango and now have to replace all 4 valves in each tire to the quoted tune of $493.00. I've called Firestone and asked if it seems odd that 4 valves in new tires have rotted and cracked off. They do agree it is strange to be happening in all 4 tires but because I live in New England they are blaming the salt on the road... HUH?????

Lauren FixAutomotive Contributing Editor
Lauren Fix is an automotive expert who earned the title of The Car Coach, and is recognized throughout all forms of media as a woman with in-depth knowledge on vehicles, technology, automotive finance, repair and trends. Founder of Automotive Aspects, Inc., her understanding of automobiles has made her the "go to" person on TV, radio, print and the internet. She writes a column for multiple outlets including Parade Magazine, NewsMax and Car Coach Reports. She is a regular guest on all the major news and morning shows discussing the latest updates on cars that will help drivers of all ages learn to about cars and make smart decisions. More about Lauren→

Founded in 1900 in Akron, Ohio, Firestone was the original, original equipment manufacturer (OEM) when it teamed up with Henry Ford to provide tires for the Model T.
Buy & try guarantee: With some limitations, consumers can return tires for a full refund within 30 days of purchase.
Specialty tires: Firestone offers both performance and off-road specialty tires for consumers looking for more than passenger vehicle tires. Specialty tires can be searched via the website.
Search tool: Finding the perfect tire is easy. Consumers can search on several criteria, including vehicle, tire size or name.
Convenient locations: Firestone offers tires and service centers at factory owned locations and through independent shops.
Financing: The Firestone credit card offers easy financing for new tires or auto services with a competitive APR and special offers.
Best for Sports car and high-end vehicle drivers, extreme performance, touring, winter, run-flats, light truck and SUV drivers and passenger vehicle drivers.
Firestone Tires Company Profile
Company Name:

Firestone

Year Founded:

1900

City:

Akron

State/Province:

OH

Country:

United States

Website:

http://www.firestone.com/