Bay Alarm Medical Reviews



Written by

Edited by
Our promise. We provide a buying advantage with verified reviews and unbiased editorial research.
About Bay Alarm Medical
Bay Alarm Medical is a company that specializes in providing medical alert systems and services. It offers home-based and mobile systems with 24/7 professional monitoring services. In-home systems are leased with no upfront costs and must be returned when you cancel. Monthly fees start between $24.95 and $37.95.
Pros & Cons
Pros
Easy to use
GPS tracking capabilities
Optional fall detection
Caregiver tools
Cons
Upfront equipment charge (most systems)
Not all devices are 100% waterproof
Bottom Line
Bay Alarm Medical's systems are relatively simple to set up and operate. They are also reasonably priced, though some upgrades, like custom pendant charms, can get expensive.
Featured Reviews
Verified
New York, NY
I purchased the mobile plus SOS package with caregiver tracking and fall detection for $39.95/month plus lockbox. The set up instructions were easy and initial tests were answered...
Read full review
Verified
Gibsonia, PA
… The few times it was used, the service was very prompt and given in a very kind and calm way. And when we tested the system on occasion, it was always an easy process. The retur...
Read full review
Bay Alarm Medical alert systems
Bay Alarm Medical
SOS Home
Starting at $24.95 per month as of publishing date
System comes with a 100% waterproof help button. It has a range of up to 1,000 feet and a battery life of up to five years. Optional fall detection is available.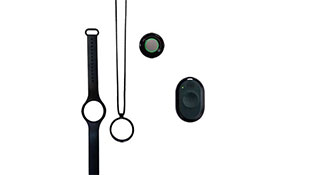 Bay Alarm Medical
SOS All-In-One
Starting at $24.95 per month as of publishing date
Lightweight (1.8 ounces) device with a battery life of up to 72 hours. The equipment is water-resistant and safe to wear in the shower. Optional fall detection is available.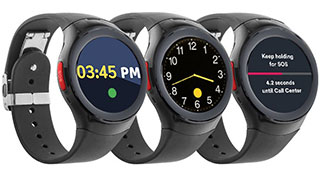 Bay Alarm Medical
SOS Smartwatch
Starting at $34.95 per month as of publishing date
Water-resistant smartwatch with GPS location tracking. The device is optimized for daily use. No smartphone is required.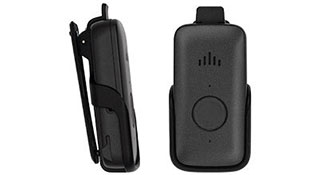 Bay Alarm Medical
SOS Mobile
Starting at $29.95 per month as of publishing date
On-the-go system has a battery life of up to six days. It's lightweight (1.3 ounces) and has caregiver-tracking capabilities. Optional fall detection is available.
Bay Alarm Medical costs and features
Bay Alarm offers four different medical alert devices: SOS All-In-One, SOS Mobile, SOS Smartwatch and SOS Home. Monthly costs start at $24.95 for the SOS Home and increase to a starting cost of $37.95 for the SOS All-In-One.
You can add fall detection to Bay Alarm Medical's SOS Mobile, SOS All-In-One and cellular SOS Home packages for an extra $10 per month plus a one-time $30 equipment fee. Bundle packages, which come with mobile fall detection plus wireless wall buttons, are available starting at $39.95.
We like that there's no charge if you trigger the alarm by mistake. However, it does cost extra for a warranty plan. With the warranty, you get one free device replacement per contractual year and 50% off accessory replacements, so it might be worth it.
Keep in mind that you might have to pay more if your modem is incompatible with the device. "It will now cost us $10 more per month unless our Verizon provider can install another modem that is compatible, which I'm in the process of checking now," a reviewer in Florida said.
| | SOS All-In-One | SOS Mobile | SOS Smartwatch | SOS Home |
| --- | --- | --- | --- | --- |
| Monthly cost | Starting at $37.95 | Starting at $29.95 | Starting at $34.95 | Starting at $24.95 |
| Equipment cost | $159 | $159 | $255 | Leased at no cost |
| Warranty upgrade | $2.95 per month | $2.95 per month | $4.95 per month | $2.95 per month |
| Two-way voice communication | ✔ | ✔ | ✔ | ✔ |
| Optional fall detection | ✔ | ✔ | ✘ | ✔ |
| GPS location tracking | ✔ | ✔ | ✔ | ✘ |
| Battery life | Up to 72 hours | Up to 6 days | 6-18 hours | Up to 5 years (button) |
| 100% waterproof help button | ✘ | ✘ | ✘ | ✔ |
| Caregiver tracking | ✔ | ✔ | ✘ | ✘ |
| Connection type | Cellular | Cellular | Cellular | Landline or cellular |
How Bay Alarm Medical works
Bay Alarm medical alert systems consist of a base station and wearable help button, which can be in the form of a pendant or wristband. When a person experiences an emergency or requires assistance, they press the help button on the wearable device.
Once you're connected to the monitoring center, the operators dispatch appropriate assistance, such as contacting family members, friends or emergency services.
Medical alert systems are designed to provide assistance and peace of mind, particularly for older adults or people with medical conditions who may require immediate help in case of an emergency. With fall detection, the device can automatically detect a fall and trigger an alert to the monitoring center, even if you're unable to press the help button.
A reviewer in Minnesota purchased a Bay Alarm system for their mother and was happy with the response she received after falling.
"She had fallen in her home and was stuck between the chair and table," they said. "Bay Alarm contacted us immediately and we were able to get to her promptly and help her. They stayed on the line and relayed from us to her on the estimated time for us to arrive. It helped relieve her anxiety knowing someone was on the line with direct communication."
Bay Alarm Medical caregiver app
Bay Alarm's app (included in SOS Mobile and SOS All-In-One) lets you get notifications, track your loved one's location and more. A reviewer in Pennsylvania highlighted that multiple people can log in to it at the same time — a convenient feature for aging parents who have multiple children.
The app also lets you make changes to your emergency contacts and home entry information, and it sends you notifications when the system's battery is low.
A reviewer in Louisiana said the tracking app is "kinda confusing," but a reviewer in California said tech support is very helpful if you contact them with any questions about it.
Bay Alarm Medical vs. Medical Guardian vs. Life Alert
Compare Bay Alarm to similarly rated medical alert companies.
| | | | |
| --- | --- | --- | --- |
| Monitoring fees | $24.95-$37.95 | $29.95 to $44.95 per month | $49.95 to $69 per month |
| Equipment cost | $0-$255 | $0 to $199.95 | $0 |
| Activation fee | $0 | $0 | $198 |
| Fall detection | | Yes | No |
| Trial period | 30 days | No | No |
| Caregiver tools | | | None |
| | Read Reviews | Read Reviews | Read Reviews |
Bay Alarm Medical FAQ
What is Bay Alarm Medical?

Bay Alarm Medical is a home health care service based in Concord, California. It is part of the Balco Properties family of companies.
What is Bay Alarm Medical's refund and cancellation policy?

Bay Alarm Medical doesn't hold customers to contracts, so you can cancel at any time without cancellation fees. However, it's important to note that your account will not be canceled until the equipment has been returned and processed.

Only then does Bay Alarm Medical refund any unused months, minus shipping costs. If you get the quarterly or annual plan and cancel early, Bay Alarm will prorate your refund, minus shipping or any promotions. Be aware that the company requires three months of paid service for free shipping.
How long does it take to get a response once the device is triggered?

Bay Alarm Medical's average response time is about 45 seconds, and most calls are answered in less than a minute.
Does Medicare, Medicaid or insurance Bay Alarm Medical alert systems?
Does it cost extra to add my spouse to the monitoring service?

No, free spouse coverage is included in Bay Alarm Medical's packages.
Is Bay Alarm Medical a good company?
Bay Alarm Medical is a good option for older adults who want a wearable help button. Upfront costs are a little higher than other top medical alert companies, but we like that Bay Alarm has a 30-day risk-free trial, no long-term contracts and GPS location tracking for no additional fee. It's also one of our top picks for medical alerts with fall detection.
Bay Alarm is easy to set up and has excellent service, but "the device is sensitive so it takes a little getting used to find the best spot to wear, carry or attach it," according to a reviewer in New York.
Bay Alarm Medical Reviews
A link has directed you to this review. Its location on this page may change next time you visit.
How do I know I can trust these reviews about Bay Alarm Medical?
4,349,265 reviews on ConsumerAffairs are verified.
We require contact information to ensure our reviewers are real.
We use intelligent software that helps us maintain the integrity of reviews.
Our moderators read all reviews to verify quality and helpfulness.
Page 1 Reviews 0 - 5
Reviewed Nov. 29, 2023
I knew that I had to get something for the long-range haul for this type of problem. It's something that would be able to notify people in the family. And first, call me to make sure that I was actually having a problem before they called anybody else. Those are the things that drew me to Bay Alarm Medical. The reps are always upbeat, willing to answer any questions that I had. And they're not averse to having a little conversation about how their day is going or are they ready for Christmas. They were so nice when I called in to check and see if the mechanisms were all working and they said, "You can call in and check as many times as you want." That always makes me feel good.
The rates per month are reasonable, between $20 and $25, which is little to pay for the $1,500 that I spent in the hospital for a month, which is a tenth of what it cost if I hadn't had insurance. I hope this can prevent any other changes in my life that are bad, at least, having no more falls or not being able to contact people when I did and now, I'll be able to.
Thanks for subscribing.
You have successfully subscribed to our newsletter! Enjoy reading our tips and recommendations.
Customer Service
Installation & Setup
Delivery & Shipping
Reviewed Nov. 17, 2023
Setting up the service with Bay Alarm was plain and simple. The reps just walk you through everything and if there are any questions, I need to call them. Once it's set up, they remind you to test your equipment once a month. My mom bumped into her alarm once and it came right on. My dad has a mobile button that has a GPS and walking out of the grocery store, the lanyard broke and the button fell on the ground.
My dad's very hard of hearing, so he called me and asked me if I could call Bay Alarm and replace the lanyard. I called and they told me to send them pictures of it because they wanna make sure that the button is okay, too, where it hooks on, and not just the lanyard. So, I took pictures and emailed them. I called them as soon as I shot the email off and they instantly got the email. It just happened to be the latch on the lanyard and they sent that free to us, and my dad got it three days later. If the button or the hook on the button broke, we would have to pay for the shipping and to replace that because we didn't take insurance. We don't pay the $3 a month.
Reviewed Nov. 2, 2023
We received the devices and started using them. We have not had a real emergency during the time that we've had them, but we've had three false alarms just getting used to having the equipment and the button getting in the way when we're doing something else. The people have been very kind, considerate and understanding that mistakes are made. It's not a perfect system for us as well. It would be better if we could speak through the device that we wear rather than having to get to the main box in case of a real need. The need to answer a phone or get to the main box will prove to be a handicap. Besides that, we're satisfied and happy with Bay Alarm. Any time we've needed to be on the telephone with them, they've always been very helpful and courteous.

Response from Bay Alarm Medical
Hi Tabitha,
Thank you for sharing your honest feedback. We are glad to hear that everything is working well so far. As a reminder, if the dispatcher cannot hear you, they will try to contact you by phone to ensure it is not a false alarm. If they cannot establish communication, they will treat it as an emergency and follow protocol. However, if this becomes more bothersome and doesn't seem to work for your needs, please know we do have other product options. We're happy to help - Thank you!
Customer Service
Punctuality & Speed
Fall Detection
Staff
Reviewed Oct. 22, 2023
I got Bay Alarm for my grandma. I have a necklace that's beside her couch. But the main thing is having them put up periodically throughout the house, one beside the bed and one in the bathroom. If she were to fall and didn't have any way to use the phone and she couldn't really remember numbers, she could just find the button on the wall and push it. So, I really like the big button emergency. It's been a good experience. It's been used twice. One by accident, and one time, she hit it. They were fast to respond. They were real nice and talked with my grandma. It gives me ease of comfort.

Response from Bay Alarm Medical
Hi George - Thank you for sharing your experience with setting Grandma up with our services. We are so glad to hear that she is covered in the high risk areas throughout the house and that our dispatchers are responding promptly. It's great to hear that you have some peace of mind knowing she won't be alone if anything were to happen. You're an awesome grandson for taking care of her and making sure she is safe! If you or Grandma need anything else, please do not hesitate to give us a call.
Reviewed Oct. 21, 2023
Having Bay Alarm, I'm no longer worried about falling or injuring myself or having a sudden heart attack because I just press a button and I get help. However, I was not happy with the way they introduced me to the system. I had to call up and ask a lot of questions to learn how to use it. When you test the device, the first thing that comes on is a recording that says, "If this is not an emergency, press the button again for several seconds." Later, I found out that you're not supposed to do this. Even though they tell you to do this, they then later on tell you not to do that. This is ridiculous. I had to have one of their people explain to me about it.
Another complaint I have is that they don't make clear you get two devices and when it's best to use one or the other. One has a built-in speaker so you can wear it anywhere. The other one is for use around the house. When someone signs up, Bay Alarm should send a human being to their house to sit with them for 15 minutes and explain everything. But other than that, once I got settled in the system, I'm happy with it.

Response from Bay Alarm Medical
Hi Michael - Thank you for taking the time to share your recent experience. We apologize for the confusion and any frustration this may have caused. We will be sharing your feedback with our team to ensure we improve the overall experience in setting up & testing. We are glad you brought this concern to our attention and we are happy to hear that our agent was able to assist you promptly. Please don't hesitate to give us a call should you need anything else. We're happy to help!
Customer Service
Punctuality & Speed
Reviewed Nov. 19, 2023
I've had the device off the last couple days because when I went to leave my dog out of her cage, the watch rubbed against her cage, sending it into the alarm mode. That was the only bad experience that I had. It's sensitive. It's very comfortable. However, if I bump something, the device is sensitive. The company was good. They called me back on the box that comes with the kit and they got back to me really quickly. I told them it was just an accident bump. They just asked me a bunch of questions. For somebody that had a heart attack, it would be different. They would be needing something a little more touchy.
Reviewed Nov. 19, 2023
The reps from Bay Alarm have been very helpful and the device has been very good. My husband and I have not had to use it other than put it on very first thing in the morning and put it on the charger very last thing at night. When we first got it, we pushed the alarm as a test and we do that on a regular basis as requested. So, it's been all very positive for us. We have a great deal of security, knowing that either one of us, should one of us be away from the other one a bit, could get help immediately.
Reviewed Nov. 17, 2023
Their service was better and they were a little bit less expensive than a couple of the other brands. They had all the services I was looking for. I've tested the device a few times and it works perfectly. But I'm looking at some new services with other people that are less expensive.
Reviewed Nov. 16, 2023
Bay Alarm has been very good. I bought it mostly because I live alone, and for nights with the doors locked. I didn't want somebody breaking down the door if I had to call emergency. The lockbox out here made me feel a lot better. I'd like to order a Bella Band for my button to wear on the wrist and it's difficult. It says, "Order," but it doesn't go there.
Robert
Menomonee Falls, WI
Reviewed Nov. 16, 2023
My daughter wanted to have a system set up, so she reviewed several systems similar and picked Bay Alarm. She liked what she heard or read about it. My experience with their team has been okay. I forget to test it. But once in a while, I hit the button and they respond very fast. It's a good device.