CenterPoint Energy
Houston, TX
Consumer Complaints and Reviews

I missed my bill date because I misread the date and my gas was shut off. The bill was 34 and change that has since turned into 155 just in fees and charges. When you call their call center you get people who don't have a clue on what they are doing and will lie to you just to get you off the phone. It is sad that this is what we have to deal with. Rude employees who don't give a damn about us. I was told my gas would be cut back on yesterday. Waited all day. Nothing. This is day 8. My bill has been paid, tech came yesterday and I didn't even know he was here. He lied and said he knocked on all windows and doors and called. Lie after lie. I had no missed calls from them. Here it is. Scheduled day and still no sign or word from them. Sorry excuses.

My husband and I purchased land and I needed CenterPoint to come and run the wires from my weather head to the transformer. It has taken over 3 weeks and STILL nothing. Although I have called, text, and pleaded with them to call me when they are headed to the property so that I can meet them there and bury any objections or concerns they may have and get my order completed, they continue to turn down the order and cite absurd reasons as to why they can't get this simple task completed! My gosh, what will it take? AT this point, I am emailing ALL the news channels to inform them of the situation and see who will pick up my story. It is Christmas time and I am fully aware that they are looking for stories that tug at the heart strings and boy do I have one for them.

Centerpoint Energy has no business doing ANY business at all. I paid my bill almost two week ago. The first time they were supposed to call, my phone crashed so that was on me. I called to reschedule, I was home all day and they never came but sent an email saying they did. Rescheduled again, they DID NOT call at all. They sent another email. I don't always have time to check my email. I seen a Centerpoint worker down the street from my house, asked if he could do it and he said, "no I can't." Here it is almost two weeks later, called today and of course, got the ** Houston location. They expect you to pay a $45 reconnect fee for same day service. I refuse to give them anymore of my money for something that is on the company. Asked to talk to a supervisor and she was just as ** as her employees. She told me if I didn't stop talking over her, she wasn't gonna help me. Shortly after that, she hung up on me.
I'm in the business of customer service and THIS COMPANY is not customer service oriented. Only money oriented. I'm a single mother of a two year old child that is sick. Heartless witches and money hungry. Centerpoint just needs to go out of business and let someone else that is about the customer take over. And they really just need to get rid of the Houston location for Louisiana services or ANY service for that matter. Worst company to ever do business with. They are lazy and just want money.

My husband had a massive stroke and has been mute and cannot walk since 9/25/2016. He always handles bills. I am a grandmother with custody of my disabled grandson and we have lost my husband and have very little to live on. In my grief and distress I desperately tried to pay the bills and accidentally out the wrong number in for my debit card. They charged me bounced check charges, and now won't accept a check made out to them even from my husband's company from which he received a grant to help us. Now the check is being returned and made out to CenterPoint. I cannot cash it. They are rude on the phone, too. Nothing to help, and make you feel as if you should be punished. The most horrible company I have dealt with. They do not care about disabled children, critical illness, widows, etc. They are sickening.

I am disabled with Stage 4 congestive heart failure. I had rented my house out to someone while I was living at my sister's while getting things taken care of for my disability. The people that had rented my house trashed it and moved away. I had no clue how to reach them. I moved back into my house and had my gas service reconnected. A week later I get a letter in the mail from CenterPoint Energy stating that I had to pay the other people's bill or my service would be disconnected.
I called them and tried to explain the situation. They said, "Sorry," but it would have to be paid or I would lose service. They didn't care I was disabled and on a fixed income. So I had to pay it to keep my heat on for the winter and had to miss out on buying food for the month and get my medications. Someone should really do something about these **. If something happens to me you can bet my family will launch the biggest lawsuit on them anyone has ever seen and in the end own every one of them smug bastards.
How do I know I can trust these reviews about CenterPoint Energy?
671,681 reviews on ConsumerAffairs are verified.
We require contact information to ensure our reviewers are real.
We use intelligent software that helps us maintain the integrity of reviews.
Our moderators read all reviews to verify quality and helpfulness.
For more information about reviews on ConsumerAffairs.com please visit our FAQ.

Never got a notice of disconnection. Paid immediately. Paid ridiculous fees and then they want $47 to turn on today? This is a monopoly run by arrogant employees who take satisfaction in ruining your day and then stealing your money!

I was leaving my house and I find a yellow card on my gate stating that they shut my gas off. I go inside and sign in to my account and find out they disconnected me for a past due of 28 dollars. I was floored so I payed the 28 bucks owed and the 35 for current bill. I also had to pay a 20 dollar reconnection fee. I then wanted the gas back on same day and they said that would be another 47 dollars. What the hell kind of scam is going on here??
I just moved to Texas and I did miss the email sent to me. I was home at the time of the disconnection, the person could not ask for 28 bucks?? No courtesy call before the shut off. Maybe a 24 hour call to give me a chance to pay. This needs to stop. Texas do your job and protect your citizens from this scam of an operation. We need rules and regulations regarding how they handle shut offs. At least have a reasonable dollar amount owed before shut off... Not 28 bucks. Geez..

I am completely disgusted that I came home to an envelope containing a statement that Centerpoint Energy disconnected my gas. I received NO disconnection notice. My bill was less than $63. When I called to complain they told me it wasn't their fault that I had not received my notice via mail. They said I was sent an email which I also did not receive or went to Spam mail which I would not see. I asked them to re-send me that email which they said they could not. I told them I wanted the reconnection fee of $28 waived due to these circumstances.
I was told by a Centerpoint Energy supervisor that the state of MN REQUIRES they charge the fee. That's garbage! The state caps them at that fee charge. These utilities are monopolies and treat their customers like CRAP because we have NO recourse. I HATE CENTERPOINT ENERGY AND THEIR WORTHLESS UNCARING LOUSY EMPLOYEES!!! I would rate them a -10 stars if that was an option. Also, they can only give you a 12 hour window to reconnect! WTH!!!

This is our second PowerShell in two weeks. What happened? A minor thundershower occurred. If CenterPoint cannot sustain a thunderstorm, we all can expect then a major outage if any type of abnormal condition occurs. The infrastructure is entirely too soft, even with their so called "Smart Technology". If you ask me, your smarts is not working!

I am beyond frustrated and annoyed with this company. I wish I didn't have to deal with these people ever again! So I knew my bill was due on a certain day and I left my house with the gas still on and went to a nearby fiesta food mart to pay at the window thinking they would receive it that day but it turns out they don't receive the payment until 2 days later at that store. It would have been nice to know when I was paying. So of course when I went home my gas was off so I called and had to pay again with a debit card. I had to ask someone to borrow, and it was an extra $60 plus to get it turned back on. The automated service is horrible by the way! I have to repeat myself about 20 times and they still don't understand what I'm saying & the hold time is always so long.
When I finally go thru to get my refund back they said I have to wait 2 days to call back then request the refund so I did. Then they said they had to keep the money for 7 days on my account and if I happen to have a bill in those days they will automatically take it (which they did). So finally when I called in the 7th day I repeatedly told them to send me a refund and not to apply it to my next months bills but of course I got a bill saying they applied to my next months bills, so I called and all the time I finally get thru to someone. They're so rude. So they finally sent out the remaining my refund which took about a week or so. I went and tried to cash it and they didn't let me. They put the check to where I can't get any cash back, I can only deposit it in my bank account which I do not have one and cannot get one for personal reasons.
So once again I had to call and they basically gave me no solution and told me I have to open a bank account in order to get the money back. I was livid. I paid them in cash so why can't they just give me the damn cash back!?! So basically I'm stuck with a useless piece of paper and they're just not going to do anything about it. Now I have to bother someone and see if I can maybe sign the check over to them and maybe they can deposit it in their account and give me the money. I hate asking anyone for anything. These people are so quick to take my money but make me go thru a million obstacles to get my refund back. ** CenterPoint Energy!!!

My doorbell rang tonight. I was napping after a hot day at work and having recently taken a shower. I quickly threw clothes on, but they were gone when I got to the door. Only a call tag was left. Apparently my meter was upgraded without any prior communication. Common courtesy dictates they might want to check to see if the customer is home before replacing the meter, right? Nope, another company was hired to replace the meter which required turning off service, but they locked my gas valve and ran to the next job WITHOUT any real attempt to restore service. It didn't take more than a minute to get dressed!
This was not an emergency (claimed or real). Mine meter was one of the last in the area to be upgraded and a while back they insisted that they needed to come into the house to check my meter. Only the meter is located outside. They gave no other explanation so I hung up. I was working 70 hours a week and couldn't be home plus they didn't seem to know or understand that the meter is OUTSIDE for easy access.
When I called to schedule an appointment to restore service they wouldn't answer questions as to why, how long it might take, or give any window of time they might return. The meter must have been replaced after 7 PM. I turned the gas water heater OFF and get to take a cold shower in the morning. I'm not waiting up all night to see if they come back. It took two phone calls and many wasted minutes (15-20 of my monthly 100) to get some answers and schedule the restore appointment for tomorrow.
IF I had known they were on my property they could have turned it on immediately after it was hooked up. NOPE, run to the next job and let the gas company restore service! CenterPoint doesn't care. "We're sorry for the inconvenience..." Yeah, if they were truly sorry they would communicate with the customer and ensure the company that replaces the meters checks BEFORE swapping the meter to avoid these terribly annoying, and totally avoidable inconveniences!!!

DO NOT, DO NOT, DO NOT use CenterPoint Energy. I paid a deposit to have gas turned on. When I moved, the reps (3) I spoke with all said there was no deposit on file. Made 5 telephone calls, each time on hold for 12-19 minutes each time, only to be treated like TRASH from who answered incoming call. RUDE, ARROGANT, UNPROFESSIONAL ATTITUDE PLUS TOTALLY did not want to assist me. I will go anywhere else for service, but NOT CenterPoint. I paid a double bill for one month, just to get rid of this unethical company. Please beware.

Disconnected our gas on Tuesday morning because of a bill that was due the Friday of memorial weekend. $27 bill. Seems like they must be desperate. Now is the time to attack. Paid $100+ to get it turned back on the next day (today). They said that it would be between 7 am-7 pm. Really, they can't narrow it down any better than that. They should be very proud of themselves. A company that large that is that disorganized clearly has some major problems. I run/own a company and had to take the entire day off today. They never showed up between 7 am-7 pm. My wife finally called and complained. They sent out a third party person at 9:30 to restore our gas. I think it's a shame and total ** that they don't even send out their own people without even letting you know.
Seriously, I was expecting a fancy CPE truck to show up, the same as the ones that turn your gas off. But no, some random technician in a personal vehicle. Mind you he was very nice and polite and he actually said that he had been to 20 houses today who had their gas turned off because of a bill not paid over Memorial Day holiday. All under $30, you think maybe they do that on purpose to get the extra "vulture" fees? I could go on forever but my fingers would get tired. I'm going to send them an invoice tomorrow for my lost day. We'll see how they handle that. Most likely with laughter. Maybe so, but I hate them so much that I will not give up there. Time is now to band together and make a stand.

I have lived in an area serviced by CenterPoint for 10 years. In that time 7 big transformers have exploded, burned up, shorted out in my backyard and all they do is replace these items but never look for the cause! Each time the power is down for 3 to 5 days! We lose power about once a month, have power surges that have burned out two refrigerators, two televisions, numerous small appliances and caused at least $1500.00 in lost food from defrosting! They pay for nothing!!! My power just came back on today after being off for 37 hours and was off only 23 hours prior to that for a full day! I'M FED UP WITH CENTERPOINT ENERGY AND INTEND TO CAUSE PROBLEMS FOR THEM WITH THE "PUC" AND ANY OTHER GOVERNING BODY! Enough is enough! These people care about nobody but themselves! I live just north of houston, tx and intend to raise hell!!!

I was very pleased with the fast response to the gas leak coming from my extinguished gas light fixture near my front door which I had no way of knowing how to turn off since there was no visible valve on the fixture. My technician, Chris ** was very thorough checking every gas source in my house and outside for a faulty leak. He replaced my outdated meter and pressure tested everything to assure me of my safety. Thank you Chris for this Peace of Mind!

In February my husband died after being in the hospital and hospice since December. A friend tried to pay my bills for me during this stressful time, but she didn't realize that 10 years ago my husband and I had told our bank to not pay CenterPoint electronically because of a bill dispute. The bills were turned back by the bank. When I got home from hospice my house was cold and the gas had been turned off. I called immediately and explained the situation. They charged me around $250 to get it turned back on plus a $95 deposit, even though my husband and I have never missed a bill payment in 40 years. Now they refuse to accept my payment in any manner except credit card which costs 2.75 per transaction. I'm being treated like a deadbeat customer. Where's the heart? I asked if they had a compassion department and they just laughed. We need competition!!!

Company incorrectly identified source of leak on Monday evening. It was from an improper installation of the gas meter. I am out $625 in testing costs to get my meter back. They failed to schedule the installation after receiving the city inspector's green tag report on Friday afternoon. I have to wait over the weekend until Monday to have my meter brought back because they don't staff technicians on the weekend and dropped the ball Friday afternoon. Customer service agent's supervisor was talking over me and arguing with me from the first time I began to speak when I asked for a supervisor in hopes of getting a more timely installation.
After several attempts at communicating my concerns with the poor service I had encountered, I finally asked for a day/time when they would be out. The supervisor refused to give me a time, saying she did not know when a technician could come. I pushed harder and she put me on hold. She finally came back and gave me a 4 hr window. I had to ask if they would call before coming and she gave me an attitude again. They get no stars. This website required at least one to complete the form.

I have been trying for over 6 months to resolve an issue with misapplied payments on my account that I've had for almost 2 years. They have turned off my gas twice and almost a third time after making on-time payments after transferring service when I moved almost a year ago. Multiple calls and conversations have failed to resolve the issue. I've faced my remittance information more than 5-6 times to prove payment on my part.
Today I learned their electric department has been receiving the payments even though I've never paid an electric account to them directly. Once I was informed, they asked me again to send the same remittance info despite clearly being able to see they have access to this information already. After calling the gas side of Centerpoint back again, they stated I would still have to retrace my steps AGAIN to prove that I've paid even though they internally misapplied my payments. This company is a fraud and should be shut down - bare minimum. I should have a choice to receive service elsewhere.

I am extremely disappointed at the service provided by CenterPoint Energy. I had requested turning on electricity for my house 10 days before the schedule date with 4ChangeEnergy, the provider of electricity. 2 days before the move, I received a notice that the scheduled service date is 3 days after my requested date. I immediately called 4ChangeEnergy and they finally put in priority order by 5 pm on Wednesday. However, I still don't have electricity at 6 pm on Friday (the scheduled date). I called CenterPoint Energy (the local utility who is in charge of turning on electricity) to ask for when they will turn on my electricity. The customer representative told me that my priority order was in system and their technician usually works until 10:00 pm and will turn on my electricity anytime from 6 pm to 10 pm. I called again at 9:30 pm and asked another representative to check with dispatch department.
The representative told me that he called dispatch department and the technician will come any time during the night as it is emergency order. However, there is still no electricity at 7:30 am on Saturday. I called again. The lady on the phone said she talked to the dispatch department and they were aware of the pending order and the technician has my order with them on the truck and will show up at any moment in the morning, and it will be done the first thing in the morning. However, there is still no electricity by now (10 am the following Monday), three days after the scheduled date.
I called on late Saturday and this morning and there is still no update. I don't know when I will get electricity. I lost trust to the call center of Center Point Energy and I am extremely frustrated at no electricity for three days. I don't know when I will get my electricity! I wonder what people do if they don't have electricity for three days during the middle of moving. How bad the service representatives from CenterPoint Energy are. They kept lying about the service schedule and not telling me the actual fact. How can they say the technician would show up at any time on Saturday and no one ever shows up by now on Monday.
Unfortunately, we don't have options for not having CenterPoint Energy to turn on my electricity. Can the government or consumer protect service help us do something to protect our basic consumer right? Is it possible to remove the monopoly of CenterPoint Energy in the Houston area or get them responsible for failure to do their jobs?

My service was recently disconnected through CenterPoint for nonpayment. I understand this was my fault and that I would have to pay the price; however, my issue is with the extra $47 I paid to have them come out the same day and the fact that they cannot offer an AM or PM time, but rather you must wait all day for someone to show between 8:00 AM-8:00 PM. I called the automated system to pay the past balance and the reconnect fee. I even paid the additional $47 fee for same day service.
Once I paid, the automated system tried to schedule an appointment for the next day, so I called in. The rep was happy to give me a same day appointment; however, she says it's an all day appointment. I let her know that no one would be available could I have a window of 6:00-8:00 PM since they offer times up until 8:00 PM. She says they cannot guarantee a time. I let her know that I understand, but the automated machine didn't say it would be an all day appointment, so I would like my money back for the same day service. The rep says that she would put into the notes to come after 6:00 PM and to call ahead 30 minutes. I thought that since the note was added and she didn't refund my money that everything would be fine.
I received the first call around 12:50; however, I missed that call. I called in and the rep tells me that times are not guaranteed. I explained about the note and the conversation with the previous rep, so she reads the notes on my account then says she sees the 6:00 PM request and the technician put a note saying he contacted me by mistake. Again, I think everything is fine. I miss another call at 2:56 PM. I get home around a quarter to 6:00 and call regarding my service. The rep asks if there's a tag on the door, so I check and there is. The technician leaves a note that states that two attempts were made (12:41 PM & 3:16 PM) to reconnect service, but no one was home and that I'd need to reschedule my appointment.
The rep tells me there is nothing he can do and that I cannot get my $47 back for same day service because I missed the appointment. I may be wrong, but I thought when the first rep did not refund my money, but rather added the note to my account that I would be good. I asked to speak with a supervisor which was useless. If I had known that I had to wait all day then I would not have paid the additional $47. I think something needs to be done about their poor service. I believe they act this way because there is no competition. If you want cable installed they at least give you a window. They offer you an AM or PM appointment. I understand times cannot be guaranteed, but I'm sure CenterPoint can do better than 8:00 AM-8:00 PM. It makes no sense that a person has to wait all day and that they cannot offer an AM or PM timeframe.

I purchased a rental property that had a water heater installed 4/26/12 with a 12 year warranty. I called as it now needs service. They won't honor the warranty but would be happy to charge me a lot of money to come out and repair. NO WAY! The heating and plumbing place I had go out to the property said they will have to track down parts. Another reason to NEVER buy from CenterPoint Energy as they must use second rate products with hard to find parts.

Boy you sure better get the rep's name, address & social security number if you go to have your gas turned off. They will charge you a bill when you haven't lived there for many months. They have placed on my credit a charge off of $374.00 when I didn't live there & tried to tell me that I never bothered to call them to turn service off... To hell if I didn't! We called all utility companies & funny thing is this is only one showing a charge off. I have a lease agreement to prove I had moved to another residence 3 to 4 months earlier. Heck, I finally offered to at least pay half of it to get it off my credit... "Uh uh, no way!" Anything they can do to screw us old people out of every dime we get in social security. Talk about rude ** people they are & even when you don't owe a bill they are still rude ** people!!! They need to be sued for the way they screw people.

I have been care-taking for two 90+ years olds for almost a year. There has been no one at their home in over 9 months. Their Centerpoint gas bill has gone from $11.00 per month... to $74.00... to $94.00 and there's NO gas on or being used... PERIOD! They have been rude, defensive, and blame anyone but themselves. I questioned the spike as soon as I got their bill, they re-read the meter, changed the meter, etc. but they won't budge and make an adjustment. There is NO way that gas can rise that much when there is NO ONE using gas in a empty house. Not even a pilot light is on. Jerks and elder thieves. :(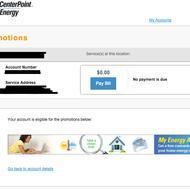 The company changed my account number without giving me any notice. I had a $90 credit on my account and believed I had no payment due because "My Account" on their website said so (see pic dated one day AFTER service was disconnected). They disconnected my service for non-payment and when I called in would intentionally talk over me then say that I would not allow them to speak. The supervisor I talked to put me on hold because I was upset. That's right, Zachary put me in a timeout.
He then told me they sent the notices to an address I don't even have. Even though I had given them the correct address to send mail, they allegedly sent notices to this address. Lo and behold when I checked the mail at the address he claims they sent the bills, there was no notices from them. These people are garbage and liars. They treat customers like garbage. Then when I broke down and paid, they wouldn't turn my service back on citing "system issues". They then hung up on me.

Not very pleased with the first month's bill. I enrolled for it and was informed that my avg bill would be $57 from the next cycle. When I received the bill, it was actually $65, few $ more but still not what I expected. I called their call center and the first agent said the previous agent's note said it was actually going to be $69 which is what is due. I informed her that's not what was promised by the previous agent ($57). She says well that's what her notes say.
Then informed her, I hope she has the recording because that's not what was promised to me and asked to speak to a supervisor. Supervisor says when the first agent informed me ($57) it was by mistake as I called just one day after (20th when I called) when the usage from the previous bill was calculated. So instead of getting it right to make the bill back to $57 as that's what the expectations were sent, I now have to pay $69. Not a big deal, but still I would think a big corporation like CenterPoint would make this right by making sure they meet their promises. Not very pleased with the service or how it was handled.

I received a disconnect notice saying I had to pay on or before 2/1/2016 to avoid interruption. So I paid on 2/01/2016 at a Kroger. They turned me off 2/02/2016 then charged 107 dollars for same day reconnect. I feel I shouldn't have to pay for reconnect since I paid by the date. But all I received was rude customer service reps who said Kroger should have told me it may take 48 hours to post when nothing in the disconnect letter says you have to call in payment. Had I known that I would have called right from the payment counter. Something has to be done. They are rude arrogant and treat customers bad and charge ridiculously because there is no other company to get service.

I received a bill for which the fees were higher than my actual usage -- the highest bill in my entire household. Upon asking Sonya for clarification, I learned that I was basically being charged two separate fees for the reading of my meter. When I asked for more clarification on that, Sonya got a bit of a stiff attitude, so I politely requested to speak to a supervisor.
When Donald got on the phone, I could already tell he already had a defensive tone. My call actually went downhill with a supervisor on the phone! Even if there was nothing that Donald could have done for my outrageous bill, his attitude and HORRIBLE customer service was unnecessary. His suggestion that maybe I had bigger problems than just my bill if I had to decide whether to put food on my table or pay my bill was completely out of line. $55 buys me 2 weeks worth of groceries, thank you very much! And that was just the fees! My actual usage was LESS than that amount! Once again: it is the principle, and not whether or not they can do anything for me that matters the most. I am extremely disappointed with Centerpoint Energy's customer service. Centerpoint Energy should invest in some customer service training.

We've never had to pay gas separate from other utilities so our landlord made the first mistake of not telling us to get an account with CenterPoint. They were also not on the last occupant's account as a backup contact. So our gas bills went unpaid without our knowing and one day (in mid-January in Minnesota) the heat stopped turning on. CenterPoint had illegally shut off our heat in the dead of winter without so much as sending a notice in the mail.
After finding this out and calling them, they wanted to charge us to turn the heat back on. Of course, to turn it back on one of us had to stay home from work for their technician who would come spend 5 minutes between 8am and 8pm during the work week. They were supposed to call twice, but only called once. Really not excited about the prospect of dealing with them for bills, wondering if literally ANY other company could take our business.

My husband and I purchased our home on October 1st 2015. I called CenterPoint Energy the same day to transfer the gas payments from the previous owner's name into my husband and myself. We never received a paper or online bill for 3 months and each month I called twice to get things straightened out to receive a bill so we could pay our gas bill. When I called in December to request a bill, they sent us one in the old owner's name. I wrote a check and sent it in with a letter explaining what was going on. CenterPoint Energy refused to cash it since it was from me and in my name and not the old owners. Finally since calling was not getting me anywhere I sent an email to set up a face to face meeting.
Well the face to face meeting didn't happen but they finally "backlogged" all of our gas usage and did end up accepting my check. But today when I finally received a bill in my name they were charging me for what I had already paid for in the old owner's name since they were not sending us bills in our name. I resent an email stating the problem and gave proof of what I had paid for. Their response was "In the future please do not send a payment for an account that does not have your name on it." Well how the hell am I supposed to pay for the gas that I have been using for 4 months when they can't figure out what the hell is going on with my account. I guess I'm just supposed to sit and wait for a bill in March for $500. I am seriously thinking of just getting a propane tank cause this is ridiculous.

We are new to Texas as well as CenterPoint Energy. We only have them for gas service and live in a new area where only 20% of the neighborhood is built, about a dozen families living here so far. Right after New Year, myself and a couple neighbors discover our gas has been turned off for failure to pay. I have been a homeowner for over 22 years and I have NEVER, EVER missed any bill payments! ABSOLUTELY NEVER!
It was the same story between myself and the other neighbors that had their gas turned off. None of us have received any bill from CenterPoint. Of course you can argue we should have called or whatever, but given the holiday times and everyone's busy lives... if you don't receive a bill, you're probably not going to think about it. They swear they sent bills and disconnect notices as well as called us, giving me the dates of their calls. I only have a mobile phone which is with me all the time and they never called me, no record in my call history and definitely no voice mails. My neighbors got the same story from them and also have never had any communication from CenterPoint.
As everyone else has reported, you can say what you want to them, they don't care. Just give them their $40 reconnect fee, some other fee and then they want you to have a deposit... a $30 bill turned into a $185 bill. Over 800 credit score and not a single blemish on my credit and now this crap. And yes, if you want them to come out that day, it's $47 more.
Also, the guy that came out to reconnect my neighbor's house wouldn't reconnect mine although it was literally 10 ft from the neighbor's gas meter. "I don't have the order in my list... let me check with the office." He then tells me someone else is on the way to reconnect mine and should be here by 6 pm. Nobody ever showed up. I have never experienced anything like this in my life. I took my previous provider in my home state for granted, feel like I should send them a "I miss you" card. This company seriously needs to be investigated.
CenterPoint Energy Company Profile
Company Name:

CenterPoint Energy

Website:

http://www.centerpointenergy.com/en-us/