Consumer Complaints and Reviews

On the second day driving back from our vacation we drove until we reached the Red Roof in Harrisburg that we had been in the week prior only to discover that the price was 40$ more. This brought the total cost over $100, more than we paid for any other hotel on our trip and those all included some type of breakfast, a coffee machine and in some even a fridge. We were very disappointed. We felt victims of a price hike which we were told was due to an event in town. We do not plan to return to any other Red Roof after this incident.

Red Roof Inn, Fulton, NY - First of all I was quoted, on the phone, a price of $59.99/night, plus tax. When I got there, she charged $69.99/night, plus tax. Secondly, it took about 10 minutes for the water to get hot. Also, the fire alarm was hanging from the ceiling (I'm not sure if it was working).

Red Roof Inn Austell, Ga lies to keep your money. On Saturday, February 25 I reserved a room through Expedia. Upon calling to confirm I spoke with a female at the desk, around 11:40 pm and was advised that there were no rooms available. I told her that I have been charged and I was reassured that since there was no room available my reservation had not been accepted and I would not be charged.
The following day I noted in my bank account that I was charged. I called immediately and was told by another female that the manager was not in and they would call me back the following Monday. She told Michael from Expedia this as well. Monday and Tuesday go by no calls. Wednesday I receive an email from Expedia stating on two separate occasions that the manager refuses to refund my money claiming I was a no show. If there were no rooms available and I was told it would be cancelled, what purpose is it for me to come? Expedia continues to apologize but basically can do nothing but allow this manager to lie. It is very very poor customer service to tell people there are no rooms available, then lie and manipulate the situation in order to keep money I paid for services I did not receive due to circumstances beyond my control.

December 2016 I booked and prepaid for lodging @ Red Roof Inn Orlando FL. I paid $619.00 for two rooms for Feb 15th - 19th 2017. On January 31st I contacted them to cancel my reservations, I called the Inn and was told that my rooms would be canceled and I would have to talk to manager about my refund. The manager wasn't in so I would have to call back. This went on for several days and finally after insisting I spoke with the manager. He refused to refund my payment. Reason was that I prepaid and was given a "Special Rate" and did not qualify for refund.
I had booked through Expedia show I contacted them. They also contacted the Inn and after much runaround they spoke to manager who again refused my refund. Expedia said it's up to them to refund the $$$. I have contacted Red Roof Corporate Office and I'm waiting for answer. I will not stop. New step is Florida State Attorney's Office, Ohio State Attorney's Office Central Florida Hotel/Inn Association. Do not use Red Roof Inns.

I booked a room at Red roof inn north in Tucson. They never told me there was a no cancellation policy. I lost my job and then a tree fell on my house. I called to Expedia to cancel, they told me of the no cancellation policy but the man I spoke to said they would give me a full refund. A few days later I got an email saying they would not refund my $354.00. I called approx 3 weeks before to cancel so they had plenty of time to rent the room. If I had known I wouldn't get a refund I would have just taken some of my friends and at least not had to pay the whole bill myself and we would have had some fun. They blamed it on Expedia but the hotel was the one who collected the money. I would never have stayed if I'd known they had a no cancellation policy. I will never use Red Roof Inn again. You would really think they would try to improve customer relations instead of getting bad reviews.
How do I know I can trust these reviews about Red Roof Inn?
718,469 reviews on ConsumerAffairs are verified.
We require contact information to ensure our reviewers are real.
We use intelligent software that helps us maintain the integrity of reviews.
Our moderators read all reviews to verify quality and helpfulness.
For more information about reviews on ConsumerAffairs.com please visit our FAQ.

As staff in a local social agency on January 25, 2017, I arranged a room for a 70 year old mother and her adult daughter in need at the Red Roof Inn in Statesboro, GA. I had secured accommodations previously for others in need without problems. Since the general manager was not on-site, the front desk connected me with him by phone. He agreed to invoice my agency on January 26 and that I would pay by check and thus avoid the his costs for payment via credit card.
The ladies provided ID and were given a room key. When they entered their room they were horrified at the condition of the beds. These ladies had slept in their car for the previous three weeks and were exhausted. They contacted the front desk regarding the problem. The response was not satisfactory and ended with them being told rudely that if they were dissatisfied they should call the man that had brought them and have him get them a room in another place. They expressed embarrassment in calling me and did not want to seem ungrateful for assistance.
I went to their room... supposedly a non-smoking room that a terribly strong smell of tobacco. I checked the pillows and sheets. They were incredible! I took pictures. You will find them attached. No one regardless of their situation should be treated as they were. I turned in the room key. Even though it was evening, I was able to secure a room for them.

The manager managed to escalate a simple misunderstanding into a full blown argument. Two weeks ago I spent a week at the Red Roof. Clean rooms, only interaction w/ staff was the second day. Housekeepers were pounding on my door and the maintenance man let himself in telling me to leave because unknown to me the information the desk attendant had entered in the computer was was wrong and I was due to check out then and not 5 days from then which is what I paid for the night before. I got over it.
I checked in last night, again for a week. I made clear because of the last time being woken up literally 7 times. "Please make sure the information is correct this time." Well the front desk called waking me up. I'M frustrated now. They need my license or other verification for my credit card. They had 2 forms of ID last night when I checked in. The attendant apparently misunderstood my voice probably projected the frustration with the office but he took it personally and slammed the phone down before I finished telling him first shift should have relayed that I will be in at 3:30 after work. So after work I walk in and immediately ask why he would hang up like that. I was being as nice as I could. I was aggravated.
To my amazement the manager walks out of the back room, hearing the heated conversation that should already be over!!! Between the attendant and I. The manager starts yelling over our conversation, claiming he was told I was rude. Truth was he asked his employee to call me. Again shortly after his employee printed out an invoice showing the manager was wrong. Which explains why he was angry. I got an apology from the attendant but the manager felt screaming at me solved his problem... He should be fired. It's obviously the way he solves miscommunications. He was shockingly unprofessional.

Red Roof Inn & Suites Bellmawr 217 South Horse Pike NJ. On 12/29/2016 my family stay was unpleasant and horrible. I checked into my room #406 to find mold in refrigerator and beds sheets full of hairs and cigar holes and a couch full of black discolor stains. I paid $156.78 US dollars off my card. I made the front desk aware of this when I checked the room and all he did was give me sheets so I can clean the room for them lol. He told me he had no more 2 bed deluxe that I would need to talk to manager in morning at 4 am 12/30/2016. The manager did not show up at that time 4:00 am. My family was upset!!!
The trip was to stay in these conditions this just nasty. I should just call Molly's Maid to come clean this dump. The downside to this is CEOs like (Booking. com) and (Priceline.com) have no respective way of remove these nasty owners whom to followup on how to keep their businesses order that's why most site don't want to give refunds. We even sent pictures. Also we gave the manager a big bag of hair sheets and all she wanted to do is hurry to cleaning them not give us our money make $156.78. My family just checked out early and let this rundown owners keep our money. I'll tell you people never learn to take responsibility for their actions. I'll never book with these companies again. I think all business owners should let health department inspection come take a look at these hotels to make sure they follow the rules at random.

When checking out of the Red Roof in Rancho Cordova, CA, I requested a receipt for the $100 deposit... I was refused a receipt and they refused to refund my $100 deposit. After contacting customer service, I was told the $100 deposit had been credited to my Expedia account... which was a lie. To date Red Roof has not refunded or credited me my $100.00! DO NOT STAY AT RED ROOF INN... THEY ARE THIEVES AND LIARS!!

Early Wednesday the 23 of November I check in with my husband and two children. The rooms were horrible. Roaches and the toilet was broken. I switched rooms to have construction being done at 9 am two doors down and under. My daughter and son had a problem with the key card three times before they switched rooms. Thanksgiving banging and construction again at 8:30 9:00 am. Walkway blocked by a ladder to do painting. Key cards again didn't work. We had to go get it reprogrammed. No iron board, iron, microwave, hair dryer. Friday was locked out again. Was told we only paid for three days. They charged us for Tuesday, we arrived Wednesday am. They said they fixed it, and wouldn't be charged an extra day. My kid's room was never cleaned the three days we were there.
Saturday checked out. Received a bill with three rooms charged for four days. Explained we weren't supposed to be charged the fourth day and we only had two rooms. They said I have to call customer service. Customer service gave me corporate number. Corporate can only take off the first day, for all three rooms. That wasn't supposed to be charged to us anyway. The next day Red Roof put through three more transactions. I called them and they said it wasn't them. Call my bank. I called my bank and they said it was stating Red Roof. Now an investigation is underway. The worst experience of my life. I will never ever go to another Red Roof again. The place was dirty and no one knows what to do. Staff was friendly but had no knowledge of how to book a room and take care of the problems.

Book a stay at Red Roof. Call way ahead to cancelled. The person who I speak to don't know the hell what he's doing. He said he cancelled it but call back the next morning to make sure it go through. Call back like he said. Speak to the manager. I say, "Please look to see if that cancelation go thru". He say, "No," and he can't do anything about it and he can't give back any refund.

Red Roof Inn Shelbyville, Ky - Room was booked in advanced upon arrival nothing was in their system. First room they put us in was already in use. Second room was OK. During the rest of evening three people tried to get in room. Upon questioning why they explained that was the room they was assigned. Then we was double charged for the room. Also the person working the desk was his first night on the job yet no one else was there training the person. Definitely not a place to recommend to anyone. To date still not heard back from manager and now hotel is saying they didn't overcharge it was Booking.com though hotel had told us they never received the booking. This company is a joke and rips people off.

Red Roof Inn - Chicago-Joliet - Don't fill out the customer satisfaction survey while you are still in the room. The GM didn't like what I had to say so the harassment began with her throwing policies at me relating to my cat who was staying with me. She basically kicked me out of the hotel because I didn't want the staff coming in to clean when I was not in the room. I am working in the area from 5:30 a.m. to 7:30 p.m Sunday-Wednesday. She basically stated that it is their policy to come in to ensure the "assets" twice per week.
How does she explain the stink of cigarette smoke that knocked me down when I entered the room or the broken dresser drawer that was broken when I checked in because they check the "assets" twice per week? I am a working professional with a cat. Unless she thought there was a dead body in the room, I don't know why she thinks she needs her staff to be in my room when there are loud rowdy construction workers staying here that are significantly more disruptive.

Red roof inn, 1011 E Houston St, San Antonio, TX 78205. A terrible place. Rooms are dirty. They don't clean rooms at all if you are staying more than one day. A terrible Manager. She does not even know how to respect her customers. I would NEVER stay at this place. I requested room clean 4 times. It was never cleaned. Upon check out I had conversation with Manager... Oh man... She was horrible. She said we took out parking and left a snack basket. I replied, "No you never send or left in my room". She ask housekeeping and then went to the room. It was not true that they left basket of snack for me. When she did not find a basket in my room or fridge, she still said that "I can not confirm because you have taken out your stuff." I offered her "Check my luggage" to check. How horrible and disrespectful these people are. These people are awful.
I will NEVER stay again and will not recommend to anyone.

I just flew into to Harrisburg from Seattle Wa on the last flight in and got a taxi to the Red Roof Inn Harrisburg Hershey... Eisenhower Blvd. I originally called a few days before I got into town and the lady on the phone told me all rooms are $50 no matter what the size and/or how many beds. And she also said I could just check in without a reservation. I think she was just trying to hurry me off the phone? Upon my arrival at 11:30pm Friday night. The front desk clerk was talking to two of her friends. 1 female and 1 male. Both sitting in the lobby the female with her shoes off all just shooting the **. The clerk informed me the room was $83 not $50 and she doesn't know why someone told me that. I got to my room took a shower and after I'm ready for bed I discover the heat doesn't work.
I called the front desk clerk and told her the situation and that I'm very tired and already in bed and didn't want to move. So she said "Ok... I'll adjust your bill." In the morning the front desk clerk was EXTREMELY RUDE AND UNHELPFUL and didn't give a DAMN! About the heat problem. The bill was never adjusted and they seemed to be perfectly happy with their horrible service. Do yourself a favor and drive right past that place!!!

I went here for a weekend when my house had a flood & had a terrible experience me & my fiance. Let me start by saying they don't come & clean ya room, the house keeper smells like **, they don't give towels or wash rags like they should. You have to hunt them down somehow. My fiance key wouldn't work no longer. He got another one so when I got home from work my key wouldn't work. They like "we have to have permission from him in order to let you in." Made me wait a whole 1 hr. They were really rude. I wouldn't recommend no one to go there ever!!! No one came to make bed. Nothing.

I stayed there Oct 5 and 6 in room 126. Early morning on the 6th I felt something crawling on my leg. I jumped out of bed and found a black bug in the bed. I went to the bathroom for some toilet paper to catch the bug and found another black bug on the roll of toilet paper! Upon further inspection I found bed bugs in the bed. I do not recommend staying at Red Roof Inn in Henrietta NY.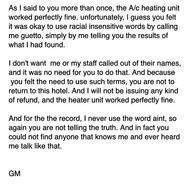 We turned on heat upon arrival - very easy; hot or cold, the temp had arrow buttons and the fan was high, low or auto. Being that the heat was off and it was 37 outside and we were going to Fright Fest we turned it on high to 79 degrees. We got back to the room about 4 hours later and after going to the Speedway across the street where we were asked if we wanted "pills or trees" by a fine gentleman whose child was in the car with him we walked into an ice cold room that was blasting cold air!! NO HEAT. No one was at the desk and when we checked out we were told the manager would probably "comp" the room and would call me - never did. I called twice then at 6:30pm after I was told he "left out for the night". I said I wanted corporate's number which he gave me but it was wrong.
I suddenly got a callback - just said he was the manager and when I asked for a name he ignored me and started asking me what I needed. I told him to which he replied that the "dials can be tricky". I said I was college educated and can turn on heat and there were no dials then he backtracked and said "well I had maintenance check it out first thing this morning and he said it was fine so I don't know what the problem was." I asked him to go check personally and he said he would and call me right back.
About 3 min later he called and said it came right on for him, at this point he was getting to be argumentative and I said I wasn't lying and we had no heat. He proceeded to tell me that "I don't know what to tell you but I ain't giving no refund if that's what you looking for." I said that's fine I will contact corporate. He responded with, "You can call all day long but they ain't giving you no refund neither." By then I had it with the insults and the disrespectful tone and the Ebonics so I said, "Wow you are **." He then said, "I ain't **, I ain't the one calling 10 times over 60 bucks" and hung up on me. Do not stay at this hotel and if you want pics I will be more than happy to post them.

Husband and I got a flat tire while visiting my brother at Geisinger. It was 11 at night and we were too far from home so figured this was close and the tire place just across the street. The front desk woman was friendly checked us into 303 a king room. Upon entering room looked clean but after pulling down blankets there were red stains under the sheet. Husband said "let's just pull the flat up over fitted and go to bed" but the flat was clearly used and not changed there was dirt and hair along with yellow stain. So we got, up pulled sheets off and found blood stains... Large blood stains all over the mattress pad. We took it off bed to take to desk and on the mattress we found a large yellow urine stain. She moved our room, didn't offer a discount or anything and took the mattress pad. Don't stay here. Upon entering room it looks nice but obviously housekeeping is lazy and don't change sheets, bedding or clean mattresses.

We had no choice to be checking in at 3 am and checking out for good the next morning so a cheap hotel was good enough. But nightmare wasn't expected. I'll begin with the minors like a rusted stairwell and hole in the door frame outside our door. Sorry for the residents around us but we had to bang into the door 4 or 5 times to get the door open after unlocking it. My daughter took one full bed and my husband and I passed out in the other. But not before my daughter realized she was laying next to a semen stain on her bed.
So after a few shrieks of disgust we laid and contaminated OUR OWN PERSONAL blankets on the bed and we slept on that. If it wasn't a ridiculous hour, we would have raised hell but it was 3:30 am at this point. We couldn't wait to get OUT in the morning and we all kept shoes on due to the floor being sticky and a few dead bugs scattered around. I think I slept 2 hours because I was so disgusted about the unclean sheets. Never a Red Roof again.

Woke up at 1:30 am on the morning of Sept. 27th at a RED ROOF INN in Clinton, Tn. itching in several areas. Turned on the lights and got up to discover 3 bed bugs crawling around in the area I just got up from. I was packed and out there in 15 minutes after I collected 6 in a clear plastic cup the room come with. I stopped at the office and showed the bugs and the bites and I was all but called a liar by the TOOTHLESS wonder behind the glass. Right!! I self-inflicted 4 bites and ALWAYS carry around a half dozen bed bugs with me when I travel for business. I was told I'd have a room refund and 3 days later no such refund has appeared. Wish I could post pictures here. NOW, I have to take all these precautions at home after looking up online just how easy it is to transport them. And how difficult it is to get rid of them once you have them. SOMEONE is going to pay for this mess.

Very good. Worthwhile. Very nice. I would stay at this Red Roof Inn if I were in Jacksonville again. The location was good, the service was excellent and the room was very nice. Everything was what we expected it to be and more.

We were visiting family in the Little Rock area and checked in on Thursday and checked out the following Monday. PROS: Dog-friendly, indoor plumbing, working electricity. CONS: room keys failed to work consistently. Rooms smelled absolutely disgusting, the carpets haven't been steam cleaned in forever (my son's white socks turned dark brown after walking on the carpet for an hour). The window to our room (on the first floor) did NOT LOCK. There was no safe in the room. The deadbolt to the room wasn't operational. The air conditioner hadn't been serviced or cleaned properly by an HVAC technician - it blew out disgusting smoking residue foul-smelling air into the room (this was a non-smoking room).
The bed was soft, hard, and lumpy all at the same time. The sheets used as a bottom sheet didn't fully cover the mattress. The top sheet covering the duvet smelled like urine, and when it was pulled back the urine stain on the duvet was revealed (very gross). The drain in the shower was clogged with someone else's hair and body particulate. The fan in the bathroom was non functioning. The wifi never worked. The breakfast was pathetic (and they would run out of coffee!!!! ). I found a plate of food in the microwave (THAT WAS A PREVIOUS GUEST's) that smelled horrible, and the POOL? A RAZOR BLADE was found poolside when we went out to splash, and lastly, there is a car without wheels, on blocks in the parking lot.
Wait, maybe lastly should be that there was always some guy hanging out in the front lobby on the couch or the chairs, and at one point, he was laying on the couch, with his barefeet, as if he was in the privacy of his own house. Was this the manager, Devo **? Could be. Normally, I would bring all of these issues up to the hotel and ask them to make it right, however, I didn't see the point in this particular case. The first room we were originally assigned, I lasted maybe 10 seconds in there before I turned right back around and went back to the front desk asking for a new room because of the horrific ODOR.
My PROS and CONS above are based on the New & Improved room I was assigned. Due to safety issues, I brought the attention of the razor blade up immediately with the front desk staff who seemed to respond with haste to the safety concern (kids out on the pool deck, etc.). What you also need to know is the kind of neighborhood this hotel is in. I was traveling alone with my 9 year old son and our toy breed dog. My husband later joined us in the weekend once he was off of work.
I was extremely concerned about my safety as a guest here, as I was addressed EVERY TIME I went outside to walk my dog by men staying at the hotel, men walking by on the street, or just random men loitering across the street behind some industrial buildings. They would walk over to me, or slam on their brakes and start talking to me from their vehicle, or hang out in their vehicle and call to me from across the parking lot: "Hey baby, looking good!" "Hey beautiful, whats your name? Come over here and talk to me!" Really? Like I am actually paying money for this experience.
On one side of the hotel is a daycare that has a travel van with the back windows busted out and at least one flat tire. Behind the hotel is what looks to be low-income apartments, at least, that is what I gleaned from the looks of the automobiles going in and out of the apartment complex - broken windshields, bumpers dragging, older model vehicles blasting loud club music. During the day and night, there are always people walking up and down the street in front of the hotel, as the street in front of the hotel is the main conduit to the shell station at the corner, and the Mcdonald's across the street. Walking is a verb I use loosely here, as most were swaying back and forth looking like they were about to fall over into the street or oncoming traffic at any time. I'm no stranger to poverty and I know ghetto. This was that and so much more. Caveat emptor.

This was the letter submitted to Guest Relation Management with resolution, apology or even refund offered. If there was one issue I could have avoided but being there was countless issues and one complaint and the outcome was beyond unprofessional and disrespectful. Please read below all the events that has taken place at this establishment for the 5 months I have stayed at this location. This matter was not resolved nor addressed just ignored. Then I was abruptly asked to leave since they could not satisfy me? As if in over 5 months they heard from me but accepted my money. Obviously unavoidable issues never addressed below nor even a respectable call to address or rectify my claims. I am in the process of taking this to a higher level until I receive not only a apology but a refund since my hard earned money for a peace of mind. Clean room was not met nor was it top priority.
To Whom it may concern: I am staying at your BWI Airport location and I have had several unfortunate situations occur since being here. From leaving my room only to return to find the ceiling full of mold and bacteria almost covering the whole ceiling over the bed area, to the bath tub full of rust and hairy mold, changing rooms then in this room, to floor soaking wet from the ceiling, water fall that came down onto my clothing in bags were soaking wet from upstairs room sink overflow. I had to actually go to laundromat to wash and dry my clothes "no offer" for compensation to wash here on premises, to "NOW" fungus mushrooms growing out of the air conditioning units???
I have small pets - a Yorkie who is 10 pounds and Imperial Shih Tzu who is 4 pounds and they have been sick since Thursday, vomiting and sluggish. We did not know why. At this point we searched for anything they could've eaten or came into contact with while in this room and that is when we found the fungus mushroom underneath the air conditioning unit. We have documented all of this not only for our records but corporate to address deep concerns. I have asthma that has been triggered by these circumstances on many occasions I mentioned above. Also we have had stomach viruses since Friday. Not sure why but it was strange very strange it occurs in these rooms.
This has just become unacceptable to continue to afford to pay for these type of situations to keep repeating itself without proper compensation for reoccurring issues out of my control. I have traveled from the Texas area 2000 miles to relocate here in the Maryland area only to have so many unfortunate situations occur at this particular location. I must say I have never experienced such unfortunate situations in 25 yrs as a professional. My field that requires me to be on the road 6 months out of a year so I have many frequent flyer miles and have stayed in 2-5 star accommodations never to experience anything to this severe. This I can say has never happened. I can truly state at this great magnitude.
Now I have to take my pets to the vet not knowing what they have been exposed to since the maintenance staff on duty never ever seen mushrooms grow under air conditioning units here before? I am now "VERY" worried as to why it is happening and what is it exactly? And through it all I received "A Free Night" which is not equivalent to all I am dealing with and have been very patient and understanding, while I do fully comprehend some things are truly out of our control YES; but it is all in how it is handled by management when they are made aware of the issues that continue to occur that they try to come up with any reasonable solution. To a problem your guest has not caused. (Keep in mind I do receive a free night based on my Redicard membership.)
The amount of money I am spending at Red Roof BWI for comfort, cleanliness and rest I should not have these issues or I should be compensated a lot more than "A FREE NIGHT" for all that I have dealt with and to deal with. I have not reported the practices here such as: the sex trade activity the desk staff decided to book her next to my room, connected doors, my latch to mine and for 2 days all I heard was loud sex noises and many strange men knocking on my door by accident so much we had to sit in our truck to watch this. At least 10 males entered we witnessed. In order to block the sound and not hear it we had to vacate, sit in our vehicle. It was unbelievable. Or the cooking of drugs. We were abruptly woken up too early Sunday morning with drug needles in front my door on the ground. I took to the office. We had vacate again for hours to sit in my vehicle.
Not mention the exterior massive trash and dog attack situation at 8 am one Sunday morning on my window and attacking of a mother outside my room door and how that was poorly handled and brushed off. We were offered nothing at all, and a lot of other major violations I have witnessed here - I still remained silent and patient hoping the manager would address this. Due to me relocating it is hard to move from hotel to hotel for comfort and cleanliness with pets and my profession. It is a hectic schedule so I need my rest when I do stay anywhere. I think I have been more than fair and have not complained even when I had justifiable reason to do so. But this fungus and mushrooms issue is the last straw and "NO", one free night does not make up for all of these situations. I pay weekly here until I close on my home which I pray for any day now but in the meantime I am here and feel this out of hand.
I truly am beyond upset about this and need action taken now so that these sort of situations do not occur to others who are undeserving and simply in town for work or relocating. This has caused me to not sleep, stress and for health reasons to be afraid for myself and my pets. I am asking that you look into this and please take this very seriously as it is. I am seeking an amicable solution to these reoccurring issues in a timely manner.

I booked a room for 8/27 online for the Williamsport, PA location. On their website it clearly states newly renovated. When I arrived I was very disappointed. Nothing was renovated, but in really bad condition. Especially the carpets all around and in the rooms. It was ripped, old, stained and not vacuumed for quite a while. The wifi did not work at all, only 2 bars - couldn't even open my FB. My room was dusty, not vacuumed and my toilet would not flush. There were stains all over the walls. The parking lot and driveway were full of deep potholes. I felt scammed. I go there once a month and even got the RediCard thinking I will need it for future reservations, but now I honestly don't think I would ever want to.

This was 8-28-16 in Middletown, Ohio. The room was disgusting and I found hair in the drain in the bathtub and the comforters were dirty then they charged me for different charges on my account and two deposits!!! I do not recommend this place to anybody!

I stayed at the Red Roof inn, in Santa Ana California August 9th, 10th and 11th with my church group which we took up three rooms. Who I also recommended Red Roof Inn to another church group that took up 5 rooms and yet another church from Northern California that took up two rooms. I have stayed at the Red Roof Inn previously three other times in Santa Ana for Celebrate Recovery Summit AT Saddleback Church in Lake Forest, California. I noticed this year a lot of the people staying in the hotel seem to be practicing drug addicts, practicing alcoholics and there was what appeared to be ladies of the evening.
Upon checking in, our church had sent them a check in advance paying for all the room and as I was checking in, they proceeded to tell me that they didn't take checks and I proceeded to tell them that they did take the check because it had already cleared the bank. After a lengthy discussion they went online and found that the check been cashed. Our church group checked out the morning of August 12th and the other Church groups we're checking out on the 13th of August. Upon talking to our state representative, I was informed that the room next to me room 154 had been broken into and my room which was 152 was also broken into, however I had already checked out.
I understand that the room next to me that was broken into there was some prescription medication that was taken and as far as I know that was all that was taken. After reading some of the reviews at different states, different towns, in different locations of the Red Roof Inns, I won't be staying in the Red Roof Inns anymore. They have lost a good customer. They did file a police report with the Santa Ana Police Department and they were told that every hotel and motel in Santa Ana is low income. With what we were charged, it wasn't low income.

Red Roof Inn, Lanham Md, I've stayed in for the second time on 8/13/16, and this was by far the worst. The room looked clean, but as the night went on I kept feeling uneasy, like I felt itchy, so I'd turn on the light and nothing. Then say around 5 am, my phone buzzes so I check it and then I feel a pinch on my arm so I shine the light from my phone and there it was, A BED BUG. My poor boyfriend sleeps hard, so they had a field day on him, he was so pissed. Needless to say we checked out early... and had to wait a hour for a refund. The staff was nice, but who wants to take bed bugs home with them and leave with bite marks all over. The mental anguish, RIDICULOUS. Inspect the mattress before you lay down. They hide well. Beware of those dark coverings they put over the box springs, it's where they live... never again!!!

After spending the weekend at the Red Roof Inn, I checked out Sunday, July 31, 2016. I forgot my pair of dress shoes and tried to call the Inn directly when I discovered them missing Sunday afternoon. I called the Inn five times during a period of two hours and let it ring at least 15 times each time without an answer. I finally called the 800 reservation number and the agent who answered said she would try and reach them at another number. She reached them and connected me to the front desk. The desk clerk said she would check to see if the shoes were turned in. After 20 minutes on hold she said the shoes were not turned in. Now, the shoes were on the floor in plain view and the cleaning staff would have tripped on them upon entering the room.
So, I suspected something was wrong and called the customer service number Monday morning. I got a recording and was put on hold for 18 minutes before I was cut off. I then tried emailing customer service and requested a receipt for the email. That was three days ago and I've given up on recovering the shoes. I should have suspected there would be problems at the Inn because when I checked in the Wi-Fi was not working. Saturday morning I notified the desk clerk the clock radio appeared to be a fire hazard and I had to disconnect it. The staff took no action to replace the radio. Also, the refrigerator was not bolted down. So, when one tried to open its door, the entire unit came out of the cabinet. Needless to say, I lost a pair of shoes and Red Roof Inn lost a customer.

Redicard Rewards are misleading. My husband and I stayed at a Red Roof Inn near Boston for 10 days. We earned enough points for a free stay. When my husband tried to use the points, we were told he was not eligible because the card is only in my name even though we earned the points together. Nothing was explained to me when they handed me the card. It seems the card cannot be in both of our names and cannot be transferred. They have carefully set up their rules to reduce the chance a customer might actually be able to use their points. We also belong to Hilton HHonors and they allow both husband and wife to use their points. Red Roof Inn just pretends that its loyalty card will earn you benefits. Their arbitrary rules only leave me with a desire to avoid them in the future.
Red Roof Inn Company Profile
Company Name:

Red Roof Inn

Website:

https://www.redroof.com/