Consumer Complaints and Reviews

I recently booked a hotel a hotel stay at Ramada Plaza Resort. The room was absolutely disgusting. We checked in fairly late. The condition of the room was absolutely disgusting. Never have I stayed in a room where there were beetles in the tub which also had mildew and the toilet seats were cracked. In addition it appeared that the floors were stained with filth. The couch in the sitting area was torn with springs sticking up. The floor was sticky with a syrup like substance. The room should never have been booked! Upon complaint to the front desk the agent agreed with the condition of the room and stated I should speak to a manager. After several attempts the only person I speak to tells me I need to speak to corporate. I'm disgusted with the service and quality of the room.

This was my anniversary gift to each other and the worst vacation in my life. I got a call that I got a vacation package for two nights in Fort Lauderdale and then a cruise and a wonderful stay in Bahamas. I paid 995 for this great deal that I couldn't past up which all inclusive was another part I felt you couldn't beat. First night at the Ramada welfare motel, beds were so bad the air work a little and the food was nasty. Nothing was told to me that I had to be at a 6 hour pure pressure meeting to buy timeshare.
Cruise was nice but I paid extra for a balcony and they only had windows. This cruise line was over 20 years old. First day at the Bahamas going to the Grand Lucayan looks like it was really nice, well looking at the line that was about three hours and the lobby had industrial fan all over one family leaving said they don't have air. I asked the staff what this was about. She stated they are working on the air it should be up in a few hours, that was at 10 in the morning. By ten we asked again and they stated to me it's back on and you should feel a difference in 15 minutes. 3 am we demanded to move to another resort.
The food was spoiled because sitting in the heat and so many people were leaving and getting sick some people were sleeping on the beach chairs outside. I paid for all inclusive with all the extras and a rental car was put in the cost when we got to the rental it cost me so much in taxes and extras I never paid that much in the past for a rental. So by the end of this vacation from hell we put out of pocket at least 800.00 for all the taxes, fees, tips fuel cost for the boat etc.

We visited the Ramada Plaza resort in Fort Lauderdale at 5100 Service Road 7. This hotel no hot water in the morning, unfriendly and poor services at both the front desk and in the restaurant. Food is poor. Absolutely no flexibility in providing the included breakfast: You need to have the whole family ready for breakfast TOGETHER or you cannot use the breakfast coupons. Inexperienced and unfriendly front desk staff with unwilling to help customer attitude. It seems that the staff in the restaurant also share the same rude attitude when you ask for a glass of juice. WILL NOT RECOMMEND THIS HOTEL RESORT TO ANYONE. WILL NEVER USE RAMADA HOTEL CHAIN.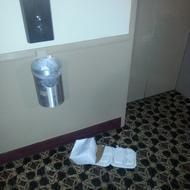 If I could give this outdated hotel and staff as well as in-house restaurant a zero star I would. Let's start with the only positive remarks. First the beds in room were like brand new and highly comfortable. And the one waiter - he was excellent, offered to go cups of drinks, was polite, very courteous, and very prompt. Now for the negatives. The hallway on second floor was very dark and moldy smelling all 4 days I was there. There was trash overflowing the trash can right in front of the elevator - looked like people were eating out of to go boxes and just threw them on the floor right as you stepped on the elevator. Up the hall from our door someone urinated on the floor making smell even worse (right across doorway to vending and ice machine). Soda machine sold out all 4 days. Only 4 channels on tv, the bathroom could use facelift and paint, one wall had a crack down it, a questionable hole in the ceiling above the one bed.
No noise reduction between rooms or from the hallway (loud tv from neighboring room, loud drunks in hallway - left from tiki poolside bar as well as other bars that closed later that night). Now for the restaurant - the first day was Chinese themed buffet. It took all I had to get two bites down of the egg roll, and the other food on buffet was edible at best (definitely could not get my fill) waitress didn't want to be at work and it showed in her attitude. Definitely not worth what I paid. Remaining 3 days were part of all inclusive package (service fees and taxes were charged) (not what I call all inclusive).
The next morning went down and had breakfast. I had fried potatoes with sausage gravy that was decent. We decided it was best to eat out for lunch. We thought it might been a fluke for the meal being so bad night before. Boy were we wrong. It was worse than the night before. However this was the great waiter (wish I could remember his name). The meals stayed the same remaining of the stay. I would never recommend this hotel to stay in if you planning on a extended stay. This place is only good enough if you just want a good night's sleep and have no other expectations. This hotel stay almost ruined my honeymoon. We felt nauseated from the food and the smell in the hallway on our floor. This hotel needs to be updated and enforce new policies to accommodate all patrons. The restaurant cooks need to be better trained before they get someone really sick.

The Ramada Plaza has FAILED this family with FIVE children. Just installing security cameras for the FALSE SENSE of security it gives to their clients. Installing these LOW-END security cameras in the parking area and to make matter worst the camera lens are NOT maintained rendering these low-end cameras useless. Dirt and insects in front and around the camera make for even a poorer picture quality. Families ENTRUST their belongings to the hotel intact security systems, granted the hotels do not hold themself liable in case of loss, but should do more in the prevention and recovery. At least be able to give law enforcement the tools to do their work.
How do I know I can trust these reviews about Ramada?
854,137 reviews on ConsumerAffairs are verified.
We require contact information to ensure our reviewers are real.
We use intelligent software that helps us maintain the integrity of reviews.
Our moderators read all reviews to verify quality and helpfulness.
For more information about reviews on ConsumerAffairs.com please visit our FAQ.

We had a horrible experience at this hotel. What's worse was the hotel staff didn't even seem, to us, to even care that the they were ruining our vacation. Some hotel employees were not only rude but they provided really bad service to the guests. For a room that rents for $120 a night, we got an old room with worn out dirty stained carpeting, chipped furniture and tile and areas of the dry wall ripped away. In addition, the room had a foul smell like mildew odor. On their hotel website they show pictures of the hotel inside and out. What they don't tell you is that those pictures must of been taken, right after their last renovation which might of been 10 to 20 years ago.
In addition, we were trapped in an old outdated elevator, for a considerable length of time, that they still use in the hotel. I'm sure we were not the only guests to have this experience because there was an "out of order" sign on the elevator the next morning. We stayed there two of the three nights, because we felt trapped that we already paid for the room for three nights and we were notified that the room was "non-refundable." The third night, I found another hotel, because I couldn't stay there any longer. On the check out bill the next morning, the hotel included in the room charges, tips of 15% for all staff personnel who they felt were entitled to receive a bonus, in addition to their hotel wages.

Marco Polo Beach Resort Ramada - We had a horrible experience at this resort. My brother stayed a year prior and told me to make sure I reserve a remodeled room. I called to reserve a "remodeled" ocean room months prior and was told by "Lady" it was confirmed. I called week prior and again was reassured of this. The night we checked in we were placed in old room with dirty stained carpets, chipped furniture and tile. It was bad. Then my husband called desk and was told no other rooms were available. Then I called and was told only one was opened and we could be moved to this one...OK well this was on the 1st floor and was down a strange hall that had bolt locks on the doors and the room was shady. It was not better. Granted maybe it was "remodeled" because they removed the carpet and had tile in its place. However the room had a foul odor, chipped furniture and was very outdated...Very disappointed. So when we checked out 6 hours later, I cancelled the remaining 2 nights of my reservation and spoke with manager. He apologized and refunded me $12.51 resort fee... really that's all. I should have been credited the whole amount! Bad service! Dirty place and would not recommend!

I purchased a voucher from a marketing company to stay in the Ramada Plaza hotel Atlanta Capital for 4 nights for $378 and it included free parking. I was to use it by May 31st. Once I realized I was not going to be able to make it by then, I asked a manager (**) at this hotel for either a refund or an extension. He was kind enough to allow me to choose either way. I NOW WISH I WOULD HAVE GOTTEN MY MONEY BACK AT THAT POINT. I took the choice of using the vouchers in August. As the day was approaching, I learned that the hotel was a few blocks from the projects and I read some disturbing reviews.
I wrote the ** back and told him of my concerns and asked for a refund. He refused my money back this time. Since I had no choice, I went ahead and stayed at this hotel. The lobby was very nicely decorated and inviting. My room was nicely decorated and inviting as well. It was very clean and had plenty of room. Except for the dirty chair and a spot on the bed skirt that looks like bodily fluid or vomit. It was one of the cleanest rooms that I have ever stayed in and the view was terrific. The whole entire staff was very friendly.
Cons: If you want to use your computer anywhere downstairs, make sure that the battery is completely charged because there is nowhere to plug it in at. There were 3 hallways with 3 to 4 bistro tables in each hallway. Only 2 of those table were near a plug. The lobby had one but it was several feet from the sitting area so if you want to sit on any of the sofas and work on your computer, either have it fully charged or bring an extension cord. I thought for sure there would be one in the restaurant near a table for me to use. But, there wasn't. I was hoping to work on my computer while I ate breakfast but that was not an option.
Tanya was my waitress each morning. She was fabulous. She always made sure that I was doing ok. She was very efficient and gave 100% to her job. I loved her energy and her smile.
One morning I left my room at 7 am. I left in a rush so I didn't have time to pick up my room that morning for housekeeping. I decided to have them come later after I returned. It was almost 2.30 when I got back. I went to the front desk and asked them if it was too late to have my room cleaned. She told me that she will have someone to clean it for me shortly. As I got on the elevator, I heard over a housekeepers radio that room #1007 wanted her room cleaned. I heard that same housekeeper (**) say with an attitude and out loud where everyone in the elevator could hear her that if 1007 wanted their room cleaned then they shouldn't have the "do not disturb sign" hanging on the door. When Kimyetta showed up, she had a smile on her face and had a wonderful attitude. The room looked great afterwards.
Another morning as I was waiting for the elevator to come up, I noticed a gentleman from housekeeping talking on the phone while wearing earplugs. Because he was vacuuming, he had to yell into the phone where the other person could hear him. He was clearly upset about something because I could hear him complaining and fussing about something to the person on the other end of the phone.
Each day as I entered in the hotel from either the side or the back, I got to see the same dirt in the same spots in the entrance way and in the elevator. The morning that I was supposed to check out, I asked for a 7.30 wake-up call. They called me at 6.50 am. Once I learned what time it was, I called back down to ask for a 7.30 wake up call. I lay back down. They never called me back to wake me so by the time I did wake back up, it was just a few minutes before 8.00 am. I was almost late for my 9.00 am appt. that I had to attend to downtown and I had to eat breakfast on the way.
The morning that I had to check out, I noticed that the hotel charged me for my nights at the hotel and also for parking. When I went to the front desk to let them know that I already paid with vouchers, they asked me to print them off again so they may take care of the charges. When I went to their computer room to print them off, the printer wouldn't work. I spent 15 minutes trying to get these vouchers printed off. Once I informed the front desk that the printer wasn't working, she stated that she knew and I would have to use the printer behind the desk.
When ** came out, I explained that I already paid for the room and parking. He explained to me that he charged me additional funds for the room on top of what I already paid. I NEVER AGREED TO THAT. He didn't explain why. I was so furious that I just wanted to leave. When I asked the lady behind the front desk if she could refresh my key so I could get the rest of my property out of my room, she refused. I asked her 4 times. Once I asked her if she was holding my property hostage, she finally gave me a key. I ended up paying $983.00 for 4 nights in a 3 star hotel. A 2 star would have been a lot better than this hotel. I GOT SCAMMED!

The bad reviews on TripAdvisor: Keywords: bed bugs, mold, scam, etc. I wanted a room upgrade and not stay at this hotel. I was lied to over and over again about my room upgrade to a different hotel through the Caribbean Cruise Line (who own everything involved, by the way. Google "Circle of Doom Dan Lambert"). The room upgrade was non-existent. I filed complaints at the Attorney General's Office. Dig deep enough. You will not want to stay here.

Our daughter & her family gave my husband & I an Ontario Getaway package as one of our Christmas gifts this year. This worked out really nicely for us, since they would also be taking advantage of this offer to get away themselves. How nice to be able to spend quality time with them and nobody will be cooking or making beds! They booked us adjoining rooms for Friday, January 25, 2013, at the Ramada Plaza Hotel located at 7389 Lundy's Lane in Niagara Falls, Ontario.
We checked into rooms 418 & 420 at the hotel and all seemed to be in order. I did notice that the toilet in our room seemed a bit "sluggish" when flushed, but I thought that must just be the way these toilets worked. This was not the case. The toilet in our bathroom decided to quit flushing altogether late that night. Lovely! Because it was quite late, I left off calling the front desk until approximately 7:20 a.m. the next morning. The woman who answered my call said that housekeeping was not in until 8:00 a.m. and she would let them know. Fortunately, our daughter's room adjoined ours and we were able to use her facilities because housekeeping never did show up. We checked out at approximately 10:30 a.m. leaving a toilet full of unflushable waste & still no sign of housekeeping or maintenance or anyone. Yuk!
When our son-in-law told them of this at the front desk, he was told that the manager was not in and would not be in until Monday. So, is the manager Housekeeping or perhaps Maintenance? Does he come with a plunger & a bottle of Draino? What on earth was that comment supposed to mean? Surely there must have been someone on staff who could have dealt with our dilemma. We are not unreasonable people. We realize crap happens but, once again, surely somewhere in that hotel there was a staff member who at the very least could have come to our room to see what the trouble was.
It has always amazed me that there never seems to be a manager on duty on the weekend in a hotel. I would guess that this must certainly be their very busiest time, and I would think that there should be a member of the staff available to deal with any "issues" that arise. We did not want to make a big fuss or should I say stink about things since as I said before, our stay here was a Christmas gift.
There were a number of other small but annoying issues. The safety latch on our door was broken & non-functional. The wall thermostat in our room did not seem to work properly. We could not set a desired temperature.We had to keep turning the unit off or on to regulate the temperature ... rather inconvenient. The shower curtain smelled like urine & although it looked clean was obviously in need of a trip to the laundry. Upon reflection, maybe the guests before us used the tub as their urinal if the toilet was not flushing properly for them during their stay?
In summary, aside from the obvious inconvenience & the grossness of the toilet thing, it was the lack of response to these things that is the most troubling. Was housekeeping ever notified? Or were they, like the manager, "not in until Monday?" Unfortunately, we did not get the name of the woman on the front desk that took my call & spoke to our son-in-law at check out.
It is not expecting too much from any hotel/motel to have a working flushable toilet. For years, the Ramada chain was recognized as being a cut above. In a customer comfort based hospitality industry, they really should be looking after at least our most basic needs. Granted a flat screen TV is nice but when given the choice between that & a working toilet, we'll choose a working toilet every time! In closing, let me say that overall, the hotel was okay but the level of customer service was kind of "crappy."

In July 1999, we applied for a trip through Ramada Plaza Resorts, Orlando/Ft. Lauderdale Vacations, and paid down $598.00. Unfortunately, due to illness, we had to cancel our trip and requested a refund. As of today, 13 years later, we still have never received our refund. We have written numerous of letters as well as phone calls, but with no satisfaction. This company is a big ripoff and should be made by the government to refund everyone's money that was trusted to them for a vacation.

On July 13th, I was bitten several times and woke up to swollen arm, leg, and back neck. I was so swollen I had to go to the ER at Cleveland Clinic Florida. When returned to the hotel and showed the management, our room was changed that night; my husband was bitten and we checked out the next morning. I have been sending emails since and just given one name after another. Finally, Karen ** answered that they checked one room and there were no bed bugs. After telling her to check again, she came back to say yes they have bed bugs, to send the medical bill and it will be taken care of.
I feel we need to be compensated for more than medical bills. We have permanent scars from the bites and it ruined the second part of our vacation (our cruise on the Bahamas Celebration and stay in Freeport). We could not enjoy it for trying to take care of the bites and deal with the pain. My bites were so swollen I could not make a fist with my hand due to the swelling. The public needs to know about such hazards.

Ramada Plaza Resort Vacations - I received a solicitation in 2000 from RPRV, offering a 6-day Bahama Cruise, a Las Vegas weekend, a Ft. Lauderdale weekend, and a Puerto Vallarta 5-day vacation. I paid $698 for the package. RPRV said it was a 2-person package. The literature they sent to me indicated that rooms, rental cars and taxi costs were included. I extended the vacation package over the next 12 years, as I had spinal surgery and could not travel for several years. I intended to finally take the vacations, and discovered all of these complaints. I have lost $1,400 to RPRV, and I desperately need to have the money refunded. I am retired, and live on a very limited income.

In 2005, I received an invitation for a luxury vacation 4 days and 3 nights in Florida with a cruise to the Bahamas for 2 days and 2 nights. Unfortunately, I bought into the scam and gave them my card number for the first $738.00. When I went to use it they wanted another $698 of which I did have. They indicated they would hold the offer open for a year. Not to worry--wrong. When I tried to use it no one knew what I was talking about and stated they couldn't help me unless I wanted to pay another $150.00 to use it. At that point, I was angry and realized I was getting no where and they would not refund my money. By the way, they refused to refund or credit my card back in 2005 two days after I made the payment. Long story short, I put it behind me and then saw this article about these scams and read the frustration I had experienced. They should be forced to refund all the funds and fees they charged me and these other people. Thanks for letting me vent, if nothing else!

I am being told that my vacation was expired as of 1.09.12. My original reservation was **, and had subsequent numbers after that, because I kept paying for extensions. I was told the last extension I had, was until the end of 2012, and now they say it's too bad, and I need to purchase a new package. I paid $898 plus fees, and never went on one of the vacations, and was just looking to do that. Now, no one will help me, and I have contacted their compliance department, but still have note received their response. I was hung up on, and treated rudely, and at this point, I want my money back or at least the vacation. I have read about that, it seems like a nightmare.

We booked a suite for a family get together on the weekend, on October 28 and 29, 2011. Unfortunately, my wife and her sister-in-law were both unable to travel due to documented medical reasons. Three days before the reservation, we spoke to the hotel. They informed us that they would not refund the money nor credit it toward future stays. We were billed for $788 on Oct 31st. Ramada's corporate website states that by not cancelling or showing up, you will be billed for the first night only. This was not the case and Ramada has been very difficult to deal with.

I bought the vacation in 2001 for my Mom. I couldn't take it until 2011 due to death and illness. They were not initially clear about the costs to expect on the cruise, but after I understood about the charges, I relaxed and enjoyed the idle time. The island, which was Our Lucaya was in the Bahamas, but I didn't know it was not Freeport and I expected to meet family and friends in Freeport. But they really treated me very nicely and customer service at the resort was excellent. The cruise back and accommodation in Ft. Lauderdale was nice and they comped me food for the entire 14 days. I have no complaint.

This company is very dishonest, and it is a shame they have done this to so many people and are still doing it. My husband and I bought a vacation package in 2008 and was told it does not expire. We received a call in 2009 to upgrade it and we did. It is now 2011 they are calling us again, driving us crazy by telling us that it has expired and we have to pay $900 to save it. My husband spoke to one of they supervisors named Maureen and she was very rude. I think that we need to get together and file a class action suit to stop them from hurting others. Can you help us find an attorney who would fight for us?

On March 2004, I paid the down payment worth $174 for the purchase of a vacation package which was to include a four-day cruise from Fort Lauderdale and a three-day Disney package, along with the choice of a week-long vacation package to Williamsburg, VA.
Shortly after making this deposit, my company downsized and, within a few months, went out of business. I tried to get a refund of my deposit and was told that it was nonrefundable, something which was never discussed during the initial sales transaction. Instead, I was offered an extension until 2007.
I thought of getting another extension until I heard of all the problems others have incurred with this company. Is there still a possibility of getting my $174 refunded?

I lost a lot of money because of those people. It all started in the year of 2008 if I am not mistaken. I received documents saying that I am eligible for a free cruise. I called them and it turned out that I still had to pay $800 or so. But I thought that for two people it's pretty good so I paid (I gave my credit card number). The guy on the phone told me that I could cancel it anytime if I want to.
After I decided that neither I and my boyfriend couldn't go, I called back and asked to cancel and my money back. The lady on the phone by the name of Joanne was extremely rude. She would not do anything for me. I left the whole deal. I did not go on any vacation. I just wanted to forget the whole story and this company.
In September 2009 I received a call from this place again saying that I have "legal engagements" and that I have to pay another $698. I was not smart enough to look at the documentation that I received before, it said "prepaid" everywhere. They said that they have all the conversations recorded and that I have to pay. So they pretty much lied and tricked me into paying. It's useless to say that obviously I did not preauthorize any future payments from my credit card that I gave the second time.
Last night I received a call from a manager of a Ramada Plaza Resort, who informed me that I have "legal engagements" and that I preauthorized the money - another $698; to be taken from my credit card and he just hang up on me. I called Ramada Plaza Resort 1800- number and explained the situation. The agent said that if I don't take any vacation I do not have to pay anything extra. The money that I paid already will be lost and that's it. So today I am waiting again for the call of the manager because the card number they have is expired.
It is absolutely outrageous how they suck money from people. I understand that it's a total scam but I don't know who to talk to about it, what organization to make a complaint to. Talking about money, I lost a lot of money because of that situation - about $1,800. And of course there is time and nerves spent. It was absolutely not a satisfactory experience.

I got something in the mail a few years back that looked like a great deal since I had stayed at a beautiful Ramada recently. I thought it was a great idea to take this trip with a young girl I know as a niece, but she was unable to go. I had a very bad time for a few years, with deaths and illnesses. My father-in-law died, my dog of 14 yrs passed , my husband had a stroke, etc.
This year has also been very bad for us but we needed a vacation and this one was paid for, ha! They have not followed through on anything, just it cost more for this and more for that, over and over again. They failed to make flight plans for us so we had to do it ourselves. I have been lied to, screamed at, hung up on every time I ask to talk to a supervisor. They do not get on the phone, ever!
I am not well and after reading these horror stories about this vacation, I do not think I am capable of going on this trip. I am sure my doctor will validate anything they need to know, but they refuse to listen or let me talk to someone in a supervisory position. I have not slept well or been able to eat for over a week. I am having severe headaches and stomach problems every time I try to talk with these people. It takes all day because they keep transferring your calls in a circle. They are more than rude and have hung up on me many times. My nerves are so shot I just am scared to death to take this vacation! Please help me!

In 2005, I bought into the Ramada Resorts dream vacation that included a cruise. I paid $500 (for the first person) on my credit card right away. I was told I would owe another $600 for the second person when I booked. I got older and wiser, and I realized I could not afford such a lavish vacation. I received a phone call a couple years ago reminding me about my purchase, and I said I wanted to cancel.
Five years later, I got a call telling me I have to either pay the final $600 and go on the vacation or pay and lose the vacation. I asked the person on the phone (who was very rude) if she could e-mail me more information; she said no. I told her I couldn't talk, because I was at work. And she said she would cancel my vacation and charge me. I said goodbye but did not give permission to charge my account.
I'm hoping I can get out of this situation without losing an additional $600. I've lost my initial $500 deposit, and they may charge another $600. I have never nor do I intend to go on the vacation I am paying for.

We purchased a vacation trip with the Ramada Plaza Resort. We recently found out that we will not be able to take this trip, ever. We contacted the company to inform them of our situation. We spoke with a supervisor named Anonymous, he informed us that this trip is non-refundable and is "expired" and that we had to take this trip or are account becomes inactive and we have to pay the "rest" of the balance. We were never told, in all the conversations that we had with this company, that the vacation package is non-refundable. We would like our money refunded, as a consumer we have that right. This package was $698 per adult and $99 per child. There are two adults and one child scheduled for this trip. Please help us in getting a refund. Thank you very much.

I, Juenlee, am corresponding regarding my 80 year old father, who is experiencing health issues. He asked for a refund of the $798 that he paid in June 2007, when he had a knee replacement surgery. They offered to extend the expiration to June 2010. In May 2010, my father gave me the package to see if I could use it for my family. I called again for a refund, due to his health not improving. They wanted $87 to extend the expiration date to December 2012.
I did not pay $87, after reading the Consumer Affairs reports. I wish to receive a refund of $798 on behalf of my father, Tan **. Our funds are limited, and we feel taken advantage of. If there is any way to get money back, I would greatly appreciate it. My father is currently living in the Philippines, due to lower costs there. Please correspond with me. My email and address is noted above. I have all the Ramada Plaza Resort documents.

In October of 2008, I was contacted by phone saying they got my information from Video Professor. I was skeptical, should have followed my instincts, but I signed up for the vacation. I gave my credit card information and was charged $238.00. The vacation package had to be used within 18 months. As it turned out, I never used the vacation, it expired and I just accepted the loss. Recently they have been contacting me to reactivate the vacation. I declined. On the most recent (third) phone call, they informed me that because I never took the vacation, I owe them an additional $850 (approximate). I got angry and hung up the phone. When I called my credit card company to block the charge, they said there was nothing they could do, that even if I close the card, the charge could post for up to a year later. Because I gave out my information, that allows them to charge my card. I closed the account anyway, at least they only have one year to try to rip me off. Of course, I have no intention of paying it. I will enter a dispute if they charge me. There's a good chance that this will negatively effect my credit score. I am really angry that there is nothing more that I can do to stop them.

I got something in the mail in 2005 and called them. They promised me all sorts of trips, but I told them that my husband wasn't able to cross the border. So then, rather than just 18 month time limit, they gave me 3 years. I called them in 2008 and paid to have it extended again, 87 dollars. I was told it was good for another 3 years. Plus, I paid another $100.00 to upgrade to an outside cabin on the cruise and paid the other half $698.00, so in total $1,683.00. Now that my husband is about to get that waiver, I called to book this trip. They said that my trip has expired. But they offered me for another 4.98 bucks so I could have a part of the trip I already paid for. Now I'm not about to throw more money into this and I want my money back! If they are not going to honor the trip I paid for, then they owe me my money back!

My complaint is only that I believe I won't receive the agreed upon accommodations as stated in the travel package based on the numerous complaints on Cruise Reviews, Rip Off Reports and this website. I had planned to take a trip with either my daughter or my friend but am I having misgivings. I've taken a cheap trip before through Vacation Showroom/Take A Break Travel. While the hotel room wasn't resort quality, the hotel had many amenities that my whole family enjoyed. In a fit of madness, either after they contacted me probably because I responded to a sweepstakes or I saw information on them, I agreed to buy the package because I had never been on a cruise and I thought this may be a cheap way to do it.
From Cruise Reviews, the reviews of the cruise line, Imperial Majestic/Regal Empress were mixed with favorable and unfavorable reviews, so I wasn't sure what to think. But so many people complained to various agencies like the Better Business Bureau and the Florida State's Attorney's office, that at least four states have filed a class action suit refunding part or all of the expenses paid. For the most part, they have delivered as promised, except on these occasions: I bought the package on 10/19/06. Since I never received my package in the mail, I called several times until it was straightened out that they had been sending the package to my old apartment.
They got that corrected and gave me two free extensions. The vouchers I received had my first name completely spelled wrong. Attempts to have them correct my name and send me new vouchers have so far not happened. Then, even though I had gotten extensions and confirmation postcards listing the new dates, several different people from the expired accounts constantly called me at least once a month to tell me trip had expired and would I like to pay for an extension.
I told them it hadn't expired and one time even faxed them the confirmation postcard. The confirmation postcard comes without a return address or my specific name in the greeting on the postcard. My address information is handwritten on the card. I considered selling the package I received, but based on the complaints, I don't want the buyer to be displeased with me. I'm ridiculously paying these extension fees because I don't want to lose the previous money I "invested" in it. Now, I wonder if I should try to get a refund or just be out the money but avoid a terrible bait and switch vacation.

In October of 2006, I received a voucher in the mail for Ramada Plaza Resort, it sounded like the perfect get away and was told I had to pay the deposit of $699.00 right away, which I paid with my Chase Credit Card. I was told that I didn't have to take it right away, that I had two years before I can take it. They also told me that April of 2008 is the expiration date and that then, I would have to take the trip and have to pay for the remaining amount of the trip. So, I called and had to extend my trip date, due to unexplained illness. They charged my card $110.00 for a year's extension, which was April 2009.
In 2009, my illness seemed to be getting worst and I could not plan for a trip in my condition. I saw a couple of doctors, had various MRI done, which concluded that I had a lesion in my brain consistent with Multiple Sclerosis, which explained the symptoms I had over the years. So, I called the Reservation Department again to extend the trip again. For this time was $58.00 because I didn't want to lose the $699.00. When I asked the woman named Thomasina, why is the extension price lower, she had no answer, she just said that one year extension is $58.00 and 18 months is $78.00 and two years is $110.00, which sounds fishy, so I decided to look up the cruise line, the resort and a rip off report was made by what seems like thousands of people who have been deceived by the same resort people.
Turns out, it's a time share thing and everything they said your getting when you get there you don't get anything near. The cruise ship isn't the one they said, the hotel isn't the one they said, you pay more for more features that were suppose to be included. I cant believe I fell for this deceit, I don't want to go, let alone drag my fiancee with me to something that is not what it was suppose to be. My fiancee has been taking care of me through my progressing illness, he does not deserve to have to deal with this and my illness on our so called get away from doctors and hospital, they are a complete fraud. I want a refund! $168.00 extension fee on a trip that I was lied to about. Not to mention, $699.00 for my deposit that they have. Thank God things happen for a reason because I was gonna try again this year to go on this trip from hell and pay the remaining amount. Please, please, please, don't let them get away with this.

I recently located the vacation packet from Ramada Plaza Resorts. I was persuaded over the phone into a onetime deal vacation package. This goes to when I was in an accident, recovering from being in a comma, received a Traumatic Brain Injury. I was 33 yrs. old, but had the mental capacity of a 5 yr old. I am permanently disabled due to this. I have documents from the hospital and doctors to prove this. They convinced me to purchase a vacation packet and to put it on my credit card.
The total that is written down was about $1,313 that was charged to my credit card. Due to circumstances from the injury I was not able to organize myself to get to Florida to do the vacation. I attempted to cancel with no luck. I believe that I was taken advantage of and after checking on the internet I see others have had the same experience with Ramada Plaza Resorts. What can I do to attempt to rectify this? I would like a refund. Please let me know what can be done about this.

On May 7th, 2002, I used six different credit cards to purchase a cruise. This totaled to $1,596.00 then at a later date, paid an additional $698.00. I continued to pay $87.00 every year just to hold on until my wife was ready to go. It has been just over a year ago when I decided to just take my 24-year old daughter on this vacation and so I had her call to set up the time to go. When she called with all the packet information that I have, they said that they had no information on me and would have to get back to us. From this time on for over two weeks, I got the run around and they never called us back when they said that they would well over eight times. Every time I or my daughter called, we were told that my $2,729.00 cruise did not exist in the system.
Ramada Plaza Resort Company Profile
Company Name:

Ramada

Website:

www.ramada.com