Consumer Complaints and Reviews

If I could give this airline 0 stars I would. Let's start with flight from Denver to Vegas being delayed then canceled without any reason why. Return flight from Vegas to Denver got delayed. I called their number and spoke with a woman who told me that we should still make connecting flight due to it being delayed. After we finally arrived in Denver we had to sit on the tarmac for an hour which made us miss our connection. The customer service desk was unable to rebook our flight due to system maintenance and we were told to come back at 4 a.m. to speak with someone. The only flight leaving for Charlotte are at 11 p.m. the next night. They did give us a voucher for a cheap hotel though. Now on to the plane. The first flight the air did not work. The seats do not recline. You have to pay for any in-flight food or drink and there is very little room between seats. Worst airlines I have every dealt with. Never again.

Normally, I try to refrain from criticisms of companies where I've had negative experiences and only positive review those which I proudly endorse and support. However, my experience with Frontier Airlines today has prompted me to set aside that rule and offer this account: Upon the recommendation/requirements from the Frontier website, I, along with about 30 passengers before me, arrived at 5:20 (for our 7:20 flight) to find an empty Frontier desk. As the line swelled to about 100 people, around 6:07 (just 1 hour and 13 Minutes before our scheduled departure) 3 attendants arrived. After making it through security, we arrived at the gate for boarding. With about 3 minutes until the door would close, I was told to size my bag (which had made it on several other flights as carry-on without issue). After being unable to compress 5" of cloth, I was told it would be a $60 charge.
Seeing another passenger trying to pre-book her carry-on from the website, I started to attempt that and was told by one of the gate agents that I would be unable to do so because the doors would close. Extremely upset, I handed over my card for the ludicrous charge. The other passenger had successfully booked her bag-or so she thought. I overheard the gate agents tell her that she had booked a check bag (literally ONE MINUTE AGO) instead of a carry-on and when I was boarding, they were attempting to charge her an additional $60.
Once on the flights, a man asked to switch to an empty seat and was told it would be a $50 upgrade. I then overheard flight attendants mock a passenger's drink order and be extremely rude to a different passenger waiting to place an order. I can only assume they hate working for Frontier as much as everyone on this flight hates flying with it. After landing, our gate wasn't available and we waited on the immobile plane for 20 minutes before being able to park and exit. After the initial baggage check issue, I would safely say you lost about 40-50 customers for life. After the issues at the gate, about 10 more. I'll absolutely be sharing the experience in the hope that eventually you'll provide better service and, at the very least, to save my friends and family time and money.

Just got off the phone with a supervisor and I use the term "supervisor" loosely in this case, named James, employee # ** who was completely useless. After getting the runaround for months writing to the online feedback department, complaint department and many more phone calls later trying to secure inconvenience vouchers for a second trip on Frontier Airlines after our first experience turned into a nightmare, we were told the vouchers are not valid.
I then asked to speak with a supervisor and he, James, employee # **, told me that there is nothing he, James, employee # **, can do. Again, let me speak to your supervisor, he James, employee # ** refuses to transfer or do anything for that matter. For any of you even considering flying this airline, do yourselves a huge favor and don't. Absolute horrible experience and the customer service department is deplorable. If you expect that a Frontier Airlines "supervisor" James, employee # ** is going to do his job, you would be completely wrong.

I flight with Frontier for the first time and will be the last. It's the worse airline ever. The airplane superrr uncomfortable. They change your flights at their inconvenience. No explanation if you complaint. They don't care. They are very unprofessional. They charge even for your hand bag. No explanation at all. The crew that works in the airplane very racist and super bad attitude. At the airplane if you ask for anything except water they charge you... I will never flight ever ever again with Frontier. 09/19/2016 super bad experience. The best airlines are JetBlue, American Airline and others. I will publish those review on Google, FB, Instagram and all other social service.

Frontier Airlines is the worst company I have ever flew with. They advertise their prices very low to get you and rip you off in everything else. You pay for everything, even carry on! I have never had to pay to assign a seat and they charged me $16 for seat assignment. The carry on price, $40. The luggage itself was cheaper than the carry on. This company is a joke! The seats are really uncomfortable to a point that is made only with hard material and leather covering it (minimum amount of foam). The service in the airplane: You pay even for sodas. JUST BE AWARE OF WHAT YOU GETTING WHEN YOU PAY TICKETS FROM THIS COMPANY.
How do I know I can trust these reviews about Frontier Airlines?
609,949 reviews on ConsumerAffairs are verified.
We require contact information to ensure our reviewers are real.
We use intelligent software that helps us maintain the integrity of reviews.
Our moderators read all reviews to verify quality and helpfulness.
For more information about reviews on ConsumerAffairs.com please visit our FAQ.

DO NOT WASTE YOUR TIME. WORST AIRLINE EVER. On the way to our destination it gives you an option to book seats. Which we did. The price was DOUBLED the price that was listed when booking the seats. Delayed flights. Zero customer service assistance. And the returning flight. Our flight was scheduled for 10 am departure. Get to airport at 8 am. Only to be told it's delayed until 4 pm now. So now we get to wait for 8 hours. Then delayed til 6:24. Now again delayed until 7:30. Sales status isn't even the worst. Customer service is terrible. Spoke to one lady at the front desk and said "Sorry. There's a disclaimer. No refunds. Wait for your flight and watch the board." Called customer service who is no help. No refunds, no chances to change flights or find connecting flights. Or even to get another flight home. We're stuck.
Now they did give us a 10 dollar complimentary coupon to use in food. Let's count this. 10 dollars for the inconvenience of being in an airport for 10 hours. So we had to buy breakfast which was 10 alone. Going to need to eat dinner here since that was at 9am. Well over using that 10 dollars. Plus having to pay for babysitter who's watching our pets because we now won't be home until past midnight. That's another 60 dollars. Terrible airline. Terrible staff. Spoke with 3 customer service reps and zero help to get us home or find a flight to get us home. One lady just said "Sorry I don't know where Kansas is?!" Seriously?!! Spend the extra 50 bucks and fly somewhere better.

My 9:50 pm flight from Denver to San Diego was cancelled due to weather. Unfortunately, Frontier employees at the terminal boarding area completely failed to inform its customers of the cancellation. All passengers waited in the boarding area and no Frontier employee would answer questions as to the status of our flight. Around 12:00 am, the Frontier customer service agent at the boarding area walked away without making an announcement as to the status of our flight. My fellow passengers and I seriously learned about the cancellation after calling Frontier's 800 number. Please avoid this airline at all costs, as the problems didn't end at the terminal.
I attempted to file a complaint with Frontier through their 800 number. After reaching an employee on the phone, I was told to file a complaint on Frontier's website. I asked for reimbursement of the hotel room I had to book in Denver. I also pointed out the fact that Frontier's complete failure to communicate with its passengers was not acceptable, and that I could have been resting in a hotel room much earlier had one Frontier employee done their job to notify passengers of the cancellation. The customer service representative offered me a $25 voucher and his supervisor said it was the best they could do. The moral of the story is, you get what you pay for with Frontier. Spend a little more cash and fly with an airline that has some semblance of customer service left amongst their organization.

I booked a flight from Atlanta to Miami as part of a multi destination 3 week holiday in the USA. The flight from Atlanta was to get me to Miami International in time to catch my international flight to Madrid. I had allowed sufficient time to clear customs and security in Miami. I checked into my hotel in Atlanta the night before the flight and went online to check in. Frontier had changed the flight time by an hour and this would not allow me to catch my international flight to Madrid. They had not informed me of this change and despite an hour on the telephone talking to two levels of management they refused to refund the ticket so that I could book with another airline that was readily available and flew at my required time.
They may be a cheap airline but they have no right to steal my money when they cannot deliver the flight that I bought. I flew with another airline and I would highly recommend that everyone else flies with another company as well. Frontier are seriously breaking consumer protection laws and have zero concern for their customers.

Not sure how Frontier stays in business. They don't care. Won't help and could care less about anything but banking your airfare. In the end, you get what you pay for and then sometimes you don't even get that!

Terrible, terrible customer service. Paid an additional $12.00 for "special seat" at time of booking - I checked in online 24 hours prior my flight and I saw a seat on row in front for the same amount. When I changed it charged another $4.0 and I could not changed back or pay or no possible to check in. So I paid then. It asked me how many bags carry on. I put 1 and got charged $40.00 but if the bag fits under the seat it's free - I could not even changed or pay or no check in - So my "cheap " flight ended up in costing me 56.00 more like another airline if not even more!!! Called the customer service - and the first person Jay hung up, the second one Apolla first tried to tell me that all bags must pay and then put me on hold to see what she could do. After 20 min waiting on line she was able to refund the extra charges. Be AWARE.

When making a booking online it baited and switched me to One Travel, an agency and when I gave my credit card it snared me into a car and car insurance. We already are covered for rentals on our own policies. We didn't really want this and at the counter they made us pay $60.00 for bags and I didn't even see that in the booking. Now trying to get a refund for the bags and the car insurance, (we just took the car), :( but they keep sending my emails back saying I am not registered, but I registered three times, and this is the only way they will respond to a complaint for refund. So it looks like I have to find another way to speak to them somehow.

I flew direct from Pittsburgh to Las Vegas last Friday. It was my first time on Frontier. They are new to Pittsburgh and offered a flight that worked well for us. We paid the high fee for 2 checked bags. We checked the bags at Pittsburgh. The flight crew was very unprofessional. The female flight attendant and co-pilot played footsies all flight, blocking the walk way to the bathroom. When we arrived in Las Vegas no one said that our bags would be in a different terminal. Everyone from our flight was very confused! When we arrived one of our bags was missing. The women in lost bags was so rude! I immediately starting calling to try and located my Louis Vuitton duffle bag. A week later, a hundred calls later, no bag. FRONTIER DOES NOT SCAN THEIR BAGS. Once it leaves you, they have ZERO way of tracking. Never again.

It is so disheartening and disgusting that they will not treat me like a human, let alone a paying customer. Frontier lost our bags on a business trip and the woman at the counter gave us a voucher to buy clothes. Great, right? Dead wrong. I've called their Portland office 8 times, left 8 voicemails and have yet to receive a call back. They simply delete my messages. How this company is still in business is beyond me. I've reached out to them on Twitter, Facebook, through their site, and countless calls, emails, and voicemails. It's not my fault that Frontier lost my bags nor is it my fault that they're refusing to take responsibility for their misdeeds. Our flight was delayed by several hours. Our bags were delayed by several days. Absolutely atrocious customer "support". The money that I "saved" to book this flight was far outweighed by the cost of using this 4th rate airline. I'm so disappointed that they're refusing to even acknowledge there is a problem.

I've never experienced such rude, arrogant, or unhelpful staff than I did with those at the gate of Frontier airlines. As first time flyer with this airline I asked a question about my luggage, trying to get more information on the baggage check/carry on policy. I was spoken to as if I were an idiot, clapped at for 'annunciation', and given an obnoxious attitude which ended with me in tears and the women saying "that's your problem" when it came to me not being allowed to have a carry on (after there was no one at the counter for baggage check when I arrived to the airport). I will never fly Frontier again, they have absolutely zero care or respect for their passengers.

Frontier Airlines cancelled our flight for Monday Sept. 5th and rebooked us for Sunday Sept. 4th, 24 hours prior to the original flight without any communication! After spending over an hour on the phone with Frontier and asking for help to get myself and family of 4 home... I was told that there wasn't anything they could do other than put us on a flight the next day with. They wouldn't even put us in stretch seating as an offer of an apology. No customer service. Feels like they don't care. All members of my family will end up missing a day of work due to this. Thanks a lot Frontier! Thanks for nothing!

On April 10th, I had a flight from Phx to Den on flight F9-756. I had checked in at baggage and paid my baggage handling fee for the one suitcase I had. I then proceeded to my gate. When it was time for boarding, the gate agent informed me that I had to pay to carry on my briefcase. When I stated that I had paid for my suitcase at the baggage counter, and no one one told me that I would need to pay to carry on my briefcase as well she just told me that I would need to go back to the check-in counter to pay for that briefcase and it would be at a cost of $60!
Had the young man at baggage check-in told me I had to pay an additional amount for the briefcase, I would have made different packing arrangements. After all, it was only a 'brief case'. The second desk agent then said she'd only charge me $45 versus the $60 (which the 'extremely rude' gate agent said I would have to pay) because it was not fair to me given I was not properly informed when I first checked in my suitcase. The gate agent was extremely rude and unprofessional and I'm sure that she was tired given that this was a late evening flight.
However, her unwillingness to even seem concerned about 'their' error, and the way she spoke and embarrassed not only me but the other two agents at the desk, will undoubtedly ensure that I will NOT fly Frontier again and will let all my friends know of the unprofessional service and associated costs in flying Frontier. They used to be a great airline and I'd flown them many times in the past. NOT anymore!

Do not agree when price of flight has been paid, then price is lowered. Why frontier cannot charge the lower price. I understand that there is a cancellation charge of 99.00 per customer. I would not like to cancel just pay the lower price. On 8/31 price from Denver to Greensboro, NC round trip was 884.40 for 2. On 9/4 price is now 662.40 round trip for two. A difference of 262.40. As a retired Navy man the saving can go a long way.

My 1st time flying Frontier due to my friend deciding to go with this airline. I have read horrible reviews for Frontier about luggage charges, trouble with online boarding passes, bad cust service, etc. I have NEVER written a review in my life until now. I had zero problems checking in online, zero problems with luggage, I paid online for a checked bag because it said more expensive at airport. I had no erroneous extra charges for luggage. TSA went fine. Customer service was great and this was the simplest flight (on time at that) I have ever been on. People need to do a little reading on Frontiers website about luggage sizes, weight and pricing BEFORE booking flight. A little common sense goes a long way. There are 3 of us and we had zero problems period. I would recommend Frontier Airlines to anyone and I will definitely fly again. To those reading the bad reviews... Quit reading them!

On our trip to las vegas your agent told us that we can have my back carry on no charge, but on our way back your airport agent wants me to check in my backpack. We just can't argue with her because it's almost time to board. Management should be truthful to customer at the time of ticket purchase. I have called some relative not to use frontier airline.

I booked a return flight through Expedia for Frontier Airlines but mixed up the return date. Instead of December 2016 I entered January 2017. I tried to change it online but couldn't. I called Expedia and was advised to call Frontier Airlines directly. When I called Frontier Airlines, after an hour and 30 minutes of selecting automated menus and waiting online, I got to talk to a representative. I was told the return date could be changed for a premium fee of $200 or I could get a credit towards another flight. All I needed was to change the return date. I was frustrated and flew one way. I still need a return ticket for December 2016 but I don't believe I can consider Frontier Airlines again, unless all other airlines have gone out of business.

Worst experience with an airline ever. I purchased a ticket for a work trip and made sure to buy the trip insurance as these types of trips can sometimes change. The trip was cancelled and I attempted to collect from the insurance I purchased. First bad experience: just finding my insurance claim number was way more complicated than it should have been as Frontier sent me the wrong claim number and it took days for anyone to resolve a simple administrative correction. Second bad experience: insurance denied the claim after what was borderline false advertising (basically unless your plane blows up or you're in a coma you're not covered) so don't ever buy their "insurance".
Third bad experience: I contacted Frontier and requested a credit for my ticket (not a refund, just a credit) as my trip was canceled outside of my control and I would love to fly with them in the future. Their response was to inform me that I would be charged a $100 cancellation fee and would not have any credit remaining. Moral of the story: always fly Southwest (who, for the record, gave me a full credit with no cancellation fee with no trip insurance for the second half of my trip I'd booked with them).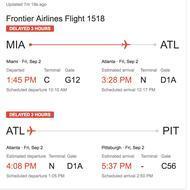 AVOID THEM AT ALL COSTS. They nickel-and-dime you. They are terrible at "customer service," and they want to make up excuses as to why their airplane is 3 hours late. Just, avoid. Use Delta. Get to your destination within a reasonable time. This is almost guaranteed NOT to happen with Frontier. Never again. Ever.

Needed flights on a budget and decided to go with Frontier Airlines and got scared after reading all the bad reviews and to my surprise we had good experience even though our flight was delayed but it was due to weather. Thanks for getting us there on a budget. If you read all the reviews you can prepare yourself to not have the same experience. Thanks again.

Family vacay ended badly upon arriving at the airport flying frontier airlines. The person who tags the luggage tag my bag with the wrong name and destination, we were going to Philly he tagged it going to Denver, that was a hassle having them retrieve bag to put correct tagging on. We had a 7:40pm boarding and 8:15 departure boarding did not start until 8pm. We finally board plane, sit for 1/2 hr then they say plane computer system is down, so we all had to deplane. So then we were told that we would not be flying out until 11:30, 3hr delay.
Mind you I'm travelling with my family which included my two little ones ages 2 and 7. They were tired, and agitated. So I call Frontier to request some sort of compensation for all the inconvenience I experienced. They said that they could give me a $50 voucher for my next flight. That would not be of any benefit to me. I am not a frequent flyer. I may fly once every couple of years so the voucher means nothing to me. I WILL NEVER FLY FRONTIER AGAIN. I suggest anyone planning on using Frontier to look elsewhere.

I booked a new reservation after pricing cost of changing existing tickets. I was still charged $198 change fee although page I clicked purchase did not include change fee. The changed reservation included baggage charge I had selected in new reservation but check-in indicated I had not paid for checked bag which was also represented by 800 # personnel. I had to pay again. I was charged twice. Frontier refused to reimburse the change fee or the double charge for baggage. This was the second time website showed at online check-in that I had not paid for baggage when receipt and amount on credit card bill clearly showed I did. I am convinced website designed to defraud customers.

On July 13 we had a scheduled flight with Frontier Airlines to fly from Raleigh-Durham NC to Atlanta Ga. Upon arriving at the airport, we were told the flight had been cancelled but another flight had been scheduled two days later. We could not wait two days for another flight and asked if there were other options. The agent said no as they did not have reciprocal agreements with other airlines. He also told us that a refund had been processed to our credit card (which turned out to be a lie). We ended up driving to Atlanta which took six hours. We checked our July and August credit card statements and no credit was shown. Upon calling Frontier Airlines we were told a refund was not possible. We were lied to and now we are out the cost of the ticket. I will never use Frontier again and I would recommend that everyone else avoid them at all costs.

Bought two tickets to fly my wife and daughter to CO for three weeks. I prepaid $40 for baggage. Frontier claims it is cheaper if you do so. When my wife checked her bag is weighed 55 pounds and she was told there would be a $75 penalty for exceeding the 50 pound limit. My wife paid the fee when I picked her up at the airport she explained what happened and I asked if the clerk suggested taking something out of the bag to drop the weight below the penalty and nothing was said. I called Frontier and inquired about the $40 I had prepaid for baggage and was told it was forfeited and the $75 additional was the penalty.
I believe Frontier misrepresents that baggage is cheaper if you prepay. If my wife had just shown up with that 55 pound bag the total cost would have been $75 no additional fees. Frontier is taking advantage of people and misleading them with their claims that prepaying for baggage is cheaper. The cost for the one bag was $115. Frontier statements and advertisement that bags are cheaper if paid for online is a false statement.

I was travelling from SFO-DEN-CMH on 24th Aug by Frontier Airlines. Trip Confirmation Number: ** Flight no's: F9 664, F9 226. My flight was delayed at Denver so I didn't get the baggage at CMH. Discussed with the Frontier Ticket counter people and they took my details and said me that they will send my baggage to my address here in Columbus. I have Waited for 2 days to get my baggage wherein I went and picked up my baggage at CMH airport. I tried to call the Frontier guys around 70 time no response. They called me 2 times but unfortunately missed their 2 calls. I have been calling them calling them. No response at all.
I had some imp documents which I was supposed to submit here the next day. But I failed to do that due to the lack of my baggage delay. Frontier Airlines was completely responsible for this. I lost the trust in Frontier. It was my first Experience with Frontier. But they don't deserve the customer satisfaction at all. Very bad experience ever I had. I'm not going to use this airlines anymore nor I will suggest anyone. I went today and picked up my baggage on my own. Totally dissatisfied with the experience. Really unhappy with the Frontier. Thank you.

Flight 573 early morning to Denver, very very uncomfortable, the seats do not recline. It's a brand new plane, the seats are as hard as rocks and being that you have to be on a flight super early in the morning, the one thing that you need is leg room, and a little bit of cushion in order to rest. The Crew staff was great, very kind and they tried their best to serve water which was free and everything else was at a cost, so I guess this is what to expect with a No-Frills Airline. Time to get on the next flight in another uncomfortable seat, and it'll be worth it, because I get to see my kids!

We have been on the plane for nearly an hour after landing, the airline can't get an available gate, the captain keeps apologizing. How is this airline in business?

Erika ArmstrongAirlines Contributing Editor
From the front desk of a busy FBO to the captain's seat of a commercial airliner, Erika Armstrong has experienced everything aviation has to offer. She is the author of A CHICK IN THE COCKPIT and her aviation articles can be found at Consumer Affairs, Plane & Pilot, Flying.com, Disciples of Flight, NYC Aviation, Contrails, Mentor, General Aviation News and Business Insider. More about Erika→

Founded in 1994, Frontier Airlines now launches more than 375 flights each day to destinations throughout the U.S., Mexico and Jamaica. Today, this relatively new airline employs more than 3,000 aviation professionals.
Get the works: Frontier Airlines offers a package price that includes services such as refund-ability, free change service, priority boarding, extra carry-on and checked bag allowance and more.
Exclusive discounts on fares: Travelers who join the Frontier Airlines Discount Den get access to low-rate fares only available to members. Members can book flights for up to six people on the same subscription.
Manage flights online: Through the Frontier website, travelers can check in, book flights, make changes and check on the status of their flights.
Economy-plus options: Get the same low fares on economy-class seating but nab an extra 5 to 7 inches of legroom with stretch-seat options. A small additional fee gives passengers that little bit of extra space.
Choose your seat: Many airlines have moved away from assigned seating, but on Frontier passengers can select a seat that lets groups stay together in the air.
Best for Vacationers, holiday travelers and frequent fliers who want extra room and more control over their experience.
Frontier Airlines Company Profile
Company Name:

Frontier Airlines

Year Founded:

1994

Address:

7001 Tower Rd.

City:

Denver

State/Province:

CO

Postal Code:

80249

Country:

United States

Website:

http://www.flyfrontier.com/