Consumer Complaints & Reviews

Flight from Indy to Denver arrived 30 mins early but have to wait those mins to get off plane. Unbelievable Frontier. No wonder customers are leaving and won't come back.

I recently purchased round trip tickets from LGA to Denver. The flight to Denver was delayed, but ultimately we were able to get out. Disaster on the way home!! Having arrived 2 hours prior to flight, we found out that our flight was delayed 3 hours due to weather. No other flight going to LGA or JFK was delayed and weather conditions in the NY area was cloudy with a little rain. Real-time websites also showed that there were only 15-minute delays on incoming flights into NY. No explanation. After sitting in the airport for 6 hours, we were finally able to board. Stewards chided me for not smiling when I came in (that's another story) and were incredibly rude.
We pulled out from the gate, stood in line to take off and then the pilot came on the speaker and told us gleefully that he had good new and bad news. The good news was that we were going to start moving again, the bad news was that we were going back to the gate because our flight was cancelled. The good news from him, was that he didn't need to fly and arrive in LGA in the middle of the night. When we got back to the gate, we had to line up at customer service only to find out that most of us could not get on another flight back to NY until Saturday - 4 days later. Because the cancellation was due to weather (nonexistent), Frontier would do nothing to accommodate those who needed hotels. I heard Customer service reps telling people that they could sleep in the airport until then. They were not going to accommodate anyone.
Additionally, we were told no other airline would accommodate Frontier passengers (no airline would deal with them) and therefore we could receive a refund and try and find another way home or wait another 4 or 5 days to get back. Since the airline does not have provide proof that there were weather issues, everybody was stuck. All customer service people were rude, offensive and generally gave the attitude that we were bothering them as we tried to make decisions on what to do. They market themselves as a budget airline, but I ended up spending more than if I had booked with a reputable airline. Avoid Frontier at all costs!!

I was made to pay for 2 bags when there were 4 people in my group with 4 bags (My 3 kids & myself. Yes one of them is an adult, the other 2 are 13 & 11). My first confusion was seeing some passengers with even bigger bags as carry on luggage in the aircraft. To make the matter worse one of the two bags checked in & paid ($80.00) for got lost. I could not find my bag to collect at baggage claim at my final destination. I am staying in my hotel with my kids with only the dress I traveled in for almost twenty four hours on a trip that should take about 4:30 hours. Very embarrassing & uncomfortable. My whole bag is missing.
I reported before I left my final destination to a Frontier Baggage lady & completed the baggage loss paperwork. The best she told me was they will contact me. I could not go out because I feel dirty in the same clothes I traveled with. There needs to be better organization & management for this company. They gave all kinds of excuses for delay, from waiting on crew members to refueling the aircraft.
Boarding & unboarding passengers. We were made to stay in the aircraft only to be deplaned after about 2 hours. No consideration/compensation for our time. Not even a cup of water for the delay. And when they unboarded us, they didn't give us an explanation. They make you pay for everything from snacks to even a cup of water. What a RIP OFF! This is not how successful companies run in this day & age. I will not make the mistake of patronizing FRONTIER again. I am patiently waiting for my bag and all its contents before I take the next step. I have other valuable items other than clothing in my bag & they have yet to contact me about any progress being made to retrieve my bag. I do not recommend anyone spending a cent here.

I'll never fly with frontier again! I went to get my ticket 1:20 min prior the fly and after waiting in line for more than 30 min they told me I could not board my fly because I was late, wtf! I was in line waiting. I tried to speak to a supervisor and she just overheard what I said and told me No! I think that my case was discrimination because after me there were two more ladies that came late and she let them board the fly. I confronted her and she didn't say anything, she just let them because she wanted it and that's it! I was in needed to get that fly so I had to buy a new ticket but at jetblue, totally worth it! Big difference! I don't know where frontier get their employees from but they have really bad manners. It is better to spend a few bucks more that traveling with frontier. Fly 1104 to miami from vegas 08-13-2016.

Just boarded frontier airlines Cheap flight BUT. I check in with an attendant who says I an all set - so I figure I don't have to pay for my carry on. Go through security sit at the gate - then as I board they tell me I have to pay for my carry on. At this Point you cannot go backwards because of the long line. The check in lady as far she was concerned I had disappeared he ignored me. I had to fight my way back to gate desk where they proceeded to tell me that they were going to charge me $60 for my carry-on.
There was no negotiation there was no pleasantness there was no apology for the fact that their first attendant didn't tell me I had to pay if I had paid for my carry on and yes she definitely saw it. and I would have paid $45 which is ridiculous at check in, Instead because of their mistake I had to pay $60 at the gate I plan to blow this up on social media honestly what a rip off I have paid almost $400 for this flight based on hidden fees. And on another note the only beverage that is offered is lukewarm water in a cup.
How do I know I can trust these reviews about Frontier Airlines?
593,739 reviews on ConsumerAffairs are verified.
We require contact information to ensure our reviewers are real.
We use intelligent software that helps us maintain the integrity of reviews.
Our moderators read all reviews to verify quality and helpfulness.
For more information about reviews on ConsumerAffairs.com please visit our FAQ.

My husband and I were scheduled to fly from Portland, OR to Columbus, OH with a layover in Denver. An unspecified mechanical failure on the ground at Portland caused the flight to be delayed two hours, causing us to miss our connecting flight in Denver (One hour of this delay was accounted for by what we were told was "paperwork," and "more paperwork."). I recognize mechanical failures happen occasionally, and compliance with regulations--presumably the source of the "paperwork"-- is obviously important. Where I take issue with Frontier, however, is on their customer service response to such complications.
Several preventable lapses followed the delay. First, onboard we were told that a customer service agent would meet us on the ground to assist with rebooking. This did not happen; instead, we were left to figure out where the customer service desk was on our own. Once my husband and I reached the desk, we stood in line with half the flight while two, then three, and finally four overworked agents helped people rebook flights. My husband and I were in line for about an hour, and there will still many others waiting after we left. When we eventually spoke with an agent, we were provided the option of either being stranded for five days in Denver before securing seats to Columbus, or being rerouted to a nearby city the next day.
We chose the latter, and to rent a car (at our expense) to make the three-hour drive home. We were assured our luggage would be sent on to Columbus on the next available flight. My husband has been located and is scheduled for home delivery soon. The status of mine, however, is unknown. It took a while to locate the correct phone number for inquiring about lost luggage, but we found it...and now I have been on hold for 44 minutes, long enough to register an account with ConsumerAffairs and to write this entire review. In sum: The individuals who work with Frontier (flight attendants, customer service agents, etc.) were all as helpful as they could be, but they're working for a poorly staffed operation with insufficient resources. The result is long lines, long waits, and consumer frustration. I will not fly Frontier again.
PS Just (finally) talked to the Frontier baggage customer service person. My bag has been located in Columbus, but is not scheduled for delivery. While I was on the phone, my husband got a call from a Columbus-based Frontier agent, who assured him that she had his bags (actually his and mine), and that they were in fact NOT scheduled for delivery (which was what my husband was told this morning). We are now planning on driving back to the airport to get our bags. So, all told, an extra 2 hours on the ground in Portland = 24 hours in Denver, 3 hours of a drive to get back home to Columbus, $70.00 in rental car fees, 1/2 an hour to the airport to get our luggage (or so we think; three different people have now told us three different stories about where our luggage is, and whether it will be delivered), and 50 minutes on hold. I repeat: I will not fly Frontier again.

DO NOT FLY FRONTIER. The appeal of low price via a well-known travel search engine should not be believed. Frontier's attractive ticket price is offset by their usurious baggage charges; totaling $220 for 2 checked bags and 2 carry-on. We found this charge out 3 days before we were to fly. We also learned Frontier's refund policy is close to fraud. It costs $99 per ticket to "change ticket", and the remainder of our upfront charge would be applied to a future Frontier ticket which must be booked within 90 days, but could be used for a flight next year. Big woopy! So? No refund is Frontier's policy. The American public doesn't need more lessons in caveat emptor. STAY AWAY FROM FRONTIER Airlines; FAR AWAY.

When we arrived at DIA on 8/12/16 we were told our flight was delayed over 3 hours. The explanation was vague but the representative was hopeful and even suggested that the departure time might be improved. We had gotten no email warning about this delay. After waiting several hours, the departure time was delayed again. As the time approached we learned that the flight had been cancelled. There was a huge line at the Frontier Customer Service desk at Terminal A but we were told we could speak with someone at the ticketing area in the main terminal. When we asked about another flight to NYC we were told there was one on Monday (our flight had been scheduled for Friday).
This is the last time I'll be using Frontier. In addition to this poor service, the charge for a checked bag was $35 (higher than most other airlines) and when we went online to find a seat most were from $16 to $50 more. The choice was to select one online and pay the additional amount or take one's chances at the airport. So what started out as a reasonably priced flight (had it actually flown) turned into a much more expensive ticket.

I don't know where to start, but Frontier is not the cheapest airline. All their fees are hidden and I think of it as a scam. I wonder why people are still traveling with them. If all of us could switch, that will help them to rethink their strategy. I just got to the airport and they told me my check-in is $40 although I saw $30 when booking on Expedia. They said I should do it online to get the $10 off. I did and now their app won't work for me to see my boarding pass. Luckily, I made it through Security before their app went off. When I got to the gate and asking for information, since my boarding pass wasn't available on my phone anymore, their agent was very rude with me. I will definitely won't be using Frontier again and I will make sure to warn everyone I know.

Frontier overbooked a flight on Christmas Eve and so as compensation for me missing spending the holiday with my family (the next flight wasn't until December 26), I was issued a voucher. I tried using the voucher to purchase a flight. It appeared to go through, but there was no record of my flight as I prepared to travel. Upon contacting customer service, they said there was little they could do but they did issue me a voucher for a smaller value than the original. I tried speaking to another representative to be re-issued the full amount, but have not heard back from corporate offices in three months.
The customer service representative on the phone never emailed me the voucher, but I fortunately was able to write down the voucher number. When I went to use it, it did not work, so I called customer service again only to find out it had already expired. When I told them I had never been emailed the voucher and so had no way of knowing the expiration period, they said, "You should have called back and asked for it to be emailed to you if you didn't get the email. We can't issue you another one." Really, Frontier?

Purchased airline tickets through a 3rd party and received confirmation. Arrived 1 hr and 2 minutes prior to departure and was informed that we could not board our flight as we were 2 minutes late; even though we were 1 hr and 2 min before our flight. When we asked to speak to a manager we were initially informed that the supervisor would tell us the same thing. The manager refused to speak with us until after our flight had already departed and informed us that she would not be able to assist us. Our family of 4 had to spend an additional $2200 for one way tickets that day through another airline in order to keep our car and hotel reservations that day in our vacation destination.
When we contacted Frontier via phone requesting a refund for half of our flight ticket we were informed that we "forfeited" our tickets even though that is false. We were never informed that Frontier required us to arrive more than an hour before our flight. During the call to Frontier we were placed on hold several times causing the call to be longer than 51 minutes so far. No other airline has ever required such. When listening to Frontier's recording it stated to have your luggage checked in 45 prior to flight departure.

This company has some serious customer service problems that are going to put it out of business. From the deceitful advertisements, preposterous claims and inconvenient schedules, to burdensome booking and extremely poor customer service, nothing works for this low cost airline. It's NOT worth the trouble to earn points, book online and completely forget trying to get ANY customer service. The call center is located God knows where, because it's impossible to get clear answers from the people who man the center. I'm DONE with this company!

My wife and I recently flew on Frontier Airlines for the first (and last) time. We arrived at the airport and proceeded to the automated check-in kiosks that dominate the Frontier area. I knew that we would have to pay for our checked bags but was shocked to see that we would have to pay for our small backpacks as well - or so I thought. I stood around for a few minutes, looking to find an employee to be certain, but to no avail. The only signage there regarding baggage was been to differentiate between what needs to be checked and what can be a carryon. There was nothing to explain the difference between a carry-on and a personal item. As I didn't want to cause any problems, I paid for the carry-on and checked bags, but was a little taken aback by the added $170 to the cost of our trip - one way.
When I got to the counter to check the bags, I asked the attendant if our backpacks were, in fact, carry-on bags. To our surprise, the attendant said "no", and that they were personal items. When we asked if we could get refunded the $90, we were told "there are no refunds on baggage." No refunds, even though this was at point of sale and the bags in question did not exist. They offered to "credit" our account for future flight but that God, our return flight was not on Frontier - nor will any other flight that I take in my life.
I did call their outsourced customer service company where, after waiting 20 minutes, spoke to two people who read pre-prepared scripts and were of absolutely no help. They told us information RE: personal items was on their website. This seems inherently deceptive to not have this clearly visible at point of sale to avoid people spending money in error. This lie of obfuscation must really work in their favor because I've seen other complaints of this online. I tried reaching out to frontier directly but their "contact us" section limits you to 800 characters, so it is really difficult to explain your situation. Really just an appalling experience all around. They seem like their business practice is to nickel and dime money away from hard working people and then not returning any of that money at home with all of their customer service all being done overseas. Totally gross company.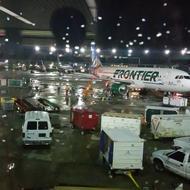 Let me start off with the fact that our family has flown at least three times a year for the last seven years. We are all aware of normal delays and how horrible certain customer service reps can be. Flying just isn't fun anymore but it's the most efficient way for us to travel. Frontier was recommended to me by a friend because she had gotten an amazing deal on a last-minute trip from Miami to Chicago recently. My husband and I decided to book our three tickets from Chicago O'Hare to Phoenix Sky Harbor. Previously, we've mainly flown Spirit or United, but have flown a few other airlines (Hawaiian, American, etc). The price was actually about the same as it would have been on Spirit, but their baggage fees were actually less.
We received an e-mail from Frontier about five hours before our boarding time stating that we should arrive no less than three hours before our flight as current TSA wait times at our airport (ORD) were longer than usual. At first we thought this was a nice heads-up from the airline. We start driving to the airport and realized that there was a pretty serious storm right behind us that eventually caught up to us, then seemed to change directions right before we arrived to the airport. We check our bags and realize that there is no one in line for security. We make it right through in less than 15 minutes AKA, there was no extended wait time. We later found out that this message from Frontier is just a generic e-mail they send out to everyone who is flying with them.
We get to our gate and it's a Spirit gate. In fact, I now know that Frontier does not ever have their own gate, as they piggy-back on other airlines and use theirs. Either way, we sit down and await our boarding time...which is still over two hours away. The storm comes in and delays most of the outgoing flights on all airlines, so as expected, our flight was also delayed. I contacted my family on their way to Phoenix to notify them of the delay, which has been announced as a 40-minute delay at this point.
Over the next six hours...we were constantly being told that our flight was delayed due to weather conditions, even though ALL THE OTHER AIRLINES in our terminal had resumed business as usual after about two hours worth of delays. Then we were told that our flight was circling the ORD airport for so long, unable to land due to "weather conditions", that it had to be routed down to St. Louis to refuel.
Finally, around 3 a.m. we are told that our flight is for sure on its way to us and that they, the three Frontier counter clerks present, anticipate we should be good to go by 4 a.m. Mind you, the staff has zero answers for us and kept referring to "they" and "them" (Managers? Jesus? Fairy godparents?) as the only ones that had actual information. Information that they could neither obtain nor relay to all of us cranky, paying, passengers. So at this point, we're starving since we arrived at 6:30 p.m. and weren't planning on needing more than a few snacks before landing in Phoenix. So now we've spent $32 on fast food at the airport because TSA closed down for the night, and since we kept getting told "another hour" instead of "it will be seven hours before you leave" -- We didn't think to leave to grab a bite outside of the airport and come back. Why would we think they were just stringing us along, a singular hour at a time?
The plane finally arrives from St. Louis, deboards, and the staff starts getting ready for boarding procedures. Then, without any information, we are told that the plane has experienced "mechanical issues" and that we are delayed at least another hour. It is almost 4 a.m. at this point. No meal voucher, no discount, no apology, and no explanations have been offered at all despite several demands from us passengers. In fact, once the fire department and police department showed up we were finally told by a fireman what had happened -- a crew member had spilled fuel all over from over-fueling since they had just refueled in St Louis. This had to get cleaned up before they would allow us on the plane.
At this point, my family members have been waiting in the Phoenix airport for over four hours and my eight year old has been sleeping on the floor for about an hour, stuffed with cold fast food. I reached my limit at this point, and went up to the counter. At least ten other passengers followed behind me. We were angry, and we were demanding some type of compensation, or a reasonable explanation from someone who was informed. I asked why the flight had not been canceled if we were going on SEVEN HOURS of delays...never got an answer. The staff would not even look at us when we were asking questions. One woman just pulled out her cell phone and walked away to talk on it when directly asked a question by my husband.
Finally, enough of us passengers were upset enough and loud enough that a "manager" showed up to tell us that she would not address as a group, but rather converse with us one-on-one. Well, her first one-on-one ended in her telling a passenger that if he wanted to cancel his flight, he would not be reimbursed his baggage fees, and wouldn't receive his refund for 3-5 business days. He was livid and used some profanity -- we all did at this point; hunger/ exhaustion/ abusive customer service will do that to ya -- which then resulted in this "manager" telling him he'd better calm down or else she would not allow him to board the plane at all.
This woman gave us absolutely no answers as to why we had not been told any actual facts about the events that led to the almost seven hour delay. She was callous and also mirrored the other staff's attitude -- they don't care. They don't care about paying customers that allow them to cash in their paychecks. It was baffling.
Once we boarded, the seats were incredibly disappointing. And I'm someone that flies Spirit with zero complaints about legroom. I know I'm getting a cheaper flight because there is not as much legroom. However, Frontier not only has zero legroom, the seats also do NOT recline a single centimeter, and the "trays" are laughably small. We're talking...I could not rest my book and my bottled water on the tray because only my book fit. So if you're one that likes to lean forward and use the tray to take a nap...this is not the airline you should be choosing.
We also planned on ordering a few snacks to make it until we arrived in Phoenix, only to be told by a flight attendant that "over half the menu is unavailable at this time". So not only do they not offer free snacks (again, I expected this due to the cheaper fare) even when you've been delayed 25% of a day...they also won't have anything else available that you can pay for.
To make matters worse, when I called to get a refund on my returning flight, I was told that I would most likely not receive my money back before a week. So then we decided to suck it up and fly Frontier on our returning flight because we didn't have an extra $600 lying around to fly with another airline. While on the phone, I asked if I could get a baggage fee waived or a voucher of some sort or even just a formal apology from someone who didn't sound annoyed by a paying customer.
The woman on the other end of the "customer relations" phone number I called knew very little English and just couldn't help me. She instructed me to visit the Frontier website for any complaints and requests for refunds/compensation. I told her that I had waited to call because I needed to SPEAK to someone regarding my issues with the flight and wanted to speak with someone based in the US, for overall comprehension issues. She informed me that all requests only go through the website and that Frontier has no call centers in the US, so there was nothing more that she could do for me.
I have never felt so abused and taken advantage of. We ended up having to pay extra parking for our family, as they didn't intend to wait until 8 a.m. for us to land when our original arrival time was 11:40 p.m. My husband ended up staying awake for the entire ordeal, and finally got some sleep after 36 hours of being up. And we paid an extra day of airport parking so that we could spend that time sitting on the floor of this Spirit gate's waiting area. I will never recommend this airline to anyone. If you're considering Frontier -- don't do it! It was the worst decision I've made while planning a trip.

I booked my trip for Las Vegas 2 months or so ago. Paid for my ticket, I thought things were good. During 24 hours before I'm suppose to take off, I go to check in and TO MY SUPRISE! I have to pay another $200.00 on top of what I've already paid for! WHY? Nobody knows! I call Frontier and speak to one of the overseas people they have answering the phone. She wants to walk me through Checking in. I tell her, "I DO NOT need help Checking in, I need help figuring out where these fees are coming from". She couldn't even tell me why I'm paying more money! Lord knows what will happen when I get to the airport in the morning! How much more money I will have to come out of pocket AFTER paying my original ticket price.
BE AWARE OF FRONTIER AND ALL OF THE HIDDEN FEES THEY HAVE. They make it look good at first, but once you are locked in, you will end up paying a entirely different amount. This airline is a scam! I do not know why they are even still in business! I will never ever fly Frontier ever again!!! Stay away from this ridiculous airline! They deserve 0 zeros in my opinion!

Canceled flight - we felt lucky enough to get another flight 2 hours away from home. On flight, upon take off two metal boxes flew out flight attendants' area down aisle, then flight attendants continued to gather up front and one even went inside cockpit. Most upsetting - lost luggage. I have filed lost luggage claim, gone to the airport twice to see if it has arrived, and have been promised call backs. With the customer service provide I cannot believe they are in business. DO NOT FLY - the savings is not worth the TIME LOST trying to get a hold of a real human being at this airline.

On, Wednesday May 4th 2016, my Husband, son, Mother-In-Law and I were supposed to depart from Orlando to return home from a trip to Disney. An hour after we arrived at the airport (no prior notification mind you) we were told that our flight had been cancelled due to the fault of the airline, no rain or weather conditions, Frontier's fault (our flight was scheduled to depart at 9:20pm). Due to the major inconvenience caused by this: Missing a day of work, eating up another vacation day, losing out on sleep (we did not arrive to our hotel until 1:30am), and wasting our valuable time at the airport, my husband and I received $200.00 each in flight vouchers.
After returning home and getting back into the normal groove of life (my husband's and I both own businesses and have a toddler) time escaped us and I called Frontier on July 18th, 2016 to confirm when the flight vouchers expired. When I called I was told the flight vouchers expired on August 3rd, and for some reason the date of August 6th stuck out in my head (this call was recorded).
On August 5th after returning home from work and putting my son to bed, I remembered that I had to book my flights. I tried several times to use the vouchers online and they wouldn't work, so I called into Frontier and spoke with Andre ID#**. He went on to tell me that my vouchers expired August 2nd... So wait... WHAT DAY DID THEY EXPIRE? The 2nd OR the 3rd??? After he listened to my call placed on July 18th HE CONFIRMED THAT THE AGENT ON THE PHONE GAVE ME THE WRONG DATE OF August 3rd.
While I must admit thinking the date was the 6th is my fault HOWEVER, the agent I initially spoke with GAVE ME THE WRONG DATE ANYWAYS!!! After Andre reviewed my call and confirmed that I was given the wrong date, he went on to say that he could not honor my vouchers because they had expired... You mean you cannot honor them AFTER 2 DAYS??? Seriously? Andre then went on to let me know I needed to submit a written "feedback" email on the Frontier website regarding this if I wanted to discuss this further, I did so on Friday August 5th, right after speaking with him.
Pan to Monday August 8th and I still have not received a response from the "feedback" email I wrote on Friday August 5th. I took it upon myself to call Frontier AGAIN in regards to this issue. I was told by John that they could not reinstate my voucher even though there is only a 2 DAY OVERAGE AND I WAS TOLD THE WRONG DATE. Then I spoke with Nino ID# **, this is where I was spoke to like I was 5 years old, I was told, "Miss don't you know you have 90 days?" Yes, I am well aware that I have 90 days to take advantage of said voucher, however, I have a business to run and a toddler to take care of and this was not at the forefront of my mind.
I WAS TOLD THE WRONG expiration date to begin with!!! Why am I, the customer, being told that I cannot reinstate my vouchers after 1. being told the wrong date 2. being inconvenience and wasting a work day and 3. being patronized on the phone by one of your representatives, that I cannot take advantage of something that is rightfully owed to me?
I can totally agree that if I had called 30 days post expiration that it would be a problem, BUT 2 DAYS??? Give me a break! This is what I call AWFUL customer service! You never make your customer feel stupid or like they are wrong and that is exactly how felt after that call! Nino told me that he would escalate this and have the Customer Relations department respond to my initial email (that NO ONE ever responded to). I can't believe that after all I had to go through that they will not reinstate my vouchers!!! My entire family uses Frontier... but NO LONGER with this kind of service! And rest assured I will tell everyone about how I was treated and the service I received! I have never received worse customer service.

So, I wanted to change my booking for outbound portion of travel. Frontier claims to have a hassle-free booking. 3 days after booking, a change requires a $99 change fee. I asked Gabby, the representative, what the $99 is for. Travel wasn't for another month. There was no human hindrance or involvement. Nothing was mailed or printed. There was no burden on them to date. Gabby could not explain the rationale to such charge. She could only say it was 'policy'. The competition is too great to put up with this, let alone the luggage scam. Go Southwest.com!!

I was sitting on the left side of the aircraft 4 seats behind the exits. I was wondering why it was so cold. No one else seemed to be acting like me. As I walked through the aisle I realized that it was warmer in the front of the aircraft and that exactly where I was sitting it was extremely cold. Less cold in the back. Now comfort is not just the seating it's the temperature of where one is sitting. Now I am having physical aches in my body and have to pay money to have a massage. I am not happy about this. It's been 70 hours or so and I am not ok. Thx.

We bought our tickets online and did not find out about the baggage charge until we arrived at the gate. We were stunned with $180 charge. We will never fly Frontier again. Very poor policy and I expect Frontier will go out of business hopefully soon.

My experience didn't start well at all. I was making arrangements to fly to Orlando for a week. I originally called and asked a representative (did not get her name) about "carry on" luggage, and she told me my backpack would be a carry on (which would cost me $30 more for each leg of the trip), even though I said it would fit under the seat. Well, she was wrong, so I had a ticket issued that cost me $60 more (round trip) than it should have. Upon reviewing my reservation (that very day <30 minutes after booking), I called back and spoke with another young lady (whose name I shall withhold). I called because seat numbers were wrong and somehow I had the wrong return date (a day later than I was to return). This young lady said she would help me change my seats and change my return flight to the correct day.
Fast forward 6 days later... I look at my reservation online and the seats had not been changed and the flight had not been modified. I called customer service and the representative couldn't help me (because the young lady didn't put any notes in the system either!). It was going to cost me a $99 penalty for each ticket ($198 total) to make the change on the return flight to the proper day. I asked for his supervisor; her name was Andrea. The conversation between me and Andrea was a bit sketchy at first, but ultimately she agreed to change my return flight and waive the penalty of $99 for each ticket (since it was the fault of the Frontier agent who did not do as she told me she would do). Now, this supervisor took me at my word that I was telling the truth. She really put her neck out there to help me out, and I am very grateful. Assuming the flights go well and there are no major issues, I will be flying Frontier again and again.

DO NOT FLY FRONTIER!!! I took a round trip flight from Chicago to DC on the weekend of July 22nd. The flight going to IAD was delayed by 5 hours and the return flight was initially delayed and then cancelled because the plane was out of fuel... what a joke. Customer service reps do not care at all. I have spent the last week trying to get my money back due to the major inconveniences I experienced, but all the company wants to do is issue vouchers for a free flight. I will never fly with Frontier again, and I advised others to stay far away from them as well.

Customer Service Agent by the name of Johanna ** was extremely rude and displayed extremely poor customer service...The agent would not answer general questions, denied a request we made to speak with a supervisor and overcharged in the amount of $90.00 for two personal bags in additional to $80.00 for two pieces of checked luggage. Luggage fees totalling $170.00. I am extremely upset we were charged for our personal bags in the amount of $90.00. Your policy guidelines states: General Carry-bags can be no larger than 24"H, 16"W, 10"D (including handles, wheels, and straps) and no heavier than 35 pounds. Carry-on bags must fit in the overhead bin.
Our personal bags were totally within policy and we should have not been charged at all. When we got on board the aircraft we explained our situation to the flight attendant and show her the personal bags, she agreed that we should have not been charged $90.00 for the personal bags and urged us to complete this survey. In addition, when we landed in Charlotte one piece of luggage is missing and has not been recovered. Called Frontier airlines, spoke with customer service agent she explained we would need to complete a missing luggage form on your website. Form was completed Saturday July 23rd.
Today Monday, July 25th I called the MCO airport customer service and requested to be transferred to the Frontier desk at MCO. To my surprise Johanna ** answered the telephone, I explained due to the horrible customer service she display when we were at the airport I wanted to speak with her manager. Again she denied my request and stated her manager was Edwin ** and he was not available to speak with me. This representative is extremely rude and should not be working in customer service. I would appreciate assistance in a refund in the amount of $90.00 that we were overcharged for our personal bags. As stated above personal bags were with your guidelines. Please feel free to view camera footage from the airport counter to see how poorly we were treated and overcharged for personal bags. We will never fly Frontier again. I would urge any customer to stay away from Flying Frontier.

On Feb 22, 2016 I made a reservation for my wife and I to fly from Denver to Las Vegas for a funeral on March 25th. I found a flight that departed Denver at 10 and arrived Las Vegas at 12, giving us plenty of time to get to the 2 PM memorial service. $708 round-trip for two. Imagine my surprise when I checked in online on March 24th and saw that the flight left at 10 PM and got into Vegas at midnight - 10 hours after the service! My mistake.
I called Frontier and there were no earlier flights available, so we had to drive. While on the phone with the agent, I asked if the tickets were refundable. She said "No, but you can use them as long as you book another flight within 90 days." The fee for this is $99. I said "OK, go ahead and give me the credit." This $99 was to be deducted from the $708 original purchase. My wife had a trip planned to Atlanta, so on Jun 22, (90 days later) I called Frontier again to use our "credit" for this one-way ticket. The agent looked up our locator number and said "Yes, she could do it." The price for the ticket was $193.10, to be deducted from our remaining "credit."
Now I see that Frontier has charged my VISA $193.10! They now say we were "too late" because we were one day past the 90 day rule. This is wrong. According to US legal code, when I called on June 22 to use my 90 day credit, the first day begins on March 25. March 25 to June 22 is exactly 90 days. In addition, to make matters even worse, I re-checked the email Frontier sent confirming our "credit" and noticed that they charged not $99, but $198! They charged $99 for each ticket, not for the "credit" service. So now I have paid Frontier Airlines for the privilege to fly one-way from Denver to Atlanta for a total cost of $901.10.
I never authorized Frontier to charge my VISA, only to deduct from our "credit." If this cannot be resolved with the company, I am going to take them to small claims court. Oh by the way. I'm a retired Captain for a major US Airline. We used to love Frontier and flew them often, as my airline had limited service from Denver to the west coast. Since Frontier was purchased by Indigo Partners (you know, the company that also owns Spirit Airlines, the one's that charge our returning troops extra to carry-on their duffle bags), they have steadily gone downhill. I noted on my wife's $193 reservation that the airfare was $80. The cost of a seat to ride on was called an "option" for $30. Taxes and carrier-imposed "fees" were $48. To bring a bag onboard is $35. What other form of public transportation sells you a ticket from A to B without a seat? Do you have an option to stand in the aisle? Not according to the FAA.

Horrible airline! My wife and I took our two teenage daughters to New York City the third week of July, 2016. The flight out was fine although we were delayed two hours due to weather (not the airline's fault). The trip back was a whole different story. Scheduled to leave from New York's LaGuardia Airport just after 10pm. Arrived at the airport just after 6:30pm to learn Frontier's ticket counter is closed from 6:30-8:00pm. Boarded and departed on-time. Arrived in Denver on-time at 12:45am. While taxiing to the gate the plane stopped on an "active taxi way." We were told another plane was occupying our gate so we would need to wait a few minutes. That few minutes turned into one and a half hours.
Because we were on an active taxi way we were not allowed to get up out of our seats or even use the restroom. After an hour and a half the flight attendant admitted we had to wait because the airline did not have enough ramp crew working to let us approach the gate to de-board. Even more frustrating was the fact there were several open gates, but no crew to get us off. Once we got to the gate we had to wait an additional 15 minutes for someone to bring the ramp to the plane to de-board.
Once we got off the plane and arrived at baggage claim we waited again. For 40 minutes we watched the carousel turn, but no bags. After 40 minutes I approached staff at the baggage service desk asking about our bags. A very nice gentleman apologized and said they have no idea when the bags would arrive because they are so under staffed. It was now after 3:00am and I was concerned because the free hotel shuttle stops running at 3:20. I asked if Frontier would pay our cab fare if we missed the last shuttle. I was told by a very rude woman working the counter, "No!" Finally got our bags at 3:30am.
Forgot to mention. On the way to New York, some type of foul smelling oily liquid saturated my daughters suitcase ruining the suitcase and her dress for our Broadway play. Forced me to buy a new dress... Not cheap in New York City. Thanks Frontier for a horrible experience. Never again. You can keep my Early Returns miles, I'll never use them. One positive note. All the flight attendants were great. Especially the ones on the return flight. As you can imagine they were getting an earful from a lot of angry passengers.

Flying from DIA to IAD. Check-in desk had a line a mile long with only one attendant working. Upon arriving to the gate I find out that my flight has been delayed over an hour. I received no email, text, nothing about the delay. The reason the gate attendant gave was that the crew had simply not shown up. The crew had not shown up yet. The gate attendant said several times over the next hour and a half that the crew would be arriving shortly. It's now half an hour past the delayed time shown on the monitor and still no crew. Frontier Airlines is the most unreliable airline in the industry. Avoid at all costs.

The money maker motto is "YOU PAY OR YOU STAY". On July 15, 2016 I traveled with FRONTIER AIRLINES for the 1st time, DC to Orlando. Confirmation number **. At the departure gate there was only one, aggressively rude, male employee handling all passengers and the flight was packed full. Without measuring any carry-on bag this employee demanded a carry-on fee payment from several passengers. They had to pay $60 and threatened not to let them board if they did not pay. I didn't have any alternative but to pay. I asked him three or four times to please measure my bag because I was certain it would comply with their size regulation. He wasn't even listening to my requests. He collected payments from several passengers without even measuring one single bag. He was so busy collecting money it was even funny watching him trying to handle the flight departure. His motto was "YOU PAY OR YOU STAY".
At the plane's entrance door an employee took my bag into the airplane's luggage compartment. I was greeted by a flight attendant and she couldn't believe I had just paid for that carry-on bag she had just seen; and she apologized for Frontier Airlines. It's inconceivable that they take your money without any respect for the client. So instead of $135, I ended up paying $180 for the trip. Remember the dreaded "you pay or you stay". We wondered if that gate employee gets a commission.

Frontier gouges its customers by charging additional fees for your seat and carry on luggage. These fees were not disclosed, as I purchased a vacation package from Expedia (another poor service provider). I flew from Denver to San Diego on 7/16/16. The Frontier employee at Gate A40 (Carry) and her coworker (Winter) were extremely rude to my family as a result of changing seats because a child cannot sit in a seat with an exit in that row. Also, when "Carry" announced boarding instructions, no one could understand her muffled instructions. What a bad and costly experience. I will NEVER fly Frontier again and will make sure to inform everyone I know about my horrible experience. It's not worth it when you are crammed into a small space with a food tray the size of an ipad.

Sunday July 17th we flew from Minneapolis to Denver and on our arrival my son's hockey bag with all his gear plus his smaller personal bag (inside) did not make it. We went to the lost baggage counter where we filled out the appropriate paperwork and were told that it was still in Minneapolis and would be put on the early flight (333) at 7:11am and they would get it to the house. The woman at the counter either didn't know what she was talking about or just plain lied. The bag never showed and we did not get a call. MONDAY - When we called the number they highlighted on the form (303-342-7697), we had to leave a message 8 TIMES throughout the day, NO RETURN CALL.
Tuesday - Left a couple more messages on the above number, no return call. We then called the main reservation number and were given the central baggage number (303-542-1490) where I was on hold for half and hour twice that morning in between appointments. My son tried later in the day and after 45 minutes on hold, was able to talk to a person who told him that the bag was still in Minneapolis and was put on a flight to Denver at 1:50pm (again it seems to be another lie), no bag.
Later that afternoon we went through reservations (they always pick up the phone there, go figure) and were transferred to 3 different people (Ryan, April, and Lorretta), who over the next hour and 15 minutes, could not get through to the baggage counter in Denver or Central. Even Frontier can't get a hold of Frontier. Still NO BAG and NO CALL. Great Customer Service!!
WEDNESDAY- NO BAG, NO CALL, TERRIBLE CUSTOMER SERVICE. Let's try the Denver lost baggage number again, another message and of course no return call. On hold (1/2 hour) with Central again and finally get through to Lisa who tells me she just got off the phone with my son (also calling all day long) and tells me that she will call me back after talking with Denver in a half hour.
One and half hours later she does call back (that's how long it took her to get a hold of Denver) only to tell me that they don't know where the bag is!!! I then explained to her as I have with the others that this is not just a bag with dirty underwear, tee shirts etc., but hockey gear worth approximately $2000.00 in it which my son needs NOW. He has already missed one night of a hockey camp on Tuesday which has already been paid for and needs to be there again Thursday. I don't feel I or anyone should have to go through all the crap they put you through to get reimbursed from these incompetent, dishonest and responsible people.

I can excuse the carry-on bag fee of $45. My bad for missing the fine print. The crew really could care less about you and your needs. You bought a seat and that's all you can expect. If you are elderly or have special needs, please think twice about flying with Frontier. Shameful and embarrassing airline. Thanks for my half of cup of warm water as you took the tray away before I even could get a hold of the cup firmly. You obviously cared more about what was on your iPhone than customers. Shameful!!
Frontier Airlines Profile
Basic Information
Company Name:

Frontier Airlines

Address

7001 Tower Rd.
Denver, CO 80249
United States

Year Founded:

1994

Website:

http://www.flyfrontier.com/