Consumer Complaints and Reviews

Flying out of Denver to Houston on 12/17/16, a Saturday at 8:40 a.m. Checked the flight status upon leaving my Brother's house and it stated "on time". It has snowed probably 8 inches overnight, but being raised in Denver and visiting a lot of times in the snow, airlines rarely have an issue unless it is over a foot and then flights are just delayed. At the airport the check line was very long and someone mentioned a cancellation so I went to the board and saw that our flight had been cancelled. After an hour of standing in line we get to the line and Frontier states, "Sorry we can't get you out until Monday." Monday? I have to work on Monday. So I left the line in disgust to think about the situation.
Called Frontier, was on hold for 1 hour and 53 minutes until some worthless idiot from the Philippines stated they couldn't get me out now until WEDNESDAY and that they would refund me the cost of the flight, like a robot. I said, "You damn right." $1,161.00 dollars later, we were on a flight on United leaving at 10:20 p.m. Still have not seen my refund. And I want the WHOLE flight refunded... Who does this? I used to LOVE Frontier! They used to have the greatest seats and TVs and now it's like flying in a hollow shell. The seats are so cheap it is laughable. Not sure what happened, but will NEVER, EVER fly them again. I hope they tank!

I booked Frontier Airlines off of Expedia, which usually gives the lowest price/excellent quality for air travel, hotels, car rental, etc. I checked in my flight, Dec 23, 12 hours prior. FIRST, I had to pay $35 for a checked bag and $40 for one carry-on bag! If I wanted to choose my seat, then add $25.!! (And these were their discounted fees if you check in online!) The "nickel and diming" continued on the flight, where all drinks -- water/Soda/juice were $2.99 each! The overpriced, garbage snacks were ridiculous, too! The flight attendants could care less about your comfort. I had to sit next to a man with severe body odor mixed with cheap men's cologne. The smell permeated across the seats and people were holding their noses. I thought I was going to vomit -- it made me so nauseous/sick!
When I kept getting up to stand near the restroom, I expressed my discomfort to the flight attendant... And she laughed. Did NOTHING. I cancelled my return flight and will be requesting a full refund -- the heavily accented customer service girls had the nerve to charge me $99 to cancel and offered me "credit." WHY WOULD I WANT CREDIT ON AN AIRLINE I WOULD NEVER DARE FLY AGAIN??? I predict bankruptcy. Worse experience flying during the holidays!

Frontier airlines is the worst airline I have ever flown with. From Orlando to Colorado our flight was delayed an hour and a half and then when returning to Orlando from Colorado, our baggage along with the rest of the passengers on our flight had to wait an hour for our luggage to arrive. After reading all of the news articles about frontier airlines and their cost-cutting techniques and the strikes going on against them, I WILL NEVER FLY WITH THEM AGAIN! And I will tell everyone else About my horrific experience with frontier airlines. Someone please replace the president of this airline. He/She doesn't know what the heck they are doing.

I have not left Portland Airport yet and this "low-cost airline" has already charged me 25% more of the cost of the plane ticket for a carry on bag and a crappy middle seat. I could have saved more money just booking directly with Any other airline. I have flown with Hawaiian Airlines for years and they do not have any of these hidden fees. This is my first and last time flying with Frontier Airlines. I suggest you do not book with them.

When we got to the gate we were told the flight was delayed. Then the plane arrived, and we were told we were waiting for a stewardess and a flight officer. Then we were informed that we were canceled due to weather and was not offered assistance in any way to help make other arrangements. There were 2 of us traveling together. We had to pay $1200 to get home the next day. My husband missed a day of work. This was a terrible experience, even before the cancellation we had vowed not to travel with Frontier because the seats were so uncomfortable. They had no empathy for all the people they screwed over just a few days before Christmas.
How do I know I can trust these reviews about Frontier Airlines?
669,639 reviews on ConsumerAffairs are verified.
We require contact information to ensure our reviewers are real.
We use intelligent software that helps us maintain the integrity of reviews.
Our moderators read all reviews to verify quality and helpfulness.
For more information about reviews on ConsumerAffairs.com please visit our FAQ.

They will cancel your flight for no reason at all and rebook you on a flight 3 days later if you're lucky. They won't reimburse you for hotel or any expenses you incur for cancelled flights. You will miss your vacation. And when you rebook on another airline you will be charged same day flight ticket costs which will likely be over $1000. So if you think you are going to save money, think again. I guarantee it will cost you a lot of money. You could fly first class on any airline for less than what this will cost you in the long run.

Flight was delayed for two hours, then canceled due to airplane problems. To make things worse, when I asked for a refund, they only refunded half of the round-trip ticket, so I basically paid them to have my vacation ruined. Worst airline ever, avoid at all costs.

My family and I had the worst experience with this airline! We were suppose to fly out of Orlando (MCO) this morning to Austin. We arrived two hours before our flight, the kiosks to get our boarding passes were not working properly so we then had to wait in a line for over an hour and a half to get to the desk. We had no luggage to check in. When we finally make it to the front desk there was a very rude lady standing there and told us she will not be giving us our boarding passes because "she didn't think we had enough time to get to our gate". Then to tell us we can take the next flight out which was the following day and it's going to be $99 per person in my family.
When we called the 800 number to get a refund we were told there's nothing they could do because we were a "no show " to our flight. We asked to talked to a supervisor and also said there was nothing they could do. Even though we clearly stated that we had been in their line for over an hour and half. If their kiosk would have been working we could have gotten our boarding tickets. If they had a functioning system at the frontier counter in Orlando we would have gotten our boarding tickets. Instead we are out over $1,000. DO NOT FLY FRONTIER. They do not care about customer service whatsoever.

Leaving Denver, I had 3 gate changes. At the last gate the attendant left the podium without a word. Fellow flyers were getting emails about the flight cancellation, I however didn't get one until 2 hrs later. My bags were nowhere to be found. I had no clothes, no medications and no transportation. I was able to get to a hotel and re-book a flight with United for 2 days later. After getting home and contacting Frontier, they would only refund the amount of the unused portion of the ticket. What about the expenses I incurred because of their inability to run a company. It was not because of weather, as they were saying. All the other Airlines were running smoothly!

Disclaimer: Most of us have experienced delays and cancellations due to weather conditions and accept that it does happen. It is not the fault of an airline that these situations occur and it is not expected that any type of compensation in the form of food vouchers, lodging arrangements, or future travel awards be given. And this rant does not imply that any should other than an airfare refund which is appropriate. This is a company that does not even acknowledge that customer service exists, let alone, that it has any value. This is a company that, based on its employees at McCarran airport, has nothing but contempt for the passengers that utilize its services. I watched two Frontier gate agents point at passengers sleeping on the floor and laughing at them.
These same two agents were consistently rude to passengers throughout our time at the gate. They also completely ignored an elderly wheelchair bound passenger that asked for help, again with smirks of contempt on their faces. How, as corporate management, can you knowingly deceive your customers by booking them on a flight when you are fully aware that the plane needed will never arrive at a departing airport? How, as corporate management, can you instruct your employees to check passenger bags, when you are fully aware that the flight a passenger is scheduled to travel on will be cancelled? My wife and I arrived at Las Vegas McCarran airport on December 16th at 9:30 PM for a scheduled departure at 11:55 PM for Orlando.
A few minutes after we arrived a delay was announced, this was followed by six more delay announcements, and then the flight was cancelled at approx. 6:30 AM on December 17th. After the flight was cancelled I spoke with a Frontier representative at the gate and asked if there were any flights originating from McCarran airport that day that would at least get my wife and I close to Orlando. I was told that there was a flight to Atlanta leaving at 9:35 PM, seats were available, and that we could be re-scheduled. So, I booked the flight and then purchased airfare on Delta airlines to get us from Atlanta to Orlando. Since it was already 8:00 AM getting a hotel was not an option and my wife and I decided to continue waiting at the airport.
At approx 8:00 PM an announcement was made that the flight was delayed until 2:39 AM. I spoke with an agent at baggage check in right after the delay was announced and was then told that the flight was cancelled due to the plane being grounded in Denver. Why would Frontier Airlines re-schedule passengers for a flight that they knew would not be available? The Frontier employee managing the Baggage Claim office was not even aware that the flight had been cancelled. I then asked for my fare to be refunded since it was obvious that we were not going anywhere and was told that refund requests were not being accepted and that the best option available was to accept a re-scheduled flight that would leave Tuesday.
We ended up flying on United via Chicago on Monday without any issues other than the additional cost of purchasing yet another set of one-way tickets. This airline is a complete joke!!! No amount of savings on airfare is worth the risk of flying with them. They do not codeshare with a single other airline so booking with another airline is not an option. Their limited route schedule does not allow for a disruption of any kind. Their employees lack the most basic of customer service skills and appear to have not received any training at all. If asked, I would recommend avoiding them if at all possible.

My elderly father booked a flight on Frontier Airlines for the great price he received for a one way ticket from Nashville to Phoenix. His first mistake was checking his bag. Upon arrival in Phoenix no bags showed up. We waited by the baggage claim for an hour and nothing. We then went to the only Frontier desk in the terminal which served as both the check in/baggage claim. No one was there. We waited another 30 minutes and finally someone showed up. We were told along with the other passengers who checked bags on the flight that they had lost their luggage, fill out a claim form and the airline would deliver it within 5 days. We waited the 5 days and no contact. My father called customer service and waited on hold for an hour and a half only be told they didn't have his contact info on file and there was nothing she could do.
I took the phone at this point and asked to speak to a supervisor because all of his medication was in his luggage and it was an urgent health issue at this point. Her name was Kim and she literally told me "Oh well nothing I can do" and hung up on me. What is wrong with these people?! I have never been so angry and dissatisfied with a company in all my life. Do not use this airline no matter how good of a "deal" it seems to be.

Frontier is often referred to as an inexpensive airline, but when you factor in all of the extra baggage fees, seat fees, food or drinks, and inevitably, lost time waiting hours for your flight, it's more expensive than other airlines. I don't know how they stay in business when they are so unreliable. They are never on time and they couldn't care less about it. This will be my last Frontier flight if I can help it. What a joke!!!

Frontier Airlines is the absolute WORSE airline to fly with. Please do not choose airfare with Frontier. The low cost tickets are a plus; however you will definitely get what you pay for. I was scheduled for departure on 12/18/2016 from Las Vegas to Atlanta. It was not until 3 hours before my time to depart I received a Frontier Travel Alert, stating flight was delayed. Which was followed by three more text alert with different departing times for my flight back to Atlanta. After I received the last text alert, I assumed this would be the time my flight would leave the McCarran International Airport.
I arrived in time enough expecting to catch a flight home and did what I was expected to do as a traveler. Checked in, checked in baggage, went through security check, and waited at assigned gate. Only to find a disturbance. Due to Frontier not having any flights as scheduled going out for any of their passengers. I was never told why the flight was delayed by the Frontier agents, I was only told there was a delay in the flight. When I googled the news for Frontier I found out otherwise. I found out flights were delayed due to Denver weather. Rather this was the case or not. Frontier did a very POOR job at relaying this message to travelers. Frontier didn't update their flyers with truthful information that could have prohibited flyers from having to stay days in the airport. And the list goes on and on. I will never fly FRONTIER again in my life... NEVER!!! NOT EVEN ON A BUDDY PASS!!!

My father's flight was canceled yesterday in Havana Cuba. He went to ticketing to rebook, but he were told he would not get on another flight for 2 days. They would not offer hotel or meal vouchers. He would also needed to call an 800 number to request a refund if we booked on another flight. Frontier does NOT work with other airlines. After 50 minutes on the phone they said "You can buy another ticket with another airline. We will reimburse you a 100% for your tickets." I booked on another airline (JetBlue). Thanks to that my father fled yesterday. Today I called again. After 47 mins on hold a customer service named Kate answer, she wasn't able to help me with the refund. I asked for a supervisor and she hang up on me. So now I have been on hold for the last 23 minutes and probably will be 30 more.

Cancelled flight. 12:05 am flight. No one to help, no one around. This is in Denver, their Corporate location & hub. Phones not answered. NO CUSTOMER SERVICE. Don't believe they care about their customers other than the money. WILL NEVER TRUST THEM AGAIN. Cost me $3500.00 to rectify problem. Enough worth suing for.

Frontier Airlines has ZERO customer service. The staff at Austin, Tx actually made me feel like they WANTED us to miss our flight. If you have any problems with your tickets, need flight info, or lost luggage, you're on your own. On the way back from Denver to Austin, they lost our luggage, along with about twenty other passengers' (on a direct flight)! There was no one at the baggage claim to help us for about an hour. I filled out a form and have yet to hear anything from Frontier. I have a good feeling I will never see my bag again and plan on filing a suit if I don't get reimbursed. Find any way to travel other than Frontier Airlines. It was a giant mistake booking with them. They did everything in their power to try to ruin our trip.

My son who I have not seen in a year was suppose to be here today!!! I bought him a ticket to fly from Cleveland to Tampa. Frontier had the cheapest flights and being Christmas time I thought it was the perfect deal!!! SO WRONG!!! My son drove 2 hours from Erie, Pa to Cleveland airport and he noticed that the counter for Frontier Airlines looked like a clustered mess... His flight was at 10:45 am and he was in the airport at 9:30 am due to some weather issue. He had his boarding pass and check in completed the night before and he needed to check in his luggage. He called me to tell me he had been standing in the line for over a half hour and it was not moving. He noticed people crying and many angry faces... He also noticed that the surrounding airlines were calm and no people waiting in a line.
When he got to the counter at 10:05 am he said the employees were rude and told him he missed his flight because he was not on time. My son argued and said that he had been in line since 9:30 am and the flight does not leave til 10:45 am. They were rude and told him there was nothing they could do but to get him a flight 3 days later at 400.00 and they would credit the flight for 50.00 dollars... ARE YOU KIDDING ME??? When he asked to speak to a manager they told him they would target him as a terrorist and trouble maker and he would NEVER be able to fly again!!! I began to make phone calls and but the wait time was over 2 hours to speak to a person from the airline so I looked for other flights and was shocked to find out that the same morning he was flying out Frontier had 3 other flights scheduled to Florida... Miami, Orlando, and another Tampa one... ALL 3 were canceled... I found that to be fishy.
While waiting in the airport he talked to other passengers and they said Frontier gave their seats to the people whose flights had been already canceled at 6 am... I am upset, sick and disgusted... The other airlines were booked and they said unfortunately they do not do business with Frontier for many reasons. I had my phone on speaker for 5 hours yesterday while on hold to speak to somebody... finally I gave up. I googled Frontier Airlines this morning only to find out there are hundreds of stories just like mine!! THAT IS SO WRONG... My son found a ride back to Erie and I will not be able to spend the holidays with him. NEVER USE THIS AIRLINE...:(

We had tickets from Orlando Florida to Kansas city for 12/20/16 and the flight was cancelled. The weather had been a little icy but other airlines were flying in to KC. We believed them the earliest they could reschedule us was for Tuesday am. That flight was cancelled trying to say that it was the weather again. There are no weather problems at either location. We were offered no help. On phone 35 minutes and said they would leave us on hold as I didn't trust them to call me back. 20 minutes later they hung up on me.
Got on shuttle to airport to stand in line 3 hours to be told it would be next Tuesday before they could get us home. That is December 27 - 7 days after we were supposed to be home. Who can afford this. Already out over $2000 dollar loss and they've done nothing for us. I will be part of the class act that I'm sure will follow. This is crazy. I will never book with Frontier if they aren't going under now. Be aware!! I could have gotten out with another airline on Monday if they'd been honest and quit lying.

While returning home from San Francisco on Dec 19th, Frontier abruptly cancelled the flight to Orlando as well as all flights out east! They said weather was the problem but it was clear they had no reasonable game plan for flight and service outages affecting their entire system. Get this! They said they would re-list me for the flight on the 24th (a full five days later!).
Worse, the flight status on the website and in airport board was showing on time even up to the point of check in. The agents claimed they were trying to inform the passengers "throughout the day" meaning that Frontier knew in advance this widespread operational disaster was going to hit. Yet, no call or email or text to me was provided and none to the other half a dozen passengers I spoke with while we stood at the counter. Outright lies, operational incompetence and lack of empathy were on display. While the airline personnel chose to not assist me or frankly even the lady in the wheel chair next to me, the word loudly heard was, "I don't make enough to take this heartache from you (public)". Unbelievable! Given the widespread cancellations, Frontier caused chaos and distress to their competitors. It cost me dearly, over $1,000 between rebooking on Southwest and spending the night in a hotel (which of course Frontier said no to any on the spot accommodation reimbursements).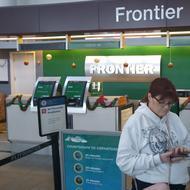 If I can give this negative stars, I would... I waited in the check in line for over 45 minutes, all the kiosks were down and when I got up to the counter the lady left w/o saying a word. I had to get into the only line available at that point, waiting another 10 minutes... Missed my flight. They didn't have another availability until 2 days later and I still had to pay for their horrible customer service making me miss my flight. No airline credit will be refunded. WORST AIRLINE EVER!!!

Booked a flight for my 3 children 17, 16, and 10 to fly from Minneapolis to Denver 12/17/16 flight 327 that was cancelled. So I called spent an hour and half on the phone to rebook. The guy apologizes and said not to worry they will be on the next flight. In the morning December 18th flight 333 that flight was also cancelled without any prior notification, no email or phone telling both were cancelled. They fly out tomorrow December 21st. Flight 333. They keep telling us this is weather related. When the news team here in Denver say that staff is walking off the job. I should be comped the whole round trip.

I don't know where to begin. Waited 45 minutes for agent to show up to check us in, not leaving much time to board. This happened on December 10, 2016. When we finally got into the airplane, found that the seats did not recline and seats were quite uncomfortable, making for a miserable experience on a 4-hour flight. I pity anyone traveling more than 4 hours. No snacks or drinks were free, and you had to ask for water--it wasn't offered! All this, plus the purported "low" fare, only to learn we're charged $35 per person for carry-ons and $12 per person for an aisle seat. I consider this a form of "bait and switch". We will never again fly with Frontier and I have related our experiences to friends and relatives.

I had my very ill 80 year old mother on wheelchair waiting for departure at LGA. The flight has been delayed twice and finally cancelled. She spend 5 hours at the gate with very limited assistance. At the end, she was given a refund with absolutely no further ETD dates or any compensation to make it back home where she needs immediately see her doctors. I am demanding Frontier to put her on the flight ASAP with absolutely no extra charges and all the assistance that she will require. If something happens to her we will sue Frontier for all the damages this whole scam caused us. Expecting an instant response since your regular phone line never answers the calls.

Our Frontier Airlines flight was cancelled yesterday, ostensibly for weather. No other airlines or airports appeared to be having any weather issues. After waiting on hold for 50 minutes to reach customer service, I was told they would rebook me in 4 days and no other compensation or assistance would be offered. On our own we managed to find an option that cost $1,100 on another airline and a several hour rental car drive from another city we are home. We will never ever fly them again. They could not have been less helpful.

Frontier Airlines this is to you: THIS AIRLINE IS A JOKE. Delay notices were sent out for our flight from ATL to DIA starting at about 4:30 PM advising was delayed to 01:15 hours with a flight that was supposed to leave ATL at 10:10 PM. About 45 minutes later another notice came out. Then about another hour or so another notice. We checked in at the airport and went to the gate with the plan of waiting until four hours after we got there. It wasn't until another passenger advised us that the flight was cancelled. There was not a Frontier employee to be found at the gate or anywhere around. Shortly after we learned of the cancellation from another passenger, two Frontier Airlines employees showed up, and advised there was nothing they could do and instructed all of us to return to the ticket counter for instructions.
Upon our arrival to the ticket counter we were advised the flight was cancelled due to weather in Denver. Not possible due to the fact we had another family member flying into Denver on another airline without any issue at all. Accordingly to several different sources, there were several ground crew for Frontier Airlines that walked off the job in Denver. Since the airline advised it was a weather delay their policies do not allow for concessions to stranded passengers, or so we were told. There was no offer to cover hotel expense, and the only option we were given was to re-book a flight for December 25th, which was the first available flight. Well let me say it is December 19th, and six days at our own expense in a hotel, and no other concession being offered, other than a refund, which would not be given for three days is not a good way to retain or gain new travelers on your supposed "CUSTOMER FRIENDLY" airline.
We had to book another flight on a different airline, spend $1100.00 for them, plus a $140.00 for a hotel room just to ensure we were home for the holidays. Own up to your own company's Incompetency, and make the situation right with those of us who have chosen your airline to fulfill our travel needs. Your airline has lost a customer and the word will be spread accordingly. Your company will not make it through 2017 if this is how you are going to treat your customers. Learn to run a business instead of a money pit for your organization to strive to success by treating those who make you a success the way you are treating them. Own up to your faults, and make the situation right. Not only should you offer a REFUND, but you should offer vouchers for an additional flight for future use. Your company is a joke, and is destined for failure.

On December 17th, 2016 my family and I waited in the airport for airplane to leave with Frontier. The airline kept canceling the flight for 12 hours, then they finally cancel the flight at 12:30 a.m. the next day. On December 19th we tried to fly out again from Orlando to St. Louis. After standing in line for an hour and a half they let us know that our flight to St. Louis was canceled again. All they would offer is a refund and they said that they do not have any flights available until 6 days later.
Frontier Airlines should be closed down. Do not fall for the $20 gimmick. They cost me an additional $100 for a rental car, an additional $150 for a hotel, $987 to fly out on the 20th with United Airlines. I have to call into my job tomorrow because I will not be there, which I will lose out on more money. They do not offer compensation for a hotel or any compensation towards a new flight or rental car. This company is not very reputable. I will never use it again. I do understand the flights are canceled based upon weather conditions. However, I do not understand that they cannot get another aircraft to fly people to their destination before 6 days. If you did not want to spend that extra 150p to $2,000 I suggest that you did not fly Frontier. It may be tempting and the prices may be low but they're not do it.

Frontier Airlines is the worst airline of all time. I had a flight from LAX to Tampa with a connection in Denver. The flight from LAX was delayed for 10 hours causing me to miss my flight to Tampa. The ticket agents didn't care to help. All they said is that they can refund the ticket or book for the next flight which was in 2 days. As upset as I was I had no choice but to wait. I sat and waited with my 2-year old child for 2 days in the airport then come to find out the other flight 2 days later was also canceled, plus 1 of my luggage was missing.
Extremely frustrated and not having any money to book a ticket with another airline because all tickets are now $1500.00. I called Frontier and spoke with a supervisor, they refused to get us a hotel or do anything to help and now they are saying the next flight to Tampa is going to be on the 25th which is 7 days later than it was originally supposed to be. I just took the refund as they couldn't care less that I was stranded with a toddler, no money, no way home, stranded in a place where I knew no one. Now I have to wait up to 10 days for a refund in my account, have to figure out a way home because of these people. They have no compassion, they are terrible beyond words and needs to be sued.

Poor service, the savings you think that you are getting. When everything is added up you find that it is no savings at all. When they have a cancellation Frontier will do nothing for you, but tell you about how to cancel the flight. But you can weigh days and I mean DAYS before a different flight leaves. This company Frontier is a joke, and I hope before it ruins things for your family trip you read this!!!

We booked a round trip for three to a bowl game. After getting such a good price (3 roundtrips for 800 and some change) we went to check in only to find out that we hadn't bought a "seat" on the plane. It was 200 additional dollars for our three seats and three carry ons. We are up to $1000. We were delayed for nine hours for what we were told (we called) was weather but my husband is a pilot and I hear wasn't significant weather on fore flight that would interfere with our flight or the one the plane was on before. Other passengers were told and the flight personnel when we finally got on said that the prior flight crew timed out. That's right, they are too stupid to schedule their employees and then lied to us!
While at the game we learned that others people from our area didn't make it to the game because of Frontier. On our return flight they let us pre-check in that morning and spend 168 more and cancelled the flight one hour before takeoff. That made about $1200 for the tickets and we could have flown another decent airline for about 1400. Of course we thought we were saving 600 not 200 - I sincerely believe that it is false advertising to sell cheap airline tickets then charge you extra for seats!!! They didn't offer to do anything but put us on their next flight four days later. I have filed for a refund and the $2000 it took to get the last freaking three one way seats that would get us home in time for work and my sons school finals!!! They should be put out of business. Never, never use them!

Flight was cancelled today after 6 hours with very little communication with their customers. Plane and attendants were there but no PILOT! Are you kidding me? Families with small children, grandma & grandpas, left with extra car rental and lodging costs plus it's the holiday and going to miss out. Ok, I want a refund. Good luck with that. Refund was going to be $48, and did I mention our tickets for 2 was $624?? Don't think they will be in business much longer. Steer clear of this airlines. Enough said.

Erika ArmstrongAirlines Contributing Editor
From the front desk of a busy FBO to the captain's seat of a commercial airliner, Erika Armstrong has experienced everything aviation has to offer. She is the author of A CHICK IN THE COCKPIT and her aviation articles can be found at Consumer Affairs, Plane & Pilot, Flying.com, Disciples of Flight, NYC Aviation, Contrails, Mentor, General Aviation News and Business Insider. More about Erika→

Founded in 1994, Frontier Airlines now launches more than 375 flights each day to destinations throughout the U.S., Mexico and Jamaica. Today, this relatively new airline employs more than 3,000 aviation professionals.
Get the works: Frontier Airlines offers a package price that includes services such as refund-ability, free change service, priority boarding, extra carry-on and checked bag allowance and more.
Exclusive discounts on fares: Travelers who join the Frontier Airlines Discount Den get access to low-rate fares only available to members. Members can book flights for up to six people on the same subscription.
Manage flights online: Through the Frontier website, travelers can check in, book flights, make changes and check on the status of their flights.
Economy-plus options: Get the same low fares on economy-class seating but nab an extra 5 to 7 inches of legroom with stretch-seat options. A small additional fee gives passengers that little bit of extra space.
Choose your seat: Many airlines have moved away from assigned seating, but on Frontier passengers can select a seat that lets groups stay together in the air.
Best for Vacationers, holiday travelers and frequent fliers who want extra room and more control over their experience.
Frontier Airlines Company Profile
Company Name:

Frontier Airlines

Year Founded:

1994

Address:

7001 Tower Rd.

City:

Denver

State/Province:

CO

Postal Code:

80249

Country:

United States

Website:

http://www.flyfrontier.com/