Consumer Complaints & Reviews

My girlfriend, her daughter and I flew Frontier Airline for the first time (this past weekend). It was the worst traveling experience ever and I will leave it at that. If Frontier do not get their self together within the next year or two (for your customer complaints) you will be out of business.

I booked a flight for a friend of mine yesterday, June 26th flying out of Orlando, Florida to St. Louis. Today situation came up where she cannot fly so I called to cancel and refund the flight only to find out they're charging me $99 of $143 ticket as a processing cancellation fee. I will never do business with this company again and I suggest anyone else look elsewhere to a reputable airline that does not have shady business practices.

I'm upset with Frontier Airlines. I had purchased 2 tickets from San Antonio to Las Vegas for August 17-21. I bought those tickets on March but Frontier keeps sending me email to change time. I had called last week for them to leave my reservation alone and to stop changing it but tell me that they cannot accommodate me to any of the flights.
Now I have to start looking for another flight and now it's going to cost me more... Can you please communicate with them my order #** and ask them to leave the reservation that I had make or for them to find me another flights but they're expensive. Because I already paid them... If start looking for tickets now is going to cost me more because the dates are getting close. I'm sending you the original reservation but I also have the 2 or 3 email from Frontier to change flight time.

Frontier have a lot of hidden fees. Why do passengers pay for carry-on luggage, snacks, drinks and not to mention $40 to check in a luggage? The flight from LGA to MIAMI was delayed 2 hours without any prior notice. The flight from MIAMI to LGA was delayed due to "flat tire, not to mention the plane been idle for 2 hours before the departure time. This is an inconvenience and not professional. One more thing the staff are not friendly at all. I will NEVER use this airline again, worst experience ever! I'll pay the extra money.

They don't even deserve a star. We were scheduled to fly out this morning from Portland. They cancelled our flight. Left us hanging. They refunded ticket, but we are out an extra hotel night and double what we spent on first tickets for a new flight. They will not make it right. Tell us that unless we have a voucher we cannot get reimbursed for hotel. Several people were left hanging without a flight. They better improve on their customer service! Will never fly them again.
How do I know I can trust these reviews about Frontier Airlines?
554,286 reviews on ConsumerAffairs are verified.
We require contact information to ensure our reviewers are real.
We use intelligent software that helps us maintain the integrity of reviews.
Our moderators read all reviews to verify quality and helpfulness.
For more information about reviews on ConsumerAffairs.com please visit our FAQ.

I needed to cancel a ticket I had purchased with Early Returns points. There is a $75 dollar fee for each of us. Total $150 to get my points back which takes 5-10 days. What a crock, $150 fee and it takes almost 2 weeks to get my points back! This is outrageous!! Frontier fee's people to death!! They need to get their act together if they want to keep customers!

On 22 June, I flew from Nashville, TN to Denver, CO. When I arrived in CO my luggage was missing. I signed a statement and was told that I'd receive daily updates from a Frontier rep yet I haven't received anything in 2 days. Every time I call the Denver Baggage Service, I get their voicemail. Besides this company charging you for each little thing, they seem to have little concern over my missing luggage. During my flight, I discovered several pieces of chewed up gum stuck in the pocket of the seat in front of me. I did find that the customer service reps at check in were polite but that is the only good thing this airline has going for them. I recommend that everyone avoid flying on Frontier.

I could not believe the egregious price gouging to book a seat and carry on a bag. FRONTIER ought to be ashamed of themselves. I cannot wait till this airline is out of business so no one will have to have another horrible airline experience. I will NEVER, EVER fly with them again. They should have a negative star category for companies like this.

My son attends one of the federal military academies. He was suppose to get to come home for a week before he went out on a sea tour for training, and we had booked his flight home with Frontier Airlines. Unfortunately, a few days before his flight the US Department of Transportation and MARAD, put out a temporary stand down on all sea time and the school would not allow the cadets to travel home. We called Frontier and presented them with everything that we as parents and my son was given in writing regarding these orders, however Frontier would not refund us or issue us a voucher for later travel because it did not meet their "guidelines". This paperwork was good enough for both Hotwire, and American Airlines who both fully refunded our money for his return trip. We will never book with Frontier again! Delta and Southwest also refunded or gave vouchers to other families in the same position, fly one American, Delta, or Southwest!!!

Okay... giving one star is even too much. I travel a lot for business. Frontier was my first time (and IT WILL BE the LAST). Why I will NEVER fly with Frontier? They charge many fees such as Carry on bag for $45 - $100 ea., water for $2, assign seat $8, and more (that I do not know of). It may seem cheaper to fly with them, but if you include those hidden fees, you might be end up either paying for more or very similar to other major airline. I was not happy that I had to pay for $45 for my travel size carry-on bag that fits perfect on overhead compartment. Hello Frontier but So long Frontier!!!

Trip Confirmation Number: **. Trip date 07/01/2016. This is a flight which charged me $179 for a flight from Orlando to Denver. The next day fare was dropped to $120. When I called up the airlines they denied to provide me with the lower fare. Please avoid this airlines at all cost. They sell their tickets at higher cost to customers who plan in advance and then drop the price suddenly. This is ridiculous and unfair.

I wish I could give this airlines NO stars! They broke my BRAND NEW stroller and have done nothing about it! I have emailed 2 times, called the number the ticket agent gave me 3 times, called their customer service line AND have left a complaint on their website. No response. When taking care of this matter at the ticket counter, the agent seemed very annoyed by the fact that she had to do anything. She kept asking me when the stroller was purchased - who the eff cares?! You broke it, you replace it! Luckily I recently received it as a baby shower gift so I was able to retrieve the receipt. I will NEVER fly this airlines again. They claim to nickel and dime you for every little thing because their flights are so low - bull. I flew in a newer aircraft, with friendlier employees, cheaper bag fares, with drinks and snacks included for half of Frontier's price.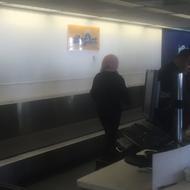 My flight was from LA to MCO on 16th June. I was in queue prior to 45 mins, suddenly the mindless guy standing there told, "No more check-ins." I requested them for 1 hr almost to let us board the flight, instead one more emp (lady with cloth on her head comes and they both started blasting on us and it is our fault). Is this way you ppl treat customers? I am accompanied by 2 toddlers and a senior citizen which timely requires medical attention, I informed them, but they are so rude and senseless people that they are not aware of anything. They told me that "Manager will come and talk with you at 5:00 pm." Manager came at 8:00 pm to had a word with us, again these 2 emp started laughing at us that we are now complaining manager, to my urge request I don't care about my flight now, I do care that these 2 attached snaps emp get strict action against them, so that they learn a lesson that it is because of customers they are earning a "Bread" for living.

Worst airline ever! I paid $476 for my round trip ticket from Philly to Orlando. What I didn't realize was I was going to have to take out my credit card many more times after I already paid a hefty amount. Other airlines were only $50 more or so but I opted for the cheapest flight for obvious reasons. Who doesn't want to save money?! Well little did I know that I would have to a. PAY for my seat on the way there and back!! b. PAY to carry my own bags on board!!! c. PAY for a can of soda on board!! Really Frontier?!? I can understand paying to check in your bag because that comes with a SERVICE of a person loading your bag on board of the aircraft and taking it off, but pay $45 each way to CARRY MY OWN BAG?!? RIDICULOUS!!!
Moreover, the seats were so uncomfortable. Tray table tiny. No reclining. No snack or beverage. Lights overhead did not rotate. Staff who took my bags and charged my credit card $90 for 2 carry-ons was rude. Worst flying experience ever!! Next time I am paying $50 more for another airline and avoiding this hassle of paying for a seat and a carry-on bag!!

This is the 1st and LAST time I will ever fly Frontier Airlines. 1st thing was they let a very very drunk passenger on the plane leaving out of Atlanta. He had to be removed from the plane. He walked by my son and pushed him. When I confronted him I was held back by a Frontier Airlines employee who stated that he was really drunk. My thought was did you not know this before you allowed him on the plane? Because we were headed out on vacation, I was calmed down by my wife and son. I took my seat and placed my bag under the seat in front of me and settled in for the most uncomfortable flight of my life.
Fast forward to my return home trip, I downloaded the Frontier app thinking it would save me time. It didn't work. Then to top it all off... the same bag I stored underneath my seat on the departing flight, I now had to pay $45 on my return flight. Not to mention the smug attitude from the counter person. What a ripoff! It's not the $45 it's the principle. So Frontier has made sure that I nor my wife or kids will never fly their airline again! The discount isn't worth the extremely poor service. I am making it my mission to make sure everyone I know never flies this airline. Sometimes you get what you pay for and sometimes you don't even get that.

Got to PHL well before flight due to "panicky" emails about long security lines. We get there to check bags at Frontier (First mistake) then there are NO TICKET agents. No rep to tell you they won't be there till 2 hrs before boarding. This is BEFORE you go thru security line. Thirty something people in line to check bags, NO agents, no sign, no warning. No seats to wait. Elderly people very VERY uncomfortable standing all that time. Agents finally come, an hour and a half later. The three of them are grumpy as all hell. They grudgingly check people in, as if we were doing THEM a favor. We get through TSA, which mercifully, didn't take all that long. Make our way to the gate, nobody there till 1/2 hr before boarding. People are griping about having to pay for carry-on bags.
Finally the agents come to the boarding gate. THE SAME THREE that were at the ticket counter. We were wondering if they were going to have to load the plane and fly it. This is unacceptable service. There were many, many pissed off people at that flight. One who had approved a companion's carry on tried to weasel money out of her at the boarding gate. She raised hell and the woman who had approved it was standing RIGHT THERE and let her onto the plane, but not before embarrassing her in front of all the other passengers. UNACCEPTABLE. The plane then sits for an hour, not altogether Frontier's fault. The flight "attendants" and I use the term loosely, are surly, loud, and discourteous to passengers. One got mad at me for not wanting to give up the window seat I chose a MONTH AGO. Oh yeah? Well ** you, pal.
On the way from Orlando back to PHL service was a little better because there were more agents, however, the flight "attendants" were even more rude than the previous flight. Absolutely loud, standing in front of the plane carrying on, not giving a ** about anybody but themselves. Worse service EVER. Will never EVER fly Frontier again, and have already plastered this all over my social media pages, as well as my blog. Bye Frontier. Never another penny of my money, and if you were wise, you would RUN NOT WALK away from this sham of an airline. Yeah they're cheap but you get what you pay for.

My biggest complaint at the present is that I booked a flight and had to cancel, cancelled in allotted time. Of course they run your credit card immediately, but I was informed that refund takes 1 to 2 months depending on your next statement cycle before credit will appear in your account. Tried calling corporate office but was cut off twice, go figure. Frontier is not my favorite fly in the sky. Will never fly Frontier again as I haved other issues, but this my most recent.

I was wrongfully charged $60 at the gate for a small carry on tote bag at the gate. I was held hostage and forced to either pay or miss my flight according to the gate agent. There was no reason for charging this fee for a tote bag that could easily fit under my seat. This airline will steal every cent from you and has already taken advantage of consumers with over $220 million in baggage fees last year alone. Avoid their deceptive fares, you will pay more in the end. It's like riding on a crowded city bus and the seats are equivalent to a park bench and the waitresses on-board hate their jobs working for the worst airline and take it out on you the passengers. One waitress refused to give the safety announcement cause she didn't feel like it and stayed in the back reading the entire flight, never came out once till the flight was over! Worst airline on earth.

Kiosk were outdated. Customer service was non-existent and they charged me 60 bucks for my carry on. Upon entry to plane... it was dirty... chips crumbs on the floor.

My flight was yesterday June 2 from MCI to Philadelphia. Actually was the (inauguration) first flight from MCI to Philadelphia... (I am diabetic / with few other health issues which it requires me to take few pills and I need to take few pills/medication at night time which by that time were on the air). First of all they don't offer you no drink or anything. You have to pay with a credit card, or you don't get nothing. So when was the time when I needed to take my pills, I ask the flight attendant, if I can have a small glass of water for my medication. Her answer was, "No sir. You have to purchase it." I told her okay, but I didn't carry any credit card on me, but I have (plenty of cash). She refused take cash (I understood that was the rules). A gentlemen which was sitting next to me, told me "Sir I can buy it for you."
First of all I don't want to pay for not even a half a glass of water $10 and second of all, I didn't felt comfortable someone else paying for me, which I thank him very much... so I went to the bathroom, and I drink water from there. On the way out, I saw the flight attendant and I told her (jokingly) "Finally I've found water in the bathroom" and her reply was "I hope you enjoy it..." The flight attendants was rude. On the safety procedures, the flight attendant told an old lady to shut up talking. Sussssh. Now Frontier Airlines may have cheap tickets but, my baggage check it cost me twice as the ticket, plus by the gate they announce that for the carry-ons which was oversized there will be fee, so I saw some people paying, from $50-200 for carry-ons, so watch out. With Frontier you may get a ticket for $35-50, but baggage fees and carry on fees it can be fetch up to $200-or even $300.
On May 28 I flew in with Delta. They are day with night (difference). Delta crew was so polite, plus they offer you a drink and some kind of snacks. Now the other thing what happened on TSA section in MCI, (due to car accident my right forearm is prosthetic, and my left arm has lot metal implanted inside the arm, always when I flight I inform the TSA officers before I go thru the check in so they can check me on the side, because I can't raise my arms), so I told the TSA officer about my situation, and he told "Go. Why you telling me. Go over there" then he kept talking to another guy, which the whole time I was there he kept talking with his buddy, and he was doing nothing... In one point I heard him saying to his coworker, "Why the hell he telling me that for. WHAT THE ** HE WANTS ME TO DO. I CAN WIND HIS ARM UP AND DOWN ALL DAY LONG AND THEN I CAN STICK IT UP IN HIS **."
At that moment I look back at him and I smile, but I didn't want to start anything. Because my accent (I'm Greek and the way I look) they treated me like a freak, they single me out, and they kept telling me "Don't move. Stay there. Don't touch anything." Those TSA officers they look all of them in their 20s. The one was asking to the other what they should do with me. I felt like I was some kind of freak, experiment object for them. They was training on me, and they was nasty as hell. They are not professionals at all. You believe it or not the one guy, he told me (I am sure that he is some stupid drop out who couldn't find any other job and TSA from what I can tell they hire all the drop outs and people who can't find a jobs), he actually ask me if I can take out my implant metal from my arm so he can see it... that guy was a MORON!!!
Those kids because they work for TSA they think they are powerful and they can do anything they want and anything they feel like it with people. From what I saw MCI INTERNATIONAL AIRPORT HAVE SOME SERIOUS RACIST PEOPLE. They shouldn't been working in places and positions like that. Of course I report the whole incident to TSA complaint department, CIVIL RIGHTS department and to the governments office. After all I think they never saw people with prosthetic arms in that airport. TSA OF MCI you are all morons... which I got responses from all those government offices. That guy which he is a drop out MORON the only job who fits him is a greeter in a Walmart store which I am sure he can't even handle that... HE IS SO STUPID...

This airline was HORRIBLE! First of all, what airline charges you to check a carry on bag. I paid $30 both ways for a carry on bag. Luckily I happened to check the night before to see what the bag fees were. Mind you, I fly all the time. I have never flown this airline before and never will again. Most airlines the most you will pay for a checked bag is $25, and never for a carry on. Luckily I was only going out of town for a weekend and only needed a carry on. You also have to pay for the seats. Like what airline charges you for the ** seats? I mean my God don't you think that would come with the purchase of the ticket. But it gets worse. I arrive and our flight is delayed 2+ hours. I did not make it to my destination until 2 am in the morning and my flight was scheduled at 7 pm and it was only a 2 hr flight.
On the way back, I had a connecting flight which took me from Atlanta to Austin, Texas to Denver and back to San Antonio, Texas which crazy to me but anyway. We got to Austin and the air conditioner did not work. They had us sitting on that hot plane for about 45+ mins trying to fix the air. The flight attendants were really rude and did not do anything but stand at the front and chit chat about God knows what. The lane that we was on another plane needed to get on that line and our pilots were arguing with each other about moving our plane in front of us. They finally decided to move the plane in the middle of nowhere, mind you we still sitting on this plane with no air for about another 30 mins. We finally pulled back up to the lane and then they ask us to deboard the entire plane until they figured out the issue. I did not return to the flight after we de-boarded.
I had a connecting flight in Denver to get to San Antonio, and I know I would've missed that flight if I was to continue on this delayed flight. I had a friend come pick me up from the Austin airport since San Antonio is only an hr and a half away from Austin. Just understand that I will NEVER EVER IN MY ** ENTIRE LIFE give them any of my money ever again!!! And I advise you to do the same. It is not worth it, I promise you! Just pay the extra money for another airline and enjoy your trip, hassle free. There should be no reason I should have issues going and coming on this airline, it is ridiculous to be quite honest. Like I said Frontier won't ever get any money from me and should definitely be put out of business!

The ticket price looked good, but then the add-ons started. I didn't take too many, only a checked bag in order to shorten the security lines, and it was a little cheaper than paying for a carry-on bag. The price of the ticket was a few dollars cheaper than the same flight on Allegiant, but here's the rub. Frontier does not take Pre-Check or Global Entry (I have both) and the consequence of this was long security lines (I am 77 years old) so I will never, ever book on Frontier Airlines again. Once on board, the seat padding is so thin that when the lady behind me put something into her seat back pocket, she was clearly invading my very private space.

Flight 1432 from San Fran to Houston Memorial Day - a nightmare! Arrive at SF airport at 8 am, told of delay for 8 hours due to mechanical probs. Frontier cannot help in any way. No other flights out until the next day and no partnerships with other airlines. My hubs and I were stuck. 8 hours became 10 and there we sat on a holiday in a sucky airport. When we finally boarded the plane and arrived in Houston, it was 2:30 am!!! We had to go to work the next day, that is why we picked the early flight that would have got us in at 4:30 in the afternoon. After numerous calls and also talking to the agents at the Ticket Desk, no one could help. SOL. THIS AIRLINE SUCKS... THEY ARE BUDGET FOR A REASON. They cannot help you, no airline relationships, no backup planes (are you kidding)... So you wanna go cheap, just remember, you get what you pay for.

One of the worst flight experiences I've ever had. From check in to finally getting home the next day. Customer service is lacking beyond belief. The Kiosks were all out of order, so instead of a quick check in you have to get in line. The woman at the check in counter was on her cell phone! Mumbling information to me that I couldn't understand. Apparently they charge you to pick your seat, and then wanted to charge me $45 for my carry-on or $30 to put it with the baggage. She said booking through a third party always charges and that all the airlines do it. Not true. They put you between a rock and a hard place. Of course I paid, I needed my stuff! It went with baggage. As of today I still don't have it! Another person was charged $60 for his carry-on right before boarding!! He didn't know about the policy either.
I guess the charges go up the closer you get to the plane. What a Scam!!! Who knows how many people they made pay these bogus charges!!! The flight was very turbulent so the "stay seated light" was on most of the flight. When it was finally off for a few minutes. Everyone rushed to the bathroom. But before everyone in line got to go, the buckle light came back on. One poor woman who was trying to get back to her seat was scolded over the intercom by a flight attendant! And the pilot! The pilot told bad jokes throughout the flight that no one laughed at. Upon a very turbulent, rough landing, he told his worst joke of all: "All passengers please remember to take all your baggage with you, including your ex-wives and mother-in-laws." He managed to squeeze that joke in, but failed to mention that the connecting flight was already boarding. I missed my flight.
In a panic I went to the Frontier Airlines attendant at the podium who was rude and offered no help. He didn't even look up. Finally he gestured with his head where to go. Then, at the actual Frontier Airlines counter, the attendant laughed at the fact I missed my flight. I almost cried. When asked if I could get on the very next flight, he said they only go to Austin once a day and I would have to wait till tomorrow afternoon. I said I couldn't. He rudely said to find another airline. I cried. Then I found another airline. Finally! made it home around 9 the next morning. But Frontier Airlines still has my bag! I'm exhausted and depressed. I'm going to deal with that tomorrow. I WILL NEVER FLY FRONTIER AGAIN!! I wish I could give it negative stars!! Save yourself and don't go near this airline... Run away... Run away!!!! They're rude, uncaring, scammers.

NEVER EVER WILL I FLY FRONTIER AGAIN. I've always hated flying this airline as they have the worst attitudes and the worst customer service. But now I not only have to pay for a seat (Ummm WTF. Isn't that include in the cost of my ** ticket?! ), but now I also have to pay for a carry-on?!?! This is FREE on any other airline. Ended up checking my carry-on because that was cheaper. Turns out this "cheap" (yeah right!) flight cost me more than any other one I would have flown and had a way better experience. I would never recommend Frontier to anyone. Except maybe my worst enemy because that would be a true punishment. WORST airline ever. I genuinely hope you go out of business as you're not doing a single person any good. What an awful company. This is why you'll never be ranked as high as any other airline. You're the lowest of the low. Congratulations on losing yet one more future customer.

Agent refused board me with my carry-on unless I pay fee. I flew to Chicago with the same luggage without fees. I told her this is my only carry-on and it fit the bin. She refused to board me and I almost missed my flight. She was extremely rude and embarrassed me in front of the other passengers. I asked her for her name and she refused. I asked for a supervisor and when she came "Shante" she also refused to give me her full name colluded with the agent. Feeling helpless, I gave them my credit card and they charged it $60. I disputed the payment with my credit card. I submitted a complaint to Frontier and they replied, "This is the way things are." It is not just the agents, it is the entire corporate structure of this deceiving airlines. Never flying Frontier again even if it is free!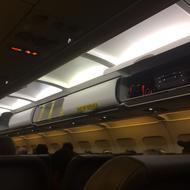 I was not satisfied with all the service, especially I did not understand why you charge for a carry-on luggage and your compartments are out of order. Here is a photo I took from my last flight. I do not think it is reasonable to charge $40 for my carry on (each way) and you do not even have space. If you have feedback on that or what can you do about how to better your service in regards to charging too much please email me at **. A refund would be great. Thanks.

I booked on Tues (May) for a business trip that would occur in Sept and had all my arrangements made. Paid 192.00 for the airline tickets. I received an email on Thurs (not even 48 hrs later) saying they changed my flight day (Wed) to a day earlier (Tues). I called the airline and asked why and they told me there were no flights on that date I booked. I requested a refund and was told it was against their policy to give a refund. How can this be advertised for purchase for availability on Tues, booked, paid in full, but actually there isn't even a flight on that day. Isn't this fraud?
I firmly believe this company advertises flights that are not truly even available and then changes the itinerary in order to gain income. They said they would provide a credit however how does this assist with the fact that now I have to rebook another flight, losing my money to this awful company, otherwise I am stranded with all the other arrangements already in place.

This is the worst airline I have ever flown with. Their seating fees are ridiculous. I thought I was getting a cheap flight but with the fees and bag fees I didn't save any money. They charge you to check a bag... and they charge you to carry on a bag! They charge you a change fee even if they are at fault! Worst flying experience of my life!

Worst flight of my whole life. It was a physically and emotionally traumatizing ride. After taking off with the highest level of turbulence I've ever experienced despite the clear skies, we wobbled back and forth on either wing while making a very sharp turn before ascending upwards. Then the pilot took us up past 20,000 feet where we sailed over the top most layer of cirrostratus clouds. Me and the people behind me were like, "We're not flying to the Caribbean are we?" (meanwhile I had to hold it together because a freaked out 14 year old kid was sitting next to me).
After that the pilot took a hard descent that was seriously as volatile as a roller coaster... all the way down 20,000 feet to the runway. Myself and the other passengers concerned for our lives majority of the ride. Ears were popping and people became sick. A small baby on the plane was wailing because of the abrupt air pressure change due to altitude. It very well have damaged a small baby's inner ear since the woman behind me said hers felt like it had exploded.
Once we dropped (literally dropped) onto the runway, the pilot was once again abrasive as he landed and had to brake so damned hard that the nose of the plane was tipped to the ground for the whole stretch. It was nuts. Never thought I'd have to worry about dying in a plane until that flight. Needless to say I think the solution is policy change, wherein the flight is cancelled if there's too heavy a tail wind or a storm. FRONTIER PUTS MAKING MONEY OVER HUMAN LIVES. FLIGHT 366 SUCKED.
Frontier Airlines Profile
Basic Information
Company Name:

Frontier Airlines

Address

7001 Tower Rd.
Denver, CO 80249
United States

Year Founded:

1994

Website:

http://www.flyfrontier.com/