Consumer Complaints and Reviews

So, I flew Frontier from Atlanta to Las Vegas. It was last minute and the cheapest one I could find. I flew out Saturday and back Monday. I ended up getting extremely sick on Monday and was unable to get on my flight. I spoke to the guy that works at the Frontier desk, let him know that I needed to change my flight, he was very rude. I was vomiting all over the place and could barely keep my head up. I didn't understand what he was saying because I was vomiting and couldn't hear him. He started yelling at me, got extremely mad at me for vomiting in the floor (which was very embarrassing). He then asked me if I was "slow". I am always a super nice person but this sent me over the edge. I wasn't so nice to him.
I ended up getting on the next flight Tuesday morning. I was still feeling pretty rough but a little better. The flight wasn't that bad. On the way to Vegas, this poor lady had a stroke in the air, thankfully there were 2 doctors on that flight with us. The flight was cheap, but you do have to pay for everything. Your seats, any food or drinks that you want/need. And they will get you with the bags. You can have 2 free carry-on bags, like your suitcase and a purse. They try to make you pay for your bags to carry on, but YOU DO NOT HAVE TO! I learned that from the people I was sitting next to on the way to Vegas. I paid for my carry-on bags on the way there but did not pay for them on the way back!

On Oct.4, 2016, I was scheduled to depart from (CVG) airport and arrive at (RSW) airport. My grandmother was terminally ill and was put in a hospice house. When I got to the terminal the lady said that I could not board the plane. Apparently, I was 3 minutes late, but I could still see the plane outside the window with the ramp still attached. I told the lady that it was an emergency. My grandmother was sick, but she would not let me board. I just started crying. I filed a complaint to get my money back, but no one cares. I received an email about airline policy instead.

One month ago I flew Frontier. Not only was I stranded overnight in Denver flying to/from DC, but Frontier refused to refund the costs incurred for a 16 hour, overnight layover. We arrived at our destination 20 hours after we were scheduled. Frontier illegally failed to issue us vouchers for breakfast or lunch. And when we requested our bag, which included formula and diapers for our 8-month old, Frontier staff refused to get it even though our layover was 16 hours and overnight. The cause of the delay was mechanical, not weather. We were promised by multiple Frontier Airline personnel to save receipts and submit them online to get a refund. 3 weeks after doing so I received a response that Frontier would not cover the costs of meals, formula, or diapers for the 16 hours we were stranded overnight in Denver. The customer service rep did not even try to make it better. Just empty words. One of the worst customer service experiences of my life.

I arrived at BNA with my 14 year old daughter. I told them that she had to be escorted and past 100 dollars each way to and from Denver. I was forced to fill out paperwork with information on exactly who would be picking her up at Denver including full name, nickname, phone number. This was my 25 year old son. He arrived and was told there is no such paperwork! My 14 year old daughter had to be held at the gate alone. Flight crew left. Gate agent was there. My son was not permitted to pick her up.
I, then, called corporate. KEVIN (last names not allowed to be released) was extremely rude when I insisted that my son was there to pick up my daughter. He insisted that he was not at the airport and the flight hadn't landed yet. I explained again that I just got off of the phone with my son and be was not permitted to get my daughter. He was so unkind even as I cried in confusion and fear. Paperwork was never found! Not even put in the computer! They just very very rudely explained their policy; rudely took my $100.00!!!! From that moment on, no supervision was given! Then to top out off, they wouldn't release my girl. It took a gate agent calling BNA and asking IF ANYONE REMEMBERED THIS AT THE TICKET COUNTER!
Finally the rude ticket agent who was eager to take our money in exchange for having a"constant eye " on my daughter, was reached and she said she remembered some girl with a brother who had a weird name who would be picking her up at the gate. That's all! They had no documented arrangements showing that my daughter would be escorted! What, then did I pay $100.00 for!? This is ridiculous! Kevin wouldn't work with me, said HE was as high up in Frontier that it reached! Had no supervisor and no last name for me to be able to contact with questions. Our family travels a lot, however, this is the last time we will travel with Frontier! Very rude and unorganized!

I have difficulties navigating the website. It sneaks charges that if you are not aware, will cost you $$. I app to request a Spanish operator, after I waited almost two hours for an agent to answer and a few disconnections. The agent name Mabel was professional and helpful. Thank you so much for your help. I think that in order to process all booking, more bilinguals agents are a necessity. I understand that in order to keep cost at minimum, the website is available. However, it's difficult if you are traveling and don't have a computer. I almost switch to another airline with humans helpers and better timely basis.
How do I know I can trust these reviews about Frontier Airlines?
638,664 reviews on ConsumerAffairs are verified.
We require contact information to ensure our reviewers are real.
We use intelligent software that helps us maintain the integrity of reviews.
Our moderators read all reviews to verify quality and helpfulness.
For more information about reviews on ConsumerAffairs.com please visit our FAQ.

Frontier Airlines Flight 1252 Delayed 4 hours yesterday afternoon, 10/19/16, originally 4:35 pm flight. Technical fault, agents assured everyone. We were given vouchers for meals, and their very generous travel voucher for $100 off a future flight. They know what they can do with that! Great Service.

I purchased my tickets back in July for a flight in October. The day comes and the weather report fails to work in my favor. What was supposed to be an hour and a half ride took well over three hours due to rain and traffic issues. Once I arrive (we had about 40 minutes before our plane was supposed to take off and we were running like crazy) and the lady at the gate said the plane left early! She said we should have been there 45 minutes before the gate (never mind it was mere minutes over at that point) and the plane was 'headed down the runway'! I've never heard of a plane leaving EARLIER than scheduled, especially in inclement weather! I was offered a flight exchange on Monday but the event was going to be missed (was Saturday to Monday) and even though they caused us to miss our flight I would have to cancel both my return flight and outgoing as well.
The men working behind the gate proceeded to laugh at me! Horrible customer service! I then get told to call corporate, get placed on hold for 20 minutes and then get told that only the airliner can take care of it at the airport. I told the 'manager' (nobody had name tags to identify themselves which was also shady) and even though corporate said I would get a refund she refused and called me a liar. Tickets are nonrefundable and nonexchangeable even if the airline causes the mess. They said they overbooked and when they called my name and I wasn't there they just gave my seat away.
What a scam! So I emailed corporate again and they told me that the 'cancellation fee' which I didn't approve took all the credit out of my 'account' so no credit either. 99 bucks a passenger for 60 dollar tickets? Again, scam! I'm now taking the issue to my bank. These crooks took my money and I want it back! How they can stay in business is insane!

Recently I had a round trip flight from San Francisco to Orlando. The ONLY thing good about Frontier was the price. Although charging for carry on bags is stupid and greedy. They should have included that in the base price, instead of charging extra. The seats were immobile, and of hard plastic. I have traveled a lot, and never have seen chairs that don't recline. My back was killing me after the experience. There were delays, in fact we Sat on the tarmac for one and 1/2 hours before we could deplane. So, at 2 something in the morning, it sucks to just sit there and wait forever. Definitively NOT worth the bargain price. It comes only second to Aeroflot, a Russian airline that also really sucked...

So I booked my photographers tickets 3 months before my wedding. Day before my wedding and the day my photographers came to the airport - Only to find out the flight was cancelled. There was no one at the gate, and people kept showing up to their gate and had no answers. I panicked and Called frontier, the Customer service rep didn't even know what he was talking about, and told me the flight left at 6 this morning, and I said "No, they rescheduled the flight for tomorrow at 6 am, and that was not going to work for me! I had to take photos at 8 AM! And they were only scheduled to leave at 6 am from PDX."
I asked to speak to a manager, and I got one. But he was a complete "Jerks". I told him I need my photographers on a plane ASAP. This is unbelievable! He told me the only option is for me to go online and process a refund request. I told him that is not helpful right now, the tickets are $1000/Person right now - day of. And I booked them 3 months ago and got a better deal! I said I need the airline company to get them on another flight. And he said "what you're asking me to do is "Dig into my paycheck"!!!" Can you believe the nerve of this so called "manager". I was so furious, I told him he doesn't deserve a paycheck!
This is unbelievable! They can't just mess around with customers scheduled like this! Moral of the story is, I would NEVER EVER Fly with Frontier again! I did get a refund for this flight, and still battling on their return flights. I Ended up spending over $2000 for 2 tickets to get my photographer to Iowa, and she was still late, and we did not have the photo session before the ceremony as planned! Super Frustrating. Definitely reconsider before ever booking with them!!! Especially if it's an important event!

NEVER EVER EVER AGAIN!!! Frontier Airlines is the worse airline service ever! I just now went to review it to see its highest rating is 2.4 stars (no surprise). First I drop my wallet before take off, it was 3 ft from me. The flight attendant didn't even ask if someone lost it. He just picked it up and took it OFF THE PLANE! So I went without a wallet, no ID, did not get to see my sister's navel graduation which was the whole point of me traveling! Then trying to solve this whole issue 90% of the people I talked to were NOT helpful and were VERY rude!!
Then on the way back the exact bags we took with us the whole time as a carry on, all of a sudden they said were too big and we had to pay $120 to take them on the plane. BTW the dimensions are 18x14x8 which the sight specifies it must be that size or smaller... what they mean is not that size. It must be smaller... and you have to pay for everything on the flight. Nothing is complimentary anymore!! So the flight might be cheap but after they ** you it cost the same and you get ** service!! I have never had such an unpleasant experience in my whole life!!!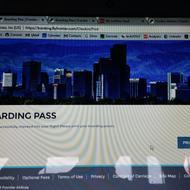 I arrived at the AUS airport after checking in from home 40 mins. before flight departure. The online system gave me a check in confirmation. But did not send me a boarding pass. I went to the airline counter with hopes of getting a boarding pass printed. There were three passengers waiting but the counter was unattended. I looked for a kiosk around to print my boarding pass. They did not have one. I went through their mobile app to pull the boarding pass up but it's not there. I went to the security gate hoping he will let me through the gate with the ticket confirmation email.
At this time I went back to the ticket counter the attendants were still not there. I waited for the attendants to come. By this time I missed my flight. The ** gentleman at the ticket counter showed up. He says that I need to pay $99 to board the next flight to Denver. Wait a minute... I checked in online. Have a check in confirmation. You do not have staff to help at desk or a kiosk to print a boarding pass. You do not email the boarding pass, you do not make the boarding pass available to retrieve from my FlyFrontier account. How is my fault that I was not able to board the flight. These crooks first denied that I checked in online. I showed them the screenshot confirming that I checked in. Their argument was if I checked in online the attendant says I should be able access the pass from the app. He dabbled around on my phone and said I didn't check in.
Then I talked to the supervisor. She says that I didn't check in so the boarding pass is not accessible on app. Then I was asked to call the customer service. The customer service confirms that I checked in but the boarding pass is not going to be accessible online or emailed. Then I tweet to @frontiercare and they respond back saying that "if you check in online via a browser then that boarding pass cannot be accessed via mobile app or by logging into my Frontier account."
So for the lame excuses of this company that has no kiosk to print boarding pass, no staff at counter, no online access to boarding pass for checked in passengers, no mobile app access to boarding pass, no electronic email confirmation that you have successfully checked in. All these are standard on any airline. They have the nerve to charge 99 dollars to get me to Denver instead of an apology. Apologize for my inconvenience, mistreatment, and return my $99 you crooks.

On September 18, 2016 I took a girls trip (5 of us) to Dallas/Ft. Worth. We left Milwaukee, WI and all checked in at the same time. Everyone received their luggage but me. The baggage claim told me to call their office and all I got was a number ** that no one would answer. I called that number every day while I was in Dallas and got a hold of nobody. On my return to Wisconsin on September 25, 2016 I started sending e-mails to Frontier Airlines and calling other numbers that the internet gave out 303-390-9067, 303-542-1490 still no response. All I want is my stuff back. I feel violated! I know it is sitting in the Denver Airport somewhere. No one will help me. Please let others know about this Airline. They are not helpful at all.

My wife booked a flight from Salt Lake City to Minneapolis on Frontier in August. There was one stop in Denver. When she arrived in Denver, she found they had cancelled the Denver to Minneapolis flight. They offered no help in getting her to Minneapolis that evening. She had to book a flight on Southwest at a major premium. Frontier offered us a voucher for compensation but we have no need to fly anywhere Frontier is going in the near future. First they won't reimburse us for the extra fees we paid for a better seat and for baggage because it's their policy. Second they promised to reimburse for that portion of the flight in 10 days and it's been well over a month and we have not seen a penny. Since you can't call them and talk to a human being, we are going to take them to small claims court and will be asking for the full amount of the Southwest Flight.

I have flown with Frontier twice. The first time I flew from Colorado-San Diego. I took a 930 pm flight. Because of the fog my flight had to fly into LA. Which is about a 4 hour drive to where I had to go. After waiting 2+ hours they finally let us know the flight will not be leaving again that night and the next flight is 12 pm the following day. We were not able to get our bags any earlier than this announcement so now it is 3 am and I am stuck in the airport. I had no choice but to get a hotel room that night in LA. The airline did not offer to help with any alternative accommodations and we were basically to figure it out ourselves. Mind you it was Valentine's Day weekend.
My next experience was this last weekend. Again I booked a 930 pm flight. A week before my trip I received an e-mail saying that it was changed to 10:53 pm - whatever. So now I am at the airport with plenty of time to spare outside of my gate when the gate information changes to Phoenix, not San Diego... There was no announcement or anything letting us know. Me and everyone else were panicking and confused. A couple gates down was our correct flight and status is on-time... phew. Boarding was to be at 10:15 pm. It's now 11:00 pm and status is still on time? It's now 11:45 and we are finally boarding. (I got an email at 12:52 am the following day letting me know of the delay.) 2 hours late and I finally land in San Diego.
My flight home was at 350 pm on a Sunday. Boarding was on time, surprisingly and things were going smooth so far, minus the screaming children around me and my window shade being non-existent/broken. We touched in Colorado 20 mins early. 1 HOUR later we were allowed to get off the plane. How we got there early and had to sit an additional hour is beyond me. Poor planning? From my experiences with Frontier I would not recommend. Yes they are a smaller airline and I guess need a lot more experience but the little things are frustrating to a paying customer - non-reclining seats, additional $25 to check bag, broken airplane parts? I would not fly with them unless I had to. Just a heads up to all plan for your travel plans to get messed up.

I ordered a cup of tea and it was so hot it spilled in my lap and now got first and deep second degree burns. Fun fun. The attendant offered me ICE wow ICE. Anyone that passed 6 grade and made it into 7th grade knows Ice is the worst thing for any burn. I called Frontier customer service and gave the info. They say someone will contact me in 24 hours. Um... It's now 3 days - yep 2nd degree burns from a cup of tea ouch. I can't walk. I can forget driving. Thank God the guy in front of had to lean back so hard it fell in my lap. So no sex for me and my poor boyfriend is very depressed.

If you want to know what became of Greyhound, it sprouted wings, became an airline and calls itself Frontier. I have never in my entire life Sat on a plane so deliberately designed with disregard for passenger comfort as on the Airbus 321 flown from Denver to Raleigh. The arrogance of airline executives to field a plane on which the seats are hard plastic, do not recline at all and have no headrests is beyond belief. The tray tables are small 4 x 8 slabs of aluminum. And this was a NEW aircraft; built that way on purpose. Never ever again will I fly this airline. Absolutely never.
And one more thing; do not be fooled by the cheap ticket prices. It's a trick. Your flight is not only painful, it costs what any other airline ticket would -- they just divide the price up into sub-prices, such as for sitting in the first 8 rows or charging you for carry-ons and checked baggage. Our red-eye flight was marked by many crying babies and young children, whose parents had no money to flight properly. It was packed with people who couldn't afford a comfortable airline. I was appalled. Never again. Pay the money and fly properly on a real airline. Don't reward this company with a single dime of your money.

Dear Alexa (from Frontier Customer service) and anyone else that cares at Frontier; I am not the type of person to complain about services or products. I don't even send food back if it wrong, but this is out of control. I received this email about 24 hours ago and I sat on it so to make sure I don't email back as a reaction to my frustrations with this airline.
My frustrations continue so here goes of WHAT has happened and how BAD this business has been ran. As you and most reading this will most likely skim through it looking for highlights and the details. Mind you NOTHING has been done to accommodate myself or either of the 3 other people on this trip with me by Frontier. They have merely passed the buck to the next poor sap willing to listen (temporarily). Even a supervisor that was assigned this customer problem NEVER called back like she promised. Mind you, this has all happened within 7 DAYS of our scheduled travel date, which is TODAY and still there is no resolution or attempt.
8/21/16- reservations made leaving San Diego @615 am, Indy @ 708 pm GREAT!!! 9/8/16 FLIGHTS CHANGED by Frontier, our HOME flight for 10/10/16 was changed to arrive at 1153 pm (ok, whatever, late night, ok). 9/12/16 2nd notification sent by Frontier that there has been a change to the schedule. (The same change as above. OK, thanks for the reminder) 9/30/16 Another email sent by Frontier for me to call about a change in the upcoming flight. 10/2/16 I get an email stating that my flight has been changed from 615 am to 350 pm that same day. This NOW puts me in Indy @ 421am the NEXT day! I lose a day completely.
We then call in because this is a dramatic change. Is this is unacceptable to lose a total day on a 3 day trip! No. Only now do I have to change flights but LEAVE WORK FRIDAY EARLY! Not only did we call, but the supervisor stated that she would call us back when she has figured it out, her shift ended at 6 pm... No call! It was offered this day that a refund is issued for the cost of the flights and we can find another flight somewhere else. Being we are 5days away from the trip, the flights have all spiked up to an extra $500! I would love to fly with another airline, but now Frontier has us stuck
10/3/16 I get an email that now my RETURN FLIGHT has been changed to a 640 pm Departure and gets into San Diego. We call and the RETURN flight is now CANCELED!!! Apparently we have been moved to another flight in another CITY! I now have to drive 2 hours to the Cincinnati airport to get home. I don't have any emails/confirmations or anything for this. What is going on here? Now with the times and days all screwed up, I am FORCED to MISS MORE WORK AND TAKE TUESDAY 10/11/2016 OFF! 10/6/2016 I check in for my 10/7/2016 flight and NOW THEY ARE CHANGING ME ANOTHER $100 for seats reassignments?!!! What is going on here? REALLY?!!! Are you kidding me? Did they address and fix anything? Answer: NOT EVEN CLOSE!
10/7/2016 We are scheduled to "leave" today @ 350 pm (we will see if that happens) and get into Indy @ 425 am SATURDAY 10/8/2016. Still no confirmation of a return flight. No emails stating I can get home on 10/11/2016. I submitted a request for the rental car reimbursement (for 10/11/2016) being I have to drive to Cincinnati now. At LEAST Frontier could do is pay for the car rental.
This has been the single WORST experience with a "business" that I think I have ever had. I travel a lot, but this company loves the transference of responsibility game back on to the customers and their minion workers. What I expect now: compensation to a worthy degree of some sort and I don't mean giving me an extra bag of pretzels. I expect that my $100 is returned that I paid last night, my car rental bill taken care at the VERY LEAST! Honestly a truly unhappy FIRST TIME CUSTOMER;

On October 2nd I accidently left my cell phone on a chair in front of Denver gate A31 around 3:30 PM. When I returned to San Diego I discovered my phone was lost and immediately filed a report with Denver Airport. The next day I began calling my cell phone and eventually a Frontier employee named Denae answered. She said she was a gate supervisor and someone had given her my phone the day before. She was currently at the Staybridge Hotel but she said she would turn it into Frontier Lost & Found within one hour. In the mean time I attempted to contact Frontier Lost and Found and the phone is never answered. The only way to talk to Frontier Lost and Found (Theresa) is to call the Frontier Corporate operator. She will then connect me with Theresa in Lost & Found. I had to do this at least 5 times.
Theresa seemed very uninterested in proactively helping me. She did tell me that the gate supervisor was a contractor and seemed very nervous about trying to find out who this Denae was. When you lose your phone, Apple provides a way of tracking your phone and placing a number on your phone to be called if the phone is found. Over the next 24 hours I watched my phone move from the Staybridge Hotel, the Frontiers Corporate HQ, and finally back to gate A32.
I had placed my daughter's phone number on the phone if found and she finally received a call from another Frontier employee (Raquel). She said she had my phone and was taking it to shipping and would call back in 15 minutes to give my daughter the cost info and tracking number. My daughter never received another call from Frontier. Since Raquel (the second Frontier employee) had used my phone to call my daughter, my daughter had no way of calling Raquel back since she apparently turned my phone off. All of this information was provided to Theresa in Frontier Lost and Found but she never did anything to try and track down these employees or my phone.
In summary, two Frontier employees definitely had my phone but it was never turned in to Lost and Found and no one from Frontier shipping ever called. As a result, yesterday I had to go to Verizon and buy a new replacement phone at a cost of hundreds of dollars to me. I realize it was my mistake to lose the phone, but Frontier needs to be ashamed they have unethical and lazy employees who did nothing to help me get my phone back.

For flight from San Francisco to Houston they switched the destinations! By discover that my departure now is from Houston instead of San Francisco, I contacted the company and got a reply that if I want to change my reservation in correct(!) way, I have to pay additional $350. Any attempt to convince them that it's their mistake, not mine - didn't help. I had to cancel my flight and lost my money. Isn't it robbery??!!

I booked a ticket for my parents to washington dc and I did not know they charged for everything. Charged for checked in bags, carry on bags, seat charges, snacks. My parents and I did not know this before and they did not tell us clearly in the shopping cart about this charges before we put in the credit card. WATCH OUT FOR ALL OF THESE CHARGES, NOT worth to book the tickets. Their customer and customer relation are terrible, not offering the helps but always having words, NON REFUNDABLE to customers. They don't have a courtesy help for us. We have to pay $100 for bag check and carry on bags.
The front desk did not do clear and give me the receipts of the bag check. I had to come back to the front desk to request the lady the bag checked in receipt and she just wrote down for me a few number on it. My parents got in Washington DC at 4:30 pm and just called me a minute ago that said the paid checked in bag LOST in there NOW. They are investigating our bags right now. Terrible services and charges. NEVER RECOMMENDED THIS FRONTIER AIRLINES!!!

So I had to cancel due to a medical emergency. The pre-bought baggage fees ($50) were not refundable. Why on earth would they not be refundable?! Frontier did not touch a bag. No agent was involved. I am essentially paying for the "privilege" to interact with FA web page. It like stealing. Their email in response to my complaint was it was too bad that I did not take the time to read their perverted one-way baggage rules. Actually I did. Too bad I couldn't see into the future that there was going to be 2 trips to the ER. Their cancellation fees are also punitive $100. SouthWest is so much better to deal with. I will never use FA again and I'm cancelling their credit card, too. Worst service, ever! I wish I could rate them zero stars. Plus, the agents are barely understandable. Their English is so poor and accent so heavy.

As the other reviews indicate this "airline" is trying to bring back stagecoach travel. At first the fares seem reasonable but by the time you have spent money on carry on bag, checked bag, seat upgrade so your legs will function after the flight, a bag of nuts and a pop, you will easily be at other, proper airlines rates. The extra stress from delays and changes are a cost as well. After using Frontier for 6 flights over the last month 2 have been on time. One was a day late after sitting at airport for 6 hours. Smallest delay was 45 minutes. The flight crews are mostly nice. That's the one star.

My family and I flew from MKE to PHL on Frontier today. Given all the extremely negative reviews I felt the need to share my experience. 1. Frontier is a discount airline. There are no "hidden fees". They beat you over the head with all of their fees. "Book your bags now for $25. If you book at airport it will be $50!!!" How people are surprised by this I do not know. You can easily log into their website. Calc seat fees. Luggage Fees etc and then compare to other airlines. 2. The plane was nice! I was shocked. American Airlines planes are outdated in comparison. Flight attendants were friendly. 3. Plane took off on time and landed early. Yay! So based on this one flight I would give them a 10/10. I would use them again if I ever needed to travel for cheap and wasn't on a strict timeline.

READ THE REVIEWS, DO NOT FLY WITH FRONTIER AIRLINES. Suitcases all packed and ready to go. A medical emergency caused us to have to change our flight by 5 days. With note from doctor not to fly for 5 days. Called the airline to change our departing date and was told it would be $99 each plus another almost $500 to make the change because there are no other options for less! As far as the airline was concerned, it was an opportunity to take advantage of two seniors on fixed income taking a trip to visit family in Phoenix.

Hidden baggage fees. I recently attempted to take advantage of the lower fees advertised by Frontier Airlines. Unfortunately, I was charged $150 for "taxes and carrier imposed fees" IN ADDITION to the price of each airline ticket. This $150 does not even include a checked bag fee. Had I known about this fee, I would never have booked the reservations. This is highway robbery. I am SO disappointed.

New Orleans to Philadelphia. The additional carry on charge means that the price I would have paid with a different airline would have been less costly. I just wish I had seen these reviews before I booked. From what these reviews of the experience of other say, the Frontier name might indicate that they are trying to replicate stage coach travel with wings and an inhospitable business environment. Fool me once.

If I could give this airline 0 stars I would. Let's start with flight from Denver to St. Louis delayed several times and then boarded to then deplane telling us the plane had been loaded with the wrong luggage. Gate sign then changed multiple times - we finally boarded and arrived in St. Louis at 1AM - 5 hours after the scheduled arrival time - without any reason why and no explanation. Return flight from St. Louis to Denver got delayed several times and then was diverted waaay North supposedly for weather issues.
When we finally landed in Denver three hours later after what was suppose to be an 1 1/2 hour flight there was no gate and were told someone was being removed by the Denver Police. Now we sat on the runway for yet another hour before deplaning on their incredibly uncomfortable/non-reclining seats. But wait - there is more - baggage claim - we waited another hour and half for our bags to arrive. No updates, no excuses, no information period... it looks like this airline is 'coming apart at the seams...' I hope NEVER to fly FRONTIER AIRLINES again...! This use to be my favorite airline. Now it is without a doubt the Worst airlines I have every dealt with. Hopefully - Never again.

Frontier charges less than other airlines for the same trip. However the hidden prices you don't see right away include fees for luggage, fees for overhead luggage, fees for sodas, and other drinks, and even fees to switch one coach seat for another coach seat. This is a no frills airline that doesn't even have a magazine to read. Worst part of the flights were the delays. Even though they show on-time at the terminal, my flight and connecting flights were all delayed. All four flights were delayed and the weather was great each time. We usually just sat on the plane waiting for luggage to be loaded or for paperwork to be sorted. They are not even TSA pre-check approved. This airline doesn't deserve one star, but I don't have the option to rate it at zero stars. I will never take another Frontier flight again.

I usually refrain from criticism but, this was the worst experience ever. First I checked in online printed my boarding pass. They tried to say my bag was overweight. I weighed and measured everything before I left. There was no air on the flight and they charge for everything. At baggage claim my luggage came down so hard it flipped off the belt and wheel came off. Once I reached my destination I realized my bags were checked and items were missing. No assistance or remorse from anyone. If I can help it I will never fly again and they can keep them points.

Delayed 2 hours this morning, 9/26/16, originally 6:00am flight. No reason, no one to speak with. Finally, agents arrived and assured everyone their connections in Denver will be held for them. Upon arrival in Denver, discovered we were all blatantly lied to. 75 customers converge on customer service, but only 2 agents on duty. Many customers, myself included, called the complaint department to alert them of the mess in Denver. Nothing is done.
Waited 2+ hours in line to speak w/ agent. The 2 agents did the best they could but no other agents came to help. Much yelling and swearing among the customers. Next flight is 12+ hours later, and because we live a 6 hour drive from our destination, PHX, we did not have the option of changing airlines because of baggage. So we are out the cost of a hotel in PHX since our flight will not arrive until close to midnight. By the time we check into the PHX hotel, we will have been up 24 hours, that is if the flight tonight is not canceled. We were given vouchers for meals, and their very generous travel voucher for $100 off a future flight. They know what they can do with that!

Erika ArmstrongAirlines Contributing Editor
From the front desk of a busy FBO to the captain's seat of a commercial airliner, Erika Armstrong has experienced everything aviation has to offer. She is the author of A CHICK IN THE COCKPIT and her aviation articles can be found at Consumer Affairs, Plane & Pilot, Flying.com, Disciples of Flight, NYC Aviation, Contrails, Mentor, General Aviation News and Business Insider. More about Erika→

Founded in 1994, Frontier Airlines now launches more than 375 flights each day to destinations throughout the U.S., Mexico and Jamaica. Today, this relatively new airline employs more than 3,000 aviation professionals.
Get the works: Frontier Airlines offers a package price that includes services such as refund-ability, free change service, priority boarding, extra carry-on and checked bag allowance and more.
Exclusive discounts on fares: Travelers who join the Frontier Airlines Discount Den get access to low-rate fares only available to members. Members can book flights for up to six people on the same subscription.
Manage flights online: Through the Frontier website, travelers can check in, book flights, make changes and check on the status of their flights.
Economy-plus options: Get the same low fares on economy-class seating but nab an extra 5 to 7 inches of legroom with stretch-seat options. A small additional fee gives passengers that little bit of extra space.
Choose your seat: Many airlines have moved away from assigned seating, but on Frontier passengers can select a seat that lets groups stay together in the air.
Best for Vacationers, holiday travelers and frequent fliers who want extra room and more control over their experience.
Frontier Airlines Company Profile
Company Name:

Frontier Airlines

Year Founded:

1994

Address:

7001 Tower Rd.

City:

Denver

State/Province:

CO

Postal Code:

80249

Country:

United States

Website:

http://www.flyfrontier.com/