Consumer Complaints and Reviews

I hired a car from Europcar in Newcastle using my PC at home in Helsinki 2 weeks before our trip to England. The day before the pick up of the car I decided to call into their office to check everything was in order for the following day. The salesperson I spoke to said it was lucky I called in as I had booked through their USA website (even though my IP is Finnish and used their UK site to book and my MasterCard is Finnish and have no connection to USA in any way at all). He said there was nothing he could do about it and that I had waived my right to insurance as that would be covered on my US mastercard. I called customer service and cancelled my booking and rebooked as an EU citizen so I had the right to insurance instead of an 18,000 excess.
The following day I picked up the car and was advised to take out tyre and glass cover to be extra sure that I wouldn't get a large bill upon dropping the car off. Only after agreeing to everything was I then told about the £250 deposit which would be refunded upon the return of the car. Once returned the car was given an inspection and given the all clear (no damage, full tank of diesel) and signed off. By signed off I mean the salesperson said thanks and walked away. Nowhere on my hire agreement do I have a signature from the salesperson or myself stating the agreement has ended with no charges. A day later my deposit is returned and that brought an end to our transaction until I check my mastercard.
Currently, and after the car was returned in the same condition I received it Europcar have 2 payments as cover reservations on my card for 380 euros which even europcar Finland cannot explain as their system shows there is no excess to pay and no damage to the car. My agreement plus cover totaled €213 so these 2 payments are either a clerical error or the practice of a shady company. I'm siding with the latter as upon searching for reviews of europcar uk it seems there are many customers in the same situation as myself. Cheaper to buy an old used car and sell it once your journey is complete.

With a group of other international students, we decided to do a trip to Tromsø, Norway. At the airport we rented a car from Europcar for 2 days which included 400km, agreed price was 3275 NOK. We were left to wait for 45 minutes in order to pick up the car, although they promised us to wait maximum 5 minutes, but that wasn't the big issue. 2 weeks after returning the car we got charged for 8370 NOK, so 5000 NOK more than was in the contract!!! After calling the Europcar, I got an invoice where they stated that additional 1000km were made, so in total 1400km, in only 2days! This is impossible even because of the landscape, you drive for a while, but actually cover a short distance.
The manager of local Europcar unit was nice and investigated the issue, they realized the mistake they've made and luckily I got my money back within few days. Taking 5000 NOK from the account is very unprofessional and could cause a lot of problems for the international student, especially because of the fact that everything happened in Norway where everything cost a lot! My recommendation is: do not rent a car with Europcar and if you do so, take a photo of the kilometres at the beginning.

This was the worst car rental I've ever had. After a 12 hour flight we arrive at Heathrow airport, go through the slowest customs line and make our way over the Europcar! They don't have any cars! Not kidding. Even though they knew we were coming they are out of cars, so they offered us a minibus!! Also not kidding! Obviously we said no. Eventually, someone returns their car. It's not clean and not the size we requested but we were eager to get on the road as we had a long drive ahead of us.
They can't find our insurance docs so we end up paying an additional $750 (inc $250 deposit) for the 8 days!! I figure I'll deal with it when I return. So we somehow pack our bags and kids into the small car and cut our losses. A couple of days in the car starts acting up... of course. So we call in and insist that it be replaced. It's another nightmare. The office in Liverpool is closed because of the weather... It's very windy. I ** you not!! So we're stuck for the rest of the trip in this junky car and in spite of this we have a good time. Now I'm back home I look to see if they've refunded my deposit... no. Can I reach anyone there? No. I filled out their customer service questionnaire, hoping for a response? No. Terrible company... may have just been the Heathrow branch, but all the same. It was dreadful. Avoid at all costs.

Having been scammed in 2016 for damages allegedly incurred by Europcar in Ireland (but fully reimbursed by my credit card company), now comes a "Dunning Notice" letter claim dated 22 February 2017 from "Recocash", 1, Rue De Clairefontaine - BP91 - 78513 Rambouillet, France (where I've neither traveled nor rented any car) and further identified as "EUROPCAR Reference ** in the amount of Eur 56,93 and signed by "Loic **". Given the myriad complaints over time versus Europcar and its hired guns, there is no question in my mind but that they are engaged in racketeering and corrupt practices worldwide and subject to prosecution for fraud under United States Code, Title 18, Chapter 96, Section 1961ff.

NEVER have dealings with EUROPCAR. They will scam/rip you off by using HUSTLING techniques - am assuming this one mainly used against FEMALE customers - One of the HUSTLES is to arrange a couple of heavies to hang around in an extremely threatening manner (whilst a note for signing is hurriedly handed to you which purportedly is for the pre-paid rental for their records).
Another of their hustles is to try to get you to park in an impossibly tight space when returning the car (hopes of damage). Some UK branches will have heavies hanging around deliberately intimidating (especially female) customers. BEWARE - you'll be ripped off. Cancel your cards if you've already had dealings with them. They will attempt payments from it, perhaps even months after the rental - EUROPCAR are fraudulent criminals.
How do I know I can trust these reviews about Europcar?
717,984 reviews on ConsumerAffairs are verified.
We require contact information to ensure our reviewers are real.
We use intelligent software that helps us maintain the integrity of reviews.
Our moderators read all reviews to verify quality and helpfulness.
For more information about reviews on ConsumerAffairs.com please visit our FAQ.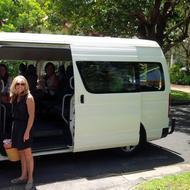 Booked 3 months in advance - 8 seater Kia Grand Caravan - arrived to be told I could only have a HUGE 12 seater van - for 4 of us for touring around Sydney area. Customer service was terrible - they offered to throw in a GPS (which we already had). This vehicle was impossible to maneuver around many of the Sydney streets... let alone try to park it. We had to add another driver as I was not comfortable driving it at all. It completely ruined our week trip as going anywhere in the van was almost impossible. I will never rent from Europcar again - they completely took advantage of us - they knew they had us over a barrel - VERY disappointed. (Picture below is of us "making the best of a bad situation" as we took relatives to the beach.)

Terrible company! I paid for car hire recently at an agreed rate of £517 for 12 days. When I collected the car I then agreed to pay a deposit on top of this of £250 plus an agreed £53 to return the car to a different location. Europcar then debited a COMPLETELY UNAUTHORISED £173 from my account a few days later and HAVE FAILED TO RETURN MY DEPOSIT. I have sent emails asking for a breakdown of their costs, which they have TOTALLY IGNORED. The guy at my local branch was very helpful but cannot do anything about this himself as he advised Customer Services were the only ones who could deal with this. Due to the fact that I am being completely ignored by Europcar, I have now had to contact my credit card company.

Six months after returning a one week rental at Malpensa Airport, Milan, Italy, I get a 21 page letter from a collection agency - Europcar is claiming I damaged the front bumper. It is pure **!!! Nothing was said when I returned the car, and of course, I took no pictures of the car (to prove no damage - cause there was no damage). Why am I not surprised Europcar has a 1 star rating? It should have a no star rating. Why am I not surprised there are a zillion complaints about this company. Yes, I paid the collection agency $301 US for the trumped up damages, but I'll never rent from this ** company again.

No customer service. Forcing to take their insurance and not accepting the card one. They don't have good car. Will give you damaged car and they will not give any service when you are in trouble because of their bad car. You need to repair by yourself and no reimbursement. Whole days gone to repair the vehicle, waste my money and whole family trip.

Europcar neglected to charge me properly for a rental car I picked up while traveling in France. They sent me to collections for the balance that they neglected to charge me. After months of trying to get this sorted out, they finally withdrew the funds from my account, but did not close the case with the collections agency. Now I have a collections agency coming after me for money I have already paid to Europcar, and no one at Europcar will help me. They have ignored my emails, and the customer service number says they can't help me. I have sent proof of payment, proof that the funds were withdrawn from my bank account, but they will not close the case with the collections company. The collections company is now sending an international lawyer after me for the funds that I have paid! This is a total nightmare. Europcar is shady and dishonest, and I am certain this is fraudulent behavior. Be smart and avoid this company.

I have rent a car for a road trip in South of Italy (from Brindisi to Salerno). I got a fine that I have regularly paid. I immediately paid the 45 CHF as well that I owed by contract (administrative fee) to EUROPCAR in the case I get a fine. Unfortunately, after months I keep receiving emails from EUROPCAR ordering me to pay the 45 CHF of administrative fee. I attached to my reply the screenshot from my account witnessing that I have already paid and they keep asking for the money. I will not book anymore with Europcar.

I recently have applied for Europcar in Italy and I want to warn everybody. Avoid to apply for their services. They are deceiving customers. Never ever, do not give them your details of bank card. They will take money from your account without your permission and without inform you. It could be happen even after few months you have returned them car. I suspect they deceiving not only in Italy and in others country as well. I strictly recommend refrain to apply for their services. It is scam!!!

Working in the business of events, I have an ever increasing need to hire cars and vans for transporting props, goods and people etc. Over the past 10 years I've hired a huge number of assorted vehicles from just about every car hire provider (ranging from the small independents to the larger corporate globals). I can honestly say my experience with Europcar is the worst example of customer 'service' I've come across - within the automobile rental industry and also that of any bank, insurance company, supermarket, you name it!
After lodging a formal complaint by email clearing outlining a number of significant points, I naturally expected a full formal response. Boy was I wrong. 26 emails later, several phone calls and dozens of unkept promises, all I have received from Europcar's 'legal director' is confirmation of their unwillingness to help me, look into any of the issues or communicate in a normal manner. Without boring you with all the points which went wrong (there were over 10 - amazing for what should have been a simple 5 day rental) it's safer just to avoid these guys. On many of the review sites online, Europcar average 1 star out of 5 - taking into account the thousands of reviews published this really does say it all.
For the record: Customer Experience Manager - UK Operations: Evelyn **. Customer Service Manager - UK Operations: Keris **. Director of Legal Services - UK Operations: Steve **. Europcar use a standard email format for their employee's email addresses - ie john.smith@europcar.com. Therefore, you should be able to work out email addresses for the above individuals should you (unfortunately) need to contact them. I have since lodged a complaint online with BVRLA - (bvrla.co.uk) which are the Ombudsman for UK rentals. They are a free service and will handle the complaint on your behalf. Use the European Car Rental Conciliation Service for vehicle rentals involving vehicles driven through more than 1 country (http://www.ecrcs.eu) - also a free service I believe. It's my honest belief you'd be pushed to find a worse and less caring company to deal with. If you respect customer service, value or honesty - GO ELSEWHERE.

I have rented from Europcar for years. The last time was 5 days ago and have never had an issue. I booked thru their website and received an email confirmation that 'amount to pay at branch - $266 AUD. I noticed there was a deposit of $100.00 AUD the previous time I rented (roughly 5 months ago) and factored that amount towards my budget. Then I get there and was told that because I was paying with a Master DEBIT card, the deposit is $400 AUD and complained that amount should be clearly stated in my email (unless it was in the 'small print section that no one hardly reads). So $626.00 AUD later for a 4 day rental. All I asked is why is it so hard for Europcar to say on your email booking 'amount to pay is $266.00 plus $400.00 deposit. Apparently, I was told it only came into effect this month (January 2017). All I'm saying is thank you Europcar but your services will no longer be needed.

So after someone decided to hit my car and bolt, I had several months of drama involving the police before my car was finally taken for repair. Europcar dropped off my hire car at my workplace. The guy got out the car, handed me a paper to sign for the car, asked me if I wanted him to park it (I declined) and he left with his colleague in another vehicle. Parked the car. Went back into work. Thought no more of it. Anyway, the next morning when I came out to the car to take my eldest to school, there was a huge scratch on the front wing. I took a photo of it and carried on with my day of chasing toddlers around and trying not to go insane. Later that day (approx 17:30, dark) my partner noticed the scratch after parking his car. He came into the house and said I sincerely hope that scratch is on the damage report. Damage Report? What damage report? I have never had an RTA in 20 years of driving. I have never had a hire car before.
Apparently the driver was supposed to walk me around the car to point out any damage to the car so I could mark it on a damage report. He did not do this. My husband took a further photo and said I needed to call them to speak about it asap. Anyway, I called them on Monday from work and the instant attitude was that I had damaged the car and that I was trying to blame them. The woman was very rude (Derby branch). I explained that the driver did not show me around the car or tell me anything about the damage report. She implied I was a liar as her employee had been with her for 20 years and she doubts he would not do that. We argued and argued and in the end I put the phone down in tears. I remembered another employee of theirs called me from a mobile to confirm my address so I called him. He confirmed that 'Stuart' did not walk me around the car and don't get upset. He would go into the office and sort it out.
I got a further call from the women stating that the person I spoke to was nothing to do with the delivery and that she needed to speak to Stuart, who was off. She said I have signed to say the car was clean and therefore I am liable for the scratch. I said I was not, that it was not done in my care. She continued to claim that it's their policy. If I sign to say it's clean then it's my fault. She was refusing to admit the signature was obtained unlawfully and claimed that the paperwork left in the car clearly outlines their terms and the fact I left it 5 days to report indicates guilt (received car Thurs and called them Mon). She even complained about the time I called her. She asked for a photo and promised me a call back. That is the last I heard from them. They will want the car back shortly so I'm dreading what they are going to try to do to me. Can anyone advise of anywhere I can get legal advice regarding this?

They owe me for deposit on car of 500 pounds and they took 100 pounds from my visa without permission. The customer service person THEODORE are all in it together, it is a ring of conmen and woman, they do not contact you and you will never get your money back. I have several friends that will now never use them and if South Africa rely on tourist I can assure you that this is the not the way to do it. They are crooks robbers. Do not trust them with your Visa cards. You will be sorry.

Europcar Claim Reference # ** - I recently hired a car from Europcar at Heathrow Airport. I have done this many times without issues. However, on this occasion, Europcar contacted me one day after my hire period started with a claim for damage to the car I had only just taken possession of. I had not even been back to their facility with the car and was not due to do so for another 2 weeks. I immediately pointed out their error that same day. However, ignoring my comments, they eventually they sent a claim form to me with details of the damage they claim I made to their car. This arrived months later. Their damage report of which they sent me a copy was made at around 9:00 am on the 18-Oct, the same day I picked the car up. I did not pick the car up until after 3:30 pm that same day. At the time of their inspection I was still flying into the UK and was somewhere over the Atlantic Ocean.
Even though I have made them fully aware, several times that they are mistaken, they are still trying to stiff me by making me pay for something I could not possibly have done. I discussed this situation at their Heathrow airport location when I did return the car and was assured that this was a mistake and it would be corrected. Obviously that did not happen. Trying to contact this company is absolutely terrible. Getting through on the phone is useless. They do not respond to e-mail. In my opinion, they show complete ignorance and lack of respect for customers like me. This incident has badly tarnished my view of Europcar. Their front line staff are excellent but once you have returned the car, their aftercare service and customer care is single sided, nonsupportive and impossible to connect with. They do not even have a customer support link on their website and nobody answers any phones at any of the locations they give you.
Be warned. This is a company that does seem to try and take advantage of people. They are willing to charge for things that they are not entitled to, which in my opinion is nothing but a fraudulent action. Luckily I do have coverage for this incident no matter which way it goes but I will tell you, the petty amount they are trying to steal from me will cost them many, many thousands of dollars in lost business because I will tell everybody I know and many more along the way about this situation.

Avoid EUROPCAR New Zealand. I signed-up for a 12 day rental in November 2016. Pick-up at Auckland and return at Queenstown. But I was asked to return at Wellington and get a new car at Picton, South Island. With this the rental period became 13 days instead of 12, and I have to pay in two separate bills. But this is not really a problem. After I returned to my country, I found that they charged me three times in my credit card. This 3rd additional charge is NZD817.89. I sent a report to them and until now they have only acknowledged receiving my report. That's all.

After our 2 day rental, we received a letter in the mail from EuropCar stating that there was a scratch on the driver's side door. They were able to provide a picture of a TINY scratch that we allegedly caused, along with a 600 EURO bill. I am about 10 emails into a very unproductive discussion with them. We were not informed of the scratch upon return of the vehicle. They provided a quote... except it was in German. When I translated it, it was for WHEEL and REAR LIGHT repair. It wasn't even to repair a scratch!!! When I gave them the opportunity to admit this as an honest mistake, they did not. They have been unable to provide an actual invoice substantiating real costs, despite the fact that 8 months have gone by. In conclusion, this company is simply the worst. It's not a deal - it's a lure.

We booked through rentalcars.com and we were completely mis sold car hire. Do not use this company, they are a rip off. Completely mis sold car hire for Australia. We were charged 4 times the cost we had already paid which included hire and all the collision waivers. When we arrived we were told the damage clause was still at 4200AUD and Europcar would charge us another 600 AUD to waiver the damage to just 1500AUD and 900 AUD to zero. We were then charged airport surcharge, none of this mentioned in the purchase. Actual cost was 1300 AUD for a two week rental. Joke. When we tried to collect the car early 3 hours, we were told it would cost 1000 AUD. When we phoned Europcar they did it for free. Crooks.

I rented in UK at London Stansted Airport a car for one day. I rent often with various car rental companies. From my experiences I didn't take the full cover insurance from Europcar, because I never needed it. The car was handed over at night with no damages in damage report. I inspected the car next morning and I didn't find visible damages such as scratches and dents, so I thought everything is fine. I returned the car next day outside of business hours. I took some pictures of the car to have an evidence about the car's condition.
After a week I got a damage report via Email from Europcar that damages were found. The Damage Report contained some pictures of a road and some of the car, not really accurate. The pictures of the car showed a scratch and scuffed paint. The picture were taken without a metering in the pictures, so it's uncertain how long the scratch is. On my pictures these "damages" were not shown, because my pictures are not detailed enough. The claimed "damages" (scratch and scuffed paint) must have been caused during the lifetime of the car, before my rent, but I wasn't able to find them in my inspection because they were too minor.
After a few weeks Europcar send me an estimate of costs of the "damages", about 1000 Pounds which I have to pay. Over the last months I fight with Europcar about this claim, without any result. Europcar insists that the claim is right and that they did nothing wrong. Paying for something I didn't cause is a very bad feeling. My questions about the missing metering in the pictures in damage report, that I can't see the damages on my pictures and that I never was able to find the claimed "damages" because they are not obvious were left unanswered by Europcar until today. All in all a terrible experience. I can only advise everybody to pay for the full cover or maybe better to rent with another company.

We rented a car from Europcar at Glasgow Airport in September. We have been battling them since that time for 2 extra days of rental (when we were already back at home), an upgrade amount that we didn't contract for and a 9 mm scratch on the bumper which we didn't do. The car had so many dents and scratches when we rented it that it would have taken an hour to document them all. There wasn't even anyone in the lot to go over any existing damage with us when we picked up the car. They are now charging us 989 pounds sterling for the 9mm scratch! But when we returned the car, there was a team of people using special lights to go over it looking for any damage. This company is dishonest and corporate garbage. NEVER, NEVER rent from them!

Rented car for one day in Brussels. Returned with agent spending exorbitant time looking at car. Came back stating there were scratches on hood that I had not caused but failed to note when I got car. Europcar did not go with me to inspect or send damage slip when I rented. Dark colored car and when I looked there was no scratches unless you got down on hood. They wanted to charge $280 Euros for nothing. After a debate they did not charge me but said I had to note every little thing on the next rental. There will never be another rental from Europcar. Personally, I think they try to scam a traveler.

This company are scammers!! Don't know how they get away with it. We booked a car at Europcar Birmingham which included insurance. I will get straight to the facts and won't bother complaining about the rude, arrogant, incompetent employee at the counter. This company charged me an extra £20 a day for insurance, even though my booking clearly stated insurance included, £10 pound a day to change the booking name as my husband left his licence at home so we needed to put it in my name, and £5 daily upgrade even though there was no upgrade and we received the same type of car booked and paid for. So an extra £35 a day over 21 days, an extra £735, converted to about $1200 AUD.
This was a scam as we had insurance, didn't get an upgrade and were allowed to add an extra driver for FREE. This was all on the paperwork that I showed them. They said if you don't pay, then you don't get the car. After 90 minutes arguing, crying, shouting, asking for manager, telling them this was fraud, they finally said, "Ok you're right. Just pay the £5 a day upgrade even though it wasn't an upgrade." If we didn't argue and refuse to leave, they would have got away with ripping us off over $1200 AUD. The employees must make commission on how much extra they charge you as this is the 2nd time I've been ripped off by them. I felt like an idiot for giving them another go. Never had this problem with Budget or HERTZ. Obviously I will never use them again and I strong advice anyone to NOT use them. They will rip you off.

Original quote: 103.49 (inclusive of full insurance) plus an additional 150 for upgrade. 4 days of car hire charged, yet 5 days of upgrade charged. This has been confirmed. The charges are correct and have been applied correctly by Europcar three times! Promise of discount for Emirates Business Class passenger not given. Original quoted cost deducted at outset; not upgrade. We were not sure whether the upgrade was for free or not. Keddy advertise: This package is specifically aimed at cost-conscious Leisure customers who seek a better service than that typically provided by low-cost rivals. They obviously do not believe in their offer as Seema (the agent) was relentless in coercing, intimidating and bullying into accepting an upgrade. 3 times she was told to leave the booking as is and she went on and on. The Hyundai was adequate. We drive a luxury car at home. There is no requirement for a luxury car to go and visit relatives in Swindon.

I agree with other reviews. Stay away from this company. They tried charging me extra on my prepaid invoice and then after the rental you can't get any help from customer service (send them an email and they may respond in 14 days–are you kidding me?). I received notification of a parking violation in the UK and they automatically billed my credit card for "administration" but did not send me the information so that I could pay the bill, so I incurred additional charges and they simply wash their hands off the problem.

Called me 14 minutes before planned delivery and said they were trying to locate a vehicle. Then, contrary to the Terms and Conditions emailed to me they said they required to do an Equifax check against me - despite me living abroad and despite me paying all fees upfront (no credit). They then said they can't rent a car to me. Completely arbitrary and when I asked the reason why, the woman condescendingly said "I've just explained". Emails all go unanswered. THEY ALSO ARE TRYING TO CHARGE 50GBP CANCELLATION CHARGE FOR THEM CANCELLING.

In 2014 we went to several cities in Germany. When we reached Cologne Germany we rented an nice little compact Europcar. We paid and everything was fine, no complaints with price. We had it back on time, filled the tank up while we traveled and before we returned it. A few months later we get a letter about a $350 charge saying we put the wrong fuel in the car. First off let me point out that while that seems like an easy mistake one would make, it would not be easy if people like us. See, every car has it clearly marked all over the interior and even on the gas lid and cover. Also, the kicker is... my fiance knows all about fuel. He has every dirt bike, street bike and maintains them all. He knows all about different kinds of fuel and gas. There is no way he Put the wrong fuel in that car. It is completely a false allegation.
I emailed them and wrote them a letter saying it was a false claim and if they charge the credit card we would take action. Never heard from them again until today, 2 years later. They are still trying to pin this charge on us. My fiance has excellent credit and he would pay up if he did indeed cause the damage. Do not rent from these people. We know he didn't put the wrong gas in. They just try and scam Americans out of their money. The debt collector called today and he told them to shove it. We will be getting with Our lawyer and sending a letter. Never again will be rent from them when we go back. Total scammers!!!

I recently hired a very dirty car from Europcar at Liverpool Airport for 3 days and returned the car on the agreed date. Less than 48 hrs after I got home I received an email with an invoice for £105 for 2 extra days plus fuel. On phoning their customer services I pointed out that I had returned my car, after having refueled, at 11 am on 12th Dec which was the agreed date and was on a flight at 1255 hr yet I had been invoiced for returning a vehicle on the 13th Dec at 1745 hr and for fuel.
The invoice was not even for the car registration that I had rented. I asked for my money back immediately. Oh no that is not possible.... I have to prove I was on the flight. No says I... you prove it was my signature on the return form of the hire car on the 13th Dec which I know cannot be as I was not even in the UK that day. This will take Europcar 7 days to do and then if they are satisfied I have been wrongfully invoiced they will reimburse me which will take a further 7 days. If they are not satisfied then I will have to prove to them that I did fly at 1255 hr out of the UK and then if they are satisfied they will reimburse me after a further 7 days. How come they can take my money, in less than 48 hrs but it will taken them a minimum of 7 days and possibly up to 21 days minimum to give it me back when they should never have taken it in the first place.

I will never use Europcar again, be very very careful dealing with them, they have a LIAR on board at Heathrow. If your driver's licence indicates you are an organ donor you will be offered a free upgrade. That is definitely not the case, we found out the hard way (£472.00) and you will be charged heaps by them. We were told a complete pack of lies and Europcar only considers their approach to facts yet by the liar's statements misrepresentation has taken place.
Company Name:

Europcar

Website:

https://www.europcar.com/