Consumer Complaints and Reviews

I recently hired an average size car from Europcar at Dublin Airport for three days. The vehicle (Renault Saloon) looked reasonable at first glance from the outside, but inside it was very stale and grubby, with a pile of litter in one of the rear doors from the last user! The rear windscreen (inside) was also dirty. Beyond that, the steering did not appear to be 100% stable at high speed and there was little or no outside tread on at least the front tires. Although buttons existed to connect for hands free calls, nothing worked. I complained when I took it back and later by email. So far, I've only received the usual questionnaire to rate how much I enjoyed the experience.

I arrived at London Heathrow to collect my car and get on my way. I was jet lagged and tired after travelling from Australia. When I arrived to pick up the car I was told I had booked a manual and was I happy with that? I said that I would prefer an auto if they had one and they did!! What they didn't mention was that it was an upgraded car and that I would now be charged an extra 15 pounds per day. I didn't find this out until they gave me the final price.
I was also told that I would have to allocate 1000 pounds on my credit card for the excess on the car insurance unless I upgraded to the premium insurance taking this amount now down to zero. Since I didn't have 1000 pounds available on my credit card I had no choice but to buy the insurance. Lastly they now also had to take a further 250 pounds on my credit card so that if I park in an illegal parking spot or get a speeding fine they will have money to be able to take. I had not allocated this on my credit card either so didn't have the room on my card so I had no choice but to give them just about all of the spending money I had allocated for my short trip. If it was not for a small amount in my savings I would have not been able to do anything at all on the trip.
Disgusting way to run a business, very very underhand, very cloak and dagger about the process and you certainly feel as though you are being taken advantage of due to your jet lag. I will avoid using these guys in the future and will be happy to pay extra to a different rental company if needed. One last thing about the service at Heathrow is that it is miles from the terminal so you have to get on a bus with all your luggage to go get your car. Major hassle. I would happily fly into Gatwick just to avoid this cock up. Just a con from the start.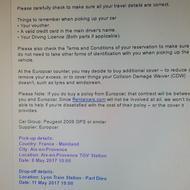 I booked Europcar through RENTALCARS.COM in Aix-en-Provence, France in early May. We went to pick up the car the next day, Europcar agent asked me to give them my credit card for a deposit which is a normal thing in all car rentals. The agent couldn't run through my credit card so my friend used her card instead. The car company is not supposed to charge us anything for it as the car was returned with no damage.
When I got back to the US, my credit card was charged by RENTALCARS.COM on the day of booking, and my friend's credit card was charged approximately the same amount on the day we picked up the car. Europcar has already got their money through RENTALCARS.COM and now they are saying that they did not charge me, they only charged my friend, so they are at no fault. Even after I have shown them the receipt of my credit card payment and the reference # and the whole 9 yard. They are still saying they did not take my money. What a PIRATE COMPANY. NEVER never try to use Europcar. Especially NOT in Europe.

We rented a 9-seater car for May 1, 2017. The booking was made at least 3 weeks earlier online via vanrental24.com. I received acknowledgement and payment was taken via credit card a few days prior to rental. I was informed via e-mail that my car was ready for pick up at Stratford International train station, which was close to my hotel. When I went to the rental, it was closed and when I called customer service, no one would pick up, finally I called reservations and the person who picked up, informed me that the rental is closed for May 1, 2017. I was traveling to Loch Lomond that day and had made hotel reservation and was planning a nice scenic drive to Loch Lomond. The customer service would hang up immediately after informing me. Finally, I got customer service (reservations) to help me, they said I could go to Heathrow Airport. I asked them to confirm that I would get a car there, if I went there.
They put me on hold on 3 occasions. I had to hang up and dial again. On the 3rd occasion, the representative said that the car was available at Heathrow but I have to pay insurance. I had already paid insurance but I had to pay insurance. What was supposed to be a direct pickup and pick up family from hotel was turning out to be nightmare already. I went to my hotel, picked up my family and went to Heathrow Airport. The experience until now has cost us 4 hours and of course, mental trauma. Because, we are tourists, we did not know May 1st was such a major holiday that UK would be shutdown for customer service. I am from the US and here customer service is considered holy. When I reached Heathrow Airport, they did acknowledge that the car was available for pickup but I have to pay extra because I am picking up from the airport and pay more insurance.
How is it my fault that I have to pay extra, in the US, the rental would have waived the whole or major part of the rental fee. But, no, here the representative named Oksana and manager Teo were firm that the fee will remain. They offered to take out 20 pounds or submit a query. I opted for query for the injustice meted to us. Teo, especially was unapologetic saying I booked from a third party. I could not book directly anyway, when I was in the US. But, as far as a customer is concerned, it doesn't matter where I book from. A customer is a customer. I cannot imagine that the saying, "Customer is always right!!" came from the UK. All-in-all, we lost 7 hours and missed a major portion of our scenic drive making all of us very disappointed at the end of our journey. The cost was double of our initial booking.

I am Carlos ** and I rented a car with you through the site of rentalcar.com. I returned the car on 09/03/2017 in Granada and delivered it in Seville on 03/13/2017. I was charged for gas, although I delivered the car with the full tank. I was charged "One way", and on my voucher this fee was free. I was charged one more day of rent even though I delivered the car on the timetable that counted in the voucher: 10:00.
Would you like to know what I should do to get these values extorted? The answer. "Thank you for contacting Europcar. Regarding your Rental Agreement **, after reviewing your case it has been concluded to refund all the Fuel charges related to your contract as well as the extra day included. The process should be completed in the coming days. Regarding the one way charge, you should contact the broker that was used for your reservation, since they did not cover that charge with their voucher. We appreciate your support and apologize for any inconvenience caused." I already wrote three times but until now I no received nothing!!!
How do I know I can trust these reviews about Europcar?
791,967 reviews on ConsumerAffairs are verified.
We require contact information to ensure our reviewers are real.
We use intelligent software that helps us maintain the integrity of reviews.
Our moderators read all reviews to verify quality and helpfulness.
For more information about reviews on ConsumerAffairs.com please visit our FAQ.

I arrived London on the 25th 2016 and got the rental car from Europcar with a prepaid amount from Orbitz. There they said I had to pay SURPRISING insurance charge. I had no choice. Then they promised me an amount of 80 GDP for four days to upgrade the car. I agreed. I do not want to say much. But finally, they charged me 200 dollars for upgrade in four days. They also included the prepaid amount - double charge me one more time. I am trying to get the prepaid money from the original agent Orbitz, but lost the amount for the upgrade they promised. I had the receipt saying they charged me wrong. The agent wrote the amount they charged in the receipt and promised to correct it. They have never done that. I feel disgusted! This is more than cheating. I am disgusted at London and England in general with this kind of cheating service I got. I will never come back to the country.

Rented a car at Europcar at the London Heathrow Airport location in which I left a very valuable item within 1 hour of departing the location at 3:00 am. It was the only car returned that early in the morning due to catching a flight. After an hour passed I called the rental company and explained where I had left the item. Also guided the person on the phone the accurate location and compartment. Immediately getting a confirmation on the phone that the item is here and we have it and I could send someone to retrieve the item. On arrival to retrieve the item with the individual name to come to we were told nothing was given in with a very unpleasant tone and would call or e-mail if something turns up. This is very unprofessional and bad of the personnel who work at this location and something should be done about this. As they are very dishonest which reflects on the company as now I would never return to this car rental ever.

I made a reservation 2 months ago on Expedia for a Europcar. It was maybe $10 cheaper for the 4 days than the other companies. BIG MISTAKE. When I arrived at the airport they told me it would be 10 minutes for the shuttle. When I called back after 20 minutes they said it would be right there and that there were 2 other people that were waiting as well. When I called back after 30 minutes they apologized and said it would be right there. When I called back after 40 minutes I asked what the problem was. They said they didn't know but it would be there in 2 minutes. I asked if they could contact the shuttle bus driver and verify that it would be 2 minutes.
After 2 minutes on hold they said I had missed the shuttle, several customers had already been picked up and now they had no cars left and because it wasn't prepaid I was on my own! I did not miss the shuttle (I checked every bus for the 40 minutes I was waiting (as was my 15-year-old daughter)). "Not prepaying" is absolute nonsense as one virtually never prepays for a car rental. I've probably rented 500 cars over the years and NEVER been told this sort of nonsense before. Clearly they had overbooked but why they kept telling me the bus was on the way was beyond irritating. I suspect they were hoping maybe another previously rented car might be returned early. After now reading the other reviews on this site I can only blame myself for not having done so PRIOR to reserving with them. If you've read this far, hopefully you won't make the same mistake!

Just the most vicious cheaters that tried to find a damage we didn't do to get the extra money from us. 100€ for absolutely nothing we did, and I really insist the car was used in highway all the time in three days or parked in a very spacey spot. Three minutes and pressure to get you to leave with the car so you may forget to mark something on the paper and half an hour control when you bring it back and there you "find" a scratch underneath the bumper probably worth 10€ of reparation and that obviously was there before, but silly you didn't see. The insurance doesn't cover indeed. They make sure of that even though out of the 25€ a day, 17-20€ is insurance!!! So there is how you just throw away 100€ and probably the guy after you will as well, because it will not be in his check up either. Please don't go with them. They do not deserve your money!!! That's how they have become so big, by stealing your money.

I thought that I had done my homework to find the best priced car rental in Portugal with no hidden surprises when picking up the vehicle in Faro Portugal. I was VERY wrong in my choice of Europcar! After being assured by the booking agent that there would absolutely be no additional charges to the quote that I was given, there definitely was. I ended up spending more on my car rental per day than my accommodation!! And the accommodation was excellent.
BEWARE that in Portugal the CDI waiver facility that most N. American credit cards offer, does not apply in Portugal... According to the agent in Faro this is a government law? Not the case in Spain. They will allow the CDW waiver to apply only if you pay an extra insurance cover to Europcar, this is simply a money grab!!
When I returned to Canada, I was emailed a receipt for the $752 CDN for the 6 days rental of a VW Golf Polo compact car, that equals $125 per day (over double what you would pay in Canada!). Then to top it all Europcar sent an email showing that they had credited me the initial charge of $752 (now at a lower exchange rate) and recharged my credit card $803 CDN!!! $133 per day!! Europcar has not responded to my request for an explanation of the increase. My advice is to allow yourself one day in the city you land in Portugal to compare and arrange car rental with a local company that is not situated at the airport. DO NOT USE EUROPCAR UNLESS YOU ENJOY BEING TAKEN FOR A VERY COSTLY RIDE!

I have rented a car in Frankfurt on February and paid in advance for GPS, second driver and insurances. When I went to pick the car up didn't have the same model reserved and they rented me another model with Navigation System on board. After I returned the car they charged me again about the Navigation System on my credit card. I tried to contact them but their customer assistance e-mail presented in the site is not valid for this kind of complaining and you have to resend the e-mail for another address. They haven't return my claim to understand why they charged me twice. So, I assume they are a company with no compromise to support their customers in the after sale. Europcar... NEVERMORE!!

I had no problems with the car hire or staff in the UK, but why do they always keep me waiting over a month for my deposit back. I am always told up to 14 days to get it back. NEVER, this time I have had to call twice and get complete ** from them. I just want my money back. I told the operator twice that I will need a car next week but will probably go elsewhere now because of time taken to get MY money back. I also said, "That obviously doesn't concern you" and he didn't even reply. Let's see how long I have to wait this time, really frustrated every time I call, not happy.

I rented a Van from Europcar twice in succession as we were moving. This company out to get you and take extra money out of your pocket. BEWARE. I drove a van from point A to point B and back again. I never left the vehicle. A lovely lady delivered it to me from Wakefield but on pick up an eastern European guy came to collect it. It was as if I was being mugged and I knew he was up to something. He accused me there and then of putting scratches on the vehicle quite forcefully. I pointed out that the lady that had delivered it wrote down some of the scratches on it at delivery and there were so many that it would have taken her all day to list them. He said that he didn't have that paperwork.
I could smell at that point that he was trouble and talked to my partner about it and said I bet he gets a bonus if he can get money out of us as lots of companies hire these vans and can write off the charges. These thieves try it on with members of the public. I then got a letter that there was damage (scratches on the front and back of the vehicle allegedly and that it would cost me my access £250). I complained by phone to their head office and the call was noted. I subsequently got an email stating that there would be no charge (did I get off the hook or was it that they were lying?). I am long in the tooth and know the answer here, so take my advice keep well away from these sharks. A shady company indeed.

Tullamarine airport. I returned the vehicle 9.30 this morning. I spoke to the lady in the office and she said the man outside would take the car. He was not there so another man from the office came out. I handed him the keys, asked if there is anything else we needed to do and he said no. This evening at 7.28, 10 hours after returning the vehicle, I get a phone call from Europcar at the airport, asking if we were going to return the car. She said it was not in the system and I asked how that could be since we returned it to the right place. During a heated discussion she is suddenly able to confirm with someone that it has been returned and hang up on me. How is it possible for this lack of communication. Makes me very concerned now that we will be charged for an overdue return if this is how they run their business. We had it in half an hour before it was due. Will I use Europcar again - not likely.

In February I booked and prepaid ($400 CAD) for a compact car at Manchester airport location. When I arrived I was told by the agent that the car was not available and she tried her best to get me into a full size SUV instead (as if I'm driving one of those on Welsh country roads). Knowing I'd already prepaid, the option to go to a different retail counter and pay another $400 obviously did not appeal to me. Finally I said I wanted to pay no more than $500 CAD for a car and insurance package similar to the one I had booked. She said that would be no problem. They gave me a little Fiat 500 and added insurance I didn't need, but told me when I was signing, the price I was seeing was the total charge including a refundable damage deposit. I realized later it was actually only the upgrade charges.
When I saw my credit card statement in March I had actually been charged $700. I was absolutely fuming. I've emailed customer service twice to voice my frustration with their bait and switch practices but their responses are the typical canned "I'm sorry there's nothing we can do because you've clearly initialed the document". I have never written a negative review before but I feel like I have been scammed from start to finish through this experience.

My wife rented a car last year while visiting the UK for two weeks. She paid the bill with a credit card and every few months since the trip we get a notice that we haven't paid. We have documentation in hand which proves we did, and when we call them, they acknowledge the payment but we still get letters. It's been over a year since we started getting notices and they are threatening to turn the matter over to a collection agency. These folks are totally incapable of resolving any financial problems or they seem to be intentionally trying to defraud us into making a second payment to make the issue go away. Be warned...the company appears to be a criminal enterprise.

I rented a vehicle from Europcar last July for a vacation in Italy with my family. I was to pick up the vehicle in Naples and return it at Malpensa Airport in Milan. Everything seem to go well throughout our trip. There were no issues with the vehicle or so I thought. The day of our departure we dropped off the vehicle at the designated area and dropped off the keys at the rental office. There was no one to check in the vehicle. As I was reviewing one of my credit card statements, I noticed a charge on my account $366.31.
I emailed them, and their response was that they received the vehicle with damage and charged my card. I never received an email or letter concerning this matter. I am being told that I had 14 days after to dispute. How can I dispute what I am not informed of. I also had purchased auto insurance with the rental. They never filed a claim and billed my card instead. They have yet to answer why a claim wasn't filed against the insurance. I just want to make any potential renters aware of this shady practice and suggest they rent from another company.

I did rent a car from Europcar in February 2017 and forgot to pay the Dart charge for the Dartford Crossing. I take the blame for this as this is 100% my fault. I'm just very surprised by how this case has then been managed by Europcar. I didn't receive any communication (mail or email) from Europcar to tell me about this fine so I could at least pay the reduced fine (if paid in the first 14 days). I didn't receive any communication about the £36 "admin charge" that Europcar took from my account. I realised this amount was taken from my account when I received a notification from my bank on my phone.
After this notification I actually had to call Europcar to get to know what was this charge for. Europcar support was then able to provide explanation about the charge and the fine. The agent admitted over the phone it was strange I hadn't received the Dart Fine documents by post. The agent then sent me a digital copy of those documents by email which helped me deal with the fine.
All in all it took 29 days to Europcar charge me the £36 admin fee. I had to call to get to know what was this charge for. I received the Dart Charge by post 30 days after returning the car to Europcar. If Europcar were to send communication earlier to their customers in those cases, I guess it would justify the £36 fee for managing the case and helping their customers saving some money. In this instance, Europcar just lost a customer as I now don't trust them to actually deal with those cases.

I rent my car through the agent - Rentalcar.com and I've chosen the highest rating one - Europcar and hope for a pleasant transaction. When I took my car on March 09 2017 I was told by their staff that I will be CHARGED for 1680 Euros for my 10 days rental as the full coverage insurance! I then asked if this is just a VISA lock up and the amount will be released when I return the car in perfect shape? That staff said no and I will be charged. That is the insurance charge I'll have to pay. I just said, "No! That is ridiculous because the insurance is way more expensive than the rental price!!" That staff replied, "Yes because you are renting a Mercedes C class for 10 days... blah... blah... blah..."
I then asked if I can cancel my order. Then the other staff came and said, "due to the booking was made through an agent, everything no matter cancellation or rescheduling has to go through your agent." I then call Rentalcar immediately and luckily they have their CS answered me and had me pass the phone to the staff of Europcar. During the phone discussion between 2 of them, the other staff of Europcar (who sat all the time right beside the staff who served me) said, "No no no... That amount is just a temporary lock up. When you return your car you will have the amount released..." I said, "Who misunderstood who just now??"
OK, when their phone conversation finished, the original staff spoke to me that "due to your car is booked for driving through a few countries, there will be an admin cost of 44 Euros for entering each countries." That mean an amount corresponding to the countries I have visited will be deducted from that 1680 Euros before the amount is released to my VISA, even if I need to buy vignettes myself for each countries. All they did for the so called admin job is to stamp just 1 chop onto the renting document and that's it! Finally when I returned home I realized that an amount of 132 Euro was charged without invoice!

I hired a car from Europcar in Newcastle using my PC at home in Helsinki 2 weeks before our trip to England. The day before the pick up of the car I decided to call into their office to check everything was in order for the following day. The salesperson I spoke to said it was lucky I called in as I had booked through their USA website (even though my IP is Finnish and used their UK site to book and my MasterCard is Finnish and have no connection to USA in any way at all). He said there was nothing he could do about it and that I had waived my right to insurance as that would be covered on my US mastercard. I called customer service and cancelled my booking and rebooked as an EU citizen so I had the right to insurance instead of an 18,000 excess.
The following day I picked up the car and was advised to take out tyre and glass cover to be extra sure that I wouldn't get a large bill upon dropping the car off. Only after agreeing to everything was I then told about the £250 deposit which would be refunded upon the return of the car. Once returned the car was given an inspection and given the all clear (no damage, full tank of diesel) and signed off. By signed off I mean the salesperson said thanks and walked away. Nowhere on my hire agreement do I have a signature from the salesperson or myself stating the agreement has ended with no charges. A day later my deposit is returned and that brought an end to our transaction until I check my mastercard.
Currently, and after the car was returned in the same condition I received it Europcar have 2 payments as cover reservations on my card for 380 euros which even europcar Finland cannot explain as their system shows there is no excess to pay and no damage to the car. My agreement plus cover totaled €213 so these 2 payments are either a clerical error or the practice of a shady company. I'm siding with the latter as upon searching for reviews of europcar uk it seems there are many customers in the same situation as myself. Cheaper to buy an old used car and sell it once your journey is complete.

With a group of other international students, we decided to do a trip to Tromsø, Norway. At the airport we rented a car from Europcar for 2 days which included 400km, agreed price was 3275 NOK. We were left to wait for 45 minutes in order to pick up the car, although they promised us to wait maximum 5 minutes, but that wasn't the big issue. 2 weeks after returning the car we got charged for 8370 NOK, so 5000 NOK more than was in the contract!!! After calling the Europcar, I got an invoice where they stated that additional 1000km were made, so in total 1400km, in only 2days! This is impossible even because of the landscape, you drive for a while, but actually cover a short distance.
The manager of local Europcar unit was nice and investigated the issue, they realized the mistake they've made and luckily I got my money back within few days. Taking 5000 NOK from the account is very unprofessional and could cause a lot of problems for the international student, especially because of the fact that everything happened in Norway where everything cost a lot! My recommendation is: do not rent a car with Europcar and if you do so, take a photo of the kilometres at the beginning.

This was the worst car rental I've ever had. After a 12 hour flight we arrive at Heathrow airport, go through the slowest customs line and make our way over the Europcar! They don't have any cars! Not kidding. Even though they knew we were coming they are out of cars, so they offered us a minibus!! Also not kidding! Obviously we said no. Eventually, someone returns their car. It's not clean and not the size we requested but we were eager to get on the road as we had a long drive ahead of us.
They can't find our insurance docs so we end up paying an additional $750 (inc $250 deposit) for the 8 days!! I figure I'll deal with it when I return. So we somehow pack our bags and kids into the small car and cut our losses. A couple of days in the car starts acting up... of course. So we call in and insist that it be replaced. It's another nightmare. The office in Liverpool is closed because of the weather... It's very windy. I ** you not!! So we're stuck for the rest of the trip in this junky car and in spite of this we have a good time. Now I'm back home I look to see if they've refunded my deposit... no. Can I reach anyone there? No. I filled out their customer service questionnaire, hoping for a response? No. Terrible company... may have just been the Heathrow branch, but all the same. It was dreadful. Avoid at all costs.

Having been scammed in 2016 for damages allegedly incurred by Europcar in Ireland (but fully reimbursed by my credit card company), now comes a "Dunning Notice" letter claim dated 22 February 2017 from "Recocash", 1, Rue De Clairefontaine - BP91 - 78513 Rambouillet, France (where I've neither traveled nor rented any car) and further identified as "EUROPCAR Reference ** in the amount of Eur 56,93 and signed by "Loic **". Given the myriad complaints over time versus Europcar and its hired guns, there is no question in my mind but that they are engaged in racketeering and corrupt practices worldwide and subject to prosecution for fraud under United States Code, Title 18, Chapter 96, Section 1961ff.

NEVER have dealings with EUROPCAR. They will scam/rip you off by using HUSTLING techniques - am assuming this one mainly used against FEMALE customers - One of the HUSTLES is to arrange a couple of heavies to hang around in an extremely threatening manner (whilst a note for signing is hurriedly handed to you which purportedly is for the pre-paid rental for their records).
Another of their hustles is to try to get you to park in an impossibly tight space when returning the car (hopes of damage). Some UK branches will have heavies hanging around deliberately intimidating (especially female) customers. BEWARE - you'll be ripped off. Cancel your cards if you've already had dealings with them. They will attempt payments from it, perhaps even months after the rental - EUROPCAR are fraudulent criminals.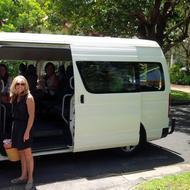 Booked 3 months in advance - 8 seater Kia Grand Caravan - arrived to be told I could only have a HUGE 12 seater van - for 4 of us for touring around Sydney area. Customer service was terrible - they offered to throw in a GPS (which we already had). This vehicle was impossible to maneuver around many of the Sydney streets... let alone try to park it. We had to add another driver as I was not comfortable driving it at all. It completely ruined our week trip as going anywhere in the van was almost impossible. I will never rent from Europcar again - they completely took advantage of us - they knew they had us over a barrel - VERY disappointed. (Picture below is of us "making the best of a bad situation" as we took relatives to the beach.)

Terrible company! I paid for car hire recently at an agreed rate of £517 for 12 days. When I collected the car I then agreed to pay a deposit on top of this of £250 plus an agreed £53 to return the car to a different location. Europcar then debited a COMPLETELY UNAUTHORISED £173 from my account a few days later and HAVE FAILED TO RETURN MY DEPOSIT. I have sent emails asking for a breakdown of their costs, which they have TOTALLY IGNORED. The guy at my local branch was very helpful but cannot do anything about this himself as he advised Customer Services were the only ones who could deal with this. Due to the fact that I am being completely ignored by Europcar, I have now had to contact my credit card company.

Six months after returning a one week rental at Malpensa Airport, Milan, Italy, I get a 21 page letter from a collection agency - Europcar is claiming I damaged the front bumper. It is pure **!!! Nothing was said when I returned the car, and of course, I took no pictures of the car (to prove no damage - cause there was no damage). Why am I not surprised Europcar has a 1 star rating? It should have a no star rating. Why am I not surprised there are a zillion complaints about this company. Yes, I paid the collection agency $301 US for the trumped up damages, but I'll never rent from this ** company again.

No customer service. Forcing to take their insurance and not accepting the card one. They don't have good car. Will give you damaged car and they will not give any service when you are in trouble because of their bad car. You need to repair by yourself and no reimbursement. Whole days gone to repair the vehicle, waste my money and whole family trip.

Europcar neglected to charge me properly for a rental car I picked up while traveling in France. They sent me to collections for the balance that they neglected to charge me. After months of trying to get this sorted out, they finally withdrew the funds from my account, but did not close the case with the collections agency. Now I have a collections agency coming after me for money I have already paid to Europcar, and no one at Europcar will help me. They have ignored my emails, and the customer service number says they can't help me. I have sent proof of payment, proof that the funds were withdrawn from my bank account, but they will not close the case with the collections company. The collections company is now sending an international lawyer after me for the funds that I have paid! This is a total nightmare. Europcar is shady and dishonest, and I am certain this is fraudulent behavior. Be smart and avoid this company.

I have rent a car for a road trip in South of Italy (from Brindisi to Salerno). I got a fine that I have regularly paid. I immediately paid the 45 CHF as well that I owed by contract (administrative fee) to EUROPCAR in the case I get a fine. Unfortunately, after months I keep receiving emails from EUROPCAR ordering me to pay the 45 CHF of administrative fee. I attached to my reply the screenshot from my account witnessing that I have already paid and they keep asking for the money. I will not book anymore with Europcar.
Company Name:

Europcar

Website:

https://www.europcar.com/