Consumer Complaints and Reviews

Apple vacation representative was very responsive during booking of the trip. Once we got to Rivera Maya, Dreams Puerto Aventuras Resort it was down hill. Took over 2 hours to try and get the Ocean view room that we paid for without any success. Staff was rude and didn't want to assist us anymore and insisted on providing a king size bed when we reserved 2 double beds. Then they tried to make US believe we were RECEIVING a free upgrade. Manager got involved and we got double beds with poolside view. Still not what we paid for.
TRIED TO REACH APPLE REPRESENTATIVE FOR 2 DAYS. Still no return call. The bathrooms are outdated tubs need repair. When you shower the water doesn't run out so you are standing in a puddle of water. Housekeeping could not repair it. Bed Linen and towels were dingy, closets smelled like mildew and housekeeping had to be asked daily for towels and shower caps. Never received the Ocean View room that I paid for. Very disappointed in my first and last APPLE VACATION.

This experience was a disaster from the start of booking which I should have never went through with and followed my gut. However it was being booked with a large party for a bachelorette / bachelor together. To make a long story short, I had to cancel in the end. And although it was booked without insurance, I was told by the agent if I canceled it would only cost me 245.00 to cancel and I would be refunded the difference. I only received a portion of my money and every time I reach out, I am told I will check with accounting. I am filing a complaint with the BBB. I have the text from the agent that I would get my money back if I canceled. This is such poor customer service and bad business. I then get an email asking me how my trip was!!! I have copies of the text messages the agent was communicating with me. However each time you call - the excuse is she is in a meeting.

Montego Bay: Secrets Wild Orchid. Booking online or by phone is easy. It's always easy to get a representative on the phone when you're about to give them money. If you have an issue, you will be on hold for over 30 minutes. Then they say there's nothing that they can do. We had a lengthy annoying check in process and they gave away our swim out suite room! We had to downgrade to a garden view on an upper level. We specifically booked for that junior suite swim out. The transfers to and from the airport were without issue. I'll save the review of Secrets for another time. The food was mediocre, you won't starve but you will not be amazed. The alcohol was cheap and watered down. The rooms were just ok and clean. The service was slow and with attitude.
Punta Cana (VIK). Our flight getting there was really late and our flight coming home was super early! I researched prices etc then called to book when I was ready and they changed the flight completely! They should have made it clear! To make it even worse, Stanley the transportation person arranged our pick up at 3:20am for a 7am flight!!! We were the first people at the airport. Nothing was open, and we sat there for 3 hours.
The resort was mediocre in general. The pools were nice. The beach was nice but it was so overcrowded. The service was hit or miss. The liquor is cheap and watered down. The rooms were basic but clean. The food is awful! You will eat but don't expect your taste buds to go on a journey, it was mostly disgusting buffet food. They did not have Dominican food at a Dominican resort??? They had Mexican and Italian. The Italian place had very sweet disgusting marinara and the wine was awful. You will get pestered to buy things constantly, it was annoying.

Eight of my friends booked a Mexico vacation with Apple May, 2017. We stayed at Paradisus Playa Del Carmen with the advice of our travel agent. First Frontier makes you pay for a seat and baggage!!! We paid $1600 each for an all inclusive vacation and we did not know ahead of time that we needed to pay for seats or baggage on Frontier until very close to leaving.
When we arrived at our resort, we had terrible problems with the rooms, getting towels at the pools, my birthday celebration was to have balloons and decorate my room (they put 4 balloons on a bed in my friend's room not mine and on the wrong day) and the worst part was we scheduled with the Apple representative an excursion to into Cancun which was a 45 minute drive each way and after waiting in the lobby for over an hour and driving 45 minutes when we arrived we were told that the excursion was cancelled due to choppy water and that the Apple rep was informed via email that morning!!! We were furious!!! Then we had to drive the 45 minutes back to our resort!!! We spent half of our day trying to go on the excursion when the Apple rep was told about this early that morning. We were not happy with the Paradisus or Apple Vacations.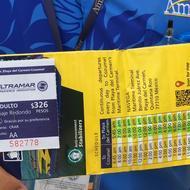 For my boyfriend's 50th birthday we booked a vacation to Cozumel through Apple Vacations. Through the booking process we purchased the optional transfer option for $90/person to get us from the Cancun airport to the hotel in Cozumel. We knew we would be in a foreign country where we didn't speak the language and were aware of some of the cartel issues known in the area, but felt once on the resort property we would be safe. Having this option was something that was important in making our decision to go to this destination.
According to our itinerary "FERRY TRANSFER TO COZUMEL FOR PASSENGERS ARRIVING IN CUN - Passengers flying an APPLE CHARTER into Cancun and reserving a hotel in Cozumel may purchase an OPTIONAL transfer that provides roundtrip transportation between Cancun Airport-Playa del Carmen, roundtrip ferry transport to/from Cozumel and roundtrip transportation between ferry dock and Cozumel hotel." The cost on this was $90/person.
When we arrived at the Cancun airport an Amstar representative (Apple Vacations counterpart) could not locate our reservation. After about 45 minutes of going back and forth they found our reservation and the paid transfer information. They put us on a shuttle to Playa del Carmen and dropped us off at the ferry. At which time we were told we needed to purchase the round trip ferry ticket. Again we showed them that we paid for the optional round trip transportation but were tired of arguing so we simply paid the ferry fees. Once we arrived in Cozumel we had to then pay for the taxi to the hotel. Once again we showed the Amstar representative that we paid for round trip transportation and the exact wording (stated above) describing what round trip entailed. Without any success we got into the taxi and paid the taxi fare out of pocket.
Once we got to the hotel we didn't have any issues until it was the day before our departure. We were now told that we have purchased round trip transportation which means that they will pay for the taxi to the ferry and then ferry back to Playa del Carmen and we will be responsible for finding our own ride to the Cancun airport. After several attempts to work with the Amstar representative at the resort we placed an international call and contacted the Apple Vacations representative state side (Bridgeet).
After 30 minutes with Bridgeet telling us that round trip is considered a van ride to Playa del Carmen, we pay the ferry and taxi to the hotel on the way there and then on the way back Apple Vacations would pay the taxi and ferry back to Playa del Carmen and we need to find our own transportation from Playa del Carmen to the Cancun airport I asked to speak to a manager. After being on hold for 20 minutes Matt came on the line. He explained that round trip doesn't include the van rides from the airport in Cancun to Playa del Carmen and back (BTW the van took us to Playa earlier that week). It's just the ferry to the island and the taxi to the hotel and back. Keep in mind we have now had 6 versions of what our $180 paid for and the definition of round trip.
I once again reiterated what our documents from Apple Vacation stated as the description of round trip meant and it was not what we have been explained by any of the Apple Vacation or Amstar representatives. Matt tried to ask Amstar to work with us and they denied it. After being put on hold again for another 15 minutes he came back and said his manager approved for Apple Vacations to pay for our transportation from Playa del Carmen to Cancun. They would send an email to Amstar which we asked to be copied on and were not. So we were not sure what to expect the next morning.
The next morning we paid for our own taxi and ferry to get to Playa del Carmen and we were met by an Amstar representative- Fernando who was our contact on our arrival to Playa. Fernando looked at our documentation and stated that what we have been trying to explain is truly right and that Apple Vacations representatives were wrong. Our documentation states that round trip includes van transportation, ferry, and taxi on the arrival and departure legs of our trip. He stated that he would try to get us reimbursement. I am not holding my breath on that.
When a customer pays for round trip flight on an airline and there is a layover you don't get to just fly the first leg of the trip and then have to figure out the second leg on your own. Round trip means to and from a destination. However, the definition by the Apple Vacation representatives is not what is promoted on their website or itinerary. Their marketing communications are false and misleading. In total we spent a half day of our vacation working with various Apple/Amstar representatives trying understand what our $180 was paying for and working to find a solution to being stranded in a foreign country where you don't speak their language. The purpose of working through a travel agency is so you don't have to worry about these issues.
I would not recommend using Apple Vacations not only due to their false advertising, but to their poor customer service. There was no sense of urgency or apathy from the agents. They were argumentative and wanted to prove that we are wrong. Apparently more training is needed for their agents to understand what they are promoting and overall customer service skills.
How do I know I can trust these reviews about Apple Vacations?
855,731 reviews on ConsumerAffairs are verified.
We require contact information to ensure our reviewers are real.
We use intelligent software that helps us maintain the integrity of reviews.
Our moderators read all reviews to verify quality and helpfulness.
For more information about reviews on ConsumerAffairs.com please visit our FAQ.

Apple is simply a seller of bulk, mediocre properties. Once they have your money, don't expect any assistance with any problem. Bought a package deal, paid for it in full. Frontier changes the baggage fees at the last minute. Apple says, "Too bad, so sad, sucker. Deal with Frontier." A reputable company would make good on the price a customer has already paid for the entire package. Found out a fee for checked bags was hidden in our package price, but we didn't have any checked bags. Requested a refund from Frontier and Apple who kept pointing fingers at each other. Bottom line - you're sol stupid.
So, Apple is scarce when you need help, but holy moly do they bug the crap out of you to sell you excursions - under the guise of you need to check in for your return transportation. Called and woke us up at 8:00 am to ask why we missed the welcome meeting the day of arrival. Because we've been to Mexico 50 times and want to spend time on the beach not in the lobby talking to an Apple Rep. Woke our friends up at 6:00 am for the same thing?? Hubby wasted an hour of his vacation waiting in line to confirm our departure information. Hubby asked why Apple thought it was okay to call vacationers so early.
The Apple rep gets all pathetic and says he's just doing his job. Bull. Rep says we need to check in the day before departure to confirm. We blew that off because we went on vacation to enjoy ourselves, not go to meetings. HEY APPLE, post the information. If someone misses the bus, that's their problem. We've used Apple for years, but this past trip will be our last. They've really gone downhill and have become so unscrupulous and ANNOYING. Read their Glassdoor reviews. Unhappy employees...

DO NOT BOOK A TRIP THROUGH APPLE VACATIONS!!! In July, 2015 we booked an all-inclusive trip from Cincinnati to Cabo including airfare... totaling $4259.98. In August we cancelled the airfare because we had enough miles to fly free. To our amazement, we received a credit for $490... $490 for round trip airfare for 2 from Cincinnati to Cabo San Lucas, Mexico! Things improved from there... When we were cancelling the airfare the price online was cheaper than when we originally booked. Amy informed us the new rate without airfare was $3089.98. Our trip is now approaching in March. I called again to verify the balance due, which is due in 2 weeks, and they said there was no documentation of that conversation which lowered the pricing.
The rate online today is $1449 per person excluding airfare... $2359 per person including airfare. Simple math shows the airfare is $910 per person and yet we received a $245 credit per person when airfare was cancelled. In order to receive the reduced rate, we had to change our room selection from ocean front to ocean view... We'll probably arrive and have a mirror in the corner of the deck so you can see a reflection of the ocean! Apple Vacations is an absolute rip off! BEWARE!

Apple sent out an email that our resort would not be opening in time for our stay! We were told to send an email to customer notifications with my booking number (which I did) 3 days later still no response! During this time I called the 1-800 # to customer/notification to try and discuss where we would be relocated. Each time I called (3 days in a row) I was on hold for an hour or more.
The first call I talked to Alfonzo who was very nice and was trying to get our group together at a new resort. He sent out an email and promised he would call back the next day between 3-4 and that didn't happen!! I had to call again and wait another hour on hold and was told that they still hadn't received a response from the resort. I asked to speak to a manager and was put on hold for another 20 minutes. Then I was told he would call me because he wasn't at his desk. Never received a call, however I did receive an email from management stating the same thing that hadn't received a response yet.
Day number 3 I was on hold for an 1 1/2 and finally someone answered and I have them my booking number only to get disconnected on their end. Now you would think they would call me back seeing how I told her I had been on hold for 1 1/2 and it wasn't my fault we got disconnected, but of course that didn't happen. After losing it and pulling it back together, I sit here for the 4th time waiting for a representative!! Unbelievable experience, short of a nightmare!!

Total joke. Paid $7400 for 7 days. Food, drinks are horrible. Orange juice is on a bar gun and is clearly not that. Not worth the money. I was reluctant to book through them. Made the mistake of giving it a try. Don't let them convince you that is 5 star. Golf was good. Other than that forget it. You're stuck eating marginal food and they screw up your reservations and try and switch you to an even more mediocre restaurant. I feel like I was taken. Went to Hard Rock hotel 10 mins away and had the 1st real meal in a week. How sad is that?

I have called Apple five times in a row. After the first ten minute hold I was disconnected. Then I was disconnected again after 20 minutes. Then I held an hour and 20 on speaker while I did house work. I called a local travel agent and she gave me a different number. Held 25 minutes, hung up. Then called back and this time selected the option to book a trip to see if someone would pick up. Been holding 10 minutes. Wow. Very pissed. This is my fifth Apple trip, first time booking online without an agent. Never again.

Single worst travel experience of my life. We booked a trip 2 months ago for Costa Rica. I called to confirm our room type because what we received from Apple didn't match the resort. After lengthy discussion over several hours we were told that we would have a specific room that didn't even exist at the resort. We got the resort and Apple on a call and once they realized we were correct they charged us an extra 400 per person for the room we thought we were getting to begin with. The original room we had booked was an upgrade fee for 189 per person for nothing.
Now the flight issue. I have an extreme phobia of flying on the left side of the plane and they agreed to accommodate but 30 hours of phone calls later and they are yelling at me, saying I don't get to pick my seat and that I will get to deal with my return flight in the middle of my vacation. Now I have to spend my vacation time dealing with this just to ensure I can select my seat for the return flight. On top of it I'm being told a different answer from everyone I speak to and was literally yelled at by their agent Dave (who is a supervisor). He said he had the right to yell at me because I was raising my voice. So in summary if you want to give a lot of money to be treated poorly then book away. If not, I highly recommend avoiding Apple Vacations. Happy traveling!

We booked our entire vacation to Iberostar in Puerto Vallarta, including all transfers and a visit for two to a show called, "Rhythms of the Night". We booked everything on line, and our receipt showed we paid for two people to see this show. When we arrive at the hotel to schedule the day of the show, Miguel tells us that we only paid for one person, that there was a mistake, but he would call and get it fixed, to see him the following day. Which we did, however when we came back the next day expecting our reservations to be made and taken care of for two, as our receipt shows, he told us that we only paid for one, and that we had to pay an additional $113.00 for the other person.
We were in a foreign country with language barriers, he was our go to guy, and he was not helping us. We insisted he call Apple so we could talk to them, but he told us he could not get through, and wouldn't even try. It felt like a scam all over. He gave us numbers to call Apple that wouldn't work, and refused to call for us, telling us his cell phone couldn't reach them. He refused to give us our money back for the tickets we had paid for.
Frustrated, we bought another ticket through the hotel concierge and went to the show. The show was amazing and we would recommend going to it, but just not schedule a trip ever again with Apple Vacations. Our daughter will never use them again as well, nor my sister and her husband, who had the exact same thing happen to them. It ruined a day of our vacation arguing with Miguel over this.

My wife and I used Apple Vacations for a trip to the Grand Palladium in the Mayan Riviera. We paid for guaranteed first stop from and back to the airport. You take a shuttle, there could be other people on it but you are guaranteed to be the first stop to the resort and back to the airport. This was our 9th visit to the Grand Palladium and the travel time to and from the airport is just under one hour. Our return flight was scheduled to leave at 3:24 pm. Apple Vacations has a desk at the Grand Palladium and I was instructed to go to the desk to set up a pickup time for our return. The Apple representative was a woman named Ksenja. I told Ksenja I don't want to leave earlier than 3 hours before our flight. She explained there could be problems with traffic, crowded airport security, etc. I told her that if we miss the flight it would be 100 percent our fault, Apple would assume no responsibility and I would sign anything stating that.
She said they will pick us up at 10:50 am and no later. I pleaded with her to change our pick up time but she would not. I asked her to call someone at Apple that could approve the pick up time change but she would not call anyone. She was very arrogant about my request. Our day of departure was Friday October 14th. She said come back to the Apple desk Thursday and she would see what she could do. I agreed. I went back to the Apple desk Thursday. Ksenja was not there but I was helped by a man named Hector. He very politely changed the time. I walked back to my room which is about a ten minute walk. It's a large resort. As soon as I got there my wife said Hector called and said he could not change the time. I went back to the Apple desk and no one was there.
I went to the Apple desk the next day before our scheduled time to leave. Hector and Ksenja were both there. Hector apologized and seemed sincere. Ksenja did not seem sincere. She said it was out of her control. Of course she would not even make a phone call to ask for approval. Friend of ours were leaving the next day (Saturday) on a flight to Cleveland. Saturday is much busier at Cancun airport than Friday. Their pick up time from Apple was exactly 3 hours and 20 minutes prior to their flight schedule. Our pick up time was exactly 4 hours and 34 minutes prior to our time.
Another couple was on the same bus as we were on. Their flight time was 2:15 pm, 1 hour and 9 minutes prior to our time. My return time is important to me because I don't want to spend my last vacation night packing or going to bed earlier. This was the 8th time we used Apple vacations for our 9 trips to the Grand Palladium. Because of Ksenja's arrogance and not caring attitude we will never use Apple Vacations again.

I would like to start off by saying our experience from start to finish was terrible. We did not choose our hotel. It was selected for us and the amount of money we paid for this resort was insane. We were looking for a luxury all-inclusive resort with a great beach, fine dining, and all the other amenities that all-inclusive offer. We were told, "This resort had it all, and it was Breathless resorts, which implied quality". NOT TRUE!
Once arriving in Punta Cana we were escorted to our hotel. It was less than clean and we were asked to attend a meeting after we unpacked. We did not attend our meeting until the next day which was a sales meeting to try and get us to "Buy in" to the resort. Our resort was not an all inclusive. It had several things that you had to pay an "UP CHARGE" for which was not told to us in the beginning. Also the resort was a party resort which we were looking for a more quiet venue. To top it off my mom got salmonella from one of the restaurants and we had to go home two days early... Not the vacation we were looking for and paid all of that money too... NEVER AGAIN.

Let me begin by saying that giving even one star would be an abomination. This company hides behind deception. It is always easier to pass along blame to hide gross incompetence. That said, we booked a vacation for 6 adults and 1 Infant child under 10 months old. When the confirmation was received, it had not only spelled the name of the child incorrectly (my grandson, I know his name), but it had charged him for a seat on the flight. While Apple did refund the seat charge under protest, (stating that this is a common practice to assign a seat to an infant, I'm certain everyone that books with Apple is overjoyed with the prospect of paying for a 7 month old they would naturally hold) they insisted they were not responsible for the 200 dollar charge to correct the name but also charged an additional 200 dollar fee because they want money to change the ticketed seat to "child will be held my parent".
They blamed it on the airlines stating it's their policy. When does Apple take responsibility for spelling errors and arbitrary seat assignments. It's the don't ask don't tell policy that was employed. Several calls later, the response was "it's not our fault", how about 40 dollars for your inconvenience. This vacation cost over 20,000 dollars. Not only will we never ever use Apple Vacation again, we frequently travel with friends who we will also discourage from ever using their services. We have been a repeat customer with Apple and have probably spent over 100,000 dollars in the last 4 years.
The 400 additional dollars they charged and refused to acknowledge as their error shows us they are not the least bit interested in customer service just their bottom line. Keep the 40 bucks and invest it in better training your staff. Did I mention that we spoke to 10 different people and every single one had a different spin on the Apple policy. We will continue to vacation in Punta Cana each year, but will certainly know better than to ever engage the services of Apple Vacation.

Recently, an Apple Vacations representative that I got from calling their website's 800 number, told me of a NEW Secrets 6 Golden Apple Resort in Panama at a bargain price. We were looking for a luxury all-inclusive resort with a great beach, fine dining, and all the other amenities that all-inclusives offer. She said, "This resort had it all, and it was a Secrets resort, which implied quality." NOT TRUE! Once arriving in Panama and boarding the bus to the resort, the Apple rep for the hotel told me he didn't have my documents and therefore I had to pay for the transfer. Since Apple Vacations always includes transfers to and from the airport and hotel, I said, "No, it was already included in the price." He disagreed (and continued to disagree with me), insisting I had to pay.
At the resort, the check-in clerk did not have my reservations and implied that she didn't have any rooms. The "NEW" 6 Golden Apple Secrets Resort, was actually an old InterContinental Resort that they were refurbishing. Most of the restaurants were not open because it was "off season". One could not use the beach because of the tides. They oftentimes ran out of alcohol. The walkways were crumbling. The attitude of many staff members was poor, if not rude. I called Apple immediately, informed them of the situation... that this was NOT what I paid for and requested to be moved to a different property... the rep said she would work on it. I called the next day and got the same reply. I called again on the following day and got the same reply. I've purchased many vacations from Apple over the years and this is the first time I've felt the need to ask for their help in rectifying a bad situation. They did absolutely nothing!

Apple Vacations doesn't fix their mistakes! First mistake: misspelling one of our last names. They said several times it would be fixed; we ended up having to pay $50.50 to have the airlines fix the ticket. Second mistake: giving the transport company the wrong arrival date leaving us stranded at the airport for 3 hours where we had to try and find someone that spoke English to help us. (You cannot contact Apple Vacations once you are out of the US and the number that was given to contact someone in Panama did not work.)
Third issue: no detailed itinerary or vouchers. It is hard to take a taxi, when your ride doesn't show up, if you don't know which Marriott you are going to. Everyone kept asking to see our vouchers. We finally got a hold of our daughter through wifi and FaceTime audio in the US to contact Apple Vacations to figure out where we were suppose to be and to make sure there were no other issues.
Once we arrived at the hotel, the company Aventuras 2000 took over and we had an AMAZING vacation in Panama. Apple Vacations did not reimburse us for $50.50 or apologize for their mistakes. However, they did book us in some wonderful all inclusive locations and arrange wonderful excursions. Too bad that they don't fix their mistakes and cannot be contacted once you are out of the US. All in all, we looked at the mishap with a sense of humor and have made the decision to learn Spanish. We won't be using Apple Vacations again. Panama is a really awesome place to visit!

The policy states I can cancel 45 days prior to my vacation and still get a refund minus the $45 per person fee. That is not the case. I cancelled exactly 45 days prior but I was told Apple doesn't count the current day or the 2 days before your vacation so I would not be getting any refund. Beware, they change the rules to suit them. I have used many other sites to book & cancel my vacation with no problems so I will be using one of them from now on!

Have been advised by Apple's Email that our "all inclusive" vacation to Jamaica had a flight date and time change. However, when I called Apple to confirm, they still have the old date and time. I was told I needed to call the person that sent me the email because they couldn't see any change in their system. I called the person that sent me the email but all they could tell me is the time change was now 11:05 PM instead of 12:01AM??? I said the date also changed from the 10th to 9th per the email. They said that could not be confirmed. So, I called American and verified the 11:05 PM on the 9th was correct. Also, called Apple Vacations twice to have a wheelchair added - they did not, so had American add that for me. Too many wasted calls to this company to verify information.

Planned a well needed vacation to Jamaica through Apple vacations, Mrbeaches.com.. Also purchased the Av-ok insurance for both of us, highly recommended by my agent.. Due to plane maintenance we were delayed leaving on our first flight and when arrived at second airport, couldn't land for fog so circled there, in turn missing our flight to final destination. Purchased a room there so missed one night of stay in Jamaica. Spent at least an hour everyday of my 5 day vacation at the Apple desk in Lobby Trying to schedule for our departure back to the airport on our leaving date.. Total hassle. Get back talk to agent about our missed night no help.. The insurance did reimburse us our night stay in Philadelphia, but I feel it was trip delay and should be reimbursed for night missed in Jamaica.
Insurance threw it back on apple and Apple has been no help. Have been giving me the run around and every excuse in the world not to reimburse for night missed.. I'm a business owner and realize this is no way to do business. Once I booked and they got their money, you are on your own, no help whatsoever.. No giving up on this. Sure that's what they are hoping.. I recommend anyone to never book a trip through Apple... And not to bother with the insurance they push.. If anything happens during trip, they are no help.. Will not return calls or anything, and if you do get ahold of them, they treat you like you are a total idiot.. Bad Business and will never get mine again!!! Total Joke.

Well when everything goes according to plan there is no need to get in contact with Apple Vacations. That being said when you have an issue good luck getting a response from the company. The company states all you have to do is call their toll free number 1-800-517-2000. Good luck with that when you are in Mexico (Cancun). That number doesn't work and the Apple rep at the resort I was at said, "Sorry I can't help you, I DO NOT HAVE AN OUTSIDE LINE." It wouldn't have helped anyways.
Oh by the way don't think you can use email either. "trip@applevacations.com" also only gets non delivered errors in Mexico. Wow what a waste of time and energy. Well to make matters even more unbelievable when trying to communicate using the email from home and getting the automatic response that someone will respond within 24-36 hours. That is a real laughter. Let's try 24-36 days and I have still not got a response. I think they think they will teach you patience or just wear you out and you will forget about it.

Be aware that the optional insurance on extra excursions made while on an Apple Travel tour amount to a surcharge of approximately 16%. I am not talking about the main tour. I am talking about extra activities. On my recent trip to Cancun I took a snorkeling excursion. The base charge was $9.79 out of the $71 total. That is 16% above the base of $61.21. For my excursion to Xcaret the insurance portion was something like $22 out of the $159 total. Charges like that add up fast for multiple excursions and multiple people.
While signing up for the Xcaret trip I asked if the insurance was optional because the form seem to indicate it was but did not make clear provisions to decline. I was told it was included in the price. I asked again if the insurance was optional and was told all excursion companies that Apple used carried insurance. Well of course they do because Apple takes a fat cut out of the premium without disclosing to the customer just what coverage they are getting.
After signing up for the Xcaret excursion, I had lunch and thought about it. The excursion was two days away so I went back to the Apple onsite representative and asked again if the insurance was optional. When I got another song and dance I told her it was a yes or no question. She relented and said it was optional. I asked for cancellation and refund on the insurance portion only. She said she would take care of it. The next day she said it was done.
Upon returning from my trip I contacted Apple to tell them the credit was not showing on my account. That was over 8 weeks ago and the refund has not shown up on my credit card even though I contacted Apple several times about the subject. I kept getting the story that someone was working on it although no one contacted me or resolved the issue. The only person I was able to contact was the person who originally booked my trip. She is the one who keeps telling me that she can't do anything about it but promised me she had forward all the information to someone who could. I understand division of labor. I don't understand why no one with responsibility has contacted me or resolved the issue. It is a big shame because otherwise the trip was as promised.
But now I don't trust Apple and won't use them again. They put profits above the customer. The insurance markup is a big profit source for them and a poor value for the customer. No information is provided about what is covered and the customer might already have some coverage depending upon the credit card used. Avoid the excursion insurance. Better yet, avoid Apple Travel.

A friend of mine booked 4 of us on an Apple Vacation to Iberostar Paraiso Del Mar in Cancun. One of the best vacations we ever had! No problems with flight, no problems with transfers. The airport in Cancun is difficult, but this had nothing to do with Apple Vacations. The hotel was wonderful, staff friendly and pleasant, and food was great. We had such a great time we went back again about a month later.

Representative's name who was booking our trip: Irina **; Dates: 11/26 to 12/3/15; Destination: Cancun, GR Caribe. Our group consisted of 12 people (5 kids and 8 adults). Me and my friend organized this trip and referred 7 people to Apple vacation. Besides the fact that neither of us (amount me and my friend) got referral bonus or discount, my price end up being $354 (if I would get ocean view, plus bags cost) over all of my friends (including the ones I referred).
At the airport I discovered that my bags are not included in the ticket price and each bag is $25 (we had 3 bags, so totaling both ways it is $159), however all my friends (9 of them) had their bags included. All of them got an ocean view for the same price as mine, however my windows were facing to the wall. I tried to call Irina from the airport when I discover my bags are not included, but she didn't pick up. I am under tremendous stress. I am very disappointed with the way Irina handled the situation, from booking my friends over me and not letting me know about my bags.

I would first like to say the representatives in the US are extremely kind, polite, patient & helpful while making plans and reservations. With saying that I now must tell you about our vacation. In September we began making plans for our Cancun vacation. We were told Apple Vacations was the way to go. We had never used before but willing to try it out. We researched all the resorts, locations and what each had to offer. We had it narrowed down to a few. I made several phone calls asking all the questions I should in order to make to best choice for us.
We chose the GR Solaris, Cancun. We needed ocean view, balcony and quiet area. We had looked at all of the photos and loved the property & pools. We received the quote and I asked repeated everything over and over. We were clear on everything about the resort, name of it, location & views & balcony. We booked flights & resort. Done! So excited. we made sure to arrive as early as possible on Sunday Oct 11th in order to have a full day. Once we landed is when our issues. Flight was perfect, picking up luggage & customs was not an issue. We walked out the front door at 9:30 am looking for the flowered shirts... we were one of the first couples to the stand to get our package. Once we did, we waited for almost an hour for transportation. We were put on one van, loaded luggage then asked to get off and put in a car. The ride over was pleasant and not far.
As we arrived, the resort didn't look at all as it did when we looked at it online. We went on in and began checking in... as we were looking around, my husband & I knew right away this was NOT the resort we requested. We booked the GR Solaris. Plain & simple! Yet somehow we were booked & taken to the GR Caribe by Solaris (which I NEVER even saw as an option while searching). I immediately brought it to the front desk clerk's attention. He assured me this was a great resort and wanted to show me the room. I asked to speak to a representative from Apple Vacation. They called for me and gave me the phone. The man spoke very poor English so I asked to speak to someone else. There was no one else. I began trying to call the numbers I had called once before but was unable to connect from there. We left all the luggage at the front and allowed them to show us around.
The hotel was very dated, under some construction, nothing at all like anything we would ever choose. Pool was small & everything was very inconvenient. The long hall ways to the rooms were open to the outside. The room was on the end with view of the roof, next to the speakers at the pool with a very loud announcer, there was large space under the door and the balcony again looked at the roof. This was NOT going to work. Again I stressed this is not the correct resort, it was switched during booking. They tried showing us one more room which was the same telling us this was a great resort that the GR Solaris is a downgrade from this one.
Again I insisted to speak to the Apple Representative to straighten this out and move us. I finally did get to speak to someone that informed me we could meet them at the GR Royal Solaris at 4:00 to get us moved. At this point it is 12:00. WE have now wasted 2 hrs of our day, now we are told we have to wait another 4 hrs for help. We had lunch and waited until 4:00. We went to the area we were told to meet at. The rep was late. He then informed us he didn't know why I was told to come there that there is nothing that can be done on a Sunday. Reservations is closed on Sundays.
At this point I am in tears, exhausted and frustrated. My husband's appointment was at 9 am the following morning. We could not wait to take care of this the next day after. It took the rep an hour to find someone to help us. By 6:00 I was ready to cancel our reservation & call the credit card company to cancel all payment to APPLE VACATIONS!
Finally there was a very kind woman I believe to be the manager at the Royal Solaris that began making calls for us. Somehow she was able to do exactly what we had been trying to do since 10:30 am... she had arranged for us to be transferred to the hotel resort we knew we had booked! The GR Solaris! We finally arrived about 7 pm. Our entire first day in Cancun was spent in the lobby of 2 hotels trying to get to the one we knew we booked. I am not sure how it happened. Maybe by accident while booking or maybe it was done after the fact. I know we received the confirmation showing GR Caribe by Solaris... who would know it wasn't GR Solaris... like when you book a Hilton and it shows Hilton Garden Inn on the booking.
Once we arrived at the GR SOLARIS (which by the way was a total UPGRADE times 100 from The Caribe not a down grade as they kept trying to convince us of), it was beautiful. By this time we were too exhausted to do anything more than have dinner and get some rest. The staff was very kind and helpful here. During all of this, I NEVER heard back from one APPLE Representative. Still have not. I will add when someone books vacations through your company and travel to another country they should be able to contact someone they can communicate with.
We actually ended up extending our stay by 2 days but I can assure you after all of the trouble we had I booked directly with the hotel. I could not chance another mess up. I must say I was referred by a friend but I cannot do the same. This has been an experience I wouldn't want any of my friends to have. Maybe this information can help provide better service in the future.

Apple Vacations is fine, as long as you don't have any problems during your travel. But if you have trouble and need their assistance, forget about it - you are on your own. This is horrible when you are stuck in airports in a foreign country and/or scrambling for flights and accommodations. We have used Apple about 8 times and the very first time we had travel problems, they were hard to reach, unhelpful and even gave me bad information. We lost a day of our vacation due to airline troubles then lost another day to the stress of having to get Apple's help while at our destination (Cancun). Their customer care phone hours stink, especially when you are traveling EARLY or need to reach them late in the day and they are snotty and patronizing on the phone.
When I wrote a detailed email upon return to voice my concerns, I got a form letter back 8 weeks later and a $100 per person voucher to use on a future booking. There was no acknowledgement of the misinformation they had given me. So I told them I'd have to voice my concerns online. So there you have it. Travelers beware!

This is my first time go to Cancun. I call to Apple Vacations. They recommend Royalton Riviera Cancun because they say that resort have waterpark. I was going with some friends that have kids so that's why we pick the Royalton. We get there on Sunday at 9:30. We get to the hotel at 10:30. I know it's their policy they won't let you check in until 3 PM. I did tell them I have an infant, that she doesn't feel good, she have a fever. Can they give us a room first then the infant could have some rest. They say no they have no room. We had to stay there wait until they have the room. They say they may have a room 1 o'clock or 2 o'clock, the latest is 3 o'clock. They give my friend the room first but not me. I am the one with the infants she having a fever. Didn't give me the room until 4 o'clock. I did talk to the manager. They don't care.
And while we're there the waterpark is remodeling nation let me know then I won't book that hotel. The reason I book that hotel because they have a waterpark for my friends' kid and my son. So sad and this hotel is so brand-new. They don't have palm tree not much shade to cover the sun and the bad thing is they don't have show in the hotel. After we play at the pool 7 o'clock we go to dinners. Nothing to do because they don't have show. They don't have activity. The service at the steakhouse in Royalton Riviera Cancun is very bad. We have 10 people we went for dinner. We got the waiter the whole time he don't smile. He treats us not good. We asked for A1 sauce he say they don't have. It is a steakhouse it doesn't make sense.
At the end we talk to the waiter. We say "You need to smile a little". He answer he is tired. "Today is very busy day". This is not the answer. When you serve people you need to smile. I don't know we so upset about the hotel. I never will recommend this hotel to nobody. The reason I picked this hotel because Apple Vacations recommend. I don't understand why they say is a good hotel. I don't know. They just want to make commission because the hotel is new. Doesn't have customer yet. Do not pick this hotel.

We used Amstar for our travels to an excursion and travel to and from hotel. They screwed up on both. After fussing regarding the excursion and the Amstar guy being rude for his screw up, he paid for us a taxi to the excursion. What I have a problem with is our flight from Cancun, Mexico to Charlotte, NC, 3 hours and 10 minutes non-stop, ended being a 19 hour journey home. The Amstar guy had us scheduled to meet in front the resort at 11:15 am. He explained the van would be there in about 20 minutes to pick us up. The bellman from the resort explained he spoke to the Amstar guy and the van will be here in 20 minutes because of the sinkhole. (total 40 minutes).
After 20 minutes, I went back to the Amstar Guy, he asked what did we need, as he had not meet us. He also told us due to the sinkhole, all flights are delayed so we were okay and not going to miss our flight home. The Amstar Guy and girl and Bellman began talking to each other in Spanish, which I don't know. The Amstar girl asked us twice, are we sure we were to go back today? I stated yes and show her my flight information. The Amstar Guy stated, "I will be right back." I stated "No, I am coming with you."
Within 3 to 5 minutes, a van was there at the resort to pick us up. The driver did the best he could to get us to the hotel, but they had him stop and pick up another couple on the way. The couple had not been called for early pick-up; therefore, they had to pack. As we were heading to the airport, we saw our flight taking off. We were meet by an Amstar Guy. He asked the guy at the counter of the airport to confirm our flight was gone. (We were told more lies because no flights were delayed).
The Amstar Guy stated we had 2 options: a plane going to Phoenix was leaving now, which we had to run to then didn't know how much a layover then leaving to go to NC and would be home by 6:00 am or we could sit in the Cancun airport until late then take flight going to Florida then stay the entire night in the Florida airport then leave there for NC at 6:00 am. I am very upset the way Amstar treated us. If he would had done his job, we would not have missed our flight. Who do I need to speak to regarding this matter?

Extremely poor service… Do not go there!!! Air conditioner did not work the whole time we were there. We complained and requested service from day 1 until the night before we checked out early costing another 2000.00 for airline tickets. Bring your own bottled water, they only have 3 cases according to management and it's for management only. They run out of ice and drinks at every bar every day, they are totally rude at any request you have. There was not one min motorized water sport. When we asked where it was we were told it was not available and could not give us a location of it. The beaches are not sand, it is ground up rock and construction debris. Your feet will kill you after walking on it. Forget about making sand castles with your kids.
The beaches are filled with seaweed and many staff members are in the waters trying to clean it out by hand. Bulldozer, forklifts are on the beach as you're trying to sunbath picking up the seaweed. The diesel fumes are beautiful as you're sucking them in. The pools are over packed never to find a blessed chair or anywhere to sit and the water is like being in a hot tub - not refreshing at all. Beaches are less than desirable. As you walk along the beach and pool area it smells like a backed up sewer. With the air not working in the rooms, you try to migrate to somewhere on the resort to cool down only to find no relief. They have ceiling fans all over but won't turn them on until you continuously ask, it took 3 days! The lack management in this hotel leaves a lot to be desired.
Apple vacations was our booking agents. They are a bunch of liars, do not book with them! There is no such thing as 2 double beds ocean front at this resort. That's what we paid Apple for. I have lots of pictures and videos to post. Coming soon, so keep posted! Also the sporadic power outages DURING THE NIGHT AND ALL DAY LONG... which when they do, go out - there is no running water, toilets don't flush and you die from the heat. There are NO back up generators! Also the sand on the so called beach is not sand, it's ground rock and construction debris such as cement. It hurts your feet and everything. Sandals, clothing, body has a white powdery dust all over it.

Just returned from a 6 golden square deal (7/23/15) where we specifically requested an all adult only resort. When we arrived Apple stuck us in a facility that was not only an All Adult place, but we were mobbed with kids. All children's activities, pools filled with kids. Just saw online that Dreams Palm Beach offers special on certain date for families with kids at a discount and this must have been the week. This was unfair to put us in the family setting. I left my family home. Never again will I trust Apple. Plus we were put in different seats on the plane. A long 3.5 hour return.
Apple Vacations Company Profile
Company Name:

Apple Vacations

Website:

http://www.applevacations.com/