Written by

Edited by
Our promise. We provide a buying advantage with verified reviews and unbiased editorial research.
About Axia by Qcells
This profile has not been claimed by the company. See reviews below to learn more or submit your own review.
Axia Solar is a solar company backed by Qcells that sells a variety of solar products and provides an array of installation services. Axia offers solar calculators and expert solar consultations to create a personalized plan based on your energy needs and finances. Its products can help you take your household to the next level and become fully energy-independent.
Pros & Cons
Pros
Personalized payment plans
Helps with permits
Panels assembled in the U.S.
Cons
Only available in California and Texas
May require secondary storage purchases
Bottom Line
Axia personalizes plans based on your energy needs, your location and the size of your property. It handles all the complicated paperwork to simplify going solar. Axia is only available in specific locations in California and Texas, so make sure you're eligible. Pricing varies.
What is Axia?
Axia is a solar energy company that was created by the larger solar corporation Qcells. While Axia works on strictly residential solar installations in California and Texas, Qcells is a multinational company that offers residential, commercial and utility solar.
Axia works alongside its customers through every part of the solar installation process, creating personalized payment, design and installation plans that ensure your panels suit unique energy needs. Axia handles the paperwork and then sets you up for grid inspection. Becoming energy-independent can be complicated, but Axia works with its customers to simplify the process.
Axia also offers solar storage options that work alongside your panels. In order to accomplish complete energy independence, Axia provides electric vehicle (EV) charging stations and solar calculators that monitor individual energy needs.
How does Axia work?
To begin the conversion to solar energy, Axia offers a solar calculator to track energy usage. The data is used to craft a personalized solar installation plan that is specific to your household. Solar panel payment can be made upfront or in installments tailored to your financial needs.
Axia creates a personalized design and installation plan based on the data collected from either your solar calculator or an expert solar consultation. Axia takes care of required permits and connects you to the grid for necessary inspections.
Axia offers solar inverters and solar batteries that work alongside your panels to provide your household with more efficient renewable energy.
Axia products
Axia offers products that simplify energy independence for your household. Solar panels produce the needed energy, but in order to power your entire home, there are some secondary purchases that make converting completely to solar power more realistic.
The solar battery stores extra solar energy produced throughout the day so you can use it during the night, in winter or when your solar panels are obstructed by rain or snow. These batteries are built to withstand inclement weather, and their sleek design is built to fit in with your home's aesthetic.
The solar inverter converts direct current (DC) energy produced by your solar panels into alternating current (AC) energy. The majority of homes are made to run on AC energy, so a solar inverter may be needed to run your home appliances.
There are several different types of inverters to choose from, based on your connection to the grid and the amount of shade covering your home. When you're purchasing an inverter, Axia will connect you with the one that best fits your needs.
The EV charger charges your electric vehicle with energy produced from your solar panels. These chargers can save you money and help you better manage your energy usage.
The solar calculator keeps track of your energy usage so you can better manage your solar panels, inverters and battery storage. For a monthly subscription, you can access data that helps you make more informed decisions on your solar panels.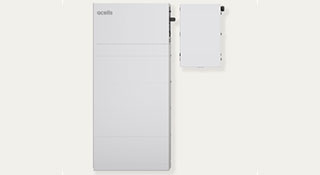 Axia by Qcells
Solar battery
Solar batteries pair with Qcells solar panels. These batteries collect unused solar energy produced by your panels and store it for when you need it during nights, rain and snow. These batteries can act as a generator during power outages by continuing to produce electricity when your solar panels can't.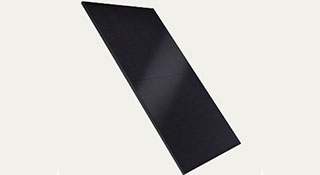 Axia by Qcells
Solar panels
Axia offers Qcells solar panels for residential properties. These solar panels convert solar energy into DC electricity and can cut down your utility bills. Qcells panels are assembled in the U.S. and come with a 25-year product warranty.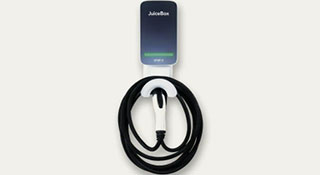 Axia by Qcells
EV charger
Your electric vehicle can be charged using electricity from your solar panels rather than using an electrical gas station or commercial charging depot. This product pairs best with an energy storage system like a solar battery.
Axia services
Axia offers a number of different services that help you transition to using solar energy.
Paperwork
Based on your location, mandatory permits are required for you to install solar panels. Axia handles the paperwork for you.
Grid inspection
After your solar panels are installed, it's important to get a grid inspection. This inspection ensures that your solar panels are up to code and safe for your home. It can also determine whether you can produce enough electricity to fully separate from the grid. Axia fully covers this grid inspection.
Warranty
Axia offers a 30-year warranty on your solar panels' performance, so if your solar panels are no longer producing enough energy to power your home, Axia will fix them. It also offers a 25-year product warranty, ensuring that if a solar panel breaks, the company will fix it.
Axia pricing
Axia offers solar panels made with different products and with varied efficiencies. Solar panel pricing is based on your location, your property and the type of solar panels you choose. At the time of publishing, the average price in the U.S. is around $3 to $5 per watt. You can contact Axia for a cost estimate.
Axia FAQ
Where are Axia solar panels available?

Axia solar panels are only available in parts of Texas and California.
Does Axia offer payment plans?

Axia offers upfront payment or personalized payment plans based on your finances.
Does Axia Solar offer a warranty?

Axia offers a 30-year performance warranty along with a 25-year product warranty.
Is an Axia Solar calculator mandatory for panel installation?

Using the calculator is not required. The Axia Solar calculator can provide specific data on your energy needs, but you can also request an expert solar consultation to create your personalized plan.
Is Axia legit?
Axia is a residential solar company by Qcells, a multinational residential, commercial and utility solar company. Qcells provides a large portion of the solar panels that are currently in use all over the U.S. The reputation Qcells has built underscores its legitimacy in the solar industry.
A link has directed you to this review. Its location on this page may change next time you visit.
Axia by Qcells Company Information
Company Name:

Axia by Qcells

Website:

axiasolarusa.com
Check out our buyers guide top picks
You're signed up
We'll start sending you the news you need delivered straight to you. We value your privacy. Unsubscribe easily.