Complaints from Wal-Mart Employees
Consumer Complaints and Reviews

Last night started like any other night of working on the night shift at my store. Well I get to work yesterday. Well three days prior my coworker put in her two weeks on Saturday night. Well she was gonna come for few more days and she came in last night tried to clock in. It won't let her. She goes to personnel apparently they can't do anything about it. She's not in the system anymore so she goes home. Our ONLY nighttime csm was off so I was there alone and A stocker had to come relieve me for breaks and lunch. I was working shelf check out.
Anyway about 630 this morning this worker comes to me. He tells me he was in personnel when what happened took place. They fired my coworker for having too many occurrences and Clint our store manager actually said she wasn't even worth it. Now keep in mind she already had her resignation accepted 3 days prior and everything but because she has 10 occurrences she's now fired because "she's not worth it." The fact that he said that after how hard she's worked. They forced this girl to play the csm role the nights our csm was off. What that means is they made her do management stuff they didn't wanna do but never promoted her. But oh it gets better.
I can get that absences occurrences are important to them and blah blah blah and that's fine but less than a week ago My husband that works in maintenance has 9.5 occurrences (the limit is 9) and he quit and they took his resignation. He didn't even show up the next day and they sent him paperwork in the mail saying he voluntarily quit and is REHIRABLE. Tell me how that's fair. It isn't fair. He had too many. They should've fired him too but no. Another manager took his off so he could quit voluntarily. They have been there the same amount of time and were in freaking orientation together. So not only did Clint screw her but I got screwed too because they wouldn't call nobody in to come help me.
It'll probably be the same tonight as Thursday and Friday's were mine and her night to work. It just makes me sick how unappreciated we are. I mean if he could say she wasn't worth it hard as she worked but give him special treatment and truthfully he didn't work half as hard as she did he should've been fired multiple times. Tell me that isn't sexist. It is sexist. Almost all the male managers at my store are sexist and corporate don't care. Oh and overnight forget security. Let's just let everyone steal everything and do nothing. Poor store management and I don't intend to have this crappy job much longer. I loved customer service until this sexist jerks ruined it for me. Now I feel dispensable and I appreciate and I'm one of two night time cashiers that's are even left. Disgraceful.

It's the worst company in the world. While working there, they slowly kill their employees. This is a fact, once they break you, you're dead to them. You get fired, then they lie about the situation that happened. Even though you have proof. Oh and forget trying to receive unemployment. They lie to the agents as well. But it's a great new thing called a phone it records things, oh just to go a little old school, witnesses.
Here is another thing, just a warning, do not use the app for w2 through Walmart. Because I've been trying to retrieve my w2 since I don't work there anymore, nothing. A phone number found on their website will fax over a copy to you or tax agent, and mail it too. Here is the kicker ha they got you again. They mess up your w2. Example: the one they sent of mine federal taxes box was empty. My tax agent and I know it's wrong. So if anyone knows who to call. Please let me know. One thing's for sure a lawyer is the next person I shall be seeking.

On August 08, 2016 I took a medical LOA for Anxiety after a total loss in my life. I've been with Walmart since Sept.1, 2007 and currently still works for the company. I have never left and came back, I spent my entire adulthood with Walmart and learned a lot since I been here. When I first started working for Walmart I was hired as a service writer in the Auto center registering vehicles into the system for service. Two and a half years later I worked my way up as a Support Manager in the auto center and from there I was promoted to a Zone manager in the backroom. Within a few months the Zone supervisor position was taken away and I became the backroom Cap 1 Supervisor. I've been in management for nearly seven years straight. I never been coached or had any concerns about my job performance before I went on my medical leave.
Walmart started a new policy with getting a LOA, instead of going through our personnel employee we now have to go through Sedgwick and they are responsible for communicating any and everything I need during my time away. However, my store number at 2816 was responsible for making sure I was returning back to work or if I was at risk of losing my position. The policy states that anyone who returns to work during their job protection period will be entitle to the position they held prior to going on leave, or a similar position with the same rate of pay and benefits. Otherwise, we will have to remain on an inactive status while our HR associate and manager work with whoever to apply for position that you're qualified for.
On Oct. 7, 2016 I received a email stating my LOA was exhausted. Which was notified to me a day after my exhaustion but the policy says I should have been notified a week in advance. Although my leave was exhausted under state law, the letter states I was still approved until Oct. 31, 2016 under Walmart personal LOA and anything from that day will not be protected. Once I received the email I called my HR associate and she acted as if she knew nothing about what was going on so I call Sedgwick to find out that they have combined my Intermittent Leave and Continuous leave together without informing me. So two weeks before I returned back to work my position was taken and given to the Cap 2 Supervisor, even though I was back at work before me job protection.
When I called to open door my position my store manager Paul automatically offer me the lowest level position in the store without following proper procedures. I have never been treated so badly in all the ten years I have invested in Walmart and I can honestly say I didn't deserve it. I know in my heart it was done out of revenge because I am a young ** woman. My proof is in the fact that they gave my position away the second week of Oct. 2016 and it is now Feb. 7, 2017 and the new supervisor still hasn't started his new role. The passion I had for my company is destroyed and I want it back!

How Walmart treats kids with Autism - My son who is 17, was first diagnosed at 2. Got a job at Walmart in November as holiday help as a stocker. Ignoring the stupid fact that Walmart has 4 tardies/absences in a 6 month period (this includes sickness, flat tires, dog dies or I have to stay after school!) doesn't matter if you call in or not. So they explained this procedure to my son. I had no idea about it. Everything is verbally explained during orientation. Let me go back and state he is on an IEP and memory isn't his strong suit. Before this HORRIBLE experience he worked at Burger King for 6 months and left because he wanted to try something else.
Walmart managers never said he was getting close to his 4 penalties, according to him when he did have to call in they said no problem. He is sick one day, I have him call him. He shows up for work the next day, works for 2 hours they pull him aside and fire him. Way to go Walmart! So being a pissed off parent I call the local store as well as corporate. I finally get a meeting with the store manager, which by the way had the power to rehire my son (great employee they said!) instead he blames my son. If my son would have pointed out he was autistic they would have done something different. So you blame the kid, who doesn't know that he is supposed to be treated different because he has always had things modified for him. Walmart sucks and I hope they get their asses sued.

On November 27, I received a message from a relative while on break saying my grandfather only had a few hours to live. I then proceeded to my manager to tell her that it was urgent and I needed to leave right away. Her response was "There is nothing I can do about that. You do what you choose. " Then I took my badge and clocked out of work. The next morning I called the personnel manager and explained what was going on (losing my grandfather that night). She said would try her best to speak with a manager but that I was still on schedule for the next day. The following day on November 29, I had reached my 6 months mark and I went to work to swipe my badge and they told me I had been terminated and taken out of the system and that next time I should manage my time better... Today on January 18, I went to get my last check stub and the status of reasoning of being fired and my managers wrote that it was "Job abandonment."
How do I know I can trust these reviews about Walmart?
696,839 reviews on ConsumerAffairs are verified.
We require contact information to ensure our reviewers are real.
We use intelligent software that helps us maintain the integrity of reviews.
Our moderators read all reviews to verify quality and helpfulness.
For more information about reviews on ConsumerAffairs.com please visit our FAQ.

I worked at Wal-Mart for quite a while before I transferred to CAP team 2. It was hard at first, but after a month it was easy to get accustomed to how things worked. Everyone did poorly, so I thought it was just a problem with not being familiar with everything. Reason why Management kept making it their job to yell at us every day. Several months in I realized that the management's expectations were impossible. We would constantly get coached for not doing the job fast enough. They expected everyone to do half the times they were doing and to do it as quickly as humanly possible you could barely hit the times they wanted, but still fail. Every week was a miserable time.
I had so many people come into that job thinking the best, and leave hating Wal-Mart too greatly. It came to a point where training someone was nearly pointless. Everyone in the team either left or was lucky enough to have been working there long enough to have the ability to transfer out. Even then it was months before you were finally replaced, but that number dropped since new hires left every week or day.
The worst day I had was when several boxes of maple syrup broke on top of all the products in the truck. Everything was covered in syrup. Everyone's moods were already on the breaking point of quitting. The syrup was a downer, but what really got every single person angry was the fact that all of our random managers that worked the store came in every other ten minutes to completely lose it on us. They blamed it all on us, and even told us we were definitely getting in trouble for us. No matter what we tried to say to them, they still didn't believe the truck came in like that. Every day was like that minus the syrup covered boxes. No matter how many times everyone tried to work with the managers they would constantly treat all of us like garbage. The work was unreasonably difficult and the pay was, and is, minimum wage. It's more like a game of who will last the longest.
I lasted A VERY LONG TIME until I finally quit. I was the last one from the original team, and I smiled when I gave them the letter. Called in sick for the last two weeks, while taking advantage of their new sick time rule. Which gave me more sick time. I'm not the type of person who ever calls in sick, but I couldn't spend another second working there. The people on the team are mostly nice, but they leave the second they realize how bad it is. For the ones who stay, they get fired over the stupid problems with hazard management. Every day there is something that has to be hazarded out, and the smallest mistake is one out of three strikes that will get you fired.
I wish there was some way I could sue them over the labor law they broke with me and several others. My manager came to me a few months in to tell me that I had to skip my breaks to get closer to the required times. I did so for months. I knew it was illegal and against the rules for him to ask me to do so, but I couldn't afford to lose my job. Towards my last few months there I started to take my breaks again, and just dealt with the coachings that I could possibly receive. Skipping my breaks a few times here and there when I didn't feel complete hatred for the company that I worked for.
Many times my workers would group up before break to talk about walking out on strike, or join a union. Too many people left to form a strike, and no one wanted to join a union in case they would have managers pressure them out of the job because they had. Which has happened. Everyone else in the store talked about how bad that position was. Especially when I bought things. They would start a conversation with me. Asking me how I was holding up with a nightmare of a job like that.
I don't know if they improved anything with that job, but I did find out the horrors that were slowly being fixed started all over again when my manager that directly trained, and was involved in tasking us every day, left. All new people... must've been a nightmare on the first day. I don't advise working at such a terrible place if you get chosen to work at CAP team 2. Unless you like being treated like garbage when you are a key position in the store.

I use to work at the Elverson, PA Walmart Store 3501. When I first started there things were great there. Everyone was working together and things got done. Slowly things started to change. Employees and managers started to change. Seems like Management and Corporate lost respect for us. Started getting the cold shoulder from them. No one cares. After Mr. Sam Walton died the company started trending away from the vision he had for this company. The company is no longer that family-oriented company. When you had a problem it got fixed, they listened, they supported. Now there is none of that. Now they're worried about the bottom line. They don't care for the employees. Things that go wrong even though it's a Management or Corporate decision fall down on the employee even though it doesn't work.
Every year we go through Black Friday and then we start getting large deliveries and or more deliveries than normal. For us in Dairy Department is not good because it overloads us. They expect us to clear our coolers. This can't be done, especially when they expect the fresh skids that are delivered are expected to be put out. But the bins stay full and we can't get to our bins. So things start to go out of date. Then they have 3rd shift put things out from the bins and we then get in trouble because the management finds stuff going out of date or the bins back being full again because of the overstock. Then the other problem is we use Telzons and MC40 devices to scan things and bin things. Well we are then told we are not allowed to use them, but we have to follow the process. So again if we follow what the Management says then we are in trouble again, but if we don't follow and do things the right way we are still in trouble.
Corporate and Management order too much stuff. The system says one our caps are wrong but on the floor and in the backroom they are correct. But it's our fault. My department managers knows what's going on and he is not even listened to. They think he does all the ordering but he does NOT. We have a Automatic Order System. Corporate and upper store management have control of it. But we get them blame no matter what. We can check every day for things out of date, and we pull things that are 5 to 7 days before their out of date. And we do that every day. And the next day we keep finding them out on the floor like they're trying to make us fail.
They blamed me for an item that went out of date that was found 2 weeks before and nothing was ever said about it till they asked me to come back to the manager's office and told me then I was terminated. Since there has been 26 employees that have been fired and new employees that were there only 2 or 3 days quit because of the way they are treated. Walmart really needs to wake up. It's a horrible place to work. They fired me the day after my 2nd year anniversary date. Dec 30th 2016.

I was employed by Walmart from July to August of 2016. When hired, I was strongly encouraged to get a MoneyCard so I could have my paychecks direct-deposited; the personnel manager told all new hires how easy this made managing paychecks. How could any of us say no? Now, months later, I am STILL fighting to get my last paycheck, which was direct-deposited to my MoneyCard September 8, 2016-- the same day MoneyCard froze my account. The day prior, I had received a letter stating that MoneyCard could not confirm my identity, and that in order to confirm it, I must fax copies of my social security card and ID or passport to a fax number in Georgia (which, by the way, is not associated with any of the Walmart or MoneyCard companies, according to their websites).
I called the number in the letter and was connected with a girl in the Philippines who informed me that I could either fax the info, or have my personnel manager call them to confirm my identity. However, she said, I should probably go and withdraw funds from the account before the card was frozen. The letter said this would occur on the 9th, so on the 8th, I went to Walmart to withdraw the funds that had just been deposited. The card was already frozen. What followed was a solid month of me calling the call center in the Philippines, driving back and forth to Walmart (usually spending 1-2 hours there each time, as a different manager tried but failed to resolve the issue), and trying desperately to reach ANYONE at Walmart headquarters who might resolve the issue. NOTHING worked.
I finally gave up, but I'm not done. I refuse to allow Walmart to steal my final paycheck from me; hell, it's bad enough they can justify paying employees such abysmal wages to begin with! The last interactions I had, however, left me so upset I had to stop for my own sanity. No one at the call center would give me any answers beyond saying I had to fax my info, and that "we have a team investigating you." I sat and listened as my former personnel manager spoke with central payroll services, who told her they WOULD not do anything to fix the situation (not could not, but would not), and her irate reaction. I even tried going through the ethics hotline; they said they had asked the district manager to contact me, but he never did.
The amount in question-- $342.51-- is a paltry amount for Walmart, but it meant, when this first occurred, that I ended up delinquent on bills, and would have had my electricity shut off if not for a compassionate relative. I am on the verge of locating an attorney to file a class action suit against Walmart, as I have found several accounts online much like mine, and there is an arbitration clause in the MoneyCard contract (convenient, right?). But really, I just want my money. How is it that Walmart is somehow above the law??

I've been working in Walmart store #174 going onto three years. The first year was pretty good but has the second year rolled in they decided to hire support managers. Ok so the support manager that comes in for evening is really terrible. He thinks that he can go over assistant management. Every time a assistant manager would give me a project that they want me to work on he always make me stop and do his demands. Which I don't understand since assistant managers is a higher position. I worked at this Walmart before him and when he started he was a cashier and then he became CSM and then support manager. I feel as though when a person is given a manager position that they need to be transfer to a different store. It seem as though he is consumed with power and all he does is walk around telling associates what to do and doesn't help with zoning or putting away returns.
One time he called me in the office just because me and another associate went to lunch at the same time even though it was unavoidable and either she would have went during someone else's lunch as well. Yesterday he yelled at me at customer service for the reason that he thought I was walking away from him while he was talking when I was just trying to get returns to take back to my department and he said that I could be fired for doing that. I feel as though I cannot tolerate him anymore and I now dread going to work because of him. I use to really like working for Walmart but now since they added "SUPPORT MANAGERS" it's been a unbearable place to work. I feel as though I need to change my schedule just to avoid working with him.

My fiancé worked at Walmart for 4 months and was being considered for a promotion. The week before the training for the promotion was supposed to begin, he receive his Christmas bonus. When we went to go pull the money from his account it was not available. The bank told us that Walmart had taken the money back. We went to Walmart, and he asked the HR manager what was going on. She said there was an accounting error, and that everyone's bonuses and paychecks from the end of the week had been taken back and that the money would be back in 24 hrs of the issue.
This was the 4th incident of this nature in the short time he worked there. As a result we were late on our house payment, as well as a few other big bills. He is now searching for employment elsewhere. In my personal opinion... A multi-billion dollar, international company should not have "accounting errors" and should never have to take money back from their employees. The employees have bills and families to take care of too. I will no longer shop at any Walmart, as I will not support a company that takes advantage of its employees, and treats them as if they are nothing. That is unacceptable for any company but especially one as large as Walmart.

I was fired over 1/2 day off too much which was never warned at all about my attendance. I thought so many days for 90 days, not 6 months and was never warned or talked to by management at all over anything. I am so upset over all this.

I have worked at Walmart for two years. I lost my job after 24 years and was desperate for work. This store is the poorest perform store in our region. I work in the parking lot as a cart pusher. The CSMs that oversee us do not care about anything as long as the job gets done. During Christmas season we would be overwhelmed and would constantly run out of carts. They wouldn't know it if they dropped out of the sky on on their heads. Forced to run GM and Grocery side by ourselves for 8 freaking hours running back and forth. This is not work, it is abuse.
Have been set up by CSMS and Night manager when I put a empty Pampers box in my car for my cat. The CSMS came to my cart pusher and looked at another small box I kept for trash. I got to thinking about it and took the empty box inside out of my car, knocked on the money room door, and the CSM and assistant manager were in there talking. I said "Oh in case you think I stole something it was just a EMPTY BOX!" The manager picked up the phone and told the co manager it was just a "empty box". So, If went home that night with the box I would have been accused of stealing.

I have been working here for almost a year now. It's totally not bad but there is an age factor here. We were told that all cashiers would be cross trained for the customer service department but the only ones being trained is the younger ones under 30 years old. One person who started with me got a position for customer service without even apply for it. She is under 30 years old. All the CSM's are under 25 years old... They look out for the younger cashiers. The doors at this Peterborough store were broken and it -32 with the wind and this CSM made sure the younger ones switched from time to time where she left myself there for the whole 7 hour shift. So if you are over 40 watch working here. As for any promotion forget it.

I worked at Wal-Mart for a month as a cashier, got all the points due to fault of management. I accidentally clocked myself out, spent thirty minutes trying to find a manager to fix it and he said he did yet he did not fix the point I got. I did not know until later. I asked personnel to fix it and she claimed I had more points to leaving work, three hours early on thanksgiving and I told her that was not right since that was my schedule time to leave yet she would not help me pull up the work sheet from them and claimed I came in three hours late and thirty minutes late one day. I told her I had mixed up the date on the thirty minute one and she laughed saying that that was not their problem and I demanded to know the three hour late one cause I have never been that late for a job in my life as a cashier in other stores.
She showed me the date but I told her the system was wrong yet she refused to look into it any further and told me to come back on my day off and take it up with the head lady when I will be already fired by then. That woman proceeded to ignore me and talk to me as if I was riff raff to where I cried on my lunch break later as it was their policy to help us and they treated me like a criminal with no help at all. They don't care about us. All they care about is money.

I have worked for this company for 8 months now. I have seen over 250 people be fired for the wrong reasons. Been passed up for management several times by people that have only been there for 1 to 2 months, been verbally abused by csms and assaulted by customers! Been forced to work in a hostile work place!

I'm new to working here at Walmart and I had always heard from friends or from previous workers that it's a horrible place to work and everyone working here told me not to apply because I would regret, and I absolutely do. I'm a cashier but when I began working I started as an unloader (hardest job to work for only 9 dollars an hour). So, I got transferred to cashier which I thought would be easier.
Firstly, the head manager of Walmart doesn't care about ANYONE of the workers, NONE! Example: Hurricane Matthew hit South Carolina like a bus and a lot of workers had to work DURING the hurricane. The manager was called and was asked, "If we can't show up today because of the hurricane will it still count against us?" He proceeded with an entitled "Yes, it will," and he was then asked, "So, you want us to risk our lives to come in to work?" And his answer is the most disgusting thing I have ever heard. He said, "Wal-Mart is more important than your lives." WHO ON EARTH SAYS SOMETHING LIKE THAT??? WHO? Is that not absolutely insane? I've been working here for barely 5 months and I really am trying to quit but I live in the middle of nowhere so jobs are hard to come by.
The CSMs, two of them in particular treat me like actual garbage. My lunch breaks are ALWAYS 1-2 hours late and it's not because they have no one to relieve it's because these two CSMs are EXTREMELY LAZY! I'm on my lunch break typing these and one of the aforementioned managers sent someone to me to give me my lunch break then immediately sent that person to a whole different register and I asked, "Wasn't that employee to come to me for my lunch?" She said, "Yes, but I sent her to another register." For what? It's my lunch. Plus, we get told "Don't take your lunches too late or you'll get a meal violation? How am I supposed to control when I go to lunch? It's the CSM's job, not mine and if they can't correctly do their job then they don't need one.
This same manager gave me one of my previously lunches TWO! TWO WHOLE HOURS LATE, because she "forgot about me". There is no way she forgot about me when the documents she uses to give out lunches are almost always with her and she sent others to their lunches instead of sending me to mine! There are so many other examples of these but it's only this CSM and another that treat me this way.
PLEASE DONT WORK AT WALMART. THEY MARK YOU AS A PART TIME WORKER AND WORK YOU FULL TIME! They don't even give me time to sleep! Last night I had to work until midnight and be back at 9 am this morning!!! It takes me 30 minutes to get home, then I have to wake up on time to leave to get there without being fired. I hate hate hate this job! Please don't work here. I'm going to call corporate now and hope that they will do something. WORST JOB EVER.

Slave Labor expected! I have worked many jobs but never one such as an overnight stocker at Walmart! They don't train you, put you out in the floor alone and expect you to do an enormous amount of work all for a whopping $9.50 hr. It is the hardest job I have ever worked for the least amount of money and absolutely -0- training. You can't ever find or get a straight answer about anything from any supervisor company related or otherwise. They require you to work holidays but you are not paid holiday pay. Benefits are not given to part-time employees and they hire you part time but work you full time. They are always telling the employees not to join a union which is totally unacceptable! If they were union we would make decent wages for the amount of work expected of "new employees."

I have a documented disability. I had an accident requiring medical attention. I knew I was REQUIRED to go into work FIRST so I didn't lose a point. I was not doing well nor performing well and chose to leave after working three hours - as suggested. I STILL am being written up and will lose a point. I immediately went to the doctor - got a note but it won't matter.
I have a BA. I took this "survival job" while job seeking and in hopes to progressing quickly to as promised. It is more than clear this greedy, unethical company is all about the dollar and NOT about "Sam's employee first" values. They don't care about you - you're just a cheap number. They're all talk - a facade. I will be boycotting them once I move on. It's a couple of bills for now. Side note: I didn't even get paid yet! They're very unorganized. Some people are cool. Others, most, are uneducated with power trips. Most associates are nice and work hard, really care about the customers - the bread and butter of Wal-Mart. They deserve so much better than this money greedy company takes.

I started working at Wal-mart in June of 2016, as a Part-Time Maintenance Associate. During my stay I was made to work full-time hours (over 32 hours a week) while being paid and listed as a part time employee. I received only the barest minimum of training and was refused training on anything necessary for me to help customers.
Anyway, after 5 months of working for this company, my supervisors started following me around and harassing me while I was working. I had two CSM's sprint after me while I was cleaning bathrooms in the liquor store, and they demanded that I dry the floor with paper towels after mopping it. On multiple occasions they followed me into bathrooms to make similar unreasonable demands. They also followed me around while I was roaming the floor, and got on to me whenever I tried to talk to someone.
The last straw came when I got coached because one of my coworkers said something offensive in my presence, and I "Didn't walk away from the situation". My supervisor and one of the assistant managers forced me to sign a paper saying that I wouldn't talk to anyone. Just, outright not talk to anyone. I handed them my vest & badge, then walked out the door. This company has NO RESPECT FOR THE INDIVIDUAL, while at the same time promising that it's one of their biggest standards.

I was a employee of Walmart 1269, Louisville. On Hurstbourne Pkwy. I was a produce dept employee. On Monday Nov 14th I came out to my car after my shift. My car had been broken into and the thief had stolen my purse out of my locked trunk. I have only lived in Louisville 6 weeks. I was parked three spots from front door. Thief got away with my purse, credit cards, ID, SS card, cash, medication, etc. I immediately went back in store and asked for security and for the customer service dept to ???? police. They did not call ???? police. Security came out after 10 min and told ME to call police and said they would run video. I then went back to parking lot to wait on police. An hour later Walmart security came back out and informed me that they had guy on video and police could see it if they wanted.
At no time did a member of mgmt come out to talk with me or give any employee support!!! My car keys were in my purse also. So I spent the next 5 hours waiting on locksmith to make new key so I could at least drive car home. At no time did a member of mgmt come out and check on me or offer ANY HELP. This process cost me over $200 plus loss of everything in purse that I mentioned. I have high blood pressure and became very ill while sitting there waiting. Finally got home that night and the next three days consisted of getting blood pressure to go down and replacing all personal items.
I cannot work there any longer and drive my car there because thief could return, get in my car and drive away!!! He has a set of keys. Walmart explained to me that there was nothing they could do about extra security because they don't own parking lot. I understand all of that but it bothers me to work for an international company that strives on customer's service and employee satisfaction that absolutely offered no kind of support for an employee in dire need of help. I worked hard there and never missed any time and I truly believe they could have offered me help of some kind?

I worked at Wal-Mart in the deli for over two years. The last straw was when management wouldn't properly get an outlet fixed that was literally hanging onto the bare floor. We had to get that same floor wet each night to clean it. They claimed there wasn't electricity running through it. They expected me to trust their word in that. Yeah right. I also operated a machine that had the ground prong broken off every day. So whenever I went up to this machine and touched it to do my job it would give me a nice little "poke". The manager knew but never tagged and locked it out. Just kept on letting us work like that.
One time the ground prong was broken off of one of the meat slicers as well... and we got busy so we had to use it and we'd get a poke when touching it and all our manager could tell us was "just make Sure you're not standing in any water when you're slicing the meat". Wow! You would think if any of us were smart enough and not worried about retaliation we would have called OSHA. Fortunately I quit before I got electrocuted. When working in Wal-Mart deli you're expected to work with raw chicken and ready to eat foods all at the same time because they are so understaffed.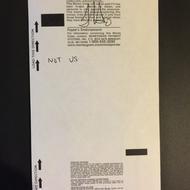 This happened on Nov 7, 2016. Store: Long Beach Walmart Supercenter. 7250 Carson Blvd, Long Beach, CA 90808. (562) 425-5113. I came into the store at 9:40pm. I didn't leave the store until 11:25pm. This is what happened. I came to buy 2 money orders. I paid with 4 debit cards. The transaction went through and the first money order printed. The 2nd money order failed to print. The cashier called for assistance. Apparently they need a key to open up the money order machine to fix it. They called back for someone to find the key. No one can locate the key. This took approximately 20-30 minutes. By this time there were 4 Walmart employees/managers there. They huddled to figure out what to do. One manager came up to me with her decision. She said that they would be cancelling the transaction and the funds would go back to my debit cards. "I should go home now," she said. I didn't trust this decision.
I asked her if I can get a receipt. She said she can write it on a piece of paper for me. I said no, I'll just wait until she actually cancels the transaction. She said ok. Her plan was to shut down all the computers so the transaction would cancel. The cashier asked her what should she do with the printed money order? She said write on the back "Do Not Use". The cashier began to write "NOT US" on the back when the manager told her to wait. She started to look at the receipt and realized that the funds have already gone through. I had already paid for that money order. Now another manager comes over to investigate. I think his name was **. Somehow, they were able to find the key to the money order machine. They got the key and ** tried to fix the machine. By this time, it was 40 minutes in. He took about 20 minutes to try and fix it. What he got was a mutilated money order. They huddled again to see what they can do.
By this time it was approximately 1 hour in. ** went back to the back office to figure out what to do. Approximately 20 minutes later, he came back with another manager. I asked him what were my options at this point? He said well, for the mutilated money order, I was going to get my money back. I said ok. I said "and for this money order?" He said "well, since it printed and the funds are in there, I can take it and go cash it." I said, "but it's been written on. It says 'NOT US' on the back." He said, "well we can cash it for you right here." The other manager said they'll waive the fees. I was agreeable to this since it would be like voiding the transaction and I'd get my money back. So they go through the process of cashing the money order and getting my money back. They told me to sign the money order to my name, enter my SSN and they would process the money order.
In the middle of the process, ** gets a call on his headset. I'm guessing it was from the other manager (he left after I agreed to cash the money order). The person on the line told him to call Money Gram and instruct them to release the funds. The cashier asked him if Money Gram was still open at this time? ** said he is not sure but go ahead and call. So they began to call Money Gram. It seems that Money Gram won't release the funds. They have some sort of 24 hour rule which the cashier already told **. I asked ** what were my options at this point? He said "well, you can either go home with the money order and cash it somewhere else, or you can come back tomorrow and we'll cash it for you." I didn't want to leave with a money order that has writing on the back "NOT US".
I said "what about the writing on the back?" He said the funds are already in there, so it's a good money order. I said "but there's writing on the back." He asked me, "well, what do you want?" I said I paid for a blank money order. He said "but you already filled it out." I said "I filled it out following your directions to cash out the money order immediately." He said "we tried that, it didn't work." I said "but why would you give me an option that doesn't work? If I knew that option is not viable, I wouldn't have opted for it." He said "but they are closed now. Furthermore, there's a 24 hr rule," he said. Again, he told me that I can come back tomorrow to cash it. What he failed to mention that, if there is a 24 hr rule, I wouldn't be able to come back tomorrow. It was already past 11pm and the money center closes at 10pm. 24 hours would be 11pm the next day, so again, he was giving me another non-viable option.
I told him that it was his responsibility to make sure that the option was viable before he presented it to me. I asked him what were my other options? He said there are none. "You have to take the money order as is," he said. He said "it's just a matter of cashing it somewhere else or coming back to cash it here tomorrow." I asked him "what happens if another bank refuses to cash it?" He said "well then you can come back here and we'll cash it." So I was imagining all of the hassle of trying to cash this money order. I can try to cross out the writing on the back. That wouldn't look right. I can try and cash it the way it is.
I can imagine the banks would have a problem with the writing. I can come back to Walmart in a couple of days (24 hour rule) and try and cash it. I'll probably get another cashier who will look at the money order and ask why there is writing on the back. That cashier will probably call a manager and that manager might not be the same manager. I probably would have to explain what happened and it'll just all be one big hassle. This just didn't seem like a good option for me. But, I had no choice. ** forced me to take the money order. I just gave a big sigh of frustration and left. So, to recap, I was told to go home by one manager without a receipt. If I would have followed her advice I don't know what would have happened to my funds. It would have been a mess to try and track it down since the funds were already transferred to Walmart. That manager also instructed the cashier to write on that money order "NOT US".
A 2nd manager told me to sign it and cash it out immediately, only later to find out that option was not a viable option. He also forced me to take something that I didn't pay for. I paid for a blank money order. I was forced to take a money order that was written on with the words "NOT US" on the back. I was also charged a fee for this.
I spent almost 2 hrs at that store. I don't understand why it took so long? Why did it take almost 2 hrs? When the issue started, one money order printed and one did not. 2 hrs later, we were at the same spot: one money order printed and one did not. It unnecessarily took them 2 hrs to come to a conclusion that could have been decided immediately when it happened. They could have given me the blank money order and refunded me the money for the money order that did not print. Instead, 3-4 managers got together to solve the issue and the result was: Almost 2 hours of my time, a money order that was written on that I was forced to fill out, my money back for the money order that did not print, no apology from any manager.

My daughter began working for Walmart 2.5 years ago. Due to her disabilities the position available were limited. She was hired as a greeter, although they have her doing much more and I don't really know of one day that she has worked as a greeter. She has worked zoning, returns, maintenance and others. In the time she has been there she called off one time, due to having wisdom teeth removed and has never been late. She has been requesting full time and asking to be trained for different positions. She is told they do not have openings or additional hours, yet they are continually hiring new full time employees.
She recently was 'coached' due to a confrontation between her and one of her relatives. As anyone familiar with individuals with disabilities knows, they sometimes have difficulty being able to deal with conflict. I do understand and so does she that she should have handled the situation differently. Some things need to be experienced order to learn from the mistakes.
Since this instance they have scheduled her for four hours. So in the next three weeks she will work 4 hours. In 5 weeks they have scheduled her for 16 hours. They claim it is due to lack of available hours, but again they are hiring new employees. Yes she may be able to file for unemployment but that is not the way our children should be taught to live. In my opinion they are limiting her hours in an attempt to force her to quit.

I worked for Wal-Mart for 4 months. I was fired yesterday for being a 1/2 a point over. There was no warning, I wasn't even aware that I can look up my points on the wire until today when I went back in to talk with the store manager. It was then that I was told it's my responsibility to keep track of my points, that they aren't 'babysitters'! I was treated as if I was just a number from this manager who also was very defensive and didn't seem to care about what I had to say. I was hired as a cashier but took it upon myself to learn everything I could in customer service because I had intentions of becoming a csm.
In 4 months time I learned everything in Customer Service, had numbers and could get money from the money room also. No one else there has had that all down in that amount of time. I wouldn't ever just stand around either as some of the cashiers would. There was always something I could find to do besides just talking and ignoring the customers. I worked harder than most of the cashiers there, where in fact several of the cashiers had several coaches and complaints, I've had zero.
Wal-Mart claims to care, well they only seem to care about themselves. I've never been treated this way by any employer I've ever had, I just moved into my own place, I am a single mom who gets no help, they don't care about any of that though. To just let an employee go so easily over half a damn point is ridiculous! I came back in today to try to beg for my job back and all I got was comments by a rude manager who treated me like a number. I am livid! Yes I accumulated the absences (4) which is my fault, I'm not making excuses, only saying they should, as management, let us know when we're on the verge of going over our allowances.
I had a big misunderstanding also about the point system and was told wrong information, from an asst manager btw, about the points I would get if I went home early. Anyway, Sam would be appalled if he could see how we're all being treated across the board. As I can see from all the other posts on here, I am not alone. Shame on you Wal-Mart.

I worked for Walmart for about 9 month. In that time I assisted customers in ALL departments for one reason. The store was so understaffed and management was so inept that every decision made on the sales floor was by far and away the wrong one. Whatever you do, so long as "Roger" is president of Walmart, look elsewhere for a job and when you find it spend your money at any place but Walmart. Oh yes, in that nine months I passed the management exam twice... Nothing ever came of it.

I worked for Walmart and it is not a nice place at all. They don't train you. They make you watch videos of cleaning the floors when it isn't your job 'cause you have to do your job. What happened to Betty working in the 5 and dimes which Walmart is? Instead you've got bosses that have their head up their butts and live in "high" class neighborhoods who are retired. Walmart is for poor people who have no income, for elders who need something to do or housewives for a small income. It is not a nice place and it should be. People are not nice b/c the demands are so high.

I was hired in that Walmart after a long period of being jobless. Jobless they were such disorganized, had no cbl, no computer and no schedule. I see there is no choice. TALKED TO MANAGER AND ASSISTANT MANAGER. They told me "You cannot reapply." Even after two weeks went there again. Was told that while she was lying to annoy me. She had reported four no show so that I be terminated. When was accepted by a new Walmart after doing all paperwork the new Walmart mentioned I could start on next week. I quitted another job I had, bought uniform. My kids happy. Suddenly new Walmart found last report on the computer and denied me. I want to say even that all happened was all legal, no retaliation happened. I ask you do I deserve such a fate? By God I was not deserved to be behaved like this. You could not see the joy in the eyes of the personnel.

Hi I have a friend who has been with Walmart since April 2014. She loves her job. She loves who she works with and the customers are amazing. However she feels some of the management is very unfair and treats me very badly. Like the other day a customer came in and said she had some maybe mistakes on her receipt. She overlooked them and asked her does she have everything on her receipt with her or anything already brought to her car. She asks everyone this question and the customer got very offensive. She did however apologize but she asks everyone this question. Later that night her assistant manager pulled her in the office and wanted her to write a statement what had happened. Was this a right way to go about bringing her in the office and asking for a written statement. Does it seem like my job is on the line now?

I am writing very angry over the way Wal-mart treats their employees. They say they are there for families, but they're definitely not there for their employees. They are continually changing policies on how often someone can be late or call off. Then they just fire them. A corporate decision NOT the local Wal-Mart you are working at. To corporate you are just a name and number and they do not care what reasons you may have from health issues, car problems, death in the family or any other unfortunate thing that may happen to you. We never know what is gonna happen in our every day lives beyond our control. Wal-mart needs to take a personal approach with their employees and let the actual Wal-mart you are working for handle your problems.
They are the ones to know how good of a worker you are and if you truly have reason to be late or absent. I have several family members and friends that work for Wal-Mart and have been treated unfair from a company that supposedly cares. My son was let go after three years for being late. They had changed the occurrences again for the 100th time of how many is allowed. They knew he did the work of three people while he was there and always stayed to work over whenever they needed help. Then they would have him come in late to offset his time and they would fix the schedule so time matched up. That is if they remembered.
The day he was let go he had called to let them know a half hour before his shift he was gonna be late by half an hour. There was a storm and electric was out and he had a 45-minute drive to work. Unfortunately just 2 weeks prior he was in a bad car wreck and then when he did get another car he was breaking down... So it didn't matter how much of a good worker he was or how much over time he did for the company... All that mattered to them was for their employees to NEVER have circumstances beyond their control...

On September the 10th I purchased a Samsung phone at the Walmart on Short St in Dallas, Tx. When I took it home I plugged the charger in. A few hours later I noticed that the phone was still dead. I then realized that the phone was a dud. I went back to the Walmart I purchased the phone and stood in the customer service line forever. I had brought back the box, the phone, the charger and the receipt. When I finally got a manager I politely explained my experience. She immediately craned her neck and in rude tone she accused me of breaking the phone and said she would not give me my money back. I will never shop at a Walmart as long as I live. I suggest other people take their trade to good places such as Costco and Target.
Complaints from Wal-Mart Employees Company Profile
Company Name:

Walmart

Website:

http://www.walmart.com/