Consumer Complaints and Reviews

Be aware of its Brussels shop, people working there are indecent, untrustworthy, and in fact, disgusting. I purchased a bracelet this afternoon, paid by an international credit card, and told the sales professional (Helen **) that the item was to be a gift to a friend. I trusted her, and did not check the item before she packed it. I presented it to my friend this evening when we had dinner together. And when we opened the box, I was extremely embarrassed to see that the item had many scratches and signs of wear (how could the ** sold me a item like this, never met a nasty person like her). Anyone interested in buying something from Tiffany, try your best to avoid its Brussels shop.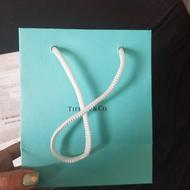 My boyfriend surprised me with a pair of return to Tiffany & Co. good and diamond heart shaped earrings. Online they looked beautiful!! In person they were so thin and so cheaply made. The earring actually bent as I was placing the back on the earring while it was in my ear. The earrings were $2100. I wore them twice and people gasped when they realized how expensive they were. They didn't gasp at the beauty but the fact that they thought I was nuts!!! Lol... The earrings looked like bubblegum jewelry. No joke. :(
My mom was on a bus holding me when I was a baby. A lady asked my name. My mom responded Tiffany. The lady said what a beautiful name and said hopefully when she gets older she will be fortunate enough to shop at Tiffany's and smiled. My mom has told that story several times. So I've always wanted Tiffany & Co. jewelry. That pretty blue box and just to make my mom's story that much better. :) Well the box is very pretty and my earrings came wrapped in a pretty white ribbon. Loved the presentation but not the jewelry. I wish they had put the same time and quality onto the jewelry that they put into the presentation of the jewelry.
I shipped the earrings back once the earring back bent on me the second time I had put them in. It's been over three wks and we still haven't received a check for the amount paid or even an email saying they received our return. They do offer free return shipping. You can NOT return any item in a store and get your cash back. Even though they had no problem taking your cash. I will never purchase from Tiffany & Co. again. It's just not worth the money. Very disappointed at the quality and the return process. Still waiting on a $2100 check or even an email. Good luck! I hope you read the return policy before you order. And make sure you purchase from a store and not online so you can see the quality of what you are buying.

I called to inquire on how much it would be to have a $150 dollar bracelet fixed. The Tiffany disk came off. Imagine my surprise when they told me it would start at $55 and up! That's outrageous! I took it to a very good local jeweler and got it fixed for $15! I'm done spending my money on this place!

I was given a beautiful Tiffany bracelet as a bridesmaid gift, as this was very special to me I only kept it for special occasions. It broke after the second time of wearing, called customer service who weren't interested one bit! Just told me to pay 60 for repair + P+P (Which is half the price of the actual bracelet). I thought that this could not possibly be right, after all I had only worn the item twice for literally a few hours!!! So I wrote a letter explaining this and what I wanted to be done for this situation to be resolved, Tiffany's of Bond Street sent me a lovely acknowledgment email and to this day, 3 months later & 6 more emails down the line not even a single reply. I have no words for the contempt this company has for its customers. Just before this happened I had my consultation for my engagement ring with Tiffany's. Somehow I feel that my money would be much better spent on a jewelry brand that actually appreciates its customers.

The brand is overrated. Selection was ok for what I was looking for and the quality is fine. The price is inflated and customer service needs improving. The sales girl did not know the product. She fumbled with the stupid display board, trying to unwrap the pieces inside the cover, hidden from view. The presentation of the final purchase bag was pathetic. Considering the store and the price, tissue paper and ribbon should have been used to wrap up the item. My local jewelry store puts more class and effort in their presentation.
How do I know I can trust these reviews about Tiffany & Co.?
825,614 reviews on ConsumerAffairs are verified.
We require contact information to ensure our reviewers are real.
We use intelligent software that helps us maintain the integrity of reviews.
Our moderators read all reviews to verify quality and helpfulness.
For more information about reviews on ConsumerAffairs.com please visit our FAQ.

Manager of Red Bank NJ store rude, did not follow policy, embarrassing and was slanderous, told me not to "roll my eyes" and refused to refund return purchase only $200. Nasty and argumentative and did not follow policy or brand expected/customer service rules or policy. Already complained to Tiffany & CO corporate. No response yet, incident occurred 1/4/17. Sales manager Jennifer ** claimed no GM over her and would not give me contact information. Then reluctantly gave me her card and they wrote "Itay" on back of card for regional manager said has no contact information either. Claimed no cash refund and no cash in store ever, not sure when would be any. Item $214.00 paid cash. Gift xmas wants to mail check 2-4 weeks.

I buy a lot of stuff from Tiffany. The bracelets are very cheaply made and keep falling apart. They keep charging me $55 for repair every time they fall apart, which is often. It's very cheaply put together and will never buy from them again. It's way overrated.

I purchased a Tiffany necklace online (first mistake) and a) The chain was not lengthened (like I requested in the notes section) and b) It was done on Nov 21st and I have NOT received ANY credit back yet to my account. I called them about 5 times already, spent $32 to have it shipped UPS overnight only to be told that it was sent to the repairs dept not returns. WHY that makes DAYS of a difference I do not know. P.S. The item was not even worn. Everything was returned exactly as I had received it with the invoice, label etc. I was supposed to get a call back today as to the status of the item being processed and just as I expected...NOTHING. To add insult to injury...NOW I am being told it takes 2 TO 3 weeks to process the return!
EXCUSE ME but this is MY MONEY and I have to BEG for it back with Christmas in a week??? All I can say is as far as THIS goes, BE SURE you want the item, or buy it in the store or do the ordering process over the phone. This has been the worst experience with them I have ever had and I am tempted to contact the BBB. I dunno WHEN this supposedly high end store got so greedy! They have tourists walking out of the store with shopping bags full of items WHY my measly credit means so much to them that they are holding onto it for dear life I do not know. And my debit card company is no help either...but that is another complaint. Be careful people. This STORE IS NOT WHAT IT USED TO BE! VERY DISAPPOINTING!!!

As a doctor I am very busy! I had received a bracelet from my boyfriend about 4 months ago for my birthday. I was happy to receive it, but as a doctor I change my gloves so many times a day that a bracelet isn't very practical and had decided I wanted to exchange it for a necklace. Due to my hectic schedule of 6-7 days a week I wasn't able to come in until now. The bracelet had been in the box in the bag with the receipt in my closet for months. Completely unworn! I finally came in to exchange it and they said they could not as it was damaged and had micro scratches on it!
As I had mentioned, I cannot wear an item such as this due to my work. Not only that but I make enough money that I do not need to wear a bracelet for four months and then return it! I was told I could not exchange it and they could not help me! I've never been more insulted in my life! Lynette ** was completely unsympathetic and did not even try to listen to me! I will NEVER buy anything from them! Nor will any of my colleagues, patients, or friends & family. Now I'm stuck with a bracelet I cannot wear! After years of school and hours upon hours helping people I'm appalled at how I was treated today as I would never treat any patient this way! Just horrible!

I understand that jewelry tarnishes after a while. However after I purchased a pair of hoops from Tiffany's and left them untouched in their box in a drawer completely dry and untouched in less than two months they had tarnished to a completely brown spotted color when I went to take them out to wear them. I don't know who would spend that kind of money on such poor quality jewelry. Unfortunately because I bought them on vacation I do not have a Tiffany's near me so I can not go back and exchange or return them.

My mother, rest her soul, purchased a silver Tiffany charm bracelet directly from Tiffany. I told her it was a waste of money to spend $800 on a silly silver bracelet, which probably only uses $50 worth of silver to manufacture. Oh, but it's a Tiffany bracelet! So that makes it okay, right? No. Last year, my mother passed away and I've been liquidating her estate. Pieces that are easily shipped, like jewelry, I've been selling on eBay. I had placed this bracelet on eBay and had several watchers on it when Tiffany and Co. had the listing removed. They have an ENTIRE task force dedicated to "trademark enforcement," which is a euphemism for we don't want our pieces on eBay because that's one less person buying our crap from us for a ridiculous amount of money.
In any case, I emailed them to ask why. They state it is because my piece is counterfeit. How they can tell that from pictures, I have no idea! I just emailed them back to ask that question. In my experience, a counterfeit piece can only be discerned by taking the piece directly to an appraiser, so how this "task force" has miraculously figured out (erroneously might I add) that the piece I'm selling is counterfeit, I have no clue! I can't wait to see their answer this time around. I will NEVER buy from Tiffany nor will I ever recommend their jewelry to anyone. They have proven themselves to me, personally, to be an unscrupulous company.

This is the letter I sent to Tiffany & Co. customer service – twice! They never even bother to respond, much less apologize. I have spent too much for jewelry in their stores for the last time. I regret I must write you about the unacceptable customer service I have experienced at Tiffany. In July of last year, I bought a watch as a gift for a friend at the Richmond Virginia, Stony Point Store. The sales assistant, Stella ** was remarkably charming and pleasant; she made my decision to purchase the watch a sheer delight. She was quite helpful about variations and promptly found easily what I wanted and what the recipient of the watch preferred when he also visited the store. The recipient was so pleased with the watch that he waited to inaugurate the watch at his cousins wedding in Ponza, Italy a few weeks later. Unfortunately, when he put it on for the first time, it did not work. I attempted to look at it and seemed to get it to work.
However, it only ran for about 20 minutes and then stopped. I then noticed that the hands were not properly aligned; instead of pointing directly at the 12 when it was noon or midnight, they pointed slightly toward the 11. I was quite embarrassed at giving a defective present. My friend lives near Lake Como and so I suggested he take the watch to the Tiffany store in Milan; it is about an hour away. At the Tiffany store here, he was told it was broken and it would take three months to have it repaired. They would have to send the watch to New York for the repair; this seemed strange to me since I read that the watches were made in Switzerland, whose border is forty-five minutes from Milan. I immediately called Stella ** in Richmond and explained my predicament. She said that if I brought the watch back to Richmond, she would get the watch or a replacement in two weeks time.
My friend then called Tiffany back and explained the situation, five days later. The watch had not been sent to New York. When he asked if the Milan Tiffany Store could send it to Richmond Tiffany Store where the procedure could be expedited, the personnel at your Milan store replied they could not do that. Therefore, I had to make a special trip to Via della Spiga and pick the watch up from the store and take it to Richmond myself the week following. Stella ** managed to get a functional watch for me in record time: less than the two weeks she had promised. When I went to pick it up at the Richmond store I also met Paula ** and Director Kathryn ** who were as helpful, pleasant, and as apologetic as they could be. No one apologized to me in the Milan store or thanked me for helping to resolve a customer service issue that was obviously not their problem.
So to summarize: Tiffany sold me a defective watch and it took four trips back to two stores in two different continents to get the situation corrected over a period of five months. This waste of time is then worsened by the embarrassment of giving someone something new that began life broken, not to mention the chagrin of my friend and me, being treated as second-class clients, which seems to be standard procedure abroad, given what I have read on the internet. What is unacceptable is the approach of the Milan store. In general in Italian society, the customer is at the service of commerce and your personnel or procedures at the Milan store are excellent proof of this cultural difference. It was not their watch. They had not sold it, and they were not willing to go the extra thirty minutes to resolve a situation which they had not created.
They were even slow about sending the watch off, which in hindsight, was fortunate tardiness if not outright inefficiency. In 2014 I bought an illuminated reindeer at Home Depot to put on the balcony during the Christmas season. When I assembled it, the lights exploded and it would not work. I took it back to another Home Depot store with the receipt and they gave me a replacement that worked without any difficulty at all. It only took one extra trip. The customer service at Home Depot is better organized and more oriented toward satisfying their clientele than the international customer service at Tiffany. That much is obvious.

Hello! In reading through some of the other emails I thought for SURE and CERTAIN I would find others with my same situation!!! My hubby and I both have the keychain with the screw on bead and the oval return to Tiffany tag on it. He has the large one and I the small. We have had them for many years and have had the little screw on bead (ball) come off many times. My hubby has had his replaced twice and now I am in the middle of TRYING to get mine replaced for the second time as well. Now mind you I really am a very laid back person and this IS a small problem but a PROBLEM nevertheless. When I contacted their customer service about this I told them not only did I loss the bead...I lost the tag AND my keys as well. You may have well asked this person to slap her Granny. She started saying that was not their fault on and on and on.
I did not want a new tag or ask for them to do anything about the loss of my keys just a new bead. WELL...at that I was told there would be a charge for the bead and shipping. When I made mention this had happened before and the other reps said they were ALL aware of this problem with the key chains that is when the battle began in earnest. I complained about a charge and was told that anyone with the MONEY to afford Tiffany items should not COMPLAIN about a SMALL charge! Maybe ours were NOT really a TIFFANY product!!! Can you imagine! Perhaps I sound too poor and countrified to get good service from this company. More calls to supervisors, more than 7 emails all say "I am so sorry but I am sorry!" So my keychain lies quietly in my jewelry case awaiting someone who gives a ** from Tiffany to help me! Any suggestions on what to do next? Help me! THX for listening...more than I got from Tiffany! HAHAHA!

When I first called the first line of salespeople we could not get help. I requested to speak with a supervisor. The supervisor for Tiffany was helpful and very understanding. In the end, we are keeping the ring but only wearing it for special occasions even though it was bought to b worn as a daily wedding ring. It is a beautiful ring and it's not cheap, but it is hard to wear, the diamonds can rub on side fingers, and it a fragile design.
So, in the end, Tiffany's reached out and gave us options. We wish we didn't have the ring to start with but we are keeping it, it's in our wedding photos, videos, etc. so we are getting a simple band for daily wear.
Original Review
OMG, I got the sixteen stone ring for my wedding ring, and I can't wear it because it tears up my fingers. It is so pokey and painful to wear. It's like wear thorns on your hands. The salespeople never mentioned how hard this would be to wear everyday. I am very disappointed that Tiffany & Co. would sell a 11K ring that hurts a person. I think they should accept this return, but they won't. I am going to file a complaint with the BBB, and if there is a mad attorney out there that is sick of Tiffany & Co. pulling this style of sales, I would join the class action. Where is the lemon law on selling bogus expensive rings?

Tiffany and Co. used to be the topnotch. They lost their quality. I bought a necklace for my wife and it tarnished every other day. Yurman and LV and you won't deal with the BS.

I own a pair of matching engagement ring and wedding band from Tiffany and we don't think one side of a channel was crafted well to match the rest. We communicated with the sales rep and she said, "I can do polish it or do a quick repair at any time for free at any time." But the customer service sucks to hell not only because they now charge a fee to polish their branded rings (not even to mention a repair), but also they blamed me for wearing my engagement ring everyday. I asked why, she said, "because it will be damaged due to everyday wearing". I told her I only wear during the day at work and never wash anything with them on my finger, they are securely placed in my jewelry box in the night. She said still counts, they will be damaged during the day.
I then asked, "do you mean the platinum or diamonds?" She said "both". Excuse me??? Please tell me diamonds are NOT the hardest metal in the universe, please tell me that engagement ring/diamond ring is supposed to be wearing only on the Wedding Day and special occasions. I thought people wear them forever so did your advertisement claims. Plus the uneven channel was spotted after few days we made the purchase!! It was ridiculous how a normal wearing can damage a ring and causing an uneven channel.
Their rings are the most expensive things in the world based on their size & weight. Why can customers not expect the finest quality and the most satisfying customer service?? I've never shopped Tiffany & Co ever since and there are a handful of other brands with better reputation and finer jewelry! Plus well-trained customer service representatives who can provide solutions to an existing problem rather than blaming customer for wearing their beloved diamond rings!

I lost my Return to Tiffany bracelet a couple of years ago and when my husband went to the US he bought me a new one. When he came back with it, I was really disappointed. He payed almost exactly the same price as I had paid when I bought myself, but now the weight of the bracelet I got was almost one third of the one I had before. It felt like a fake. I was furious. That was one of the reasons I really liked it. It felt solid. Now it feels cheap!!! How come I haven't heard of anyone criticizing Tiffany for this scam!!! No articles found in the newspapers either. I feel cheated. I thought that the company stood for quality. Apparently not anymore. "Angry".

Completely disgusted with Tiffany & Co. I will never spend another dime there again. In late May, I bought a sterling silver ring which I paid a good amount of money for. It was worn twice since and once taken out of the Tiffany box it was completely ruined. It was tarnished and a ugly gold colour. I have purchased sterling silver jewelry 6 years ago that has been worn often and still in perfect shape. What a ripoff and waste of money and bad customer service. The beautiful ring I purchased now looks like a fake, ugly and disgusting ring you can buy at the dollar store. I will NEVER shop there again. Absolutely appalled.

Customer Service dept. lady was very rude. Before you put someone on the phone with your customers you need to understand they are the "face of your company" at that moment!! She spoke to me as if I were stupid and her attitude was condescending!! Shame on you Tiffany&Co. When I get this matter resolved I will never do business with this company again.

It is sad that an iconic American jeweler has stooped to such low, pathetic levels of quality. Once upon a time (less than 10 years ago), a piece of jewelry from Tiffany and Co. was special and worthwhile. I was given a "1997 T & Co." silver ring for being a bridesmaid at my bestfriend's wedding. I was the only bridesmaid in a small wedding, and she wanted to give me something very special. The quality of this ring is outstanding. It's thick, gorgeous sterling silver; VERY HEAVY. She paid in the neighborhood of $250.00 for it.
Fast forward to 2015... I wanted to buy the same ring for my only daughter's Sweet 16 birthday. Paid about $250.00. It is thin, and CHEAP-LOOKING! So disappointing. My hubby purchased a sterling silver necklace and simple charm for me a few Christmases ago. Chain broke once, we sent it back. Tiffany fixed it. Chain broke again, and this time I just went to a local jeweler. He asked how much we paid for it, and said that the quality and workmanship was exceedingly poor; i.e., we got ripped off. NOT BUYING FROM TIFFANY AGAIN. ALL ITEMS WERE PURCHASED DIRECTLY FROM Tiffany and Co. official website or directly from catalog/phone call, so we did not buy fakes. Tiffany and Co., what happened to you?

I purchased a 20th anniversary ring for my wife. I spent $13,000 for the cobblestone ring. It has had 2 of the diamonds fall out and recently another one has cracked. Tiffany does not warrant their products. The first repairs were required after only 3 months and took 7 weeks to complete. They tried to charge my wife $400 for the repairs, she was extremely unhappy and after extensive conversation they finally conceded to cover it. Now there is a cracked stone and they refuse to repair it. I have purchased an extensive jewelry collection for my wife and she has never had an issue with any of the other brands including costume jewelry. We will NEVER go back to Tiffany and Co for anything and continue to be a negative review for them.

I've had the best experience and received the highest quality customer service from everyone I've worked with at Tiffany & Co. I order from them frequently as we order a special gift for some of our best customers. I've always received top notch attention to detail and any questions or concerns are immediately dealt with in a friendly and professional manner. I can't say enough good things about working with them, the quality of their products, and the quick and easy service. Thank you!

My partner bought me a Tiffany bracelet for my 30th birthday. In 3 yrs it has fallen off twice, once down a drain and once in the runner of my car seat, to which it got damaged very easy. But before this the heart link had come off from the toggle. When I took it back to Tiffany's in Manchester selfidges I was told this was not covered as I had had the bracelet over 12 months. To be fair they fixed it but today again it has fell off. I don't understand how they can charge so much for them and they fall apart. I won't be buying any more items from them.

So roughly after a year of wearing this sapphire/diamond wedding band, 2 of the sapphire have fallen. We took it to the store. After the inspection, they said it's not covered due to sapphire is a softer gem and if you wear it often it will fall off due to activity. Are you serious? Why no one told us this when we bought the ring? If you can't wear your wedding ring at all time, what's the point of having a wedding ring?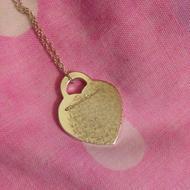 I visited NYC with my little sister last week for my 30th birthday. She went into Tiffany and surprised me with the prettiest necklace as my birthday present. I put it on and wore it for about two hours while we were walking around the west village. Then I took it off, put it back in its pouch and box and I didn't open it again until I got off the plane in England. I haven't worn perfume, haven't worn it in the shower or had any liquids of any sort near it, but it looks AWFUL! The back is badly marked and tarnished. I can't believe it's happened after only a few hours wear. I would expect more of a company with such a good reputation! When I spoke to them they gave me two options, buy their cleaning product or pay them to clean it for me. When you spend this much money on a product you don't expect to be forking out more money after only a few hours wear to maintain its quality. Totally unacceptable in my opinion. Very disappointing Tiffany and Co!!!!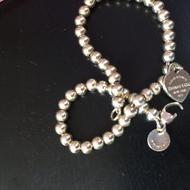 My boyfriend first bought me a 2 chain bracelet with a love heart and one chain snapped within 3 days so I asked to exchange it and I dealt with very rude and stuck up employees from the Bondi junction store. Also I have received 1 bracelet and necklace on my 21st and both have broken off since. That was 3 months ago... Never again.

I purchased 7 Tiffany necklaces and pendants with initials as a bridesmaids gift for all of my bridesmaids and was so embarrassed to learn that in under a month, most of the pendants had rusted and tarnished and looked like they were worn for 10 years. I contacted Tiffany customer service and their response to me verbatim was "Because our silver is not coated with anything, tarnishing can occur at any time." Thanks a lot. They should put that on the products before you spend all your money. Also, I will either have to pay $20 per piece to get it cleaned or $50 per piece to get it polished. It really isn't fair that you spend all this money and in no time, your item looks like trash. I have many other silver pieces not from Tiffany's that have never had this issue. I will never be purchasing Tiffany's again!

My boyfriend bought me a ring from Tiffany's for our anniversary but it was too big so I went in to exchange it for a different size (at Mohegan Sun Casino in Connecticut). Not only was the staff extremely stuck-up and rude, but they sent me the WRONG RING after 5 DAYS of waiting when the claimed shipping would be "exceptionally fast." I had to go back today and order the ring again, hopefully it will be the right one this time...

I have been a customer of Tiffany's for years. I have shopped online, by phone and at several of their shops including Chicago Magnificent Mile, Indianapolis Keystone and Doha, Qatar. I have always been treated well by their customer service and sales people, especially those in the US. In Indianapolis I was served by a wonderful lady who patiently spent time showing me several keys, looking online and calling other shops until I found the one I wanted as a present for my daughter's university graduation. She was patient as I had to call my international bank to get an increase in my credit limit to purchase the item. In Chicago I have purchased several smaller silver items and was still dealt with professionally. The sales lady noticed I was wearing a Tiffany's ring and suggested I get it polished while I was there. It was done for free.
This year at Mother's Day I called in an order and 3 hours later upon realizing it was the wrong bracelet, I called back. The item had already been packed. The customer service representative apologized that it couldn't be changed now and assured me that mom could return the bracelet with free return shipping. I have never had a problem with any of the jewelry I have purchased at Tiffany's and remain a loyal customer.

I took my mom and her friend (whom was visiting here from England) to the Stanford Shopping Center in Palo Alto, CA. We were all visiting from out of state. I used to live in the area, and work at that Shopping Center. They have never been to Tiffany's and decided to go in to check out the jewelry, while I waited outside. 3 mins later, they came outside with a very disappointed look. Nobody asked if they needed assistance, and they said that the employees just ignored them. It is a myth that if you look rich, you're more likely to buy Tiffany. You can dress average and still have money. They need to know this. This is not the kind of reputation you would want to have as a business. These employees need to be trained in great customer service. The better customer service, the better the sales!

ConsumerAffairs Research Team
The ConsumerAffairs Research Team believes everyone deserves to make smart decisions. We aim to provide readers with the most up-to-date information available about today's consumer products and services.
Headquartered in New York, Tiffany & Co. is a company that sells luxury jewelry, fragrances, accessories, watches and leather goods. While known for outstanding products, Tiffany is particularly well-known for offering stunning and high-quality diamond jewelry.
Legacy: The company was founded in 1837 and is considered one of the most outstanding luxury brands ever created. They have great brand recognition, which comes from their timeless logo and their signature blue box.
Free return shipping: Returning jewelry to Tiffany is always free, and the company lets customers return pieces by mail at no cost.
Wedding and gift registry: Customers can take advantage of a simple online wedding and gift registry where they can register for gifts they want to receive, making shopping easier for gift givers.
Diamond experts: The company has a large number of diamond experts on staff to help customers pick out the right diamond products for any occasion or person. Customers can communicate with these experts through e-mail, online form, telephone or by visiting Tiffany & Co.'s brick and mortar retail stores at many locations throughout the world.
Outstanding watch selection: In addition to its traditional jewelry selection, the company offers a huge selection of watches made out of precious metals, many of which have beautiful gemstones in them.
Best for Couples getting engaged, people looking to restore antique jewelry, customers looking to buy a luxury gift and Religious consumers celebrating milestones.
Tiffany & Co. Company Profile
Company Name:

Tiffany & Co.

Year Founded:

1837

City:

New York City

State/Province:

NY

Country:

United States

Website:

http://www.tiffany.com/