Consumer Complaints and Reviews

I signed up for my Sam's Club membership in Saturday, February 10th. I committed myself to the cheaper membership. Not because I couldn't afford the $100 membership as some might think or judge. So, back to my experience. On the day in question I arrived a little after 9 am. After I informed the Membership Rep my decision on which membership I felt was a fit was the $45 one. Immediately after those words left my mouth another Rep barks "You do know you can't shop until 10 am?" I looked at her like "Should I leave since it's not 10:00 am?" I'm not sure when this became a law at Sam's but it's pretty silly.
As I patiently await my card I'm handed a temp card. Okay what am I missing here? Does $45 not only disallow you entry until after 10:00 am it's also a temp membership? I look at her bewildered and she states "Oh I have to give you this because we're out of ribbon to print you a real card and be sure the cashier returns it to you". I started to think to myself what have I gotten myself into?
I finally was able to make my way into the store. As I was walking down an aisle a lady sitting on a floor cleaning machine comes barreling around the corner and nearly crashes into me. Mind you NO apology. She just kept going. I did purchase a few items and made my way to the cash register. The young cashier took a few tries to enter my temp information. I finally was able to leave. I'm not sure when and if I'll ever get a true membership card. Holding on to my receipt for dear life. I guess when the time comes I'll need to remind myself that I can't legally enter this store until 10:00 am. This was certainly not the warm welcome I had anticipated. Sam's you might want to work on this.

I placed an order with Sam's club 2/6/17, which was promised to deliver by 2/11/17. After waiting for delivery on 2/13/17, I logged back onto FedEx website to find
out I wasn't going to get expected delivery until 2/15/17, because Sam's Club failed to allow them to pick up order until 2/09/17. I placed call to Sams Club who was no help nor were they sympathetic to my issue. I will never online from them again. And I am considering just not renewing my membership to store after many years.

Worst service ever!!! Tried online and kept logging me out and freezing!!! Went into the store and could only give me a 1800 number!!! Ended up paying the extra money for another company!!! Very disappointed!

I bought a 55 inch Samsung curved TV and 2.1 curved soundbar as bundle, they did send me a wrong sound bar (regular not curved), I have been calling them for two weeks and they say you have to return the whole thing for exchange. I was like "this is not an exchange, you sent me the wrong sound bar so come pick it up and send me the right one that I paid for." They said just go to any Sam's Club store and they will exchange it for you cause if you wanna do it online you have to send the whole thing back.
I did call my local store five days in a row but they say they don't have a manager. I was like "how can you run a store with no manager?" Then they say he is not available, I went to the store twice and had to wait for then 30 min to talk to the manager and again he said the same thing you have to return the whole thing, not even that he said that I have to deal with the online customer service, so now I'm back to sq one and the problem has not been solved, very poor customer service.
Still calling every day and each time they put me on hold for more than 15 min then transfer me to another department. I did install the tv, so now I have to put it in the box and take it back to the store, The tv will not fit in my car. It's a 55-inch tv so I have to rent a Uhaul truck. What's the point of buying online when I have to go through all that? It's very sad that customers paid for items and they receive a very poor service. Also they don't have the tv in store, problems keep adding up, today Feb 8 2017 they gave me a return number (third party tv service not even Sam's Club) that I did call and again the also said they can't help with sound bar only with tv.

On 2 different times I have used my Visa bank card at Sam's Club gas pumps. The first time I got 34.00 in gas and was charged 100.00 transaction. My bank and Sam's blame each other for that. And yesterday I went to get gas at Sam's and I had to use my bank card as debit. As soon as I did it declined my card and I received 2 text messages from my bank that there was 100.00 transaction made and I didn't get gas. Sam's blames the bank and the bank says it Sam's so lesson learned I will never get gas at Sam's Club again.
How do I know I can trust these reviews about Sam's Club?
693,837 reviews on ConsumerAffairs are verified.
We require contact information to ensure our reviewers are real.
We use intelligent software that helps us maintain the integrity of reviews.
Our moderators read all reviews to verify quality and helpfulness.
For more information about reviews on ConsumerAffairs.com please visit our FAQ.

The only problem I have is they are closed for lunch 1:30-2pm and closed on Sunday all day. The associates and pharmacist are all friendly, helpful and knowledgeable. They call when your prescription is getting low. Also I get a text when my meds are ready. My mom also gets her meds there too and let us pick up the other meds, if one of us is ill or recovering from surgery.

We go to Sam's a lot. Don't like to eat there anymore cause the seating is too small for baskets and so very hard for our 2 yr old granddaughter no to slide off those benches and can't reach to table. The floors and tables and drink counters are never clean. Just nasty. The drinks are just carbonated water and ice is nearly always empty. We spend a lot everytime we go to Sam's and enjoy shopping, but it's just horrible that the food court isn't being taken care of! Get better tables to sit at, not those slick benches and clean it up! Makes people wonder what it looks like behind the counter where they are fixing our food! Refill the lids, straws, and clean the mustard catsup counters. Thank you!

Sam's Pharmacy #4850 is customer centered by offering prompt and caring service. Erika, the pharmacist, is not only very knowledgeable, but also especially caring of all her customers. She makes every effort to find coupons to help pay for medications while also offering words of comfort to all customers. Erika and her staff are all customer centered, providing respectful and courteous service. I would highly recommend Sam's Pharmacy, especially #4850 to one and all.

What a nightmare. I finally let Sam's club talk me into their credit card. After not getting any mailings I call to let them know and the person is hard to understand-keeps saying they can't verify me - that my mail has been returned. I tell them that they have failed to update their data- that my Sam's store entered my new info at the time I got the temp card (I had recently bought a home). They tell me they will send me a statement at my new address. Weeks go by nothing. December I want to be sure the balance does not go over to the next year so I call again for the balance. Takes 45 min. Get told they can't be sure I am not fraud, and card will be held. I don't care. Just send statement and give me total so I can send check. My Bank sends check with my name and member Sam's Club number on it.
In Jan. my bank gets the check, with a letter saying the company needs "an acct number". They could not determine who to credit the payment to. In the meantime I get a bill showing no payment and late fees. My bank sends me the check and letter to deal with. I call to ask what number they want. They tell me no payment was received or sent back, no letter was sent, no specialized payment processing department exists. (Even after I read them the letter.) And now I found out they have reported me to the credit bureau as being delinquent. All because they don't keep their database correct. Customers suffer and they falsely assume they are talking to fraudulent calls. WHAT IS THERE THAT A PERSON CAN DO WHEN THESE BIG COMPANIES WALK ALL OVER US LIKE THIS?

The main pharmacist, Erika, and her staff at Sam's Club Pharmacy #4850 go above and beyond to make sure everything is done as soon as possible and that all the instructions are understood when receiving our medications. They were also understanding about any questions you may have. The staff has often gone and searched for coupons for the expensive medications we needed that were not available in generic form yet, to ensure the medications were more affordable. Little acts of kindness, like asking how myself or my parents are when we visit the store, have kept us going back to the pharmacy over the years. I would highly recommend this pharmacy to anyone and everyone.

I have tried other pharmacies. One or more of them are always out of my meds and I have to wait 1 to 2 days for them to come in. But I have never had a bad experience at Sam's Club Pharmacy. They even call when they realize I have run out or about to run out of my meds. They even let me know how much my rewards are. The staff is courteous, knowledgeable and the prices are reasonable.

I switched from Walgreens with lousy service and terrible prices. The service at Sam's Club is always good and the pharmacy tech even notifies me when I could purchase an over the counter or get generic for less. They will also give the 3 month price for my maintenance prescriptions without me having to mail in.

I ordered a dining room set from samsclub.com and paid $893.45 on November 14th 2016 and was told I would receive the product before December 7th in time for Christmas on December 22nd. Was told it would be there in time for Christmas. Because it was damaged in shipping twice, on December 23rd Sam's Club said they would refund my money after screwing up my Christmas plans. As of January 16th 2017 my money has not been refunded!!! I hope I don't have to sue Sam's Club just to get a refund!!!

I wear focus night and day. They are cheaper at Sam's than the place I get my eyes examined. The staff at the optical department at Sam's are friendly and know the products they sell. My contact lenses are a name brand, good quality. Have good value, price not as high as other stores. The delivery/shipping does not take long.

Sam's Club has a wide variety of frames. My glasses have nice frames and lenses. Not cheap but not high end. I got a call earlier than thought and picked my glasses up. So far, so good. This is my third pair of glasses from Sam's Club. Overall, I'm satisfied with my experience. Other stores that deal with just glasses probably have a wider selection but Sam's has more than enough for me.

Sam's Club has a better fit and focus than other eyeglass chains. They also had London Fog, my favorite. Service was friendly and courteous, and there was short wait to be seen by a tech. Information about glasses and when I would receive them was accurate. Very good quality and durable glasses. Will return for more.

I bought my first and 2nd pair @ Walmart, very satisfied. Since prices have gone way up at Walmart and Sam's, I chose Sam's because of frame. The glasses are expensive but still cheaper than others and seem to be excellent quality.

I have had the worst experience with Sam's Club. I purchased a coffee maker online for Christmas gift on 12/16, The website show me that the shipping labels have been create. After new year!!! I still did not receive the item. I contact to the FEDEX and they told me the Sam's club never ever!!! Send them the item, that is why they can not send anything to me. I am so disappointment to sam's club. It is almost 20 days, if I did not lose my greatest patience, I will still waiting for my never coming Christmas gift. After that I spend 1 hour waiting phone call to cancellation my order, and being treated like an idiot. NO apologies, NO respect. Thank you to let me know how ** you are Sam's Club.

On Nov. 23rd I ordered a gazebo from Sam's Club. Delivery was to be between Dec. 1 and the 15th. My checking account was debited Dec. 1 and I was notified the gazebo had shipped. After a few days I tried to track the shipment but every time the shipping company website said I didn't have enough information. After Dec. 15th. I started contacting Sam's. First by email, then by phone. After at least 6 emails and eight phone calls, nobody seems to know where my Gazebo is. Everyone says they will investigate and call me back but I have not received one phone call. Messages to both the vendor and trucking company have gone unanswered. It seems there is no one at this company that cares about customer service. I'm now trying to get a refund for my money but that doesn't seem to be any easier.

I found the value of the glasses to be a great deal compared to other places and the quality was excellent. The price was lower than in the optical store at my doctor's office and the customer service was great. I will be using Sam's again and would recommend it.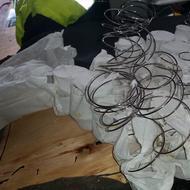 Lane Big & Tall Bonded Leather Executive Chair, Chocolate Brown!... Cheap China garbage. Avoid this product. Two years in and the springs are shot and although not poking through the surface material yet is not comfortable (take a look at the photos. The springs came out like that. I removed the springs so I can pad with memory foam and get a little more life out of the purchase). These are yet another cheap China product. My old Best Buy chair is back in use after 5 years because this one didn't last at all! Of course I can't find the receipt and have better things to do than stand in line at Sam's Club to return things that were bought in good faith with hard earned money. I have the skills/tools to repair the seat so I am not worried, but buyer beware if you are actually planning on using this as an office chair like I do (meaning sat in for long periods of time for work).

My husband and I opened credit card online with original offer of $55.00 cash back guarantee when you spent the amount of $100.00 or more on a single charge. The card was mailed to us, with no instruction or mention of the online offer. Wife is then told she had only one day to use offer, same day as you applied for card. We never got a chance to even activate the Sam's Crooked Credit Card. We call the consumer service. They are about as friendly as the TSA agents at the airport. No I sorry the TSA agents at Fort Walton /Eglin Airport are nicer. The wonderful lady puts on hold for ten minutes and ask us if we had anything more to say... Again I ask if we can get a voucher or credit... NO. Offer ended. Wow!
So we are also new members of the Club and I really see no advantage other you can buy 500 rolls of toilet paper at a time. TV's are more expensive at Sam's than Walmart, Sear or Kmart. Also there are no deals with automotive on tires... Go to Sears or TiresPlus for better value. We can't even get a refund from our membership fee. Less than two months... We will damn sure not renew or shop there! Beware! Sam's treats customers like cattle going to the slaughter over there.

On November 20th, I ordered Virgin coconut oil from Sam's Club online. On December 8th, I never received my order. However, on my order history, it showed that they delivered at December 5th. So I called the customer service and was told that the product was delivered to another state, far away from my home. The lady whose name maybe Dejamae. She also told me that Sam's Club will reship this product to me right away since they found the mistake.
I were waiting for another few weeks, I still didn't receive my product. So on December 23, I called the customer service, the lady who answered the phone was Anna. I told her that I haven't received my order. She told me that I should look my account history carefully. It said it was delivered. Then, she told me that this merchandise was delivered to my house and I refused to receive this merchandise. That is the reason I didn't received it. From the beginning to the end, she had no patience to find out the reason. No any resolution she'd willing to provide. No any apology about the long time delay on the merchandise. It was irritating.

Well I have been working on my credit for 2 years now. I have good credit but it took a lot of perseverance and time to get there. I applied for Sam's Club credit. They approved me for 500 well knowing what it takes to build your credit by doing my research. You can't spend more than 30% of your available credit or it will affect your credit in a negative way. You do of course have to use your credit so me and my wife decided to buy a laptop about 300. Well the person that we bought it from in electronics was informed by me that I can only spend 80 dollars on my Sam's Card and another card with a much higher limit explaining to him how much to charge each card. Well the person charged only the Sam's Club card. After calling to make a payment on my card I found out what happened and was devastated to see after all the work I did to build my credit this dummy and corporate Sam's Club screwed me over.
I talked to management at Sam's. The lady tells me she doesn't use credit and doesn't seem to care or what to help. The investigation took almost 3 months while my credit and hard work to build it were being destroyed. Very disappointed. If you want to be bullied around by corporate pigs you might want their credit. As for me I'll be fine without it. This took place in El Paso TX.

Not worth the money. I purchased a 2 tier cake from the bakery for my companies Christmas party. Well to my surprise it wasn't really a 2 tier cake. A couple of things happened: The cake was picked up around noon and the cake started melting around 2PM. Meaning the top of the cake started falling off the cake. HORRIBLE. The room was cool so this should not have happened.
It was not a whole cake on the bottom. The bottom layer of the cake had some type of insert in the middle, so there really wasn't any cake on the bottom tier. There was only cake around insert which was very miss leading. That's why I didn't consider it to be a 2 layer cake because the bottom had very little cake. Not worth $67.00 at all because there wasn't really any cake on the bottom... Highly disappointed. I had to go out to purchase additional cakes because there wasn't enough on this two tier cake.

On Dec 5, 2016 my wife and I purchased a small package of rib eye steaks from Sam's Club in Marion Il. We always look at these steaks when we shop at Sam's but have never been able to afford them due to our fixed limited income. However we had a little extra money so decided to splurge and bought this small pack of 4 steaks. We paid over $30.00 which is unheard of for us. My wife cooked hers in a small grill and I cooked mine slowly on the stove top. Both of these steaks were extremely tough and unchewable for anyone - our dog ended up with most of it. We still had two left so decided to try cooking them in a beef stew in our slow cooker. Surely they would be nice and tender after 24 hours cooking time. No such luck. The steaks were still tough and stringy and again a treat for the dog but not for human consumption.
I complained via email to Sam's corporate headquarters and I received an email apologizing and nothing more. I at least expected an offer of a refund or a store credit so I complained again. Again an apology and some advice that being that I should go back and see if I could talk the store manager into a refund. Well frankly that is insulting. I do not beg for anything. If this store cannot do the right thing when presented with a detailed written complaint then my only other option is to at least warn others of the policy of not refunding the customer when a product is obviously inferior and should never have been put in the meat display counter in the first place.
My advice to anyone looking for a good cut of beef is to shop somewhere else. You won't find it at Sam's. In all fairness to Sam's Club we have shopped there since moving here in 2002 and this is the first time we have purchased any beef from them. We have purchased other meat products and have had no problem but I definitely cannot recommend the beef to anyone and I certainly will never purchase another steak from this store.

They have been promoting a Yeti Cooler that will be on sale on Dec. 8th. It has shown up on Google and even Amazon. I logged on the site at 8:00 AM on the 8th and they were still showing that it was about to arrive on the 8th. Checked back at 10:30 AM and guess what - it is showing as sold out. This is just the last in a chain of REALLY BS customer service issues that I have had over the years. My account just went out of date and it will stay that way permanently.

I purchased a Samsung SUHD 78" curved TV 9 Series on Black Friday on Sam's Club.com for $3500. I was given an estimated delivery of December 7th to the 23rd which was fine as it was for my wife for Christmas. To my shock I received an email 10 days later telling me they had cancelled my order. They did not even refund the warranty they sold me or the membership fee I had to pay. I made several attempts to resolved with customer service which I can only describe as a disgusting experience. This put me in a terrible positions as 10 days after black Friday all the sales have gone.
I had sold my existing TV and now have to buy a new TV at the worst time of year! They even tried to BAIT AND SWITCH me by offering great the COMPARABLE Samsung UHD 78" Curved, a TV worth half the amount, disgusted by this as I believe this was their plan all along as most uneducated consumers probably fell for this. I will never spend another dime at Walmart or Sam's Club and this has black listed their brand for me for life. I also saw many news articles where Sam's Club have enacted this scam many times. Where is the class action lawsuit?

This is the worst experience I have ever had. I order a 60' Vizio 4K UHD Television Thanksgiving morning, their website said the television would be delivered November 29th or 30th. On December 1st the FedEx tracking said the television would be delivered that day by the close of business, then later it just said delivery pending. I contacted FedEx on December 2nd to find out what happened. They just said it had been put on the truck on November 30th then taken off, they have no idea where it is. (That's a whole different story.) I contacted Sam's Club customer service on 12/2 and again on 12/5 explaining what happened and asking them to help.
On 12/5 I asked couldn't Sam's just send me another television and they deal with FedEx on finding the lost one? I was told that they no longer had the product and they could not offer me a comparable set. They would see about refunding my money. I explained I don't want a refund. I want them to honor their sale. I purchased the product, they received my money, it is not my fault they failed to deliver the product. I was told again that they could refund my money but I now would have to buy a set at a higher price since this one was no longer on sale. I asked to speak with a manager and was told the manager would tell me the same thing. Sam's.com is the biggest rip-off, their customer service is lousy, and I will no longer shop there. Whatever happened to good service? I spent countless hours on the phone to receive no help whatsoever. I will never do business with Sam's Club again.

I purchased a mattress and box spring from Sam's on 11/12/2016 and used "their" delivery company "Installs Inc." My delivery date was 11/17/2016. The box spring was damaged so the delivery man took pics and called it into his company. I contacted Installs 3 days later after receiving no follow-up call from them. The driver was to come back and pick up damaged box spring and exchange it. This exchange has been CANCELED 5 TIMES. I have even had the supervisor, Dawn rescheduled this last delivery on 12/4/16 and once again the driver canceled. I have requested they come and pick up both the mattress and box spring and return to Sam's, I AM DONE.
I have missed 2 days of work and shortened my Thanksgiving vacation to accommodate delivery schedules. The last supervisor I spoke with "Monifa" was nice and polite and contacted the driver while I was on the line to verify he would be here today between 12 and 5pm to pick up the set. (We'll see if he shows.) She was gave me gift cards to Sam's but this in NO WAY EXCUSES the time and money I am out of because of the INCOMPETENCE of their DELIVERY COMPANY, "INSTALLS INC."
Sam's Club Company Profile
Company Name:

Sam's Club

Website:

http://www.samsclub.com/sams/homepage.jsp