Consumer Complaints and Reviews

Month ago I got a letter saying that my payment was returned to my bank account, it never said they had a problem or suggested that I call them and try and fix anything to my pay account. I called the number on the back of the Sam's Club card and no person was available to talk to, and was forced to use the so-called automated service, and recordings didn't suggest there were any deficiencies or requirements that was needed on my behalf, and my wife sent another payment with confirmation number, another letter showed up saying the same thing then I went in and paid a payment using my personal bank account and it was also sent back to my bank that I have not verified yet? I have used this pay account for years. Just received another bill from Sam's Club saying that my account was late and put the late payment on my account for payment for on the next bill.
Last night about 9 p.m. I got a call that I thought was from a scammer. The lady could not talk with full English and asked me for personal information that I am not willing to give a caller I do not know, 866-923-8370, I asked her what kind of scam was running today and told her I was not going to give her any information. She then hung up the phone.
Today at work I have spent a few hours trying to figure this out trying to call and talk to a real person from another phone number from the account and finally got a real person, he was quite helpful and verified that someone was calling me last night from a third party to discus my late payment. I then gave him my credentials and gave him my debit card number, and he said it would work, and said he would put a complaint in for me that she should have never called me. At this point I am researching ways of not ever shopping at Sam's and getting rid of all my accounts that have anything to do with Synchrony Bank cards. I was never informed that a second party was preparing my account billing and a third party had all my information that they needed to call and harass me for payment.

On 11/12/16 I purchased what I thought was a 50" Smart TV. It was advertised as a Smart TV however it was not. By the time I realized it, I called customer service. The rep stated that it was a Smart TV per advertisement. I was unable to return the TV because I discarded the box. I was not happy. I requested for my membership to be terminated. Then during the same taped conversation I rescinded that request. A day later my account appeared as expired when I went online to purchase something. I called customer service and spent 4 hours on the phone. A rep was rude and hung up on me.
When I called back a customer service rep made my membership active. Since then my membership has been terminated 5 times. I'm unable to purchase anything. I have not been refunded the $45 membership fee. I called repeatedly and made repeated complaints via email and my account was made active then expired within 24 hours. This has occurred 5 times. I'm now being told that I have to go to a local store to resolve the issue. I'm unable to get to a store secondary to my current medical condition. I'm unable to purchase Christmas items and missed sales. My membership remains expired. I have a TV that I don't want. I haven't been refunded a membership fee. I'm unable to get assistance via telephone (which the reps are completely rude) nor would they take any of my online complaints. I've never had such poor treatment from a retailer before in my life. This is awful. I'm very frustrated.

I ordered a laptop computer and a 2 year protection plan from Sam's Club on 11/27/16. It was a great deal and I planned on giving it to my daughter for her 17th birthday. I had found and placed an order the day before from another retailer, but Sam's offered a better deal. I then returned the laptop ordered from the other retailer on 11/29/16. On 11/30/16 - 3 DAYS AFTER placing my order, I received an email telling me my order was cancelled due to merchandise needed to fulfill this order is unavailable.
What??? If it was unavailable, I shouldn't have been able to place the order in the first place. I am now left with no computer at all, since I'm not receiving anything from Sam's and I returned the other computer to the retailer. I had to call Customer Service, who was no help at all, to get refunded my money for the 2 year protection plan on a computer I am no longer receiving. They refused to offer me any other deal for their misrepresentation. VERY DISAPPOINTED WITH SAM'S CLUB.

I ordered a TV from Sam's Club on November 15, 2016 and 4 hours later, called them to cancel the order after finding the same TV from Costco, $200 cheaper. I was told it would take 3-5 business days to refund and I only had a 1 hour window to cancel. This really upset me but after 5 business days, my refund didn't appear and have called 8 times and have been told the same things over and over with being transferred over to many people.
I am beyond mad after FIFTEEN days with still no refund! Sam's Club has had $798 of MINE and keep getting the same song and dance over and over! I just saw that this review or complaint is asking me for my order # which I don't have since I cancelled the order the same day I placed it. I just called Sam's Club to try to ask for that order # and they refused to give it to me... I only have the Refund Authorization # which I will provide.
I'm not sure what my next step will be, but after my last call today, it's left me shaking with anger and frustration. This was my 1st buy from Sam's Club and I assure you it will be the last. They refunded me my membership within 24 hrs., which was decent of them considering I bought the membership in order to buy their TV. I wouldn't recommend this place to anyone! A big company that has a system that rips off their customers.

I was looking for good deals on TV for Thanksgiving and was happy to find a Samsung SUHD TV (UN55JS9000) on Sam's Club Pre-Black Friday online sales for $998 on 23rd Nov 2016. I did book the TV and the order went through. Later on 24th Nov 2016 early morning 2:25 am, I get this order cancellation mail saying that TV is not available in inventory, but when I logged in and checked, I still see that there are 3 more available in stock, but now for a higher price 1460. So, I called up the customer service regarding this around 5-6 times and they say that, they will look into this and will help me on getting my TV back for the same price that I booked for and made me wait till the evening. After waiting for around 24 hrs from the time of purchase and around 8-9 hrs of speaking to customer service representatives, all they could say to me was sorry and I have to purchase the TV for whatever the price is currently online.
This all looks to me as a scheme of misleading their customers and its leaves me of not trusting Sam's Club and its associates never again. If the TV wasn't available in inventory, why would they make me wait this long. I would have looked out for other good TV deals during this time window. It ruined my thanksgiving day and hope, they would be able to give a better reason than saying not available in the inventory, because even now I'm able to see it in their online website, saying inventory has 3 more left. Either, it's all about their profits, (as soon as they came to know its fast selling, they cancel their customers' order and increase the price of product) or they have very bad online shopping. Either way, it made me never trust them again. Very much unsatisfied with the customer service too. What could have been done 7-8 hrs prior, was elongated and made me miss on the one thing I loved to purchase on this day.
How do I know I can trust these reviews about Sam's Club?
639,780 reviews on ConsumerAffairs are verified.
We require contact information to ensure our reviewers are real.
We use intelligent software that helps us maintain the integrity of reviews.
Our moderators read all reviews to verify quality and helpfulness.
For more information about reviews on ConsumerAffairs.com please visit our FAQ.

As we were approaching the cashier's self check out I was scanning my item as a ** female American told me "you don't know how to read. Are you American." She said "scan your card first?" She ask me I said "yes I'm Puerto Rican American granted citizen since 1900 when we fought wars 1-2-3." I explained to her racial comments, she responded "that's not American because you fought in wars that's participating. You were being used for the wars. You are an illegal" and she stated "we don't like you here anyways. Go back to where you came from." So I left and told her manager and her manager said she will speak to her.
On my way out I saw them laughing and staring at me waving. I never felt so hurt to know that my ancestors have fought in wars to be discriminated and picked on. They're also playing boomboxes in between cashiers explicit music. I've never seen that in any Sam's stores in my life! And majority of employees are ** people which I think this is creating a conflict of colors and racism. It should be equal. Equal opportunity for all store to prevent this racial conflicts.

Sam's Club buyers beware of those Online Sales specials. After 1 hr window, you cannot cancel the order prior to receiving the item. You will have to accept and then return the item, losing the shipping fee. Forget about getting help in a local Sam's Club or toll free number. Small print also says free shipping not for Hawaii, but some specials do include free shipping to Hawaii. Shame on companies who no longer put customer satisfaction first. That's what happens when we are so dependent on foreign goods. We've lost the quality of customer service that small business provides. America has shot ourselves in the foot by being so dependent on big business and foreign companies. Do not expect superior customer service to resolve a discrepancy from Sam's or Walmart. Sorry, will be going back to Costco where no problems on returns.

Once again I've had another good experience at the Sam's Club I normally shop at. It's the one on 83rd avenue/Union Hills in Peoria, Az. A few years back (approx 3) I was extended really good personal service when I purchased two RV marine batteries. I can't say enough about the nature of care and concern demonstrated by the manager on duty. Simply put I left there wanting to stay a member for life.
Today I bought a Segway mini pro for my Grandson for Christmas. Normally I avoid spending beyond my normal budget as when I get the routine items for home which includes perishable and non-perishable items. On occasion we splurge on electronics and such and are never disappointed. Also never had to return any item purchased at this store. If I ever did I feel confident they will accommodate me as promised by more than one manager. Understandably, that always puts my mind at ease. Be assured, I can only speak for our personal experience at this location.
I will therefore refrain from generalization and respect that others may well disagree with me for whatever reason and wish for them the same level of satisfaction we've been fortunate enough to come away with. Some employees I would like to commend on this occasion are two managers on duty, Bear and Nick and one other young man who happily assisted me named Nik. I wish these guys and their team Happy Holidays and much success in their careers. Cheers! ???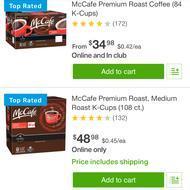 I used Sam's club shopping for the 1st time because they offered Instant Savings of $6 on McCafe dark roast coffee plus free shipping! I received my order for the three boxes, but received decaf which was actually more expensive. Since I was going to the local club I decided to exchange for the correct item there. My complaint is that they gave me a hard time because they said it's not their problem since it was an online item & they didn't stock decaf. I asked how it was my fault I got sent the wrong item. They agreed to refund me, but I noticed the total amount was lower than what I had calculated. I asked at the refund counter why it was lower & she could not give me a reason.
When I went home, I noticed Sam's online sent me an email with a higher refund amount. I started doing calculations & found out I was charged a tax rate higher than HI's 4.712 rate, but refund with HI's tax rate. Somehow it doesn't seem legal, especially because it wasn't my mistake. I reordered & noticed I didn't get the $6 Instant Savings. They charged me the regular price although the advertised price is $6 less. I called Sam's online & they said that because they are not a secured site, they can't do refunds unless I send items back. What the heck is going on? So now I have to return once again for something that is not my fault!
I just wanted to make other consumers aware that Sam's.com may overcharge so be very careful. I tried contacting someone at Sam's who could be made aware, but there is no contact information listed in their website. All you get is an agent apologizing for the error, but is unable to help or correct the issue. As a side note, I also notice that the local club does not display prices when they are ringing you up. I never did really check, but now I will.

I am a big spender at Sam's Club for personal as well as my business, but when it comes to customer service they are the WORST. Customer service rep in club and online are rude, incompetent, unprofessional and often provide wrong info. I just don't believe big company like Sam's operate like this. I would blame on management did not do their job all the way down and why do I continue to shop with them? I am moving my business away from Sam's.

On October 21, 2016 I purchased a 70" LG UHD TV. I was told to expect it on October 27, 2016. I was further advised that I would only get two hours notice from the freight carrier in advance of its arrival. When it did not show up I went to Sam's. The order shows being processed. No tracking number. No pro number. The order cannot be cancelled. Nothing can be done. Tomorrow I am going back to the store again to see if I can confirm the cancellation so that I can buy one off the floor. Amazon has a better price on most other models but not on this one. It really was not worth the grief. Forget about the fact that a freight carrier is not a good way to ship a television. Customer service is not part of Sam's Club.
Updated on 10/29/2016: It has been nine days. I ordered a 70" LG high definition TV online from Sam's Club. Their website says that it takes two days to process an order. It has been nine. They placed an authorization on my charge card and I have to wait one more day before I can initiate a dispute. I am going to have to do this in the hope that they will either ship the TV or issue a refund. I have visited the manager at the Port Saint Lucie store near my home twice. He has two of the sets that I am waiting for Sam's to ship on the floor but he claims to have nothing to do with Sam's online and was of no help. This is a store manager I am talking about.
He was treated no better when he called Sam's online than I was and we were both informed that there was nothing that could be done. It seems it is the computer's fault. I was thinking about this. Why does Sam's Club need two days to process an order that Amazon routinely does in five minutes? How come nine days later it is still not processed? Why does Sam's take the money first and then worry about their customer while Amazon does not take the money until they ship? Be careful around the holidays. You may find that your order remains in processing for a very long time and while it does you will have no way out. God do I hate feeling trapped.

I tried posting this on their website, but it was rejected because it contained "profanity, customer service complaint and a shipping complaint". This made me even more angry. I will never be using Sam's Club again for anything. I placed an order for 40 sunflowers on 9/23 and selected the delivery date of 10/21. I had a bridal shower that I needed them for the morning of 10/22. While I thought this was super convenient it turned out to be an absolute nightmare. I received a confirmation from FedEx that my order would be delivered by 10:30 am on Friday the 21st, which was perfect. Well, 10:30am rolled around and no flowers.
I followed up with FedEx at noon. They said my flowers were in Waukesha, WI and would be there soon. 4:30 comes and I still have no flowers, so I called them again. They then told me that my flowers were in TN somewhere and due to weather they wouldn't be delivered until Monday 10/24, which is 2 days after I needed. I then called Sam's Club to see what my options were because I still needed the flowers. I spoke to someone that spoke with their manager who said they would open an immediate ticket with the floral department and they would get back to me with my options in an hour. Well an hour and a half had passed and I still hadn't heard anything. So I called Sam's Club again.
I spoke with another person, who was zero help. She said she would open another ticket with the floral department. I said "That didn't work before. Can I call them directly" and she said they don't have the number for them and can only reach them via their ticketing system. She also said they don't work on the weekends (it was 6:30 CST on Friday and the floral dept. is in CA). I said I can't wait around to hear from them, if there's a chance that I need to figure something else out. She said "Oh yeah, I would start looking elsewhere because you definitely won't have your flowers by tomorrow". She was also making all these excuses that sometimes when things are ordered late (I ordered 9/23) they don't get there in time, or the weather affects delivery.
While I completely understand that they can't control the weather, they can control how they choose to remedy the situation because people place these orders and expect to have their flowers. Being told that I should "start looking elsewhere" at 7 pm on a Friday is NOT helpful and poor customer service. I then proceeded to cancel my order. She said that I should refuse the delivery on Monday-- I said, I would be at work. I did end up receiving the flowers on Monday at 8 am. They were in rough shape. Overall, I was VERY disappointed with this service and how everything was handled after I found out I wouldn't receive my order. I would recommend people proceed with caution before ordering for an event. Because you might just be "** out of luck". I am in the process of receiving a refund, but thought others should know about this before they place orders thru Sam's Club for big events.

To preface, this comment is about a WEDDING DATE! A cake was ordered 3 MONTHS in advance. A phone call a month before the event to confirm the cake order. THE DAY OF THE WEDDING we went to pick up the cake and the bakery FORGOT to make the cake! Instead of providing a free cake, they made us PAY for a cake that was bought last second. This is result of terrible planning, awful management, and horrendous customer service. There should have been a reimbursement process as well as a complimentary cake considering this was the DAY OF THE WEDDING! The service is appalling during and afterwards. Complete quality should NOT be sacrificed due to price, yet paying for something should still mean receiving it when planned regardless of price.

Still waiting for cell phone card. Listing said emailed in 1 hr, it's been 40 hrs! What's the point of buying card online if I have to wait days for it? Called customer service, said they'll call me back, never did.

I ordered 4 boxes of Nature Valley granola bars online. They sent me 3 Boxes and some worthless vitamins. So I called them, they said they would send the bars and a return for the vitamins. Nothing happened, so I forgot about it, so much for Sam's Club! Poor customer service.

After a few weeks of patio furniture shopping, and passing up on some great Labor Day deals from other companies that are currently no longer on sale, we ordered the Toronto Deep Seating 6-piece patio set totaling right under $1,500.00 on September 3, 2016. We were so excited to use this on our new screen porch and specifically needed it by this Sunday, September 25th, for a party we are hosting. A message was sent to us on September 5th stating our patio set had been shipped and was in transit from Sam's Club. The company they use is MXD. It was guaranteed to be here by September 23rd, which is tomorrow, latest. I noticed as soon as I ordered this set from Sam's Club, it was listed as out of stock. I figured we had ordered the last one, lucky us! WRONG!!! I have excitedly checked the shipping status of this order almost every day for the last 3 weeks and every day it has said "In Transit".
So today, I decided to give MXD and Sam's Club a call to see if anyone was able to give me more details about where exactly our furniture was at. Again, it is supposed to be delivered by tomorrow, latest. MXD was not helpful at all telling me to take it up with Sam's Club. The Sam's Club representative puts me on hold for 20 minutes and comes back to tell me that our patio furniture had been put on the wrong truck by MXD and taken "somewhere else" and MXD had placed us on "hold" for when a replacement set came in. Mind you, not one person has attempted to reach out to us in any fashion in 3 weeks to inform us of this. The customer representative was very nonchalant about telling me this information and had absolutely no other information to give as if we would just be okay with this.
Now, they were super speedy to get their money, but when it comes to delivering a superior product, or just delivering any product, they get and F!!! I ask to speak to a supervisor and she proceeds to tell me what I had already heard and I express how I was not okay with being put on a "hold" list for when the next Patio set becomes available. I explain to her how I am aware that the set has been out of stock since the day after we paid for ours and that there were none left. I asked her where exactly they planned to get this replacement and how long it would take? I explained to her how it is horrible business to just not send a customer their order and not contact them in any way. In that case, they could just keep our $1,500 inevitably??? I don't think so! Who does business like that? I express to her how we had passed up on a few other great deals on patio sets on Labor Day and decided to go with this set from Sam's Club instead.
I explained my frustration about being left high and dry for our party we are hosting in 2 days in which I guess all our guest will be sitting criss-cross applesauce on the floor at. I told her that they need a better system to inform customers of ANY problems that may occur with the delivery of their paid orders and how being placed on "hold" for a replacement set to come in is simply not acceptable. I mean, was the plan really to hold our money until a new set came in from somewhere, somehow? What if this set got discontinued and there was never another replacement set to come into stock? Their system is to not reach out to the customer to explain the situation and to just keep the money inevitably?
That is the worst business model I ever heard of. I will NEVER order or step foot into a Sam's Club again. I do not understand how they are still in business and I wish I would have reviewed this company before passing up on the other store's Labor Day deals! I spent hours reviewing the product, but the company lacks in so many areas. Customer service being #1.

First, it amazes me how many people fall for the bulk buying trick. If consumers would take the time to check the prices on SAM's Club's products, you'll find that on normal priced items you may save pennies on total purchase. On sale items, you will fare better, but not any better than you will at Safeway or Target. Then there is Synchrony Bank, the openly criminal bank that falsely reports bad credit and falsifies bank records to cover their six.
I made three months of payments $100 each since I was not receiving a bill at my new address. Synchrony reported me as NO payments FOR OVER 90 DAYS. In FACT they denied that they were mailing my bills to the old address. They outright lied, even though at the time I called in the representative admitted the address was not the same as the address I supplied. Regardless, they have destroyed my credit by reporting that no payment had been made for over 90 days, even though I had mailed a payment every month.

This is a review about a SentrySafe purchased from Sam's. They will not publish the review because I mentioned that SentrySafe will not respond via phone or email about the product that Sam's claims they are no longer liable for.

Sam's Club has very bad customer service. I order 3 layer cake for my daughter's 7th birthday. They lost the order and all they can said was sorry "there's no cake but you can get a one layer cake over the counter, not free". The manager said "you have to paid 50% of original price". Really, my daughter was so upset because we had to buy cupcakes for her birthday for a 50 people party. Will not renew again!!!

I wanted to order a Cedar Summit play structure during a holiday sale that stated the price was $2299 on sale for $1899 + $250 instant savings added to cart. When I put the item in the cart it instead had it at $2149 w/ $250 savings for a final price of $1899. So I took a snapshot of the product page and the cart and email them. They said it was because I was using the iPad and to use a computer, which did the same thing. So they replied that if I ordered it at the cart price I could email them with the receipt after it was delivered and they would refund the difference. By the time they told me that, I had to pay full price less the $250 savings - $400 more than was advertised. I did what they said emailed the invoice after it was delivered and they replied back that the picture provided no proof of the price I wanted them to honor and refused the refund. I have replied back several times but they have never responded back. It has been 8 weeks now.

I purchased a mattress 3-4 years ago from Sam's Club in Medford, NY. I misplaced the receipt and was advised to request a purchase history from samsclub.com. I went on my account but it's limited to 365 days back. So they advised to call the customer service and make the request via phone for up to 8 years back. I called on June 22nd 2016, they took my information and stated that the primary account holder (which is my mother) had to call in and give the authorization, since my card is a complimentary household card under her account. The following day, my mother called to Sam's Club customer service and spoke with an employee and she was asked to give her full name, address, phone number, social security number, Sam's Club credit card number among other personal information.
She complied with all these requests and the employee stated that in up to 14 business days we should receive the purchase history emailed to us. We waited the 14 business days to no avail. After an additional 8 business days we called in to inquire as to what was taking so long. We spoke with an employee (abbreviated name) T. **. She stated that they never had record of the primary account holder calling in to give authorization and that she was going to escalate it to her management team so they are aware of the situation. My mother (the primary account holder) was with me at the time and spoke with Ms. T. ** and gave her authorization to request the purchase history. So from this day would be another 14 days. Another 14 days pass, still to no avail, we waited an addition 2 weeks, just to see if they were behind on schedule.
My mother and I both called in together in mid August, at this point we are super frustrated, we spoke with an employee named Myesha, she explained that the primary account holder had never given authorization to request the purchase history, at which point upset us even more because my mother had called twice before at this point. My mother gave her authorization again, and we requested to speak with a supervisor or manager to submit a complaint and see if we can get this resolved sooner than later. The floor supervisor came on the line and advised us that the issue was the previous employees we spoke with never updated the notes that they spoke with the primary account holder and that was never submitted to the purchase history team therefore it was never completed. He took down all our information and "updated" the notes on his end and submitted our request for purchase history.
We asked him multiple times is he sure he has all the information he needs, he stated yes and we should receive the request in 14 business days. Now we come to today, it has been 22 days since we have made that purchase history request and still no email, letter or any attempt of contact from Sam's Club. We called in to inquire as to what was going on and spoke with a Destiny at Sam's Club Member Services office in Orlando, FL. She stated she was the floor supervisor and that the manager had left at 5 pm. We explained the whole history of our situation and asked as to what was going on with our account and why this is taking so long. She then proceeded to tell us how I am listed as the primary on the account and I never gave authorization for this purchase history request on the account.
At this point I was furious, every time we call Sam's Club Member Services, there is a different story as to what is wrong with the request and a different story as to what was done wrong the time before. Apparently at this point I am listed as the primary in one "system" and my mother is the primary in another "system". As to what that mean, no idea. She did a horrible job of explaining it. She then proceeded to tell us how in order to resolve this issue my mother and I would need to go down together to a local Sam's Club store and show our personal IDs and ask them to fix the accounts. My mother lives in Florida and I live in New York. I asked her to fix this now on the phone since she is visiting for the week. She said she does not have access for this, and stated the only way to resolve this issue is by doing that.
So in review every time we call we must jump thru a different hurdle, getting the primary to call, getting the purchaser to call, giving social security numbers, wait 14 days, call in and speak with different employees, email employees, wait on hold, fix our online account. This is truly ridiculous, we have been trying to get a simple purchase history request, which they advertise as being able to send it within 14 days, and here we are 3 months later still waiting, and taking wild guesses as to what the next one will be. Sam's Club customer service and the way they train the employees is obviously not consistent.

On 8/15/16 we purchased product and it was to be delivered by 9/13/16. I have emailed them and contacted them through Twitter with no response. All I was asking for was tracking information be updated. That was 2 weeks ago. Now here we are at the delivery date and still no response. Now I want my delivery charge back and depending on the further delay, a discount. I can't believe a company this size has this type of customer service department. The time I have sat on hold with customer service just to get inaccurate information is uncalled for. This will be the last purchase I make from Sam's online and possibly in store. The manager at my closest club was no help at all. The simple fact that they use MXD Group as a carrier is another one of their problems. That company in itself is hard to get in touch with and they don't update the tracking information in a timely manner.

I ordered bundle "Samsung 65" Class 4K UHD Curved Smart TV and Samsung 2.1 Channel Curved Wireless Soundbar with Subwoofer" on 8/7/2016 from Sam's Club. I got TV from Pilot Freight, but FEDEX did lost the Samsung 2.1 Channel Curved Wireless Soundbar with Subwoofer. I called Fedex 3 times and got an answer that my item lost. Fedex said that I must call Sam's Club to tell about that.
I called Sam's Club and I have to wait several days and they said that the speaker out of stock (but it's still selling online on the Sam's Club website today 9/14/2016), so I have to return the TV back to get the refund. When they sent me (8/8/2016) the Fedex Tracking number, it included the price of the speaker 272.63 dollars. I talked to refund only this price, but they didn't agree. This is a bad customer's services. Therefore, don't buy online bundle from Sam's Club because if they lost 1 item, you have to return the item you get and it take your time. The 65" TV I got very heavy, I set up already. Now, I must return it. This is bad.

My wife and I paid our membership fees early, by check in the mail. The check cleared the bank within 7 days of date wrote. I have now been in contact with customer service 3 times because the stores tell me that my membership is not paid. I have shown the stores the check that they cashed, as well as emailed it to a customer service supervisor (Tara **). I have been unable to use my membership for 6 months after they cashed my check. I consider this theft of my hard earned money and believe that I have been robbed by the rich man.

I received a damaged item and had to call many times to report it so Sam's Club can give me a refund. Every time I called, I had to spend more than 45 minutes over the phone with customer service. Item was finally picked up after 2 months sitting in my house. After it was picked up, I called Sam's Club so they can give me my refund and they put me on hold for more than 50 minutes. Finally, after more than 1 hour over the phone, they said everything was processed. I don't recommend this store, and customer service neither.

I will NEVER buy tires at Sam's Club again. I bought Pirelli tires, not cheap. The tires wore unevenly. They said I needed an alignment. Went to get alignment, didn't need one. Then they said the warranty was voided because I didn't get them rotated and balanced there. They were just looking for any excuse to get out of replacing my tires. Horrible customer service. I will not be renewing my prime membership. If I could give 0 stars, I would.

I received an email from Sam's Club advertising a 55" TV set for $328 original price $948. I went to purchase tv set, but was told it was an error that they knew about 2 days before the email was sent. I asked about the the TV and the salesperson did not know anything about this error. He thought maybe someone was phishing for my information through a bogus Sam's Club email. The club would not honor the price, I called customer service how at the time also wasn't aware to the error. An incident report was made through customer service but still Sam's Club would not honor their price. I will NEVER shop Sam's Club again, and move membership to Costco. I will also advise all my family and friends not to shop Sam's Club again. A do not shop Sam's Club campaign has started on social media sites.

I needed information about creditcard/membership cards and entrance to club. I waited 29 minutes with regular "we're busy and will get to you" messages, then the line went blank. REALLY?!

I have been less than pleased with Sam's. It's like Walmart that requires a membership. We will not be renewing. We will be going back to Costco. Super long lines. Awful customer service. For example once stood in food line to get a frozen yogurt and stood there for a good 20 minutes just to be told they were out of yogurt!!! Put a drinking sign out people! Awful experiences. Not one positive thing to say about this place.

Stopped at my Sam's Club today to purchase a battery for my vehicle. At the sales desk advised that I need an appointment. Asked her if she was kidding, a battery purchase, a ten minute job and you need an appointment!!! Ended up walking out. She may have done me a favor I purchased a better battery at a lower price. And I didn't need an appointment. It go to show you that it pays to shop around.
Sam's Club Company Profile
Company Name:

Sam's Club

Website:

http://www.samsclub.com/sams/homepage.jsp