Consumer Reviews and Complaints

My wife went into the Fred Meyers on Cantrell Rd in Little Rock Arkansas to get a 10kgp wide-band wedding ring, which my father had given to my mother 48 years earlier and it had been passed to my wife, raised up 1 size. The girl behind the counter was wonderful. Her mother was very ill and my wife prayed with her. A couple of weeks later we went back to get the ring, it was RUINED! The gold had been ground off around the band.
The manager said the ring should never been taken in as it was obvious it couldn't be resized. She said the girl that took it in made a mistake and she had been let go for a lack of skill. We knew for a fact the girl had left and moved back home to be with her dying mother so that was a bold lie. I agreed their employee could have made a mistake but their jeweler was just as un-skilled because he did the job. Then came 5 weeks of treatments and lies and we finally ended up with a ruined family memento and we were told not to come back. The manager refused to give her supervisor's name or a place to file a complaint. We will never use or recommend a Fred Meyer Jeweler.

Oh where to begin. This is at the Everett, Washington store on Evergreen. My son bought me these pearls for he saw me glow when I saw them. The pearls are not why I am angry, it's the lobster clasp that is supposed to be 925 sterling silver and on top of it. My son paid $75.00 more for a lifetime warranty. Here goes after 2 months of wearing my Tahitian necklace the clasp silver was wearing away and copper was showing on both sides of clasp. We were ticked this was plated not true 925 like receipt says. When we called them no we weren't very happy. Pearls that are $600.00 with sterling clasp is a higher price. My son did get them on sale but here is the kicker they tried to tell us this is normal for silver to wear off and turn copper for it wasn't 100.00 silver, it was 925. Husband, son and I said "No way, I have tons of 925 silver. Never wears away to copper."
They had me bring in and leave for manager, they decided if it was okay with me they would replace clasp with a 10 karat with no charge. I said ok for I did like the pearls and it was special for my son paid for them. I wait 12 days get call their ready and that it had 14 karat white gold clasp for they couldn't find size large enough for my pearls. I go there, I saw the pearls. She put them in a box and said "Remember, when you bring them in for cleaning remind them this was special order clasp and that the clasp can't be cleaned with silver polish it would ruin clasp." I looked at her and said really and she said "Yes silver polish chemicals can ruin gold clasps." I went, "Oh." She handed me my original receipt with my warranty papers that they kept. When I got home and took out of box looked at clasp it was replaced with same clasp I had on it and it is stamped 925. Are you serious, in 60 days it will turn too.
My husband called them the lady he talked to said manager isn't here you can bring pearls in and leave them here. My husband said heck no took 12 days to get backed and we were lied to and they put same clasp on again that 1st one changed to copper color and wear it is stamped is the movement part of lobster clasp. So this is how Fred Meyers serves people with 925 plated and sells it as pure 925 thanks and they wouldn't refund us the first time it turned said we had only 60 days and we were 8 days passed that so when they promised to make it right and put a gold lobster clasp we believed them. Since I did have a lifetime warranty as well. This should be against the law, false advertising and paperwork. Wow if they lie about sterling silver shame on them. my son would never buy anything but real gold or silver not copper.
Thanks a lot Fred Meyers you made my 20th wedding anniversary horrible with fake silver on my pearls that's why they were bought. All I have to say is don't trust Fred Meyers jewelry they are not like they were 20 years ago where we got are wedding rings.You should be ashamed of yourselves and for their rude treatment as well trying to tell me silver turns copper did you think I was 10 buying a 10 dollar jewelry Shame on you.

I requested a refund on my layaway deposit because I found the same items for less at a different jewelry store. The folks in the store were rude when I returned to state that I never received the corporate check. I called the corporate office and the rep lied to me when she told me to wait two weeks for a new check to arrive. I waited two weeks but did not receive the check. When I called back to complain I was told that a case was never opened to replace the check and that I would have to wait for them to send me a form to sign, return it and wait a few more weeks for a check to be mailed to me. In my opinion, Fred Meyer jewelry store is a ripoff because they keep your money even when they have given you absolutely nothing of value in exchange. I will never deal with Fred Meyer Jewelry Store again! It should not be this hard to get 100.00 USD returned to a customer! I would never recommend for others to shop at Fred M Jewelry stores.

Recently my daughter picked out a wedding band for her and her fiancee. I was there because I helped her pick them out and I was the one paying. The woman band had to be sized and soldered. The men's band could not be resized. The clerk said all their jewelry comes with a lifetime warranty and if the men's needs resizing it would be replaced at no charge and the woman's would be resized and any damage repaired. Made purchase and afterwards saw on receipt that a warranty plan was charged for each ring totaling an additional $180. Apparently their lifetime warranty has to be purchased. This was never explained at time of purchase. Tried to rectify later but was told they could refund the charges but then I would owe for the soldering and resizing which was more money. I will never buy from Fred Meyer Jewelers again.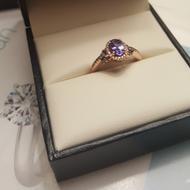 My boyfriend, now fiancé recently purchased my engagement ring at Fred Meyer Jewelers. I love my ring. It is rose gold with cocoa and white diamonds and a beautiful tanzanite center stone. The sales women helped my fiancé pick out the perfect ring for me. After the proposal, we went back and purchased the lifetime warranty and care package. I had the chance then to have my ring resized then but it seemed to fit. After another week I realized the ring was too big and could slide off if my hands were cold. I took the ring back, very nervously left it with the sales woman but she said I could possibly get it back before Christmas. My ring was ready in less than the week estimated! It fits perfectly now. I love the sales people in the store. They have been very helpful. The quick and beautiful resizing gives me confidence the ring will be in good hands when I return it for maintenance. I highly recommend the Fred Meyer Jewelers here in Kent, Washington.
How do I know I can trust these reviews about Fred Meyer Jewelers?
884,041 reviews on ConsumerAffairs are verified.
We require contact information to ensure our reviewers are real.
We use intelligent software that helps us maintain the integrity of reviews.
Our moderators read all reviews to verify quality and helpfulness.
For more information about reviews on ConsumerAffairs.com please visit our FAQ.

I recently purchased an engagement ring from Littman's Thanksgiving weekend and let me say I purchased an amazing 1 karat diamond si2 with f color for 4900 dollar. All together I paid about 6200 dollars with taxes and have no issue with diamond or their service. Remember jewelers are in business to stay in business. Before you go purchase an item like that you need to do your homework and make sure you know what you're buying and at what price a diamond of i2 or i1 clarity with an h color depending on size ranges from 2 to 3 k and certain days you will get them cheaper depending on sale dates. For example, Black Friday is a great time to go purchase because you can find pieces of up to 50% off.
As for Fred Meyer company I can't say I understand Littman's is part of their organization but speaking for Littman's my experience was a pleasant one now. Who's to say I won't have any issues with the ring but then again everyone has issues with their rings. My sister in law purchased from Bailey Banks. Great store, very overpriced items and her diamond fell twice but like every jewelry store they will fix. But for the customers that have had a bad experience with this company I am sorry to see you're not happy and yes they should fix the problems but remember these things happen to rings and guarantee if you purchase from Tiffany's or Bailey Banks or Malanj or Zales. They have same issue.

I husband bought me a promise ring a little over 2 years ago. The ring has more sentimental value than anything to me so when things started awry I was concerned. We purchased the Lifetime Warranty Plan so that if anything happened the ring would be taken care of. On 5/31/16 we took the ring in for it checkup. The person who took the ring did not even clean the ring but marked that "no work required." 6 weeks later 5 stones were missing so I took it in again. The stones were replaced. 2 weeks later 4 more stones were missing. I took the ring in and forgot the paperwork but when talking to another salesperson she said it was not a problem. She refused to give me my ring back and accused me of not purchasing the Lifetime Warranty. I finally got my ring back and reported her to the main office.
After a few weeks I had conversations with the regional FM Jewelry manager and it was agreed that they would replace the ring. After a week another diamond was missing. I normally worked with one particular sales associate and later found out she had been fired because she tried to help me and as a vindictive action the jewelry dept. manager had my favorite sales associate fired. I will never walk in or buy from another FM Jewelry Dept. again. BTW, I found out when I took all my jewelry in to have the check up completed on 5/31/16 the sales associate who took all of my jewelry, did not clean nor did she check them was the manager. I took my engagement ring in to be check my favorite sales associate the next day and the diamonds were loose on that ring. Never, never again.

We bought a $6000 ring from Fred Meyer Jewelers and when we had it appraised at the store and they said it appraised at $6500. When we took it to an independent jewelry store they told us the diamond was man made and worth about $100. They are selling fake diamonds as the real thing!! Do not buy from them.

I spent $2000 on a ring and 3 pairs of earrings in May 2016. The ring $1595 has been repaired 3 times now and it is just August 2nd. All 3 pairs of earrings have broke and had to be repaired or replaced. I will not spend another penny of my money at this store. I would not recommend them to anyone.

For our 25th wedding anniversary I picked out a ring that I just loved and we purchased it. Everything went fine with this purchase. The only this is we did buy the insurance and since we would be moving I asked if there was a place in MN that would honor this warranty, they stated, "No problem". Now I find out there is no one in MN that will do this. Waste of money. Then for our 26th I asked if I could get the necklace that matched my ring and we went and ordered it. After a week I called and the lady on the line told me I would have to wait, "it takes time". So at the end of the next week I called and still nothing, they went to look to find out and the manager never ordered it. So we had to wait another week.
After we got the necklace we asked if we could change the clasp (at our expense) and we asked the manager if the chain was strong enough, "No problem". Well then we waited another week and when the sales clerk tried to put it on my neck it broke. Like a dummy I gave them another chance and they said they would rush it. Well we went into the store since we had not heard from them and they could not find the necklace. It never came back from the repair place. It seemed like they did not care so we cancelled the complete order. They did not even know how to do a credit and it took over 1/2 hour to get this done. Will never go back again. I did call customer service and make a complaint, that was 2 weeks ago and have never heard back. They just don't care. Fred Meyers Jewelers, 9150 N Tarrant Pkwy, North Richland Hills 76182.

My husband bought me a $700 Gucci watch from the store in 5th Ave Mall Anchorage, AK 2013, and the watch stop working on March. So we take it back to the store and we've been told it's not gonna cost us anything by fixing it because it's still in warranty! The lady write us a receipt and promised 4 to 6 weeks we will get the watch back. Then, the last day before it turn the 7th week, sb call us from the store and told us that it's gonna cost us $99 to fix the watch, if we don't want to pay the $99 fee we can just go to the store and take the watch back! My husband want it be fixed so he agree to it.
The store manager is really rude, and we try to talk to the state manager and he told us the same thing that's nothing they can do because the fee is going to Gucci! What the hell, we spend thousands of dollars in this store and that's how we get treated! I will never go back to buy any kind of jewelry in Fred Meyer and I will make sure my friends all know that!

Do not use this company. They use TD Retail Credit Service. Not only does this credit company have the worst customer service (got hung up on 3 times). Fred Meyer just says "oh man, so sorry this is happening, but there is nothing we can do about it, it's outsourced." In the small town that I live in, the Fred Meyer Jewelers employees have told me they get complaints all the time about the financial company they use. So wouldn't you think that Fred Meyer would find a different finance company? The financial company is putting all of our extra payment (about 200.00 over) toward the amount being financed and not the one that has a special deferred interest for 1 year, even though this loan was the first one taken out. So basically they are crooks. They know that as long as they continue to do it this way they will also get all of the deferred interest at 28.9%.

First - I wouldn't have chosen this store. My boyfriend went there just to get a ring to propose with. It's the ring I have for now, so I'd like to wear it. It's a touch too small, so we went to get it resized. The woman there was horrible. Asked me what my ring size was and when I told her she scoffed at me. Then proceeded to tell me that I was incorrect. That the ring I had, a 7, should fit me fine. "Lady, I WORE the ring for a day and it cut in to my finger painfully." Told her "Fine, can I do a 7.5?" She says sure! And becomes a totally different person. Also, she said "You don't wear rings much do you?" I DO WEAR THEM, it's how I know my ring size, seriously. I figure if the 7.5 is too small I'll just get it sized again.
So today is the commitment date for it to be done. I call them to see if it's ready and the woman on the phone just says "No, it's not done yet." I said that today was the day they told me it would be ready and she says "Sorry our jeweler went home sick yesterday but she should be in today." They've had the ring for over a week, I fail to see how the day before it was due is of any relevance. So now I wait. I would not be shocked after reading the other reviews if something worse happens. This took place at the store in Columbus Ohio at the Graceland Shopping plaza. The original employee was named Vicki and she struck me as the type of person that would convince you to get something other than what you wanted because she "knows better." Avoid this place.

I called to get the status on my account. Just wanted to create a profile online and needed some information. I had to call a total of 5 times and got transferred a total of 8 times. Every time I called, the person I talked to couldn't help me because I was asking about a Littman Jewelers credit card and this went on and on. When I finally got a hold of someone who could help me I just closed the account! I'm glad I haven't bought anything there in a while and now I never will! I truly hope this will stop someone from dealing with what I had to deal with.

Where do I begin. First off I am beyond mad I have to continue to deal with this god awful place. On the 28th I took my engagement ring in to be sized and sent off which was all fine and good except it was promised on the 10th which alas that lands on a Sunday. So I go and double check to see maybe it came Saturday since I know it won't be here Sunday because stuff doesn't get sent on Sundays. The lady I had to deal with kept saying over and over again "not until the tenth". It's promised tomorrow. She was very very rude, scoffed and frantically walking around so I asked "can you please check". She goes in the back 5 seconds, comes back out and says "nope not here" and again "it's promised on the 10th".
I'm pretty pissed off now, actually livid. Worst customer service of my life. Taco Bell would have treated me better on their busiest day. It's now past the tenth and I haven't heard anything. I'm not a fan of this company. I don't think they'll be getting any future purchases from me and I'm letting all my friends know about how I was treated.

12/3 my fiance and I went to the Fred Meyer Jewelers to look at wedding sets. He had purchased my engagement ring there and we were planning to buy our wedding rings also. We had cash on hand. The long dark haired lady who was working made eye contact with me three times without acknowledging my presence, no hello, no "we'll be right with you", nothing. I made it clear to her we were leaving and the reason why was because she hadn't acknowledged us. At that point she could have offered to help us but she did not.
On 12/10 my husband and I were having lunch at a restaurant and this salesperson was there with another woman. As they left, they made a point to get my attention and make a snide remark. It did not go unnoticed. I will share my experience regarding this woman with as many people as I can. I prefer to shop local but I refuse to shop somewhere where someone treats people so horrible, on the job and off.

The man working the watch counter was very rude. He was not polite and very unhelpful. I would never recommend anybody going to that location to have any work done on their watch. When somebody is coming to a store to spend money you would think they would be treated in a nice manner.

Took my 14 karat gold rope to be repaired on 8th 22 2015. It has been broken at the class and I was going to get it repaired. Upon picking up my chain I notice that the jeweler have replaced my goal with rose gold at the classes, a chain with a 10 karat gold rope and it was broken in the center. The manager try to give me the chain but I knew it wasn't mine. I took it home and examine it with my husband and call back to the store to speak to the manager.
She then had me bring the chain up and insistent that my chain was 10 karat gold necklace but on my receipt the description read clearly 14 karat gold 18 inch rope. She noticed her writing and I proceeded to ask if they have any more necklaces. She said "yes" in the jewelry case behind me and while looking through the cave I noticed a 14 karat gold 18 inch rope and I asked to see it and she had a ticket price in the amount of 639. That chain was mine that she had tried to switch. I called my husband to look at the rope and he knew right then that was my rope. So never go to Gallatin TN Fred Meyer Jewelry, they steal.

Recently, I had a battery for my watch replaced at this store. Later I noticed that the back cover had not been turned as far as its previous location, alerting me to a possible water leakage problem of the waterproof watch. Today I returned, also to get a new watch band, asking that the back cover be tightened. Well, the job was bungled. At least eight noticeable scratches were placed onto the case surrounding the back cover. This job should have been done with a suction cup to turn the cover. Instead it was done evidently with a sharp tool. So, if you want your gold watch serviced with a pipe wrench, then go to Fred Meyer. Better, take it to someone who at least knows how to handle a wrench, a plumber.

I purchased a cross necklace for my boyfriend at the Washington square mall location. I told the guy my boyfriend was in construction and I needed something strong and sturdy. He helped me choose what he said was "the strongest" chain they had and the cross I chose had several pieces to the construction of it. Two weeks after spending $130 on said necklace the cross began coming apart and the chain broke. I took it back to the same sales person and he replaced the necklace. My boyfriend stopped wearing while at work to try and protect it but there now was a problem with the metal rings that attached the cross and its dog tag, that I had gotten engraved.
The rings kept separating and allowing both cross and dog tag to fall off the chain. Took it again back to the salesman who said "just bring it back if you have any more issues" and was told it was our fault the necklace was breaking and there was nothing he could do. I bought this necklace as a gift for an important milestone in my boyfriend's life and had a meaningful scripture engraved on the tag and now it's just an expensive fail due to the deception of the salesman and the quality of garbage I paid too much for. I would never recommended buying anything from Fred Meyer Jewelry.

I purchased a watch and was told there is a 30 day return time with no questions asked. When I went to return it the very next day, they told me since it was sized I cannot return it because it could be damaged. Even though they sized it, they can't return it. The place is a joke and unless you can get a watch without sizing it, I would NOT recommend this company to anyone I have ever talked to. Corporate must think it is funny not doing anything about the problems they always have because I read a new review every day. (DON'T GO TO THE CANBY, OR FRED MEYER.) They are just rude.

Please avoid FRED MEYER JEWELERS unless you want to encounter problems later on!! I bought a ring for my fiancee but because of financial problems, I couldn't afford to keep it. I went to the store to return it and the very rude employee told me I couldn't return it because it was more than $50. Excuse me??? So how do I get my money back??? Well you can return the item, but the store mails the refund to you, which takes at least TWO WEEKS!!! This is the most B.S store policy I've ever heard of! I will never go to this jewelry company ever again!!!

I went to the Fred Meyer Jewelers on Old Steese in Fairbanks, AK to buy my boyfriend a promise ring, knowing I didn't need a warranty because he wasn't going to wear it forever. He found one he liked and the sales associate had to get his ring measurement to order the right size because, of course, we didn't expect the ring on display to fit. I figured this was the norm and that getting the right size would be included in the price.
After the associate acknowledged his size of 7 & 1/2, I paid for the ring, given a receipt, and would be called when to pick it up. It was going smoothly until we picked it up and it was too small, turning out to be a 7 & 1/4. Obviously, somewhere in the process, I would guess the associate wrote down the wrong size or the company sent the wrong one, but I didn't see it as our fault that the ring was the wrong size. However, the associate kept insisting we needed to buy the warranty in order to get the right size and I kept telling her that I do not want or need the warranty and I would just like the right size that we first ordered.
She finally just put the order in and this time we had to wait longer to get this second ring. Today, I went to pick it up and was full well expecting them to push the warranty again, which they did. I explained to them everything that had happened and they responded saying we had to pay to get the ring In the right size in the first place. I naturally got irritated because no one had bothered to tell us this at any point and I don't see the logic in the customer paying extra to get the right size when the display ring more than likely isn't going to fit.
If I would have known that in the beginning I wouldn't have bought the ring in the first place because you can't "punish" the customer's finger for not fitting their display ring. I ended up just buying the warranty since I was tired of dealing with this jeweler and I wanted my boyfriend to have his ring he'd been waiting for 2+ months, basically wasting $54.99. Never again will I buy from this company and I'll be sure to let people I know as well.

We bought an 1100.00 bridal set on their website. When it came, the size was incorrect and there was a small stone on the side of the engagement ring missing. I took it back into the Fred Meyer store in southridge mall in WI, and ** the manager is who I dealt with. I had receipt in hand, and she could not have rushed me out faster. She said "oh, yeah, I will just go ahead and exchange this for a brand new ring, same ring model, right size, all the stones intact." Took my number and told me she'd call me tomorrow to tell me where it would be shipped (either the store or my house). Next day, no call. I ended up calling them only to be told they now could not find the transaction record for the purchase, and they would have to "dig a little deeper". Mind you, I HAVE the receipt, with the number RIGHT ON IT.
After no return call again, I call to find she had left early, and made no further attempt at my ring situation or making it right. Instead, the next day, without asking me first, REFUNDED the credit card, and said I would have to re purchase the item, since I didn't want to pay ANOTHER $100 to resize the ring. I paid 1100.00 to have Fred Meyer RUIN my ring buying experience for this bride. We are now instead spending $2800 with Kay jeweler and have a much nicer ring set and a much more pleasant experience. Some people, like this ** woman, need not be in customer service. Ever.

I bought a ring a couple months back and couldn't make up my mind on the one of two I liked. The girl behind the counter stated that I could bring it back within 90 days for an exchange, so I took my ring back and went to exchange and all was going fine till she said she would have to get help from the manager on how to ring it up cause she couldn't figure it out. When the manager took over she said "you're going to have to find something more to add to this". I said "I'm just exchanging this ring for another", and she said "if you bought a 700 dollar ring you can't exchange it for a 675 dollar ring." That you would have to find something else to add with it to reach the 700 dollars???? It says nothing about that on my receipt! NOTHING AT ALL! All it says is exchange not exchange for the exact price or more.
If everything rang up to be 699.99 I still would have to find something else to buy at the store for a penny or more to do the exchange? ARE YOU KIDDING ME?? Nice customer service... NOT!! When I got home I noticed that my receipt was never returned to me so since I will never step into that store EVER again, I called and they are mailing me my receipt and then I will add it to this so I can be a "verified buyer".

Trying to order it online from their website and when I get down to billing and shipping and it says enter expiration date for credit card, it says it's invalid. That's not right because I called the bank and tested it for me and said it's on their end.

I was at the store and wanted to pay my bill but was told I had to pay with cash or check. I wanted to use my debit card but couldn't!!! Why not? Debit is same as a check, I no longer carry checks, debit card is so convenient. SHAME, SHAME. Then went on line to pay and had nothing but trouble. Will travel to store and make payment and as soon as possible will pay this off and not use it again!!!!

My husband bought me a wedding band worth $599. At that time, in 2009, it was specified on the contract paper that the ring is eligible for trade in any time at twice its original value. When I showed the ring to this "presumptuous" Asian Lady, she told me that she has been working for Fred Meyer Jewelry for 20 years and that my ring does not qualify for a trade in according to their new policy. So, even though the paper contract says it does, this lady condescendingly said, "Oh I just don't want you to get disappointed before you start trying on some diamond rings." I felt insulted at that comment. I told her, "even though my wedding band will not qualify for an upgrade I still want YOU TO SHOW ME the rings that I want to try on!" That lady has such poor customer service training, I cannot believe Fred Meyer will retain such an employee for 20 years!!

We took some jewelry in to be repaired. When I went to pick it up, I tried using my credit card. I was told it had been discontinued. I was never informed of this. I paid it off months ago and was on time. I have contacted credit services several times and have gotten nothing but the run around. I will no longer do business with them. There are plenty of other jewelry stores.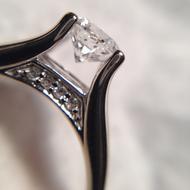 My fiance bought my ring here, and he spent three-thousand dollars cash on a .60 carat, H-color, I2 Canadian diamond. During the time he was away at school, I noticed imperfections inside my diamond. I mentioned it to him, and we decided to go back to Littmans to point out the faults together and try to exchange the ring when he came back from school. When we went to Littmans to do so, we both found out for the first time that we would have to double what we originally spent, bringing us up to six-thousand dollars. We did entertain the idea of doing so by going back three other times, but it was just too expensive and out of our budget! I went to other jewelers to see if they'd buy if from me so I could get a new ring, but was only offered $300 tops because of the diamond quality. On a ring we spend $3000 on! Another jeweler said he wouldn't have sold it new in his store for more than $1500; half of what we paid.
This information we were given from multiple gemologists and appraisers makes us feel that Littmans robbed us of our money. When we went back to Littmans and expressed all this information, they denied that we ever complained about diamond quality and they would not work with us, even though we tried multiple times. The ladies at the store were very rude and unprofessional when speaking with us, and lied to their regional manager about our complaints. I don't know why they say we never complained about the diamond quality when we had an appointment to look at other diamonds and were given a Littman's diamond quality chart to educate ourselves on diamond qualities.
They told me that the regional manager would contact me, and he never did. I had to back to the store and ask why I never heard anything, and they said that I should talk to corporate instead. Well, why didn't they call me and tell me that instead of making me wait and giving me false hope of hearing from someone higher than them?
I wrote a letter to the corporate office and I still never heard anything back from them. I am so disappointed in this company and will never shop there ever again or recommend them to anyone. I want to get rid of this ring and never have to think about what they did to us ever again. I am so hurt by what they did to my poor fiance, they ripped him off so bad and made him think he was getting a good deal when he wasn't.

ConsumerAffairs Research Team
The ConsumerAffairs Research Team believes everyone deserves to make smart decisions. We aim to provide readers with the most up-to-date information available about today's consumer products and services.
Fred Meyer Jewelers is a jewelry company founded in 1973 by jeweler Fred G. Meyer as a jewelry catalog-showroom company. The company, which operates retail locations in malls and larger department stores in California, the Midwest, and much of the Northeastern U.S., offers a wide range of jewelry products. The company operates under both of the names Fred Meyer Jewelers and Littman Jewelers.
Free shipping: Fred Meyer offers free shipping on any orders over a minimum dollar amount for customer convenience.
Convenient locations: The company has more than 300 brick-and-mortar stores across the United States, making it easy for customers to find and visit one of its locations.
Community-minded: In addition to selling jewelry to customers, Fred Meyer Jewelers is community-minded. The company gives more than 200,000 dollars to charities each year, including the Humane Society and Breast Cancer Research.
Legitimate sources: Fred Meyer guarantees all diamonds sold by the company are from legitimate sources. The sources are not involved in funding conflict and comply with all United States laws, so customers can be sure they are not supporting any dangerous or unlawful activities.
Children's jewelry: Fred Meyer offers jewelry in children's sizes so shoppers can purchase smaller pieces.
Best for Couples getting engaged, customers looking to buy a luxury gift and religious consumers celebrating milestones.
Fred Meyer Jewelers Company Profile
Company Name:

Fred Meyer Jewelers

Year Founded:

1973

Address:

3800 SE 22nd Ave.

City:

Portland

State/Province:

OR

Postal Code:

97202

Country:

United States

Website:

http://www.fredmeyerjewelers.com/