American Eagle Outfitters
Consumer Complaints and Reviews

A price of over $50 for cut off jean, ripped shorts seemed a little extreme. Other stores carry similar for much less. Discourse with sales staff very unsatisfactory. Do not have receipt as bag with merchandise went home with granddaughter.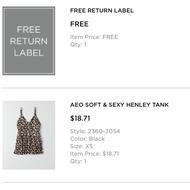 First, let me tell you all that I am a loyal AEO member since 2015. Every month I buy something new from American Eagle Outfitters and recently I lost my 2 packages. 1 was a necklace which cost $9.57. They said that they refunded the necklace amount???? On the other package, there was 4 t-shirt which cost $92.7. When I called AEO customer service for my missing package they didn't really care about what I said. Instead, they replaced the same 4 tshirt and charged me $88 in my AEO Visa and started saying that they will investigate this order, after 2 days I got an email stating that the order was delivered and they cannot refund. I called them again. This time they told me to contact USPS because they are the carrier who misplaced the order.
The AEO company is responsible for checking and following up with the orders, if the customer hasn't received the order they should be helping us. Instead, they told me to call USPS and what I did I called USPS, even before they told me to call and twice. The USPS gave a case no. and told me that they are going to call me after 3-4 business days. They never did. I am going to call USPS for the third time again and this time also I know that they will tell me that they are still investigating or either call AEO for refund. The case would be going back and forth and I am never going to receive my money back. At last, I am losing $92.00. Well done American Eagle I salute you for losing 1 valuable customer. I will never shop from this negligent company.

I ordered two pair of size 5 sandals online. I received one with wrong size which is size 6. I tried to go to their website and contacted them through live chat. A representative name Albert **, was rude, left the session without asking if I had more questions at the time. First of all, they mess up the package. Second, they don't care about customer's feeling. When I tried to tell them to pay more attention on packing up products, because not many of us are living close to their physical stores to simply return the wrong products. When I try to reach them, not only because I want to return the products, but let them know they should be more "professional" on everything. If they don't care about customers, why would we want to waste more money on them?

I took my daughter for shorts which according to my email were all under $30. After picking out two pairs, I let her look at the 60% clearance rack only in case of a good deal. She fell in love with a long sleeved camo shirt that was originally $50. At the register the girl called for help with the markdown. She got off the phone and never told us what was said, just charged us $50??? We questioned it and she said she was told that they were supposed to have been pulled. Nobody rushed to pull the others by the way. Although I so didn't want to pay $50 for a long sleeve shirt during the summer of over 100 degree temps here in AZ, my daughter was hooked by that time.
We bought the shirt and came home and ordered the shorts for $60 rather than the almost $90 that they came to in the store. It seems for years now, every time we go into that store it is something like this. Why do you have to be so deceiving? If we have had any good experiences in that store they are way overshadowed by the bad ones. Just once I want things to go the way they are presented and the way we expect them to go. The cashier, although, not even relaying the message about the shirt was still very nice. She seemed embarrassed by the whole thing.

I recently purchased a bra from Aerie, but it had a manufacturing error. Upon returning it, the store did not have my size to exchange so they offered to ship it to me. I returned home to find an email with the wrong size ordered. I called to change the size, but was told that it was too late (there is only a 60 min window to change orders). I talked to two reps and they said they couldn't change OR cancel. Not only was there an error on my first purchase, but they messed up the second and won't fix it. Now I have to drive 40 minutes to return. The customer service reps were very apathetic on the phone. Terrible customer service. I will not shop here anymore.
How do I know I can trust these reviews about American Eagle Outfitters?
849,102 reviews on ConsumerAffairs are verified.
We require contact information to ensure our reviewers are real.
We use intelligent software that helps us maintain the integrity of reviews.
Our moderators read all reviews to verify quality and helpfulness.
For more information about reviews on ConsumerAffairs.com please visit our FAQ.

Here with an update. I contacted customer service once again. A few days later not only was my money put in my account, 28% off free shipping and an apology. Although I am still not pleased with the customer service previously. The two women were rude and need to be retrained or fired and their software for their site needs to be updated to prevent this type of mishap from happening again.
Original Review
The customer service was horrible. After talk 2 customer service reps I will no longer be shopping there. I purchased 4 items and the transaction went through 3 times and I realized this soon after checking my bank account because I kept receiving an error online about my shopping bag not updating. Usually after an online purchase you receive a confirmation email. I had not received one so I was just like let me check my account. So I called American Eagle right away. After calling them and asking them to cancel 2 of the transactions I was told they could not do that and that I had to wait to receive the items to receive my money and so I asked, "Well if I call my bank and file a claim then what" and I was told I will no longer be able to shop online with the company.
I can't even provide a confirmation number because I never even received a confirmation email but I have 3 pending transactions and my whole thing is why not cancel the 2 extra transactions. Why be difficult and rude. Btw this just happened now. I have to wait for the outcome, will come even receive my items after calling my bank and filing a claim for my money for the 2 extra purchases that were mistakenly made.

I was really disappointed in American Eagle today. I rarely write a negative review or complaint, but I feel like I have to. I've always worn their jeans because they've been super comfortable and forgiving to girls with certain shapes and for the past few years I've worn their size 8 jeggings which actually fit a little loosely. After working out and losing a few pounds recently I thought I'd treat myself to a new pair since it's been a while and today is my birthday. Much to my dismay, I found that I now barely fit into a size 12 jeggings at AE, weighing less than I did when I bought my last pair. A size 12 is still beautiful, but the fact that they've changed their sizing that much upsetting, especially after their progress in using unphotoshopped models in your campaign ads. I left in tears and feeling foolish at age 29. I can only imagine how younger girls might feel who struggle with their body image.

My husband will be gone for six months or longer because of his job, American Eagle will not help reroute my shipment even though I have a power of attorney for my husband with all his bank information and other household things. They are un military friendly, my suggestion stay away from companies unwilling to help our military families.

Ordered 4 items from American Eagle 10 days before Christmas. 3 shipped and the fourth they cancelled without even notifying me. After calling and chatting with 2 reps taking 30 min of my time- no apology - nothing. Terrible service all around. I'll stick with Zappos and Amazon with the impeccable service.

I have charges on my credit card that were credited and 2 months later put back on. I would call up and complain and they would take it off again and put back on later. I have talk to so many customer service people and they would tell me it's taken care of and it never is. I think I'm going to have a heart attack. I even cancelled my credit card and that still gets you nowhere. I just got a bill in the mail again and I don't have enough energy to call them back up. The customer people even read the notes from my last phone call and tell me it's all cleared up and I still get another bill. At this point I feel helpless.

After circling the store several times needing assistance and we were ignored by all employees. Finally, my wife asked for assistance, the store manager walked away dismissively. This continued rudeness by your manager caused my wife to express her disappointment which caused your manager to lose all control and screamed at my wife in front of my child and other customers. We left and will never return or purchase any items ever again. Further, I will express with enthusiasm my personal experience with everyone I know.

I have always have an acct with AE, always usually pay it off and then close at some later future if I need anything I reopen it. I had such a horrible experience with them. It was a nightmare, this time from the time I opened the account, I went online to open acct and get 15% off since I was doing some Christmas shopping and it said open a card get 15% off. The online app said I was approved but needed to call in. So I called and was greeted by some foreign accent guy whom I had a very hard time understanding. He asked me for some personal information and then said "congratulations you are approved" which I told him I had already been approved. Now I gotta look at my credit report to see how many times I got dinged by them. Then I ask him to give me my acct and discount, he refused said, "he don't do that!" Say what! He asked me personal information but he can't give me my information... HMMM...
Well feeling like I was scammed I went to AE store outlet near me and the manager was super nice very nice, he got my acct# for me and said I could use it while shopping there... I was relieved however, going to the cashier different story - very rude, kept asking me if I was sure I got approved and looking at me like I was indigent of some form. Really lady, finally I told her to wave the manager done, and she did, the manager came and told her the same thing I did, and then the cashier looks at me when her manager is gone and blames me saying I didn't explain right and she couldn't understand me... Say what!! We speak the same language. I told her what the manager told her. She was awful!!! Well decided to put that past me... I finally get to sit at home and do some online shopping with AE, well I ran into a snag. The 15% was never applied since they are advertising "get 15% off when you apply."
I decided to place an order. Well the order did not give me a 15% off and I called customer service three times, first rep said to place order and it would populate... Didn't happen. Next rep argued with me and literally called me a liar, was verbally spoken down to and mistreated, then she sent me to card services, why I don't know?! By then I was so upset I canceled the card, not worth the hassle and mistreatment.
I called back to cancel the order. I requested to speak to a manager, got some young girl whom claimed to be a manager, answered the phone and kept laughing. Told her my story for what is worth and in between conversation she kept giggling!!! "Said she put a higher discount after I canceled my order." "WHAT?" Whatever. I canceled the order and moved on. Never again. Goodbye AE. It's been really... Note to everyone the manager told me they hold off on giving discounts 15% around holidays although they advertise apply get 15%... So confusing and false advertising...

Did not disclose during sign-up for new credit card that a checking account (or debit card) was required to make an online payment. All other credit cards we've dealt with accept payments through a savings account. When contacted the customer service, was told "you should have read the conditions before you signed..." Really? I'm going to hold up the line to read all through the conditions for a $15 purchase? After a paper copy of the bill is sent to us, we will use a money order or my (the parent) check to pay the $15?? Bill and will then cancel the card and never shop in the store again... Since I (the mother) use cash for a lot of transactions (and could care less for the rewards program), this company has no idea what I spend. Money is money. It blew us away that they wouldn't take a savings account payment. Bad business sense... And you can't make a payment in the stores? Don't worry. Lost this family to any future business.

I have spent upwards of $60,000 over the last 10 years purchasing clothing for my kids at American Eagle. I will never spend another dime there. I recently attempted to return about $2000 worth of items - all brand new with tags and most still in the plastic bags that were sent in. The first time I ever tried to return anything there. And not only were my returns denied but I was treated like a criminal in the process. I had all of my receipts and was only asking for store credit - not money back. The store managers were too concerned about hurting their sales totals for the day rather than honoring their stated return policy which states nothing regarding a time limit. I was accused of stealing - funny I had no idea that they would provide receipts for stolen merchandise! I did not try to return everything in one day figuring it would be a problem and also take forever to process. I brought in small batches of $300 and was still denied.
"We want you to be totally satisfied with your purchase... If their are any issues we'd be happy to help fix the problem..." Right, as long as it does not include actually taking the items back. I was denied in three stores and then called the online complaint department and every CS rep I spoke with confirmed the no time limit return policy and was upset that the stores gave me such a hard time. I was even told by three of them that I was absolutely one of their highest spending customers and totally within my rights to return whatever I wanted to return. I was referred to a Courtney ** who told me to pack everything in boxes and ship it to their corporate headquarters and she would personally take care of sending me a merchandise credit. Which I did only to have them turn around and ship everything back to me claiming abuse of the return policy!!! I am seriously considering taking legal action against these thieves.

In general I have had really good luck with ordering online from American Eagle. This time around, not so much. During check out, for some reason or another, I ended up having to spend $20 on overnighting my purchase. I did not, however, choose this option on purpose. I emailed American Eagle immediately asking for a refund and to get normal shipping instead (free, FYI), which is what I originally wanted. They emailed me back the next day, after an item shipped, and said they cannot fix this after the purchase.
Okay, that's fine. What's not fine is receiving an "OVERNIGHTED" shipped item three days later. On another note, one of the items, a size four pair of cropped pants was way too small. I have never not worn a size four at American Eagle, and this fit like a size 0. I had to ship the item back because it was an online purchase. So all in all, I spent $30 on shipping. I could have gotten another pair of pants for that price, but instead I sent back a pair and lost $30. I have been a loyal customer of American Eagle for awhile, but I am done with them.

An additional 60% clearance sale is what lured me in. While I was browsing through the disorganized clearance rack, I noticed a really cool pair of shorts that were perfect to bring on my upcoming vacation. It irritated me that the only reason they were on sale was because they just so happened to be a size 18, which is an "online only" size and AE simply didn't want to have the burden of carrying them upfront in store. The store itself was very disorganized, which made it very confusing to tell what was actually on clearance & what was full price. The white stickers with lowered price points should only be used for sale/clearance items & not be printed with duplicate full price points that the tags already state clearly. I noticed that 75% of the clothing on clearance were in the smaller sizes... Hmm I wonder why?
To make things worse, the shorts rang up full price at the register (as they were listed online) & the clueless associate adjusted them under the code "customer accommodation". Another item I planned on getting was found on clearance & actually had a white sale sticker, but come to find out at the last second that is was meant to be full price. The associate then decided to got offended when I asked him to take it off my bill when it was THEIR mistake to start with. I feel like if American Eagle has the room to accommodate the smallest sizes 00 & 0 in stores, then they should be able to do the same with sizes 16 & 18. Bigger sizes or any particular size at all should NEVER be used as an online sales marketing gimmick. I ended up purchasing the shorts because I loved the way they looked/fit/felt on me & I got them for under $20. At this rate, American Eagle is on the fast track of filing bankruptcy & being a store that we used to know.

This was my second time ordering online from American Eagle and will most likely be my last. When attempting to proceed through checkout, it took almost an hour for me to finally place my order. I first tried placing the order using my account and rewards number, but an error kept popping up saying that my shipping information was invalid. I triple checked my shipping information, removed my rewards info, logged out of my account, and had to switch credit cards twice before it finally let me place my order. In the end, my successful attempt had the same shipping and billing information that I initially entered, making it highly unlikely that the errors were because of something I did wrong.
American Eagle needs a serious software update, especially considering that in 2016 they still require a physical swipe of the credit card for making in store returns on items ordered online instead of just automatically crediting the account. This experience is really disappointing considering their jeans are so high quality, and they carry extra long pairs (I'm 5'10''), but I'm sure finding great jeans at a place that has more updated software shouldn't be that tricky.

I have had multiple problems with American Eagle in the past year. I ordered an online gift card for my sister, and then had to call multiple times before it was actually emailed to her. I set up a 'rewards' account with American Eagle, but the rewards number, and the rewards, disappear from my account, and I am repeatedly asked to sign up for the program. Other times, when attempting to place an order online, I will attempt to sign in, but clicking "sign in" will direct me to a "log in" page, which will then send me back to a "sign in" pop-up. When I am able to successfully sign in, the information in the system often does not load, or is incomplete, or when it works, loads very slowly. I appreciate the reasonable prices on clothing, but this is ridiculous.

I'm furious with American Eagle right now. I took my son shopping on Friday to get some summer clothes. As I was checking out, I slid my card thru the machine, entered my pin and the machine froze and said "waiting for auth". It then came back to a regular screen and the cashier told me to swipe again. I said, "you're sure I won't be charged again?" She said, "of course not, it would of printed out a receipt." So I swiped again and later that night I looked at my bank account that had two fees for 197.00. Calmly, I called customer service who told me to call the store, called the store who told me I needed to call customer service. Then called customer who said I needed to speak to store customer service that closes at 9:00. It was 8:45 and got a voicemail.
I then waited for Saturday to call again and they proceed to tell me that I need to speak to the accountant who wouldn't be there until Monday morning. I then waited for Monday morning and they wouldn't even let me speak with them. The customer service rep told me that he would leave them a message and call me back. 5 hours later I get the call that says they are the double charge but it will take me 5-10 business days to refund my money! I now have bills that are bouncing because of this double charge. This is absolutely ridiculous that they are such a large franchise and can't give me my money back immediately. Even if they sent me a check, I would get it before then. I am going to my bank in hopes that they can refund my money before then. I'm so disappointed with American Eagle, I will never shop there again!

My daughter and I have shopped at American Eagle for some time because we like the jeans. This is only the second time we tried ordering online, which we do at several other places. We ordered matching shirts that neither of us liked, and my daughter accidentally ordered an extra, easy enough, we'll just return them all to the store. I went to the store, original packaging, packing slip and in the shipping bag. I looked around, there was nothing to exchange the items for. The girl behind the counter goes through the whole bit of linking up our club card which the order was not associated with but THAT did not matter. They scanned the barcode on the packing slip and the order came right up. She asked me for the card which I did not have because my daughter used hers. I asked if I could call her with the number like the vet, the hair dresser, and the doctor will accept... Nope, conveniently they have to swipe the card.
When I asked what my options were, she told me a gift card. I had her put the stuff back in the bag and said I would pay the shipping and return it through the mail. My daughter is away so I had to get in touch with her for the order details and AGAIN, most places have an online return structure so both parties know what is being returned no matter who pays the shipping, NOT American Eagle. You print a vague label, write some stuff on the packing slip (make sure to make a copy before you mail it back) and blindly place it in the mail and wait.
So I called to ask about the poor return policy, he told me that he could not speak to me about the return, it had to be my daughter since it was in her name. The next person I spoke to said this was not true, however the swiping of the original form of payment in the store and the blind faith mail protocol is their policy which she has no power over. Needless to say, I am done with American Eagle. Whether we will be sorry for this decision, I am guessing not; nor will it impact them but I would strongly suggest they revamp their return policy because they act like they are on the verge of going out of business when they take these kinds of actions. Good luck and I hope I am the only one who had this experience.

Today I tried to place an order online. The website locked up after I input my credit card information. I logged out and went back in and my order was deleted. I reentered my order and credit card information. I requested two-day shipping at $15. My order was placed, they took my money and the website said I would get my order May 9. I immediately called the company and they said since the order was processed after 1:00 it won't be processed until the next day, which is a Thursday so two days after is Monday. I tried to cancel the order and they said I could not. Either this is very bad customer service or a very bad policy.

I never post anything anywhere but here I go. First, I'm an American Eagle customer since many years and the actual quality of their products are not the same. They are not the only ones. Many clothing companies are going down. Recently I made a purchase of 411 dollars at a store and got a reward card. That is a lot of points to use in future purchases, points that I'm unable to use yet because they never arrived, is being more than a week, and according to the REP on chat, he doesn't know what happened! Also Customer Service says I need to keep waiting! Even when they say is 5 business days for the points to arrive, mysteriously nobody can give me an answer. Just keep waiting...and calling? Until the valid period expires?
Also I had items in my basket online -- two shorts and one belt. The final subtotal was $71. Mysteriously THIS MORNING something happened and I got a promotion: buy one shorts and get the other one at 50% off! I said to myself, "Ok is nice." But when I went to see the cart, it was empty! So I look for the items I just added a couple of days before and guess what? The price was way high up! It went from $33 each shorts to $44! Can someone explain that to me? No need! I just came to the conclusion they are lying to me. And I really hate lies. Get to your own conclusions. First I was paying a total of 71 and no offers at all. Now I'm paying almost 73 with the buy one, get one CRAP.

I spent $334 during an online sale. Ordered a bunch of tops and some jeans. When everything arrived it was all crap. The hems on the shirts were not finished and the jeans were not the correct size. So I planned to return. Unfortunately I paid using PayPal and wasn't able to return in the store if I actually wanted my money back so I returned via mail. Received confirmation that the items had been returned and a refund had been issued. I waited a few days and still had no confirmation from PayPal that a refund had been issued so I chatted in. Well the rep was so disgusting and condescending. Basically he told me to just wait for it. So I gave it a couple more days and still nothing. So I chatted again and got the same response. So I decided to file a claim through PayPal. I have confidence they will resolve it. Worst case I'll contact my bank. They will not get away with this. I will also be filing a Better Business Bureau complaint.

So I recently ordered a birthday gift for my friend from AE, and after a few days, I finally realized they're sending my package to the wrong address. The address they sent it to is a combination of my shipping address and my billing address, which are different, and they sent it to this made up place. I know because it's my hometown, where I've lived for 18+ years, but the street address of my college. Two completely different places. I called and they told me I have to wait for UPS to send it back, for them to reprocess it and it to get sent out again, taking 2-4 weeks. Her birthday is in a week and I'm the ** without a present because I don't have money. AE told me to buy everything again, which I cannot do. I'm not giving you more of my money. Never buy from this place, ok? Because they'll just screw you over.

I have had multiple issues with ordering from American Eagle's website. I have been sent the wrong item on more than one occasion. Most recently, I ordered several items - one of them being a pair of Birkenstock sandals (a more expensive item from American Eagle). I was instead sent a pair of cheap Keds sneakers. In speaking with customer service, I was assured that if I sent them back, the correct item would be sent out right away. I used my prepaid mailing label to send the wrong item back ASAP. Well, they received the item but I received an e-mail stating that I was refunded for a pair of jeans and a top that I had not sent back - considerably less than the amount of the shoes. I called... again. I told them to refund me the correct amount and not to send the shoes as I was going to order elsewhere since I had so much trouble with the company already.
The next business day I received an e-mail stating that the shoes had been sent. After more conversations with customer service, I was promised a refund in about a week. So now they can hold my money for items that I told them not to send?? I tried one more time to e-mail customer service and complain about how terrible everything had been. What did I get in response? I got an e-mail instructing me how to send my item back. I know how to do that by now since I have had to with this company multiple times. So frustrating! I will not shop there again and would not recommend anyone else shop there either - they will mess up and not hold themselves accountable.

I have been a purchaser of American Eagle clothing for a few years now. Recently, I've found their company and quality to be horrible. I purchased four of the Joshua Tree sweaters and after only a few wears of each, three had holes in the armpits. I had bought these in store and was told to mail them back. Then I was told they couldn't replace them and would give me a refund for far less than what I paid. I told them I wanted my sweaters back. They shipped them back in January and I still haven't received them. They ended up issuing me a refund for $120 and it's been over 8 days since and no credit back on my card. They now tell me it's possibly going to be 10 business days. I also bought some underwear recently and one pair was worn and washed once and fell right apart.

American Eagle Outfitters that located on 450 Sunvalley Mall Concord, CA 94520. This store cheated on return policy. I was cheated twice by them which are really uncommon in my shopping experiences. It makes me stand up and write my first review. When I purchased pants for my daughter I was told the return policy is "in 5 years, if you are not completely happy with your purchase just return it for a full refund." Six months later I tried to return since it is small for my daughter. When the cashier seems processing the return, the manager ** stepped in and asking "what is wrong here" with an unpleasant face. He refused return, said it was too long for return.
I said "it isn't 5 years yet." He said the 5 years is only means if the clothes have quality issues. I asked him how long is too long, he replied: "it is manager's discretion." He also said the pants were worn and not resalable, he won't take it back. It reminds me that a few months ago when I tried to make another return, a manager jump out from nowhere just like this time and refused returning it without any good reason. Being cheated is really a bad feeling!

They pressure me every time I walk into the store to get a credit card. So I finally get one with a 300 dollar limit on it. Then they take it away a few months later because I was not using it and said my credit score went down. I will never shop in their store or my kids will not and I will tell everyone not to get their card. Very bad customer service. It should have depended on if I missed a payment or not. BS.

I ordered from AE recently and was given a tracking number. The UPS site stated that it was a Surepost delivery, but there was no update or movement for several days. Finally after about a week of no movement I began calling AE, who said I had to wait ten days to request a refund. Meanwhile one of the items I'd ordered was sold out. After ten days and a couple more calls they did issue a refund which did not include the $7.95 for shipping and handling which I paid. I checked their policy info which does state that they don't refund S&H. In the end I didn't receive the item I ordered and am out for the cost of shipping and handling.

My wife and I recently made a $158 purchase at the Sudbury ON location. I had to return 2 shirts a few weeks later, but was not allowed to get my money back. The purchase was made on my wife's debit card. The sales clerk would return the money to my debit card from our JOINT ACCOUNT! When I told her that was unacceptable, a Supervisor came over and told me there is no way they will return my money. All she could say was "store policy". It is a very far commute to get to AE from my house. They then offered me "Store Credit", which is no good to me as My family will NEVER shop there again! AE needs to start treating people the way every other store treats people. It's called customer service. Try it.
American Eagle Outfitters Company Profile
Company Name:

American Eagle Outfitters

Website:

https://www.ae.com/