Consumer Complaints and Reviews

Science Hill brand has various foods for various issues your darling cat(s) may have and that's what I like and my 3 cats love about it. It is a 100% quality product for sure. I just wish the price were a little less and also that they made a 32/34 or 36/pack set. Overall, it's an A+ product.

Hills changed their formula for their z/d canned cat food a couple months ago and our cats will not eat it. We have a special needs kitty that requires this special formula so our other two cats eat it as well. They LOVED the old formula and I've wiped out the shelves that still carried it. They will not touch the new formula and I had to return many cans to Pet Smart. Now I'm out and I don't know what to do!

After eating T/D Science Diet one of my male cats became very ill. I noticed he wasn't behaving like himself but he had just been to the vet for a regular visit in the past few days. I started feeding him T/D Science Diet. I thought he was stressed from the vet visit that was just a routine checkup. Approximately seven to ten days later he was vomiting, no bowel movements, abnormal vocalizations, dehydrated, and lethargic. I rushed him to an emergency vet hospital to find that he was constipated to point of obstruction/impaction.
They performed an enema which did not work, gave him fluids, and he was brought to his vet during the day for another enema which did not work again. The next day he was in surgery for a procedure to get rid of the impaction and stayed with the vet hospital for a day and night... Thank God they were able to help him. He could have died. Apparently if cats don't eat for a few days their livers can start to fail. I have paid approximately $4000.00 to help my cat regain his health just from veterinary care from this incident. I am very upset over this.
Two of my other cats started vomiting today. OMG!!! are you kidding. I had Hills mixed with their regular dry cat food to try break them in slowly. Not realizing it was the food until I started reading different reviews. All of Hills' Science Diet has been thrown out. I have saved the bags because I am going to try and get my money back. So far the two cats today seem ok. I am going to take them to the vet if they show any other signs of being sick. Hills brands themselves as doing what is best for our feline friends. Your ingredients are not so... Check them out. What is making them so sick? Hills should be held accountable.

I don't usually take the time out of my packed day so that I can post online, but I am frustrated with all of this "Hill's bashing"! We have MULTIPLE cats (and I have a BS in Human Nutrition) and will ONLY feed Hill's products to our cats. While I do not discount people's pain when they have sick animals, I do want to post a voice of reason. Don't trust all of these terrible posts as valid/legit - they are mostly/probably competitors who want to damage this company (P.S. Happens in Washington all the time! Big PR agencies are hired to "hurt the opposition"). Our rescues have longer fur, are healthy (one is a senior) and have been eating Hill's Ideal Balance and also Prescription Diets for YEARS! They are the GOLD STANDARD - and others do not even come close to the high quality of Hill's foods. Ask your Vet what THEY feed their animals - and then decide for yourself!

I noticed recently the consistency of the food changed dramatically and can even vary case to case. Then I noticed the "improved formula" on the label. All of which explains the reaction of my 11 year old cat who has been on the original for 9 years. What a relief at that time to finally find a food she could digest without chronic diarrhea and vomiting. This change in formula has put us back at the starting gate. I'm sure there are others feeling the same effects. I purchase my food from Chewy.com and will be sending them a similar complaint.
How do I know I can trust these reviews about Hills Cat Food?
695,474 reviews on ConsumerAffairs are verified.
We require contact information to ensure our reviewers are real.
We use intelligent software that helps us maintain the integrity of reviews.
Our moderators read all reviews to verify quality and helpfulness.
For more information about reviews on ConsumerAffairs.com please visit our FAQ.

Our sweet Simba was diagnosed with urinary crystals 2 years ago. I had read a lot about cat diets and was not on board with the idea of a medicated food, but after his 2nd bout with the crystals we had to follow the vet's advice and give the Hill's prescription food a try. It did seem to help with the crystals, but after a year now, he suddenly slowed his eating of it. He was on the dry food. He had over the past months had more and more frequent episodes of vomiting. Sometimes hairballs, but other times not.
A week ago I started a new bag of C/d cat food. He wouldn't eat it at all. He again was vomiting horribly for over a day. He began to drink a lot of water and pee a lot. I took him to the vet. She gave him a shot for his nausea but it seemed to make him much worse. The next night we were in the Animal referral center (only place open 24 hours a day)... he could barely walk, had twitching, it was awful. His blood work showed all sorts of issues. Why the vet didn't test these things the day before I don't know.
To my horror we had to make the decision to put him down. The vet felt he only had a 20% chance to make it. I miss him so. But I requested a copy of the blood work results. I was looking at them and a lot points to kidney failure. I researched that and found that the symptoms for that are also similar in diabetes... YIKES! Well, the one thing that stood out was the reading for his glucose. For a cat that hadn't had food in 4 days, it was high at 254... normal was 74 to 159.
Now I have to wonder if the C/d food caused all this. Did the new food make him acutely diabetic and the vets missed that? It is too late to bring him back, but I do want to warn others. This food might not be such a good idea if you want your cat to have a full happy life. Our Simba was only 5 years old. To create a food that fixes one health issue but creates others is a recipe for disaster. Obviously there is a lot of $ behind why the foods are sold by veterinary offices. I feel cheated of a beautiful furry friend whose life was cut short. I would not recommend this food to anyone for their cats.

So I'm going to vent here. I tried to send an email but the webpage "isn't working". I am SO very tired by animal food companies messing with the food. NEW AND IMPROVED my foot! I USED to have three cats. Now I have two. My oldest was diagnosed with IBD 5 years ago. I never could get him on to any food that would stop his vomiting. I finally had to let him go last week. Now my other two cats. One was put on to Science Diet Z/D canned and dry because she's starting to have an issue with several foods (don't ask, but understand I literally have tried EVERY food out there... Don't believe me? Then ask and I'll send you the list.) On the Z/D she has now cleaned her entire belly from mid waist to between her legs of any and all fur. It is red with scabs. And she's terribly bloated.
I noticed that between the last flat of canned food and this new one, that the label had changed. "Improved Taste". Nope. I opened a new can with the new label. The food went from being a solid gelatinous food (like jello) to a very liquid pudding. DISGUSTING. What is it with you food people??? ** leave the food alone. I'm exhausted. I'm drained physically, mentally and FINANCIALLY from dealing with sick cats.

Hill's Science Diet cat food causes obesity and diabetes. If you don't believe me, read the rest of the reviews! I've had issues with Hill's Science Diet Cat food in the past. I had another cat that I adored die from diabetes and he was fed Science Diet. I thought at the time that it was just something that happened. 12 years later I'm here again but with 3 cats. They eat it and either throw it up and don't seem to not be able to get enough. My cats are fed at certain times and get wet food as well. This is worse than the cheap cat food. I've switched to a better brand that hopefully can reverse what Hill's Cat Food has done to them. This is poison. Please spend more or even get cheap brands. Your pet will pay dearly if you don't. Poison. Complete poison. I'm so mad I can't see straight. You need fed this crap.

I have used Science Diet Original for over 15 years including when I ran a cat shelter. It was expensive yes but the health of the animals was worth it. It was the only thing I would buy my cats and it kept them healthy. I'm not sure what happened. You switched bags and decreased the amount in the bag and apparently changed the formula. I would have lived though unhappy with the new bag and decreased amount but the new formula is making my cats sick. My cats would only eat some when starving and throw up when they do. Their fur is rough and unhealthy. I have had to switch to another cat food for them to be okay. There is no point in spending the kind of money that your product costs anymore though I have done so in good faith for many years to the betterment of my pets. Why did you try to fix something that wasn't broken?

I recently bought the Original formula, I noticed my cats stopped eating a lot of it. I got a different bag, the one for cats 1-6. HATED THAT ONE SO MUCH that they only ate enough to survive. Switched back to Original (the whole time I thought I was getting the wrong bag) No! I got the correct one.. they hate this stuff. Both cats hate this newer formula. I also noticed that the bag got smaller by 3 pounds and the new seal close strip does not work well, it keeps coming open and the price is really expensive and it feels like I am getting ripped off!! We were LOYAL SD eaters for 7 years, I am no longer going to purchase Science Diet. Why did you ruin the food? You lost another 2 cat family purchase!

My six year old cat developed a urinary blockage and it was suggested to use Hills CD. I used the wet food and then tried the dry CD for cats. My cat started losing weight/vomiting and was generally tired. He developed diabetes. His blood sugar was 555. Normal for cats is 104-240 I think. I just happened to look at the ingredients on the CD dry food and it had 35% carbs!!! My research began and found out cats should NOT be eating carbs as they are strictly carnivores. Long story short, I feed him a pure meat diet from a cat food you cannot find in the box stores. No more diabetes! It's been 5 months now and I still check his sugar once a month. No problems at all. His blood sugar is normal! He had tremendous energy and his coat is soooo silky. I blame Hill's Science Diet for this. What a racket!

My vet told me 3 cats were overweight (2 were 15 and one is 16 years old) and they put them on this Hills metabolic feline food. They were only on the food for about a year and now one is diabetic and the other has an inflamed pancreas and has to take steroid medication for it. It has now cost me well over $3000 for all the procedures for the 2. Today they are not overweight, but the other one who didn't get affected by the food still is overweight. I do not think it is coincidental that 2 out of the 3 cats are now sick with similar illnesses. They are now off the food for about 8 months and are getting better, slowly. Their food is Go Fit and Free and a permanent diet of home grown barley grass for the enzymes, but they are still sick. Can someone please tell them to do more research on this prescription diet? I am hoping they will survive this. :(

I have been using the Hills Science Diet Cat t/d cat food for ten years now, but in the past two years I have noticed a strong odor that smells like cow manure or some other form of waste when opening the bag. In the meantime, I began to look for other foods to feed my cats. My one cat would only eat the t/d so I continued to purchase, as the odor has not always been consistent until this last year and most recently in September 2015. The odor was so bad that I threw the food away. I contacted my vet to report the food and so they became aware of this issue if any animals became ill. I also contacted Hills but my complaint was not addressed. They only sent a form email back to me. In addition, I reported my experience to the FDA. And I encourage other people to do so as well. It would be awful if any cats became ill or fatally ill after ingesting this food. Thankfully, my cats are well and no longer eat this food.

I always use Hills Science Diet dry food and my cats love it except for the low fat variety! I had to give up using their canned food because there was no variety, sometimes it was so runny it was like liquid and the price is exorbitant. I changed to fancy feast.

Hills has the best dry food for hairball control. However, our cat gets tired of it periodically and we have to augment it with something else. All in all, it's a good brand.

I used Hill's Science diet both canned and dry food for the last 30 years and have not had a problem. They make excellent cat food. The problem now is the cost. I can no longer afford their prices so I have now switched to the Costco Kirkland brand for their dry food and Friskies canned food... just so much cheaper. So far so good. The cats seem to be doing OK.

I feed Hill's Science Diet Indoor cat and have had no issues. My kitten also ate this brand kitten food. Love it! I am a very loyal Science Diet fan. I have researched pet nutrition and feel that Hill's is a good, reliable company that cares about pets and provides a product that you can really trust.

Hills Prescription Metabolism Diet for Cats. I started feeding both my cats this product hoping they would shed a few pounds. For the first two month, I did see some weight coming off. However, my male cat started struggling with his bowel movements. There would only be one or two pieces, and they looked like cement. I talked to my vet, and he gave me some laxative type home remedies (canned pumpkin, wet food), I ran up to the grocery store and purchased a smaller bag of Iams for weight management. I hope this and the wet food will help his system get back to normal.

This is a well made product with few, if any, recalls. It is healthy for my cats, they like it and have never had an adverse reaction to the product.

My cat of 2 years old recently got crystals in his urine and had to get unblocked, so the vet told me to only feed him the Feline CD food to help prevent this from happening again. Anyway, my cat would vomit violently after even eating a few bites of the dry food. Then I tried the wet food, same thing. This went on for a few days and I finally switched him back to his old Blue Buffalo and like magic, he stopped vomiting. I've ordered the prescription formula dry food from another company and will see what happens, but in this case it was clearly the food! Either Hills Science is toxic garbage, or he's allergic to something in it, but my story sounds very similar to what others are writing here! I will NEVER use Science Diet again.

Our 2-year old cat has been on Science Diet since a kitten. 2 weeks ago he started with diarrhea and became very sluggish (he is very active). We notice he was not eating out of his feeder and would meow more for his "Treat" which is half spoon of wet food. We purchased Blue and placed a bowl of the Science next to it. He went straight to the Blue. Whatever change was made in the Science did not agree with his system and he knows it.

My husband acquired a beautiful big 5 year old Tuxedo cat only a month before he passed away. He loved the cat and I love all cats so I wanted to give him the best of care. He weighed 20 lbs when we got him so I asked our vet if he should lose weight. Hills Metabolic Diet had just been released and he recommended it. The cat loved both the wet and dry versions and lost weight rapidly. When he was down to 13 lbs, I stopped using the diet. He looked fine and seemed to feel fine. A year later, he looks like a cat skeleton with a bit of fur over it. He is ravenous and begs for food day and night but it seems to do no good. He had been eating a dry food (not the Metabolic Diet) but began to throw it all up so the vet switched him to Hills I/D wet food, but he doesn't care much for it even though he acts starving.
My new vet said the cat was down to 6 lbs and was continuing to lose weight, which he was at a loss to understand. He did blood work on three different occasions and said Fox' thyroid and his pancreas were both affected but he didn't seem to think that accounted for the continuing weight loss. We have switched him to Sheba, which my female cat eats and he is enjoying it and keeping it down though so far he still has not gained weight. He is simply wasting away. I can only believe that the Metabolic Diet has had a permanent effect on his metabolism. Has anyone else had problems with this diet???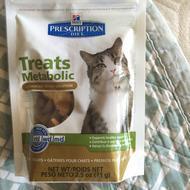 I purchased a bag of metabolic cat treats at my vet. When I was about to open the bag, I noticed a white fairly large substance inside. Upon closer observation I felt and saw the texture and realized it was gum!! How gross!!! I called the Hills number right away and the guy on the phone assured it was a serious rare case and was sorry and would send me an envelope on the mail so I could send the product back and have it tested. He also requested I take pics and email them to him. I did just that, and send pics from all angles to make sure they knew the package was not open.
I got an email back from them saying it looked like a malformed kibble and to just return the product from where I purchased it for a refund. If it was a malformed kibble it would have gotten hard by now, and are they saying it's okay to feed it to my pet??? I am truly disappointed at Hills for this. You would think that since they are "pet parents" too, and are dealing with people's pets, they would take this more serious, but they didn't. A gum in anyone's food is not okay, even if it is on my cats. Very very very disappointed. If there is a way to upload pictures on here I will show them. This is not okay.

I've fed Hills veterinary w/d to my cat for the past 7 years. I notice a change in the color of the same product in the latest bag I bought at the vet in late July 2015. The product had a change in color and color variation. Upon exam on the previous w/d bag and the latest w/d I note the (new) addition of corn gluten meal, wheat gluten among the first 4 ingredients. This may explain why the newer kibble is totally different color yellow with brown spots.
In addition, it is no longer a 'chicken' product but includes pork flavor and pork fat. Conversation with Hills customer service suggests the changes are 'product upgrade'. Sodium content increased. Upon further discussion it appears the taurine and l-carnitine are ingredient imports from China. The bag advertised made in USA but this is just a production location. I will be looking into other dry foods possible for cat, or switch to different products. Any recommendations would be helpful; cat needs fibre for his food (hence the w/d). I think the new w/d makes the buyer beware, both for cats and perhaps dogs too.

I have recently found ground up chunks of rubber bands in cans of Hill's Prescription Diet K/D formula wet cat food. They were found in both a can of the Chicken flavor and in a can of the Ocean Fish flavor, which was recommended by my veterinarian (purchased on 5/19/2015). I am returning the food to my vet tomorrow and will be informing the company (saved the cans with sku numbers, have my receipt and have the pieces saved in a bag). I will not be feeding this garbage to my pet again. I will be looking for an alternate food for my cat who is in the beginning stages of kidney failure.

My cat was on a strict prescription Hill's food diet (wet and dry) for a Urinary Tract Infection he had 3 years ago. Just recently on May 26 I had to take him to the Emergency Vet Hospital for problems urinating. He is now being treated for another Urinary Tract Infection.

My female Calico best friend has been vomiting her cat chow and I have tried almost every brand trying to find something she can eat. Her doctor suggested Hills ID. The change is amazing but she has damage to her nervous system. I am praying this will get better and feeling awful because I am responsible for this. My other male Calico best friend was also intolerant of commercial cat foods. He is much better now after 3 months eating only Hills ID. His coat shines and he has a smile on his face. Please be careful where the food is stored. The consumer is quality control. Molds and bacteria can grow in improperly stored pet foods.

I have been feeding my cat Friskies dry and can food for 4 years now without any problems. At an annual physical exam, the vet found my cat in good health except some tart. She recommended Hill's t/d (dental health) diet. Since I have switched my cat to the Hill's diet, I have noticed bald patches on her hind leg. After two months, my cat's abdomen and hind legs look like somebody shaved them. She also gained weight.
Since there were no other changes or stressors in my cat's life, she stays home and has no contact with other animals. I suspect the skin issue and weight gain have to do something with the Hill's food. I called the company, but the representative did not have a comment on this. I scheduled a vet appointment. Will see if at least her teeth got better.

My cat was prescribed Hill z/d for IBD. It really helped her, so I went online to buy more cans. When the cans arrived, they had a silver tin where the ones I had gotten from my vet had a gold tin. Shortly after giving her the food from the new cans, she got all red all over and would not eat. Hills claims that nothing changed with the food, but when I switched back to the gold tins, my cat went back to normal. Something is not right here.

Hill's Ideal Balance Wet Cat Food - We switched our beloved boy over to this approx. 6 months ago while searching for a healthy new food- specifically we use the slow-cooked chicken and veggies recipe. The ingredients seemed promising and I found great reviews all of the internet on various pet food sites and other reputable industries like Amazon.com. He seemed to love it at first but as of about a month ago, this food has been making him vomit randomly after meals.
Tonight, he threw up almost immediately after eating. Thrice he threw up his food, then twice again he spit up white foamy matter. I got online and thankfully found this website. My sincerest condolences to everyone here who has lost a loved one due to this company's allegedly "good" food. Thank you all for sharing your experiences- without you I may not have been able to prevent this from worsening rapidly. I have removed every morsel of this cat food from my home and I will be reaching out to everyone I can to spread the word.

Dr. Ken Tudor Pet Food Contributing Editor
A recognized expert and leader in pet nutrition, Dr. Ken Tudor has written over 200 articles on the subject. He also has a featured weekly blog on petMD, is published in major veterinary journals and is a frequent internet media guest expert. He is the founder of Hearthstone Homemade, a recipe and supplement program for pet parents wishing to feed nutritious homemade dog food. More about Dr. Ken Tudor→

The Hills family of pet foods always makes the list when discussing premium options, in large part due to their unique formulas and prescription options.
Prescription food available: Hills makes prescription formulas to address health issues such as skin conditions, kidney disease and many other problems.
Wet or dry formulas: Since both types of food have their advantages, Hills offers both.
Jumbo can sizes: Wet food gets expensive, so Hills offers a jumbo can that is more cost-effective.
Special formulas for non-prescription problems: Hills formulas address a variety of dietary needs, including kitten development and weight control.
Created by vets: All Hills' products are formulated by veterinarians to ensure the best and healthiest recipes are available for cats of all ages and breeds.
Best for Active kittens, picky cats, inactive cats and cats with medical problems.
Hills Cat Food Company Profile
Company Name:

Hills Cat Food

Year Founded:

1939

Country:

United States

Website:

http://www.hillspet.com/