The Bradford Exchange Online
Consumer Complaints and Reviews

I was supposed to receive a Christmas Village set within 3 weeks of ordering which was no problem because I ordered more than a month before my mother's birthday because it was a gift for her. Her birthday was October 7th and I had not received it by then. I had already emailed Customer Support who took a few days to even reply and when they did, all that was said was that if it didn't arrive within a certain day to email them again. It didn't arrive, I emailed them. She replied that she would have a new one sent out while I was being charged again for something I hadn't even gotten the first part.
Finally, something did arrive. But it wasn't even the right thing! I ordered a village and a baby with a fire hydrant arrived. I then had to go back and return it, with the actual gift arriving closer to Christmas, but it was not even the full village, only 3 of the 4 houses. Extremely upset with this website, how things turned out, and especially customer service. I am usually very lenient with these types of things but I really don't recommend if in a hurry, and I will most definitely not purchase from here again.

Growing up The Bradford Exchange was a prestigious, upscale company for the rich in my mind. Many years have passed and I always had that same thought even though I had never purchased anything from them. They had a good reputation. I am a train enthusiast since a kid keeping what few train things I had all my life and still have them. I was shopping for Christmas online when I ran across the limited edition train sets. I have been blessed in my life along with a lot of hard work I am the rich now. Retired at age 42 I had time on my hands. I read all these reviews and again I had TBE on a high horse. I looked past the reviews and took the leap.
I ordered 2 sets on December 15, 2016. The webpage made it clear I would have these before Christmas. They had 10 days so getting it to me before Christmas was reasonable to just know that can and will happen. Well, another email shows up not even 3 days later saying that "oops" the items will NOT arrive before Christmas blaming it on some bad storm somewhere. I received emails mostly sales wanting me to buy more things. Some were about my orders but honestly they were not helpful at all. They did not make sense when all I needed to know was when will these items arrive to me?? It's now day 20 with no earthly idea where my orders are and when I will have them.
Here's the thing... each year I purchase 99.9% of Christmas presents online. I buy from Amazon, eBay and Etsy all year long. This past Christmas I purchased 100% of Christmas gifts online. These presents were from every other state in this country, 2 gifts from the U.K., 3 gifts from Australia and 1 from Poland. Every single package was at my door before Christmas making up 14-15 boxes? All the while The Bradford Exchange are sitting on their hands somewhere. ALL those gifts arrive yet NONE encountered any delays caused by a storm? Needless to say I am very upset. Each and every company whether online or storefront have that first time customer purchase that sets the tone for a business relationship. In short that first impression goes a long way with me as it should to everyone.
I am going to call these people today and see what is going on with my orders that showed in stock and ready to ship 3 weeks ago. I will either hang up satisfied with what I am told or I am cancelling the orders. They are not all that special so I can live without them. If you are reading this please think twice before you place a order of any kind. They are just not with it in this very competitive e-commerce online economy. There are thousands of companies that still do care and treat you as if you are their only customer. A consumer affairs page containing 160+ complaints on this one company is absurd and can't be all lies. A fact of online feedback, complaints, compliments that about 25%-30% of people take the time to do fill them out based on their experience. So these are just a drop in the bucket. I would be interested to see how many customers are aggravated because of Bradford Exchange way of doing business.
Oh and one last thing - I was so Leary of dealing with The Bradford Exchange because of the horrible service reviews that I did not purchase these trains for anyone at Christmas. They were a present for me, myself and I. I had that gut feeling that I cannot depend on The Bradford Exchange. They had to prove me wrong but so far nothing has been proven in a positive way. Just a extremely important side note in my head saying "NEVER order from The Bradford Exchange".

"We are pleased to tell you that your collectible was shipped on 12/20/16. We traced your package through FedEx. Their records indicate your package is expected to be delivered in couple days." This is what I received on Dec 28th and it is now Jan 4th and nothing. The track your order has said the same thing since day one! Do not use this company. It is awful. I have contacted support which takes days to get back to you and all they say is you can track your order at the following. I asked for a refund which they told me was not possible because it was already shipped. Extremely disappointed.

I ordered a Hail Mary Statue on 12/13/16 because it guaranteed delivery by 12/21/26. I even called on 12/14/16 to ensure my address change and 12/21/16 delivery. They ensured me it would arrive by 12/21/16. 12/22/16 I sent an email thru their customer service and was emailed back with a delivery date of 11/28/16. Ok so, shouldn't that read 12/28/16? They refunded my shipping supposedly but have not had that happen yet. 12/29/16 I sent them an email that my product had not arrived and it was false advertising. Today a received an email arrived saying it was delivered 12/29/16, and to contact USPS, it was no longer on them. 12/30/16 the product arrived. This is the second time this has happened. Customer service can barely speak English and are difficult to understand. What a letdown, but never again... The statue was nice but this other is aggravating.

I received Mary the first of December and that was all that was in the box. I wondered where the rest of the nativity was and a couple days later went on the site and realized each piece of the nativity was going to cost what I paid for Mary. I thought I was receiving all the nativity for the price of $169. Followed the return info on the back of the order and sent it back on December 10. FedEx delivered the package back to the company on Dec 19. I still had not gotten a refund by Dec 26.
I went to the company site and followed the email info to ask for help and the page said they would contact me within 1 business day. No response. Called customer service on Dec 27. The girl said it might take 2-3 weeks to receive my refund. Asked her to cancel all other orders and she said she did. Now I am seeing a charge on my credit card for $46 from The Bradford Exchange. I sent another email to the company and will call them tomorrow because of course they are closed and I will demand a refund and get this straightened out.
How do I know I can trust these reviews about The Bradford Exchange Online?
669,639 reviews on ConsumerAffairs are verified.
We require contact information to ensure our reviewers are real.
We use intelligent software that helps us maintain the integrity of reviews.
Our moderators read all reviews to verify quality and helpfulness.
For more information about reviews on ConsumerAffairs.com please visit our FAQ.

My wife ordered me a bracelet for Christmas on December 17, 2016. She paid express priority shipping $21.93. Item was shipped on December 20th arrived in Honolulu on December 22. Today is December 28, 2016 and still no bracelet! 6 days later? What's the postman doing? Walking? RIP-OFF. STAY AWAY FROM THESE GUYS!!! I WILL UPDATE ON THE ARRIVAL OF THIS BRACELET AND IT BETTER BE WORTH $120.00!

I purchased a Texas Pride Beer stein for my husband as a Christmas gift. Site said guaranteed by Dec 24th. So I ordered on Dec. 13. Well Dec 21st still nothing. Not even a tracking # for the product. So I call And when someone finally answered the customer service, they said that it was shipped on its way and I would have it since it was guaranteed by Dec 24th. Literally as soon as I hung up with customer I magically get an email that said due to a delay I would be getting it after Christmas.
Today is the 27th and still nothing. I looked and finally have a tracking #. So I called again and told them I had not received my package yet. So the customer service rep said well for the inconvenience they can credit my account $15.00. At first she said 10.00, but because I complained then she said 15.00. As I was on the phone with her I received an email that said my FedEx order had been canceled. So I told the rep. If she had canceled the order and reordered it. She said yes. I said, "So you haven't even processed my order is what you're saying." Of course she denied it. So she has guaranteed me now that I will have it by Dec 30. This is ridiculous. I WILL NEVER order from this company again. Talk about FALSE ADVERTISEMENT.

I ordered 5 Chicago Cubs World Series Christmas ornaments online in the beginning of November. They never notified me that the order would be delayed and that I would not receive them by Christmas. When I called to check on my order, they kept me on hold for 40 minutes to find out that I would not receive them until February. Very disappointing!! I then received an email stating I had to go online and confirm my order. When I did, they kept me on hold for another 50 minutes without even coming to the phone to provide status on what the heck they were doing. I had already provided them my visa when I ordered but THEY ALSO sent me a bill in the mail. The incompetence of their customer service and poor communication and responsiveness to their customers is a reason I will NEVER buy from this company again. Please be careful if you decide to purchase from them!!

I am never ever buying from them again! On Nov 16th 2016 I ordered a Thomas Kinkade Illuminated Musical Tabletop Nativity Tree! When I got it it looked fine but then I kept noticing little pieces falling off all the time so I got sick of it and I emailed them to tell them I was returning it and wanted a refund. So after finally getting an email they told me I could send it back. If I didn't have the return card I could write down my info, put it inside the box and send it back. So on Dec. 2nd 2016 I sent it back and I looked on the tracking site. It showed it got delivered to them on Dec.5th 2016 so I called them asking them about the refund. They kept telling me they did not get the return yet so I emailed them expressing my anger. And on Dec. 10th 2016 saying they got it back and I would get my refund in 3 to 5 days!
So I waited a few days. I called them back. They stated they have not received the return yet and then I got real mad. I said, "I got an email saying you got it back and it was processed" and they said no. So then the next day I looked in my bank account to see if my refund was back in there and no it wasn't. In fact they took out another installment payment so I called back there. She said "we will cancel that" and at my bank it shows it is still on hold. So I finally got an email on Dec. 19th saying they got my return and have submitted my refund.
Well that was the 19th. It is now the 26th. My bank said if they had done that it only takes 3-5 days I would have had it back by now! So I called again. I said, "When did you submit that back on my card". She said on the 19th of Dec. I said "well I thought it takes 3-5 days?" She said it can take 2-3 weeks. I said "omg!!!" So I said, "well I am giving it until tomorrow Dec. 27th 2016 and if my payment of $82.46 isn't back in my account I will be having the bank dispute the two charges $41.23 a piece!" She said "would you like to talk to our supervisor?" I said "no point. I just keep getting the run around and I am done with it!" So I talked to a guy at my bank. He said, "just go in and we will dispute it". So I will if my money isn't back in my account! I have never in my life had a problem with any business like this. I just can't can't believe it! Like I said I am done. Never ordering from them again!

I wish I would have read the reviews prior to my purchase. What a joke this company is! I ordered a Christmas snow globe that was supposedly a high quality product. When it arrived, it was just another trinket made in China. What a disappointment! Then... the first one didn't work. When I called customer service I encountered the most rude Mexican female I ever encountered! First she told me Bradford Exchange doesn't send overnight shipments. I JUST RECEIVED ONE!!! She was adamant so I asked for a supervisor. He told me my replacement would ship TODAY overnight with FedEx. BUT IT NEVER ARRIVED!
I received an email confirmation it was on the way and they billed my credit card. When I went to check the status of my order, it showed it would be shipped on March 15, 2017. WHY THE HELL DO I NEED A CHRISTMAS PRESENT IN March? No wonder they have a 1-star rating. NEVER EVER AGAIN WILL I ORDER FROM THIS COMPANY AND I WILL TELL EVERYONE I KNOW TO DO THE SAME.

We paid $70 for a box that is so small and cheap looking it's terrible. The hinge on one side is loose and the finish is poor and it took more than 4 weeks to get here. It was getting late for Christmas so we bought a replacement yesterday 20th December to make sure we had one, then today 21st December it arrived. Unfortunately one of the hinges was loose and it was poorly made, and $70 for a small box I can get made in China for $8.00 is scandalous. We paid $48 for a larger one and far better quality. Many years ago The Bradford Exchange supplied good products at a reasonable price and the service was good. If you read the reports on the web before you bought anything, you would never buy from this company again. I know I won't.

My mother expressed that all she wanted was a personalized bracelet with her three children's names. Placed an order for the Family of Love personalized bracelet on the Bradford Exchange website Nov. 18th 2016 with the intentions of getting the item before Christmas (according to their website). Two weeks later I receive an email from them stating that they had issues authorizing my card (Really?!).
I have called and emailed this co. multiple times in hopes that they would expedite my order so that I could still receive item in time... NO! They told me that my order finally shipped out Dec 15th and probably won't get to me until the 25th of Dec. I am leaving time on the 23rd. What good does that do for me? Not to mention they keep apologizing but I know that they don't mean it nor care. I will NEVER refer anyone to this company.

On 12/13/16 I made an Internet purchase item #117318001. Several days later I checked to see the status of my purchased and it said it was being prepared for shipment. I checked several days later and the same message appeared. I attempted to contact customer service by phone but was unable to get through. I sent them an email and got no replied. Finally got through after several hours and was told the item had been shipped on 12/14/16. I was provided with FedEx tracking number. I attempted to track the item but FedEx had no information. I'm still in the process of attempting to contact Bradford Exchange. Waiting for an email response. Good luck. With all the negative reviews I don't understand why they are still in business.

I placed an order for the John Wayne Ranch Coat which they said was reserved in my name and would ship immediately upon payment. I sent a check on Nov. 26 and it cleared my bank on Dec. 1, so they immediately cashed it. I waited until yesterday, Dec 19 and contacted them, which by itself is not easy as they have no phone number or web except facebook to reach them, and it takes some investigation to figure that out. After they "checked with the factory", I was told they sold out during Thanksgiving. They never told me shipment was delayed until May. Furthermore, it was supposed to be in stock when I sent the check. My belief is that they tell people a lie in order to get orders. Nobody would wait 5 months for a coat (what am I going to do with it in May, anyway)?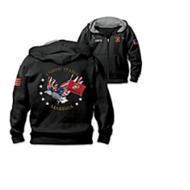 I purchased USMC Hoodie for my son's Marine Graduation. I ordered it Sept 1, 2016 and it was exactly what I wanted. It had a hood, the eagle on the back and I could personalize it with his name. They responded 3 weeks later that this was out of stock and it would not be filled for a couple of weeks. I found another gift for the graduation, and thought I'd give this to my son for his birthday which was the following month. The next month I followed up and they said it was still out of stock, so I improvised again and decided this would become his Christmas gift. 2 weeks before Christmas I checked on the status and was told that this item never did go to production and it is not and never will be available. They have refunded my money and I can look for another jacket on their website.
This has been such a horrible experience and such poor customer service for me that I will NEVER BUY ANYTHING FROM THIS COMPANY. When they say "RESERVE YOURS TODAY" that means pay now so they can use on your money. Then they come back months later after they can't fill your order and have used your money to manufacture some of their other products. It's a total scam!

I Will never order from Bradford Exchange again. Ordered an Alabama watch on Nov 28th still dealing with them. Said credit card could not be verified, called credit card company, said request was never sent. After dealing with them this long my brother-in-law will not have a Christmas present. Ordered all my other Christmas gifts online with other companies and never had problem.

Two months ago placed an order with Bradford Exchange item never came. 30 days later and I cancelled. I was never told that I was joined in a subscription that I never signed up for and 30 days later I got a charge on my debit card. I contacted them. They said they couldn't do anything about it because the product had already been mailed to me and would be received in 7 to 10 days. I waited those 7 to 10 days product never came. Call up and check on status and find out it was just shipped yesterday. 10 days later and that they won't refund my money a $48.94 until I receive it and ship it back to them and they want to charge me a restocking fee.
I never signed up for a subscription and was never told I was in a subscription when I cancelled original order from 2 months ago. My money is being tied up for the next month or two with Bradford Exchange for something I never ordered. I live on Social Security disability and had that money plans for a bill coming in. Now I'm unable to pay that bill and they had no mercy on their era of what they did to me and I don't trust that they will return my money and I'll be back in to complain again. Beware when you want to order something and they sign you up to a subscription you never signed up for.

Ordered 2 different items and payment was made. Then say was not authorized and then send me a letter to say items now in stock and to pay. So paid immediately as for Christmas gifts and then they cancel payment. To say 1 item was actually not in stock and will not be in stock till Jan 2017 and the other is in stock and will take payment again. So I just cancelled both items.

On December 1, 2016 I ordered the Marine statue Honor, Courage Commitment Personalized Sculpture. Item no. 116817001. When I went on the computer site it did not give me a shipping and handling choice. It went automatically to standard shipping. When I saw the delivery date between Dec 15 and Dec 30, 2016 I contacted Bradford Exchange and they advised there was nothing they could do, it already went through with my credit card.
On Dec. 5, 2016 I was on my bank account and I noticed that I was credited my money back which I did not know what happened at that time. I then called Bradford Exchange again who advised me that it will be recharged once it is shipped. That it was at the engraver and could take 2 - 3 weeks before that is complete and then another 7 - 10 days for shipping. I am very dissatisfied with them at this time. No one told me anything about the length of this order and my dad who is a WWII Veteran may not get this for Christmas now. I will keep this order as it stands to thank my dad for his service but I will not ever order from the Bradford Exchange again. Saying you're sorry does not help me at this time!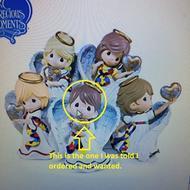 My wife ordered 2 items and I did as well around the same time. 1st item arrived at her parents house broken (still working to get a replacement). 2nd item received missing pieces in what looked like an already opened and returned box. When my wife wrote them to address this issue, they asked if she had checked the whole box! Lol. Come on. She responded and they told her she'd have to mail it back at her expense and they would replace it. My wife mailed it back a few days ago and we are awaiting their response. 3rd item was mine for my wife for Christmas.
I had to call to get a specific item that was not showing on the site individually but shown in a collection picture. I figured maybe it had not been released yet but I wanted to call and ask. I was in luck apparently. I asked for the only boy version of the collectible with brown hair as pictured on the group photo in the website. They said the product would arrive before Christmas and I was happy (I also purchased the 4th item during the phone call but we will get to that). I kept checking my account to see if the items would post so I could follow the order status. It posted the following day with a ship date of December 26th!!! I immediately contacted them and addressed my concerns and asked if this item was even in stock. They said yes and said it would be shipped immediately.
Going good, I thought. After many delays getting actual tracking information I received the item today 3 weeks after ordering. Pumped because I know my wife will love it. Opened the box to make sure it wasn't broken and the item was a blond little girl angel. Not what I ordered!!! Still waiting for their response to my issue but this is crap. The 4th item is a customized one and I'm hoping they actually get one right. But I will not hold my breath. Unfortunately I did not look for reviews on Bradford Exchange until after I ordered. Please save yourself the worry and avoid Bradford Exchange and their affiliates like the Hamilton Collection.

The company inundates you with offers and poor value products then despite many calls fails to give you accurate information as to what you owe or how you can change your payment method. They overcharged us then sent threatening letters even when we had paid both by direct debit and the balance in full. In fact we overpaid as they supplied three different final balance figures in one phone call. We then were unable to get the company to acknowledge any of our communications. This company should be stopped from trading.

I ordered a bridal set from here. Paid it in full during checkout. It was a personalized item. Not only did it take them 4 weeks to send me the ring but they sent me the wrong size and the engraving was not even close to what I wrote. So by assuming they sent me the wrong ring set they also didn't give me a time frame on how long it would take and I was suppose to receive it before my anniversary as a gift. Great way that turned out! I will never in my life order from here again or recommend them to anyone. The packing and box it came in was horrible. Just terrible.

Simply this is Buyer Beware! I have been given the run around and all of a sudden told I have to pay for any order in full, despite on their site saying you can pay for the item in installments. They do not list ANYWHERE on their sites any policies regarding the installment plans other than: "Installments are the affordable way to purchase a collection. Your installment charges are deducted about monthly, from the payment method that was authorized at checkout. We do not charge interest on installment plans. Your first installment will be deducted when your first item is selected for shipping from our warehouse.
"If you buy a collection via Subscription Plan on the Installment Payment Plan, the next issue in the collection will be shipped after all installments for the previous issue are paid in full. This makes collecting both convenient and affordable. After choosing the payment method for the first issue, charges for all subsequent issues in your collection will be deducted from the same payment method. This holds true when purchasing a collection via phone, mail or online."
And that obviously they are interest free because they are not lending any credit, just time. I was told the reason is I was a newer customer but the order prior that I RETURNED was done on installment plans. I returned the order very quickly after receiving it but they kept telling me it could take up to 30 days to get it and an additional 15 days to process, then I was told it could be manually refunded after 30 days. And beware because this company takes quite a while to send anything, let alone update you. I never did receive order confirmations or shipping confirmations despite their promises that they sent them. if you read other reviews you will see this is a trend. They basically single you out, check your credit score I am now seeing from other reviews, and deny you installment plans based on that even though they have your credit card information. But they deny telling you anything about that.
I actually am filing a dispute with the BBB on them based on how I have been treated since purchasing the very first dolls from them. The CSRs are rude, and the supervisors are even worse. You are also not allowed to even speak to the credit department and one CSR said "if they took calls from customers they would never get anything done." This company is the worst I have ever dealt with BY FAR. Their quality on the dolls are not up to par despite having talented artists. You find glue in the hair and it isn't' even applied properly. I found out to search for words like "hand rooted" to try to eliminate the problem but if you compare the product to the pictures, they are not even close. If you are interested in one of their products, there are plenty of people out there on eBay or in Doll Stores who will actually take a picture of the item and send it to you before buying it. And not give you a run around.
They lie, say they called you and unable to reach you, but due to having the availability of knowing who called my phone allows me to see that they did not call, and I have even gone out on the email server and there were no emails that they claim they sent. But I think the fact that they allow a installment plan one minute and not the next, and no policy is on their site, and you are not given any answers via phone or email, is a bit fishy and I am awaiting counsel now to see if it is illegal. Consumers are supposed to know all policies and practices up front and they do not offer that information anywhere. You cannot treat one person different from the other. I am awaiting counsel to see if I can escalate the matter. If I am allowed, be rest assured I will be. This also goes for ASHTON DRAKE.

BEWARE. THIS COMPANY IS ATTEMPTING TO SCAM YOU. JUST DON'T DO IT. What happened to me was crazy. I made an online purchase for a friend's birthday. The next month I got an email from him saying "thank you for spoiling me." I had no idea what he meant but I was out of town at a funeral. When I got home and reviewed my online statement, I had a charge on my card that I did not recognize from BRADFORD EXCHANGE. So I called them. They said I had ordered a collection of items. My original receipt I received the day I placed the order was for one item and the amount of the only item I thought I purchased.
I got no further email and no other items in the collection were listed on the original invoice. When I spoke to them they said "oh the word collection means there are other items" and I should have know that. I said why was it not itemized or why did I not get an email telling me the other items had been shipped something so I knew what was going on. After speaking to a supervisor, I was told same thing. The word "collection" means more than one item and if I returned the items they would give me a refund. But how can I ask my friend for an item that he clearly thinks I meant to send him. So just be aware that the word collection means we will be charging you for more items.
You will not get anything that tells you what those items are or when they have been shipped so if you buy a gift you will not even get the items as a warning that something is wrong. This to me is a scam. If they had printed on my original invoice the other items in the collection and the cost of each I would have known there was a problem. But no other emails or invoices were ever sent or received. Just the bill on my credit card and the thank you from my friend. NEVER AGAIN trust this company.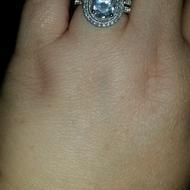 My wedding ring set that I designed myself are stunning, my fiance's is very nice as well. Very big, very sparkly, engraving is great. How they hold up I don't know yet. Now the ordering and shipping are a big headache. You're never sure of when you're gonna receive your item. They even canceled our order at one point, and I had to reorder under my Mother's account. If you need something in a hurry I would not suggest ordering from them. We were very scared we wouldn't get our rings before our special day. Thankfully everything turned out great.

BE WARNED. DON'T BUY FROM THEM!! This company is the worst ever!! Ordered a Disney Cove at £149.99 but the quality when it arrived was awful... The faces on the characters looked like they had been painted by 4-year-olds. It took me almost 25 minutes on hold to speak to someone who arranged to get it returned but then offered me, for the same price, a Disney train collection... But then I got charged for all the separate postages which I hadn't been told about... Back on phone and another long wait talking to an idiot who said they didn't have any managers I could talk to as they don't take calls... I mean to say.
Long story short, another few long calls later and a lot of patience I got 3/4 of my money back... on 4 separate cheques. But I'm still owed money. Have asked to be taken off their mailing list 2 months ago and still almost every other day I receive mail from them trying to sell me something else. I used to buy a lot from them but never again... Customer service department is a shambles!

I found out the hard way that The Bradford Exchange sells their customer information. A few months after I had ordered a clock as a Mother's Day gift I started receiving a ridiculous amount of solicitations. I can't begin to put a number on the amount of phone calls and mailers that I received from charities, fundraisers and various organizations. It became clear that something was going on so I started asking callers where they got my info. I would also call the senders of the mailers and ask them the same question. More times than not, I was informed that my information was obtained by "The Bradford Exchange" or "The Bradford Group".
I called The Bradford Exchange customer service and was told that my info must have been hacked when I placed my online order and that they only share info within the Bradford Group. I doubt that The Bradford Group contains; Saint Joseph's Indian School, Saint Jude's Hospital, Foundation for American Vets, or Heifer International (and the list goes on and on). I hope that someday The Bradford Group is hit with a class action. You have been warned, BUYER BEWARE!!!

My mother ordered one coin from the Bradford Exchange of a particular collection. The Bradford Exchange sent this coin. However a few weeks later they sent her another coin for a different collection which she had not requested. As my mother used my credit card for the coin previously purchased, the Bradford Exchange took monies from my account without my permission or authority for this unwanted coin. I contacted Bradford Exchange about returning the coin and I have heard nothing from them. I since contacted my bank and told them under no circumstances were they pay out further monies to Bradford Exchange.

A custom order with Bradford Exchange in July 2016, for my mother's 75th birthday which was in September 2016. The item was absolutely gorgeous. I placed the order in a timely manner in July, so that I would have ample time to receive the item prior to my mother's birthday celebration. Needless to say I never received the item, but my credit card was charged the 3 complete payments. When I ordered from this company I had a reasonable expectation, but my expectations were not met. This was absolutely devastating.
I called the company 16 September 2016 only to be kept on hold for 20 minutes and when they did answer I was told it should have arrived already. When I told her I had not received the item, they offered to send a replacement. A replacement would have been fine a month ago but my mother's birthday is next weekend. September 26th, 2016. To make this long story short the customer service sucked. I won't order from Bradford Exchange. An unhappy customer.

I have received a phishing scheme email from The Bradford Exchange which includes a $99 invoice for a Songbird Stone Plaque (side note: what is that and why would anyone need one?!?). The email is made to appear to be a response to an order request and includes an order number, a customer number, and my childhood home's address (where I haven't lived for 20 years). This method basically forces people into buying something they never ordered by making them think they owe Bradford Exchange money and that their credit will be affected if they don't pay for the garbage they didn't order to begin with. Terrible business tactics... terrible company.
The Bradford Exchange Online Company Profile
Company Name:

The Bradford Exchange Online

Website:

http://www.bradfordexchange.com/