Consumer Complaints and Reviews

I've taken a total of 5 Hydroxycut pills and I'm calling it quits. I've lost a lot of weight, all naturally. I decided to try a thermogenic to help me lose the last pounds. The first two tablets I took made me feel jittery. The next two, same thing: jittery. Today I took one tablet and went on my morning run. I started to feel butterflies in the pit of my stomach, like fight or flight type sensations. I was in a safe and very peaceful location. There was no reason for me to suddenly start feeling this way. This lasted through my whole 3 mile run and finally went away several hours later.
I just took another tablet 30 minutes before dinner (as the label instructs). The anxious feeling in the pit of my stomach has returned. My sister warned me about Hydroxycut. I'm taking these pills back to the store where I bought them tomorrow for a refund. I'm not sure if I'll try a different thermogenic that is time-released or not. I do not like feeling like this. Hope this helps someone who is considering taking Hydroxycut. I want to lose my last stubborn pounds but this is not worth it.

Within an hour of taking one pill I had severe stomach pain and nausea, by 10pm I was vomiting hard. Sunday progressed to extremely frequent, watery light colored stools. Still 4.5 days later my stomach feels like it's swollen, I have a headache, weakness, fatigue, still can't eat hardly anything... It's been a very rough recovery. Hydroxycut Max for women Gold bottle, Lot #503840.

I bought Hydroxycut Hardcore Elite and have been following instructions on number of pills to take and when to take them. Within the first two days I had cramps, was vomiting, and had water coming out my rear. Just straight up clear water. I also experienced complete loss of appetite and on occasion being lightheaded and nauseous. At first I thought that it was just an initial reaction but all the side effects that I am experiencing has not stopped. Granted I have lost weight but at the expense of my own physical health it's not worth it.

Since I been taking Hydroxycut for a couple of days I been having stomach pain. Cramp up like I am bloated... Pain hurt so bad that I had stop taking them... I will not recommend them to anybody. I just continue reduce my carb and junk intake... focus more on my excise to burn more fat...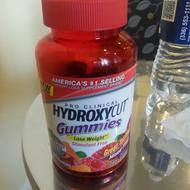 I purchased the Hydroxycut Gummies 6 weeks ago at the local WalMart. I'd heard that it was a good product for weight loss. I read the side effects and understood them well. However, after the first time taking them. My stomach began to cramp badly. I thought it was going to be temporary. However after a few days of taking the gummies, my stomach continued to hurt. I drank more water and even exercised more hoping that it was just a phase. I gave up quickly. I felt that $19.00 of my hard earned money went down the drain literally and physically. I will NEVER again take the Hydroxycut Gummies nor any other affiliated product. The bottle is still sitting in my drawer as a reminder of what not to buy.
How do I know I can trust these reviews about Hydroxycut?
825,614 reviews on ConsumerAffairs are verified.
We require contact information to ensure our reviewers are real.
We use intelligent software that helps us maintain the integrity of reviews.
Our moderators read all reviews to verify quality and helpfulness.
For more information about reviews on ConsumerAffairs.com please visit our FAQ.

I have taking Hydroxycut pills for over 3 months as directed. That's 3 boxes just over $100.00 and I have not lost even one pound. I changed my diet, diet sodas; I am watching my sugar & carb. intake. I cut back on some of the red meat. I bake a lot more instead of frying. I also exercise more. I am 5ft. 7in.& 190LBS male. I want to get back to 170lbs. I also don't drink & never smoked. How do I get a refund?

Developed severe yeast infection and vaginitis as a result of taking Hydroxycut. medical treatment for 7 days to clear infection.

I had severe stomach pain and nausea. An EKG showed slightly irregular heat beat. I stopped medications after using 2 and 1/2 bottles of this medication. My last EKG since stopping the medication was normal and the stomach pain and nausea have stopped as well. I paid $29.99 per bottle; 4 bottles is $119.96; add MI sales tax of 6% for $7.19 and the total is $127.15.

After taking Hydroxycut for 3 years on and off, I had abnormal liver function. The year was 2001. The consequence is extreme pain on my right side. It's so severe that I couldn't move. There's frequent side pain.

I have been taking Hydroxycut for at least 3 years. I have had stomach issues during that entire time, but I never associated it with this drug. In the last 8 months, I have started having vomiting, extreme stomach pain and weakness. Now that I'm hearing about the issues with Hydroxycut, I believe that is to blame.

I was admitted to the hospital for Atrial fibrellation at age 28 and have no previous medical history.
Hydroxycut Company Profile
Company Name:

Hydroxycut

Website:

http://www.hydroxycut.com/