An accident during a Sunday afternoon trip to the Pennsylvania countryside inspired John W. Hetrick to design one of the most important advances in automobile safety.
Hetrick, a retired industrial engineering technician, received a patent in 1953 for what he called a "safety cushion assembly for automotive vehicles." His U.S. Patent No. 2,649,311 was the first prototype for today's modern airbags.
Hetrick designed the system to reduce injuries during emergency braking and frontal collisions, according to a story in American Heritage about his invention.
In that story, Hetrick recalled the inspiration for his invention: "In the spring of '52, my wife, my seven-year-old daughter, Joan, and I were out for a Sunday drive in our 1948 Chrysler Windsor. About three miles outside Newport, we were watching for deer bounding across the road. Suddenly, there was a large rock in our path, just past the crest of a hill. I remember hitting the brakes and veering the car to the right. We went into the ditch but avoided hitting both a tree and a wooden fence.
"As I applied the brakes, both my wife and I threw our hands up to keep our daughter from hitting the dashboard ... during the ride home, I couldn't stop thinking about the accident. I asked myself: 'Why couldn't some object come out to stop you from striking the inside of the car?'"
When he returned home, Hetrick started sketching designs for his "safety cushion."
On August 5, 1952, he filed his disclosures and waited more than a year for his patent. The process cost him about $250.
German inventor Walter Linderer also received a patent in 1953 for an "inflatable cushion" to protect drivers in accidents.
Their early airbag designs inspired others in the automotive industry to work on this safety feature. Ford and General Motors, for example, started experimenting with inflatable restraints in the late 1950's.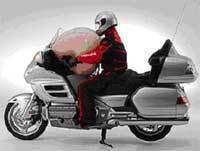 Honda's motorycle airbag
The companies quickly discovered several challenges associated with this safety feature: it must be able to quickly and accurately sense a collision and it must inflate in 40 milliseconds or less.
Car makers also faced another challenge with airbags: They could cause secondary injuries when passengers came in contact with them.
In 1967, carmaker Mercedes-Benz started to develop airbags for its vehicles. Two developments prompted that move: the rapid increase of accidents during the 1960s, and a new federal law that mandated 'automatic occupant protection systems' for every car in the USA starting in 1969.
"We can no longer tolerate unsafe automobiles," then President Lyndon B. Johnson said.
In the late 1960's, a New Jersey mechanical engineer named Allen K. Breed invented a device that many say gave birth to the airbag industry.
Breed invented a reliable, five dollar crash sensor. His crash sensing technology -- the only one of its kind -- is considered the world's first electromechanical automotive airbag system.
Breed's role in automotive safety didn't stop there. He helped designed more than two dozen other car safety inventions, including an airbag that vents air as it inflates. This 1991 invention -- patent No. 5,071,161 -- was designed to "reduce the risk of secondary injuries by reducing the inflated bag's rigidity."
Breed later started his own company, which became the world's top manufacturer of crash-sensor supplies and inflator-modules.
Today his company, Key Safety Systems, Inc., designs and produces airbags, seatbelts, steering wheels, and other safety systems.
Other Key Dates
• 1973 - The Oldsmobile Toronado became the first car with a passenger airbag;
• 1974 - Buick, Cadillac and Oldsmobile offer dual airbags as an option on several of their full-sized cars;
• 1980 - Mercedes-Benz re-introduced the airbag in Germany as an option on its high-end model W126;
• Mid-1980's - Ford and Chrysler introduce airbags in their vehicles;
• 1990 - Ford makes airbags standard equipment in its vehicles.
• 1990 - The first recorded accident between two vehicles in which an airbag deploys to protect each driver occurs on March 12, 1990;
• 1995 - Volvo offers side airbags and torso side protection airbags as an option on its 850 models;
• 1998 - The federal government mandates duel frontal airbags on all passenger vehicles;
• 2006 - Honda introduces the first airbag systems for motorcycles American Honda Motor, Corp.